Most children are in love with animals. Whether they're living with them on a day-to-day basis or seeing them in the wild, animals teach children kindness and bring them happiness. It's no wonder that a lot of children and young-at-hearts love to make animal designs with their beads.
I've curated a giant list of animals you can make with your Perler beads. Most of these designs are for beginners, but I've added a few spectacular specimens of advanced work that will inspire any passionate crafter.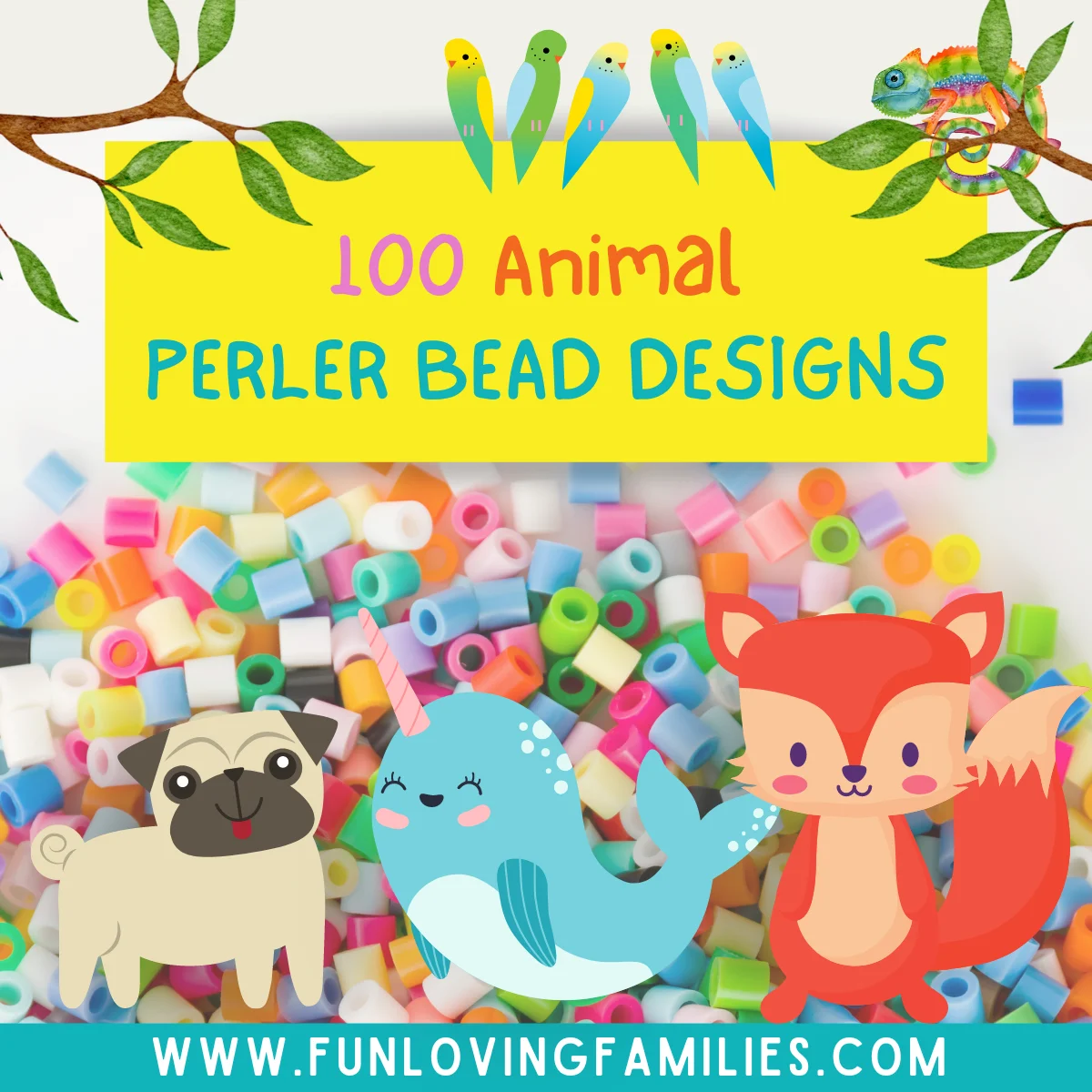 Because this list is so long, if you are looking for a particular animal that your child has requested, I recommend the use of the Table of Contents so you can quickly see the animals featured. I've more or less divided them by habitat — the pets we have at home, farm animals, animals in the wild, creatures of the sky, and those living in the sea and oceans.
I've also added a special portion (by popular demand of the daughters) for mythological creatures and popular fictional animals. The last one nearly caused a mini-riot because I couldn't fit all of their suggestions, but the family compromised by promising to make a more comprehensive list in the future.
Beloved Pets
What better way to get started than to get the ball rolling with these adorable Perler bead designs of our beloved pets?
Easy Puppy
Our favorite crafter Krysanthe made 10 easy Perler bead patterns of pets. Head on over to her site to see more of her work. Just look at this adorable puppy from her collection.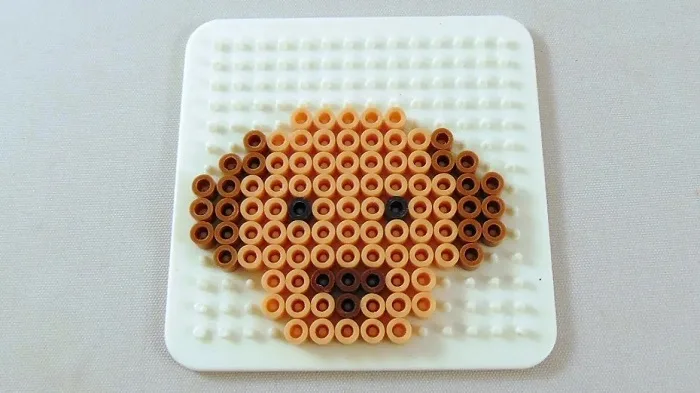 Cat Keyring
This white and gray cat is equally adorable. The pink in her ears give it a cute splash of color. Some patterns I've seen have the cats looking a tad displeased, but this little kitten looks so cute and timid. If you want to see more Perler bead designs that are on this level of cuteness, check out my earlier post on 40 Cute Perler Bead Designs.
Hamster
If you ever had a pet hamster, you will surely want to make this pair. They're so cute, they're irresistible.
Cat Trio – Black, White and Tabby
While complex designs are awe-inspiring, I am equally impressed by simple designs that do justice to their subjects. This trio of cats is the best example. The pattern is so simple and yet so perfect.
If you need more easy Perler bead patterns like the above, check out my post 25 Easy Perler Bead Patterns for Young Children.
Puppy
Here's another puppy. If you wanted to do more than just the head, this whole-body design is easy enough for young children or beginners. It might take two sittings for a child with a short attention span, but it's very do-able.
You can print out this pattern for easy reference.
Pug
Here's another simple pattern that you can immediately recognize. If you know your dogs, you can immediately recognize this pug. Our family is a big fan of the breed because they're so sociable, playful, and full of character.
Bulldog
Some crafter must really love their bulldog. While this breed can look physically intimidating on the surface, the crafter who made this design created such an adorable and sweet look for this dog. Nobody can say no to that head tilt.
Pretty White Cat
If Hello Kitty were sans her pink bow and blue overalls, the popular Japanese cat would look like this pretty white cat. It's nice that there are three poses to choose from.
Goldfish in Bowl
I was immediately charmed by this fish in a glass bowl. You can customize it if you have a certain fish in mind. It would also look great on a stand so it can mimic the real thing. It's sure to be a funny conversation starter for when you have guests.
Koi
I often see koi in Japanese-themed gardens so I always associate them with calm, quiet, and inner introspection. But did you know? Koi are actually a symbol of luck, prosperity, and perseverance in the face of adversity. If you want this colorful fish in your room or your home, here is a very pretty design for you.
Here is the pattern for reference.
Dogs, Cat, and Goldfish
The official Perler bead website created a pet page. I've linked directly to the pdf page. It gives easy to follow instructions on how to make each of the animals below. You will need some special materials though like a fish or cat pegboard.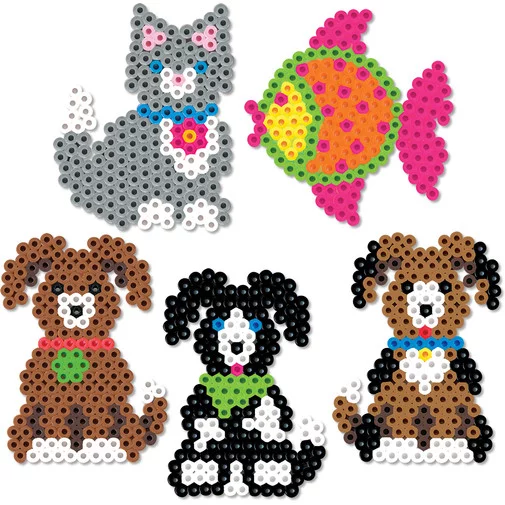 Cat Standees
Just look at all the things you can do with one pattern. You can change out the colors to suit your taste or copy the coloring of a real-life pet. These cat standees also show us that whenever we have a Perler bead project that turned out great, in most cases, we can opt to make a stand for it and have it displayed upright.
Beautiful Kitten
Moving on to some advanced work, this beautiful kitten is simply amazing. Just look at those life-life eyes and color detail. You don't need a special cat pegboard, too, just to make this cat piece. We've already lined this kitty up as one of our future bead projects.
Dog Breeds
If you're a dog person, your heart will rejoice with all the dog breeds in this picture. Each one is a tiny special piece. If we ever do a Perler bead post on dogs, I will make sure to feature each one of these canines.
3D Pet Snail
I have yet to meet anybody with a pet snail, but here is an excellent 3D project of one. Doesn't it remind you of Gary from SpongeBob SquarePants?
3D Hamster
Here's another 3D project – a Perler bead hamster.
The pattern is slightly blurry so if you want another guide, just click on the YouTube video. It's only 2 minutes long and shows the actual bead-making in fast forward.
Friendly Farm Animals
It's time to make some farm animals with Perler beads.
Chicken
Craftyprojectideas has a great post on melty bead farm animals. It was very hard to decide which to feature on this list as the other farm animals were just as interesting. I finally settled on the chicken because as my children know, I've always had a dream of having a small chicken coup in the backyard and harvesting still-warm eggs.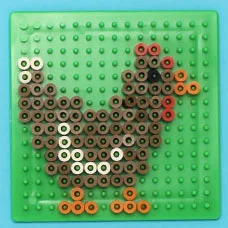 Rabbit
Isn't this little gray rabbit with the white cotton tail just adorable? It's very easy to make, too!
Baby Duck
If you have a child who loves their rubber ducky, this chick should be interesting for them. The bright yellow body and red beak and legs are an amazing pop of color.
Yellow Chick with Googly Eye
This little chick looks a bit awkward but I couldn't resist adding it in if only to show you how you can add little details to your Perler bead projects to make them more interesting. In this piece, the crafter added a googly eye to make the chick more fun. You can buy these at a craft store.
Pig – I Miss You Pig Time Card
You can make this pig with or without the card. On its own, it's an adorable piglet that is easy to make. As a card, it's a super funny giveaway that is sure to make somebody's day.
Rabbit with Carrot
Here's another adorable animal — a pink-colored rabbit munching on a carrot. It's bigger than our starter pieces but still do-able for small children.
Here is the pattern for reference. Don't forget. You can change the colors to anything you want. If you want a light gray bunny, you can do that too.
Rainbow Chicken Keyring
Although the picture is not the best quality, I just had to add in this cute chicken. I love how cartoony it is and I particularly love the rainbow-striped background. This works as a keychain or even a coaster.
Chickens and Chicks on Stands
It's a brood of chickens! I just love that they're on stands. You can arrange them in your living room or room and make it look as if they are on their way to somewhere.
Pretty Cow
Here's a pretty cow with big blue eyes. It's a big piece so you'll need a lot of black, white, and pink beads to get this done.
Artsy Cow
From lifelike to cartoony, let's move on to something artsy. The farm setting on its body is so unique. I also love the little flower dangling from its mouth.
Duck in the Farm
If you love a farm setting, you'll love making this duck in a farm. There's a little brown fence behind it and an apple tree that's chock full of apples.
Hanging Llamas
I love llamas. In art, they're always wacky and funny. Real llamas, however, are said to be just like people. Some are very shy and calm, while others are very curious and inquisitive. If you need a giveaway, you can make these llamas into keychains. The cacti with the pink flowers are cute, too.
Wild Animals
Doing Perler bead projects on wild animals is a great opportunity to teach children how animals actually belong to the wild. Too often, children associate animals with captivity and see them in zoos or aquariums. This is a good time to talk about your animal of choice and their natural habitats. Learning can be fun!
Frog Bead Keychain
Just look at this eye-catching frog bag chain. And while the beads used are different, the same technique can be applied to Perler beads. You just won't be using your iron for this project. Head on over to the site Craftprojectideas site to see the step-by-step tutorial. I found the pictures to be very helpful!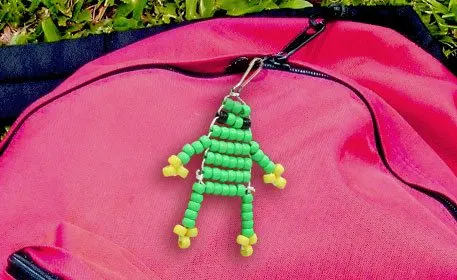 See how the beads are cleverly threaded to make a cute frog.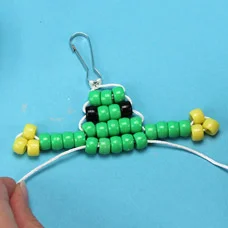 Zebra
Here's another very simple yet very recognizable pattern — a tiny zebra. Your little one can do this in minutes.
Fox Pin
If you tell your child whimsical stories with foxes in them or you've watched a movie with an interesting fox character, they'd likely love to make this cute fox design. Thinkcrafts went a step further and made it into a one-of-a-kind hairpin. You can make your Perler bead projects into pins too so long as you have a solid and sturdy pattern. For the pin and the glue, you can buy these at your local crafts store.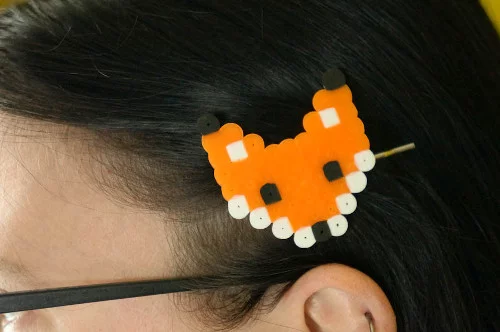 Polar Bear
Isn't this pair of polar bears cute? You can make them as is or turn them into refrigerator magnets or mobile phone tags. If you need any additional materials, just head on over to your local crafts store.
Elephant
This little baby blue elephant is too adorable for words. It's easy to make and your child will surely love it. (If they haven't watched Dumbo, now might be a good time to make this little project more memorable.)
Crocodile
If your child wants a ferocious reptile, you can make this bright green crocodile by ActivityVillage. The design is very simple yet bright.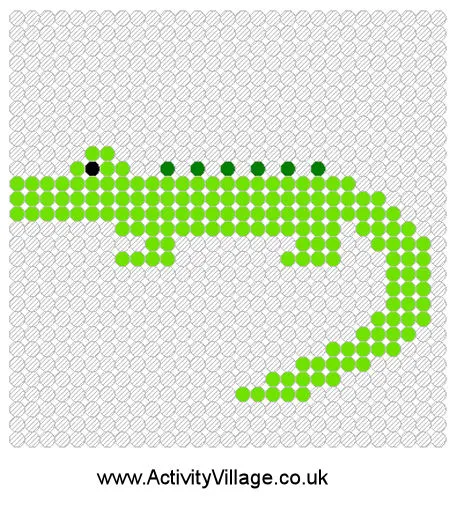 Monkey
Looking for a cute monkey design? Here is one for you. Isn't it just darling?
Mama and Baby Elephant
If you are spending some bonding time with your kids, these parent-and-child designs are perfect for you. The butterflies are pretty, but what's catching my eye are the elephants. The crafter cleverly used black thread for their tails and has the little calf (baby elephant) hanging onto its mother's tail. So cute!
Squirrel
Here is another simple yet amazing pattern — a gorgeously shaded squirrel. I love that it's poised in action, too. This would be a perfect project to make if you are looking for an animal design to do.
Giraffe
This cartoony giraffe has a yellow body and red spots. With its sweet and smiling face, it would look great in your children's room.
Panda with Glasses
Here is another endearing animal for your child — a panda with neon green glasses. Although, you might have to explain that pandas don't normally wear glasses in real life.
Here is the pattern for reference.
Lion
It was hard to find a Perler bead lion that wasn't from the Lion King, but I succeeded. If your child wants to do a ferocious wild animal, then go for the King of the Jungle.
Red Panda
Red pandas became popular after Disney's Turning Red hit screens. Did you know? Red pandas aren't really pandas. In taxonomy, they have their own family and are different from the giant pandas we know. Unlike Mei Lee's giant furry alter-ego, adult red pandas are actually the size of a house cat.
You can find more Perler bead designs from Walt Disney movies here.
3D Blue Elephant
I really like designs that go out of the box. Just take a look at this baby blue elephant with purple ears and legs. It might not be the most accurate representation of an elephant, but it is pretty darn cute. The fact that it's a 3D piece makes it even more amazing.
Easy Dinosaur Keychains
I was going to make a section for extinct animals but sadly, the representation for these animals is lacking when it comes to Perler bead projects. I ended up adding dinosaurs on here, because we can't leave out the dinosaur lovers out there. Maybe we can make our own dodo or a Tasmanian tiger in the future?
Dinosaur Family
If your child is in their dinosaur phase, they will surely love this collection of Perler bead dinosaurs. Ask them to name all of these dinosaurs.
Flying Animals
"Tame birds sing of freedom. Wild birds fly." — John Lennon
Flamingo
Thecentsableshoppin made this fun flamingo design. With just a few beads, you can immediately tell it's the famous pink bird. But did you know that flamingos are born gray-colored? They turn pink due to what they eat — algae and brine shrimp that have carotenoids.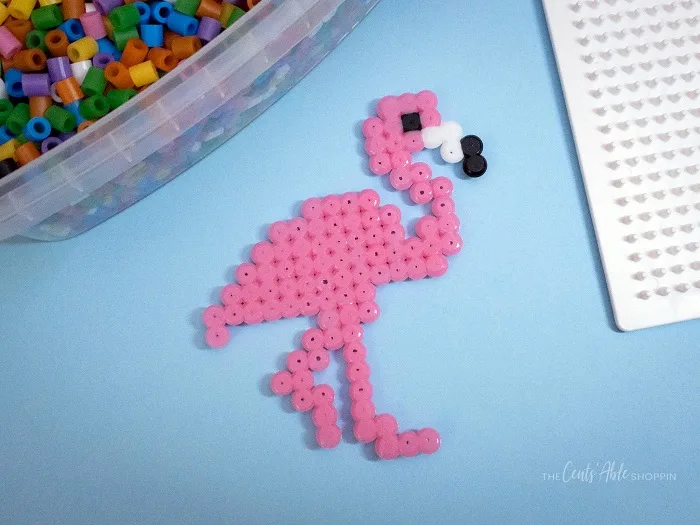 Robin
If you can only do one Perler bead bird, I highly recommend this robin. For a super small project, it is overflowing in cuteness. To get the same effect, you will need bright blue and red beads.
Bat Earrings
I tried to think of other winged animals aside from birds, and bats were the first to come to mind. These bat earrings are perfect for Halloween.
Parrot Earrings
If you want something more colorful, then these parrot earrings definitely fit the bill. Even if you're out of some colors, you can easily substitute others. This is definitely one of the most fun pieces on this list.
Here is the pattern for your reference.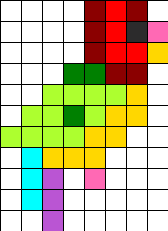 Easy Owls
Looking for owls? Here is an easy pattern that you can easily customize. Let your child choose their favorite colors. Just make sure the eyes are showing well.
Pink Owl
Fall in love with this adorable pink owl. The pastel coloring is so pretty, and its expression is so appealing.
Blue Bird
What a lovely blue bird. It reminds me of the art from old Reader's Digest covers from decades ago. This design and coloring is so nostalgic. Is it a bluebird or a blue tit? I would make a really bad birdwatcher.
Here is the pattern for your reference.
Lovebirds
Okay, I am sure these are lovebirds because my grandparents used to have them. Some animals mate for life, and lovebirds are one of them. Respect.
Toucan
Let's face it. A lot of us know about toucans because of the Froot Loops cereal box. The real life birds are incredibly fascinating though. They are highly intelligent, social, and noisy birds. When they sing, they sound like croaking frogs. Some types of toucans ban bark, bray, and growl. They are monomorphic, meaning male and female toucans look identical. Toucans, most importantly, help keep rainforests alive. They eat forest fruits and poo out the seeds which help the forest grow.
You can share this little Ted Talk to your family if you ever decide to do these toucans.
The Crow
On our family trip to Europe, we noticed that there were a LOT of crows especially when we went to patches of woods. Suddenly, van Gogh's Wheatfields with Crows made a lot of sense. Traveling's great, kids.
3D Cockatiel Birds
I may be overusing the word "adorable" on this post, but can anybody blame me? Just look at these cockatiel birds. I'd bite their cute cheeks if I didn't know I'd just get a mouthful of Perler beads.
Bugs and Little Creatures
It's not uncommon for children to be fascinated with bugs and other little creatures. They might want to make the below Perler bead designs.
Ladybug
As expected from Kyrsanthe, this ladybug is easy to do yet very cute.
Drone Beetle
If your child wants a different insect, how about this drone beetle? Its very easy to tell a drone beetle from others because of its bright green coloring. Found on trees, they feed on flower nectar and fruit juices. The ancient Egyptians used to revere them. It is said that their habit of making a "brood ball" of dung inspired the mummifying process that Egyptians are known for.
One last tidbit. You can find drone beetles in the Animal Crossing game, too.
Stag Beetle
When my children were younger, we visited a museum on animals, and I distinctly remember us spending several minutes admiring the display of these stag beetles. They ranged in sizes but they all had their distinctive black shells and mandibles. Their mandibles resembled the antlers of stags hence their name. Male stag beetles fly (to my horror) to find a mate.
Caterpillar
Caterpillars are squishy and maybe even slightly icky, but they grow into the most beautiful butterflies. Here is a colorful caterpillar your child might want to make.
Butterfly
Of course, next on our list is a butterfly. This pattern is brightly colorful and easy to make. If your child wants warmer colors, choose red or orange for the wings.
Chameleon
Chameleons are fascinating animals because of their ability to blend into their surroundings. Check out this chameleon in green and yellow.
Rainbow Lizard
I initially thought that the crafter of this lizard just wanted to show what happens when a rainbow vomits on a lizard, but apparently, rainbow lizards actually exist. They're a certain species of dragon lizards. The males have the brightest coloring. The more colorful they male lizard, the more dominant and higher up in the hierarchy they are.
Bumblebee Earrings
Don't these bumblebee earrings look so fun? They're so small and easy to make. They're great to wear come Spring or Summer.
Mariposa Hair Clips
These butterfly hair clips came out really well. The combination of the dark colors is very attractive, and these clips would go well with many outfits.
Dragonfly
Have you ever chased down dragonflies hoping to catch them? Dragonflies have such beautiful iridescent wings, and this dragonfly design captured them very well.
Here is the same dragonfly with some changes to the color beads. It looks beautiful, doesn't it?
Intricate Butterfly
The butterfly is one of the most beautiful creatures on the planet, and I wanted to show how complex some Perler bead crafters make their butterflies. There were so many to choose from as a lot of crafters really did amazing work on their butterfly designs.
Bug Collection Display
Now here is a great idea for a wall ornament. You can make Perler bead insects and then glue them onto a flat surface. This piece of wood sliced from a log makes for the perfect backdrop. If you have a sibling or a family member whose birthday is coming up, this can be a great gift idea. If not insects, then think of something that they're really into.
Bee in a Flower Garden Snow Globe
Isn't this an interesting project to make? Most of the materials are pretty easy enough — an empty bottle, some felt paper (or stiff green board), and Perler beads. You'll need glycerin, though, and you can buy that from the craft store or the pharmacy.
Cool Aquatic Animals
The sea is so wide, deep, and beautifully mysterious. Let's see what sea animals we can make with Perler beads.
Turtle
We're starting off with a precious little green turtle by cutesycrafts. Children of any ages will be able to do this design.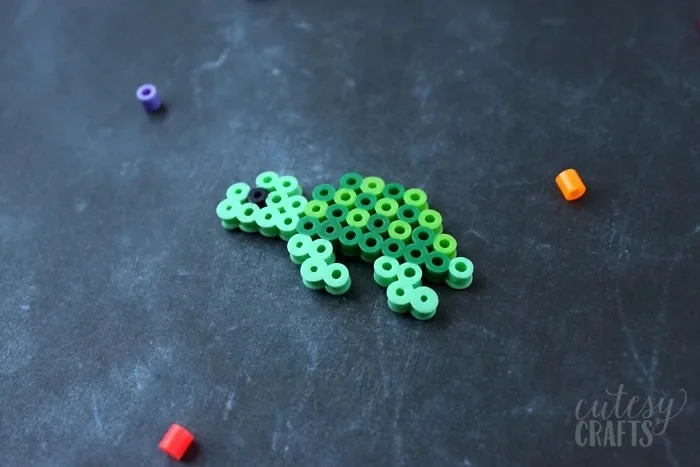 Narwhal Paper Clip
Have you ever seen a narwhal whale? It's a toothed whale but instead of having its teeth in its mouth, it has a single long tooth coming out of its upper jaw. So, what we might take for a tusk is actually a tooth! Not much is known about narwhals, because they live in habitats that are covered in dark and ice for half the year.
Tropical Fish
Here is a big variety of tropical fish you can choose from. Just like our chick from earlier, the crafter makes use of googly eyes. You can get these from your local craft store.
Dolphin
Here's another easy design for your little ones — a pretty blue dolphin.
Whale
If your child wants a cute whale, we have the perfect Perler bead whale for you. Just look! The crafter cleverly added more materials to make this little whale even more unique. If you can't find these exact materials, just check what you have at home and be resourceful.
Here is the pattern for your reference. As you can see, the pattern is plain, but it can look super cute when dressed up.
Blue Whale
If your child is intrigued by whales, you can introduce them to the blue whale. The largest ever known to have lived the planet, a blue whale's tongue weighs as much as an elephant, its heart is the size of an automobile, and a person can swim through their blood vessels. For all their immense size, blue whales are called the gentle giants of the sea.
Octopus
Take a look at this cartoony purple octopus. Its big wide eyes make it so endearing.
Here is the pattern for your reference.
Shark
If your tot wants to make a shark, this blue shark might just fit the bill. It doesn't look too scary, either.
Killer Shark
Speaking of scary sharks, let's go Jaws-level scary. This set of shark teeth is enough to make anyone quake.
Jellyfish
Jellyfish look so innocent and mesmerizing in the water, but beach-goers have learned to be wary of these stinging medusas. Look, but don't touch.
Seahorse
This seahorse is the queen of all seahorse Perler bead designs. Looking at it, the seahorse looks uncannily like its namesake doesn't it? Seahorses have a lot of unique characteristics though. For one, when it comes to reproduction, the females make the eggs but it's the males who carry the young in a pouch until they are birthed.
Creatures of Myth and Legends
There are many fantastical animals that are born from legends and the imagination of humans. Let's look at some well-known mythical beasts and creatures.
Unicorn with Colorful Mane
Thatkidscraftsite created this wee unicorn. It's highlight is its bright and colorful mane.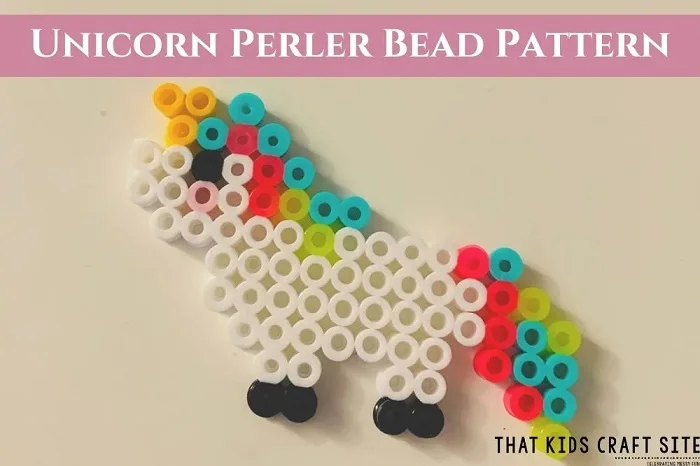 Unicorns with Rainbow
Cutesycrafts also made their version of Perler bead unicorns. They made theirs with purple and pink beads though. The rainbow is a nice touch.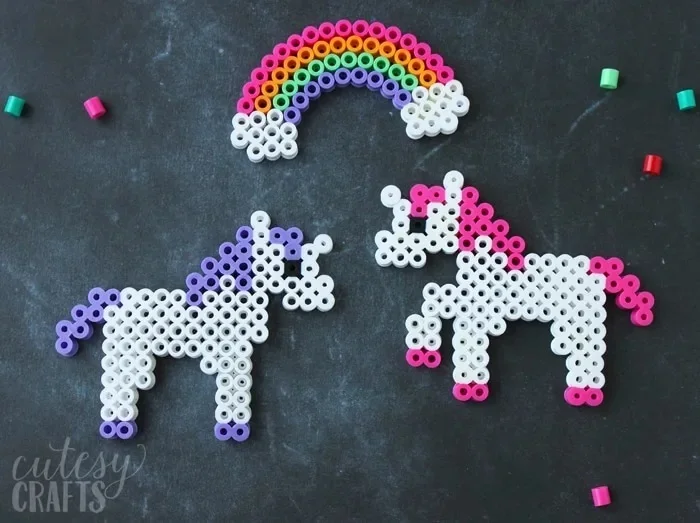 Mermaid
We can't have a list of fantasy creatures without including mermaids. Children love the idea of beautiful mermaids swimming in the deep blue sea.
Loch Ness Monster
I was so happy to see that somebody actually made a Loch Ness Perler bead project. It's small but very recognizable. I can imagine this Nessie cruisin' the fresh waters of Loch Ness when nobody's watching.
Bigfoot
Here's another creature whose existence many have tried to track down and prove for years — Bigfoot. With 10,000 sightings in the US, nobody has yet proven that this big ape-like humanoid being exists.
Bigfoot and Trees
I quite like this towering Bigfoot walking between two trees. Because the pattern only uses outlines, this is overall easy to make.
Easy Fire-Breathing Dragon
Do you read fairy tales with your child? If you do, they will like this fire-breathing dragon in action.
Green Dragon
Dragons are powerful and they can be menacing, too. Check out this black and emerald green dragon in mid-flight.
Cute Dragon Standee
Now how about an adorable dragon? This dragon reminds me somewhat of Pete's Dragon. They have the same friendly face and potbelly body. However, this one has stripes in a warm orange. Overall, it's been crafted very cleverly so that it looks 3D, but it's actually not.
Boss-Level Dragon
I wanted to share this mind-blowing dragon. It's hard to imagine that it's 100% made of Perler beads. If I'm not mistaken, this is a dragon from Chinese lore.
Popular Animals from Books, Shows, Games, and Others
It was tough to choose, but here are the celebrity animals that made the cut.
Pusheen
If you've ever used stickers on Facebook and other social media, you might have come across this Internet-famous cat. A lot of Internet users have greeted their friends with cute emotes of this lovable cat.
Hedwig Keyring
Hedwig is one of the most popular movie animals. Best known as being Harry Potter's pet owl, Hedwig was as popular as some of the best characters in the movie. She was smart, feisty, and had personality. Potterheads crafters will surely love to have a Perler bead Hedwig.
Check out my recent post on 75 Harry Potter Perler Bead Designs if you want more HP fun.
Hungry Caterpillar
Most children have Eric Carle's The Very Hungry Caterpillar in their book shelf. Just one look at the green body and red head will immediately have your little one shouting out that they recognize this popular caterpillar.
Rainbow Fish
The Rainbow Fish is one of the most "exquisitely illustrated" books for children out there. It's no wonder a crafter thought of replicating The Rainbow Fish in Perler beads.
SpongeBob
You probably never thought you'd see the Bikini Bottom gang on this list, but, you forget that the beloved characters of this toon are actually all sea creatures. SpongeBob is an Aplysina fistularis, a yellow sea sponge. Patrick is an echinoderm, a yellow sea star. Plankton is a planktonic copepod. Gary, in the meantime, is a sea snail. Doing the cast of this cartoon is a great way to teach your kids about marine life.
And just because I can, here are the very first 5 minutes of the FIRST episode of SpongeBob SquarePants. What a fun trip down memory lane.
Toothless
Just one look at this black dragon and you already know it's Toothless from the movie How To Train Your Dragon. This particular pattern captures the playful charms of the Night Fury. Just a cautionary note. You'll need a LOT of gray beads for this one.
Here is the pattern for your reference.
Heihei
Crazy chicken incoming! Isn't this Perler bead design of HeiHei simply perfect? It really captures the kooky personality of this rock-gobbling chicken. The plumage is exquisitely made and those crazy eyes are 100% HeiHei.
Max – The Secret Life of Pets
If your kids loved Max from the movie The Secret Life of Pets, then they'll love this Perler Bead Max. The pattern is so simple, and yet you can immediately tell it's the super loyal Jack Russell terrier.
Here is the pattern for your reference.
Snoopy
This Snoopy and Charlie Brown pattern by FunFamilyCrafts is probably coming from left field but Peanuts, a huge thing back then, is still as much loved today. They say it's because the comic strip characters are so relatable even now. And looking at Charlie Brown cuddling Snoopy, we can certainly relate to that.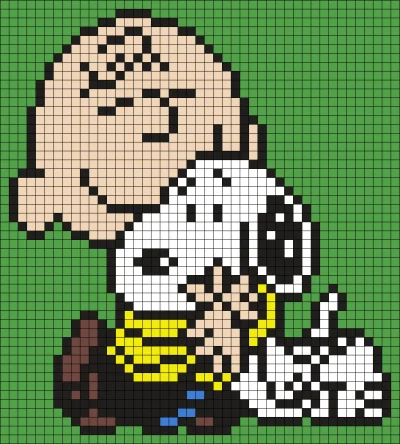 Hobbes
Do you know who's another comic book celebrity? Calvin's stuffed tiger and best friend Hobbes. Their relationship is friendship goals. Their adventures were a constant source of fun and excitement. There's no boring day around the duo (and their equally funny parents).
Let's end this list with a big bang. Here are the besties in a warm warm hug. I love how this Perler bead project is actually framed.
Calvin carrying Hobbes around.
Suzy smothering Hobbes in a hug. (He loves it. Calvin, not so much.) And hey, the art is 200% on point!
And finally, the intrepid adventurers out for their daily walk in the great outdoors. The crafter did a great job recreating the two best friends walking in the foliage.
I hope you enjoyed this list enough to bookmark it and come back to it often when you're thinking of what Perler bead project to do with your children. Don't forget to share this post with your family and friends!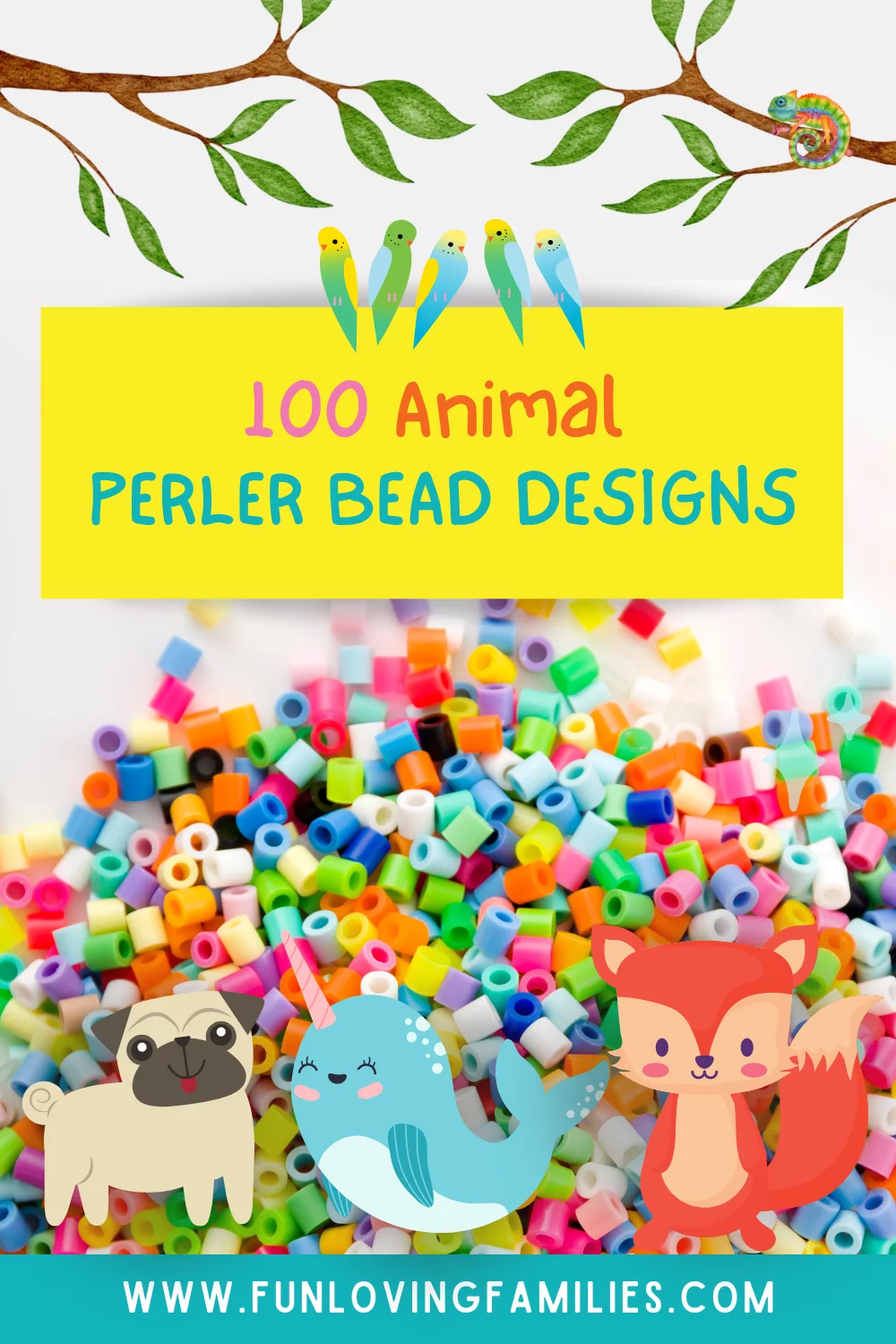 Similar Posts: