Introduce Perler bead crafting to your little ones with these simple patterns and designs. They'll love this easy yet fun activity, and they'll get a really cute souvenir at the end of the day.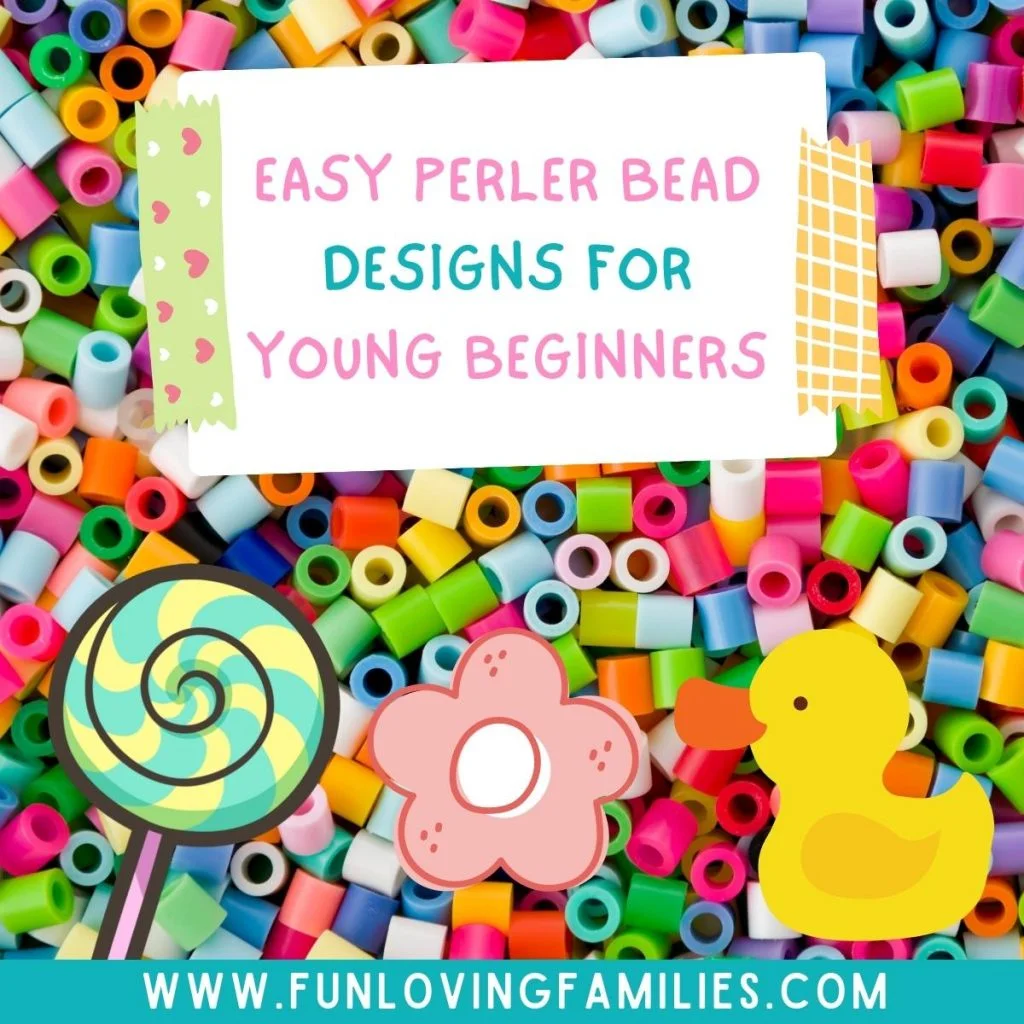 Children can easily get sucked into their Cocomelon YouTube videos or online games, but ultimately, nothing beats a parent-child interaction. Sure we remember our childhood cartoon characters, but we also have special memories of cooking or doing crafts with a parent. Nowadays, I still get nostalgic when I see cross stitch projects because I remember sewing with my mother — me with my funny uneven sewing and my mother with her perfect and even stitches.
Make more memories with these easy-to-follow Perler bead projects.
Easy TV/Game Characters
Pikachu
If your child loves to watch the Pokemon show, then they'll probably have a soft spot for the adorable Pikachu. With its distinct yellow coloring and rosy red cheeks, Pikachu is one of the cutest Pokemon on the show. A full-body design might be too complicated, but your little one should be able to do this head pattern with your guidance.
Perry the Platypus
Phineas and Ferb is one of the best animation series there ever was. The show is funny, witty, and it even has its dose of spy action and suspense. And in the middle of all the shenanigans, Perry the Platypus always saves the day.
Minecraft Creeper, Enderman and Slime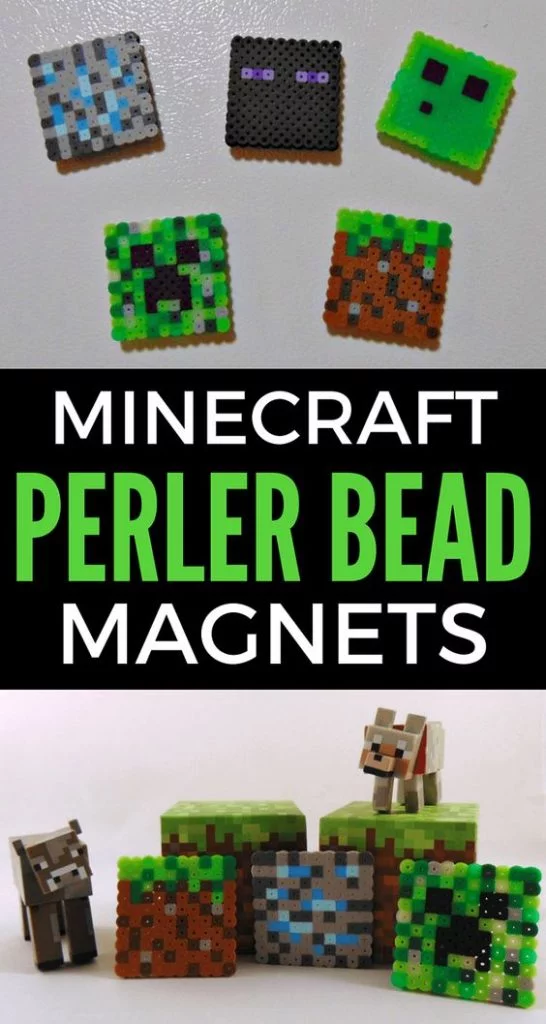 Minecraft is a game that has been rated suitable for 7 years and up. If you play this game, then you'll know it's a game that encourages creativity and problem-solving. You can make endless tools and structures from blocks, and you can farm. If your children are very young though, you can set the world to "Peaceful" mode so they don't have to fight monsters.
The block-ish nature of the game makes it perfect for Perler bead projects. Krysanthe's Minecraft designs look like they've spawned straight from a Minecraft game.
Easy Animals
Duck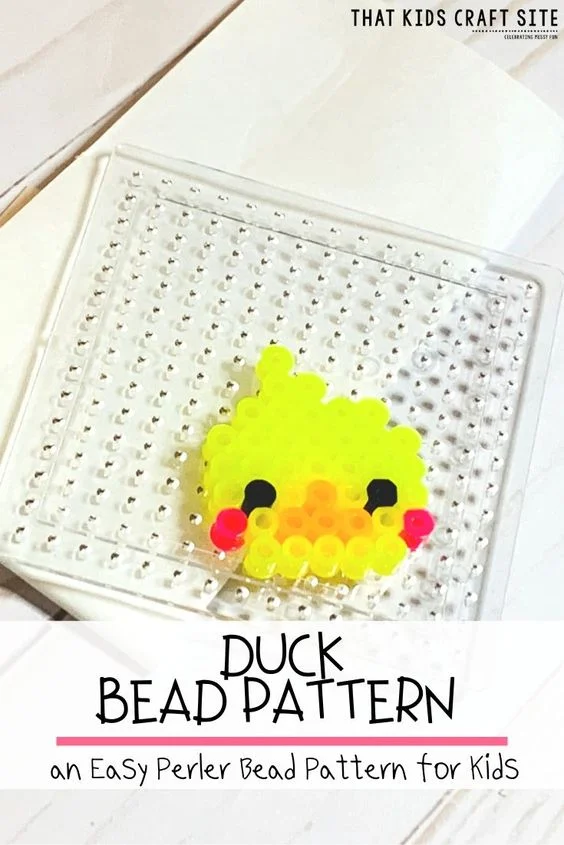 Duck designs always make me happy. Maybe because I associate them with happy baths and cheery faces. Crafter Brandi, from That Kids Craft Site, made a super easy yet super cute duck design with rosy cheeks.
Dolphin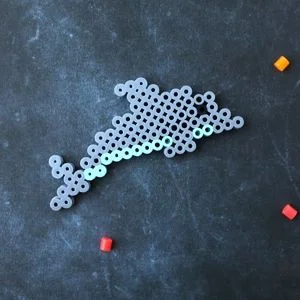 These human-loving mammals are a big favorite with children. Check out this simple dolphin design by Cutesy Crafts.
Whale
Make the smallest and cutest whale in existence. Isn't this pattern adorable? It's even making a spout!
Crocodile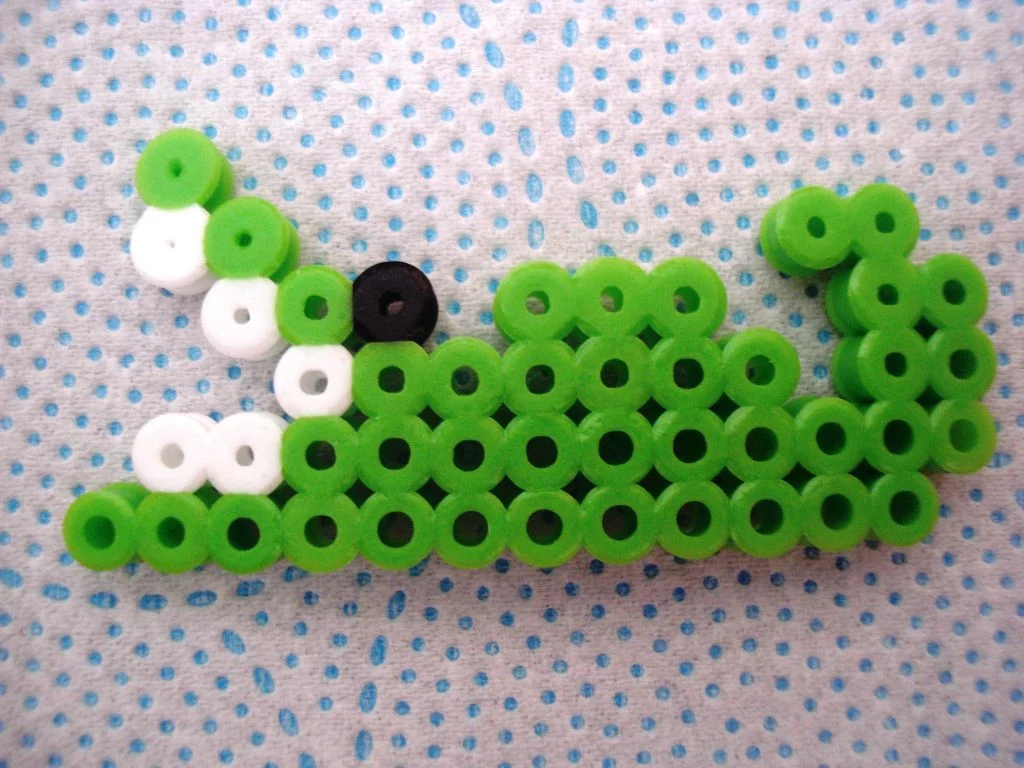 This green crocodile from Flickr is just as easy to make. Be careful of those big teeth!
Frog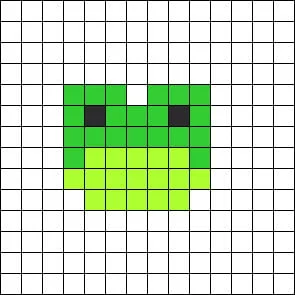 If you need another animal pattern that's easy to make, how about this frog face? You can find the pattern here – Kandi Patterns.
Small Insects and Animals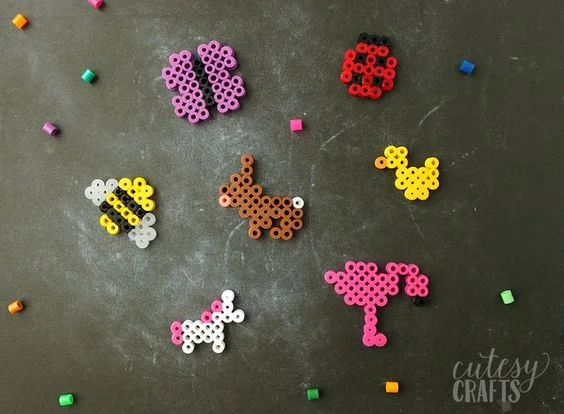 Cutesy Crafts lives up to its name by making these tiny Perler bead designs. Can you identify them all? From top, I can see a butterfly, a ladybug, a bee, a rabbit, a duck, the tiniest pony ever, and a flamingo.
Dinosaur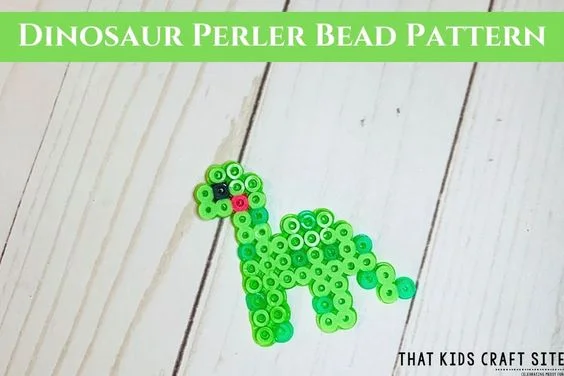 If we're talking about what young children like, we can't leave out dinosaurs! That Kids Craft Site made a simple dino pattern with green beads. I'm embarrassed to admit that I'm not sure what type of dino this is. Maybe an Apatosaurus? I bet the kids would know!
Turtle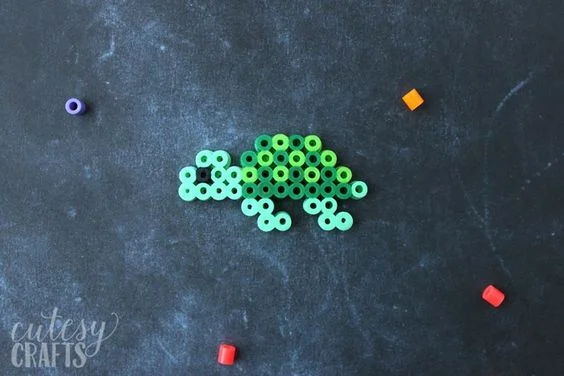 Here's another cute animal from Cutesy Crafts. It's a green turtle!
Easy Bits and Things
Mini Robots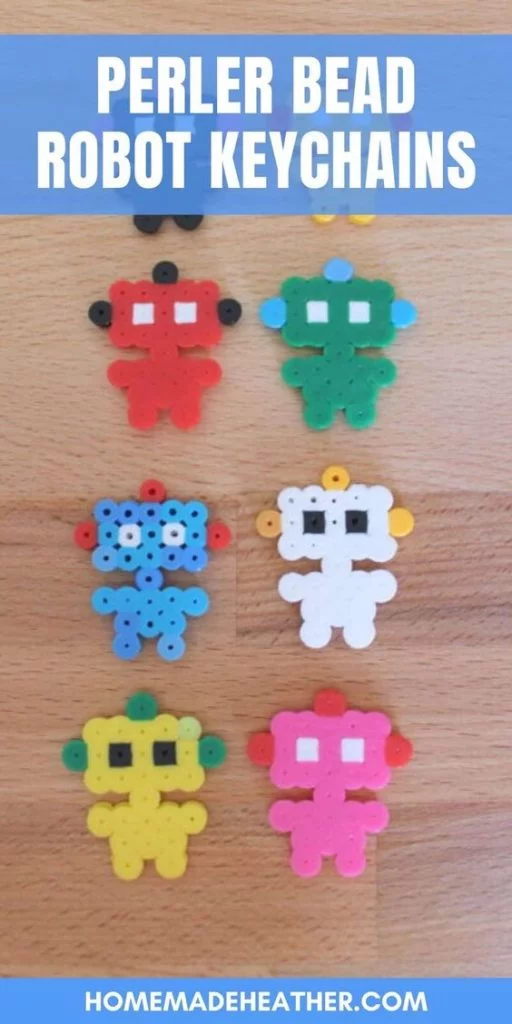 These mini robots by Homemade Heather are so cute and so easy to make! You only need a handful of beads. Your child can also choose the colors they want for their robot.
Light Saber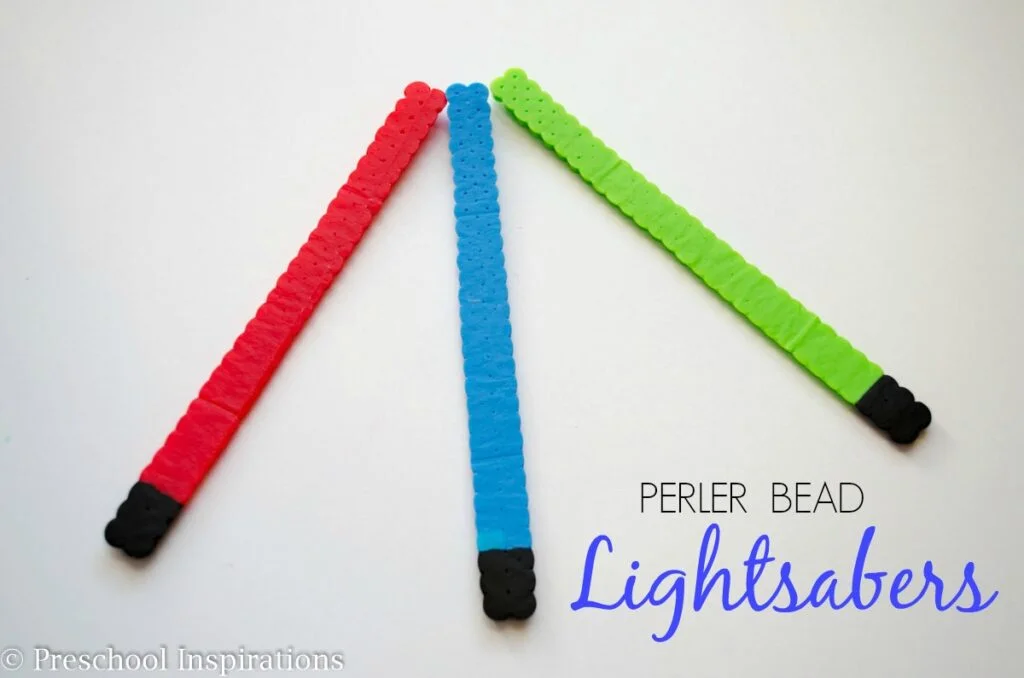 If your child has watched either the Star Wars cartoon or a Star Wars movie, they will have fun making their own light sabers. These light saber designs by Preschool Inspirations are made specially for the preschool child. They're an excellent first project for Perler bead beginners.
Valentines Bag Clips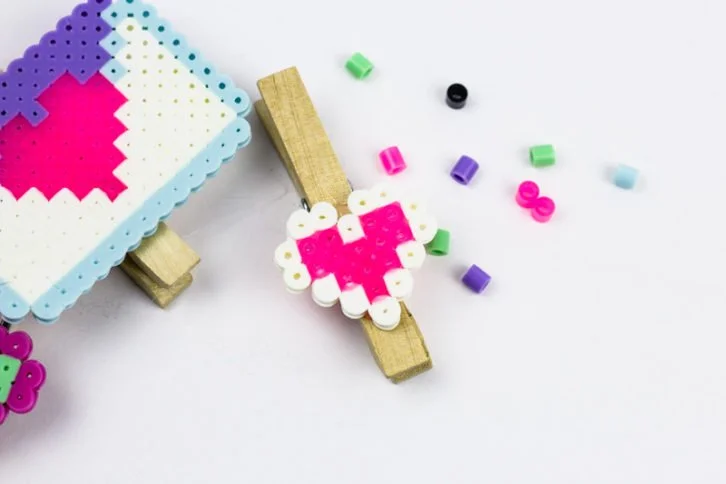 I really love wooden clips. Perhaps it's a nostalgia from the past when my grandma and I used to use wooden clips instead of the plastic ones we have nowadays. The great thing about these wooden clips is how you can customize them. Crafter Chelsea of Do It Your Freaking Self created these pretty heart designs to glue onto the clips. Your kids can make the Perler bead hearts, and they can watch you attach the two to each other with hot glue (or any adhesive of your choice).
You don't need to stop at hearts either. Just find any pattern as big as these hearts and you can attach them to the clothespins.
Easy Earrings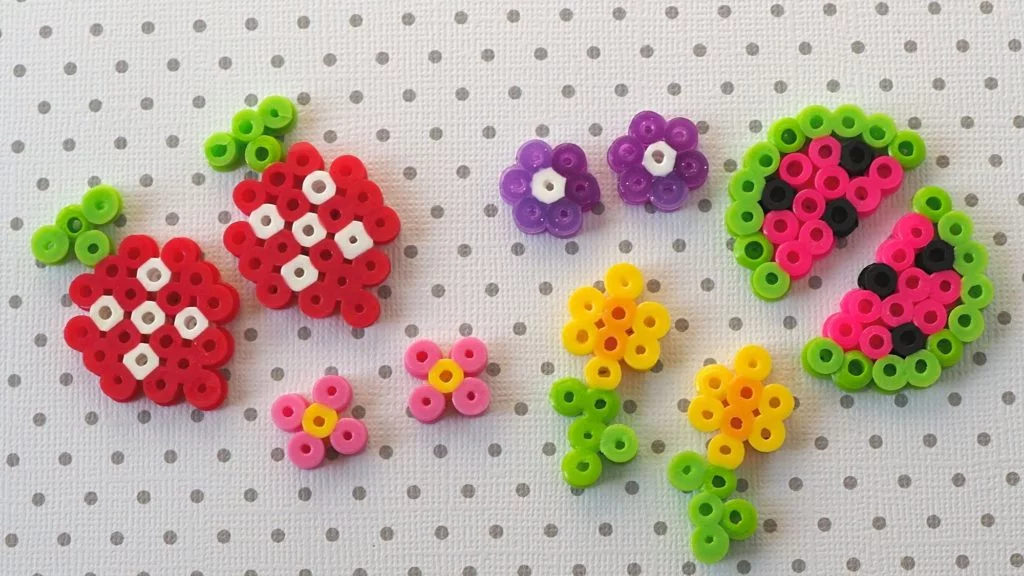 Aren't they just adorable? The colors are so bright and happy, too! These earring designs by Create with Claudia will surely be a hit with children. The yellow flowers and strawberries are eye-catching but those purple flowers would look great with any outfit.
You can just make these designs for fun but if your kids really want to wear them as earrings, you'll need a couple of supplies like earring hooks and jump rings. Be sure to check out Claudia's site for the tutorial video and step-by-step instructions.
Smiley Face
It's like a Pavlovian response but smileys more often than not make people happy. Check out this easy smiley face pattern here – Kandi Patterns.
Mini Cars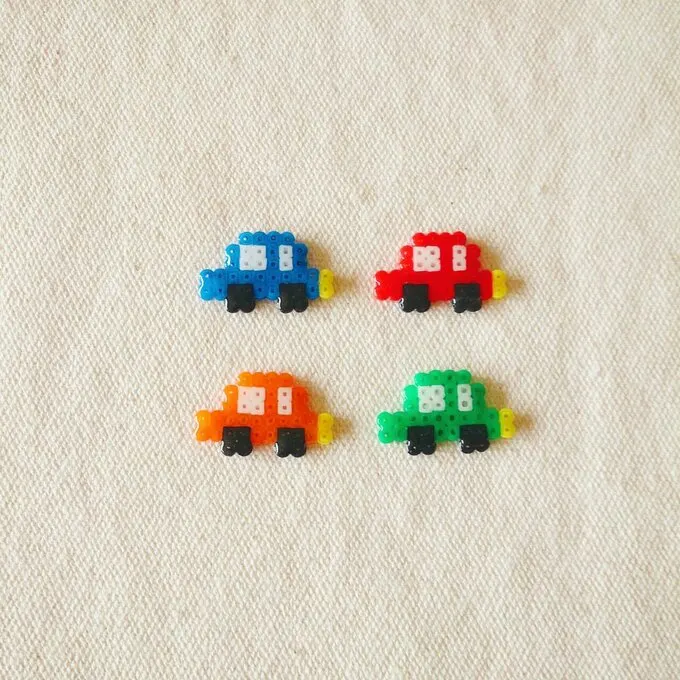 We had mini robots and now it's time for mini cars. These tiny cars by Minne are very colorful and easy to do. Ask your children what color they want their car to be.
Flower
This flower is one of the most basic designs on this list. This should be do-able even for very, very young children who are still developing their fine motor skills.
Pink Bow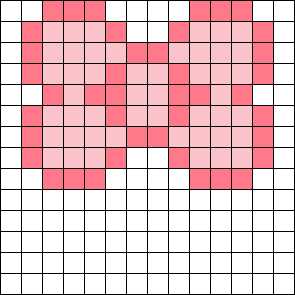 Here's another easy Perler bead project! A cute pink bow. The pattern is here – Kandi Patterns.
Rainbow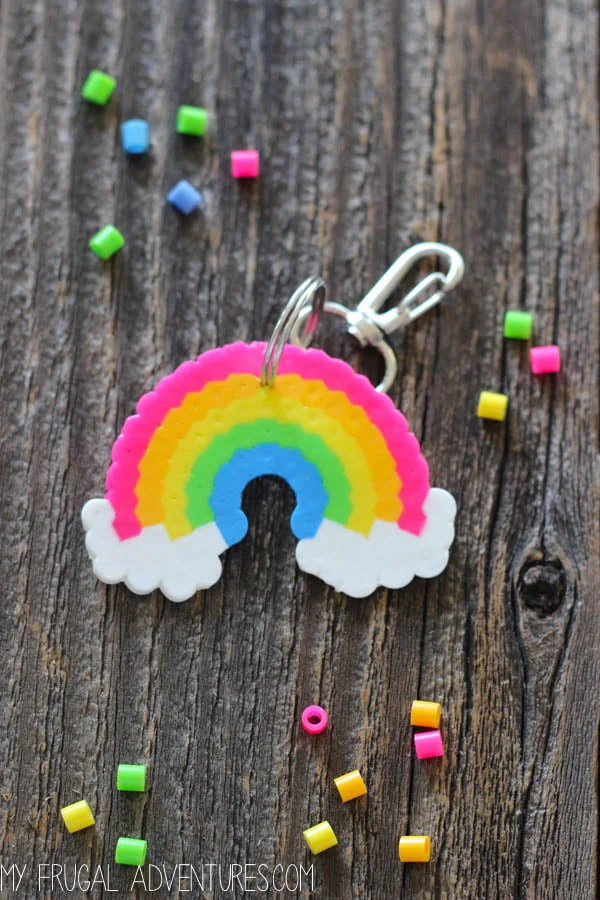 I originally talked about this pretty rainbow from My Frugal Adventures in my list of "cute Perler bead projects". It's too cute not to add to this list too so here you go!
Note: The number of colors and the colors themselves are inaccurate so if the little ones ask, you can use this opportunity to teach the correct colors of the rainbow. If you want to take it a step further, you can even adjust the pattern a bit and make it color-correct with all 7 colors. You will just need to make the clouds bigger if you do this.
Small Hearts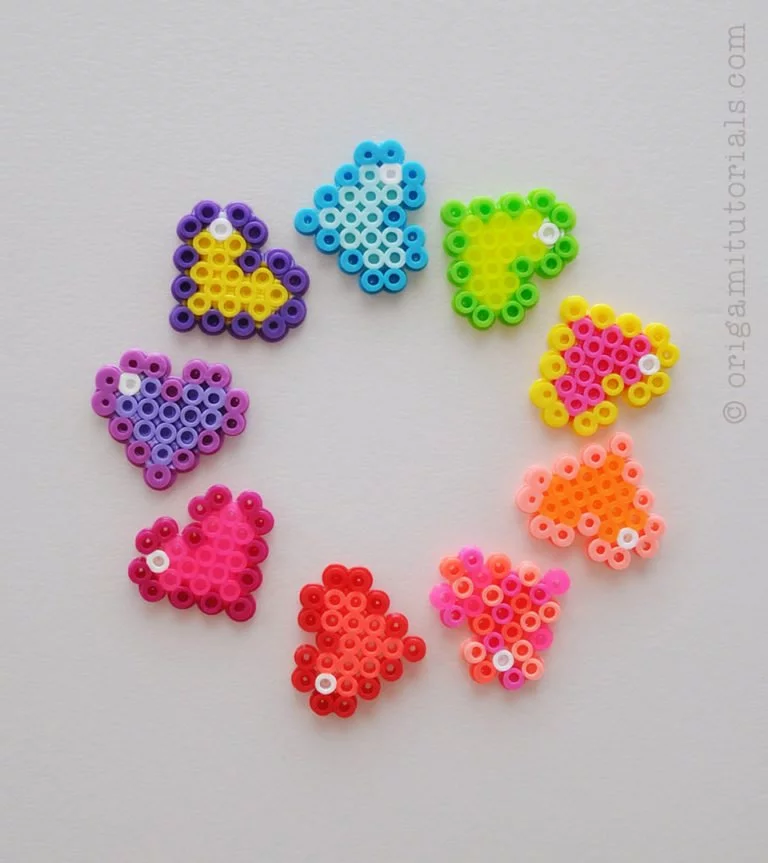 Here are more easy and basic designs that very young children can do – small hearts! These hearts by Origami Tutorials come in a variety of fun colors. You can encourage your kids to choose their own colors, too.
Summer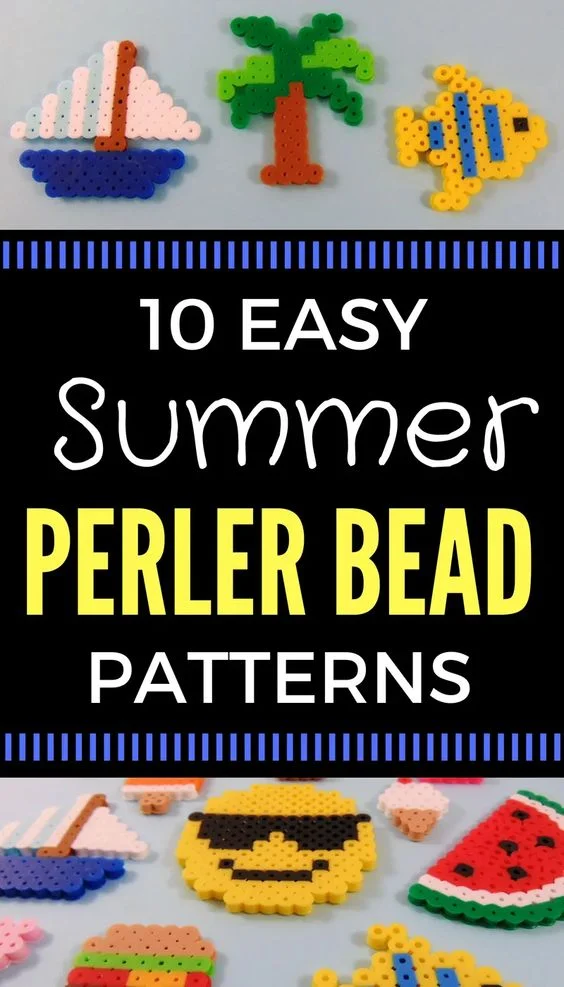 Celebrate summer with these fun summer things by Krysanthe. If you head on over to her website, you'll learn how to make a watermelon, ice cream cones, a palm tree, a tropical fish, a bucket and shovel, a sailboat, a hamburger, and lots more!
Easy Candies and Cakes
Cupcake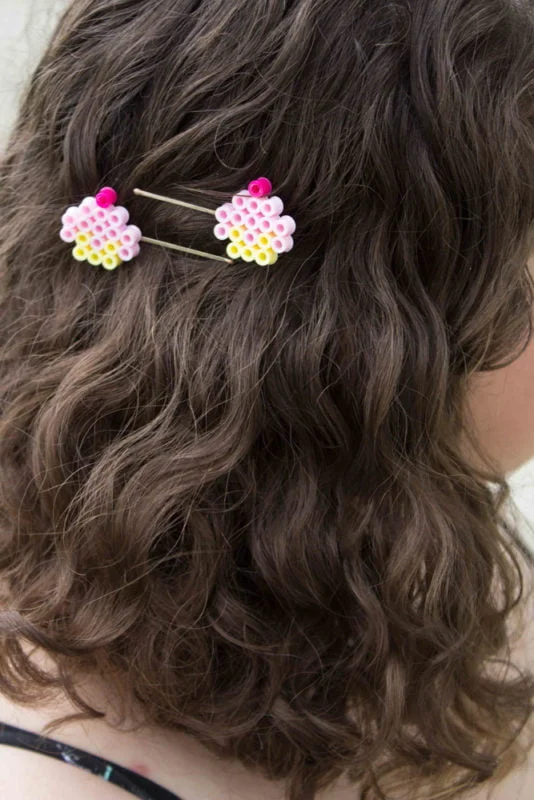 I give these cupcakes double the love. First, because they're so cute yet so easy to do. Even with just a few beads, you can immediately tell that it's a pink-frosted cupcake with a cherry on top. Secondly, Do It Your Freaking Self made these cute cupcakes into hair pin accessories. You'll sure to get compliments with these cupcake pins. Head on over to Chelsea's site for the tutorials.
Candies
Here are more easy patterns for the young 'uns. They'll surely love decorating these mouthwatering and cute candies!
Lollipop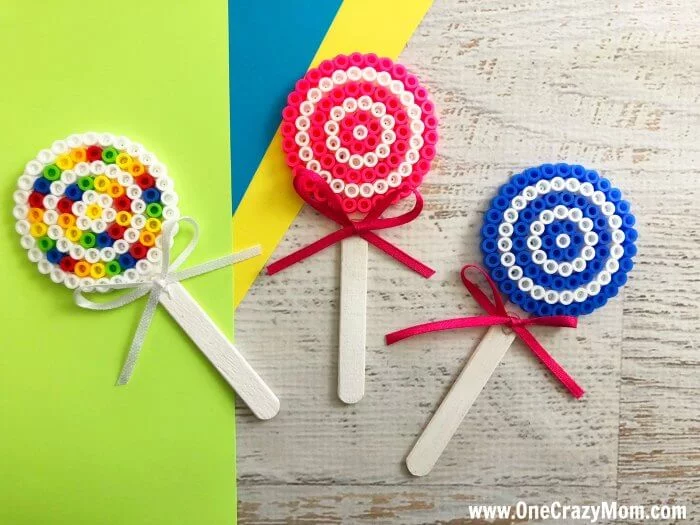 If you've got popsicle sticks lying around, you might want to try out One Crazy Mom's Perler bead lollipops. They look good enough to eat!
Cotton Candy
Here is an easy cotton candy to do. You can make this design more vibrant by using bright pinks or blues for the cotton candy.
Pumpkin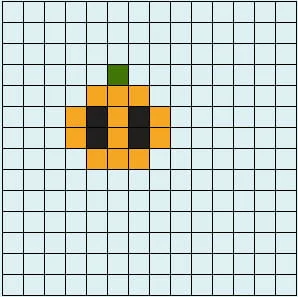 Let's wrap up this list with this super easy and super cute pumpkin. It should be the perfect project for Halloween. Make a handful and use as décor around the house. You can find the pattern here – Kandi Patterns.
If you enjoyed these designs, make sure to share them on your social media.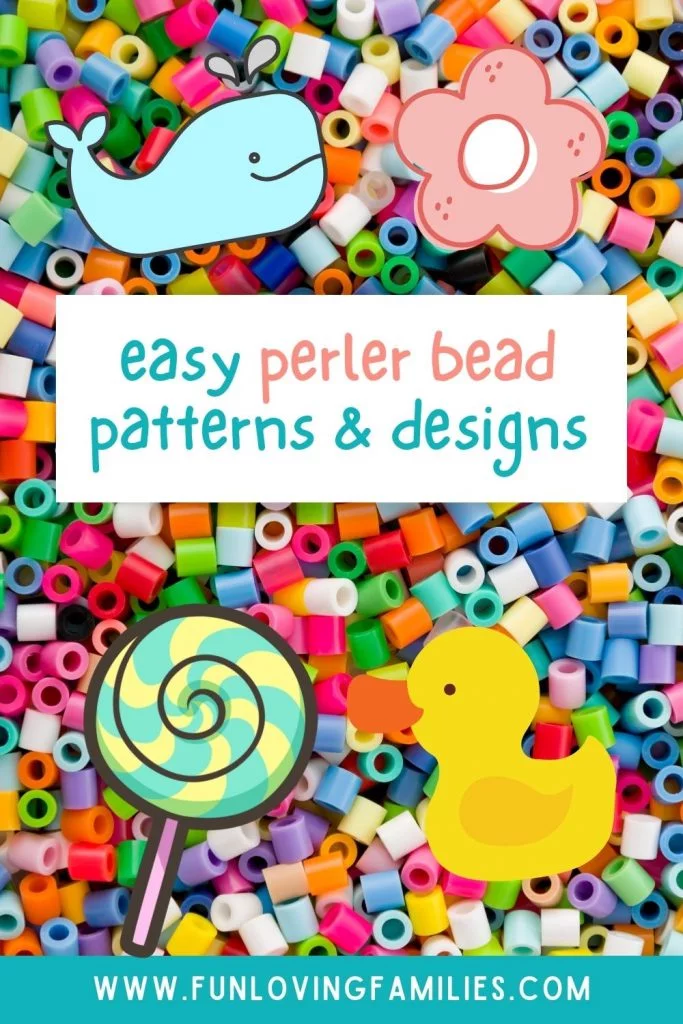 Similar Posts: