Making Perler beads is a ton of fun. It's inexpensive, you just need a few things to get started, and there is no limit to how creative you can get with the projects you make. If you're a fan of Harry Potter, you will surely enjoy these Harry Potter Perler bead patterns.
There are a ton of things you can do with Perler beads, and when you add the rich world of Harry Potter into the mix, you can come up with a lot of amazing and even jaw-dropping projects.
We have a long list of curated samples and ideas. First off, we share some creative crafts followed by Harry Potter designs. Then we showcase all your favorite Harry Potter characters and things from the books and the movies.
There's something for everybody so enjoy and start crafting!
Harry Potter Crafts
Harry Potter Christmas Tree Ornaments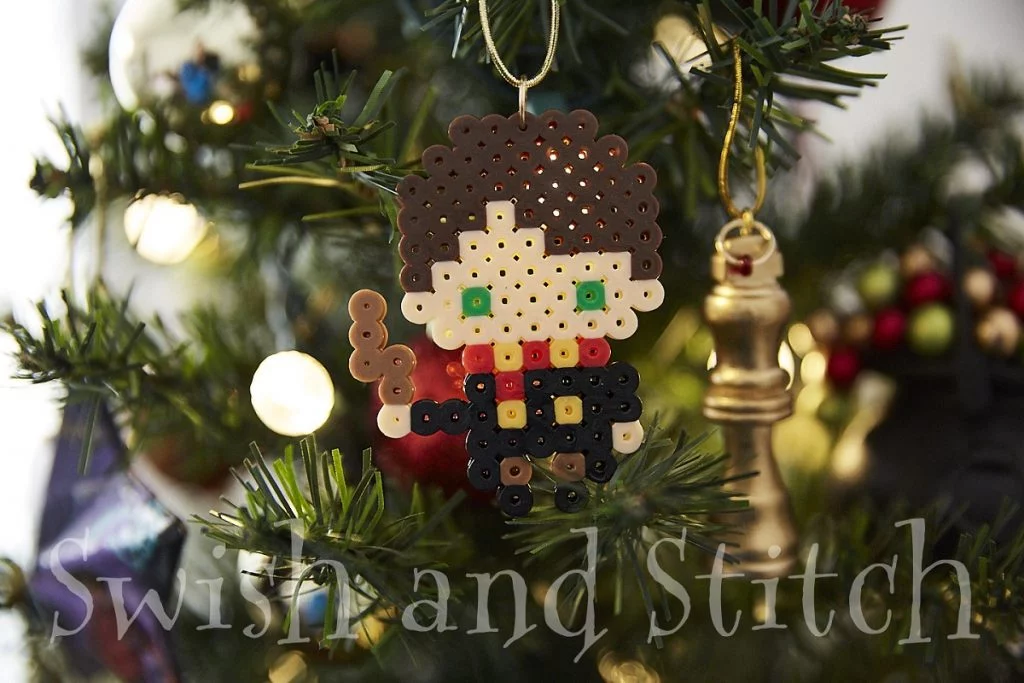 Make your Christmas Tree more fun by making these Harry Potter character ornaments from Lucinda of Swish and Stitch. Lucinda shares patterns that are small and easy to make yet very recognizable. She doesn't stop at Harry. She also makes cute patterns for Hermione, Ron, Voldemort, and even Dobby so make sure to check her out.
House Crest Tags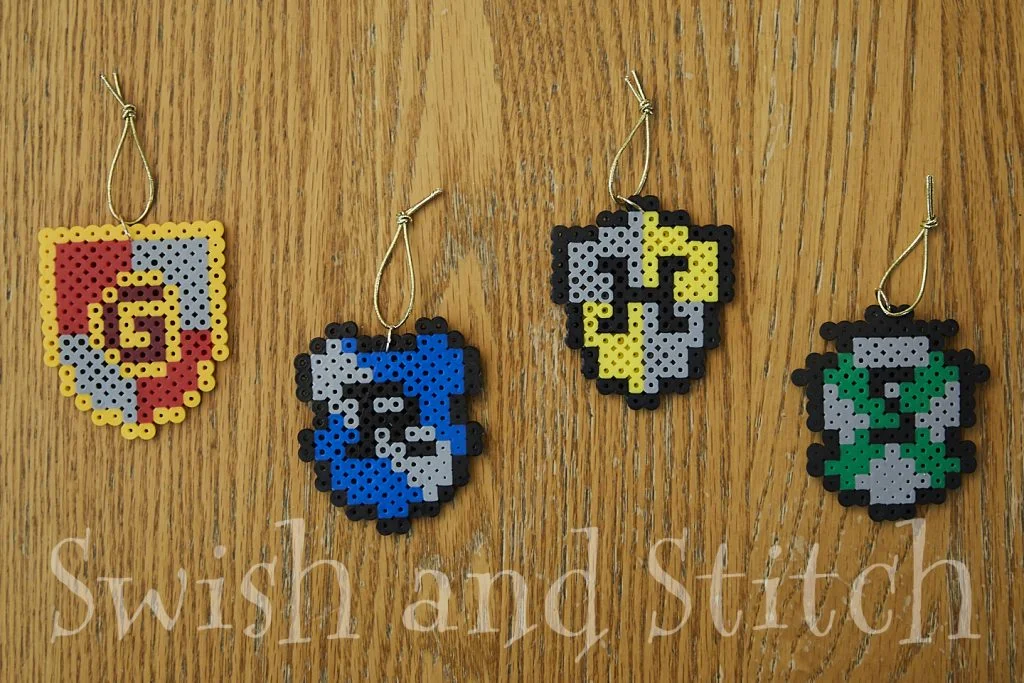 Here are more décor from Lucinda of Swish and Stitch. If you've already been sorted, it's important to have your house crest on you. It's easy making these Perler bead house crests. Are you Gryffindor, Ravenclaw, Hufflepuff, or Slytherin?
Harry Potter Character Keychains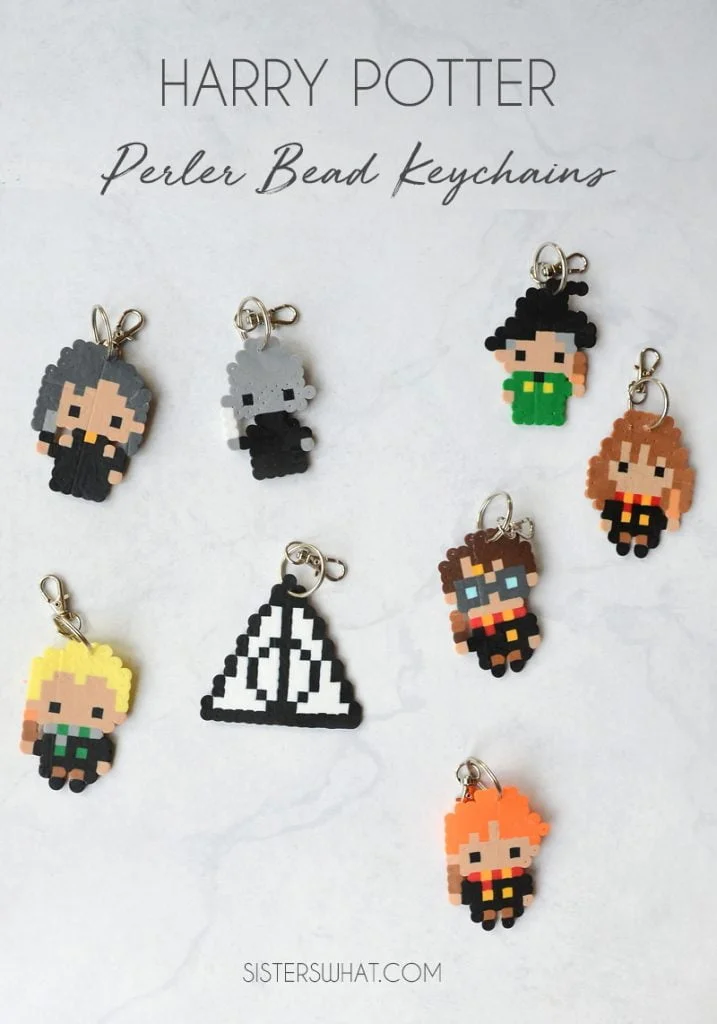 Havalah of Sisters, What also created her own simple Perler bead designs of the most popular Harry Potter characters. There's even a Professor McGonagall one! If you like your Harry Potter with his signature glasses, then you'll love her pattern.
Harry Potter Character Mini Magnets
Spice up your ref magnet game with these cute mini magnets of Harry, Hermione, and Ron by Vanessa. To keep them intact and easy to move around, mount your Perler bead characters onto some solid backing like pieces of wood, thick cardboard, or even big bottlecaps, and then, glue on the magnets behind the backing material.
Harry Potter Wall Decor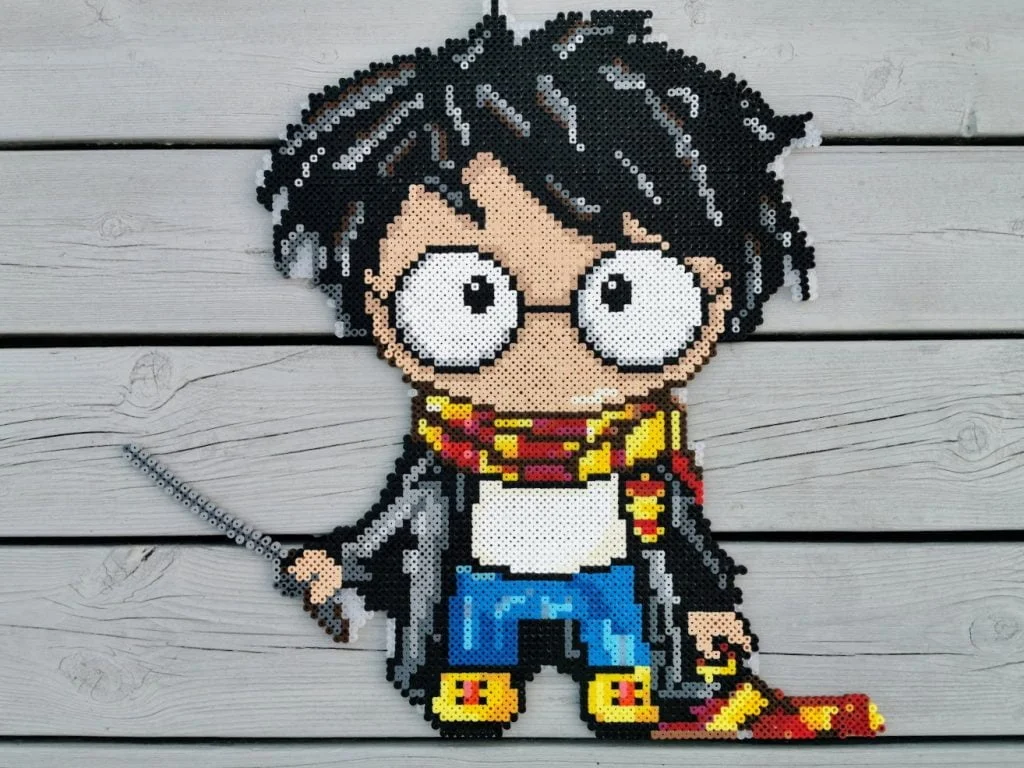 Vibbedille created this beautiful (and big!) Harry Potter figure. The crafter had to use 14 plates for beading. To put it against the wall, Vibbedille used nano tape. This would also look great as a standee on your table if you can find a suitable mount for it. In this design, Harry is wearing his signature glasses and Hogwarts scarf with wand at the ready.
Luna Lovegood Spectrespecs and Radish earrings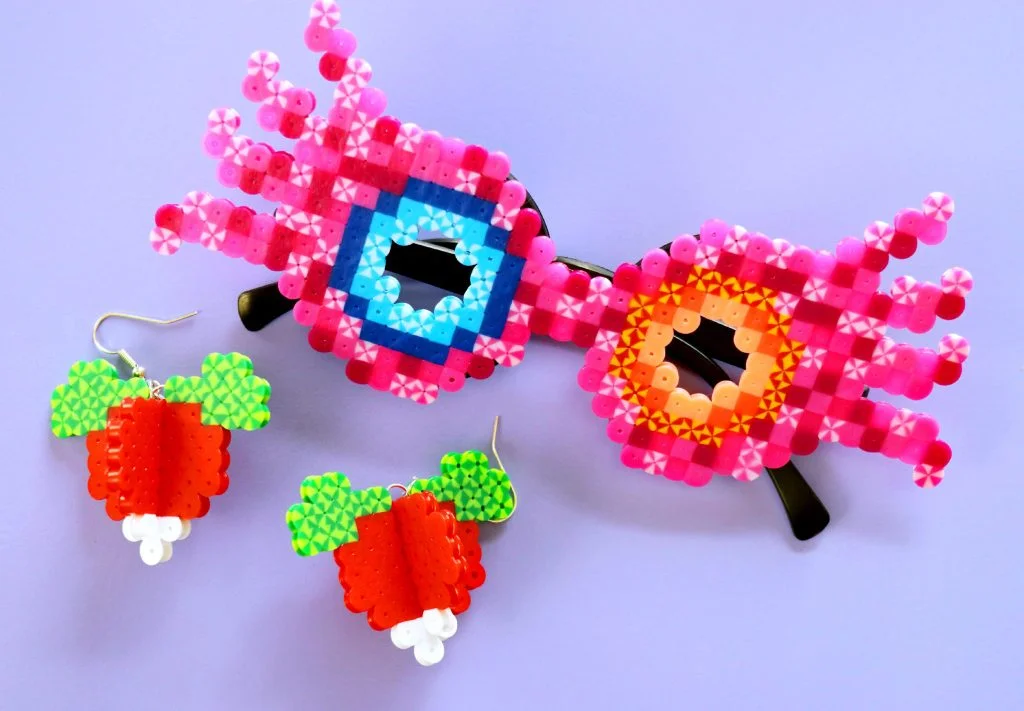 Luna Lovegood is one of my favorite characters in the Harry Potter books. She's ethereal, dreamy, sweet, and loves magical creatures. Apart from her necklace of Butterbeer corks, two of her signature looks are her Spectrespecs and radish earrings. Crafter Karen Kavett created her own Spectrespecs and radish earrings out of Perler beads. You can check out her blog and watch her video to see how they're actually done.
Fred And George Weasley Twinsies Keychains
If you are a couple or have a BFF you want to give a matching gift to, these Fred and George keychains are a great idea. You can even change up the letter on the sweaters if you want to customize your presents.
3D Time Turner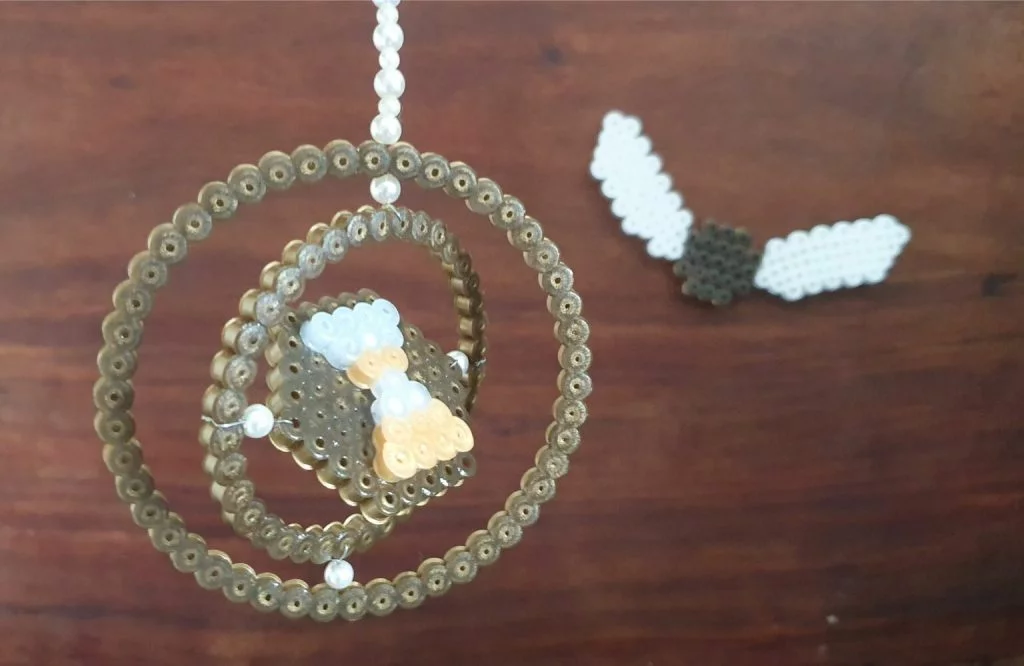 Everybody probably wants their own time turner. But since they were all destroyed, we can just make one ourselves. This Perler beads time turner by MomMadeMoments is 3D and needs only a few beads. Substitute available colors if you don't have gold-colored beads. You'll do need some wire if you want to pull off the 3D effect.
House Crest Coasters
Everybody needs coasters for their cold drinks. We might as well make some Harry Potter ones. These also make for perfect gifts for fellow HP aficionados.
Wand Bookmarks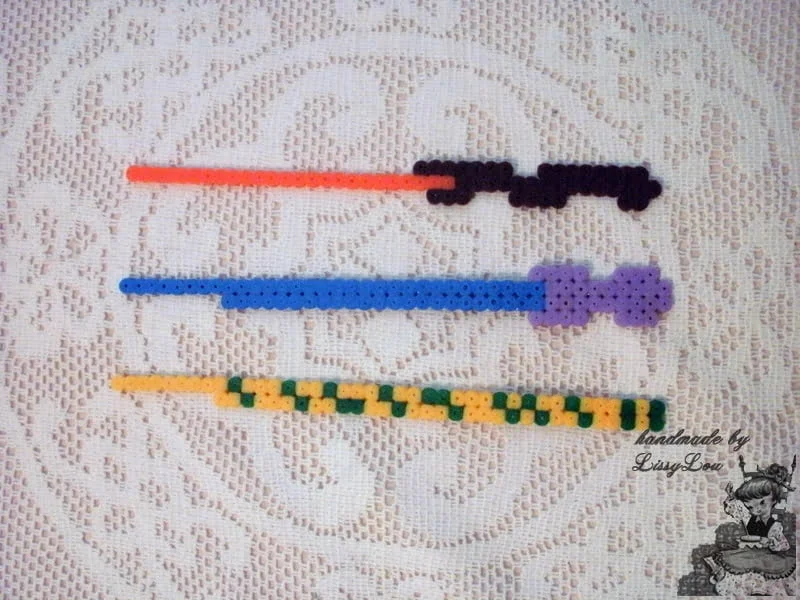 The HP world has wands made of wood but Lissy Lou of Handmadelissylou made colorful interpretations using Perler beads. These simple designs are perfect for very young beginners. Choose from Ron's, Hermione's, or Harry's wand.
Harry's Trunk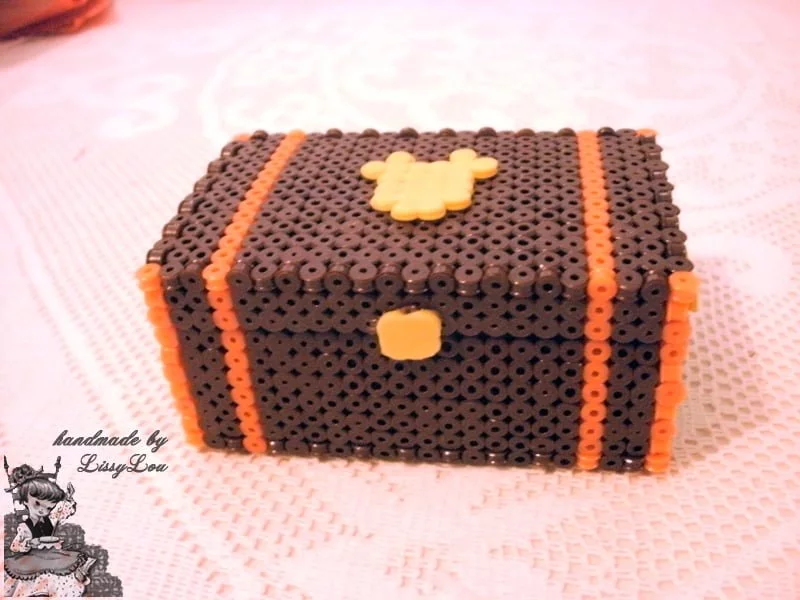 Lissy Lou of Handmadelissylou has so many amazing creations that it's hard to choose which ones to showcase. We love all her works but I chose to show you Harry's trunk that she made because it can actually open and close. Very tricky to make, it has interlocking side pieces and a lid that opens and closes. You can find more details of her creation process in her blog.
Wind Charm
Isn't it amazing how much you can do with beads? This particular wind charm has a Snitch, Professor Dumbledore, and Fawkes, his phoenix. You can, however, choose other characters and hang those instead.
Pins And Brooches
Make cool pins out of the platform 9¾ sign, the Sorting Hat, and the Deathly Hallows symbol. In addition to your Perler beads, you'll need a hot glue gun and a brooch pin for this project.
HP Keychain
The Harry Potter logo is usually in red and yellow colors so to render it in blue and white is a rather unusual choice by crafter Victoria Rodriguez . Still, it's pretty and you're bound to get a lot of compliments for it from friends and family.
Harry Potter Plaque
This HP plaque is sure to a conversation starter if you put it up in any room. You'll need a good amount of red and yellow beads though.
Harry Potter Designs
If you want more patterns of Harry to choose from, simply keep scrolling. With any design you choose, you can make them as is, or you can turn them into keychains, ornaments, bookmarks, earrings, and other crafts so long as you have the right materials from your go-to craft store.
Harry Potter With Stitched Glasses
This simple pattern is made very striking by the unique stitching of the glasses with black thread. Doesn't Harry look a teensy bit like a butler here?
Harry With Sparkly Wand
Here's Harry with huge eyes and a sparkly wand in hand. Can you spot his scar?
Harry Potter In Autumn Colors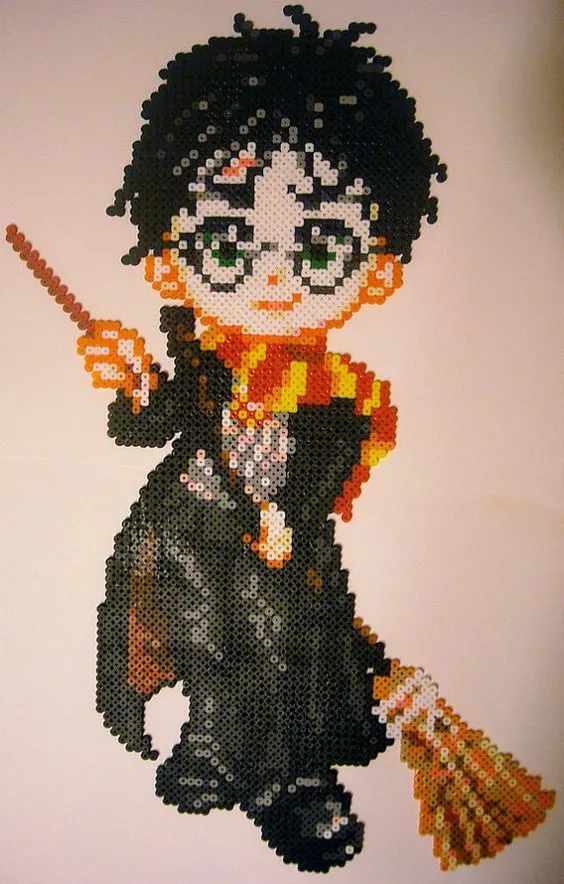 Intentional or not, Sandra and Eloïse's Harry Potter gives off major autumn vibes with its rich orange, red, and yellow hues. This would look cool along with your autumn décor.
Harry Hanging From His Broom
This is a lovely design by Melek Haznedar that shows Harry holding onto his broom in mid-air. It's an excellent pattern that captures the thrill of the moment.
Harry Astride His Broom
Do you want a simpler design? Here is an easier one that has lesser details and beads. It's still cute, don't you think?
Harry Chasing After The Snitch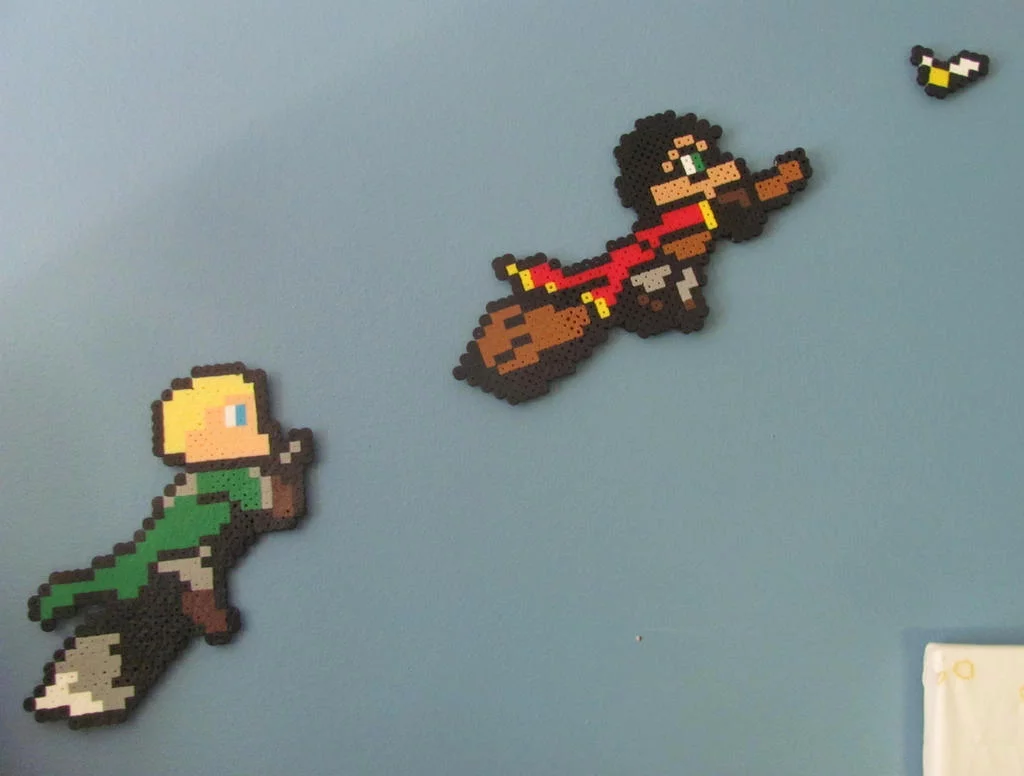 If you want even more action, then we have the perfect design by Kittykazoo for you. Check out Harry chasing after the fast-winged Snitch with Draco hot on his heels!
Harry With The Golden Snitch
Enough with the chasing. Here's Harry finally catching the Golden Snitch. Victory!
We happen to have this exact grid design for you in case you need it. Here you go.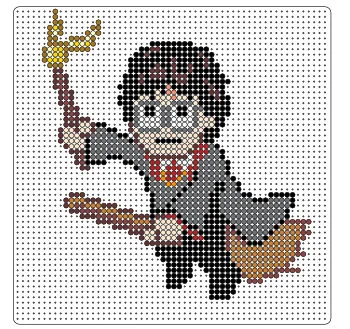 More HP Characters: Hermione, Ron, And The Whole Gang
Easy Hermione Pattern
Here's a basic pattern of Hermione in her Hogwarts uniform. It's very easy to do and follow.
Hermione Granger Chibi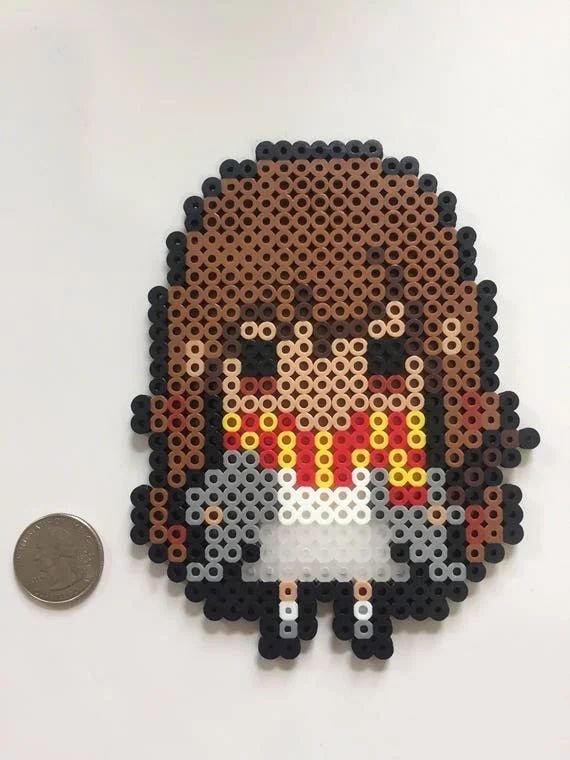 If Hermione Granger is your favorite character from the HP franchise, then you'll surely want this chibi version of the strong-hearted wizard by freebeadpattern. The coin beside the finished product gives a very good idea of how big the pattern is.
Hermione With Pretty Hair
This is one of the prettiest Hermione patterns we've seen so far. While we sometimes see the powerful wizard with hair in disarray after a particularly strong spell, this crafter shows off Hermione with her beautiful brown locks.
Ron Weasley
Ron Weasley fans, here's a really cute pattern of the funny and loyal wizard. You can't miss Ron's red hair.
Ron, Hermione, and Harry Character Patterns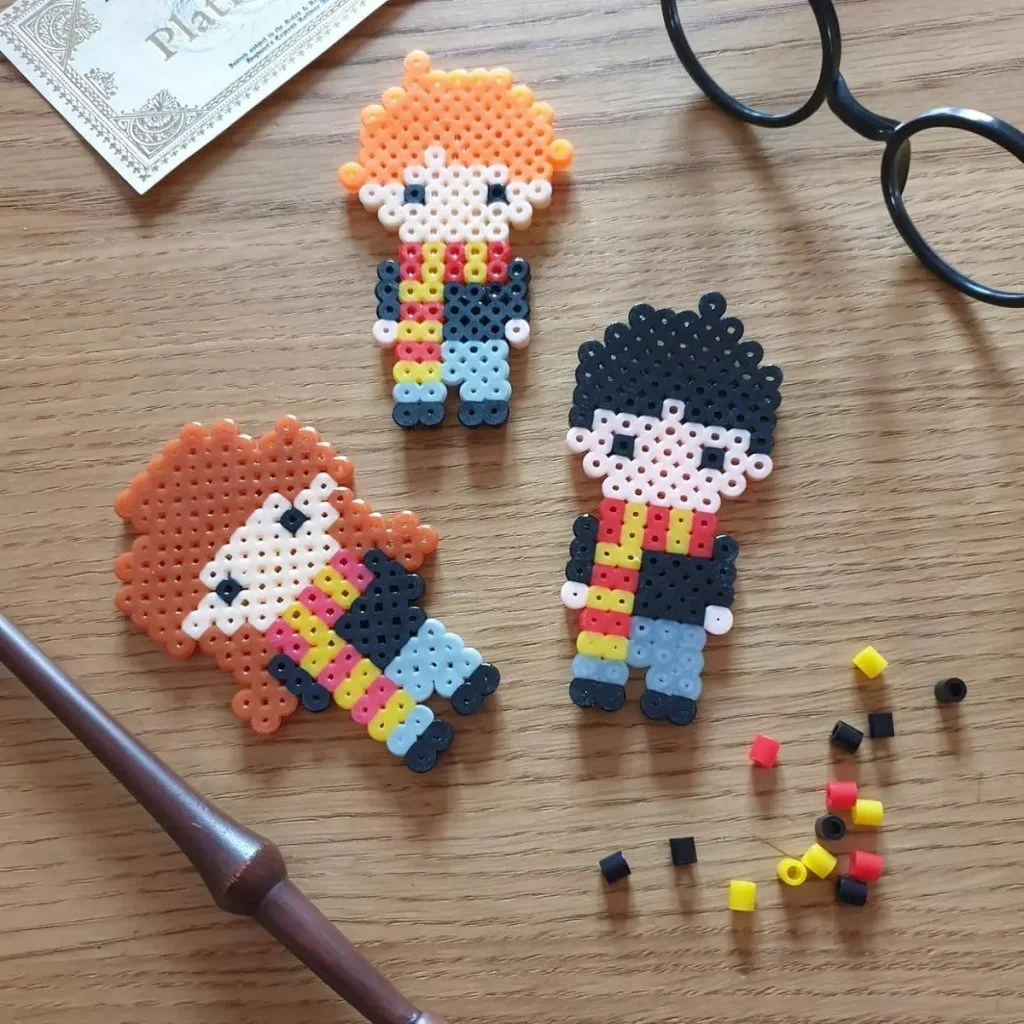 If you absolutely need a grid pattern to follow in order to make your 3 favorite characters, then check out Hugo L'Escargot. Hugo's generously shared each of the patterns he used. You can also watch him work on these patterns in fast motion via the embedded YouTube video found in the blog article.
Professor Dumbledore With Golden Spectacles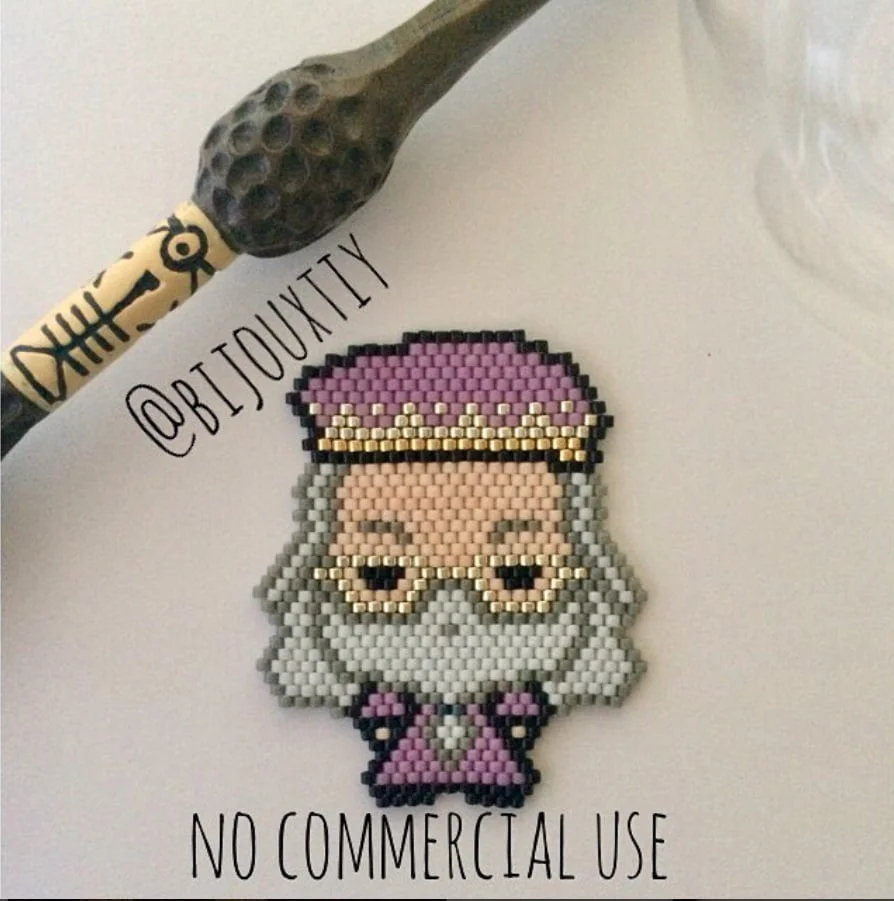 We can't talk about Harry Potter without talking about Professor Dumbledore. Bijouxity shares some breathtaking Potter designs like Harry Potter hanging from his broom, a winged key, and a sorting hat. Her Professor Dumbledore seems to be the easiest to follow though even without a grid pattern.
Professor Dumbledore In Matching Hat And Robe
Purple seems to be a popular color for the Professor. Here's is the good Professor once again in a matching purple robe and hat.
Simple Dumbledore Design
If you are looking for simple designs that young hands can do, check this one out.
Professor Dumbledore In Deep Purple Robes
The contrast between the wise wizard's white beard and deep purple robes is quite arresting. The good professor looks absolutely regal in these robes.
Professor McGonagall in Blue
Finally, we get to Professor Minerva McGonagall, one of our favorite Hogwarts professors. If you fancy her in monochromatic shades of blue, you'll find this pattern interesting.
Professor McGonagall And Cat
The wizard's hat and the stylish green robes are a dead giveaway that this is Professor McGonagall. But if that's not enough, there's also the black cat beside her. We're not sure if it's the McGonagall family cat or the good wizard's Animagus form. Either way, it's a perfect foil for the strict professor.
Professor McGonagall in Black Robes
Here is the good professor in her signature black robes.
Simple Hagrid Pattern
If you need a very simple pattern of Hagrid, this right here is the one for you. You only need a few beads, and the design is easy to follow.
Rubeus Hagrid
This design shows off the famous gamekeeper's shaggy mane, wild beard, and brown coat. Even if the pattern is small, it gives off giant vibes.
Detailed Hagrid Design
If you want a really detailed rendering of Hagrid, the monster-loving giant, then you'll want to check out this amazing Perler bead project. The details on his brown moleskin overcoat are excellent.
Professor Severus Snape
This is a surprisingly dashing design of the cold yet tragic wizard. I'm a big fan.
Professor Snape Likeness
It's amazing how we can make likenesses of our favorite characters with just beads. Isn't this Professor Snape by AmayaMariSuta simply jaw-dropping?
Professor Snape and Draco Malfoy
Here is Professor Snape and the one Hogwarts students he is openly fond of — Draco Malfoy. With their wands out, they look like they've come straight out of an anime.
Simple Draco Malfoy Design
This pattern is perfect for little hands that can only work with simple designs.
Draco Malfoy With White Hair
According to the Pottermore lore, Draco has sleek white-blond hair. However, it must be hard to render that with Perler beads. Here's Draco with his recognizable white hair. Can you spot his Slytherin colors?
Draco Malfoy Slytherin Prince
Doesn't Draco look so fine? His white-blond hair stands out here as well as his Slytherin robes. Overall, it's an excellent Perler bead pattern of this complex young man.
Evil Lord Voldemort
He-Who-Must-Not-Be-Named is looking particularly evil in this Perler bead pattern. Just look at those piercing eyes. He is the stuff of nightmares.
Lord Voldemort and Nagini
If you found Nagini particularly compelling in the book and movie, here is a pair you can create — it's Voldemort and his Horcrux in snake form.
Simple Dobby Design
Dobby is one of the heroes of the Harry Potter story and his selfless acts will never be forgotten. "Dobby has no master! Dobby is a free elf, and Dobby has come to save Harry Potter and his friends!"
Dobby And Harry's Sock
Harry tricking Lucius Malfoy into freeing Dobby is truly an iconic scene. So here is Dobby with Harry's precious sock.
Professor Trelawney And Her Crystal Ball
Ah, Professor Trelawney. Who can forget this great Seer?
Trelawney: "I was saying that Saturn was surely in a position of power in the heavens at the moment of your birth… your dark hair… your mean stature… tragic losses so young in life… I think I am right in saying, my dear, that you were born in midwinter?"
Harry Potter: "No, I was born in July."
Professor Slughorn
Thanks to Professor Slughorn, Lord Voldemort learned the secret of the Horcruxes. No matter. We got a thrilling story out of it and Professor Slughorn redeems himself in the end.
Ginny Weasley
If you love Ginny half as much as Harry does, then you'll surely want to do her character in Perler beads. Her design showcases the famous Weasley hair and the obligatory Hogwarts uniform.
Luna Lovegood
Luna Lovegood is one of my favorite characters in the Harry Potter books. She's ethereal, dreamy, sweet, and loves magical creatures. Her Perler bead pattern is as quirky and out-of-this-world as the original Luna.
Fleur Delacour
Fleur's Perler bead pattern is as lovely as the quarter-Veela. A dragon-charmer who knows what she wants, Fleur is beauty inside and out.
Alastor Moody
This tough cookie has lost an eye, a leg, and part of his nose fighting for the cause. Check out his cool Perler bead pattern.
Rita Skeeter
Not necessarily evil, Rita Skeeter is one of the Harry Potter characters who is definitely morally gray. Don't you just want to hit her with a handbag after reading her poisonous write-ups?
Bellatrix Lestrange
As much as we deplore this dangerous witch, you have to give props to this amazing Perler bead design. This totally captures the wild and dangerous vibe that Bella gives off.
Moaning Myrtle
Say Moaning Myrtle and we get flashbacks of the poor ghost talking to Harry Potter. "Ooooh, it was dreadful. It happened right in here. I died in this very stall. I remember it so well. I'd hidden because Olive Hornby was teasing me about my glasses. The door was locked, and I was crying, and then I heard somebody come in. They said something funny. A different language, I think it must have been. Anyway, what really got me was that it was a boy speaking. So I unlocked the door, to tell him to go and use his own toilet, and then — I died."
Harry Potter Things
One of the strengths of the HP franchise is the vast array of unique objects and creatures that populate this world. It is truly an example of amazing world-building. Find your favorite Harry Potter things from the list below.
The Sorting Hat and a Hogwarts Letter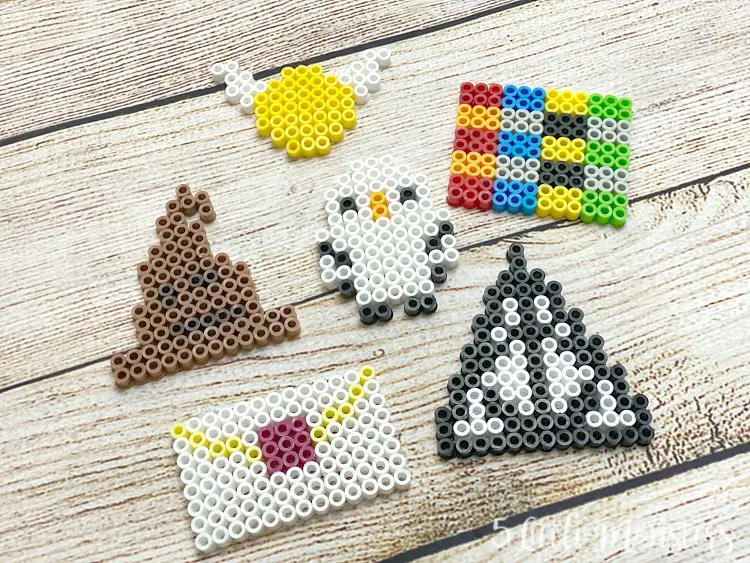 It seems just right that we start off with a letter from Hogwarts and the legendary Sorting Hat. If you're a beginner, you'd want to start off small and simple and these basic bead patterns by 5 Little Monsters are just perfect for that. Still, as simple as these 2D designs are, anybody who's a real fan will immediately recognize them even from a distance.
Hogwarts Castle
The sprawling and majestic buildings of the school seem impossible to replicate but here's a simple design that still manages to evoke the vibe of the legendary wizarding school.
Sorting Hat With Face
This is a Sorting Hat design with the rather sour face of the animated magical being. You can almost hear it sing one of his yearly songs: "Oh you may not think I'm pretty, but don't judge on what you see, I'll eat myself if you can find a smarter hat than me."
House Crests
I love designs that incorporate all 4 houses into one. Isn't this art by davedudedead so well-made?
Gryffindor Crest
The Gryffindor house crest (fire element) has the colors of fire and their animal is the lion symbolizing a Gryffindor's chivalry and bravery.
Slytherin Crest
The Slytherin crest (water element) is green and their animal is a snake which represents a Slytherin's ambition and resourcefulness.
Ravenclaw Crest
The Ravenclaw crest (air element) is blue and their animal is an eagle symbolizing a Ravenclaw's intelligence and wisdom. "Soar where others cannot climb."
Hufflepuff Crest
Finally, we get to Hufflepuff. Their crest (earth element) is yellow and their animal is the badger which stands for a Hufflepuff's hard work, loyalty, and tenacity.
HP Logo, Hedwig, And The Golden Snitch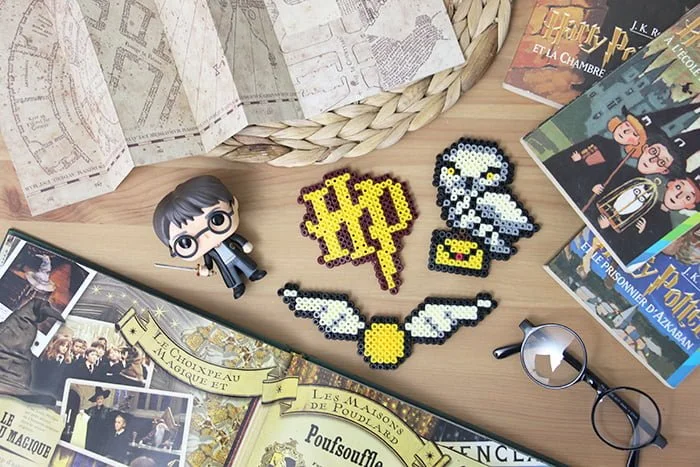 Nothing tells people that you're a Potterhead like the Harry Potter logo. It's instant recognition. Julie of jesuisvernie shares an easy-to-follow pattern. Her blog is French but you can just head on over straight to the grid patterns she shares. Apart from the HP logo, you'll also find patterns for Hedwig and a Golden Snitch.
Quidditch
Here is a breathtaking Quidditch Perler bead design by Crea-Mary. I'm not entirely sure if it's a crest or a logo, or even if it's fanmade. Either way, it's simply magnificent.
Mandrake aka Mandragora
Doesn't it look deadly? Remember what Hermione said. "The cry of the Mandrake is fatal to anyone who hears it."
Butterbeer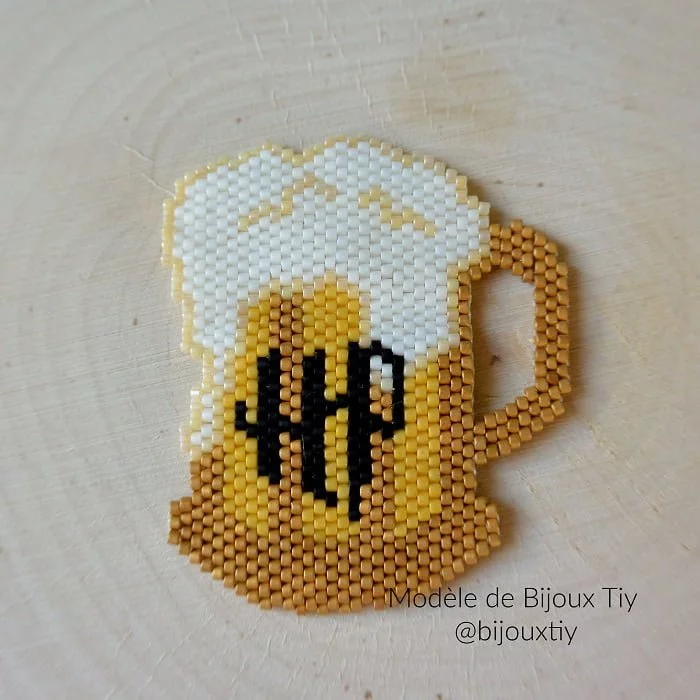 I bet you always wanted to try a foaming tankard of butterbeer. Here's the next best thing by Bijouxtiy. Her Perler bead gallery is full of mind-blowing designs from jewelry to animals to 3D artwork. She also generously shares the diagrams for these designs.
Voldemort's Horcruxes
If you're a true HP fan, you should be able to identify all of these horcruxes. Do you know why there's a pair of spectacles amongst them?
Hogwarts Express
Little kiddos will love this bright red train. See how it's parked at King's Cross Station Platform 9¾.
Beautiful Hedwig
This is the most beautiful Perler bead rendering of Hedwig hands down. You have to love the expression of her eyes. Kudos to crafter longblackfingers.
Easy Hedwig Pattern
If your little one wants to do an owl design, here is a really easy pattern children should be able to follow. It's very easy and you only need a few beads.
Hedwig With An Owl For Harry
Crafter Isaletheia says she created this design for a client who requested for a Hedwig dropping off a letter to our dear Harry Potter.
Winged Key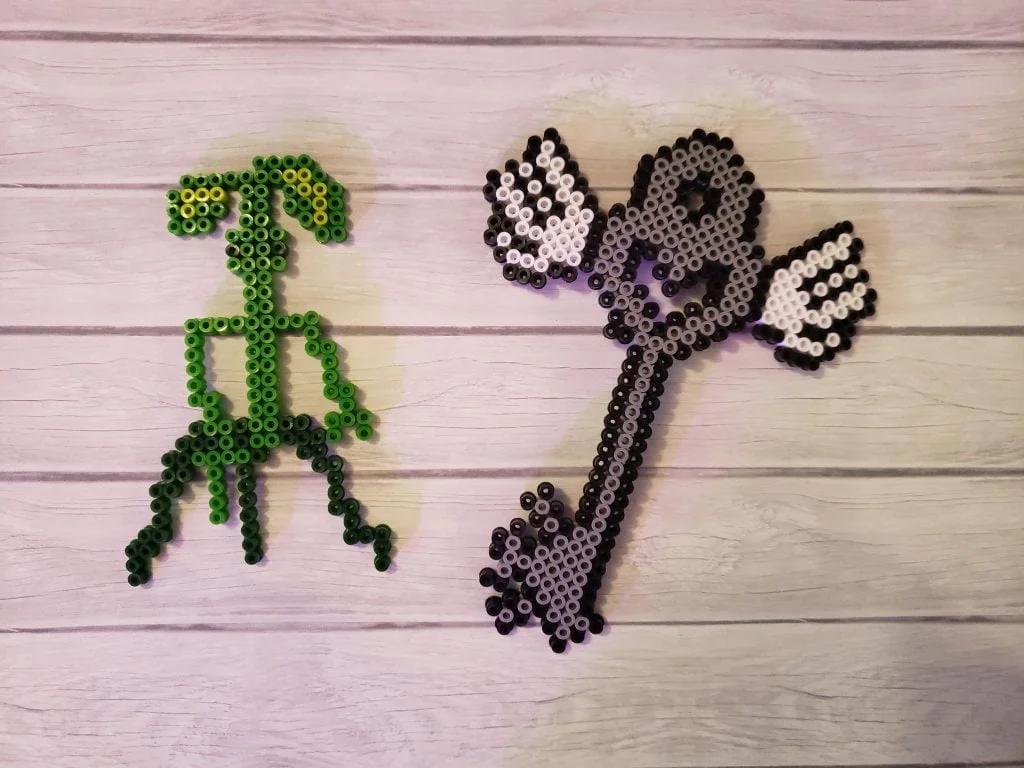 Add a winged key to your Harry Potter Perler bead collection. This winged key by Quirky Cat makes a nice addition if you ever decide to make the hanging charms in the Crafts section above.
Similar Posts: