Use our free Halloween Perler bead patterns and have fun doing melty bead crafts with the kids this Halloween.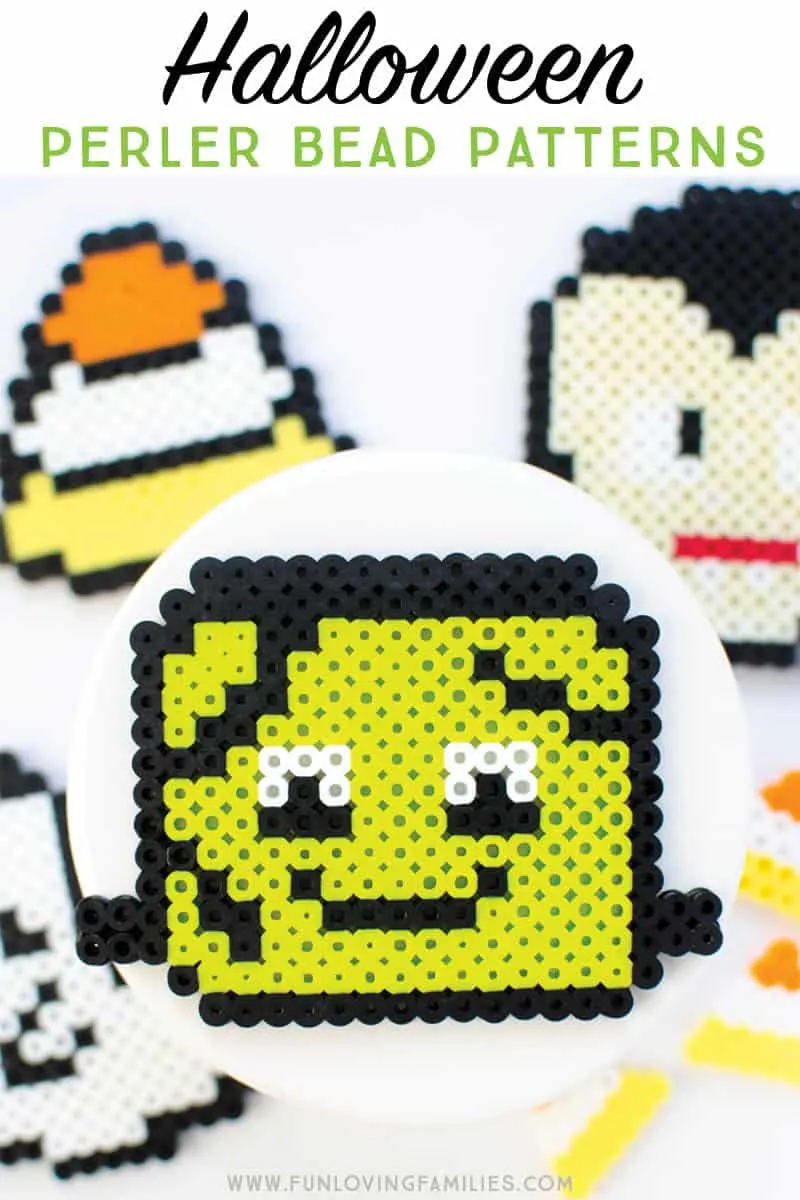 We've been crafting with our melty beads again, and we've come up a few simple Halloween perler bead patterns to share with you today.
(We call them melty beads at home, since they get melted together, but some people call them fuse beads, and the brand name is Perler. You may see the terms used interchangeably here.)
Halloween Perler Bead Patterns
We love playing with our Perler beads, and we created a page where we're keeping more of our Perler bead patterns and designs that don't necessarily go along with a holiday.
But, since we're all excited about Halloween right now, we created some patterns that are perfect for this super-fun holiday. You'll find the download link for the templates after each image.
(This post contains affiliate links which means I may earn a small commission if you click a link and make a purchase. As an Amazon Associate I earn from qualifying purchases.)
What You'll Need:
Tub of Perler beads (find it here)

You'll need these colors: black, white, yellow, orange, red, green, and off-white

Perler Bead Tweezers (find them here)
Large Square Pegboard Canvas with Ironing Papers (find it here)
Candy Corn Perler Bead Pattern
I mentioned when I made the Candy Corn brownie bite monsters how much we love candy corns at Halloween, so of course we had to make one with our melty beads!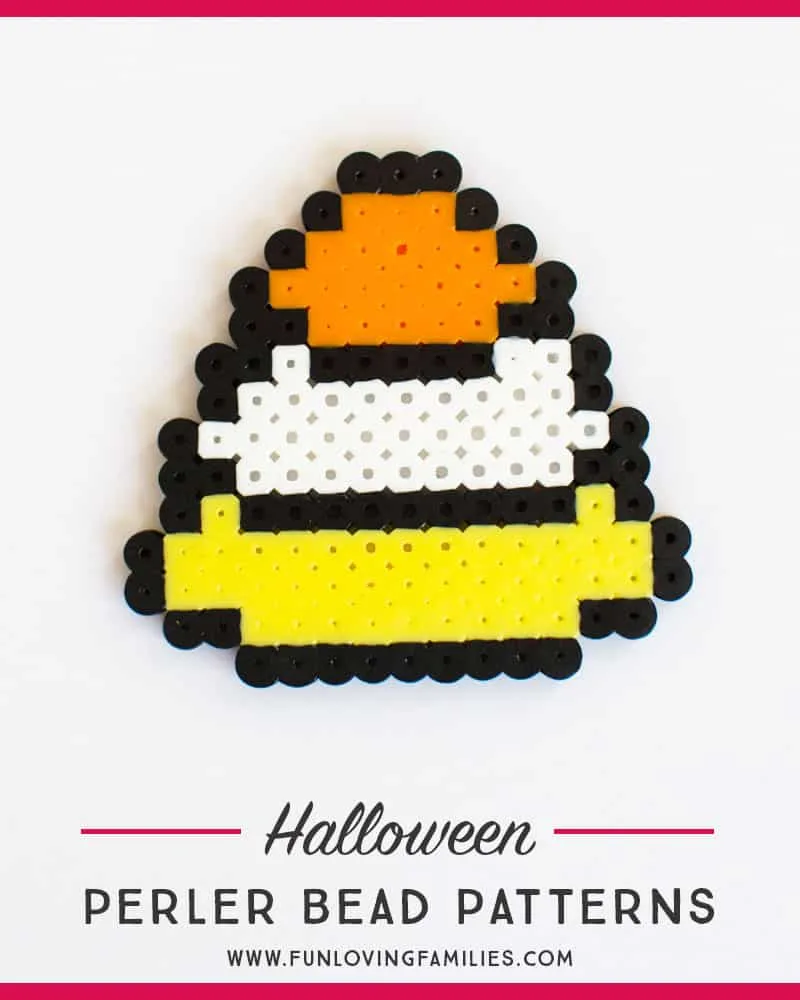 Ghost Perler Bead Pattern
This little Halloween ghostie is on a mission!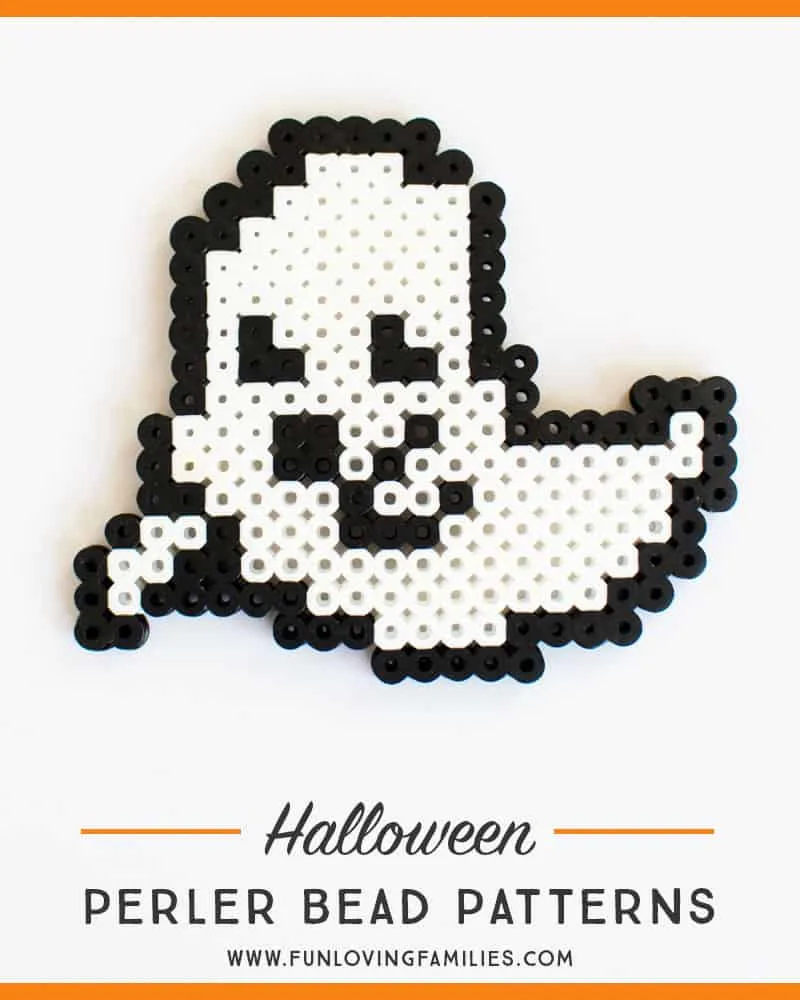 Frankenstein Perler Bead Pattern
We made Frankenstein's monster a little more cute than scary, but we absolutely love how he turned out. It makes me smile every time I see his little face. 🙂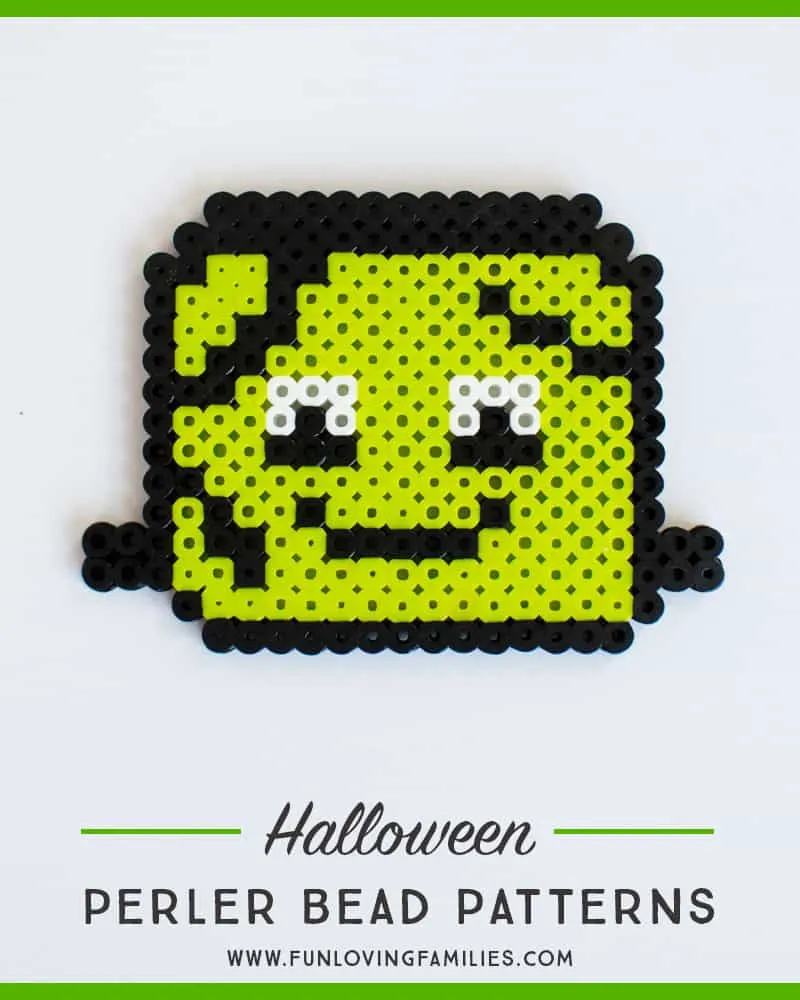 Dracula Perler Bead Pattern
Of course, we had to include a Dracula design in our Halloween perler bead patterns. I hope you like him as much as we do!
These Halloween Perler bead designs were the first round that we made, but I think we'll be coming up with more before we're done with this season.
(Updated Oct 2019: Keep scrolling for our newest Halloween Perler Bead Patterns!)
Easy Halloween Perler Bead Patterns
We've created some cute and easy Halloween Perler Bead patterns this year that the kids can complete in just a few minutes.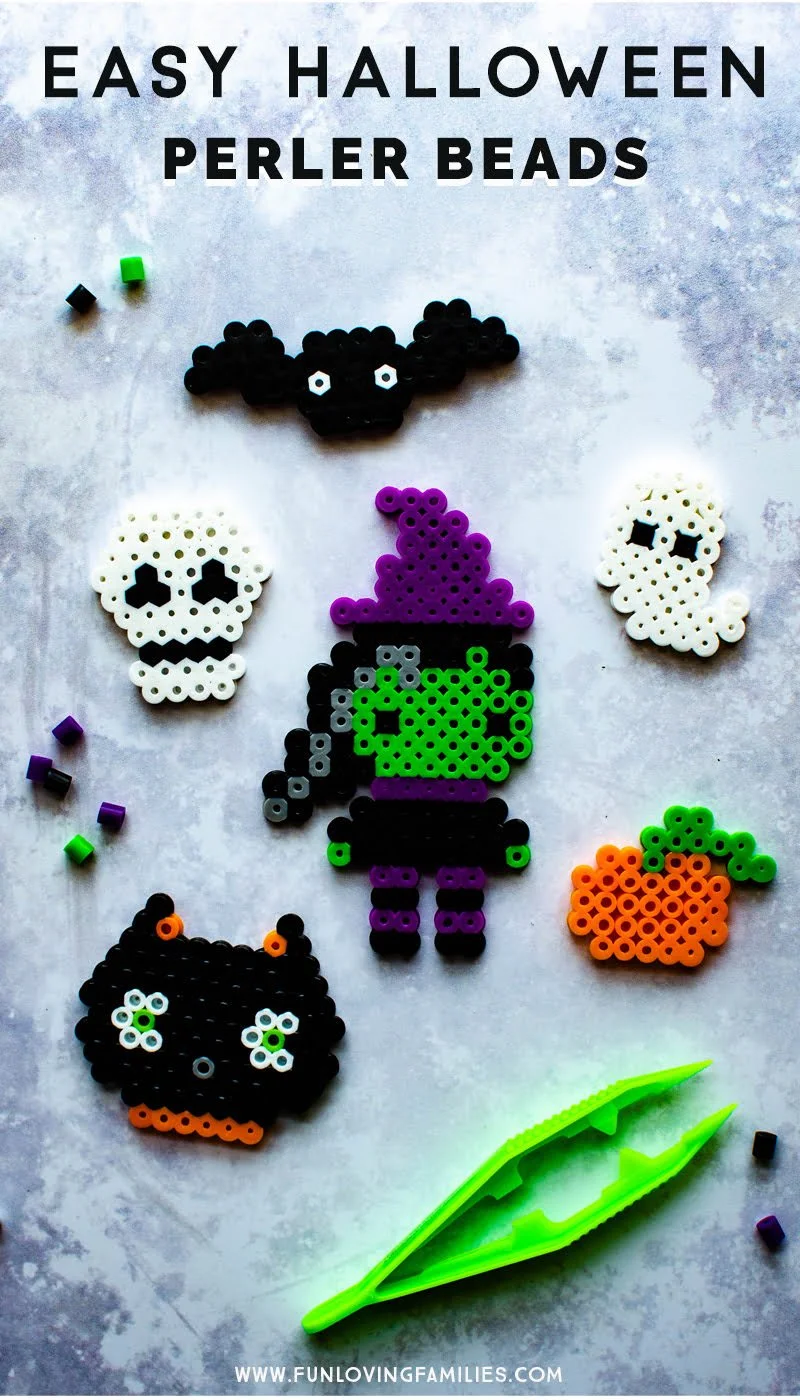 What I love about this set of Halloween bead designs is that they're all pretty small and come together quickly. Sometimes the kids are up for detailed patterns, but most of the time we just want something small and simple to pass the time for a little bit.
Plus, with small and easy patterns, it gives who are just over playing for a little while a chance to finish their creations and take them home with them.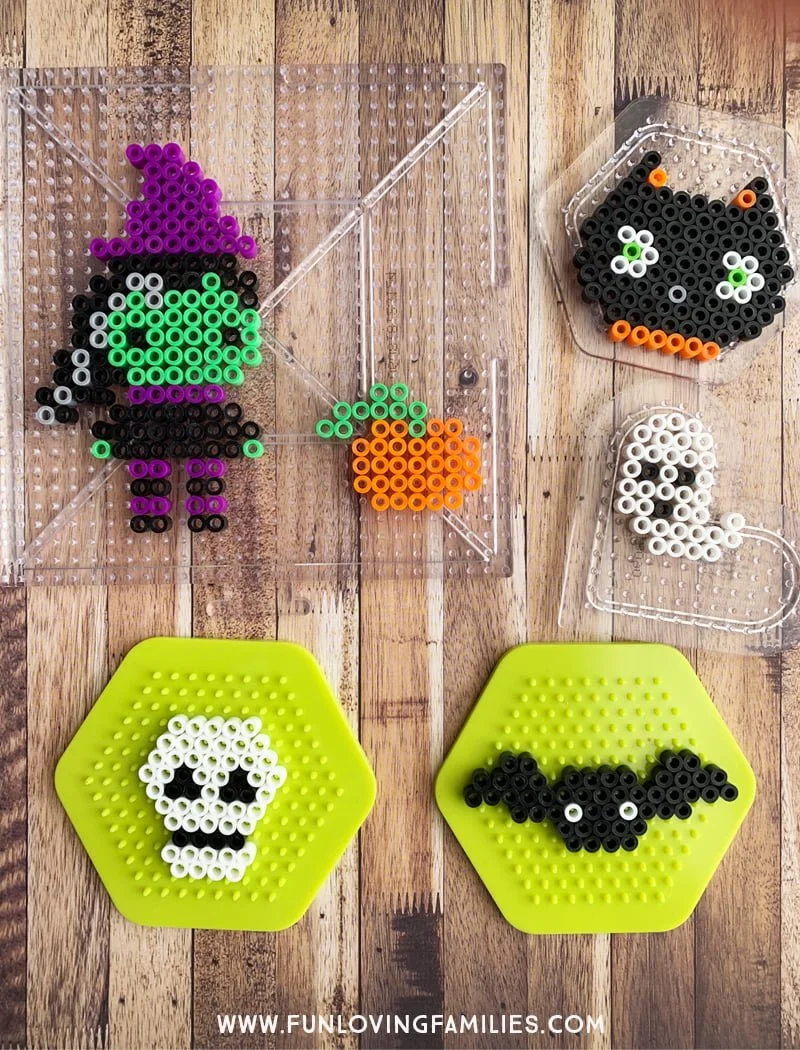 We had fun playing around with the different bead canvas shapes, and found the hexagon really useful for making the skull, bat, and cat head. We used the heart shape for the little ghost, and a regular square pegboard for the witch and pumpkin.
You can click the button below to print out the patterns for all of the Perler bead designs in this cute Halloween set.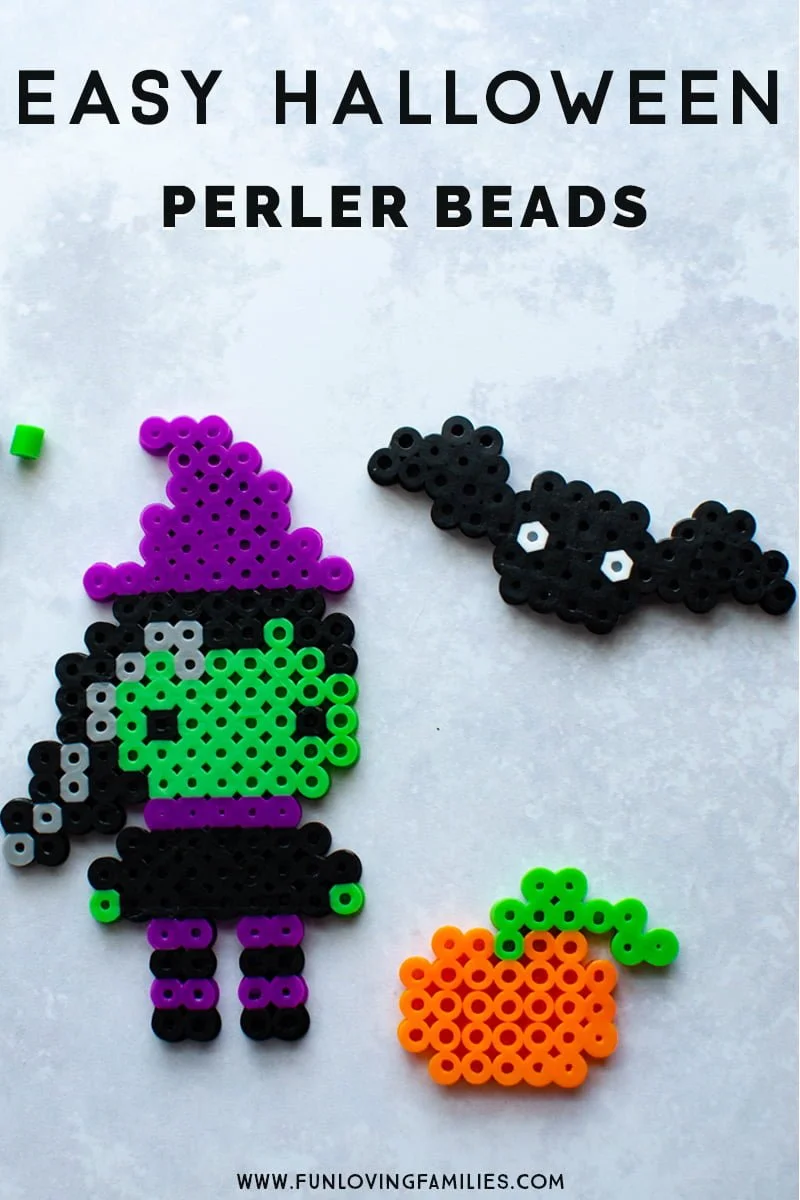 I hope you have fun crafting with your melty beads this Halloween. And, we provide our patterns to help give you inspiration to come up with your own designs, in addition to following our templates. The beauty of fuse beads, and why we love creating with them, is how completely open-ended they are. The more you use them, the easier it is to dream up new designs!
Enjoy and happy crafting!
Also, check out our other Perler Bead designs: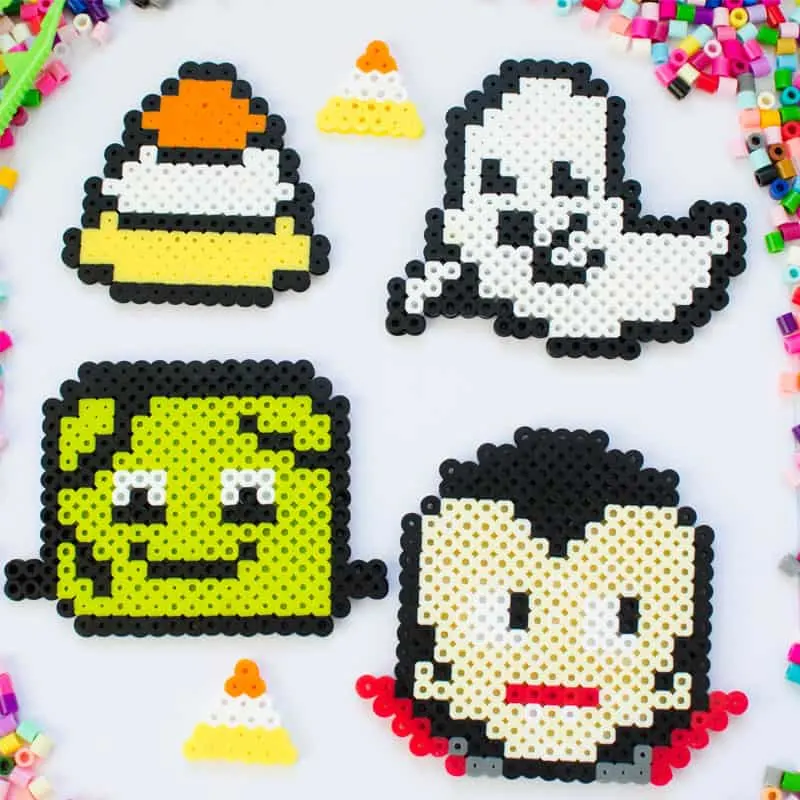 Similar Posts: