If you're looking for food-themed Perler bead designs, then you've just struck gold. I've curated 100 designs of various delicious foods. Whenever possible, I've included the patterns, too.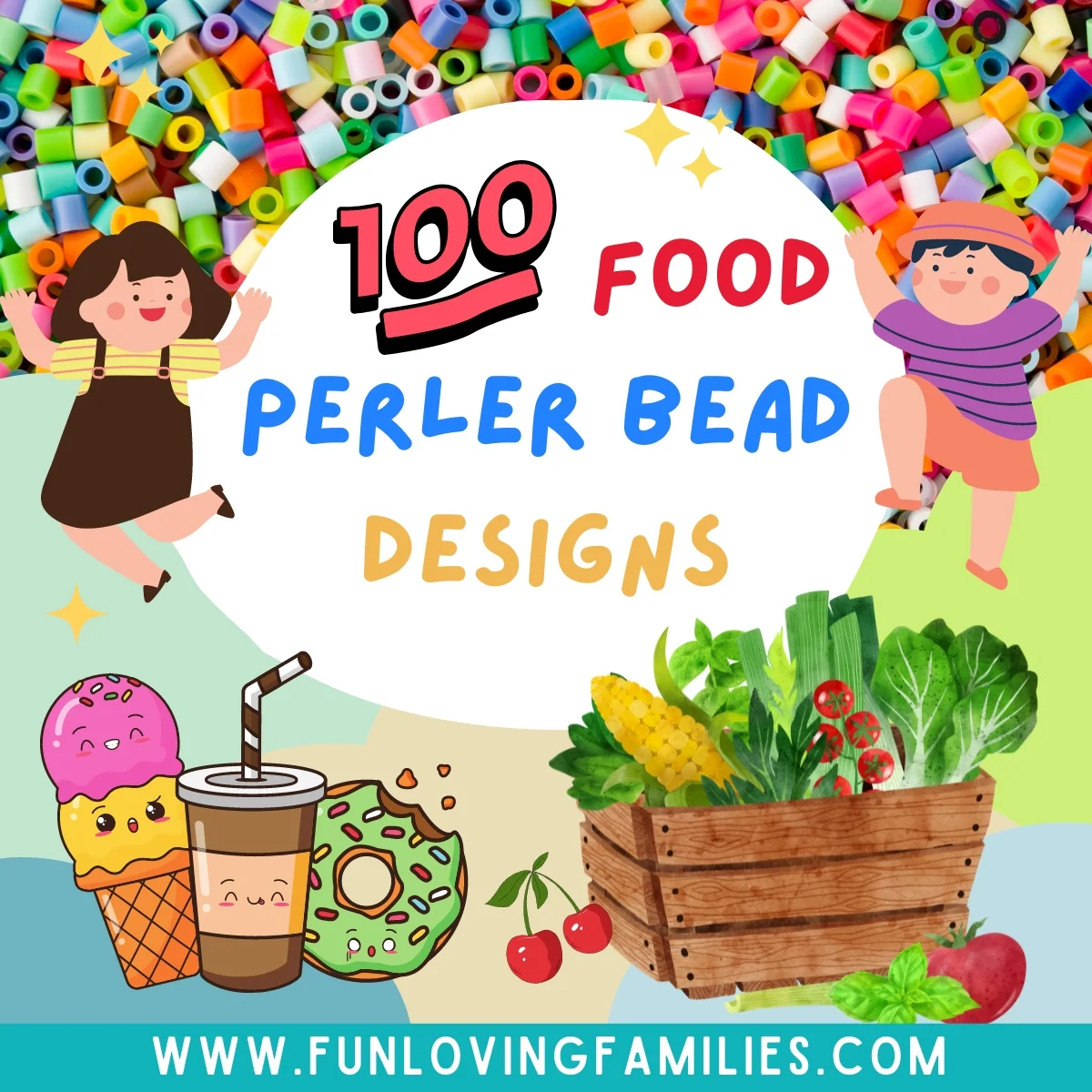 Food is one of the many things that makes me and my family happy. When my children are having a hard time at school or I'm going through a difficult workload, treats like pizza and ice cream or sushi and ramen always make things better.
This giant food list I've put together is arranged alphabetically. If you're looking for a particular design, just check out the Table of Contents and click on the item you want. After the food designs and patterns, I've added in a separate portion for awesome 3D food designs. Be sure to check those out because they're jaw-dropping. And finally, I end the list with Perler bead craft ideas that will help you turn your designs into useful everyday things.
Let's get started!
Food Perler Bead Designs
Just look at all these yummy foods. Not only do they taste good in real life, they make for pretty Perler bead crafts too because they're so aesthetic.
Note: A lot of these foods have cute faces. If you want them without, just tweak the pattern so you can skip the eyes and mouth parts.
Apple
Doesn't this apple look so red and juicy? It's nice that a cross-section is included.
Avocado
If you need to make an avocado, this pattern is very easy to follow. You'll need a special board though.
Banana
Next up is a yellow banana. The black outlines make it really stand out.
And because the beads are too melted to make out clearly, I've found the pattern you can use as reference.
Berries – Strawberry & Blueberry
You can always count on berries to look cute.
Breakfast Meal – Eggs & Bacon
This right here is my favorite breakfast! It's a hearty meal of bacon, an egg, slices of tomatoes, and a healthy portion of fruit.
Boba Tea
You didn't think I'd forget boba did you? My daughters just love their boba. Can you taste the sugary goodness?
Brocolli
And for a bit of health, here is some brocolli. I like the two shades of Perler beads used on this design. The red beads gives it a pop of color, too.
And here is a brocolli with a cute cartoon face. Again, anytime you want to add or remove these cartoon faces, just make the necessary tweaks.
Cake
It was a huge challenge choosing the best-looking cake. This strawberry cake slice trumped its chocolate counterparts.
Candy
Here is a design you can use for candy. Just switch out the colors for more colorful wrappers.
Candy Canes
Candy canes are very easy to make. If you want to make this design bigger, just add an additional row of beads to the overall pattern or make it longer.
If you want to make the stripes diagonal, here is a pattern you can use.
Candy Corn
Come Halloween, you'll need a candy corn design.
Carrot
Doesn't it remind you of the real thing? The shading is very well done.
This carrot looks so orange and happy that kids will definitely love it.
Cherries
Cherries are one of the prettiest fruits ever. They look great as keychains or earrings.
Cherry designs are usually in red so these pink cherries are a tad unusual. Notice the difference when a design is with or without an outline of black Perler beads. Which do you prefer?
Chili
Spice-loving folks out there will love this firetruck-red bad boy chili.
Cookie
Can you guess what kind of cookie this is? Yes, it's a chocolate chip cookie.
Now here's a cookie version with an adorable cartoon face.
Corn
This Perler bead corn is very straightforward and very easy to do. At the risk of sounding like a broken record, if you don't want the cartoon face, just ignore the black eyes and mouth. Continue using the yellow beads to make it into regular corn. If you have some Perler beads in a lighter yellow, you can add in a few for some contrast or shading.
Cupcake
This is a cupcake design you can use. Few people like ube flavor so feel free to change out the frosting color to something else like pink for strawberry or blue for blueberry.
Here is the pattern for reference.
Now if you need very small designs for say, stud earrings, here are some tiny cupcake patterns.
Donut with Sprinkles
This will suddenly have you craving a strawberry-frosted donut with multi-colored sprinkles. Similar to the cupcake above, feel free to change out the colors according to your preference.
Here is the pattern for your reference.
And here is a very, very simple donut pattern for your tots.
Drumstick
For you chicken-loving crafters out there, I give you a smiley chicken leg.
Egg on Toast
Is this your favorite go-to breakfast too?
Eggplant
Did you know that eggplants are also called aubergines? Americans call this veggie an eggplant but Europeans refer to it as an aubergine.
Finger Foods
Here is a nice collection of small food items. These are tiny and easy to make so they're ideal as beginner projects for very young kids.
French Fries
Yes, our french fries needs the McDonald's packaging.
I didn't find the exact pattern but this is an easy design your children will surely find adorable.
Fruits – Assorted
Here's another collection. This time, it's an assortment of fruits.
Grapes
Let's take a closer look at that grape. Notice how it's slightly different from the bunch of grapes in the fruit collection above. It looks very similar though.
And here is a grape pattern with a black outline. Patterns with black outlines tend to pop out more.
Gumballs
This gumball machine is so small yet so detailed. You don't have to follow the gumball pattern to a T. Just put in a mix of colored beads.
Hamburger
Here is a simple hamburger pattern for your little ones.
Next is a more challenging hamburger design. It's so detailed you can pick out the veggies, the cheese, and the burger patty.
Hotdog
We can't have a hamburger without having a hotdog on our list.
Let's not miss out on this cutie hotdog.
Ice Cream Bar
These pastel ice cream bars are so pretty. They're very simple too so younger children should be able to easily make these.
Ice Cream Cone
This is a lovely two-scoop ice cream cone with some nice shading. It looks like pistachio and strawberry, but you can change the colors too.
Jam – Cherry & Strawberry
Now these jam jars are next-level cute. Give me anything strawberry and I'll take it.
Juice Box
This peach juice box is looking peachy, too! (A pun, yes.)
Lemon
Here is a very simple lemon design. Doesn't it look refreshing?
Lime
Interestingly enough, most lime Perler bead designs show the cross section of the fruit only.
Lollipop
And we're back to sugary and pretty confections. Children will love this pink swirly lollipop with the bright red bow.
McDonald's Meal
Color Made Happy created the full McDonald's meal. You've got your soda, your fries, and of course, your burger. It's amazing how you just need a few Perler beads to make the below, too.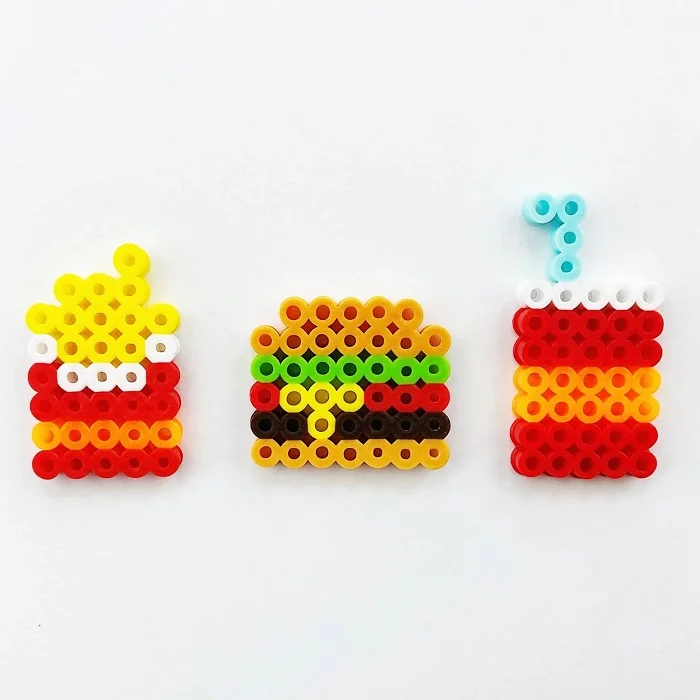 Milk
If you are into Korean or Japanese stickers and stationary, these cutesy milk boxes are a staple.
Here is the pattern for reference.
Minecraft Thanksgiving Food
Minecraft lovers, QDCrafts created these cute Thanksgiving grub. If you like these, be sure to check my post on the best Minecraft Perler bead projects.
Muffins
You won't find muffins anywhere cuter than these. They look so cheeky!
Nutella
Your favorite breakfast spread makes an appearance. This Nutella jar is so iconic.
Pancakes
Do you know what's another yummy breakfast must-have? Pancakes!
Pear
Add this pear to your fruit collection. Again, I really admire crafters who can show how light falls on objects. It makes 2D patterns feel a bit 3D.
Pie
I skipped the chocolate cake earlier, but how about some chocolate pie?
Check out the pattern for it.
Pineapple
This pineapple pattern is so eye-catching, don't you think? It's also very clever to turn the board this way to accommodate the pineapple's height.
Pizza
Just look at this pizza with all its tasty toppings.
I had to add this in because that melted cheese will have everybody salivating.
Here is the pattern if you need it.
And lastly, here's making sure that the little ones have an easy pattern they can follow. Children love pizza after all!
Popcorn
Can you tell what this is? If you need a hint, just look at the stripey packaging. Yes, it's the bag of popcorn we usually get at the movies.
Pudding
Doesn't this make you crave some pudding right about now?
Pumpkin
Another one for your vegetable collection — a bright orange squash with its stems and tendrils.
Radish
This is such a lovely radish design. Just look at that cute little face.
Here is the pattern for the radish above.
Ramen
This is our family's ultra favorite comfort food – ramen! We eat from packets, order it from restaurants, and sometimes we even make it from scratch. A bowl of ramen is just so delicious and comforting especially during winter.
Ramen with Cat
If anybody knows why this cat is taking a warm bath in the ramen please tell me. For sure, if you do this piece, it's definitely a conversation-starter.
Rice in Bowl
This bowl of rice looks oddly tranquil and happy.
Riceball
Google "riceball" and you'll see a hundred variations of this little guy. In all seriousness though, riceballs are delish!
Sandwich
It took awhile but I succeeded in finding a pattern of a sandwich that's bursting with healthy fillings. It looks absolutely delicious!
S'more
Let's go, campfire food! Toast a marshmallow and pop it in between two graham crackers for a delicious s'more.
Soda
Look, it's all of our favorite sodas. It's funny to see these soda cans in 2D though.
Soda – Coke Zero
If you're a big Coke Zero can, here is the pattern for you.
Soda – Fanta
Have you ever tried Fanta? It's an orange-flavored soda.
Soda – Mountain Dew
Check out this Mountain Dew Perler bead can next to the actual thing.
Soda – Pepsi
This Pepsi Perler bead soda can looks very accurate, right?
Starbucks
When you think coffee, a ton of people automatically think Starbucks. You can't even see the logo on these coffee containers, but you know immediately that these are are Starbucks drinks.
Strawberry
When it comes to choosing cute designs for fabrics, stationary, stickers, and the like, strawberries are one of my go-to's. Just like cherries, they look as sweet as they taste.
These strawberry vines are so picturesque.
Strawberry Milk
Have you ever tried strawberry milk? If you haven't yet, you should! It tastes so delicious!
Strawberry Shortcake
In Japan, you can buy a delicious strawberry shortcake or strawberry sandwich like this (or prettier) in any convenience store.
Sundae
Pastel-colored beads really go well with these ice cream sundae designs. If you don't have them though, just use any beads you have.
Sushi
Perler bead sushi always gets me excited. There are SO many designs to choose from. Here are some basic sushi designs.
And here are the corresponding patterns.
Taco
This lil taco is way too adorable.
Now THIS taco, I can eat. It reminds me of a Taco Bell taco.
Toast
Bread lovers, I've got the cutest piece of toast for you.
Watermelon
And finally, we end our list of Perler bead designs with this cool slice of watermelon.
3D Perler Bead Food
I showed you 2D designs earlier. Now let's take a look at these amazing 3D Perler bead projects. Some are easy to do, while some are simply awe-inspiring. Sadly, I don't have the patterns for the more complex works, but we can admire them together so we can hopefully make our own 3D works in the future.
3D Apple
This kind of 3D Perler bead work is the easiest to do. Simply do two pieces and then slot them together so that the assembled piece can stand on its own. Do pay attention to where the slots go though.
3D Fries
This miniature box of McDonald's fries is so precious. Your child can even take out the fries and play with them.
3D Snacks – Pizza, Burger, Sandwiches
These 3D foods are so epic. Just look at the construction of the hamburger and the sandwiches. That cheese on that pizza even looks almost real.
3D Sushi
If anybody needs convincing that Perler bead crafts are works of art too, just show them this single piece of sushi resting on a green leaf. Doesn't it make you feel calm and tranquil?
More beautiful sushi works.
3D Waffle
Back to breakfast confections, are those sprinkles on this toasty waffle?
3D Pasta
Honestly speaking, when I was making this food list, Perler bead spaghetti was one of the first foods I searched for. Alas! Nobody has really succeeded in making the perfect plate of spaghetti using Perler beads. So, I was happily surprised when I saw this beautiful piece of pasta (dish included) made entirely of Perler beads.
Minecraft Cake Toppers
My favorite Perler bead YouTuber celebrated her birthday with Minecraft toppers. Do watch her video tutorial.
Food Perler Bead Crafts and Projects
I curated a gargantuan list of food-themed Perler bead designs so you have a lot of options when you decide to make crafts out of these designs. All too often, our craft projects end up collecting dust in a forgotten shelf or drawer. Why not turn them into useful everyday things instead?
Some of the projects below will require that you get some craft supplies. You can easily buy these online or from your local crafts store. They shouldn't be hard to find.
One last reminder is to iron your beads well. If you don't, they're liable to fall apart from everyday wear and tear.
Dangling Earrings
When making dangling earrings, you'll need some supplies like earring hooks and special pliers. You can choose any design for your earrings, but the small designs are the best because they will be lighter and more compact once finished.
Stud Earrings
For stud earrings, you'll need stud earring flatbacks and strong glue like E600 glue. Craft stores will have recommendations for you if you ask. When you choose your design, choose a REALLY small pattern so the finished product will rest comfortably against your earlobes. These tiny cupcakes are a good example.
Necklace Pendant
It's a bit unusual, but you can also make a pendant out of any of the food stuffs above. This cutie cookie doesn't look half bad as a pendant. Now how about a bright purple aubergine?
Keychains
The most common crafts for food designs are keychains. They're small, handy, and they go with you everywhere. They're so eye-catching with their bright colors that you're sure to get compliments from friends.
Check out this great video on how you can make vegetable keychains and magnets.
Refrigerator Magnets
Speaking of refrigerator magnets, see how pretty these veggies look on your refrigerator door.
Paper Clips
If you want to bring your Perler bead works with you to the office or at school, how about making Perler bead paper clips? These sushi patterns are a perfect size for these paper clips. And super cute, too!
Coasters
Coasters are one of the easiest things to make with Perler beads. The best designs to make into coasters are the round or square ones. Alternatively, you can take any small to medium design and simply create a box around it to make it into a square just like these apple coasters.
Here's more great examples of Perler bead coasters from the The Makeup Dummy.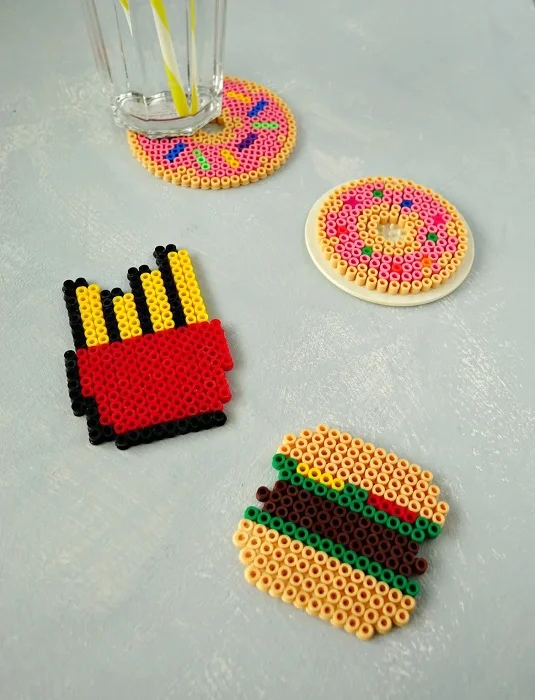 Drink Covers
If you can make Perler bead coasters, then these drink covers should be easy for you, too. Very similar in construction to the coasters, the only difference is that you need to leave a hole in the middle for the straw.
Birthday Cards
Handmade birthday cards are still as special as ever. Make your bestie a cupcake birthday card like this one.
Cord Winder
If you're still using corded earbuds, you'll find this cord organizer useful. Remember that you can change up the design and colors to anything you want. You can make it into a strawberry cookie or even a donut.
The step-by-step tutorial is here:
Picture Frame
You can make most of the designs into a picture frame. Just leave a space in the middle for your photo. You can also make a stand so that you can display your picture frame properly. Scroll down to the bottom of this list to get to the Display section.
Wall Frames
Some crafters like Long Black Fingers frame their works. If you make something that you're really proud of or if you want to preserve your children's works as a souvenir of their childhood, then having these works framed is a really great idea.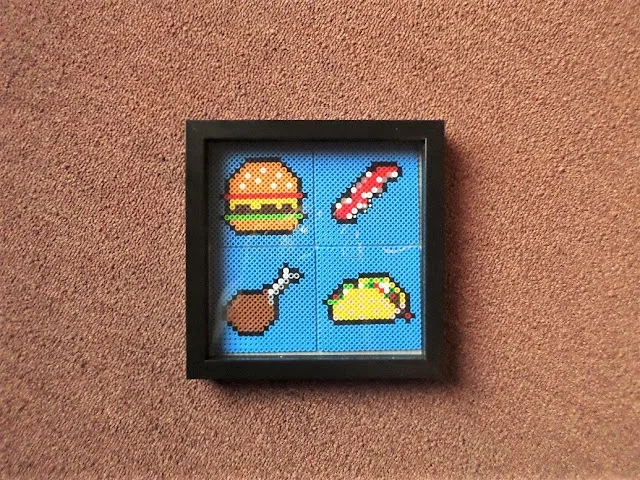 Hangers
I really like the idea of hangers. For one, they're a great display for any room. Also, it's a good way to feature a group of things that go together like this sushi hanger. In another article, I showed off a hanging display that had the heads of the One Piece anime characters.
Jewelry Dish
Isn't this jewelry dish pretty? At the end of the day when you're taking off your trinkets and jewelry, you can place them in this little dish.
Hanging Decor
This Perler bead harvest corn is perfect for the Fall season. If you're doing this same exact project, just take your fall-colored beads and then arrange them randomly into the shape of corn.
Nutella Pencil Holder
Nutella makes a reappearance!
This Perler bead Nutella jar is such a dead ringer for the real thing. Or maybe I shouldn't be surprised because it's QDCrafts. Watch her video for the step-by-step tutorial. You can use this Nutella jar for different things including pens or ballpens. You can even make it into a tissue holder.
Bubble Tea Container
Yes, I may have searched QDCrafts entire video selection for Perler bead food crafts. But look, aren't these cartoon bubble tea containers too kawaii?
Wreath
For Christmas, you can get a wreath and decorate it according to your preference and taste. The official Perler bead site went for a candy cane wreath using pastel Perler beads. If I were making my own, I'd probably make bright red and green candy canes and add in other Christmas treats to make it cheery and lively.
Tic Tac Toe
Doesn't this look like a fun game? It's French fries versus hamburgers! What team are you?
Plant Sticks
Plant sticks are a great way for you to remember what you've planted in your beds or pots. These strawberry plant sticks look so cute though that I'd probably use them everywhere in the house.
Clock
Now this is an awesome project to undertake. A donut clock. Wow.
Pet Plant
If a family member or a friend has a black thumb, you might want to give them a Perler bead plant. No watering needed!
Standing Displays
I'm going to end with standing displays because they're one of the most useful hacks for crafters. With these, you can proudly show off any Perler bead work.
I find that there are two ways to do it. Use either the slot method. You create a base wherein you can slot your works in.
Or, you can make legs that will help your design stand. This particular design isn't food-related but I just wanted to show you how this ship in a bottle is being propped up. Clever, eh?
If you enjoyed this list and found designs you want to do, please bookmark this and share with your crafting friends.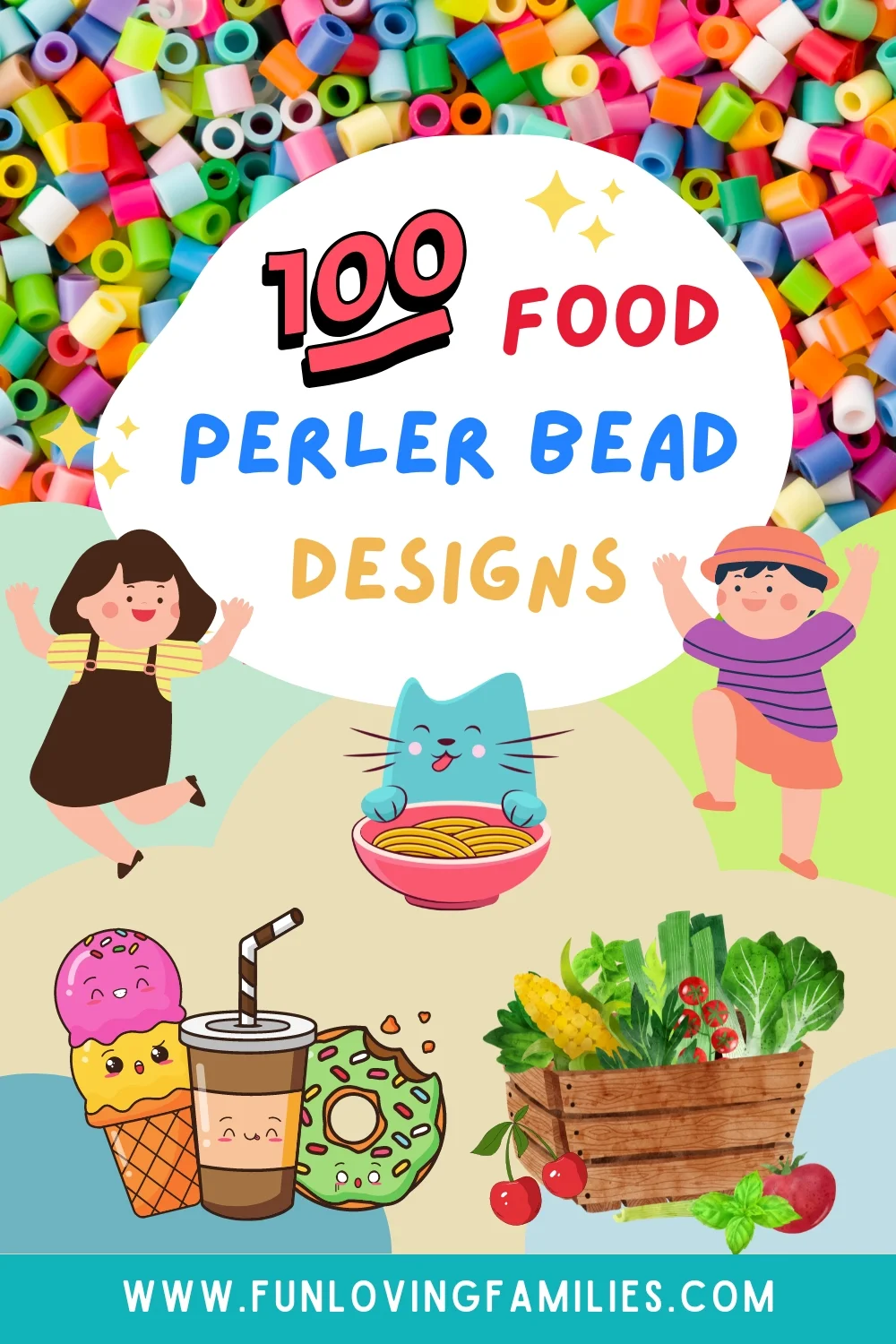 Similar Posts: