If your family loves Disney characters and princesses from different Disney movies, then you're in for a treat today. We are doing Disney Perler bead projects!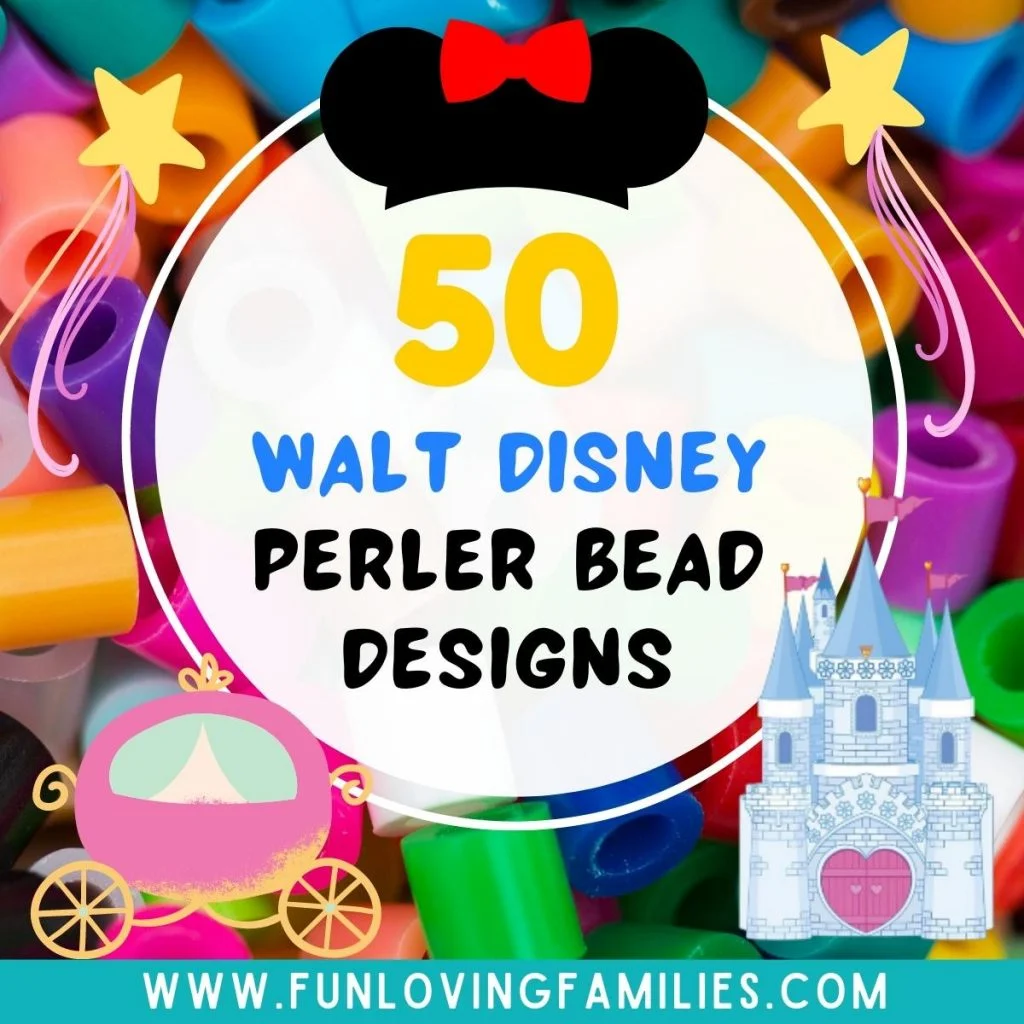 Disney is a big part of many children's lives. A lot of children grow up watching Disney movies. We have many memories of fun movie nights with the family where we laughed and cried over our favorite Disney stories. Some even have a tradition of going to Disney World for vacations.
My two daughters have a ton of plushies and action figures from the franchise. You can bet we also made quite a bit of Disney characters with Perler beads depending on their favorite movies at the time.
Let's go through all the possibilities for Disney Perler bead projects.
Disney Princesses
Snow White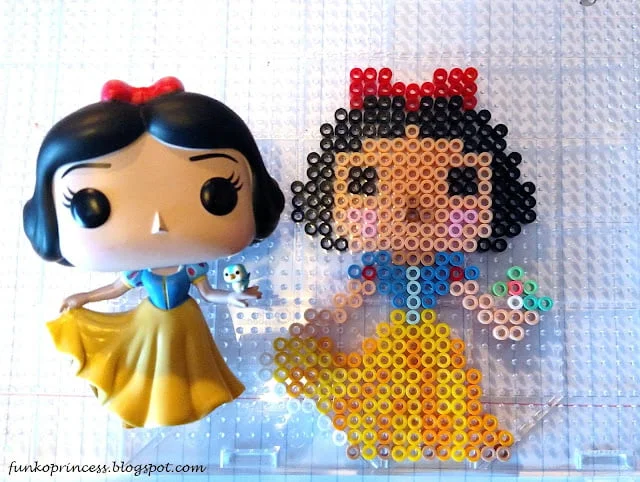 The Funko Princess shared that they made some Perler bead crafts over the winter. Here is her version of Snow White. If you head on over to her page, you'll see a couple more of her works. Did you know that Snow White is the first ever Disney princess?
Princess Cinderella
We can't mention Snow White and not talk about Cinderella too. These two are the two oldest Disney princesses. Their films might hearken from way back, but their stories and charm are eternal. Until now, Cinderella and her story are always referenced in TV shows, games, and other modern works.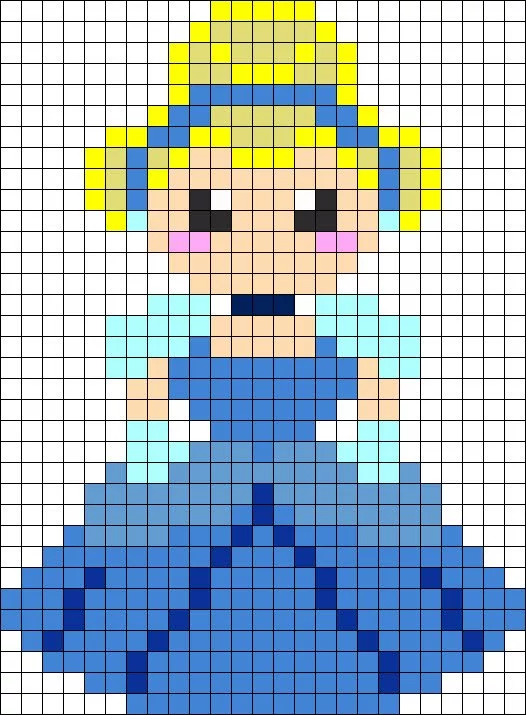 You can find the Cinderella pattern here – Kandi Patterns.
Princess Aurora
The third official princess is Princess Aurora. I'm not sure many people know her name as she is known more widely as the Sleeping Beauty. If you have a keen eye, you will notice that unlike Snow White and Cinderella, Aurora has more angular and mature features.
"One gift, beauty rare
Gold of sunshine in her hair
Lips that shame the red, red rose
She'll walk with springtime wherever she goes!"-Presenting the Gift of Beauty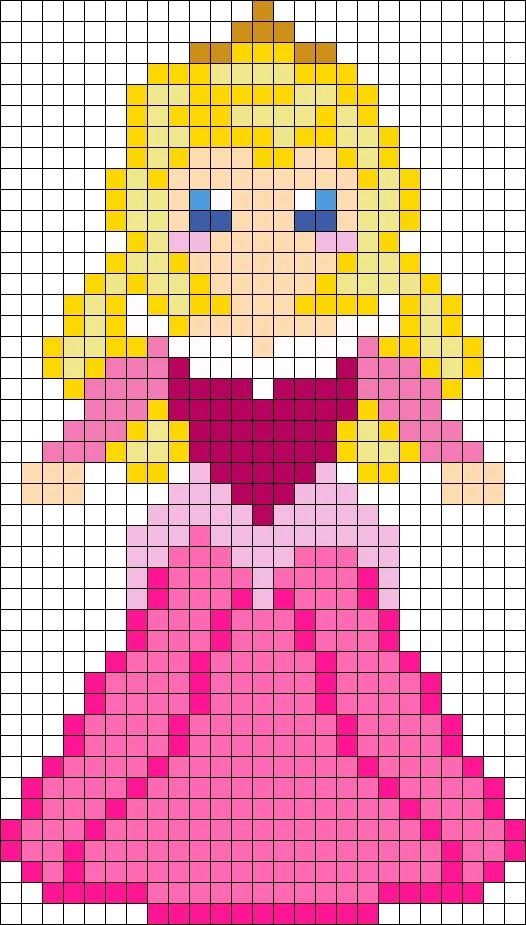 Aurora's pattern is here – Kandi Patterns.
Maleficent
My jaw fell to the floor when I saw this amazing art. I just love the artistry and symbolisms in the whole piece. To create the whole thing in the witch's silhouette is on another level of bead work. If you can recreate this, then it's hats off to you!
Rapunzel
I love what Disney made with the age-old story of Rapunzel with their movie Tangled. It made a rather mysterious princess locked away in a tower more relatable and more lovable. Isn't this design beautiful? Just look at her flowing yellow hair.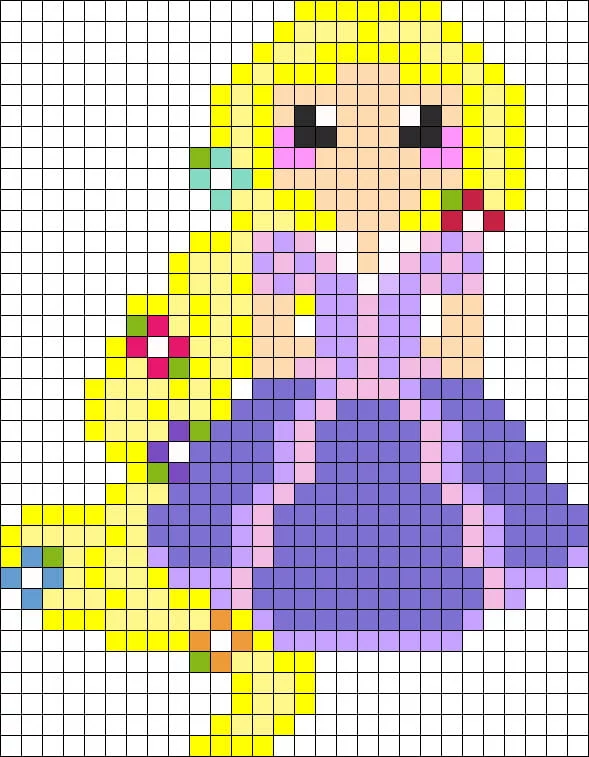 You can find the pattern here – Kandi Patterns.
Pocahontas
Pocahontas is said to be Disney's most problematic princess because of the historical inaccuracies. However, if your child watched the movie and loved the character of Pocahontas, here is a bead design for this spunky and lovable chieftain's daughter.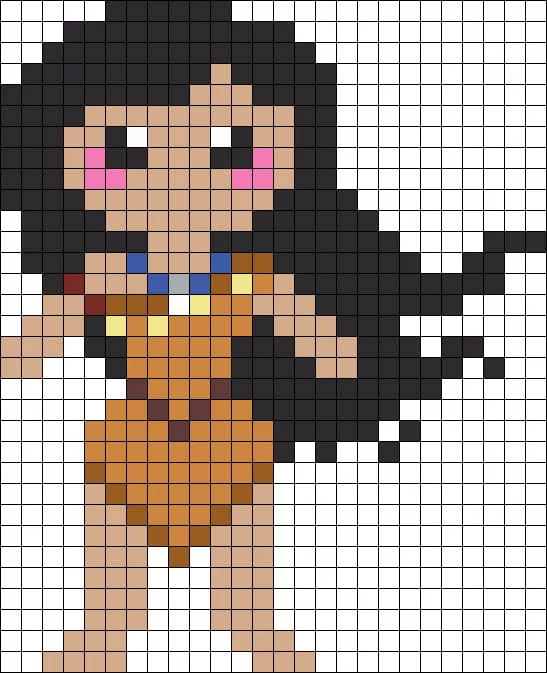 The exact pattern can be found here – Kandi Patterns
Princess Jasmine
Who can forget Princess Jasmin singing "A Whole New World" while soaring through the clouds on a magic carpet? And look, it's her iconic princess costume.
Princess Tiana
Princess Tiana from The Princess and the Frog is the 9th official Disney princess. She is as intelligent, talented, and as resourceful as any of them.
"She's a strong woman who doesn't need anyone to do things for her. She wants to do things for herself."-Anika Noni Rose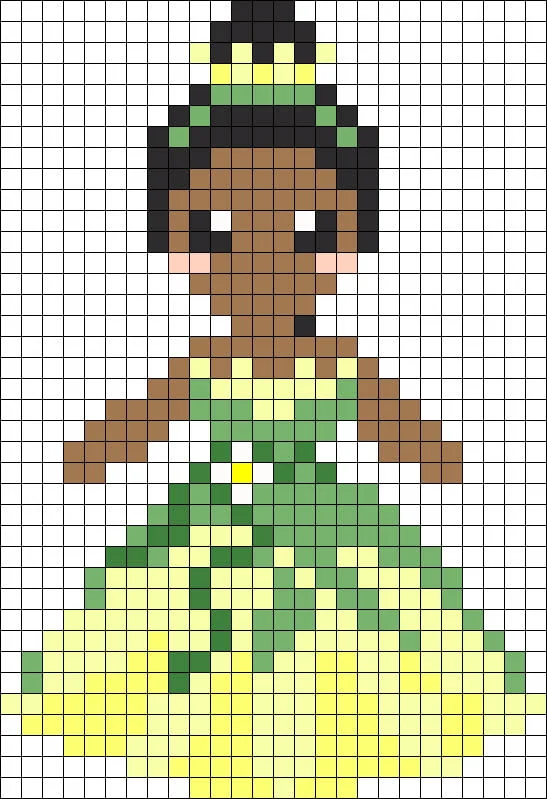 I just love her gorgeous gown. You can find the exact pattern here – Kandi Patterns.
Princess Ariel
Ariel is one of the most well-known of the Disney princesses. Thanks to Ariel, many children have dreamt of becoming mermaids (with a chatty lobster friend) and singing Under the Sea.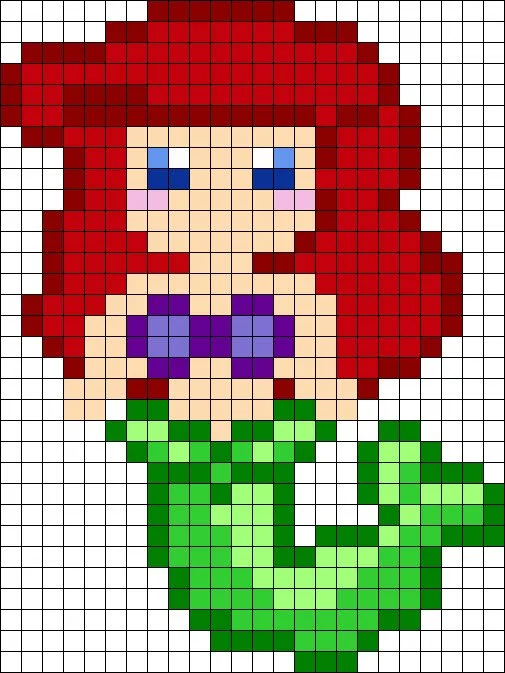 Find the pattern here – Kandi Patterns.
Mulan
Right about when the live action movie came out, everybody had a sudden nostalgia for the old animated movie. Our family even went and watched it again. It's THAT good. We even have the DVD. Crafter Amy must have a real sense of humor to make a Perler bead design of the time Mulan met the matchmaker.
And here is the beautiful Mulan sans makeup with her hair down. Yes, I can practically hear her singing Reflection.
Princess Moana
Moana is the 12th official member of the Disney princess line-up. I'm sure you loved watching this brave princess go outside her comfort zone literally and figuratively to save her island and its villagers from the darkness that threatened to kill everything.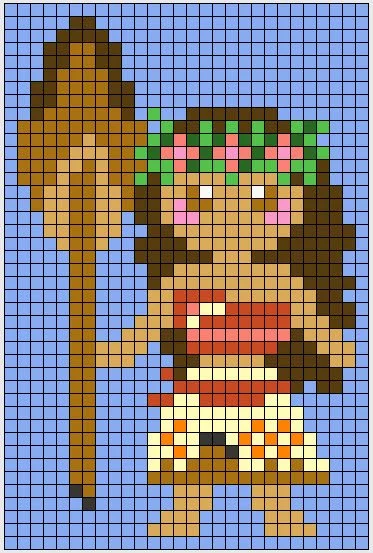 You can find the pattern here – Bracelet Book.
Princess Merida
Brave was groundbreaking in so many ways. It made use of an entirely new animation system (at the time), won so many awards, and was a box office success. It was in large part due to Princess Merida whose courage and spirit were as bright as her fiery red hair. Here she is with her iconic red hair and short bow.
This is a pattern you can print and follow if you want to do Princess Merida.
Princess Anna
Finally we get to the two wildly popular princess siblings from the Frozen series. Our family loved the Frozen movies so much, especially the original. Anna talking through the door to coax her older sister to come out and play, and later embarking on a journey to save her are two of the best moments of the movie.
You can use this as a pattern for Anna.
Princess Elsa
Here is Elsa wearing her Snow Queen outfit. It was an unforgettable moment when Elsa decided to embrace her Snow Queen persona and let go of her fears and inhibitions. I cannot tell you how many times I had to suffer hearing the kids sing this on loop for so many months. Still, that didn't keep me from buying the Elsa and Anna costumes come Halloween. I won't be surprised if every mother has them.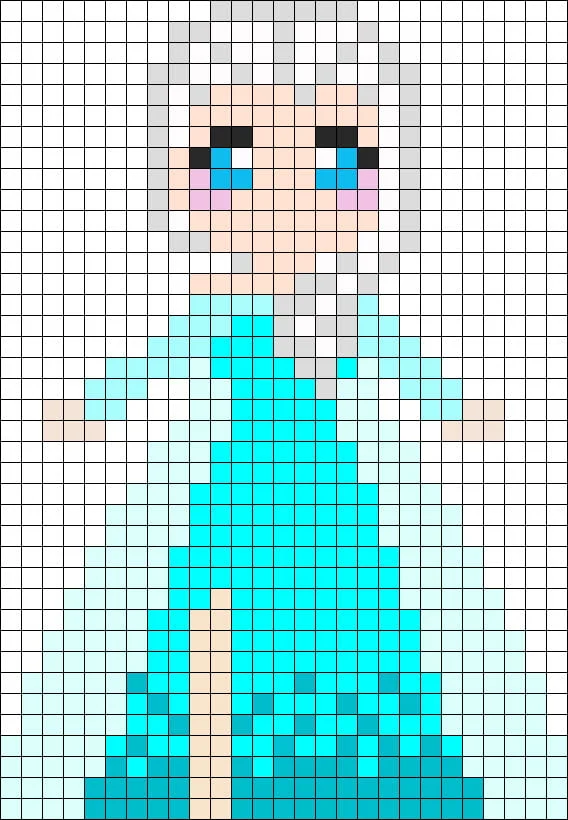 You can find the pattern here – Kandi Patterns.
Princess Belle
I'm starting to feel like every princess is a favorite and I can't even say it's a lie. We just love all of them, you know? Belle, in particular, was such a darling in the animated movie. She had a strong and intelligent mind, and she was such a contrast to the shallow characters in the movie. It was so frustrating how she was painted as the odd one in her provincial little town.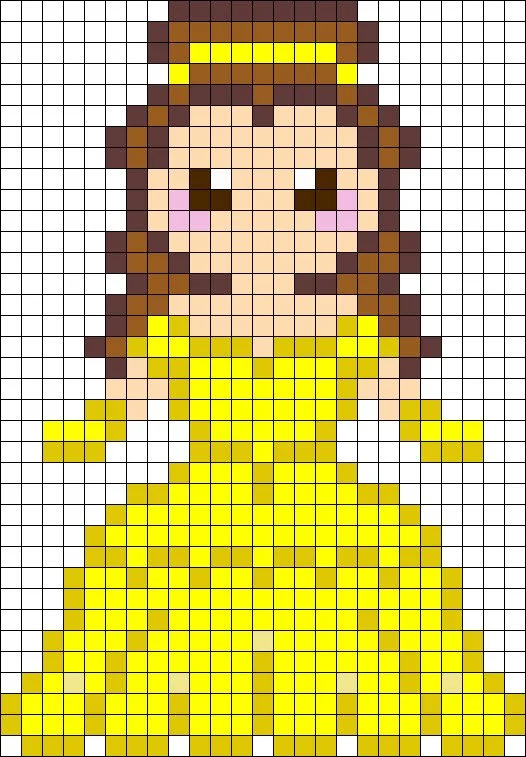 If you love this Belle in her yellow ball gown, the pattern is here – Kandi Patterns.
Other Disney Characters
Daisy and Donald Duck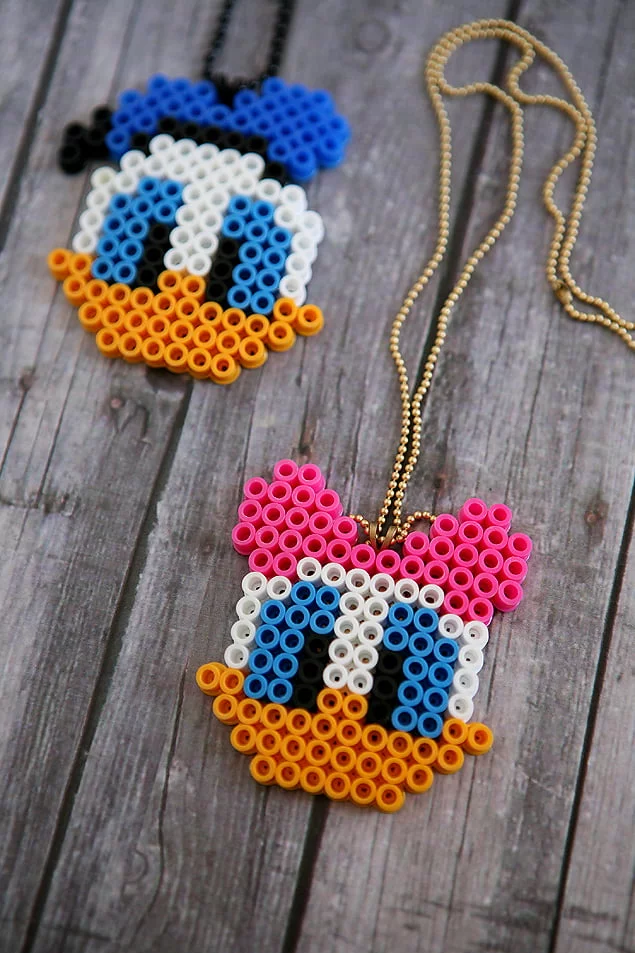 Donald and Daisy's relationship changes from series to series. While they both have tempers, they usually have a crush on each other, are dating, or are even married. One thing's for sure though, their unlikely duo is one of the sweetest things in the Disney universe right alongside Mickey and Minnie's. These Donald and Daisy Duck patterns by Eighteen25 show just how cute they are together.
Mickey and Minnie Mouse
Speaking of Disney pairings, you can't forget the two head honchos of the Disney world—Mickey and Minnie Mouse! Aren't these matching patterns so cute?
Minnie Mouse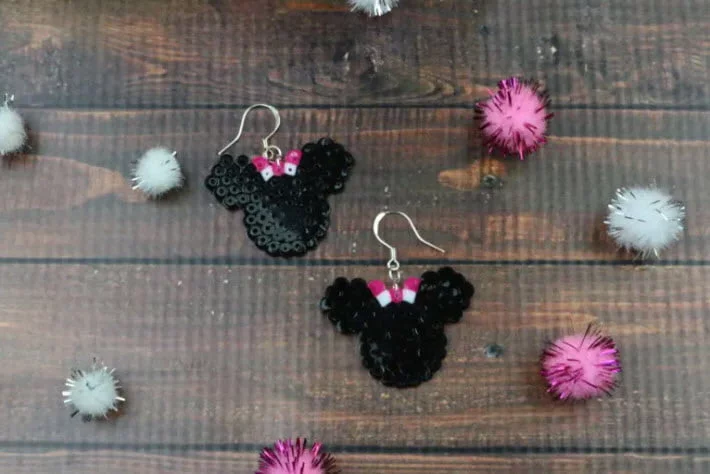 Amy from Leap of Faith Crafting designed these beautiful and classy Minnie Mouse earrings. They would look good with any outfit, don't you think? They're sure to be great conversation starters.
Mickey Mouse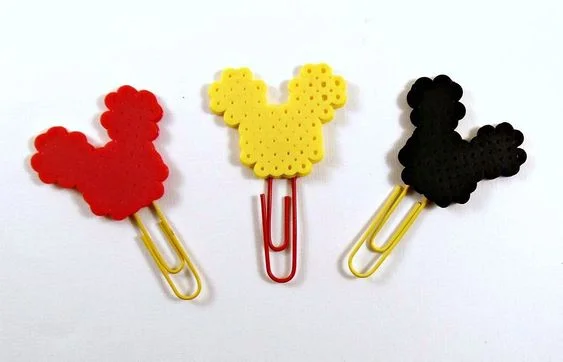 Why use boring old paper clips when you can jazz them up like Krysanthe did with these precious Mickey Mouse paper clip designs. Head on over to her page for the full tutorial.
Goofy
If your kids love this clumsy but lovable Disney character, then your kids would want to make this Goofy design. It's a bit complicated but very do-able.
Monsters Inc.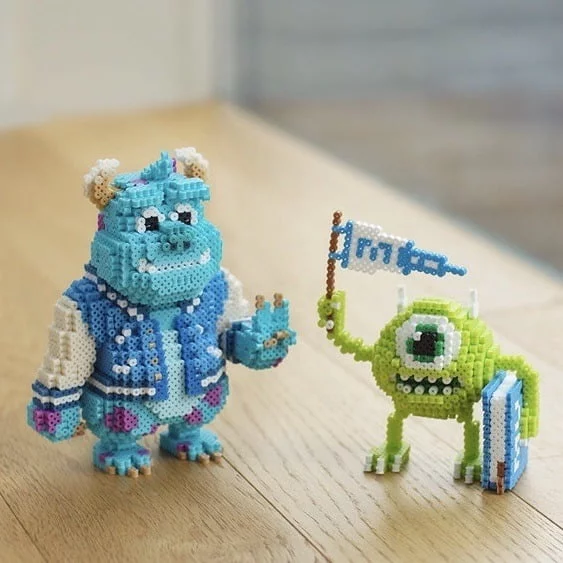 I always think that 3D Perler bead projects are just epic. I showed you a 3D Krispy Kreme box previously, but today, let's appreciate this amazing work by Nekonekoya on her Tumblr page. Check out Sully and Mike during their college days.
Stitch
If you watched Lilo and Stitch with the kids, they'd surely want to make this cute Stitch. It's very easy and simple, but you can immediately tell it's the rambunctious blue alien.
Olaf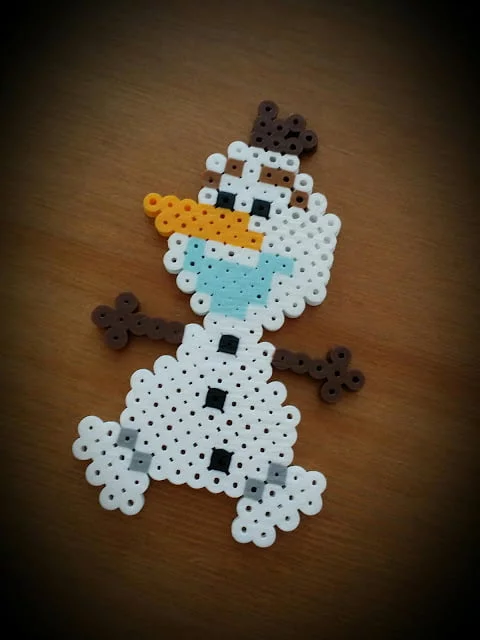 Oh Olaf! I just loved his songs in all the Frozen movies. Cheer up friends and family with this happy Olaf by Happy Life X 3.
Russell of Up
It's Russell, the adorable Boy Scout Wilderness Explorer from Up. If you followed Russell and Mr. Fredricksen's splendid adventure, then you'd remember Kevin, the funny Snipe bird.
Up House
It was an amazing moment in animated movie film history when the balloons uprooted the house and lifted it off into the air. What a sight to behold, right? You can recreate that moment with this bright-colored Up house. Raquel has taken it a step further and made it into a hanging ornament. If you click through to the Pinterest page, you'll see the materials she used.
Ducktales Characters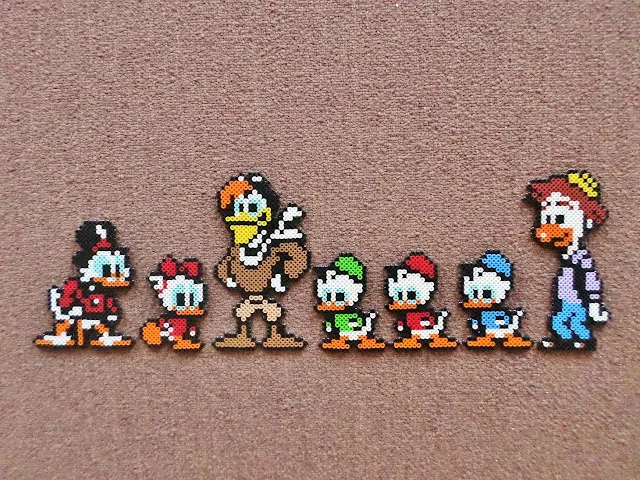 Longblackfingers created this amazing set of the whole Ducktales ensemble. The likeness to the original characters is simply outstanding. If you're a big fan of the series, try to do the whole set over a period of days or weeks.
Zootopia Characters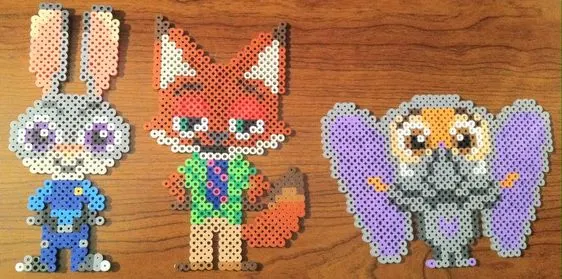 Zootopia was one of the most popular Disney films of 2016. Flash, the sloth who worked as a government employee, was a huge crowd favorite. (Oh the hilarity!) Crafter shinigamiamiami created these designs of Judy, Nick, and Finnick. In case you can't recognize Finnick, that's because he's wearing his baby elephant costume.
Lumiere and Cogsworth
True blue fans will recognize these two (oft-squabbling) friends from Beauty and the Beast. I'm sure your kids sang to their highly addicting song Be Our Guest.
Chip of Beauty and the Beast
And here's Chip! The chirpy little teacup, son of the motherly Mrs. Potts. I was always afraid he would fall and break.
Baymax
Baymax lovers, I haven't forgotten you. Here's your favorite health care robot. The original is more rotund but this design is cute all the same. (Plus you get to save on all those white beads.)
HeiHei of Moana
Hats off to the crafter who created this wonderful design of HeiHei from the movie Moana. I always thought that HeiHei had a screw loose and the crafter must have thought the same. Just look at that crazy plumage and similarly crazed look in this chicken's eyes.
Lion King Characters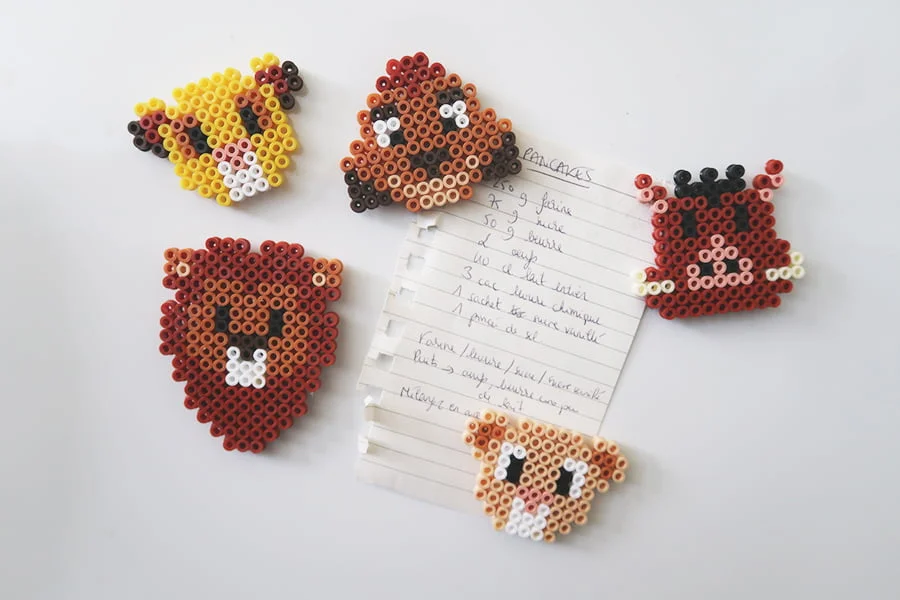 Here is another much-loved movie — the Lion King. Crafter Julie from Le Blog De Julie makes refrigerator magnets of the Lion King cast. See Mufasa, Simba, Nala, Timon, and Pumbaa.
Simba
If you want to truly challenge yourself and you have expert-level Perler beading skills, then you might want to try your hand at this adorable 3D Simba. The crafter has taken pains to provide a diagram of the parts so that might help.
WALL-E
WALL-E was such a great movie, but it was also incredibly sad, too. Somehow, I'll never forget how this waste allocation robot lived a solitary existence for 700 years. Isn't this Perler bead design amazingly intricate and detailed?
Eve
If you'll make a WALL-E, make sure you make an EVE. You can't make one without the other or they'd be lonely!
Star Wars Characters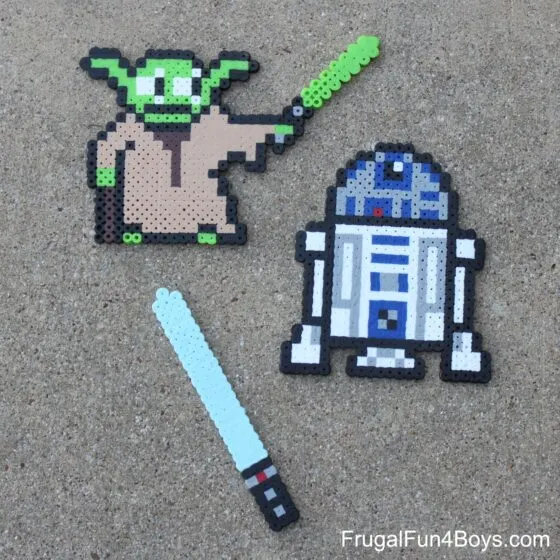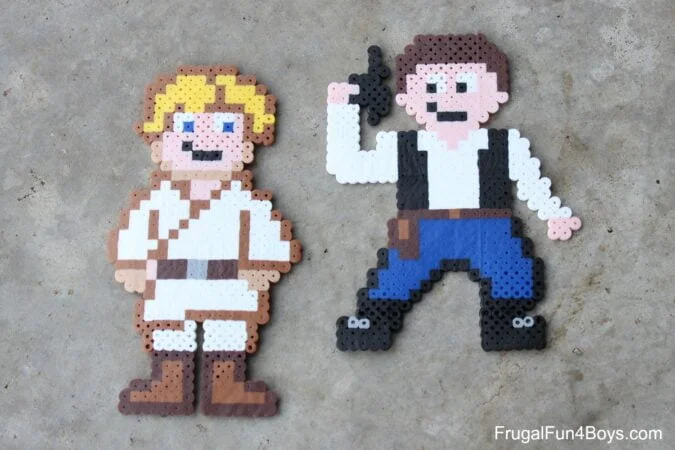 Frugal Fun for Boys and Girls must be a Star Wars enthusiast. Check out their version of Yoda, R2-D2, Luke Skywalker, and Han Solo. If they're too difficult for your tot, you can still make a pretty nifty light saber.
Baby Yoda
We can't make a list of Disney characters without including the cutest baby ever — baby Yoda from the Mandallorean. Isn't baby Yoda stinking cute?
Wreck-It Ralph
This is another amazing piece of Perler bead art. Created by Retr8bit, this crafter was able to capture Ralph during his wreck-it mode. Just look at Ralph's enraged expression and huge fists.
Avengers
Avengers fans, this is for you. Here are cute chibi characters of Captain America, Thor, Hawkeye, Black Widow, the Hulk, and Ironman. The details make these chibi characters instantly recognizable.
Iron Man
Wow. Crafters often make chibi designs of Iron Man but never lifelike ones like this. Just look at all those details. You can even see his Arc Reactor.
Winnie the Pooh Characters
The gang of the Hundred Acre Wood make an appearance! My children grew up on Winnie-the-Pooh stories (and merchandise) so seeing Pooh, Piglet, Tigger, and Eeyore is very nostalgic. I'm humming the opening song as I write this!
Aladdin and Abu
Aladdin and his monkey friend Abu look like they just stepped out of the movie. The attention to detail is on a crazy level. If you're up for a challenge and love the movie, you should try your hand at this.
Dumbo
How about an adorable Dumbo? This flying elephant will always live in the hearts of children everywhere.
Nightmare Before Christmas
If you fell for the sad love story of Jack and Sally, you'll love these renditions of the beautiful Sally and the dashing Jack. AshMoonDesigns really did an amazing job in making these beautiful creations.
The Cheshire Cat
Alice in Wonderland is chockful of atypical characters. The Cheshire cat is one of the more mysterious characters in the film. Doesn't he look very much in character in violet stripes and that iconic Cheshire cat grin?
Tarzan
If your son or daughter loved the adventures of Tarzan and his animal friends, then they'll want to check out this set of Tarzan movie characters.
Mowgli
Did you know that the Jungle Book was published a few years before Tarzan and the Apes? That makes Mowgli and HIS animal friends even older than the Tarzan crew. Check out this amazing work of art — a Mowgli leafy frame. His innocent smiling face is so heartwarming.
Baloo
You can't watch the Jungle Book and not cheer for Baloo, the good-natured bear who becomes the man-cub's bestfriend. You can almost hear him singing Bear Necessities while swishing his leaf skirt around.
Encanto Characters
Let's wrap up this Disney perler bead list with the most loved Disney movie of 2022 — Encanto. I always say the big 3D projects are epic but this 2D rendition of the Casa Madrigal and all the major family members is just phenomenal. All our favorite characters are present in there signature outfits. See Mirabel, Bruno, Isabela, Luisa, Antonio, Dolores, and Abuela. If your family adores the movie, try to make this together as a family project that can be completed slowly over a period of time.
And that concludes our Disney journey. I hope I got to mention some of your favorite Disney characters. And if you end up rewatching some Disney favorites, I can't blame you!
Similar Posts: