Readers, I have an exciting variety of Perler bead projects that are exclusively square in shape. If you think this list is boring, I'm happy to prove you wrong!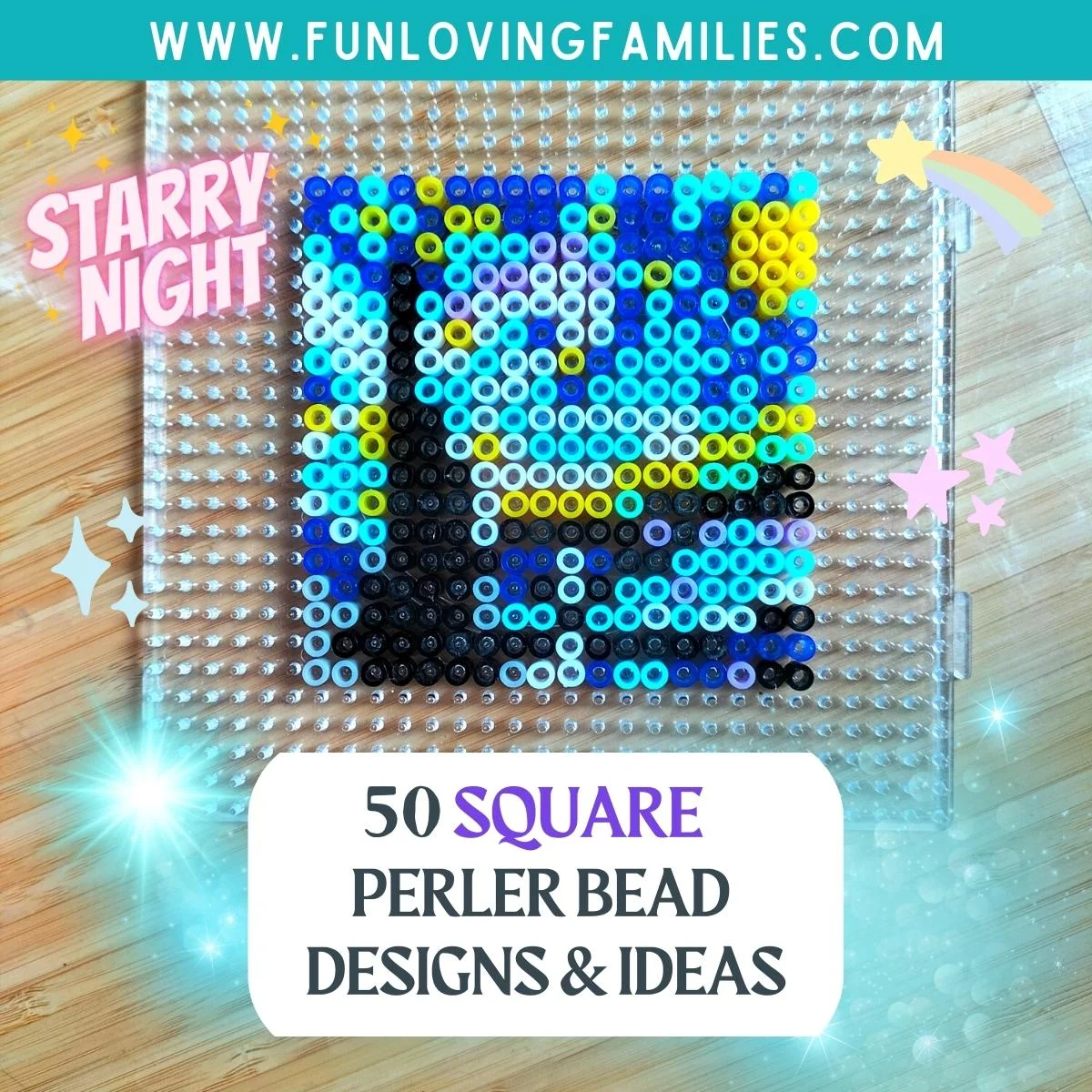 One of our readers requested for square Perler bead patterns. The family was going to make Perler bead coasters and they wanted to have a lot of options to choose from.
I was happy to oblige and in the beginning, I thought that I was only going to find square coaster designs. Imagine my delight when I discovered more. So much more.
At the start, I found the usual bird and flower designs laid out in square backgrounds. And then I found some amazing patterns and abstract designs.
In the process of curation, I started noticing popular characters from games and cartoons also laid out in square Perler bead designs. But the best yet (for me, at least) was discovering the classical artwork all made up of Perler beads.
I'm so excited to share all of this with you so let's go and check them all out.
Birds, Flowers, Hearts and More
If you're making coasters for your home, you can choose from the many pretty patterns I have down below.
Pastel I Heart You
Mom Erica of the 5 Little Monsters website made a Valentine Perler post and one of her works was this pretty pink heart set in a green and white background. The pastel beads make this heart look very sweet and dainty.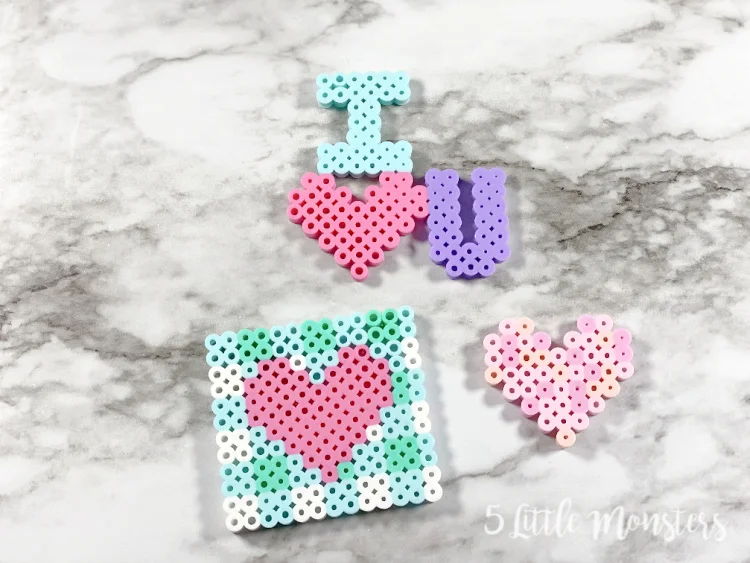 Easy Square Design
The picture isn't too great, but if you imagine it in better quality, this is actually a pretty good design for your little ones. It's a picture of a tree, grass and a colorful rainbow.
Pirates
Does your child love the movie Pirates of the Caribbean, Captain Jack Sparrow, the anime One Piece, or pirates in general? If yes, they'll love this pirate collection. I spy a pirate flag, a treasure chest, a parrot, a pirate ship, an anchor, and a funny looking monster with an eye patch.
The crafter also says, "For the octopus coaster, glue a scrap of black felt to a piece of black embroidery floss to create an eye patch. Thread the embroidery floss through the holes in the coaster and tie in the back to fasten it to the octopus's head. Glue the eye patch in place."
Sakura Blossoms
Cherry blossoms are one of the prettiest flowers and in Japan, they even have Hanami, or flower viewing from late March to April. These flowers are one of the shortest-lived. They only bloom for a couple of weeks each year, so people treasure them very much. Here is a beautiful sakura design you can make with Perler beads.
Here is the pattern for your reference.
Three Flowers
This project by Crafter Lucy is quite unique. This cluster of flowers is very pretty and reminds me of the needlework my mother used to do. The shape is very unusual too and not quite a square. Lucy is a very funny storyteller and you can see her step-by-step process in her site attic24.
Bird and Flower Set
If you are making a set of coasters, you might want to consider this bird and flower set. Each one is different and yet you can tell that they all belong together in one set. You can use these for spring or summer for family dinners or even give them out as gifts.
Flower Bouquet
If you're interested in a big flower project then this flower pot pattern might have your name on it. You'll need a lot of beads and boards to complete the whole design.
Haunted House
This next work isn't too big, but it manages to fit in a whole haunted house, a twisted tree, and a night sky. If you're looking for a Halloween project or just something scary in general, this haunted house is the perfect choice.
Dolphins
These dolphins leaping out of the water are so cool. The backdrop of a warm-hued sky also makes the entire project eye-catching. I thought of changing the colors of the sky to a bright blue, but realized that that would just make the sea and the sky indistinguishable from each other hence the crafter's choice to opt for a sunrise or sunset sky.
Birds in Nature Portrait
When I was a little girl, I used to read these old copies of The Reader's Digest, and these beautiful birds (sparrows?) look like the artwork I used to see on the cover of these magazines. The art is so beautiful and whimsical that this is easily one of my favorite works on this list. It's hard to believe that this is entirely made from Perler beads.
Sadly, I don't have the pattern for it, but if you click through to the Pinterest pin, clicking on View Image will bring you to the full-size view of the image.
Flower Tic Tac Toe
Out of all the Perler bead tic tac toe game boards I've seen, this is the best yet. For me, at least. The yellow borders and the pretty flowers makes it look so vibrant and pretty. It would be so much fun to play on this cheerful and flower-filled board.
Popular Movie, Game and Cartoon Characters
Do you know what else is on square Perler bead works? It's your favorite movie, game, and cartoon characters.
Star Wars R2D2
If R2D2 came in a round droid form, it would look something like this. Did you know? R2D2 is the smart android that it is because Anakin never wiped its memory as was common practice during the Clone Wars.
Star Wars Storm Trooper
The Stormtroopers might be the enemy but they're somehow the Star Wars characters that Perler bead crafters make the most. Funny, right?
I featured a lot more Stormtrooper and Star Wars characters in my Star Wars Perler bead post. Check that out if you want to see more.
Sailor Moon
The Sailor Moon logo is the crescent moon. This pattern would look so pretty once you make it with Perler beads.
Sonic the Hedgehog
My daughter shouted out Sonic's name the instant she saw this Perler bead square. It's funny how a seemingly random pattern of beads is instantly recognizable to the character's fans.
Pokemon
If you're a Pokémon enthusiast, you will most likely want to make as many Pokémon designs as you can. I'm not the expert that my children are, but I can name Eevee, Jigglypuff, Growlith, and Gengar.
Here is the pattern for cutie pie Eevee.
If you want to find a Perler bead pattern of your favorite Pokémon, then be sure to check out my Pokémon Perler bead article.
Super Mario
Show any child or teen these two blocks and they'll instantly know they're from the Super Mario franchise. These two are very common in the game — the brick block and the question block. It's so satisfying butting Mario's heads against these two and getting coins and power-ups.
We can't talk about Super Mario Brothers without showcasing the most popular characters and items. See Mario, Luigi, One-Up Mushroom, Super Mushroom, Boo, Fire Flower, Bob-Omb, and Super Star as Perler bead works.
Here is a bigger view of these coasters in case you want to make these.
And finally, I am sharing square patterns of your favorite Mario things.
If you want more Super Mario Perler bead designs, be sure to check out my exclusive Perler bead post on Super Mario. I list 75 designs!
Minecraft
Minecraft is one of the most popular online games for children nowadays. They'll be thrilled to make a Perler bead project from their game. Can you spot the famous Creeper and Steve?
If you want more Minecraft characters and items made from Perler beads, make sure to check out my Minecraft Perler bead list for later.
Marvel Superheroes
These Marvel chibis are the cutest ever. You can turn them into Perler bead squares simply by putting a background of beads around them. Choose a color that will make your chosen superhero show up clearly. Yellow or white beads usually work well as background colors.
My Neighbor Totoro – Chibi Totoro
For you serious anime lovers out there, we can't skip this masterpiece by the legendary Hayao Miyazaki — My Neighbor Totoro. Did you know? Totoro is actually the name for a species of magical creatures. Below is a Chibi-Totoro, the smallest of the three kinds.
My Neighbor Totoro – King Totoro Pattern
This is the big guy or King Totoro as it is called. When it rains, King Totoro only has a leaf on top of his head as protection.
This work is rather big but would look lovely in your bedroom wall or den. You'll need a lot of blue and gray beads.
If you want to discover more anime designs and the best anime for your child to watch, be sure to check out my Anime Perler bead post.
Spirited Away
This is from another Hayao Miyazaki masterpiece — Spirited Away. Sadly, I couldn't find a pattern, but this touching scene between Haku and Chihiro is beautifully recreated in Perler beads. Somebody who loves the movie very much made this Perler bead work.
Harry Potter
Look it's a Harry Potter square logo design.
If you want more, here are the patterns of the characters you love. It's Harry with the Gryffindor school scarf.
This one is Hermione's with her bushy brown hair.
And this is Ron's. Just look at that bright orange hair.
You'll find more similar designs in my exclusive Harry Potter Perler bead post here.
Pacman
If you're a child of the Eighties, then you would have played Pacman in the game consoles of old. Here are square patterns you can use if you want to make them with your kids.
Did you know? The ghosts in Pacman had names and different personalities. These four ghosts are Blinky (red), Inky (blue), Pinky (pink), and Clyde (orange). Blinky is the leader and very aggressive, Inky is crafty, Pinky has a crush on Pacman, and Clyde tends to be a scaredy cat.
Powerpuff Girls
It's the Powerpuff girls! I can practically hear the narrator going:
Sugar, spice, and everything nice. These were the ingredients chosen to create the perfect little girl.

But Professor Utonium accidentally added an extra ingredient to the concoction–

Chemical X

Thus, The Powerpuff Girls were born. Using their ultra-super powers, Blossom, Bubbles, and Buttercup have dedicated their lives to fighting crime and the forces of evil!
Wednesday Adams
This piece is more a rectangle, but I just had to show it off. For the longest time, Christina Ricci's Wednesday was the gold standard when it came to the portrayal of the creepy character. Isn't this Perler bead portrait jaw-dropping?
Here's a square Wednesday pattern if you need it.
Perler Bead Art Works
Did you know that you can make miniatures of popular classic artworks with Perler beads? It's quite a revelation!
While the above works appear 3D, the 2D versions look like this.
Van Gogh's Starry Night
Here is Vincent Van Gogh's famous Starry Night painting. This work shows his night view of the countryside at a time when he was having a hard time. It's amazing to know that it can be recreated with just a few Perler beads and nothing more.
The Girl with a Pearl Earring
Girl with a Pearl Earring is one of Johannes Vermeer's most well-known works. It shows a young woman caught in a fleeting moment with her lips parted about to speak. If you are curious, look for an image of it on the Internet because it is quite arresting.
This Perler bead recreation is not able to capture the girl's expression, but anyone who knows the painting will easily recognize it.
The Girl with a Pearl Earring + Starry Night
Next up are these two works together. The crafter has made a bright yellow border making them stand out even more.
The Scream
The Scream by Edvard Munch is about the painter's specific personal experience. He recalls how he was walking one day with two friends and he suddenly felt gripped by anxiety and fear.
"The sun was setting and the clouds turned as red as blood. I sensed a scream passing through nature. I felt as though I could actually hear the scream. I painted this picture, painted the clouds like real blood. The colors shrieked."
Scientists believe that the red sky was caused by the Krakatoa eruption half a world away.
In popular culture, they say that the part where Macaulay Culkin screams in the Home Alone movie after slapping on his father's aftershave is a nod towards this painting.
The Great Wave off Kaganawa
This work is originally a woodblock print by the Japanese artist Hokusai. It shows a huge wave in a storm-tossed sea where three boats with fishermen are struggling to stay afloat.
The blue pigment that makes this art so arresting was imported from Prussia at a time when Japan was secluded from the world.
Patterns and Abstract Designs
Last but not least, let's look at patterns and abstract designs on a square Perler bead canvas.
Rainbow Coaster
Doesn't this rainbow pattern make you feel cheerful and happy?
Puzzle Maze
This is easily a favorite in the whole series. This puzzle maze is a genius use of black and white Perler beads. It exactly fits in a regular small board, but make sure to have a lot of black and white Perler beads.
Black and White Coasters
If you have a black and white theme in your home, these monochromatic patterns would fit right in. The variety in design is also a playful touch.
Black and White Zigzag
Here is a closer look at the zigzag pattern for your reference.
Sunburst Coaster
If you like your things bright and cheery, this sunburst is perfect for you.
Christmas Coaster
There are Christmas patterns, too! This red and white snowflake pattern would look great on your dining table come Christmas.
Flower Coaster
This pattern is for the flower lovers out there. The pretty greens and peach-colored leaves make for a very attractive Perler bead square.
Perler Bead QR Code
This is another crowd favorite right up there with the black and white maze from earlier. Isn't it amazing to make your QR code out of Perler beads?
4 Square Pattern
This design is made up of four squares with a flower each in the middle. The crisscrossing lines make for a complex pattern.
Blue Bead Pattern
If you have a blue theme in your home, consider making this blue Perler bead square. The photo is so clear that you don't need to have a pattern.
Square Mandala
A mandala is a geometric configuration of symbols. In some cultures, they have a spiritual meaning and are used for focusing attention.
Square Mandala – Blue
This is a blue mandala. The colors are very calming and soothing.
Hawaiian Quilt Pattern
Did you know? Hawaiian quilts are typically made to pass down to one's children. They're not usually made for selling. Below are some samples of Hawaiian quilt patterns.
Patchwork Cross
Here is an interesting pattern of crosses. If you game a lot, these crosses will remind you of a PlayStation controller.
Wasn't that a great list? Be sure to bookmark it so you never lose it. Share it with your family and fellow crafters also!
Similar Posts: