If you have a hexagon Perler pegboard and want to discover the best designs to make with it, then you've come to the right place. I've put together a humongous list of the best hexagon designs you can make with your Perler beads.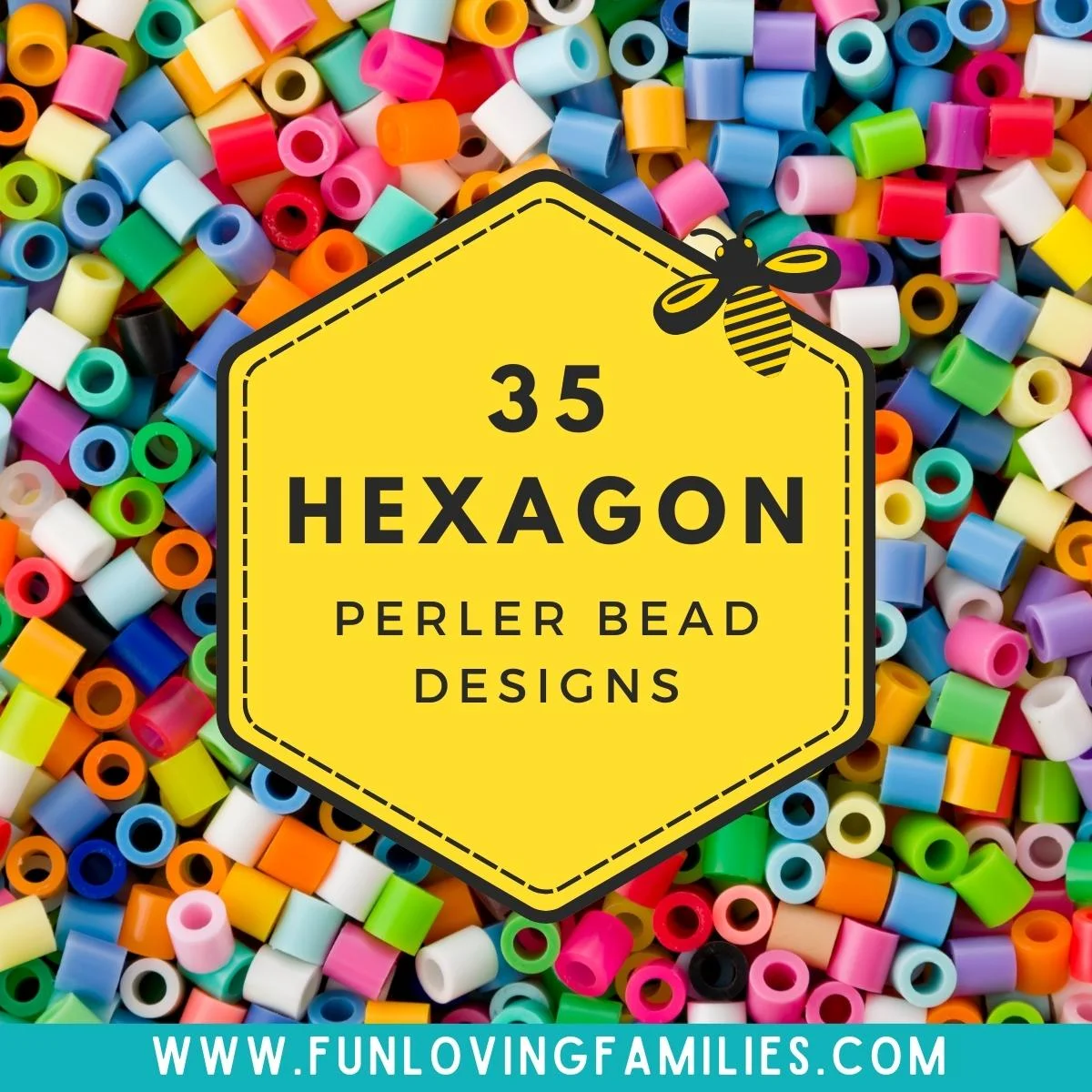 When my children had their first Perler bead set, they only had three pegboards: the square, the star, and the heart pegboard. The square is the most versatile and while we had the most fun with it, my eldest later came home with an exciting assortment of new pegboard shapes. One of them was the hexagon pegboard and what a revelation that turned out to be.
Perler bead crafts made using hexagon pegboards look quite different from their square counterparts. The shape of the boards is just one aspect. What truly makes them different from each other is the placement of the pegs.
The pegs on a square pegboard line up straight against each other.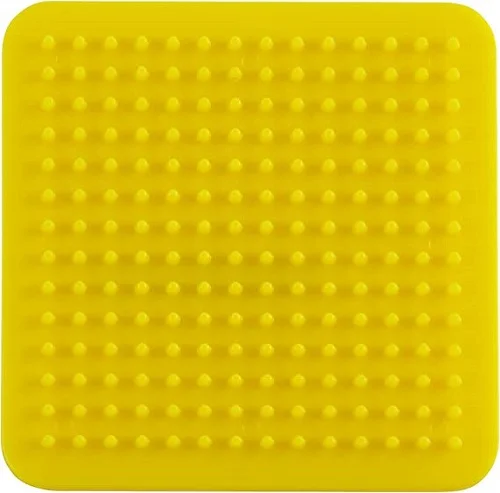 The pegs on a hexagon pegboard are alternating. This gives crafts made with a hexagon board a different feel.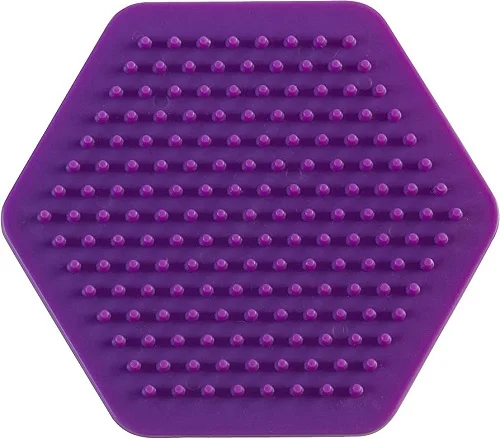 Let's check out all the amazing things you can do with a hexagon pegboard.
Flowers, Fruit, and Tree Designs
Flower Wreath
Your little ones can easily make this simple flower wreath. Ask your child their favorite colors, and use that color instead for the flowers. Making this design will also familiarize your child with repeating patterns.
Here is a pattern for another simple wreath with multi-colored flowers.
Blue Rose
Isn't this blue rose so beautiful? Did you know? The color blue is rare in Nature. Less than 1 in 10 plants have blue flowers and far fewer animals are blue. Roses specifically don't have the gene that makes the blue color, so florists end up using dye to create blue roses for their shops. Until now, researchers are trying to make the elusive blue rose.
6 Petaled Flowers
Speaking of rare blue flowers, here is an eye-catching 6-petaled flower in shades of blue.
The next design is not identical, but closely similar. This 6-petaled flower makes use of pretty pink and peach beads.
And finally, we have a 6-petalled bloom in pink and purple Perler beads.
Which one did you like best? Or, you can make them all and have a flower bouquet.
Tropical Flowers
The official Perler bead site has a ton of really great Perler bead projects with easy-to-follow pdf tutorials. This pdf teaches how to make these colorful tropical flowers.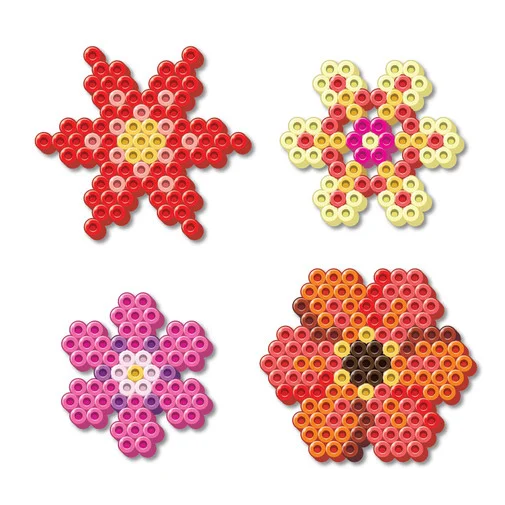 Flower Vase
This pattern is small, but the stems might be a challenge for little ones to follow. Make this design fun by letting them design their own vase.
Here's another flower vase design you can check out. Unlike the above pattern, this one has a light green background and a blue border.
Apple
If you are making Perler bead projects with your young ones, they will surely love this red apple. The smiling face and blue hat make it look very friendly and cute.
Tree
I love tree patterns, and this is a very nicely crafted apple tree. Look, there's even a fallen apple on the ground.
This is how it looks like when it's ironed.
Animal Designs
From flowers and trees, let's move on to fun animal designs.
Koala, Panda and Bunny
Color Made Me Happy chose the cutest animals for her projects. See the gray koala, the black and white panda, and the pink-ribboned bunny. And you only need a few Perler beads for these, too.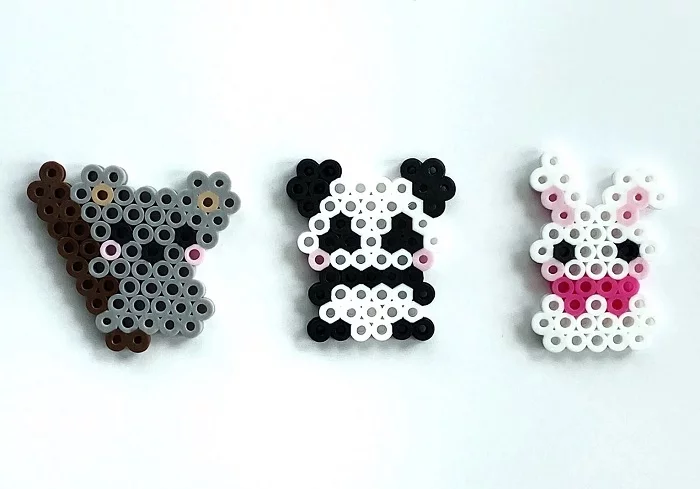 Turtle
Remember what I said about the uniqueness of the hexagon peg board? This turtle pattern is a very good example of how the alternating pegs are maximized for full effect. The rounded patterns on the turtles' shell and head are so aesthetically pleasing.
Here is a bigger turtle pattern if you need one.
Butterfly
Here is a colorful butterfly pattern. Notice how the edge of the left wing lines up with the pegboard's edge nicely. Again, feel free to tweak the colors according to your preference.
Here are some more butterfly patterns with different wing patterns and poses.
The pdf tutorial can be found here. Clicking on this link will bring you to the official Perler bead website.
Bee
It's a little blurry, but this is a cute bee pattern.
This is another bee pattern, but this time, it comes with a yellow background.
One thing that's readily apparent when you get into hexagonal designs is that there are a lot of bee and beehive designs. This is probably because bees use the hexagon shape for their hives. Hexagons fit well together like puzzle pieces, are very strong, and helps hold all the honey and baby bees without falling apart. Aren't bees so smart?
These are bee coasters, by the way. Isn't the concept so interesting?
Owl
Next is this wide-awake owl. If you change the background, you can make it show a night sky.
Here are the patterns for your reference. See how you can play around with the colors of the beads. Nurture your child's creativity by giving her artistic freedom to tweak the designs.
Here is a bigger owl pattern.
Fish
Back to simple designs, here is a simple goldfish pattern.
Lion
Next is a lion. If your child loves the movie Lion King or has seen wild animals in books, they might want to make the King of the Jungle.
Lizard
If you're into quirky designs or unusual animals, this gecko might pique your interest. Did you know? Geckos can voluntarily detach their tails when they feel threatened or are in danger. This is called autotomy.
Games and Popular Media
I bet you didn't expect there to be characters and designs from games and pop culture. Check them out!
Wonder Woman
This Wonder Woman logo looks best in this hexagon pegboard. It's a perfect fit!
Pikachu
If your child is a Pokémon fan, they'll love these little Pokémon critters.
Mario Brothers' Bowser
Here is Super Mario's favorite villain, Bowser. Doesn't he look menacing?
Settlers of Catan
Settlers of Catan, also known simply as Catan, is a popular strategy board game. The gameboard is made up of individual tiles in the shape of hexagons. This is probably why many Catan players recreated their favorite boardgame using Perler beads and the hexagonal pegboards.
Because the board is randomized for each playthrough, no two games are the same.
Doesn't the game look interesting? In this game, you play as settlers and compete against each other to see who can build their civilization the best and the fastest.
St. Patrick's Day Designs
Surprisingly, there are quite a bit of St. Patrick designs using hexagon boards.
Irish Shamrock
If you want a little lucky keepsake, make this cute Irish shamrock.
Leprechaun
Just look at this tiny leprechaun! The details are quite amazing given the pattern's small size. Will it show us a pot of gold maybe?
St. Patrick's Perler Bead Patterns
Mom Kimberly of A Night Owl Blog recreated several well-known St. Patrick symbols and things in fuse beads.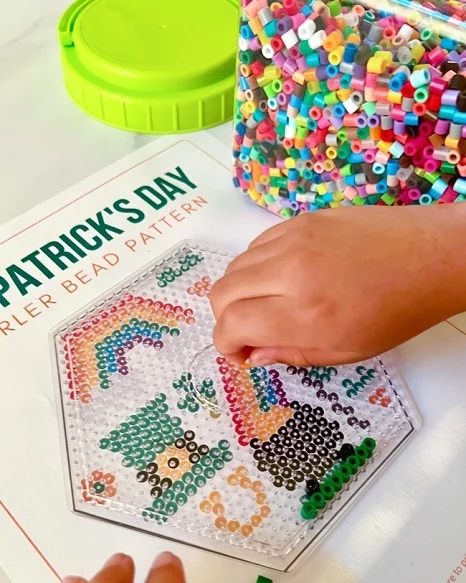 One of her designs is this pretty rainbow. The shape is quite unusual, and you can tell she used a hexagon pegboard for it.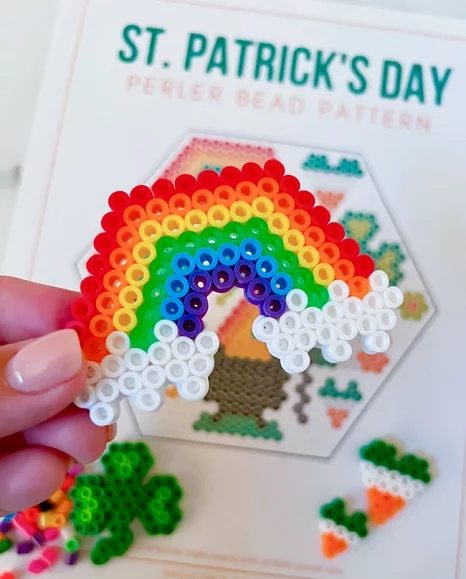 Assorted Fun Things
Here are some more random but fun things you can make with a 6-sided board.
Gumball Machine
I've previously featured a gumball machine in my previous lists but that one used a square pegboard. It's a belated realization that this design looks best with this pegboard. The gumballs mimic the way that they appear in real life all nestled against each other.
Rubik's Cube
The hexagon shape is a fantastic way of showing off a cube. Doesn't this Rubik's cube give off the illusion of being three-dimensional?
Dice Pattern
Here is another cube pattern. This time, it's a yellow and green die. The black pieces help to give it an illusion of depth.
Abstract Designs and Geometric Patterns
The hexagon makes for an amazing base for some spectacular abstract designs and geometric patterns.
Interlocking Hexagons
Here are six interlocking hexagons. I actually saw a YouTube video of this, and the crafter added black beads as a background. When it is spun, it looks like a spinning flower.
You can watch it here. After the crafter fills the hexagons with the black beads, wait a few seconds to get to the part where they spin the ironed piece on a surface.
Hexagon Spiral
This hexagon spiral is so pretty. I love the combination of the lighter pastel beads and the darker purple beads.
Flower Mandala
This is a mandala. You'll see more of them below. A mandala is a circular and symmetrical pattern that have quite deep meanings in religion, culture, and art. In recent years, mandala coloring books have become a very popular means of relaxing and destressing.
Star Mandala
This is a star mandala with a very strong presence. Some mandalas are used to promote focus or used in meditation.
Green Geometric Pattern
Aren't these designs visually arresting? Just look at these repeating patterns. If you look at it a certain way, it looks like buildings upon buildings.
Isometric Abstract Design
Here is another similar design. These blocks look like the tops of buildings.
No Pattern Hexagon
It took me awhile, but once I realized what these hexagons were, I had quite a good laugh. The complete opposite of the mandalas and the geometric patterns, I call these the no-pattern hexagons. As the crafter says, "There is no pattern. Just grab monochromatic colors and place them randomly on each side… No straight lines necessary. The result is beautiful!"
I have to agree.
Hexagon Crafts
Sadly, apart from coasters, there are few crafts that are made with the hexagon shape. Let's take a look at what's there.
Hexagon Perler Bead Earrings
The hexagon will always be an interesting shape, and they certainly make these earrings interesting. The daisy design and bright green colors make them perfect for summer wear.
Flower Ties
These flower ties are very pretty. Choose your favorite colors, and make these ties. Just make sure to iron them well, so they don't fall apart easily.
Earring Holder
Making these Perler bead earring holders is an ingenious idea. They'll certainly make your bureau table look like something out of Pinterest or Instagram.
Hexagon Bowl
These Perler bead bowls would make for a fun summer project. In the middle is a circular bowl. At the back are hexagon bowls in a rose pattern and a rainbow pattern.
It looks like the crafter made these bowls by using an oven to mold the pieces. Make sure you have proper ventilation when doing this, and use an oven-safe bowl that you no longer use for food.
If you enjoyed this collection, bookmark it and share it with your friends and fellow crafters. Happy crafting!
Similar Posts: