If you're both a Super Mario fan AND a crafter, then you're probably looking for fun craft ideas to make with your favorite Super Mario characters. Making Perler beads is the perfect project for you. It's cheap, you only need a couple of supplies, and the sky's the limit when it comes to anything you put a mind to do. Just take a look at these amazing Super Mario designs and ideas.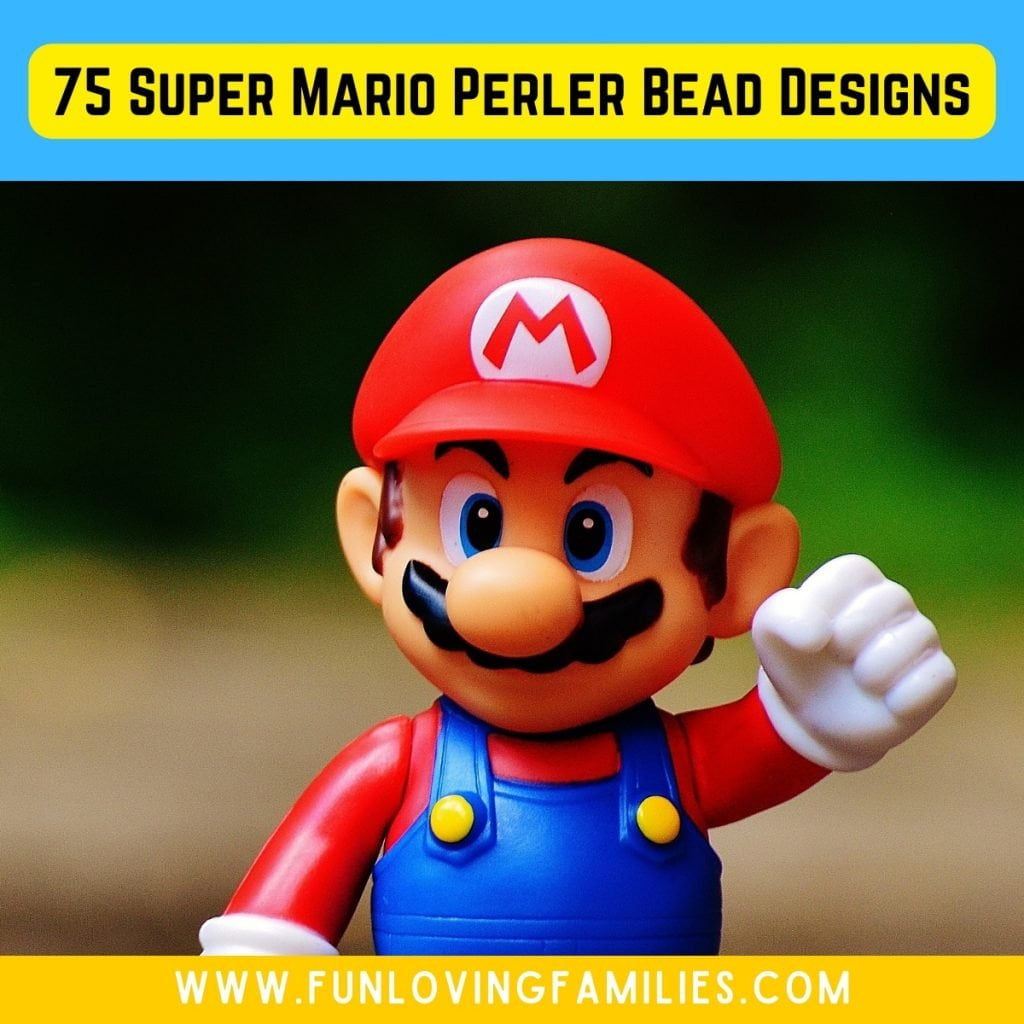 Mario fans have created a huge library of amazing Perler bead designs. The talent and creativity is quite staggering. First, we're sharing crafts like keychains, coasters, and wall hangings that you can make for your home or as gift items. Next, we share your favorite characters and things from different Mario games.
Check them out!
Super Mario Crafts
Yoshi Earrings
Yoshi is one of the much-loved characters in the game. Here's a matching earring design of Yoshi mid-gobble and his signature green-speckled eggs.
Mario And Raccoon Suit Earrings
These Mario earrings go together like green eggs and ham. Doesn't Mario look so cute in his Raccoon suit?
Star Earrings
Gift a friend with these cute Star earrings. Tell your friend that whenever she wears them, she gets a cuteness overload buff as well as a hefty dose of Invincibility!
Piranha Plant Necklace
Do you want something edgy? Here's that little menace – the Piranha Plant. This open-mouthed plant creature works out perfectly as a necklace pendant.
Magnets
It's hard to guess the patterns from this distance but this Mario World refrigerator magnet collection gives you an idea how your own projects can look once finished. I love how they recreated Mario in action in the world. Look at him bumping the Question Block and scoring points.
Flower Garden
Are you the type to kill plants with no effort? If you have the opposite of a green thumb, don't worry. This Mario flower garden is fun to make and lasts forever. No watering needed!
Power-Up Coasters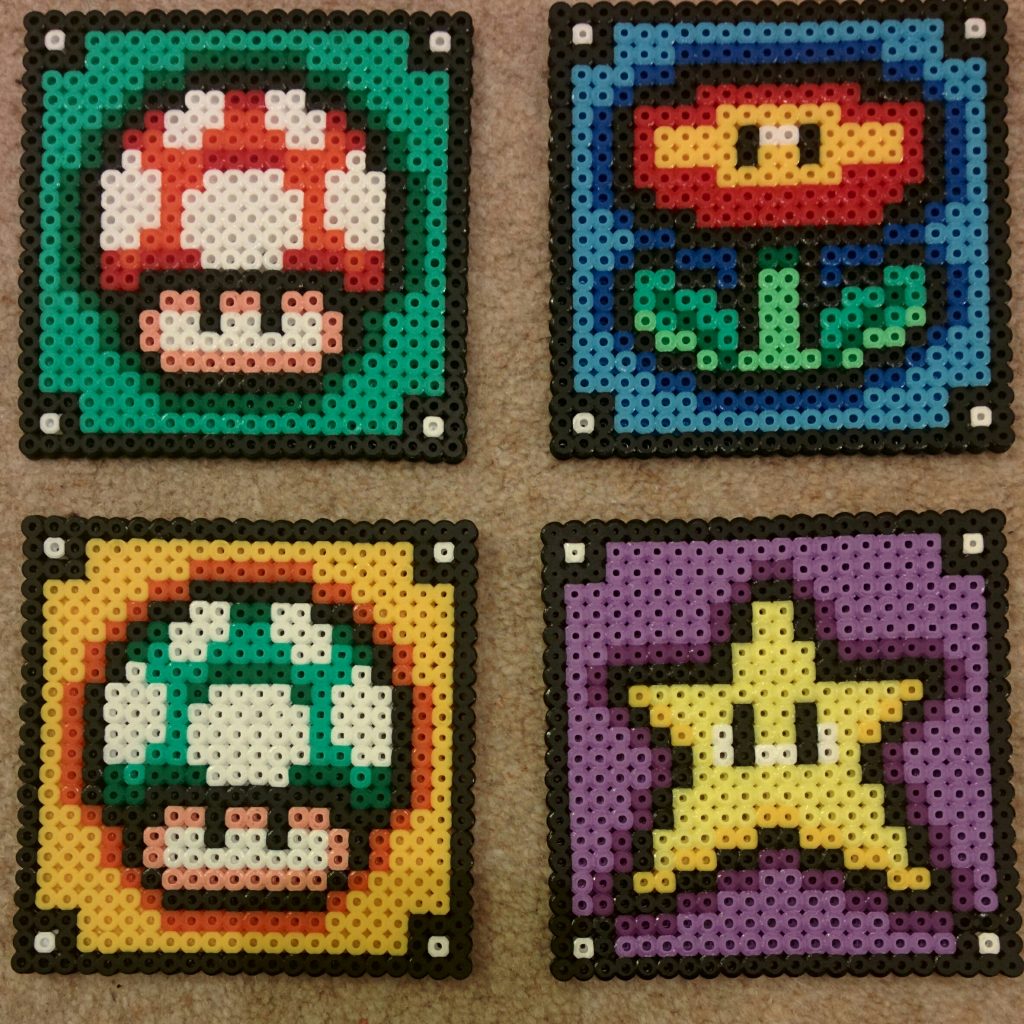 The amazing thing with Perler beads is that you can make coasters out of your favorite designs. Just choose designs that will fit a square or circular pattern. Here are some coasters from imgur featuring power-ups.
Monster and Item Coasters
If you want more Mario things for your coasters, here are more designs. Check out this Warp Pipe, Goomba, Mushroom, Super Star, Boo, and a Question Block.
Keychain
You can also make your favorite Mario characters and items into keychains using Perler beads. Here you'll see Mario, Luigi, Yoshi, Super Star, 1-Up Mushroom, and Fire Flower. These make for fantastic inexpensive gifts to friends for birthdays or Christmas.
Super Mario Boardgame
Do you want to see something super extra? Take a look at this crazy Mario Board Game. This amazing crafter posted a DIY guide in their blog buegelperlenvorlagen. It's in German but I used Google translate and I was able to understand the instructions.
Checkers
You can really do anything with Perler beads! Check out this Mario-inspired checker board. Instead of light and dark pieces, you can make 1-Up Mushrooms battle Super Mushrooms.
Easy Tic-Tac-Toe
For an easier project with young kids, how about this easy Tic-Tac-Toe? You don't need to make a full board. All you need to make is a simple grid, 5 Super Mushrooms, and 5 1-Up Mushrooms. The mechanics of the game are also easier to grasp for young children.
Tic-Tac-Toe With Board
If you want the board after all, then here's a pattern for you. With a full board, you won't have to be as careful when positioning your mushrooms.
Ludo
If your family plays both Ludo AND Mario, then you can make this Ludo board game for the entire family. It features Princess Peach, Rosalina, Mario and Luigi. It will surely be a hit present that the whole family can enjoy on game nights.
Ludo
If you want a more colorful Ludo gameboard, then check out this design. The Super Star, Yoshi, Mini Mushroom, and Mario all make for a bright and cheerful Ludo board.
Super Star Dreamcatcher
A dreamcatcher is a pretty ornament you can do for your bedroom. The Super Star and these Mario heroes will surely keep those bad dreams away.
Yoshi Dreamcatcher
Yoshi is featured front and center in this colorful dreamcatcher. Doesn't he look extra cute and cuddly? The ethnic feather pieces are particularly beautiful. I'm sure you'll only have happy dreams with a dreamcatcher like this in your room.
Star Box
Here's another epic Mario-inspired Perler bead project. This Star box is simply magnificent. Sadly, I haven't been able to track the pattern yet but I will definitely update this post once I find it!
Sleeping Mario Do Not Disturb Sign
Just look at this adorable Mario Do Not Disturb sign. Mario is sleeping peacefully while Zzz's float above his head. This is great for any room, however, just make sure you iron your creation well or else it will fall apart if your pet or toddler siblings get their hands (or paws) on it.
Mario Door Hanger
This bright yellow Mario door hanger lets visitors know that a Mario super fan resides therein. Make one for your own room now.
Yoshi Picture Frame
Everybody needs this adorable Yoshi frame in their lives. Whether you make one for yourself or give it away as a gift, it will surely make any Mario fan happy. And I'm sure it will make for a great conversation piece too in case you decide to put this on your mantel or living room.
Mario and Princess Peach Picture Frame
Nothing says like true love than a picture frame decorated with Princess Peach, Mario and a cute pink heart coming out of a Question Box. This would be a great gift to give to a boyfriend or a girlfriend. I'm sure your partner will be tickled pink with this little project.
Red Box Lamp
Raffaela put together this idea for a DIY Perler beads lamp. She outlines how to make the parts of the box and how to make them fit together. She gives important tips so that the box assembly goes smoothly. As you can see, the lighted box looks fantastic at night. If you have kids at home, it's best to use an electronic votive with a remote control.
Yellow Question Box Lamp
If the Red Box Lamp is stunning, the Question Box Lamp is cheerful. It glows when the light is on inside and even illuminates the cute Super Mushroom up top. In the daytime, it's still a fun piece of décor for your room.
Question Box Light Fixture
When you're a beginner, it's natural for some of your creations to come apart due to problems in the ironing process. Sometimes, it's also a bad pattern. With practice, your Perler bead skills improve and your creations become more sturdy. Just take a look at this light fixture that's all made up of Perler beads. Now that's one amazing piece of work.
Black and Yellow Coin Bank
If you already know how to do a box pattern, you can do a lot of other projects with it like this coin bank, for example. The black and yellow colors make it fun yet edgy. With a coin bank like this, it's easy to save up for the next Mario game you need to buy!
Blue Mario Coin Bank
I am in love with this gorgeous coin bank. It's a piece of Mario art, I think. The colors make you feel you are right inside a Mario game with the strong blue sky colors, the lush green grass, and the cute Super Mushroom and Star. Try to hone your Perler bead skills until you can make any of these beautiful coin banks.
Mushroom Pen Holder
Everybody needs pen holders! You can be young or old, a student or an office worker. Everybody needs a little box for pens and things. You can have this in your room, in your work cubicle, or in your home office.
Mario + Mushroom Pen Holder
Here's an alternative design to the Mushroom pen holder. Remember that you can change any of the designs so long as they can fit in the square grid of the pattern. Spare the lid a look, too. It's a mix of many colors and it's quite pretty.
Super-Sized Pen Holder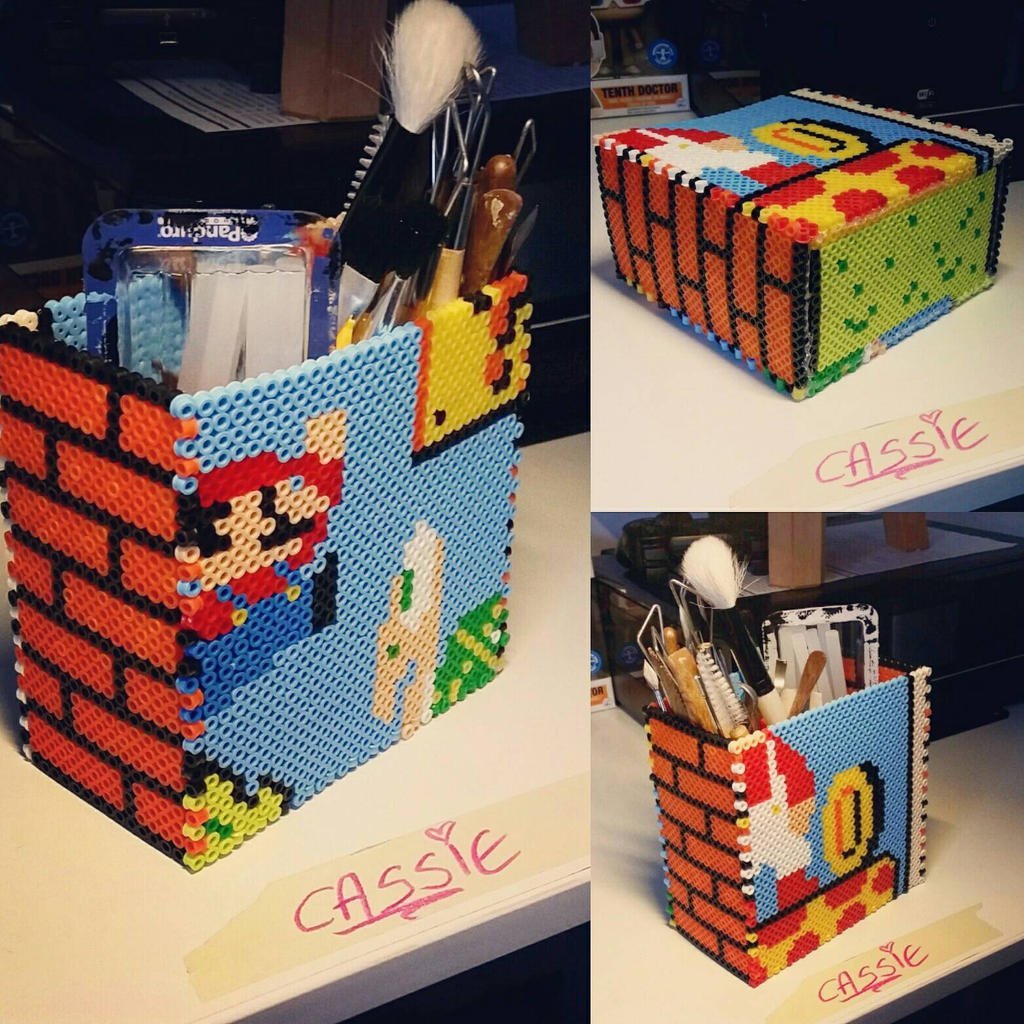 If a small pen holder is not enough to hold all of your things, then you need this Extra Large Pen holder from MissingInk. It can hold all your random stuff like brushes, cutters, scissors, and other supplies you need to store upright. The design is cute, too! Just look at Mario jumping over the Koopa.
Tissue Holder
These tissue holders are simply jaw-dropping. The lid is a Nintendo game controller while the sides are different Mario scenes. If you ever decide to make one of these, it's sure to be a conversation piece.
3D Wall Art
This wall art by Soultwinsprites trumps all of the Mario-inspired Perler bead projects we've shown so far. Just take a look at the magnitude of this entire creation. It has so many levels — from the brick blocks to the floating question boxes to Lakitu's cloud floating in the sky. And look at Luigi dodging those hammers being thrown at him. I have to say that Mario fans are a whole different breed.
Climbing Vine Pot
One of the fun moments in the game is when Mario hops on a climbing vine and he gets to go up, up and up. Here is a cute design you can make to add in with your indoor plants if you have them.
Key Holder
Crafter Carol took an empty frame, stretched a piece of netting at the back and made it appear like Mario and Koopa are doing a fence climb. A couple of cute Perler bead keys complete her key holder. I love just how creative and useful this Perler bead project is!
Mario Christmas Wreath
Christmas is just around the corner and what better way to prepare for it than with a Mario Christmas wreath? Sadly, the pinterest pin doesn't come with a pattern but if you zoom in to the photo, you should be able to count beads and see the colors used. This design features Mario, Yoshi, Super Star, and Boo.
Mario and Luigi Christmas Wreath
Here's another amazing Christmas wreath design. It has the same festive red bow and Super Mushroom at the center. This time, however, this design features both Mario and Luigi, a bigger Yoshi with an egg, and a bright yellow Nintendo game console.
Pattern for Mario and Luigi Christmas Wreath
A pattern! A huge thanks to Rachel of hamacreative.com for sharing the pattern to her gorgeous Mario Christmas wreath. It's truly professional-level work and I appreciate that she shared the pattern for this project.
Christmas Tree Décor
Decorate your tree with your beloved Mario characters and items. All you'd need to do is to make small Perler bead designs and then tie a string at the top. Make sure you iron your babies just the right amount so they don't come apart.
Small Christmas Tree
This small Christmas tree is a darling. The tree has very distinct features from its branches to the Christmas balls. A Super Star is taking top billing but make sure you also check out the little Perler bead presents at the bottom of the tree. This would look lovely on your study desk or on a book shelf.
Pattern for Small Christmas Tree
Huge thanks to Spritestitch for sharing the pattern for this very detailed Mario-inspired Christmas tree. I hope you can make one in time for Christmas.
Mushroom Set Christmas Tree Décor
Here are some more Mario things you can hang up on your tree. This time, it's a trio of mushrooms — a Super Mushroom, a 1-Up Mushroom, and a deadly Poison Mushroom.
Piranha Plant Christmas Tree Décor
Tired of the old star up on top of your Christmas Tree? How about a Piranha Plant taking center stage this year? I'm not sure if it's as festive but it's definitely unique.
Super Mario World Diorama
Here's another magnificent project. It's a Super Mario World diorama. Doesn't it look almost 3D? The colors and design for each character and item are simply on-point!
Best Boss Gift
If your boss is worthy of a one-of-a-kind gift, then this World's Best Boss coaster might be the perfect gift to give.
Super Mario Designs
These next Perler bead designs are different ways that you can make Mario. They're fun to make and just have around or you can make them your base designs for coasters, keychains, or ornaments.
Super Mario Poses
Have fun with these different Mario poses. You can make them into keychains or tack them on your wall for some action.
Super Mario Stained Glass
Here's a challenge for the professionals. It's Mario with all our beloved Mario things but it's giving us a cathedral stained-glass vibe. The crafter who did this is truly talented and patient.
Super Mario Pattern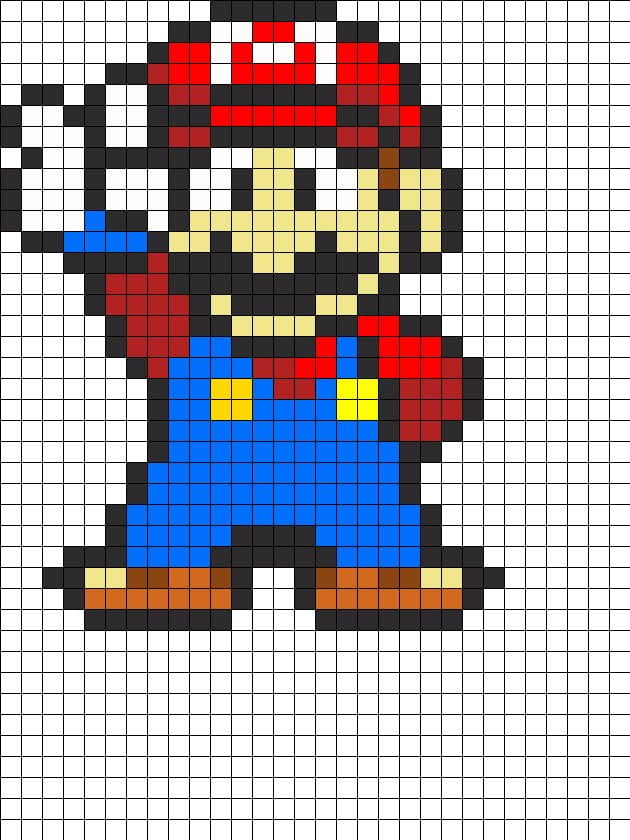 Do you need a pattern? Crafter kandipatterns generously shares this colorful Mario with one raised hand. He's cheering for you!
Luigi Designs
Luigi
This little Perler design looks exactly just like the cute Luigi. He's adorable in a running pose. It's an easy design and you won't need to use that many beads either. You'll need some greens, blues, and browns though.
Luigi
It's Luigi sucking up a Boo with his trusty ghost-catching Poltergust 3000. Go get 'im, Luigi!
Luigi Patterns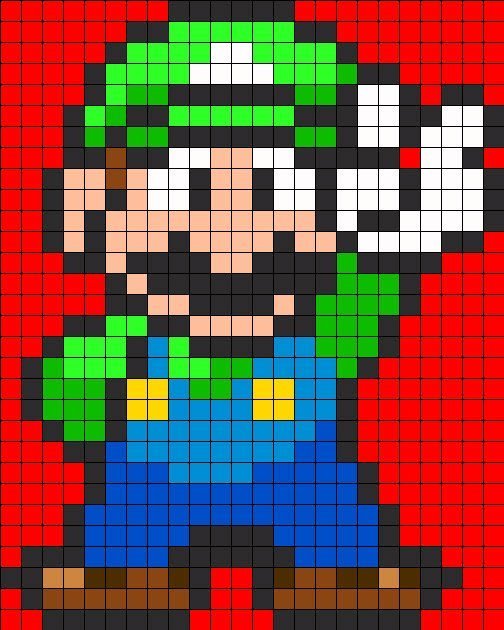 And because I love kandipatterns so much, here's the Luigi version. Now you can make both of them.
Other Super Mario Characters
Princess Peach
Here is Mario's beloved Princess Peach. Even though it's a small and simple design, I can just tell she's wearing some beautiful accessories.
Bowser
It's Bowser in the house. You can't make Mario characters without their biggest adversary. He just won't allow it.
Yoshi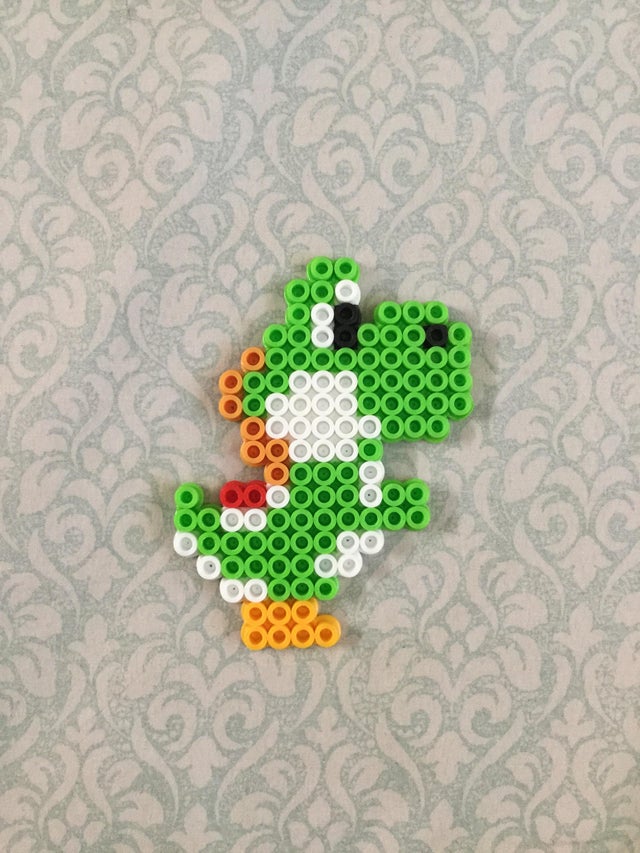 Look no further for the most adorable Yoshi Perler design. Midoritsune on reddit says he's made his first Perler project after 22 years of living. It's never too late for anybody to pick up this hobby.
King Boo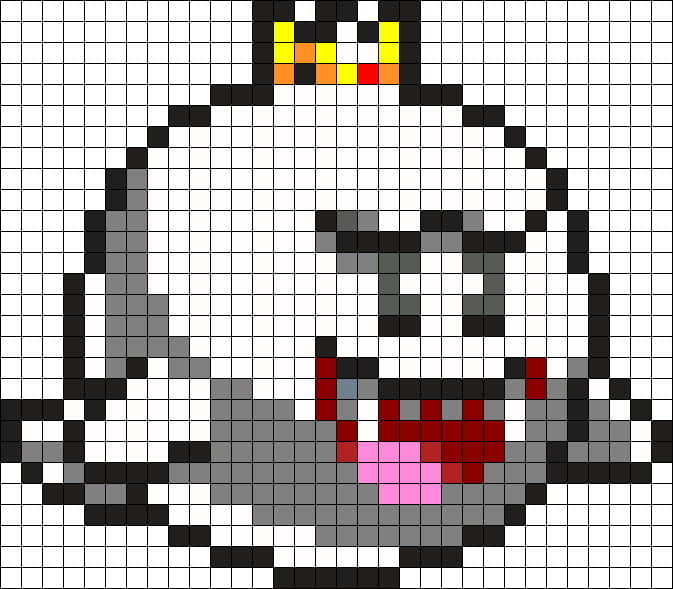 Say hello to this cute King Boo Perler bead pattern by kandipatterns. This powerful and cunning Boo should look great on Halloween's day.
Para-Goomba
These little critters are beyond cute as they sit a on a little chunk of floating island with their adorable frowny faces. They look great as wall decor!
Lakitu
Do you feel like jumping right now? It's okay. It's just a reflex from seeing these Lakitus. The Mario World isn't complete without these Koopas.
Pokey
If you make a Yoshi trinket, you might want to make a yellow Pokey too for sustenance.
Urchin
Another familiar enemy from the Super Mario World, it's a spikey Urchin.
Dolphin
If you've had enough of enemies, how about this sweet google-wearing dolphin that helps you reach items and avoid enemies? I just love his goggles.
Fire Bubble
Looks familiar? It's a Podoboo! They're the fireball-like enemies that come out of the lava in Super Mario castles. They're fiery!
Super Mario Things
Blue P Switch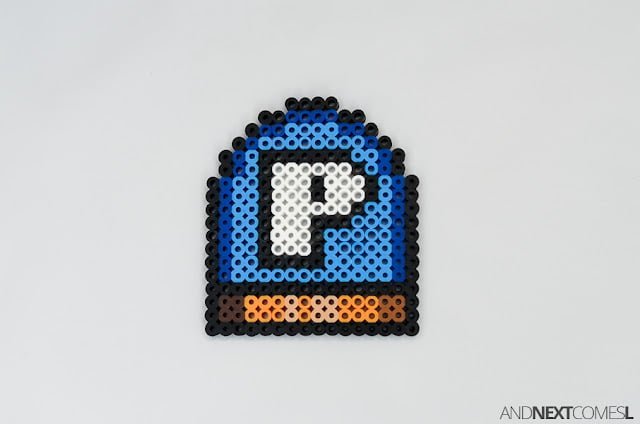 Power up your day with this P Switch. This cute design by And Next Comes L has some nice shading to it.
Question Block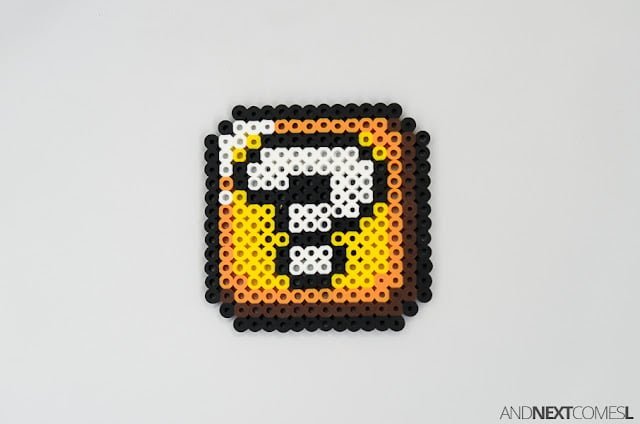 For people who love surprises, here's a Question Block for you. Design by And Next Comes L.
Mushroom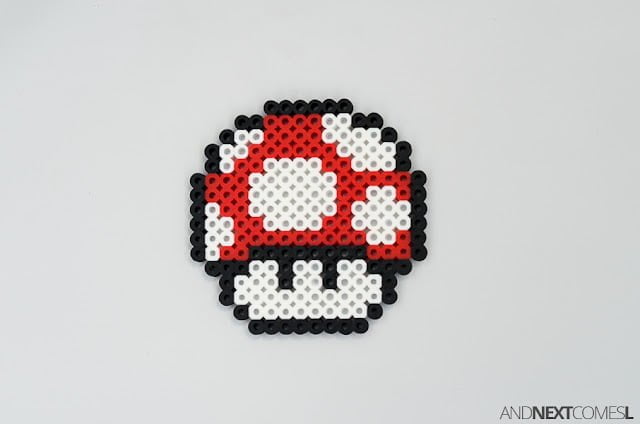 Here's an easy-to-follow design for the iconic Super Mushroom. Design by And Next Comes L.
Green Shell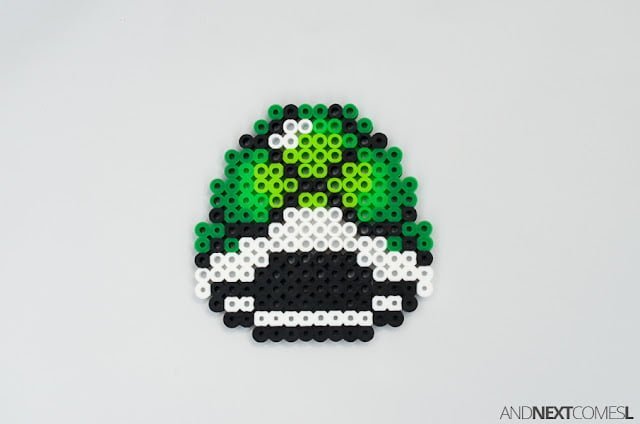 Be careful of the sliding Koopas! Design by And Next Comes L.
Brick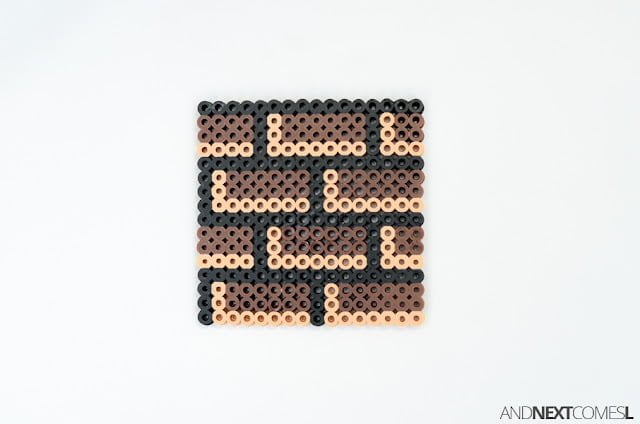 If you're planning to create a Mario World scene, you'll definitely need to build with some bricks. Design by And Next Comes L.
Star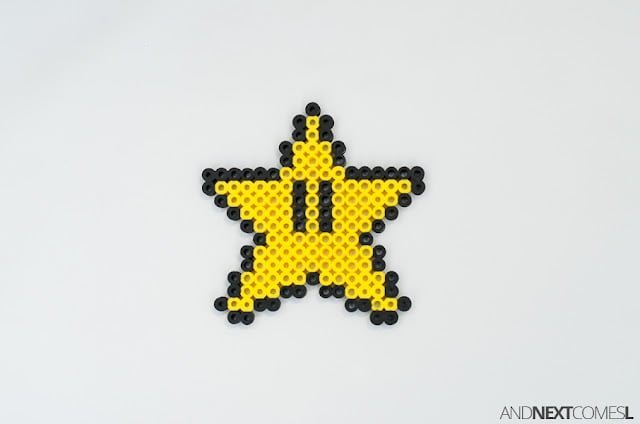 Everybody needs a Super Star to cheer them up. Design by And Next Comes L.
1-Up Mushroom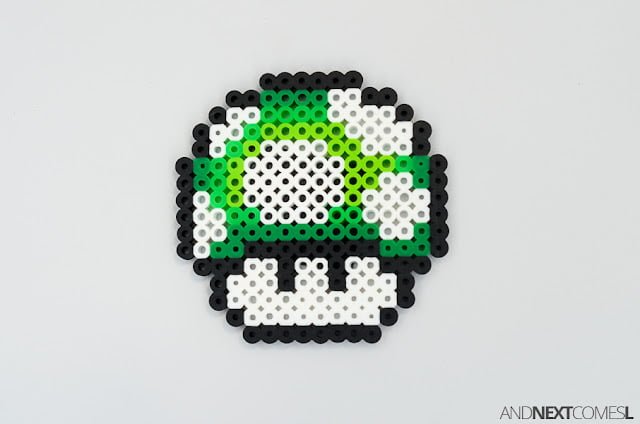 Mario players love the 1-Up Mushroom for those extra lives. Design by And Next Comes L.
Trampoline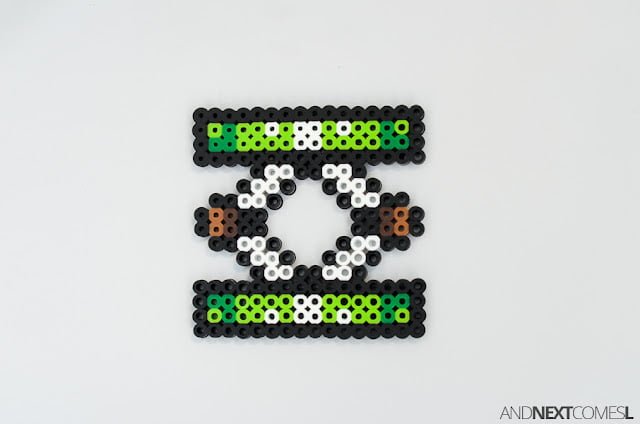 Now here's a surprising design choice. It's the trampoline from the Donkey Kong series.
Green Pipe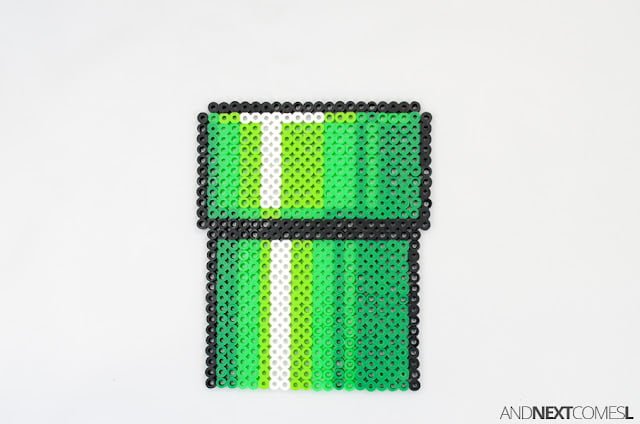 Don't you just love shortcuts and getting transported to another map? I love these green pipes. Design by And Next Comes L.
Super Mario World Landscape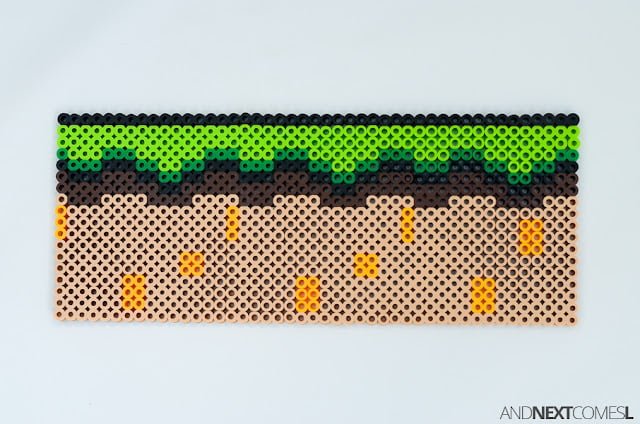 Here's more material for your Mario World landscape. Design by And Next Comes L.
Fire and Ice Flowers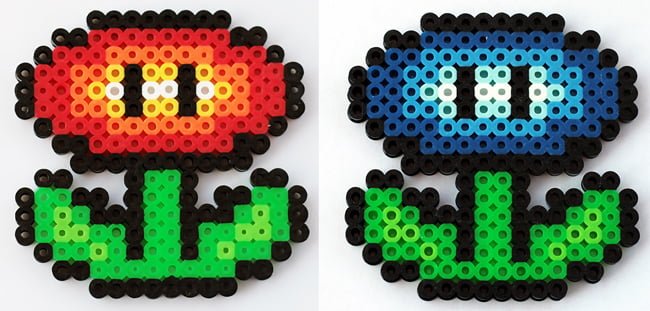 These Fire and Ice Flowers are just too pretty. Designs are by ThePlayfulPerler over at Deviant Art.
Fire Flower
If you want to recreate the Fire Flower from Super Mario World, then here you go.
Piranha Plant
Our list would not be complete without the poppin' Piranha plant.
Yellow Egg
If you like yellow Yoshi, here's a Yellow Yoshi egg for you.
Similar Posts: