Get some fun new space themed Perler Bead patterns for kids crafting fun. Some are small and easy and others are a little more detailed, but you can use our printable patterns to make it easier.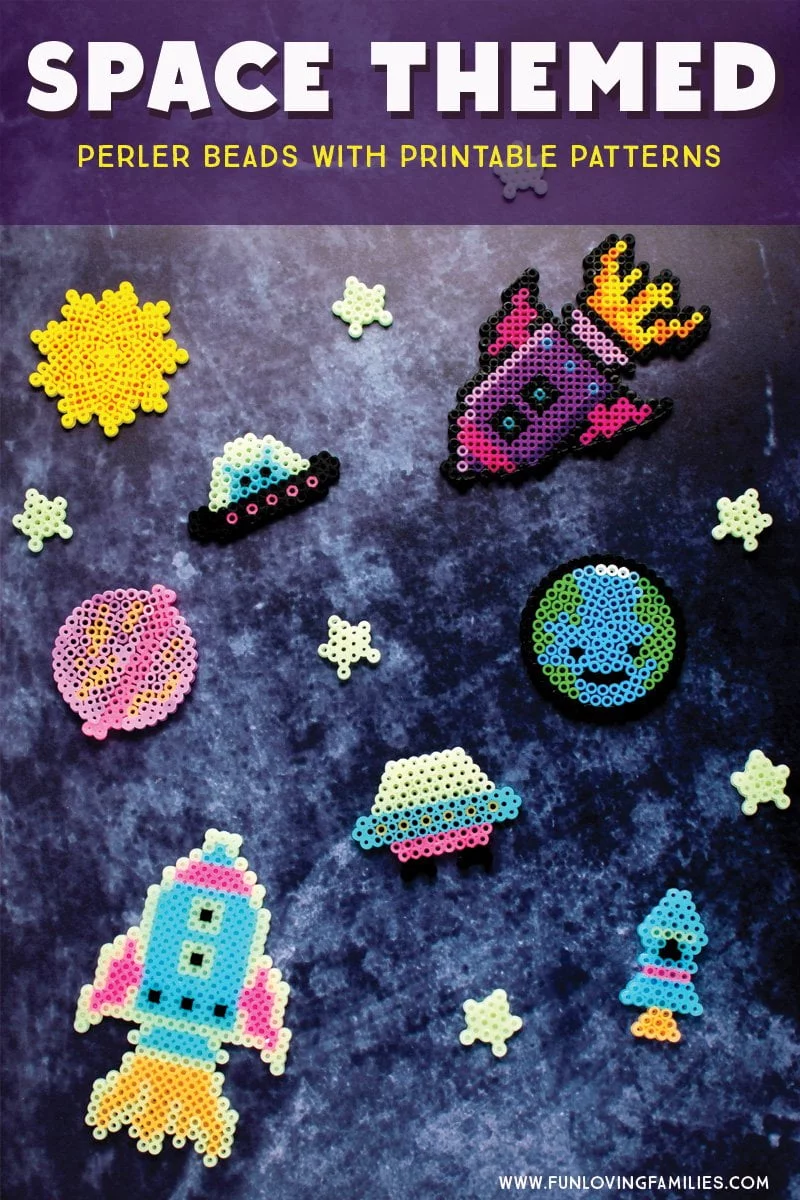 (This post contains affiliate links which means I may earn a small commission if you click a link and make a purchase. As an Amazon Associate I earn from qualifying purchases.)
Easy Space Craft with Perler Beads
We've been stuck at home for the past few weeks and looking for some fun and simple things we can make to pass the time.
I was so excited to get these Glow-In-The-Dark Perler Beads and knew I wanted to make some space themed patterns with them.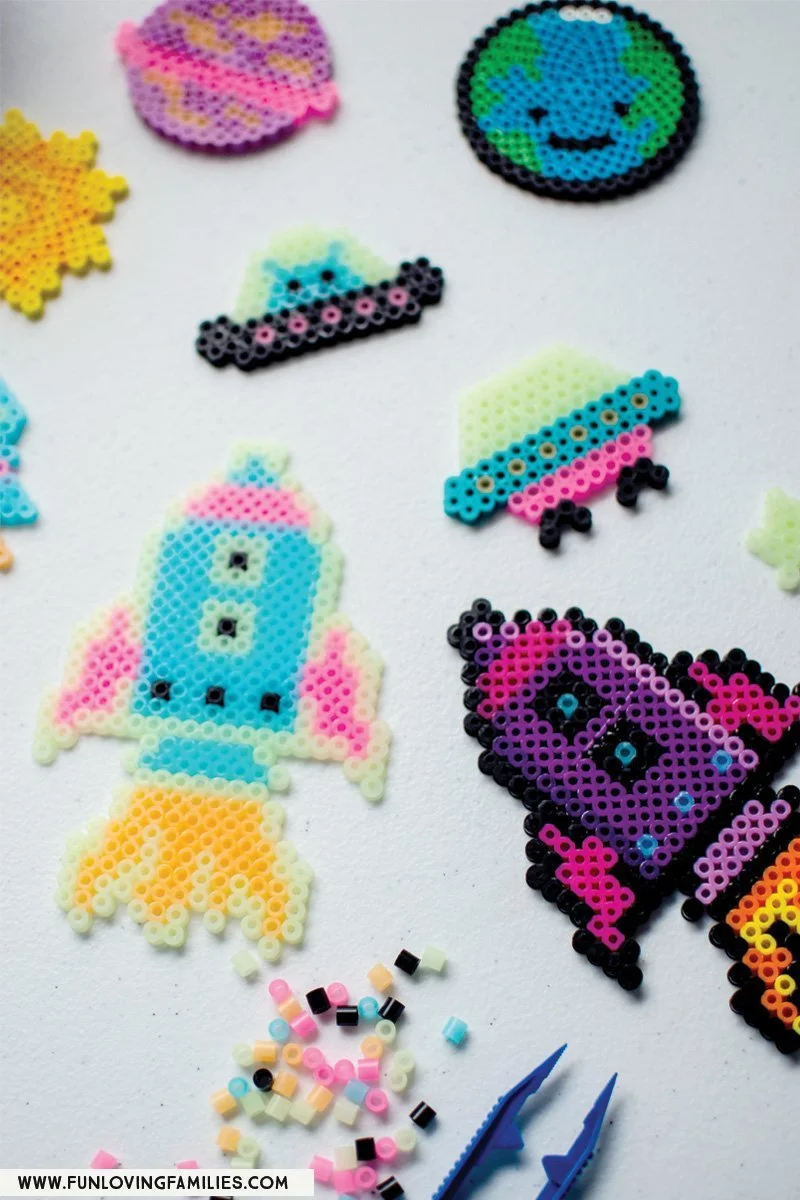 If you're new to fuse bead crafts, make sure you read our guide to Perler Bead Patterns and Crafts. It's got a ton of free patterns and lots of ideas for fun kids crafts.
For our space patterns, we used a mix of the glow-in-the-dark beads and normal beads and I'm really happy with how they turned out.
This easy craft is perfect for kids who love space!
What You'll Need:
– Perler Beads (regular or glow-in-the-dark)
– Large square pegboard (for big rocket)
– Small hexagon pegboard (for UFOs and stars)
– Small circle pegboard (for planets and sun)
– Small star pegboard (for small rocket)
* This set of small pegboard shapes includes all of the small shapes we used.
– Ironing paper (you can also use parchment paper)
You can use the free printable patterns below as a guide to make yours like ours, or simple use it for inspiration and take off on your own space crafting adventure!
I love the idea of using some wall putty to stick the glow-in-the-dark stars and UFOs around a kids bedroom or playroom. Or framing one of the big rockets with the words "Blast Off!".
I hope your kids enjoy these space patterns for their fuse bead creations and that they inspire hours of creativity!
More Perler Bead Crafts for Kids
Don't forget to Pin an image to save and share!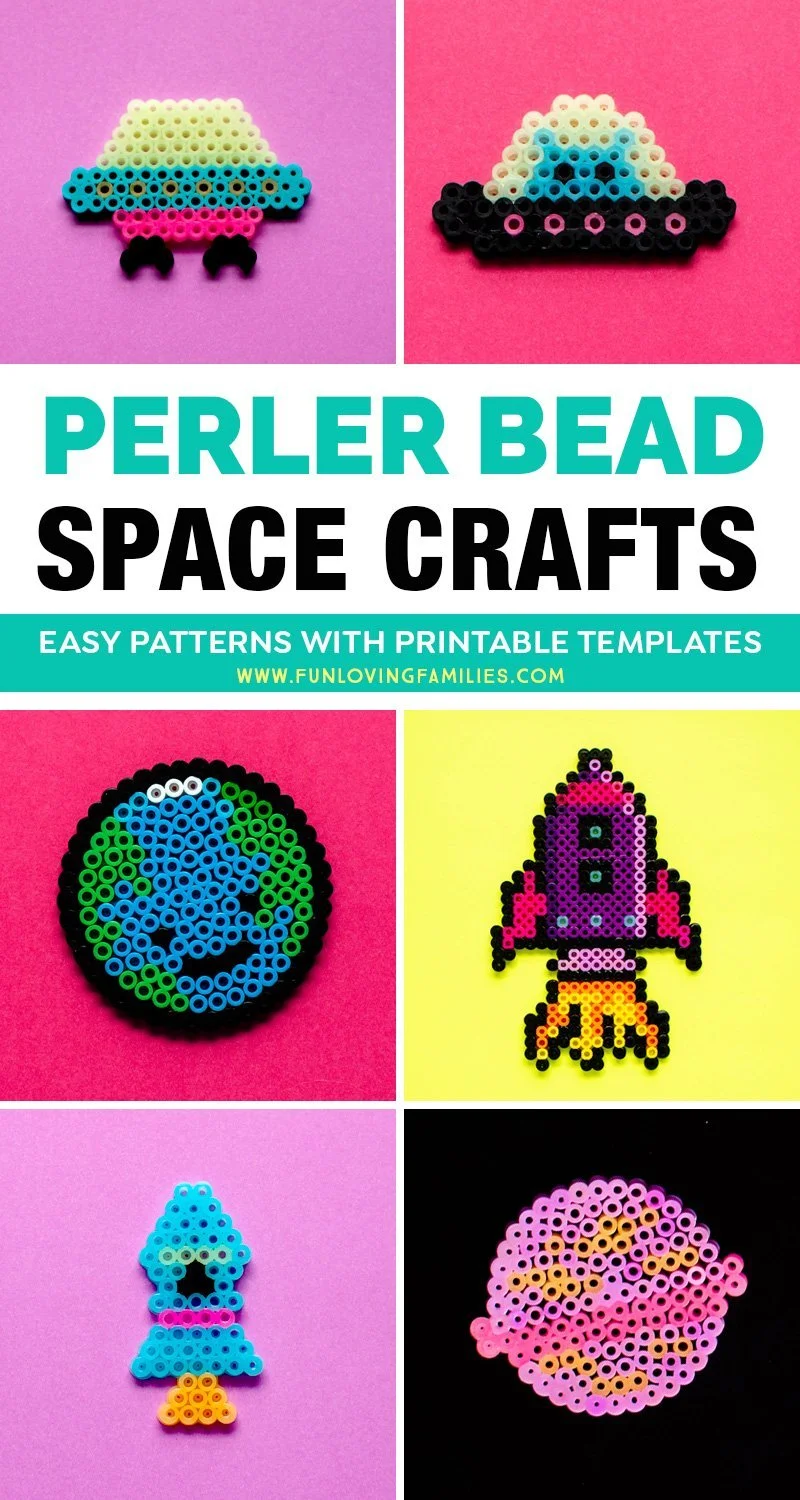 Similar Posts: