These fun crafts for tweens or teens are perfect for older kids who want to make stuff for fun or to sell. From cute homemade squishies, to practical duct tape crafts, there is something on this list for everyone.
---
I'm going to just start by saying…this is a long post. But, it's totally worth it to scroll all the way and see all of the amazing ideas here.
I was only trying to come up with around 50 craft ideas for tweens and teenagers since that's the age group my kids are in, but there were too many craft ideas I couldn't leave out – They're just.that.good.
---
If you're looking for craft ideas for tweens and teens, check out all of the fun crafts on this list. Everything here is geared towards 8 year olds and up. I know you'll find something that is just right for your older kid's personality. Plus, most of these are easy and cheap crafts which only require a few, inexpensive supplies.
Save these tween and teen crafting projects for when you're on the hunt for rainy day activities or add a few crafts to your summer bucket list.
And, one more thing.
Many of these craft ideas may look like they're crafts for girls, but there are plenty of options here that boys will enjoy as well. Look past the pink and glitter (unless you like it, of course!) and you'll find that many of the DIYs for girls can easily be adapted for boys as well.
Bookmark this page to save for summer craft ideas when the boredom starts kicking in!
(This post contains affiliate links which means I may earn a small commission if you click a link and make a purchase. As an Amazon Associate I earn from qualifying purchases.)
Duct tape crafts for Tweens and Teens
I am always amazed at the amazing things you can make with duct tape. You can pretty much use it like fabric, but since it's adhesive, there's no sewing! It's great for tween crafts and crafts for teens.
Main supplies needed: Duct Tape
Here are five duct tape craft ideas:
1.Duct tape jewelry
You can pretty much make any kind of jewelry with duct tape. Earrings, bracelets, necklaces… There are so many ways to make them. Click here for a great kit to get started. You can find a great duct tape jewelry tutorial here.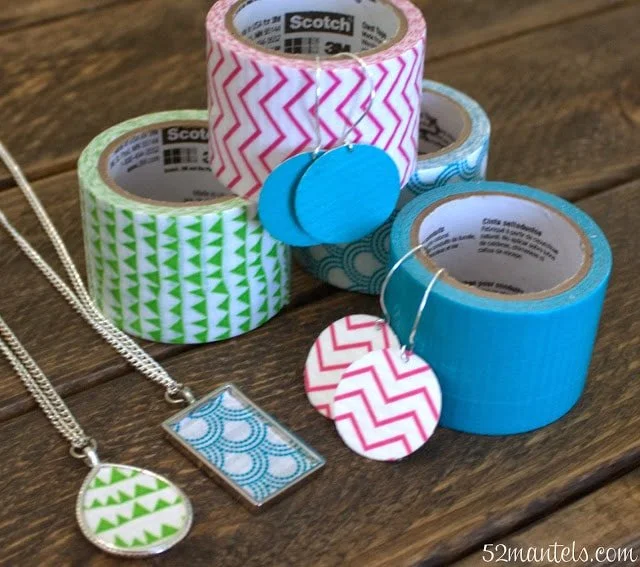 2. Duct tape phone or tablet covers
Many kids at this age have a tablet or kindle that they use, or maybe even a smart phone. This kit comes with duct tape and pre-cut fabric so it's easy for the kids to get started. (find kit here)
3. Duct tape shoes
Design your own duct tape shoes like these! There's no tutorial for the ones shown, but these instructions from Instructables are a good place to start.
4. Duct tape wallet
Perfect for keeping chore money and birthday gift cards! Follow the instructions from this duct tape book for the wallet and so much more.
5. Duct tape book cover
Or journal cover, or folder cover. Either way, the kids can personalize to their hearts delight! This tutorial shows how to make the book cover with a fastener, pen holder, and a pocket!
Paracord crafts
Paracord rope is a lightweight, nylon, utility rope that is often used in survival applications. The cord has many uses, however, and it comes in so many colors and patterns that it also lends itself to some fun craft projects.
Main supplies needed: paracord rope (find it here)
6. Paracord Pineapple Key Fob
Follow the photo tutorial here to learn how to make this sweet pineapple key fob using paracord rope. This is a fun teen craft idea for those looking forward to driving soon.
7. Paracord Buddies
These lanyard buddies come together pretty quickly and are fun to customize with kids favorite colors. Hang them on a jacket to keep them close, or attach them to a backpack. Follow the tutorial here to make your own.
8. Paracord bracelets
Many of the paracord rope kits come with buckles for making bracelets, belts, and more. I like this tutorial because it uses sliding knots instead of buckles, so it's easy to slide on and off and you don't need to worry about having buckles on hand. You can use beads to decorate the paracord, or use another colored cord, like the one shown. Find tutorial here.
9. Paracord Bookmarks
Learn how to create a cool looking bookmark using a monkey fist knot. Find tutorial here.
10. Paracord Snakes
Has your adolescent asked for a pet snake yet? Mine certainly has! I think I'll direct her to these cute paracord snakes she can make herself, haha 🙂 . Find tutorial here.
11. Paracord Hammock Chair
This is a homemade teen project for kids who enjoy camping, hiking, backpacking, etc. It's easier than you might think to create a functional hammock chair from paracord rope. See video here.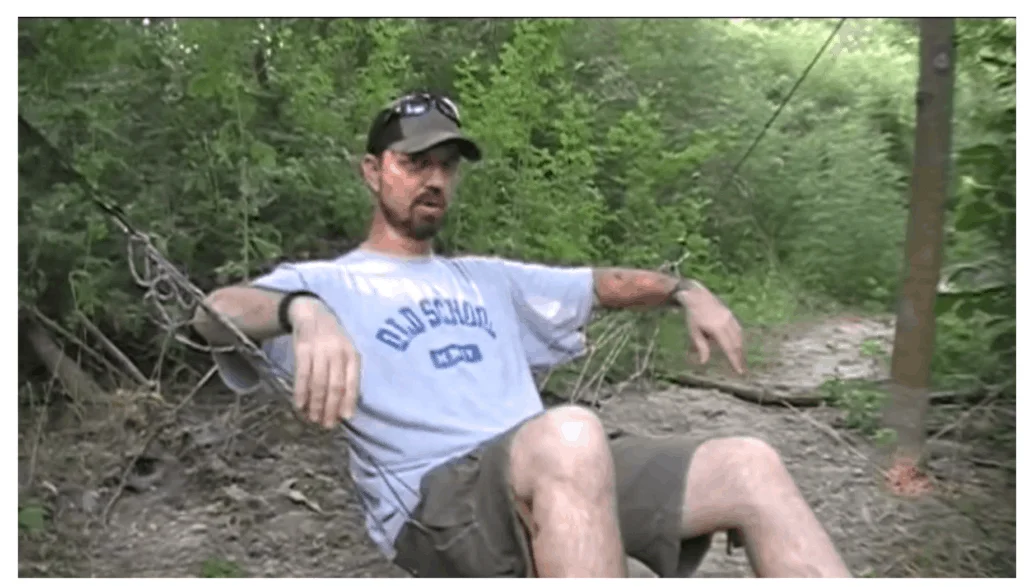 How to Make Squishies
Squishies are as fun to make as they are to play with. And, they're easier than you might think to make.
My 11 year old learned how to make them from this amazing book, which also includes a bunch of DIYs for kids to start off with.
Main supplies needed for super-easy DIY foam squishies:
– inexpensive memory foam pillow
– sharp scissors
– puffy paint
Basic Foam Pillow Squishy Tutorial:
Draw your pattern onto a piece of memory foam pillow
Cut the foam into the shape you want based on the pattern. You'll want to keep the shapes simple when you're first starting out.
Use puffy paint to paint the foam in the colors you want.
Allow to dry completely. This can take up to 24 hours.
Have fun squishing!
Try these other squishy projects:
12. Squishy Cake Keychain
This adorable keychain is perfect for hanging off of backpacks. See the full squishy tutorial from Crafts Unleashed.
13. Cute Marshmallow Squishy Plushie
Watch this video from Chelsea DIY on Youtube to learn how to make this adorable marshmallow squishy plushie. It requires a little bit of basic hand sewing, but should be simple enough for beginners.
14. Edible Squishies
Ok, I had to include these cute kawaii squishy rolls, even though I guess they aren't "technically" squishies. They're still super-cute, and the printable labels make them even more fun to make and give to friends!
Homemade Slime Recipes, Tutorials, and Kits
Slime is everywhere! And my kids never get tired of making it. In fact, they seem to enjoy making it over playing with it, but it's ok because sometimes it's all about the process. Thankfully, it's pretty easy to make, and surprising easy to clean up after.
Main supplies needed (the recipes differ, but common ingredients are listed here):
– glue
– borax
– food coloring
If the kids are making a ton of slime this large jug of glue is a great economical option.
15. Unicorn Slime
Fun swirls of glitter and pastels. Use this recipe, or get the kit with everything you need!
16. Galaxy slime
We love anything galaxy-inspired. Here's a great galaxy slime recipe to follow.
17. Glow in the dark slime
Grab this kit for everything you need to make glow-in-the-dark slime. Find it here.
18. Fluffy Slime Recipe
If you haven't made fluffy slime, it should probably be at the top of your list to do next. The texture is so smooth and irresistible, you won't want to put it down! Find recipe here.
Need more slime in your life? Get loads of slime recipes and borax-free slime recipes from these books.
Paper Crafts for Tweens and Teens
You can't go wrong with paper crafts because there are so many options, and paper is generally inexpensive and easy to come by.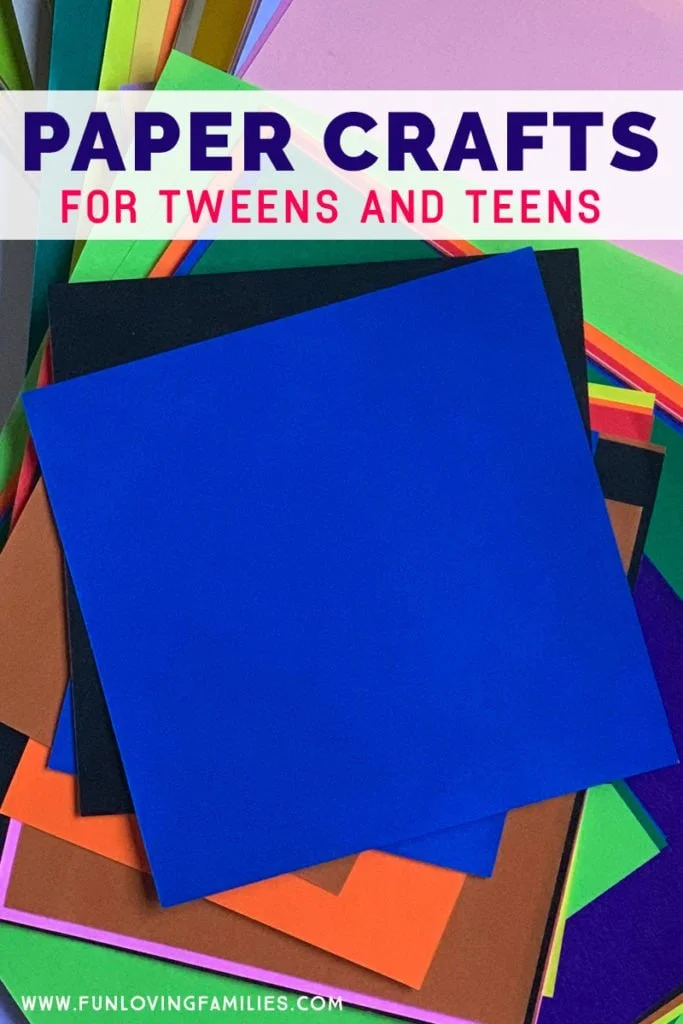 Main supplies needed: paper
19. Folded Paper Bracelets
Paint and fold your own unique paper bracelet (or make a bigger one for a crown!). Find tutorial here.
20. Paper-quilled monograms
These require a little bit of patience and dexterity, which makes them perfect crafts for older kids. A monogram is a project they'll love to keep and frame. Look here for a simple tutorial, and save time with pre-cut quill paper from this kit.
21. Hexaflexagons
My kids learned how to make these paper hexagons that continually fold in on themselve from YouTuber Vi Hart and became completely obsessed. Learn how to make them from the master here.

22. Easy Origami Photo Frame
Use the video below to make these frames in different sizes. They'll look great displaying your favorite photos of friends and family!
23. Paper Stars
This 16 point paper star is impressive to see and fun to make. Use your favorite colors and make some to decorate your room! (tutorial here)
24. Giant Paper Bag Stars
My daughter made these at school and couldn't want to come home and make more. Find tutorial here.
Pom Pom Craft Ideas for Teens and Tweens
Pom poms are delightfully irresistible because they are small and fluffy. As such, they lend themselves very well to being made into all kinds of adorable creations.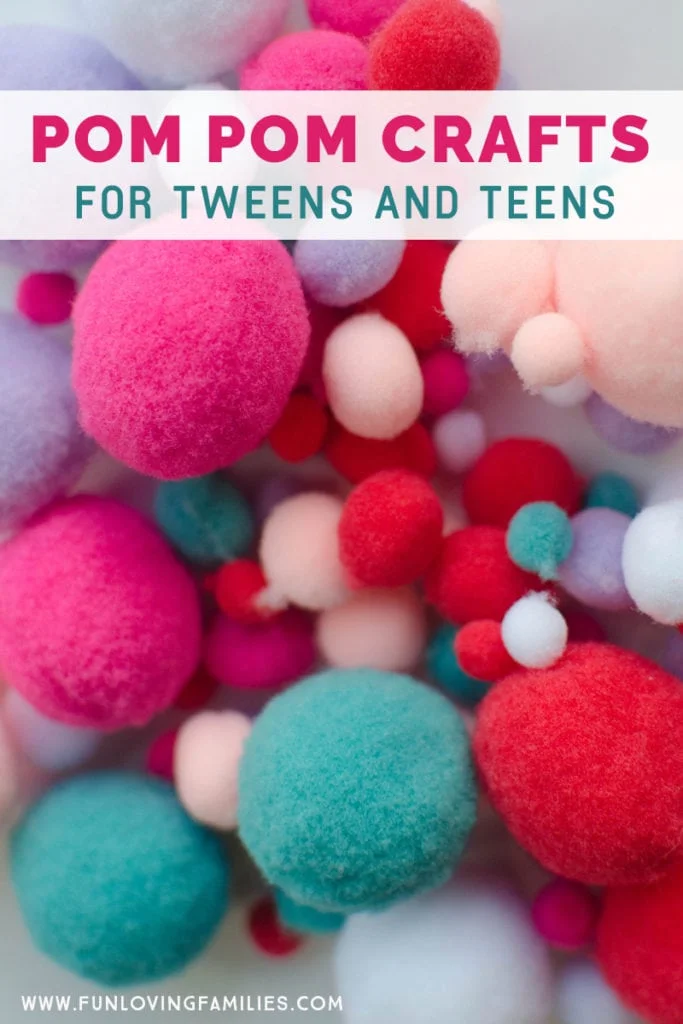 You'll get some really cute project ideas of varying pom-pom-making skill levels from this book.
Main supplies needed:
– yarn or pre-made pom poms
If you're making your own pom poms, you can either buy pom pom makers, or simply check out this post with 7 different ways to make a pom pom.
Project ideas:
25. Pom Pom Bookmarks
As much as we use our Kindles and e-readers, I know that books are not completely obsolete just yet. My oldest loves reading, and still prefers "real" books over her Kindle. These poofy pom poms are fun to make and use yourself, and also make great gifts paired with a favorite read. See tutorial here.
26. Pom Pom Earrings
You can make pom poms in lots of different designs, or choose one solid color, and attach to fishhook earrings. If dangly earrings aren't your style, you can also pick up some mini pom poms and attach them to post earrings.
27. Pom pom letters
All you need is cardboard or wooden letters and a bunch of colorful pom poms to create a fun word to display in your bedroom. Find tutorial here
28. Pom pom animals
This kit includes yarn and lots of tiny bits, plus instructions for making over 20 tiny pom pom animals. All you'll need is a fork to wrap the yarn and scissors to shape the pom poms into fluffy spheres. I love grabbing kits like these for the kids to work on over the summer, or during school breaks.
29. Pom pom cactus
If you haven't been able to keep those little succulents alive that you keep buying, then this pom pom cactus is just what you need. Find tutorial here.
Jewelry Crafts for Tweens and Teens
Main supplies needed:
Starting with a basic jewelry making kit, your tweens and teens can make their own jewelry that they'll love wearing. And they'll be proud knowing that they made it themselves.
30. DNA earrings
These beaded DNA earrings are a mix of science and creativity. They're a little challenging, but the results are well worth sticking with it. My 12 year old created a pair on her own recently and they are so beautiful. Find tutorial here.
31. T-shirt necklace
There are lots of different ways to turn t-shirts into necklaces. I love how these finger-knit t-shirt necklaces turned out. Go find some old shirts and make your own! Find tutorial here.
32. Tassel earrings
You can keep these earrings simple with just one layer of tassels, or go all in with a multi-layer gradient! Either way, they're totally adorable and quick to put together. Find tutorial here.
33. Shrink plastic earrings
Shrink plastic is so fun and versatile, it never gets old. Grab your shrink plastic sheets and create your own avocado and toast earrings, or come up with your own design. These can also be used as charms on a bracelet. Find shrink plastic here. Find shrink plastic earrings tutorial here.
34. Square knot bracelets
The humble square knot bracelet gets an upgrade with these gorgeous macrame bracelets. Grab some jewelry connectors that match your style and get to work on your new accessories. These are fun to make with friends and make great gifts! Find tutorial here.
Melty Bead Crafts
Melty beads (AKA Perler beads or fuse beads) are fun to create with and we never get tired of them. They are pretty small and can become messy if they spill, but if you keep them well-contained they're really easy to clean up.
You can turn your finished, fused beads into key chains, back pack hangers, magnets, pins, ornaments, or even earrings using the mini beads.
Main supplies needed:
– assorted melty beads
– bead canvas
– tweezers
– ironing paper
– iron
35. Create your own cute designs
There are endless possibilities for what you can make with your beads and a pegboard. While this is one of the great things about melty bead crafts, it can also be intimidating when you first start. If you like having a bit of structure to start from, using shaped pegboards may be a great way to start.
Another way to create your own designs is to sketch your work out on graph paper, or work it out using online 8-bit graphics tools like this.
When you're finished, you can put them in frames, attach them to jump rings and use as key fobs or backpack hangers, attach a magnet to the back, turn into earrings, use as gift hangers, and anything else you can think of!
36. Make favorite characters
Create your favorite characters with Perler beads! You can follow a pattern or create your own. Need some Perler bead patterns? Check out our Perler Bead Patterns page. We also love using the Beadcraft books, where you can find Minecraft, Pokemon, and lots of popular gaming characters.
Find the Beadcraft Books here.
37. Create beaded necklaces
Perler beads are so versatile, you don't just have to use them as melty beads. String them onto a chain to make beautiful beaded necklaces. I love this example from JoAnn's. Find tutorial here.
38. Create a bowl
These bowls are amazing. A big bowl will take some time and patience, but you can follow the same method with smaller glass bowls if you're short on time (or patience!). Find tutorial here.
39. Make a pair of cute cactus earrings
You can make cute tiny things with mini beads that are great for turning into earrings. Find tutorial here.
40. Make a Perler bead ear bud holder
If your ear buds are always getting tangled, you can use melty beads to make a simple holder to wrap the cords around.
Clay Crafts
41. Clay bead necklaces
You can create colorful bead necklaces using polymer clay, which you'll need to bake, or from air dry clay. If you use air dry clay, you can keep it white (or terra cotta) or paint the beads once they've dried.
42. DIY Diffuser Necklace
Make your own clay diffuser necklace to keep your special scents close. Find tutorial here.
43. Cute DIY Phone Holder
This little whale is super cute and ready to take on big tasks, like holding your phone for a bit while you tend to other things. Find tutorial here.
44. Clay alphabet dishes
Using air dry clay and alphabet cookie cutters, you can make some personalized dishes to hold small desktop items. These are very useful for containing small things like hair ties or rings. Find tutorial here.
---
See 10 more clay project ideas here!
---
DIY Soaps and More
Bath and body projects are a favorite of mine. I love all the scents and fun colors! If you like the convenience of crafting from a kit, give these a try!
Soap Making Kit – Buy it here
Soap Jellies Kit – Buy it here
45. Soap gems
I love these colorful gem-shaped soaps. You'll need a few soap-making supplies, but once you have everything you can make these in about 10 minutes! Find tutorial here.
46. Bath fizzies
These donut bath fizzies are full of fun! First you get to have fun making them, then you get to enjoy a nice bath. Find tutorial here.
47. Rainbow soap
What could be better than starting your day with a hot shower and some bright, colorful rainbow soaps?! These are easy to make using the melt-and-pour method. Find tutorial here.
48. Kool Aid Lip Balm
I'm on the lookout for some yummy Kool-Aid flavors so we can make our own lip balm! We found some very inexpensive lip balm containers at Hobby Lobby that we can use once we're ready. Find tutorial here.
Miniature Crafts for Tween and Teens
When you make something smaller, it instantly becomes more cute. These mini crafts are cute and tiny and loads of fun for tweens and teens to create.
49. Tiny food
There are a couple different ways to go with tiny food. There's tiny food that is actually real food that you make in miniature sizes and then can eat. Real tiny food is quite popular at our house, and our 10 year old has made tiny chips, tiny pancakes, and more.
Here's a recipe and tutorial you can use, along with this mini donut pan, to make adorable tiny donuts. Find tutorial here.
Then there's the tiny food that you make from clay (or other materials), and you can use for jewelry, like these DIY donut charms. Find tutorial here.
Prefer a kit? Try this one:
Want to make your own mini foods? Check out the tiny bakeware you can buy:
50. Fairy gardens (or mini gardens)
These tiny gardens and terrariums are so fun to get creative with. You can create a little terrarium garden to keep in your bedroom. Or venture outside and find the perfect spot to create your own tiny fairy land. Want some guidance for best plants to use for indoor and outdoor fairy gardens? Check out this fairy garden plant guide from Empress of Dirt.
I love this kit of fairy garden accessories. It's a little pricey, but it has a great variety of fairies, animals ,and buildings.
We have created our fairy gardens at the base of tree stumps and in an old wheelbarrow! Find mason jar terrarium tutorial here.
51. Miniature plant holders
You can buy wine corks for crafting (find them here) and use them to make tiny planters! Find tutorial here. Or, if you're worried about the plants dying, you can make a paper version!
52. Mini Nebula Jars
Take all the beauty of a nebula and bottle it! These tiny nebula bottles are so pretty and can be worn as a necklace pendant! Find tutorial here.
Sharpie and Tie Dye Crafts for Tweens and Teens
Use markers and dyes to color your world! You can give just about anything that is white a personal touch by adding your own colorful designs. Decorate shoes, mugs, hats, tea towels, shirts, plates, phone cases…and anything else that looks like it just needs a little something extra. 🙂
Main materials needed: Big set of Sharpie Markers or Tulip Dye Kit
53. Tie dye shirts
Tie-dying shirts never gets old. You can personalize them a million different ways, and it's always exciting to see how the finished shirt comes out. Check out this guide for tie-dye folding techniques.
54. Sharpie tie dye shoes
We made our Sharpie shoes this Spring and I love how bright and colorful they turned out! The only thing I would do differently is used a better pair of white canvas shoes next time.
As much as we love how these look, the cheap pairs of tennis shoes that we bought are terribly uncomfortable! Maybe buy a cheap pair to practice and then go in for a comfy pair when you feel confident in the design you want to make. Find Sharpie shoes tutorial here.
---
Get more DIY shoe decorating ideas here!
---
55. Sharpie phone cover make-over
Grab your Sharpies and get started making your own designs on your phone or iPod cover! Find white phone covers here. Phone design from Erin's Currently Coveting.
Crafting Memories
I'm a mom to an 11 year old and a 13 year old who are as different as night and day. But, they both like to get crafty every now and then when the mood strikes them. It's been so fun watching them explore new crafts develop their creativity. Plus, I'm always glad to see them doing activities that don't involve a screen.
I hope you found inspiring crafts for tweens in your life. Or even teen craft ideas! I highly recommend joining your kids in creating something. Even if you're "not a crafty person", the memories you make with your kids will more than make up for your less-than-perfect fairy house or duct tape earrings!
Most of the tween craft ideas (and teen crafts) shared here are even more fun as a group. Invite the kids' friends. Keep these craft ideas on hand for sleepovers or for helping your older kid make some DIY gifts for their friends!
Most importantly, have fun creating!
Read Next:
If you found this post useful, please share on your favorite social sharing site!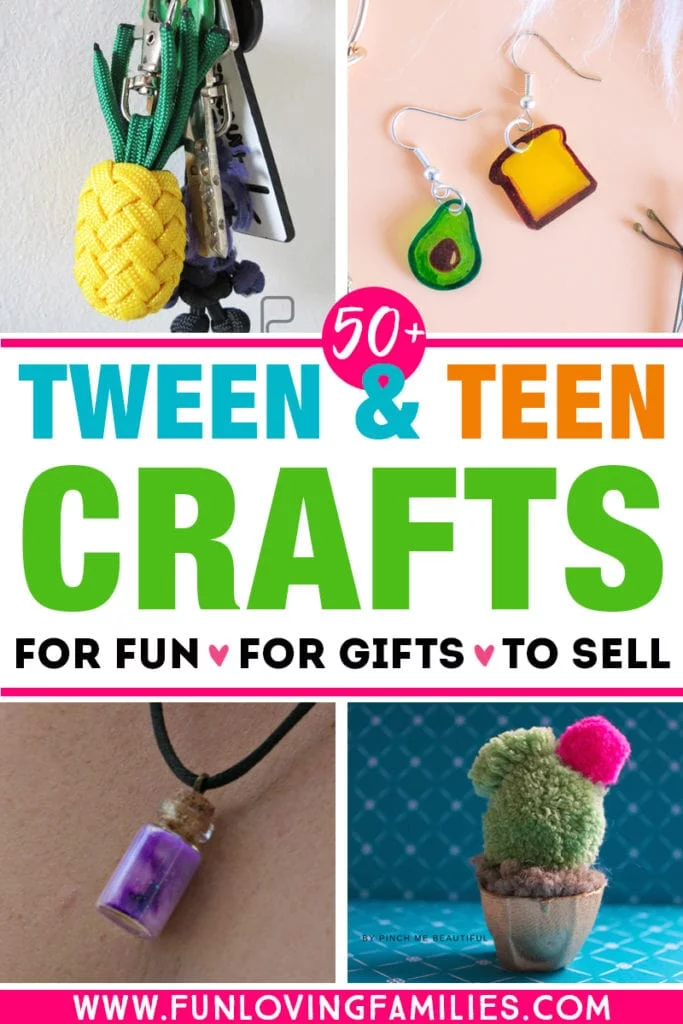 Similar Posts: