These adorable DIY cactus earrings made with Perler Beads (AKA melty beads/fuse beads) come together in less than 10 minutes and are great for tween and teen crafts. Download the printable pattern for easy reference and watch the video to learn how to make your own!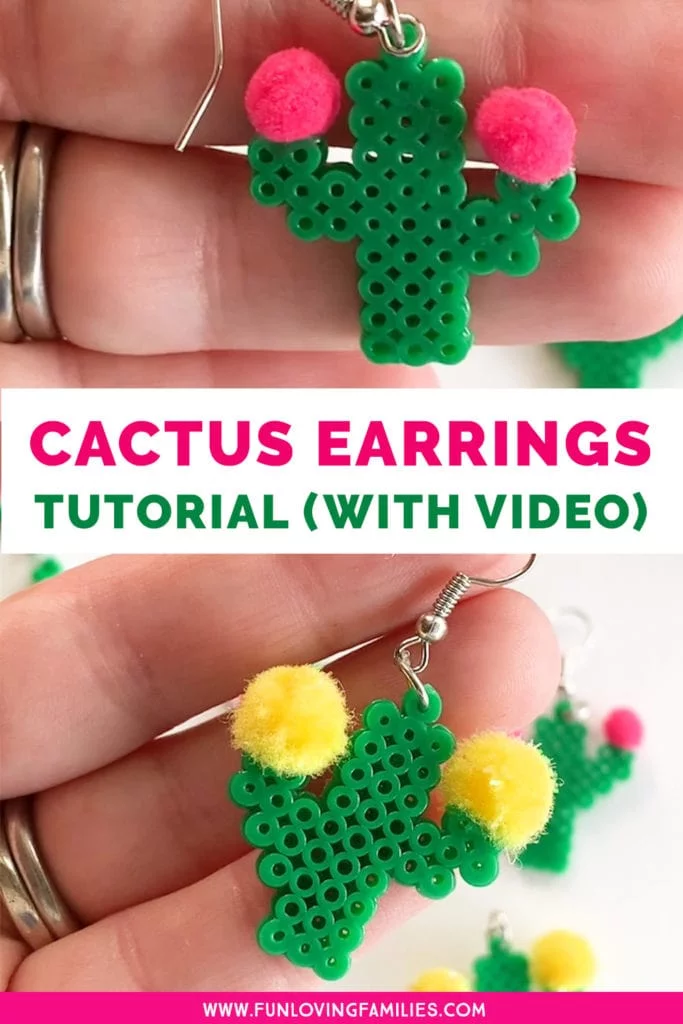 We all need a little southwestern, cactus flair added to our wardrobe don't we?
We finished our route through Arizona a few weeks ago, and the cactus blooms were such a treat. I couldn't get all those glorious cacti out of my head, so the first chance I got I pulled out my mini beads and got to work on three pair!
(This post contains affiliate links which means I may earn a small commission if you click a link and make a purchase. As an Amazon Associate I earn from qualifying purchases.)
I made the earrings this time, but my two tween girls have made countless sets of earrings with our mini Perler beads, so I know it something totally do-able for 10 and up. They may need a little help with the first one to see how the earrings get put together, but after that they'll be ready to go!
Here's what you'll need: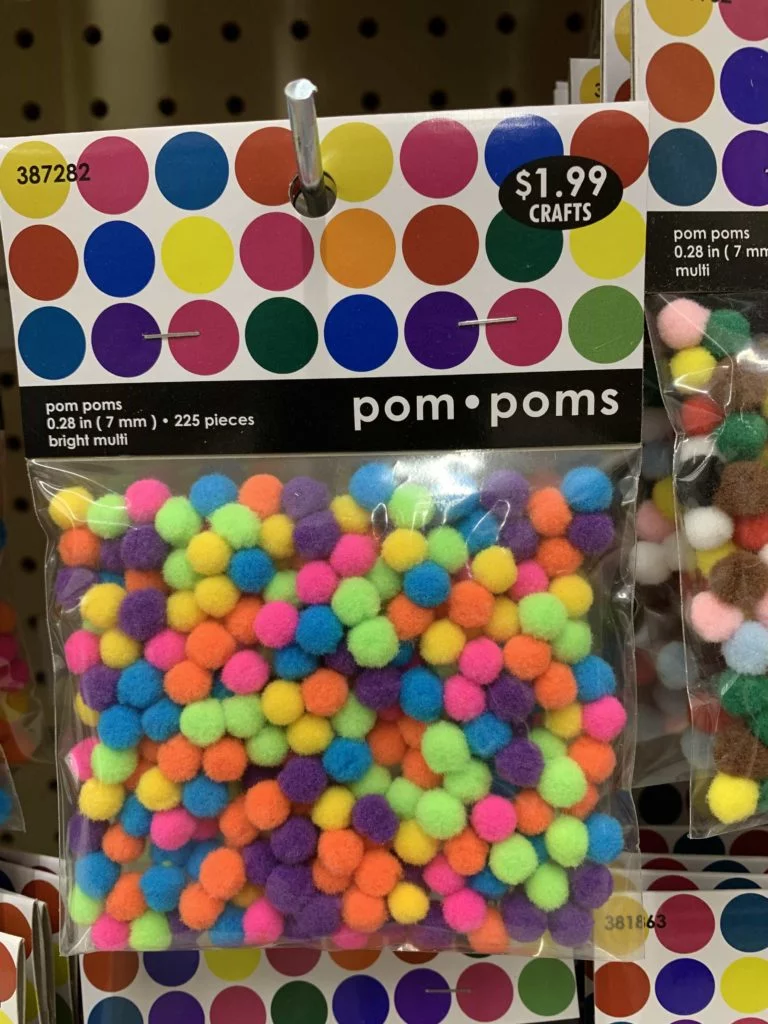 or you can buy a pack with more like this one from Amazon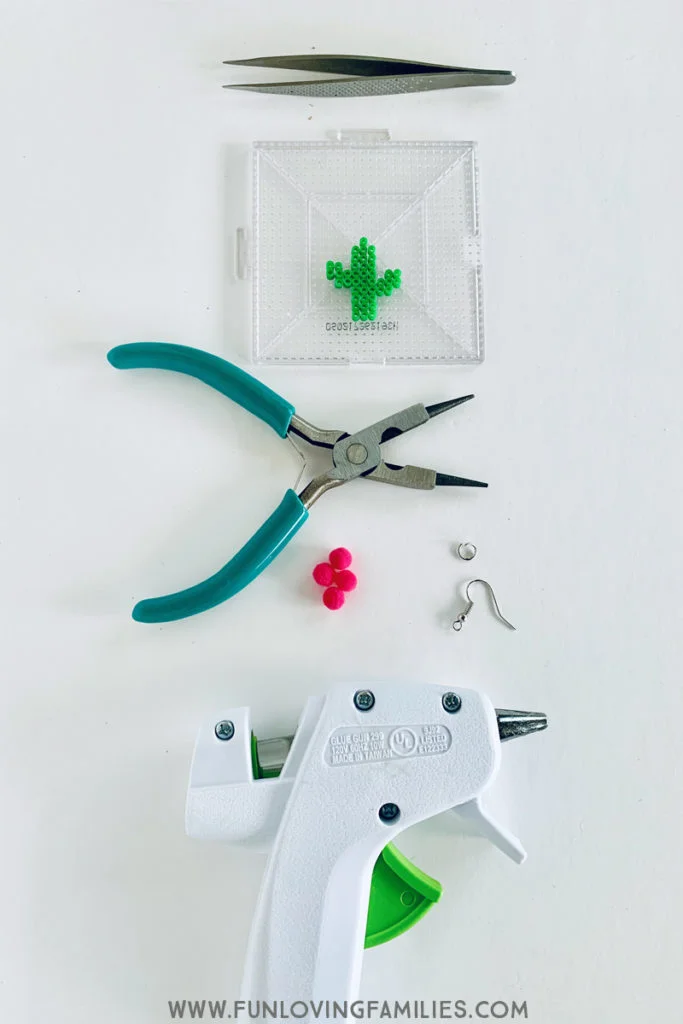 How to Make the Cactus Earrings
Before we get started, I thought I'd go ahead and show you how I keep all of my mini bead and jewelry supplies together. Once you make your own melty bead earrings, you're going to want to make more and more. They're slightly addicting.
I picked up a tiered storage bin just like this and it holds all of my supplies for this craft perfectly. I love that it has a handle, so it's easy for me to pull out and take wherever I need it. In this case, we're doing some crafting at a picnic table outside our RV!
If you've ever crafted with Perler beads, then you already know how to fuse them together in the pattern you want.
If not, don't worry…it's really easy! And, I put together a video below showing the basic process of making these earrings.
You can try using your fingers, but I definitely recommend using some very pointy tweezers to make things easier. If you don't already have a pair, you can buy a set of tweezers that are meant specifically for these beads (click here to order them from Amazon).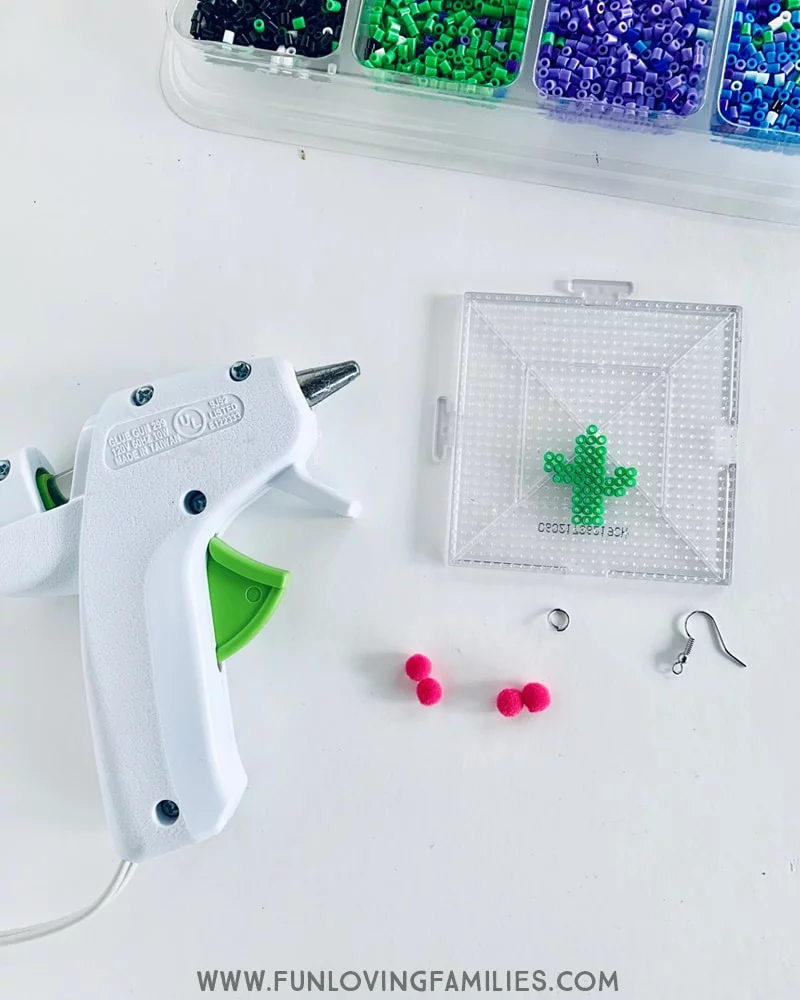 Make the cactus pattern on the peg boards. Get printable pattern here.
Carefully iron the cactus to fuse the beads together (don't forget to use the ironing paper between the beads and the iron!). You'll need to iron the first side, remove it from the pegboard, then iron the other side.
Use a push pin, a needle, or the end of one of your earrings, to re-create the whole on the top of the cactus so that you can slide the jump ring through it.
Carefully insert jump ring through top of cactus, then attach the ring of the fish-hook earring through the jump ring. Make sure the rings are tightly re-fastened.
Use the hot glue gun to attach mini pom poms to the cactus.
Repeat so you have a pair!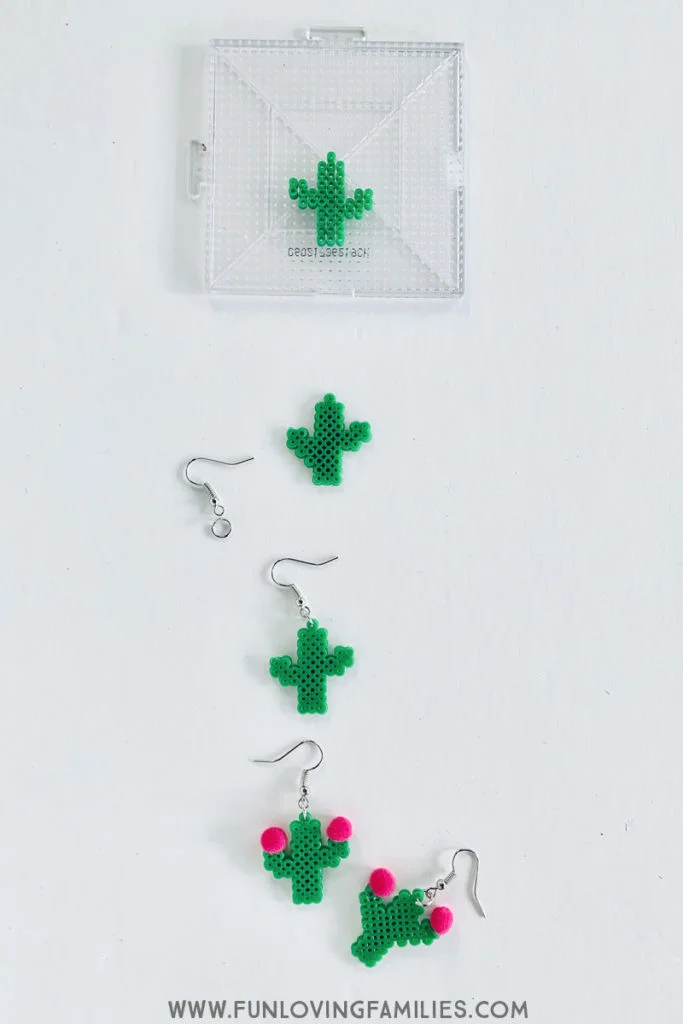 Aren't they just the cutest?!
I made two pairs with pink pom poms and one with yellow and let the girls choose which ones they wanted. In true form, one wanted pink and the other chose yellow. That left one pink pair for me, which is perfect!
More Craft Ideas
Love getting crafty? Get more fun ideas here:
Similar Posts: