Have you been doing Perler beading for awhile now? Are you looking for some challenging designs to do? If the answer is yes to both questions, you might want to try out 3D patterns.
When my family started doing 3D designs, we were all thumbs. We had to get our ironing done solidly or else the beads would fall apart when we tried to assemble the pieces. We had to learn the perfect amount of heat, pressure, and time that worked with our iron so that our beads were fused well together but didn't come out looking too melted.
Once we got the ironing down, slotting the pieces altogether was the highlight of our family activity. It just feels so satisfying to see all the pieces you created actually fitting together and creating this awesome 3D figure.
Check out the 3D works I've chosen for you. I tried to curate them so that there is something for every level of Perler bead crafter — from easy to incredibly difficult. My favorites are obviously at the bottom and they're simply breathtaking.
3D Perler Bead Patterns
Christmas Tree
If you are looking for an easy Christmas tree to make, this one is a sure winner. It's colorful and the pattern is easy. Even a young child with adult supervision can definitely make one of these Perler bead trees.
3D Easter Egg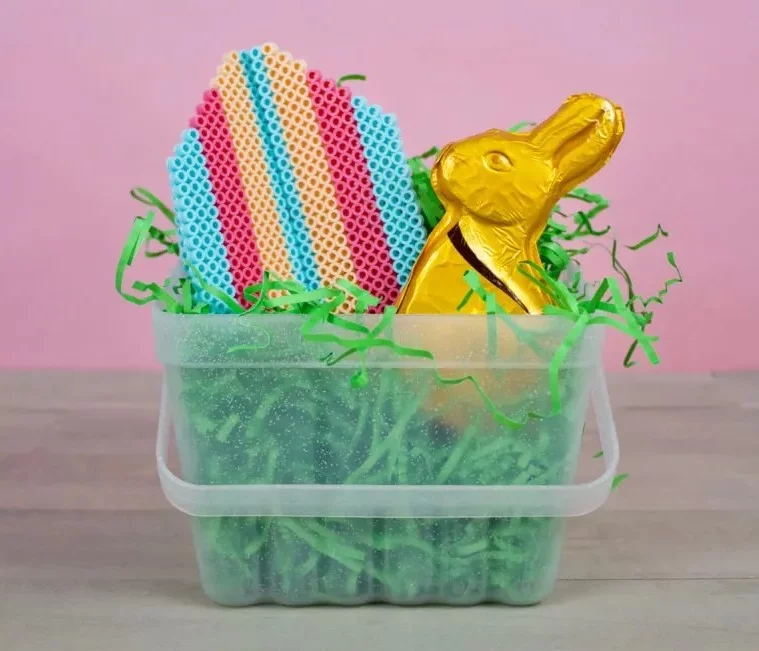 This Easter egg by A Subtle Revelry works on the same principle as the Christmas tree above. You take two flat figures and slot them together. This lets the egg stand on its own. It's easy, fast, and do-able even for Perler bead beginners.
Sunflower Pot
This flower pot is a bit more complicated as you need to create a stable base for the flower. What's great about this design is that you can create any flower of your choosing and then just add in the base.
Sakura Tree
This Sakura tree is exquisite once completed. It has a lot more parts, but once slotted altogether, it will make for a beautiful, beautiful tree that would look great in any setting or room.
Game Dice
Our favorite crafter Krysanthe made these no-nonsense 3D dice. Her choice of color is particularly interesting. She's chosen dark purple beads for the dice and white beads for the spots. The white shows up very well against the dark color. Head on over to her page to see the step-by-step instructions.
3D Perler Bead Cube
If you were able to do the 3D dice, then you should be able to make this Rubik's cube by DIYtomake. It's about twice the size and you'll need more colored beads. If you have a child or a friend who loves their Rubik's cube, this is a great gift to make for them.
Pikachu and Squirtle Blocks
Another one of our favorite crafters, Pinkstripesocks made these cute Pokémon box heads. Crafter mom Leslie made a Pikachu and a Squirtle. She shares a step-by-step tutorial on her website. Because her visual instructions are so easy to follow, these make for a good beginner project if you're new to 3D.
If you want to see easy 2D Perler bead projects, check out my post on Pokemon Perler bead patterns.
Pacman and Ghosts Monitor Figures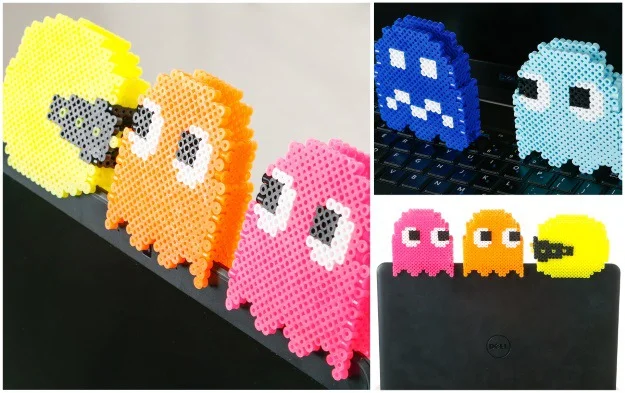 Crafter Carmen at fun.com created these very iconic game figures. If you're a child of the Eighties, then you will instantly recognize Pacman and his gang of ghosts – Blinky, Pinky, Inky and Clyde. Their figures are very easy to make into Perler beads, but here, they're made into monitor figures.
The work basically entails making two of the main body and then creating the connectors. Head on over to her site for the patterns. She's got more retro figures waiting for you like Donkey Kong, Mario, and Frogger.
Roblox Noob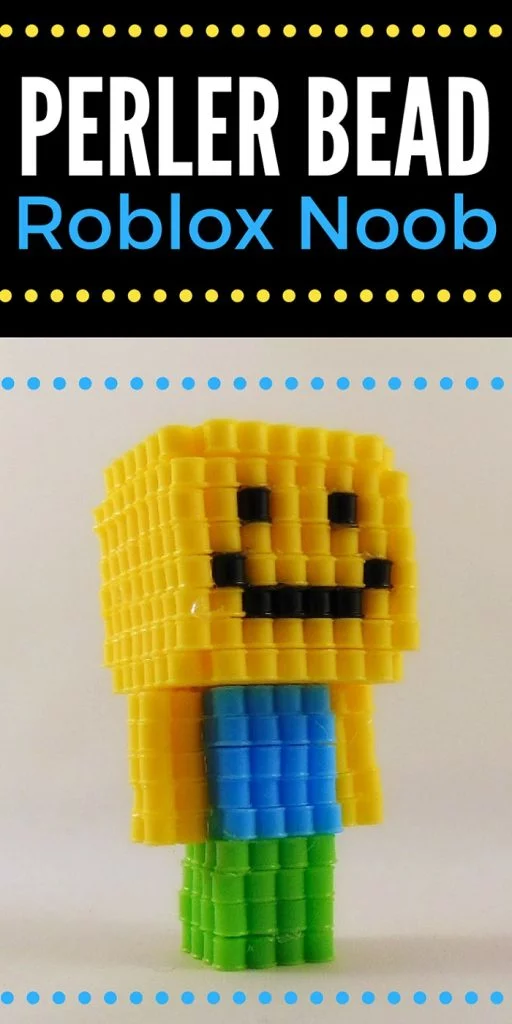 Minecraft lovers, you are not forgotten! Krysanthe created this very cute Roblox noob, the default character you get when you first start playing the game. Its blue shirt and green pants is instantly recognizable. Roblox noob makes me happy. Maybe it's that big happy smile on its yellow head.
Blue Elephant
I've previously shared this Blue Elephant on my gargantuan list of Perler bead animals. I can't resist it because I just love the beads that were used on this as well as the clever pattern too. Isn't it simply adorable?
Panda Eyeglass Holder
If you want your 3D project to be practical and useful in daily life, how about this eyeglass holder? It's perfect for children or parents who are always losing their glasses. If you have another favorite animal, you can swap out the head for another design of the same size.
Pokeball
Now let's go for a fully 3D Pokémon ball. Crafter Amy of Serving Pink Lemonade shares a step-by-step tutorial on her site. The finished product looks intimidating, but Amy's instructions breaks the whole process down.
It's basically creating all the small parts and then fitting them together like a 3D puzzle. As Amy says, the pieces fit and lock together.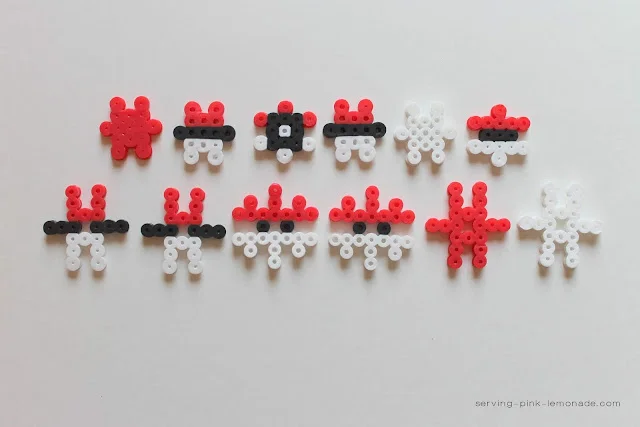 3d Among Us Pikachu
It's the same principle for this Among Us Pikachu character. Build all the interlocking parts and then fit them altogether. By the way, isn't this crossover cool?
Sushi
My appetite for cute things just got whetted by this amazing work. It's 3 pieces of sushi on a leaf tray. There's even a pair of chopsticks and a chopstick stand on the side. This is a great conversation piece to make, but it might make you crave for sushi at inopportune times.
Camera
Here's another retro piece — an analog camera. Did you ever use one of these cameras with the film rolls? Unlike digital photography nowadays wherein you can take unlimited pictures, you would buy rolls of film depending on your budget. Getting the film developed was also a big pain in the behind. It was expensive, and some pictures don't come out well. This old-school camera is definitely a blast from the past.
Sweetheart Bear
The official Perler bead site has a very good list of 3D Perler bead projects for kids. They range in difficulty from easy to difficult. This sweetheart bear, for example, looks adorable, but if you look closely, it is actually easy to make. If you check out this page, you'll find a PDF that does an excellent job of explaining the whole process of building and putting together this Sweetheart bear.
The rest of the designs below — the dragon, the pirate ship, and the red raider — are all from the Perler bead site.
Friendly Dragon
If you fancy a non-menacing and friendly-looking dragon, then you have to check this green and orange dragon out. Somehow, this sweet dragon looks like the titular character from the Pete's Dragon movie.
3D Pirate Ship
If your child is in their pirate phase or your family is a big fan of the Pirates of the Caribbean series, then you'll love making this 3D pirate ship. The skull design on the sail, the pirate flag, the cannons a-firing, and all the other precious details make this pirate ship an exciting project to take on.
Do note though that the step-by-step instructions do not include the treasure chest on the photo.
Red Raider
Continuing on the path to adventure is this dazzling Red Raider. It seems so lifelike, it feels like it would fly off into the air. Imagine this sitting on a mantel or on your child's desk.
Video Tutorials for 3D Perler Bead Designs
The more complex the designs, the harder it is to explain the instructions. This is why some crafters have taken to YouTube to show their creation process. This method is especially useful for visual learners like me. I can just pause the video as I follow along.
Easy Dolphin
Let's practice on this blue dolphin. It's a small piece, and you only need a few blue and white Perler beads.
Cord Organizer
Here's another practical and useful project you can use everyday — cord organizers. You can even gift these handmade gifts out to friends and family next Christmas.
Yellow Duck
If your child loves chicks, rubber duckies, or THE Park Jimin, then you'll want to check out this 3D duck design. Again, the finished product looks hard but look at how the small pieces are actually easy to make.
Mario Brothers' Yoshi
If you love Yoshi, the loyal dino friend from the Mario Brothers franchise, then you'll want to try your hand at making this 3D pattern. FiloPixie does an excellent job of explaining the whole process step by step. It's not as difficult as it looks once you get started. And if you want to see more Perler bead designs from the game, check out my post on Super Mario Perler Bead Ideas.
Wild Mushrooms
Our patterns are becoming bigger and more complex. Just take a look at these mushrooms. These would look great sitting together with your indoor potted plants.
Charmander
Yep, we are definitely going for the harder projects. You'll need a lot of patience, skill, and orange Perler beads to create this gorgeous Charmander.
Sonic the Hedgehog
The same goes for this Sonic the Hedgehog. KandiPerler Fairy is a popular 3D crafter who has a lot of amazing projects under her belt. I love how she takes the time to explain each step of making this beloved game character.
Minecraft Foxes
QDCrafts is one of my favorite Perler bead content creators. A deep dive into her videos will show you that she really knows her stuff. She's been beading since 2012!
In particular, I am in love with her designs and how well she photographs them. I mean, just look at her Perler bead foxes. They're overflowing with whimsy and personality.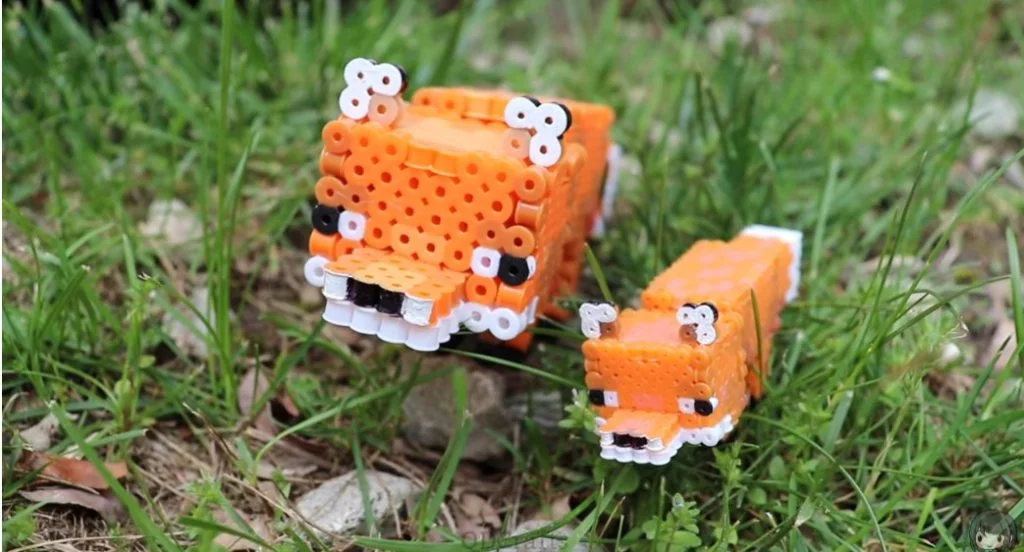 Boss-Level 3D Perler Bead Creations
As if the above designs weren't hard enough, there's more challenging projects to check out. Let's go!
Minecraft Perpetual Calendar
There are many perpetual calendars made out of Perler beads out there. However, I decided to add QDCraft's Minecraft version of it because of its dizzying details. If you have any favorite characters from the game, you can also add them to this work.
Fun fact: The creator says that the months were accidentally made with glow-in-the-dark beads so that's another idea for you. If you want parts of your work to stand out, just use special glowy beads.
Also, do check out my article on Minecraft Perler Bead Patterns for more design ideas.
Creepy Lab
This creepy laboratory from the official Perler bead site is chock full of little creepy details. Have fun building the stonework to the skeleton guard.
Plant Astronaut
It was simply love at first sight when I saw this astronaut. Look at that jaw-dropping detail — the rounded helmet, the astronaut uniform, the thumbs-up, and the sitting pose. I love how the crafter put flowers on the backpack and had the astronaut sit on a book. It's super aesthetic.
Winnie the Pooh and the Hundred Acre Wood Family
And lastly, we have the Hundred Acre Wood gang consisting of Winnie the Pooh, Eeyore, Piglet and Tigger. The honeypot with the bee and the sapling are nice touches. Sadly, I don't have the pattern for these last two works so we can just admire the photos. I wanted to show you just how far you can go with simple Perler beads.
And there you go. If you want to make any of these designs, don't forget to bookmark this page. Share it also with your fellow crafters, because sharing is caring!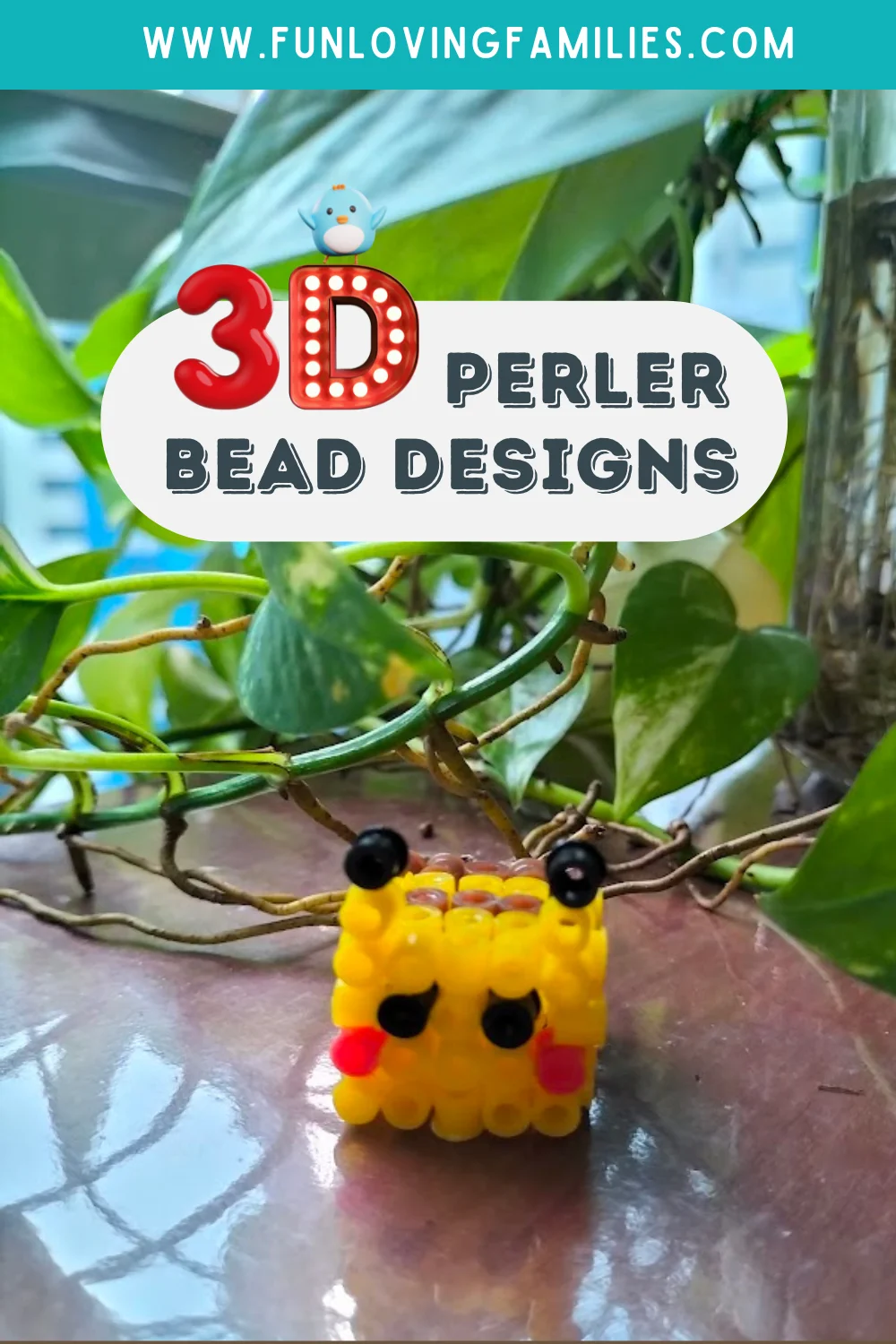 Similar Posts: