Kids love these adorable and silly Halloween brownies. You can make them with your favorite brownie recipe and a few other basic supplies that you can pick up at your grocery store.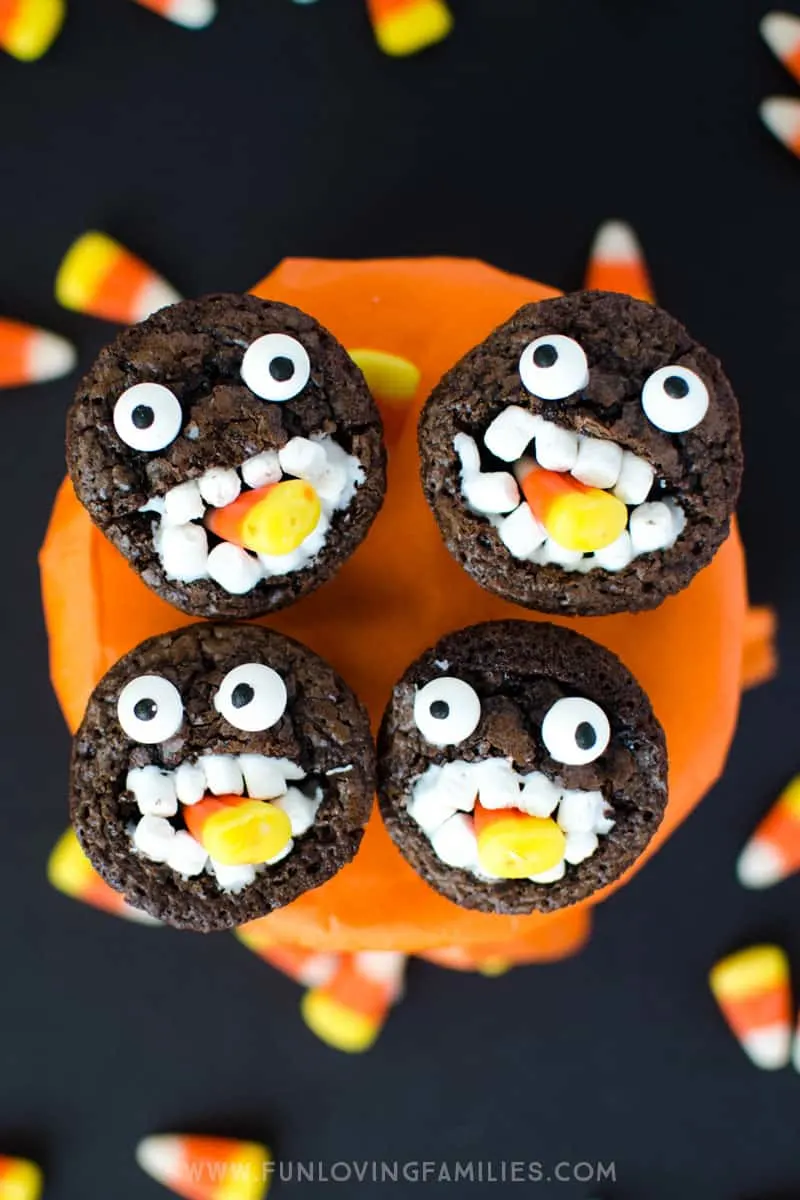 Do your kids become little candy corn monsters at Halloween time?
Mine do! I keep a Halloween candy dish on the counter and fill it with candy corns, and the kids eat it up so fast!
So, I guess you can say that these little brownie monsters are heavily inspired by my own kiddos.
They're pretty simple to put together, with just a few items necessary to pull it all together, and they're perfect for Halloween parties or Fall Festival bake sales.
How to Make the Halloween Brownies
The candy corn brownie monsters are pretty simple to assemble. In fact, after I made a few my 10 year old begged to take over so she could make some and hers came out fabulous.
That being said, if you find you're having a hard time managing the little marshmallow "teeth" with your fingers, try using clean tweezers to grab them and put them into place.
What You Need:
brownie bites (you can make your own using a mini muffin pan or your local grocery store might carry some in their bakery)
candy eyeballs
tiny marshmallows
small tube of white icing
candy corns
Step 1: Make the Mouth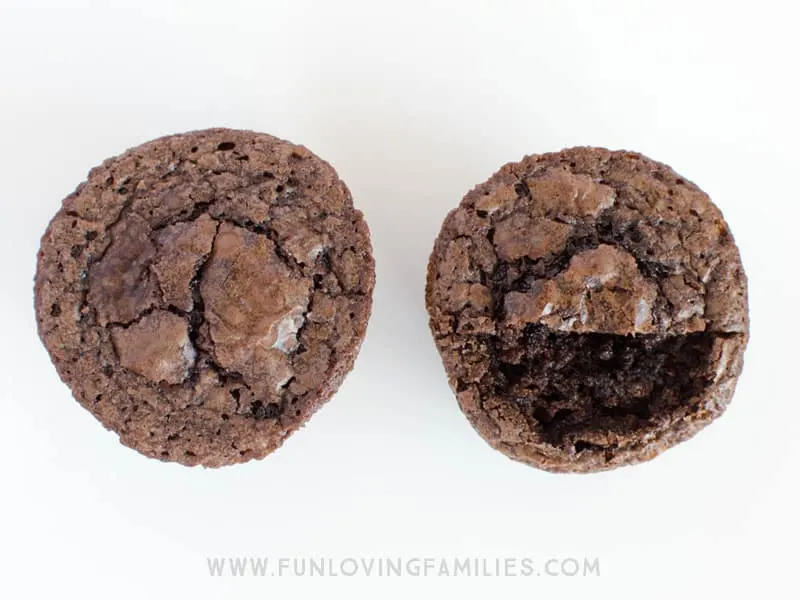 Cut a section out of the bottom half of the brownie bite.
Step 2: Ice around the inside edge of the mouth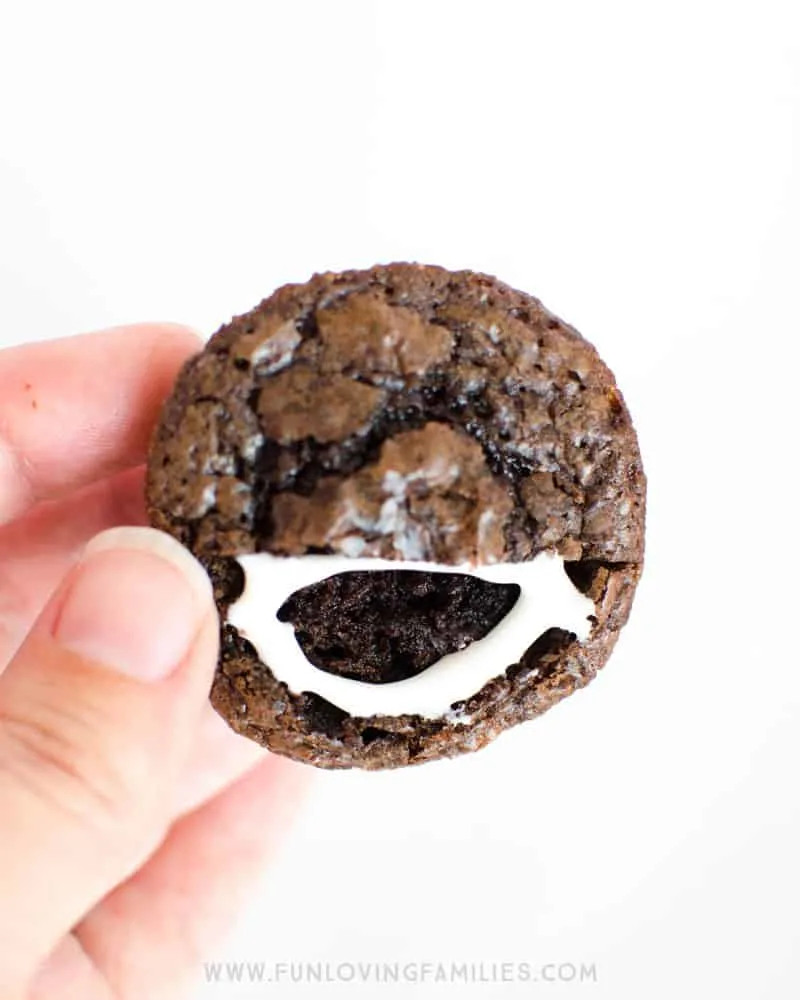 Step 3. Set mini marshmallows into place inside the mouth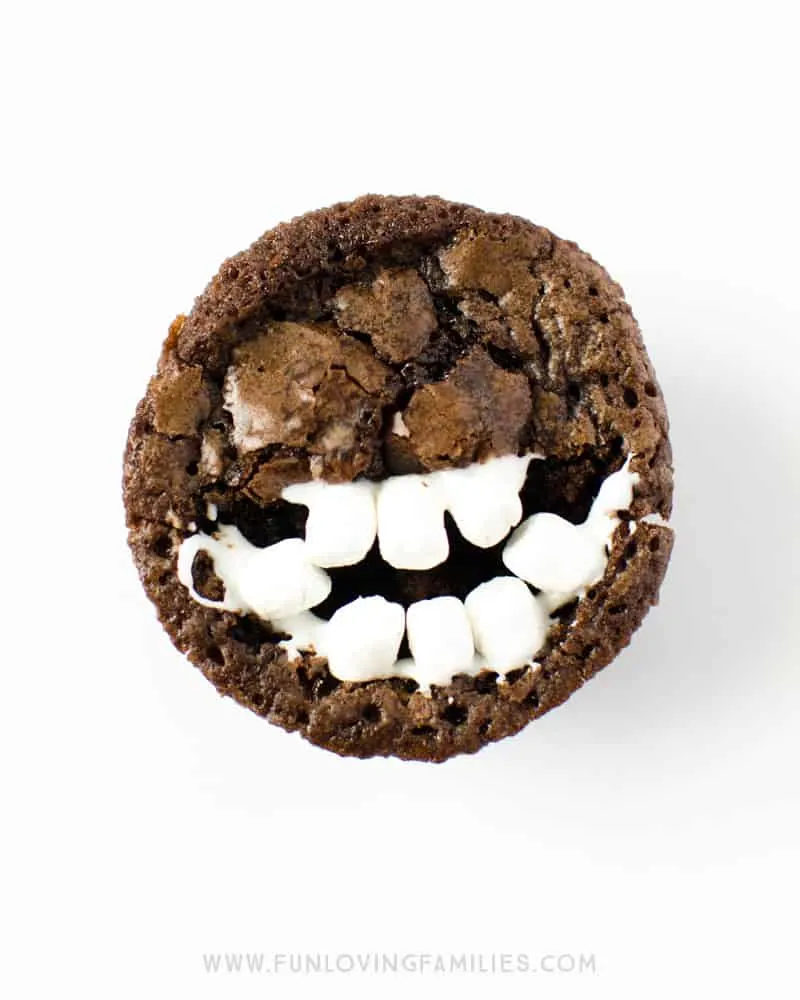 Don't get hung up on the teeth being set into place perfectly. Part of the charm of these Halloween brownies is their goofy teeth, so it's ok if it's all a little wonky. Once you have the teeth in, give them a few seconds to dry before putting in the candy corns.
Step 4: Use icing to "glue" eyeballs into place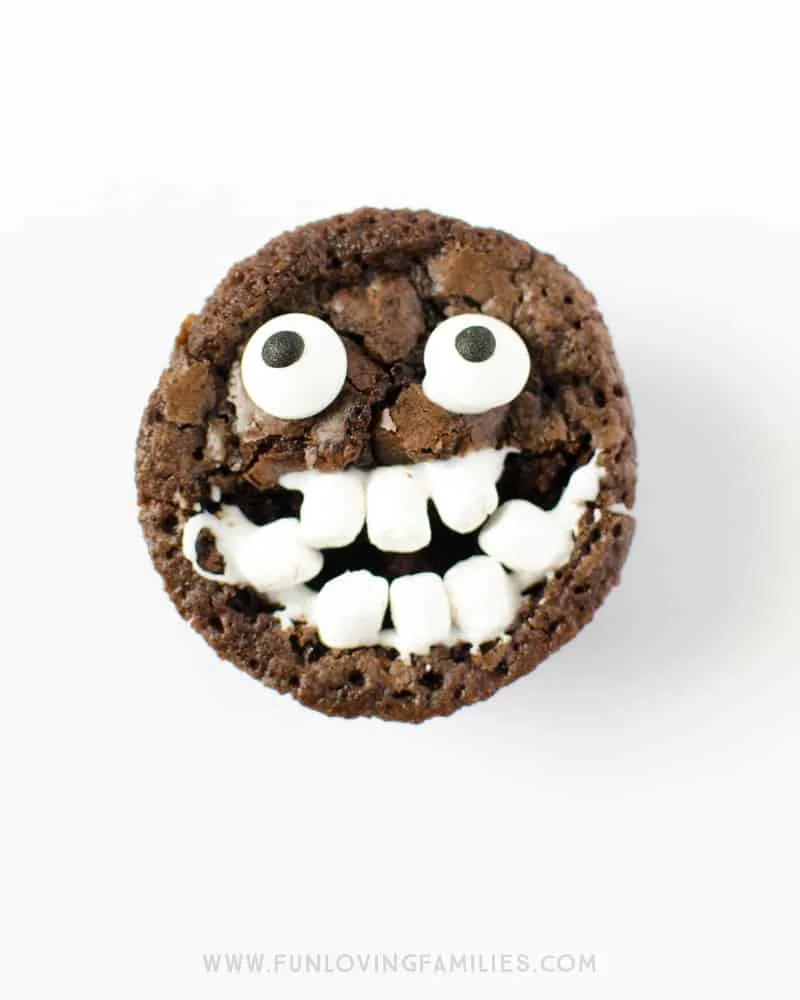 You can really put the eyes on at any time, but since you have to wait a few seconds for the teeth to set, this is a good time to do it.
Step 5: Carefully insert candy corn into mouth opening
If the teeth move while you're putting in the candy corn, use a toothpick to reposition them.
Make more Candy Corn Monster Halloween Brownies!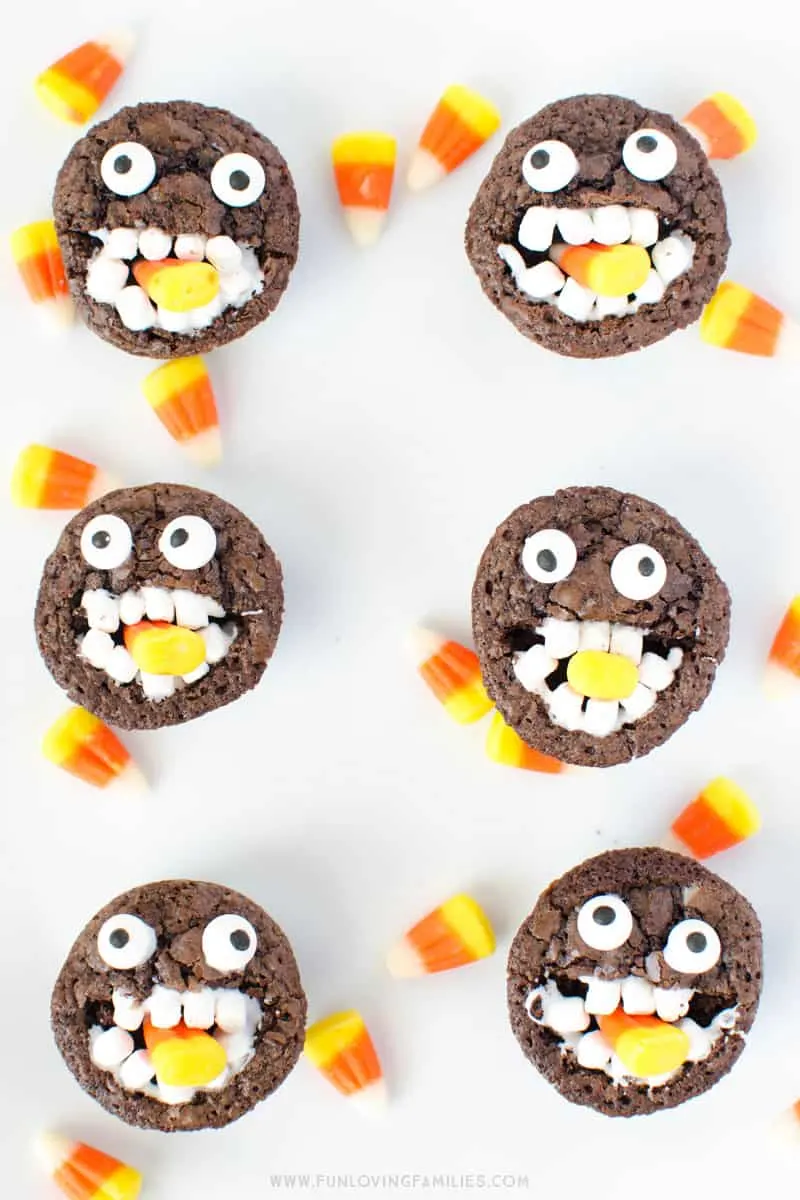 As I said, these are pretty fun and not too difficult to make. If you have a bunch of kids around, let them join you in the fun!
Want to share these with friends and neighbors? Use our free You've Been Booed printables and surprise them with these silly, and totally cute Halloween brownies.
More Halloween Ideas You'll Love:
Pin this image to share and save to Pinterest!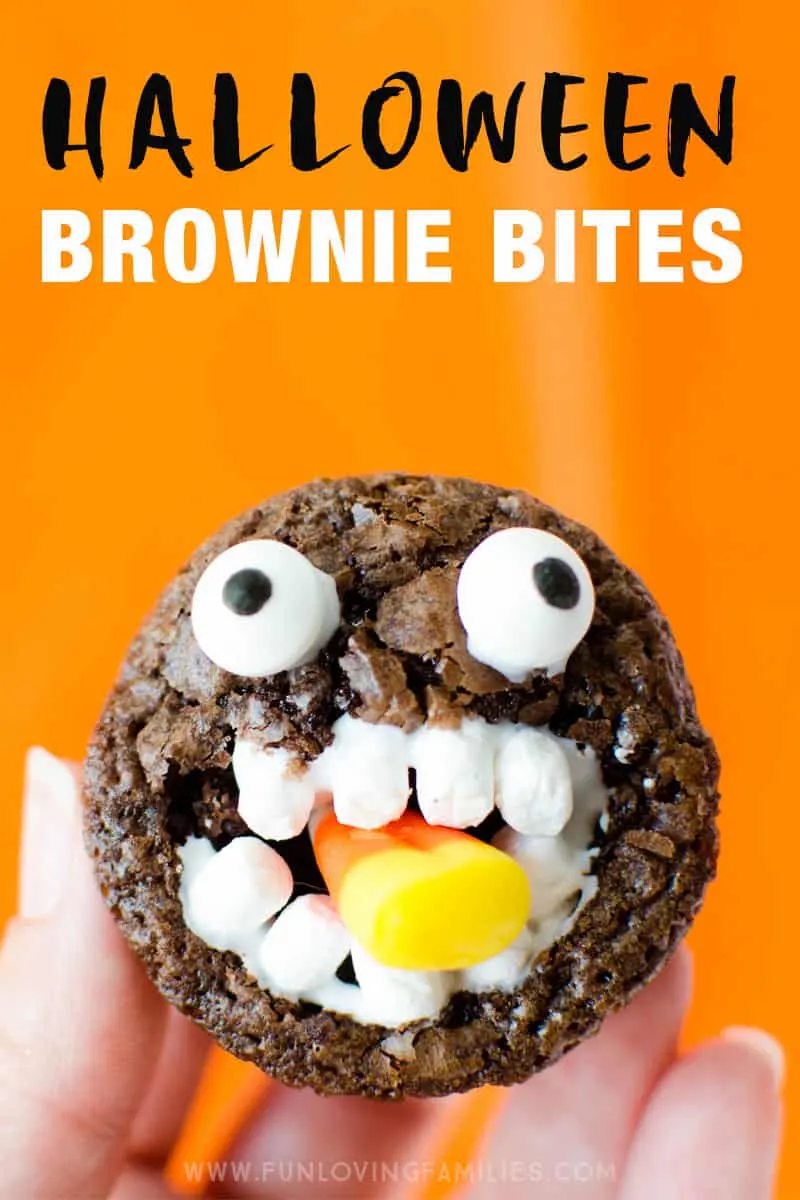 Similar Posts: