Hello, Perler bead crafters! Are you looking for 14×14 Perler bead designs? If you are, you must be looking for simple designs for a very young child and/or somebody new to fuse bead crafting. Today's your lucky day because this post is dedicated to all the best 14×14 patterns out there.
A 14×14 peg board refers to a square Perler bead peg board. However, it's not just a square working area. In particular, it means that there are exactly 14 pegs horizontally and vertically across the board making for a total of 196 pegs.
Some of the patterns occupy the entire board, while others take up some of the pegs only. Whichever the case, all the designs and patterns fit the 14×14 grid. Because of the small size, a lot of the designs look like pixel art. They're very basic, but they're perfect for beginners.
Yummy Food
Cherries
Let's start off with a crowd favorite — cherries. Even in pixel art, they look bright, happy, and good enough to eat.
Watermelon
This watermelon gives off summer nostalgia. If you've ever had a cold slice of watermelon on a hot day, then you know exactly what I mean. Both the cherries and this watermelon use the same color beads so you can do them one after the other.
Watermelon Popsicle
Doesn't this watermelon popsicle look so cute? You only need a few beads and a small pegboard to make it.
Strawberry
Even with the leaves extending, your 14×14 board is just the right size to make this simple strawberry. Start off with basic patterns and then explore some harder ones by checking some bigger square works.
Cupcake
Here's a small cupcake for you! If you think it's a tad gloomy, jazz up this sweet treat by customizing it. You can make the wrapper in bright colors, change the whipped cream to a pink frosting, or add multi-colored sprinkles. Challenge your child's creativity with this cupcake design.
Animal Friends
Cat
If you like this sweet cat, check out Krysanthe's post on 10 easy pet Perler bead patterns. She's got a goldfish, a turtle, a bunny, and more!
Dog
Here is a husky pattern from the same collection. Doesn't the little tyke look so friendly and pawfect?
Bird
We're back to patterns with this beautifully colored little bird. I love the combination of red and green for its plumage.
Yellow Duck
If your little one has a little rubber ducky amongst her toys or in her bath, they'd surely love to make this happy yellow duck.
Turtle
Here is an excellently designed turtle. You can see its beady eyes, green body, brown shell, and there's even a heart-shaped pattern on its back.
Here is the pattern for your reference.
Penguin
It's a short little penguin that's squat enough to fit the board. You can change the black beads for gray if you want to give this fellow a softer look.
Dino
Kids love their dinosaurs, so show your little one this nifty dino design. For fun, ask them what kind of dinosaur this is.
Tiny Dragon
For the fairy tale-loving tots, here is a blue dragon with green wings. It looks tiny and cute rather than ferocious.
Nature Perler Bead Designs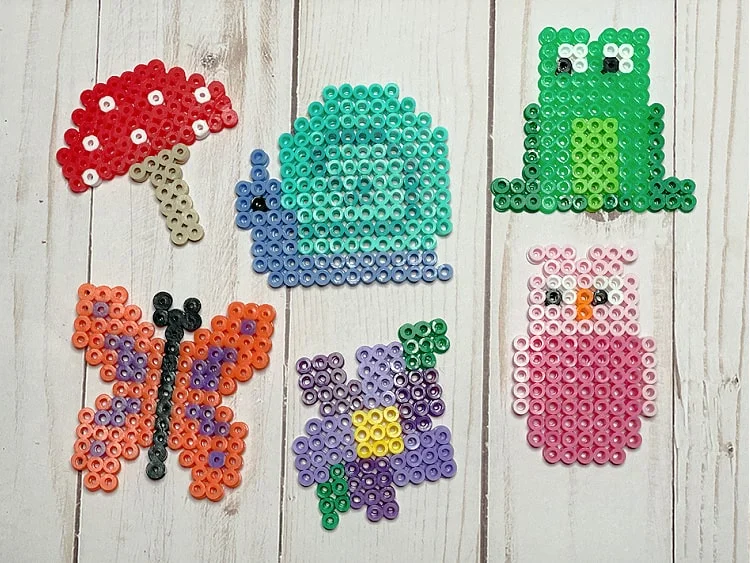 Mom Erica of 5 Little Monsters made a fun Nature Perler bead post. A lot of her featured designs can fit a 14×14 board so make sure to check them out.
Popular Characters
Sesame Street Elmo
Here's one of our favorite Sesame Street friends. He is a cute ball of energy with an infectious giggle.
Pokeball
If your child has stumbled onto anime already, then they'll love this pattern of a trainer's Pokéball.
Tweety Bird
Saturday morning cartoon lovers, here is a Tweety bird for you. This design is excellent and mimics the original to a T.
Here is the pattern for your reference.
Winnie the Pooh
Next up is a small Winnie the Pooh Perler bead design. There are prettier renditions out there, but they're made for bigger boards. If you want to see a jaw-dropping 3D work of the Hundred Acre Wood gang, check out my post on the best 3D Perler Bead Designs.
Stitch
It's our favorite blue alien Stitch! It's hard to believe Stitch used to be a rabid creature before he transformed into the sweetheart he is now.
Mike Wazowski
It's a green ball with arms, legs, a big eye, and a lot of charm. You know who that is. It's Mike Wazowski!
Here is Mike with his bestie Sulley. If you go and rewatch Monsters Inc, I won't judge.
Minecraft Steve
Kids have really been getting into Minecraft these days, so here's a Steve for you. Check out my awesome post on amazing Minecraft Perler bead designs if you're into this addictive game.
Baby Yoda
Isn't this baby Yoda too adorable? It's amazing what shading has been done considering the small real estate. Every bead is strategically placed. This is one of the best 14xx14 designs ever.
Alice in Wonderland
This is Alice in Wonderland with her signature look of yellow hair, a black headband, a blue pinafore dress with a white apron, and black Mary Jane shoes.
This little piece packs a punch. Just like the Mandalorian bead design above, we have to give credit to the amazing crafters who can make awesome works with such a small board and with just a handful of beads.
Other Cute Things
Here are some other cute patterns I couldn't resist.
Gumball Machine
The gumball machine is one of the classic go-to Perler bead designs. Isn't this one particularly cute? If you don't have transparent beads, just use white beads instead.
Here is the pattern for your reference.
Flowering Cactus
Plant moms, this flowering cactus is for you. If you do this pattern with your child, it's a great teaching tool to share fun trivia about plants and cacti. Did you know that cactus flowers often bloom at night? These flowers sometimes only last the night and blooming at night helps them attract bats and moths that only come out during this time of the day.
If you discovered a lot of easy patterns for your child in this collection, bookmark it so you never lose the page. Happy crafting with your family!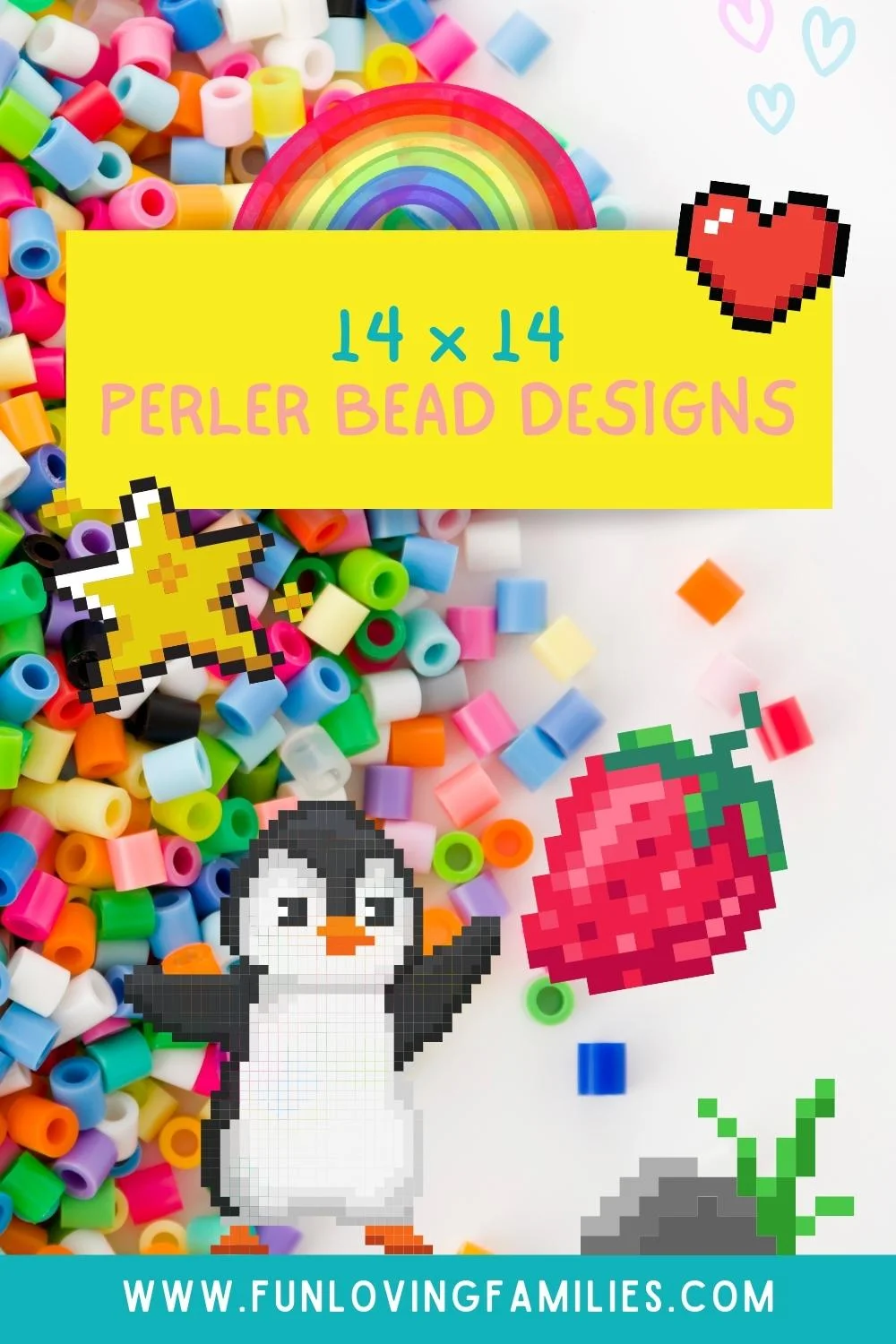 Similar Posts: