It's super easy to create unique DIY Christmas ornaments with inexpensive fillable plastic Christmas ball ornaments. See our list of Christmas ball ornament crafts for fun and simple ideas anyone can do.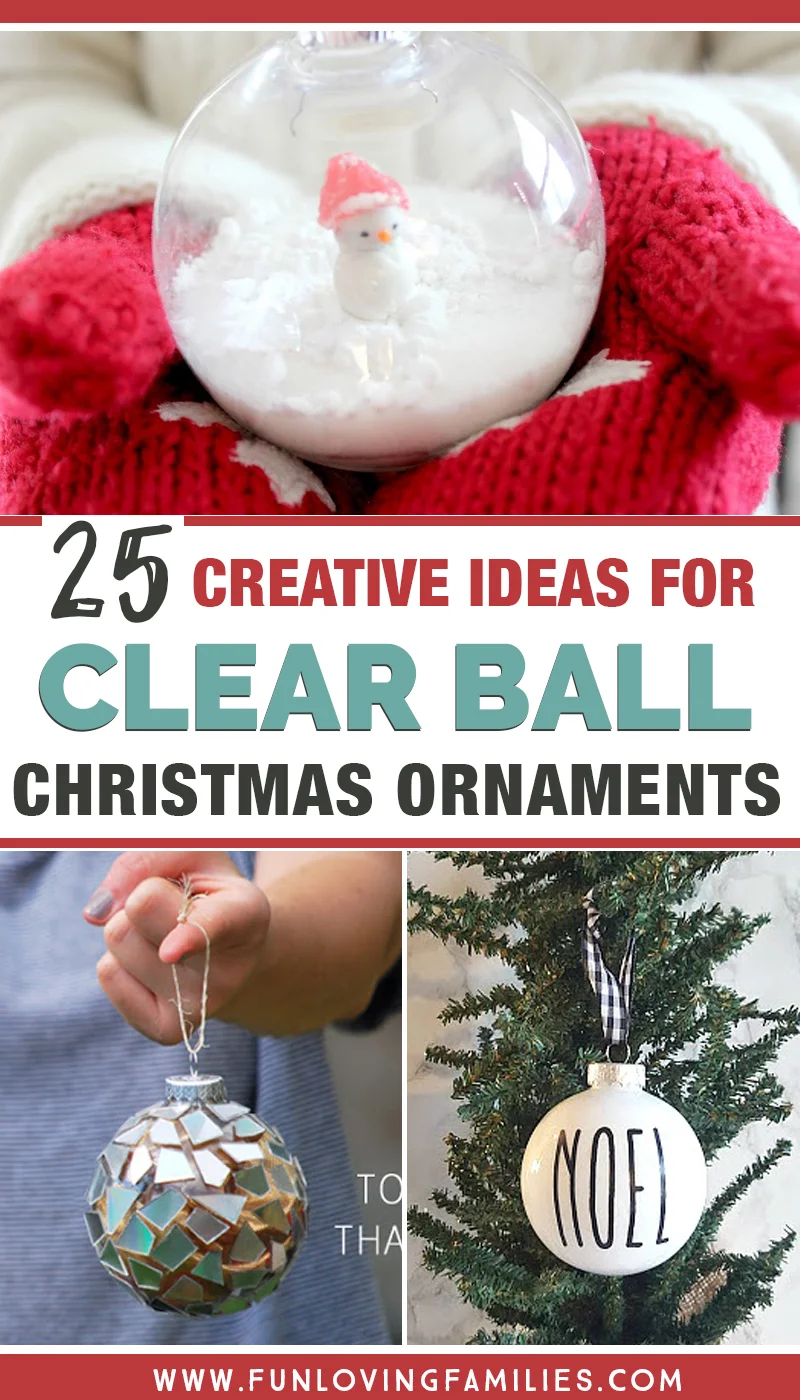 Fillable Ornament Balls for Christmas Crafts
(This post contains affiliate links which means I may earn a small commission if you click a link and make a purchase. As an Amazon Associate I earn from qualifying purchases.)
If you're looking for DIY Christmas ornaments that are easy and inexpensive with endless possibilities, then you're looking in the right direction with these plastic Christmas ball ornaments.
These are really great for ornament decorating parties, or if your family makes homemade ornaments as part of your Christmas traditions, because there are just so many ways to get creative, and they are easy enough to pull together quickly and without a huge mess!
You can also use clear glass Christmas ball ornaments.
In our house, between the dogs, the cat, and the kids…we stick with the plastic. 😉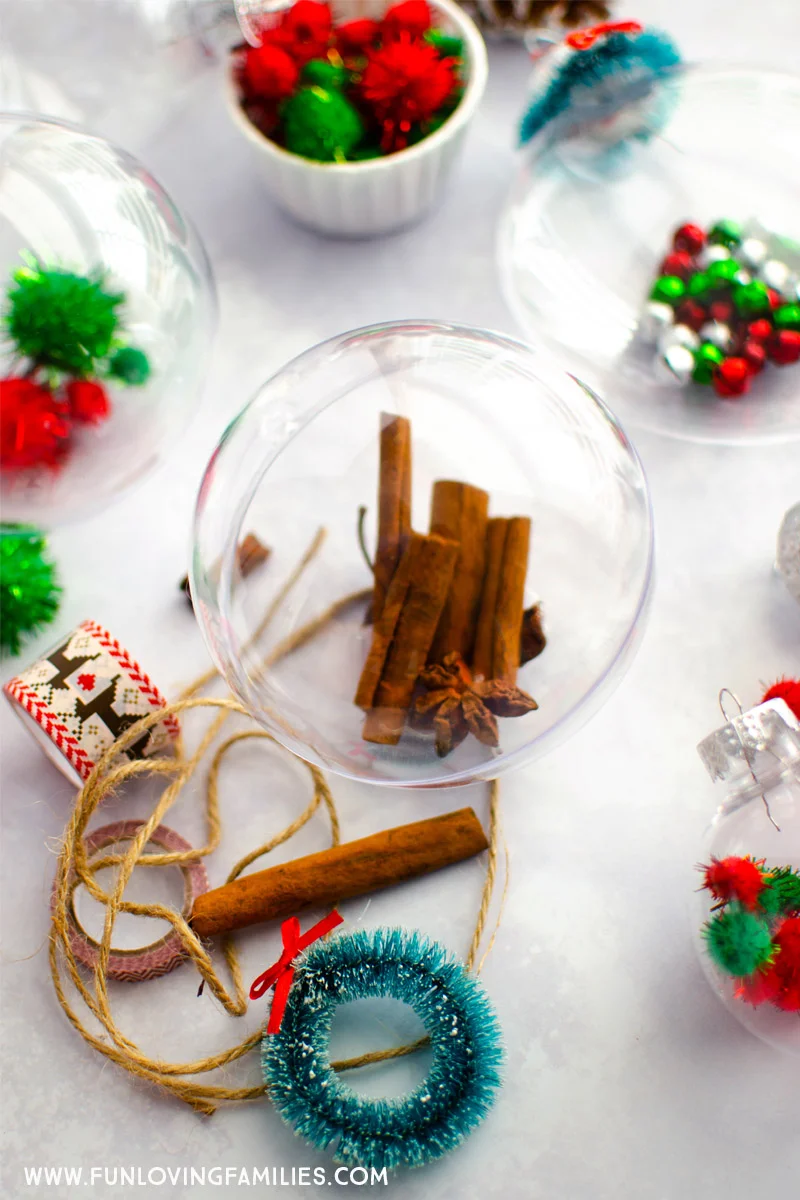 Find them at Walmart or your favorite craft store, and you can buy the kind that you fill from the top, or the kind that separates into two parts (which are much easier to fill!).
Ready to make some Christmas ornaments?
Let's get started!
---
25 Ideas to Decorate Clear Plastic Ball Ornaments
1. Fill With Miniature Christmas Craft Supplies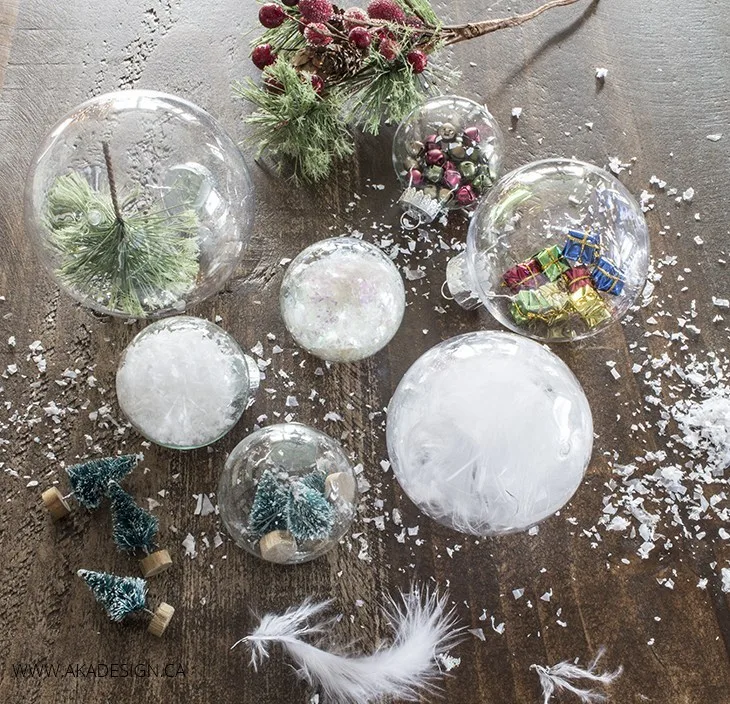 These festive DIY ornaments are so easy, all you have to do is open the top and drop some Christmas-y items from the craft store in. Want over 40 more Christmas ball ornament ideas? When you're done scrolling this roundup, jump back here and click the Read More button below.
---
2. Create a Snowy Look on the Outside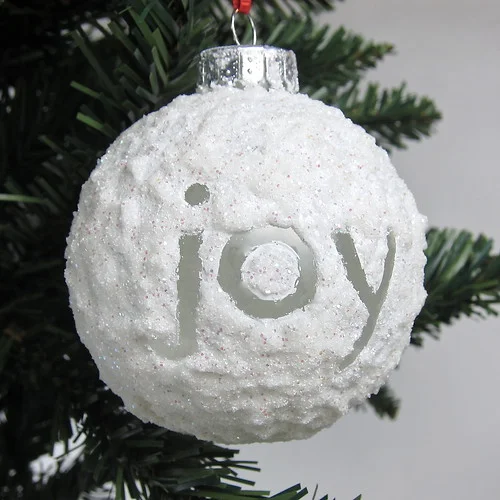 I love how this crafty blogger "thought outside the ball" and created a realistic snowy look all over the outside of the ornament.
---
3. Use Sea Salt for an Icy Look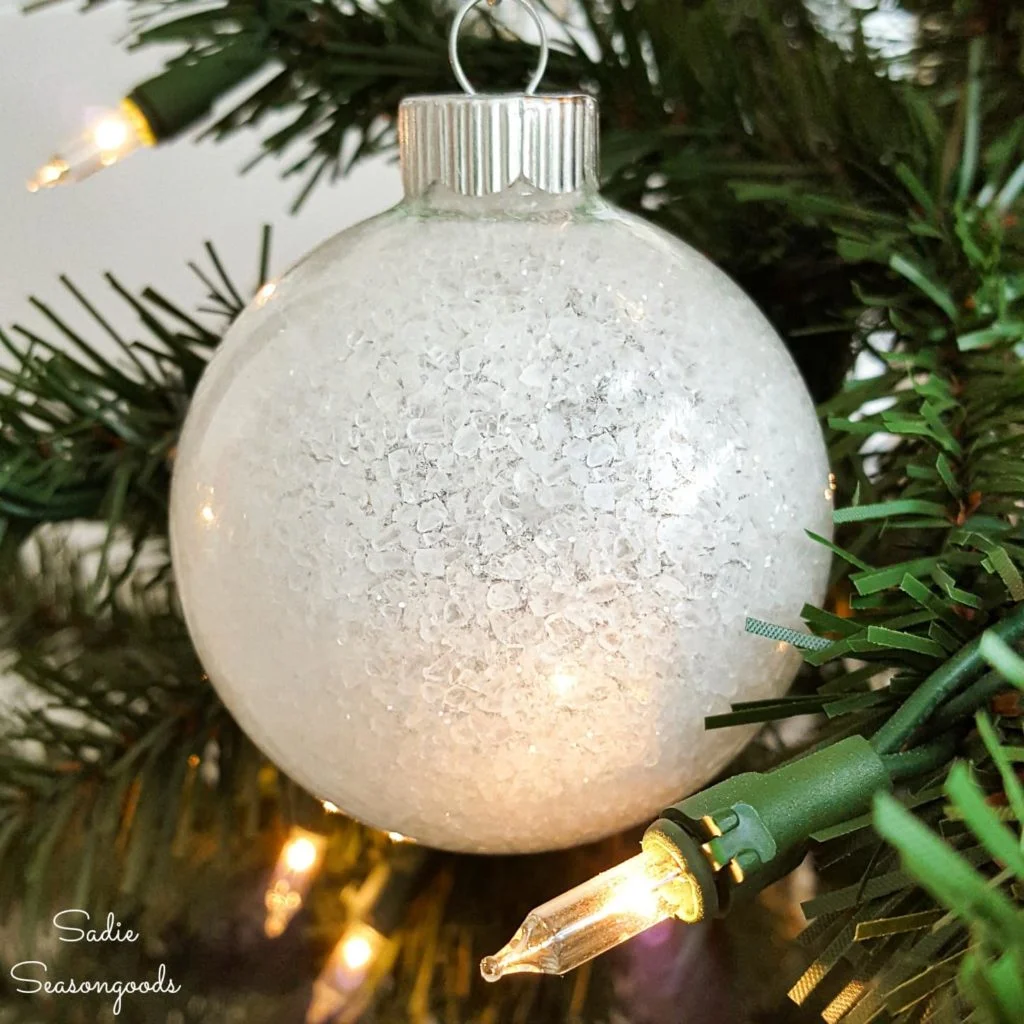 Sea salt is the magic ingredient that transforms an plain ornament ball into a beautiful, icy Christmas ornament.
---
4. Decorate with Melted Crayons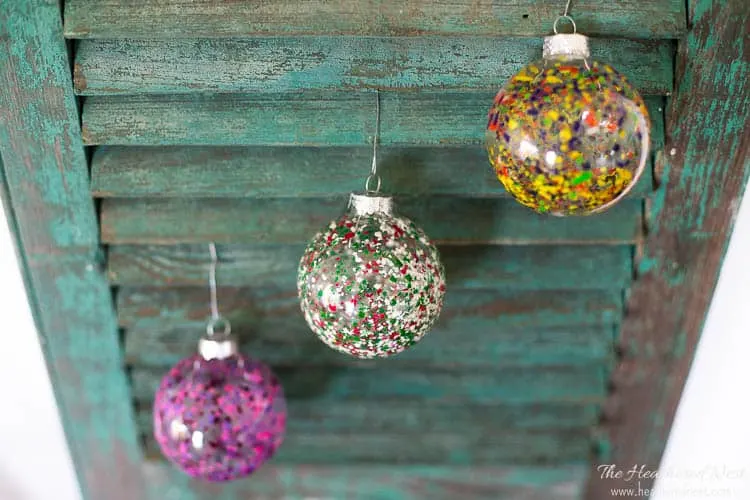 Here's a fun way for older kids to get involved in decorating the Christmas ornaments. Have them round up all the broken crayons and check out the tutorial to learn how to create the colorful look shown.
---
5. Kid-Friendly Grinch Ball Ornament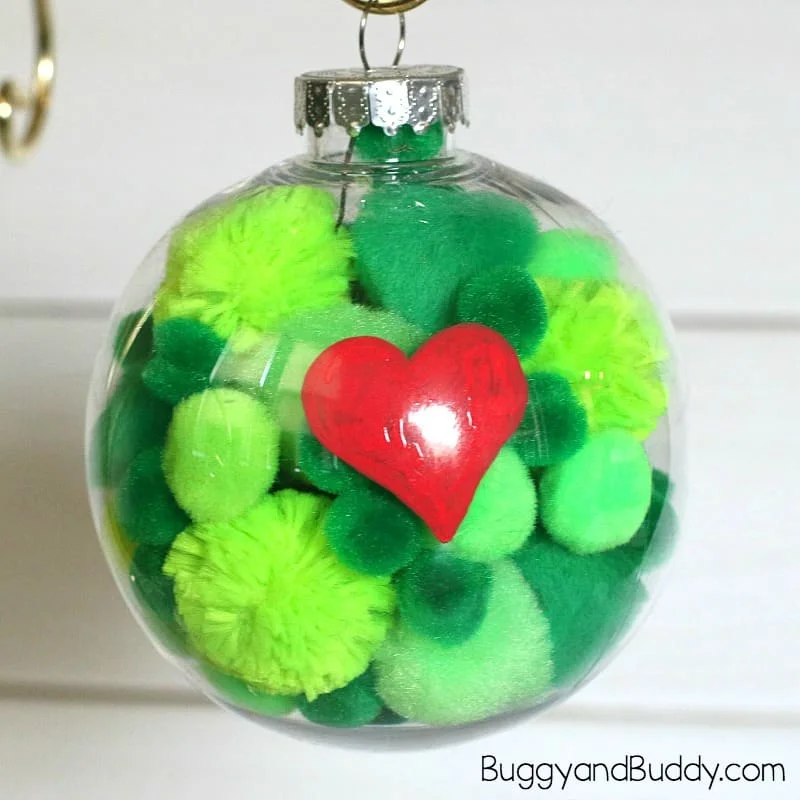 I love this easy DIY ornament idea because it reminds me of the best part of the Grinch story- when he finally lets love into his world and his heart grows so big! Even the youngest kids in your home can join in making this ornament ball.
---
6. Paint a Cute and Simple Penguin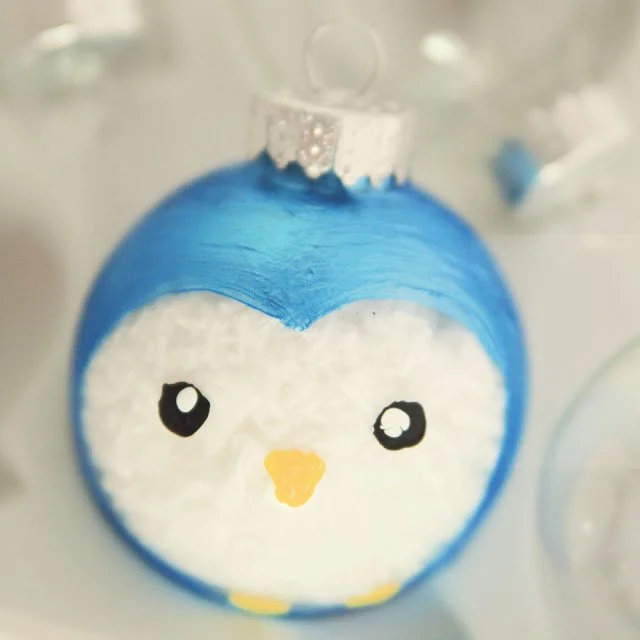 Don't shy away from painting your ornament balls! Little Gray Fox shows how easy it is to create an adorable penguin ornament using your clear ball ornaments and a white filling. She used leftover white yarn, but you could also use shredded white paper filling, or poly-fil beads.
---
7. Create a Frosted Glass Look
Turn the plain clear ornaments into a frosted glass background, then add some holiday cheer on the outside.
---
8. Swirl Paint into Beautiful Galaxy Ornaments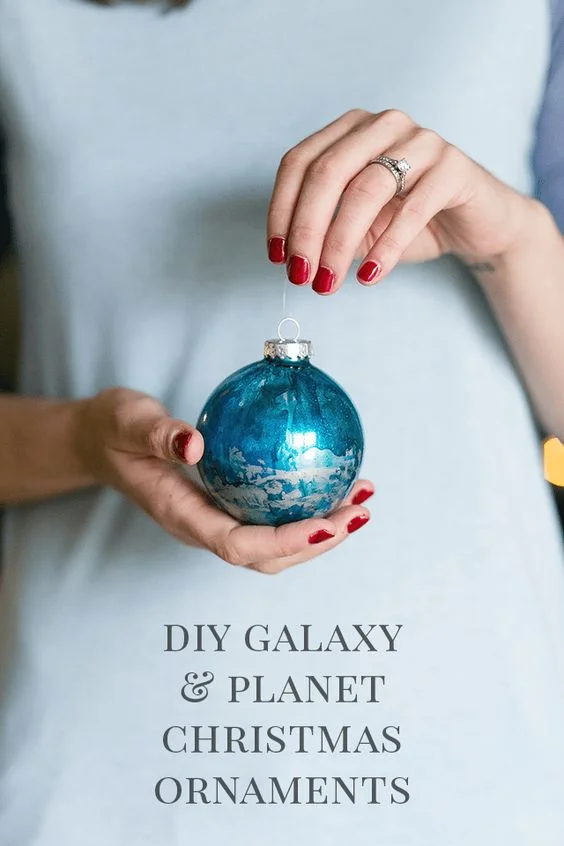 We've made marble, paint swirled Christmas ornaments with the kids in previous years and the results are really beautiful, especially considering how easy they are to create. I think these galaxy and Earth ornaments turned out really lovely.
---
9. Go From Plain to Glittered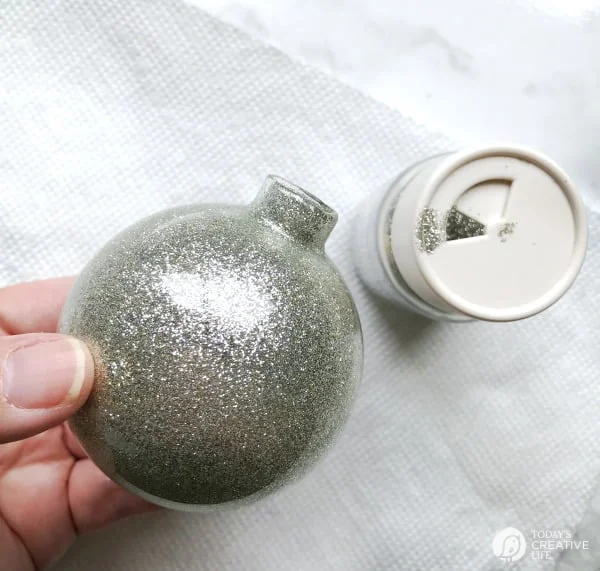 Clear ornaments are completely transformed with glitter and it's easy to do with something you might already have on hand. View the tutorial to learn how to use wood polish to get this glitter ornament ball look.
---
10. Add a Snowman Face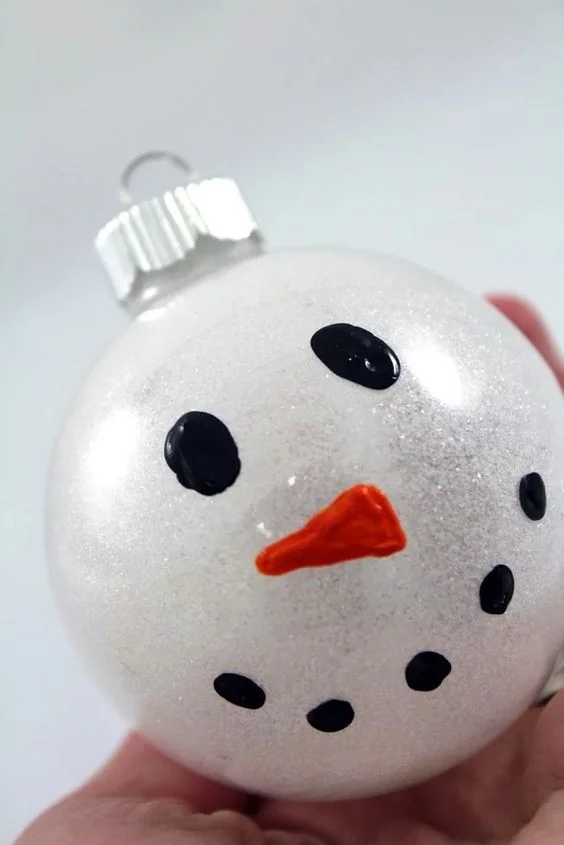 Once you get the hang of making your own glitter ball ornaments, simply add a snowman face to make these adorable snowman glitter ornaments.
---
12. Add a DIY Potpourri Blend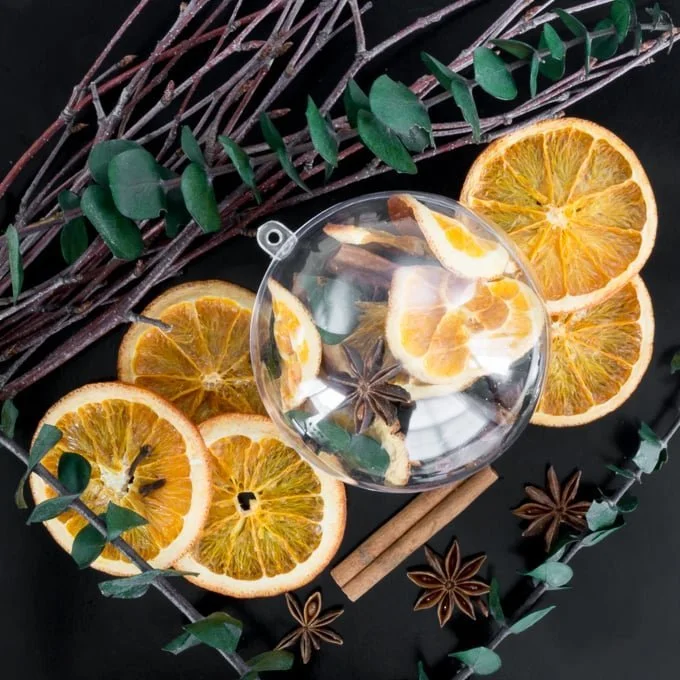 I love this idea for an ornament ball filler. Not only is it wonderfully scented, but they are gorgeous to look at as well! If you make this, be sure to make a few so you can keep some for yourself and also have some to give as gifts.
---
13. Fill with Candy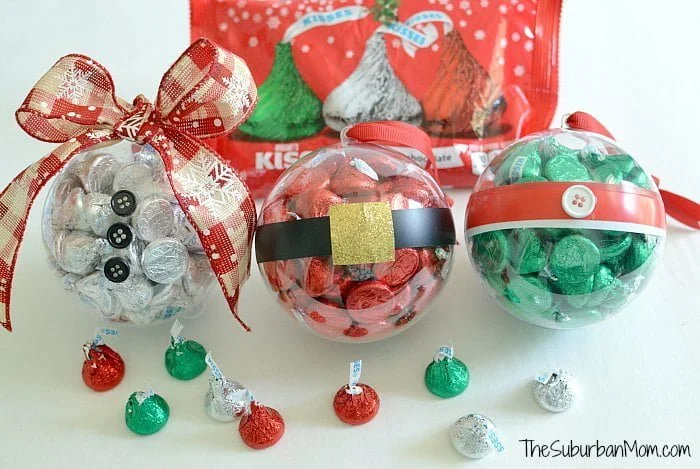 Here's a cute idea for Hershey's candy filled ornament ball. But you could also use holiday colored M&Ms, brightly colored gumballs, and more!
---
14. Transform Your Ornament Ball into A Colorful Gumball Machine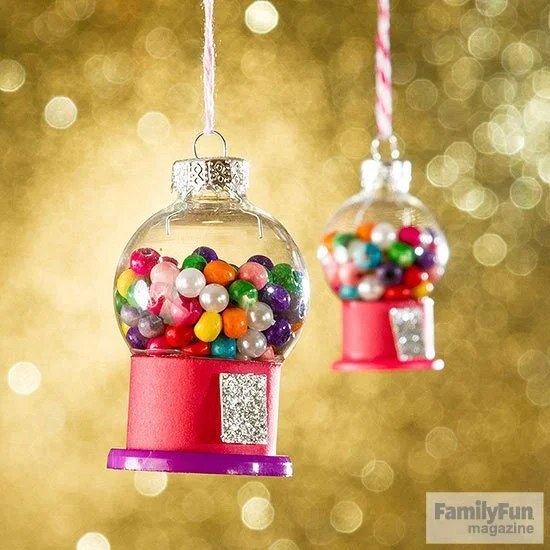 These mini gumball machine ornaments are so simple to make, and add a touch of fun to your Christmas tree. Check out the video to see how easily they come together.
---
15. Use Green Fillings to Make a Grinch Ornament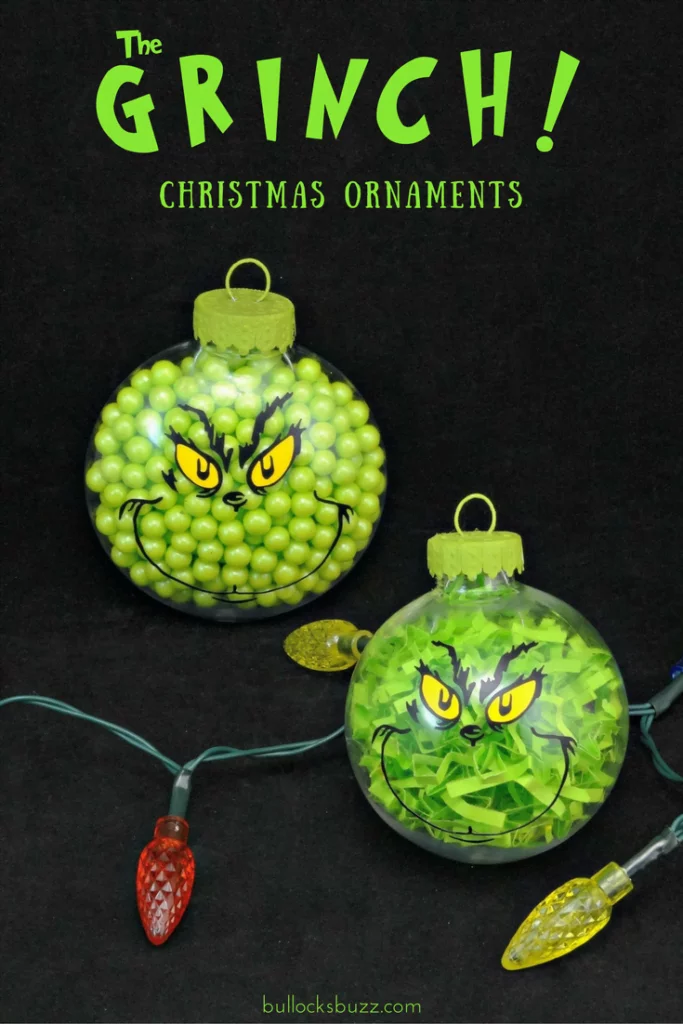 These Grinch ornament balls a great example of how easy it is to create the same look with different ornament ball fillings.
---
16. Create a Stunning Photo Ornament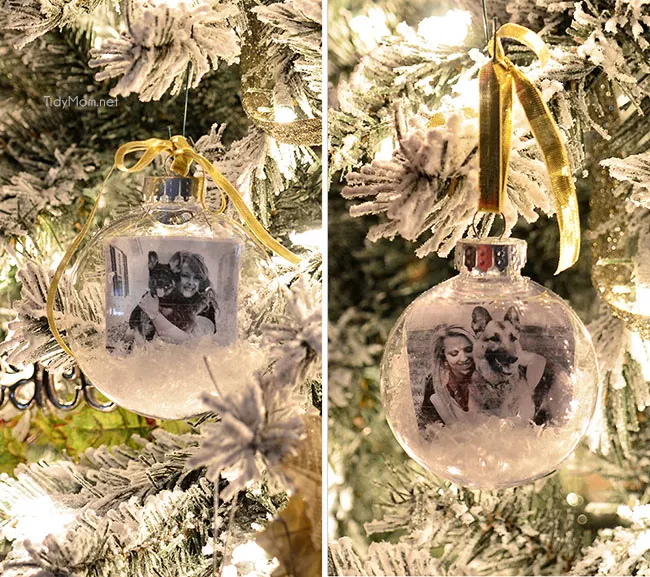 I'm a sucker for sentimental Christmas ornaments, and I love this idea for decorating your clear ornament balls with a special photo.
---
17. Create a Rustic Look with Twine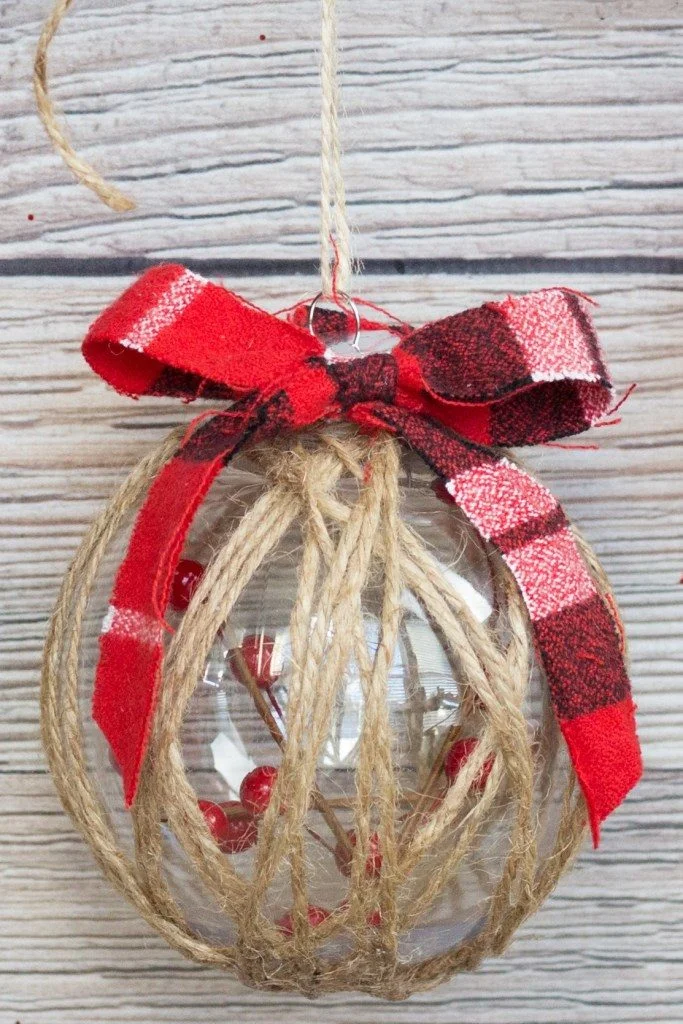 This twine wrapped ornament ball is so pretty and you can add some flair with ribbon in whatever colors match your own holiday color scheme.
---
17. Fill with Soup Mixes and Use for Gifts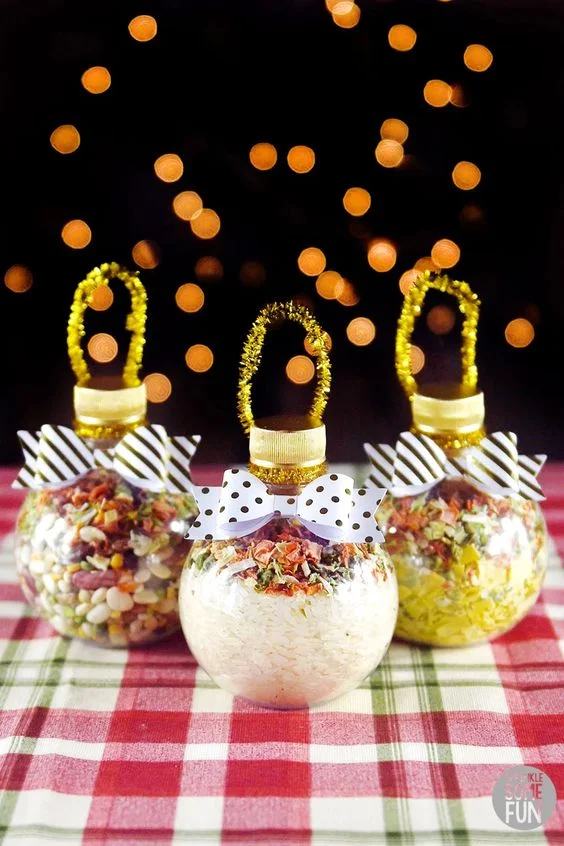 This is another plastic ball ornament decorating idea that makes a great gift. Would ever believe how beautiful a soup mix could be?! I would use these as teacher gifts or as simple holiday gifts for my neighbors.
---
18. Create a Family Time Capsule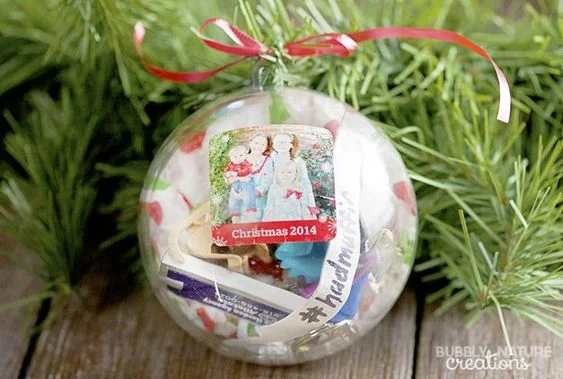 This time capsule ornament ball is one of my absolute favorites. I wish I had seen this idea years ago, so we could have one for each year of our growing family! It's never too late to start, through right?
---
19. Add Delicious Hot Cocoa Mixes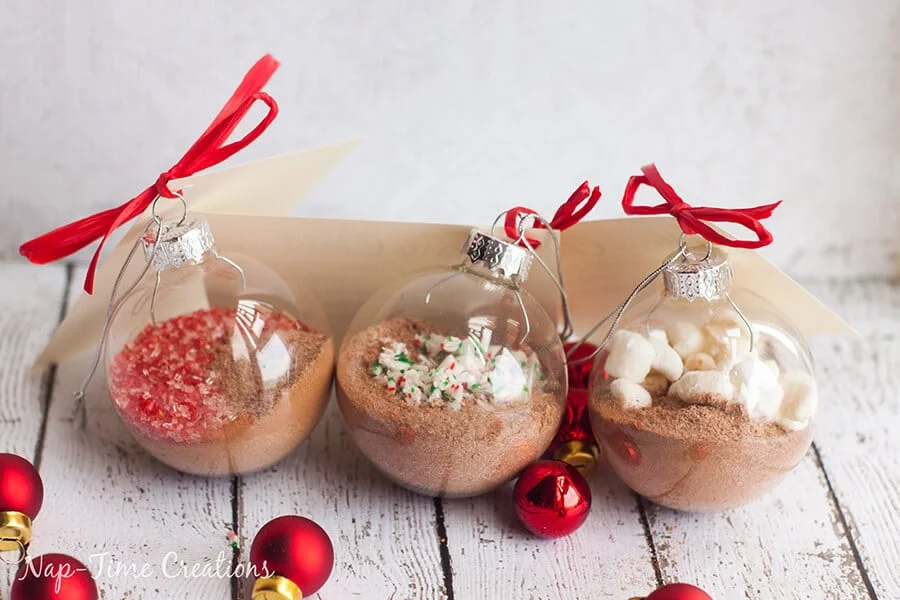 Here's a fabulous idea for party favors if you're hosting a Holiday party this year. Fill your clear ornament balls with different hot cocoa mixes and add a little gift tag. Easy, cheap, practical, and delicious!
---
20. Add an Edible Snowman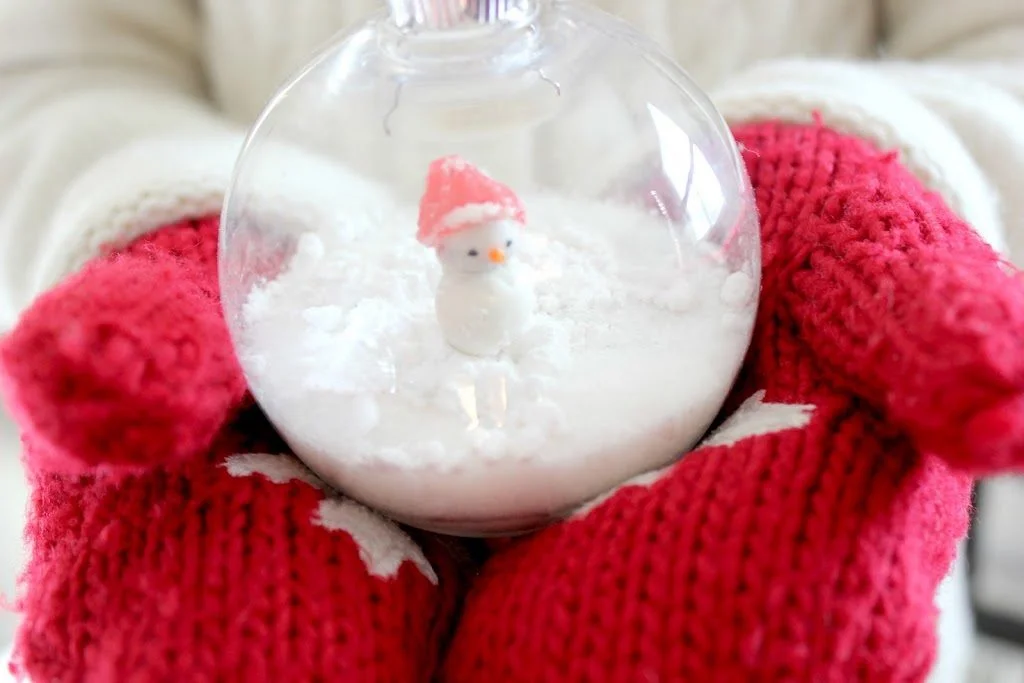 This is basically another version of the hot cocoa filler, but I had to include this one because the little candy snowman they added is so cute and such a great little touch to the hot cocoa ornament.
---
21. Create a Fluffy Grinch Ornament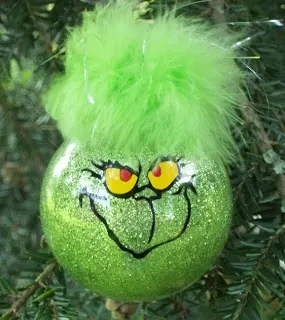 Here's yet another great Grinch ornament! It's the glitter ball, plus some additional plumage, lol!
---
22. Make Personalized Ornament Keepsake Gifts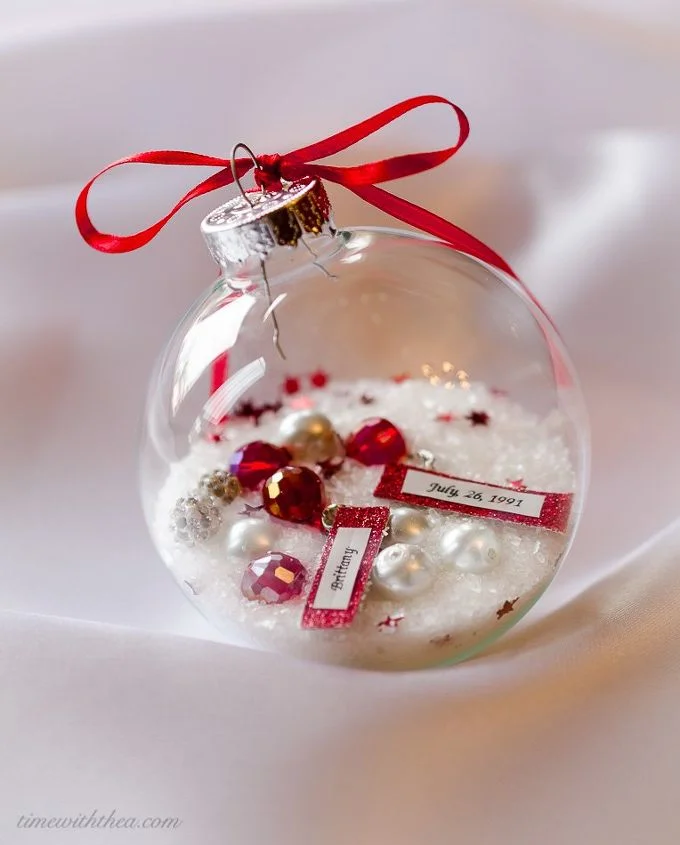 Here's a great gift idea for someone close to you using clear ornament balls. Find some little trinkets, gems, or charms that are meaningful to the recipient. Put some fake snow, glitter, or Epsom salts (shown), into the ornament and then add your collection of little things. The result is so beautiful, and truly thoughtful.
---
23. Make a Reindeer Ornament Craft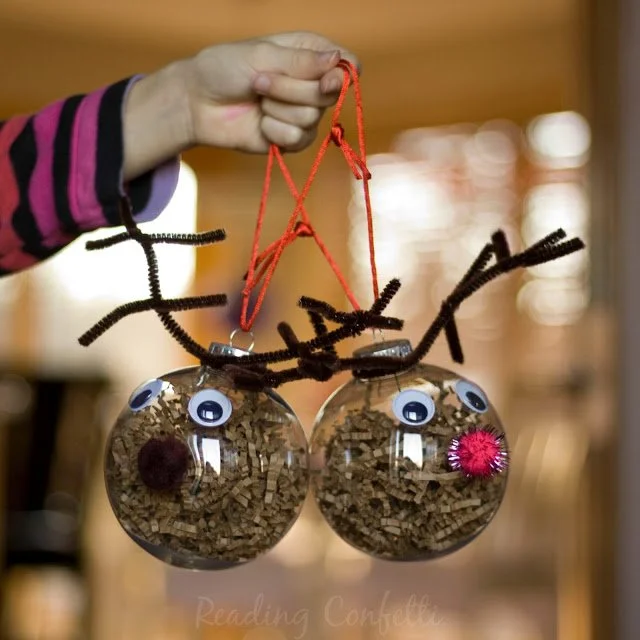 These reindeer ornaments are fun and easy for kids to make. We received a pair as gifts from our neighbors' kids a couple of years ago and they are truly adorable!
---
24. Make Your Own Rae Dunn Inspired Christmas Ornaments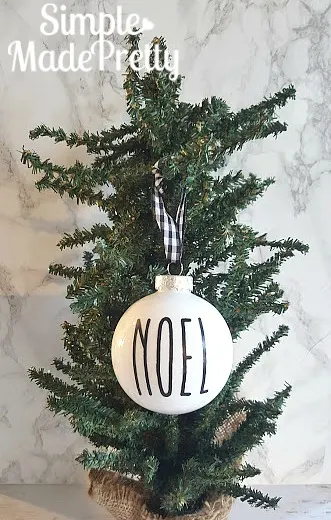 This ball ornament actually started as a clear ornament ball! See how to easily transform the clear ball into a festive farmhouse, "Rae Dunn Inspired" Christmas ornament.
25. Upcycle Old CDs into Beautiful Mosaic Ornament Balls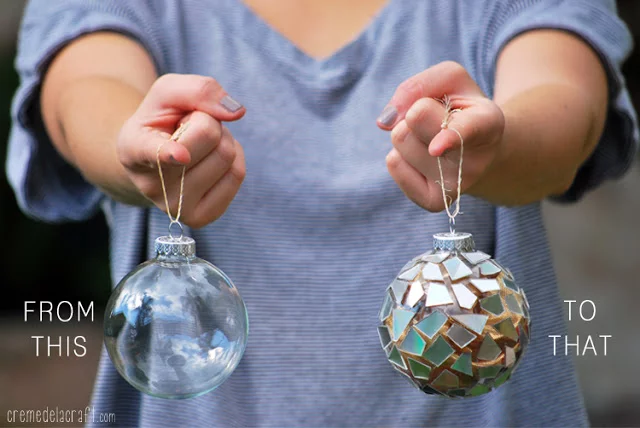 Have some old CDs laying around? Feeling a little crafty? Then go ahead and make a ton of these gorgeous mosaic Christmas ornaments and decorate your entire tree with them.
---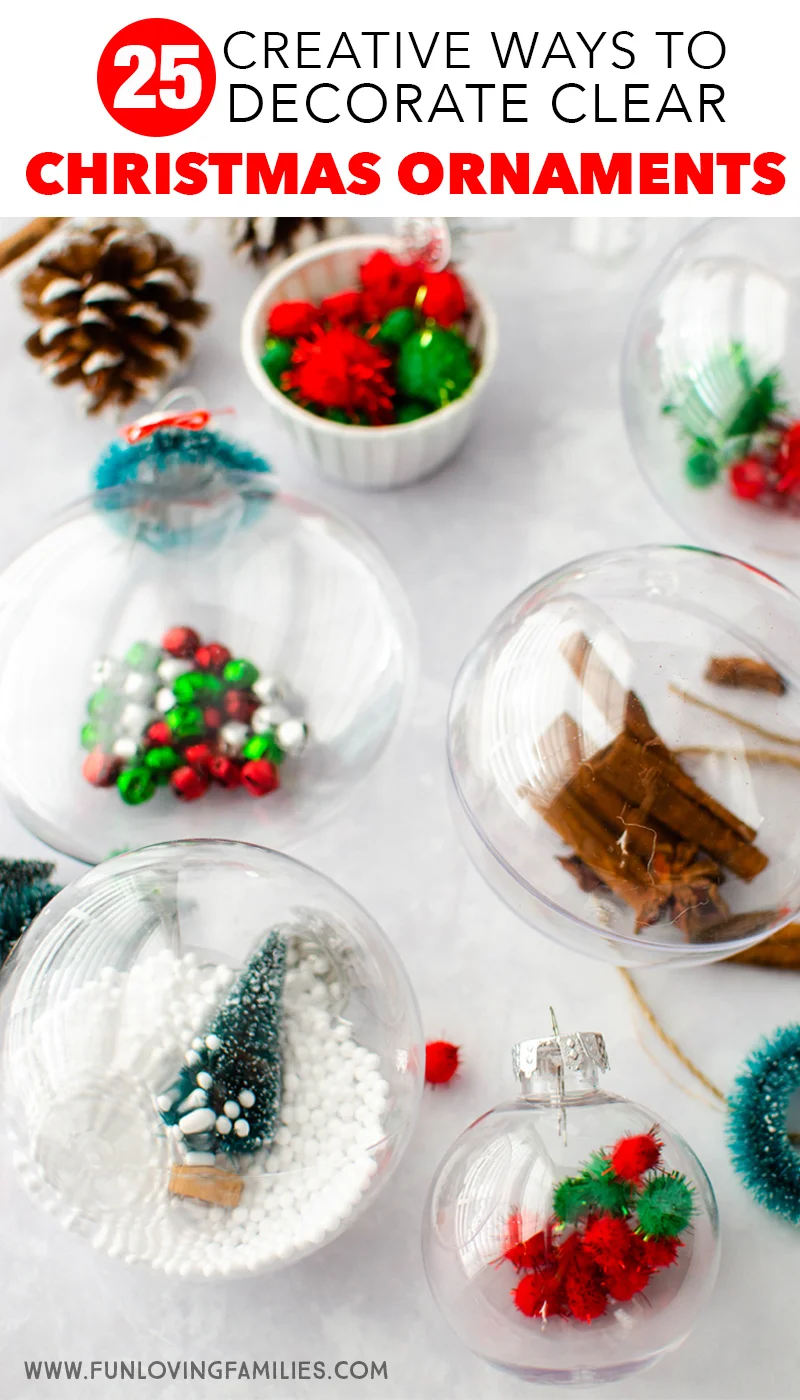 More DIY Christmas Ornaments
If you liked these Christmas ornament ideas, check out some of our other great posts with handmade ornaments you can make with the family: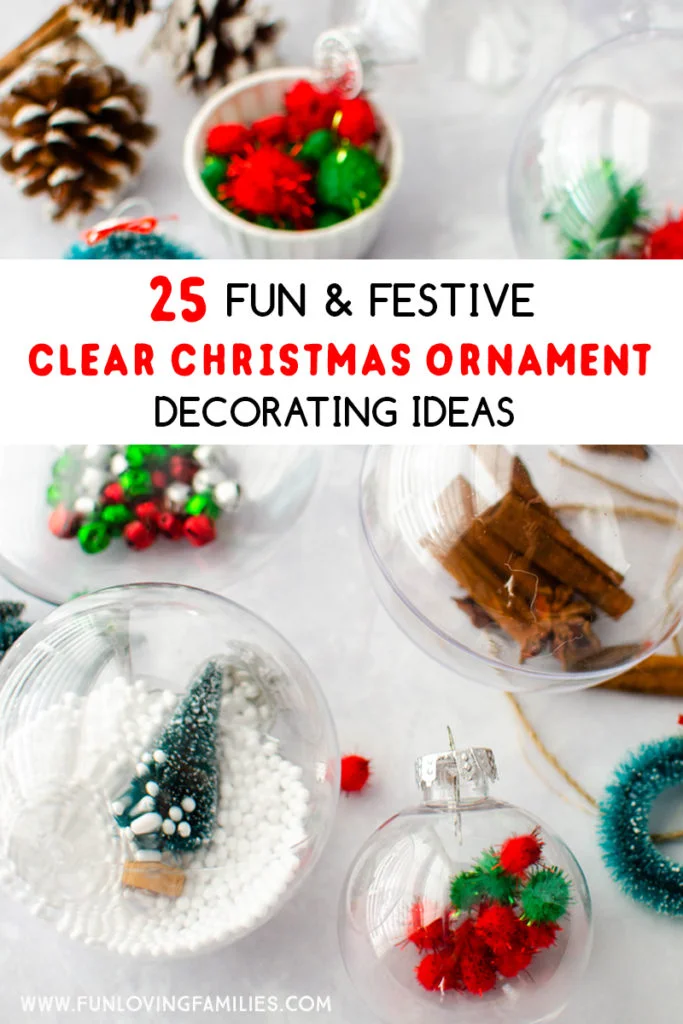 Similar Posts: