Have a fun day of Christmas crafting with the kids and these simple and easy DIY popsicle stick ornaments.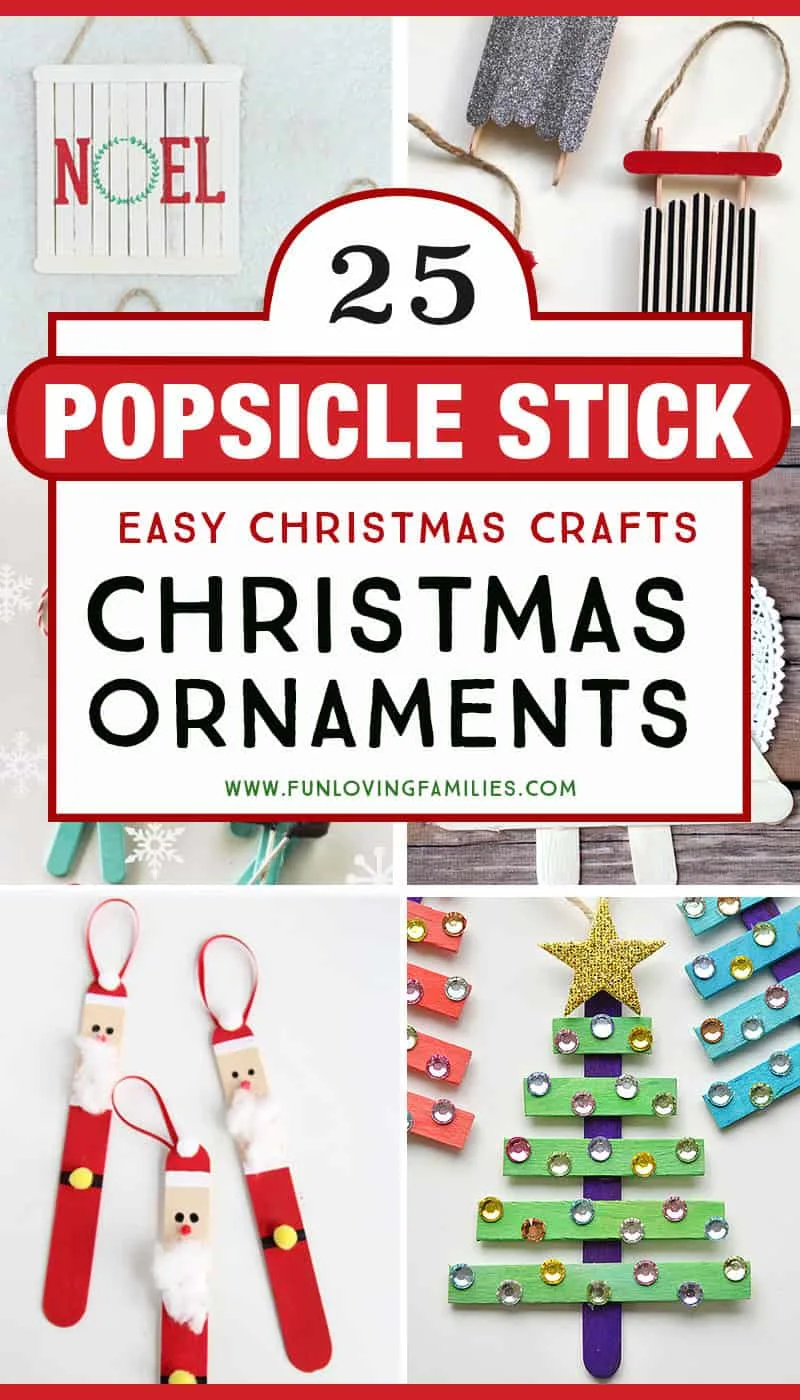 We love crafting with popsicle sticks around here (aka craft sticks). They're affordable and easy to source. And, they're are just so many ways to use them.
This holiday season, when the kids are home from school and you want to have some fun family time together, try making some simple Christmas tree ornaments together. There are plenty of ideas in this list for kids of all ages to join in. Plus, making handmade ornaments is a fun Christmas tradition for families!
1. Popsicle Stick Snowman Hat
Make this snowman hat from Fireflies and Mudpies with big and small craft sticks.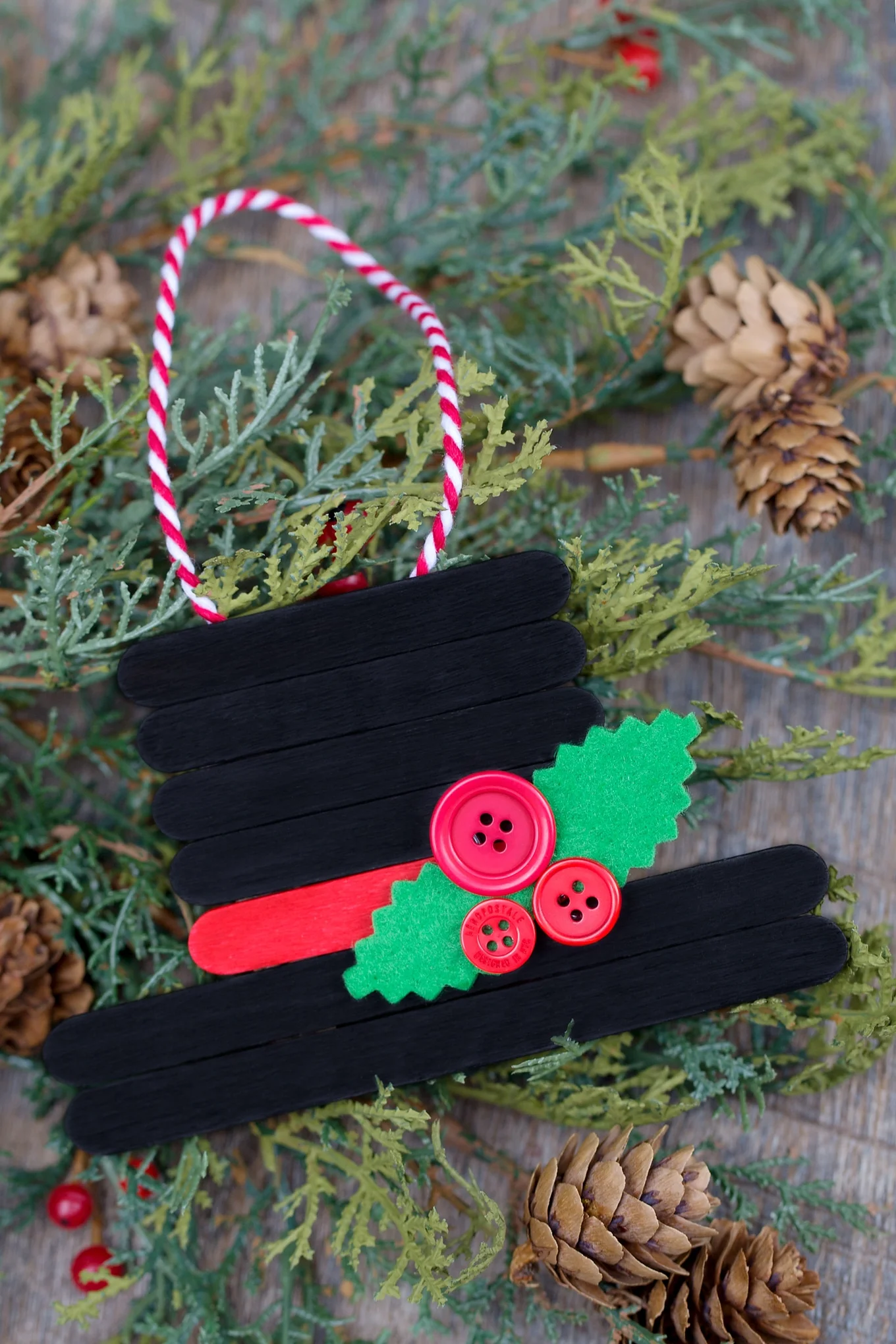 2. Stained Glass Popsicle Stick Ornaments
I love these colorful stained glass-looking ornaments from A Sparkle of Genius. Use popsicle sticks for the frame and colorful tissue paper for the inside image.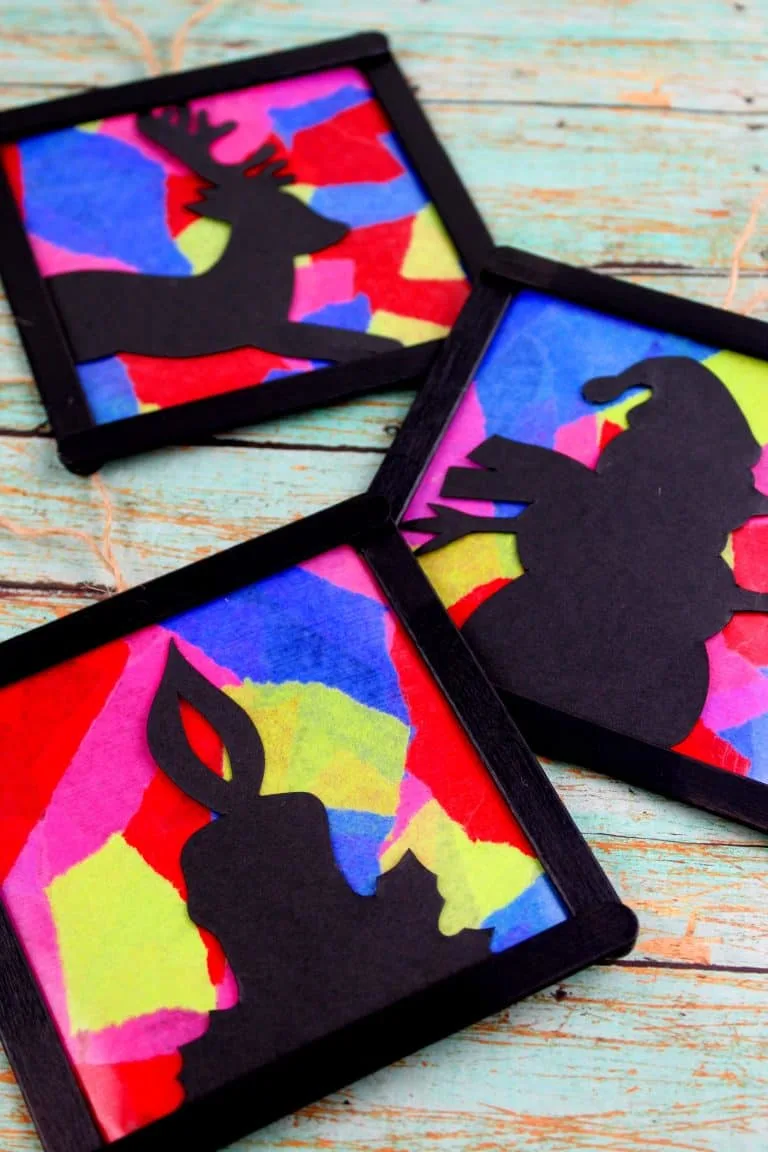 3. Gingerbread House Photo Frame Popsicle Stick Ornament
Teach Me Mommy shares how to make this adorable gingerbread house ornament. Add a photo from the year to make it a keepsake to hold on to.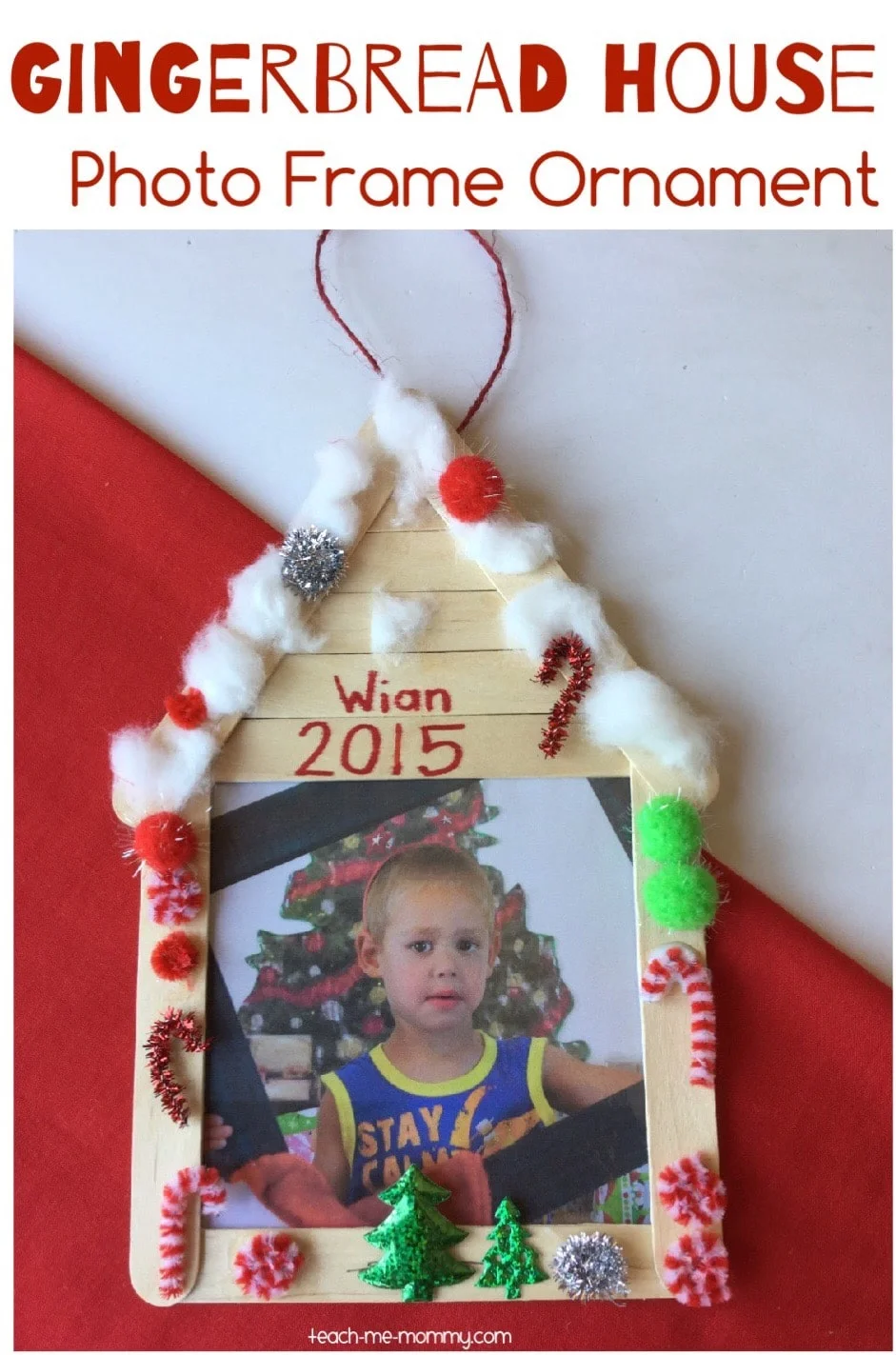 4. Popsicle Stick Snowman Ornament
Early Learning shares the tutorial for making these easy popsicle stick snowmen ornaments. Those hats and scarves are just too cute.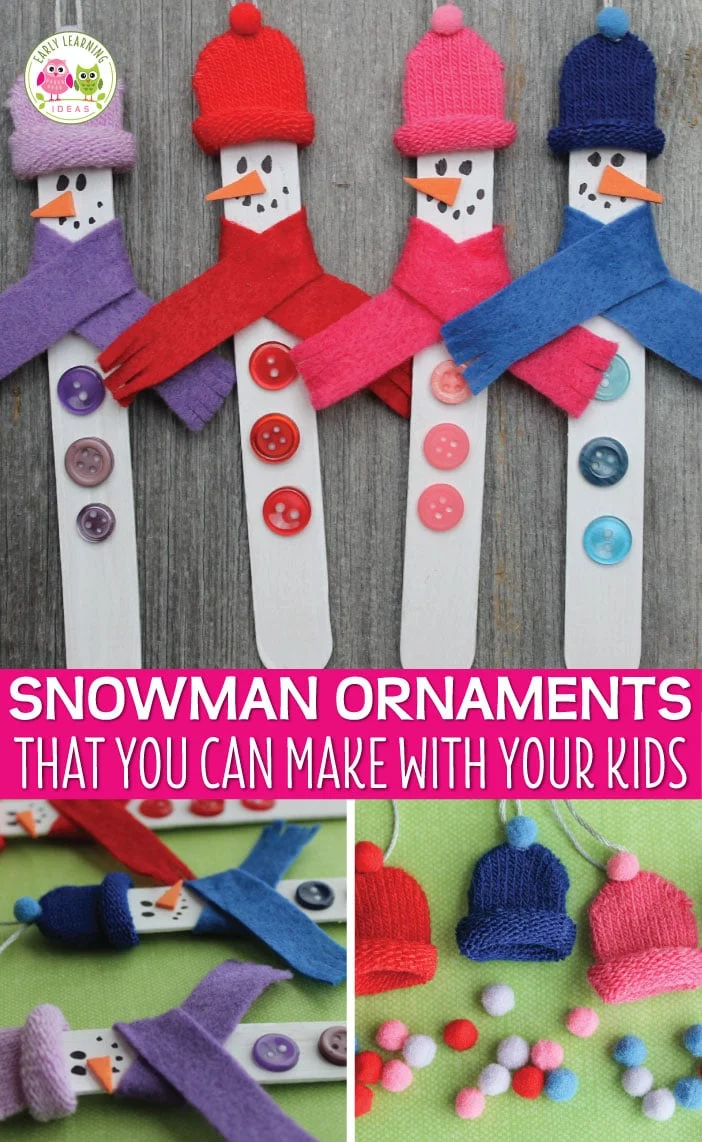 5. Santa Head Popsicle Stick Ornament
You can make this Santa head ornament with the kids using popsicle sticks and a pom pom. Check out The Craft Patch blog for the details.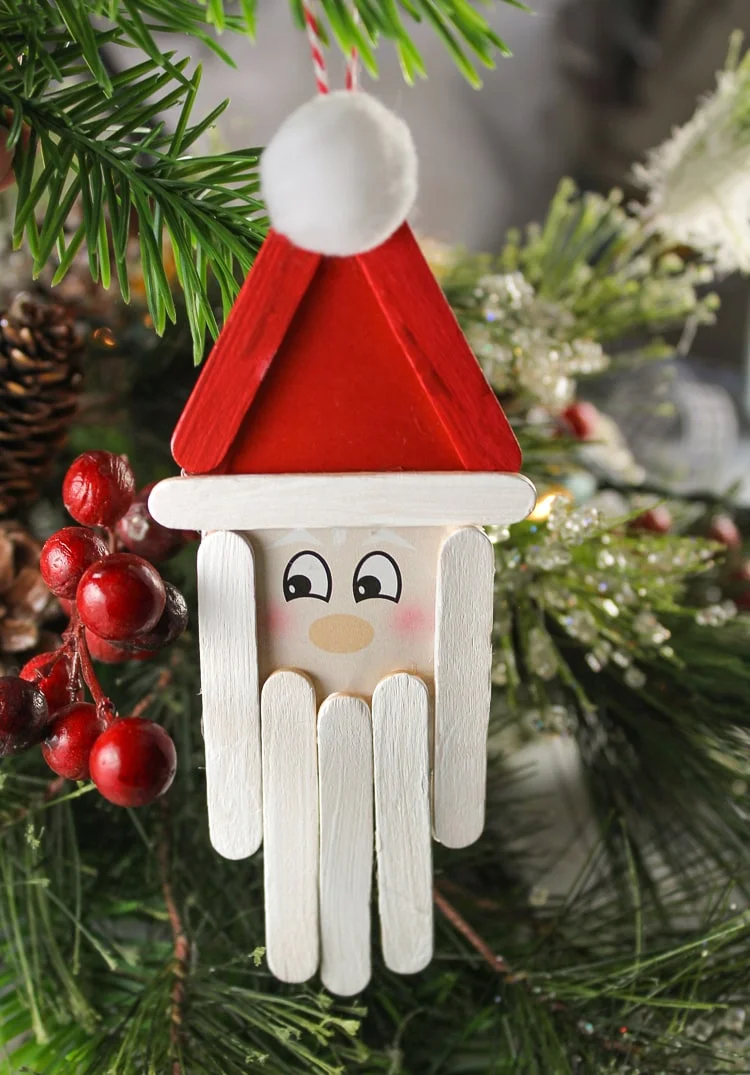 6 Popsicle Stick Star Ornaments
These colorful popsicle stick star ornaments will really liven up your Christmas tree this year. Click over to Kids Craft Room to see how.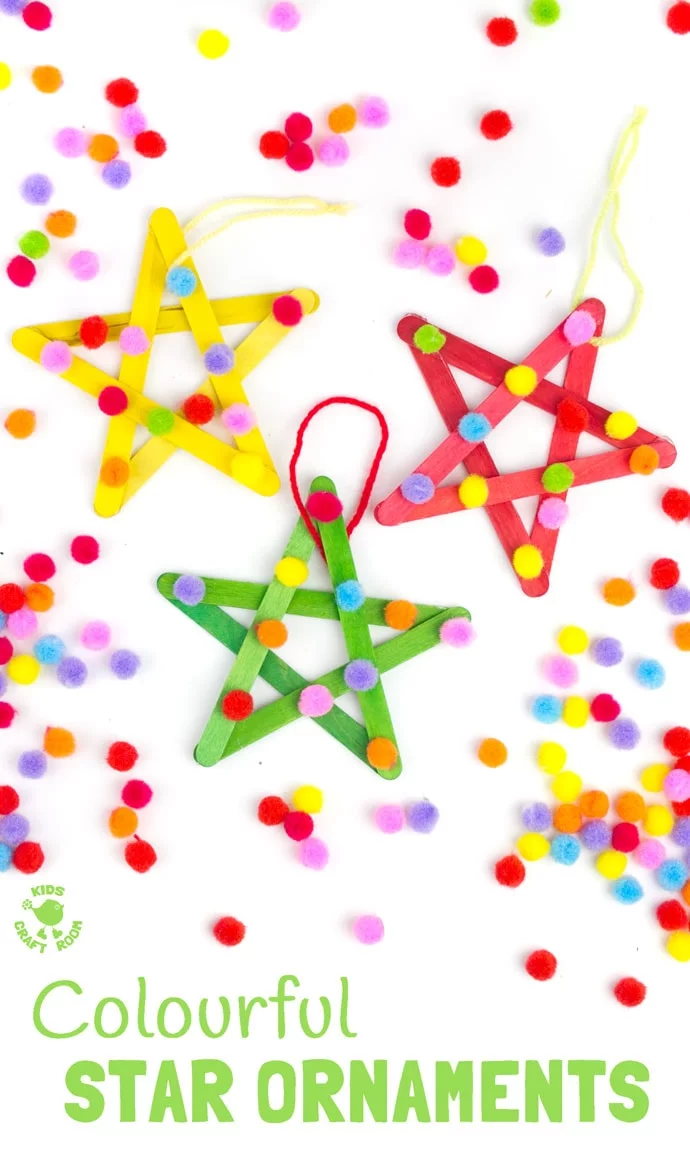 7. Popsicle Stick Stable Ornament
Make this simple stable ornament from Adventures of a DIY Mom to hang on your tree.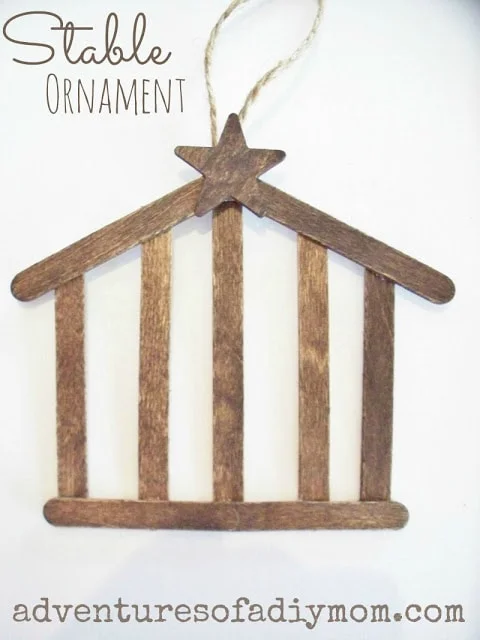 8. Popsicle Stick Toy Soldier Ornament
Check out Fireflies and Mudpies for the tutorial on making this fantastic and festive toy soldier popsicle stick ornament.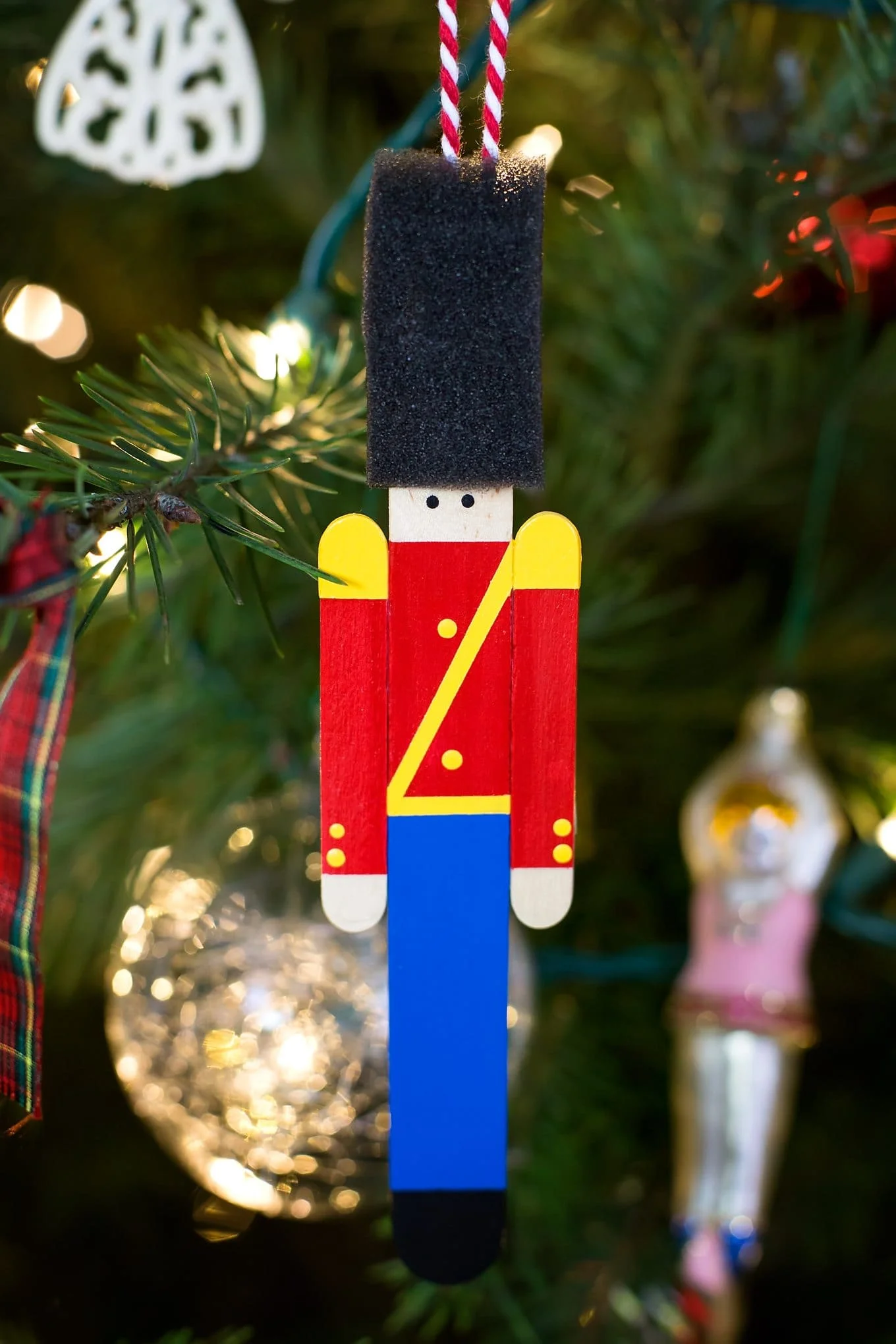 9. Popsicle Stick Skis Ornament
You can see how to make these popsicle stick skis from 21 Rosemary Lane.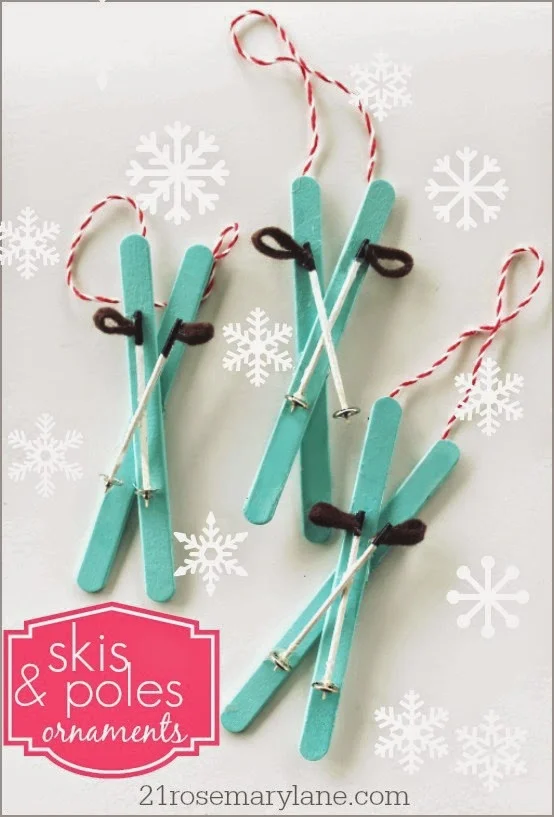 10. Popsicle Stick Mini Pallet Sign Ornaments
These miniature pallet signs look great and are easy to make with popsicle sticks and a cutting machine. See The Crafted Sparrow for everything you need to know to make your own.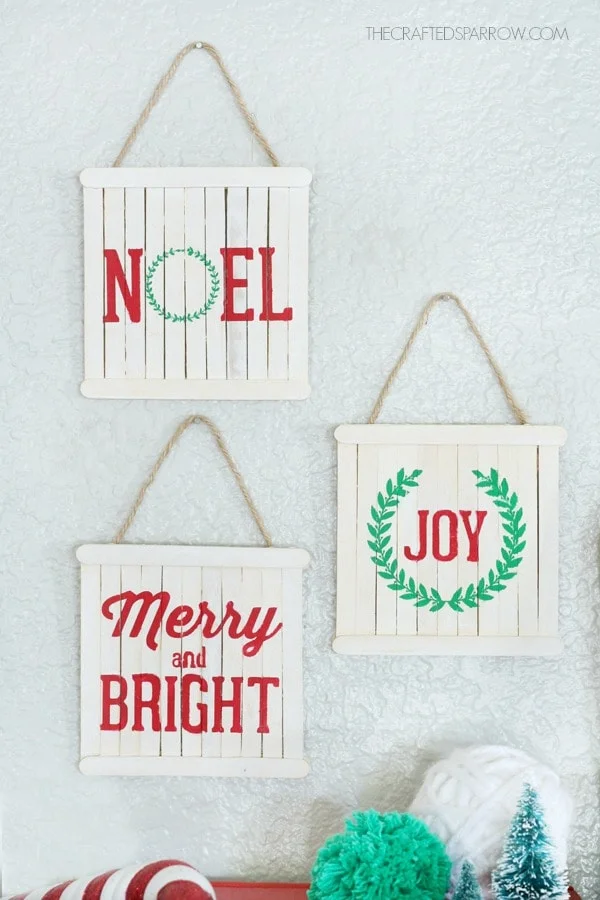 11.Popsicle Stick Sled Ornament
Decorative tape brings some flair to these sled ornaments. The Craft Patch Blog has the details on how to make your own!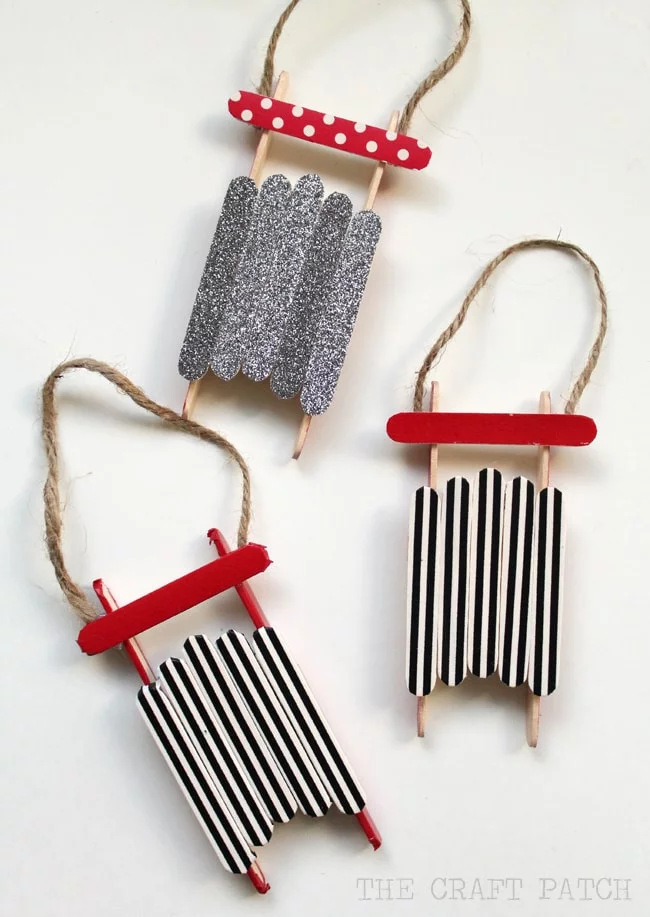 12. Popsicle Stick Christmas Tree Ornament
One Little Project has a great kid-friendly ornament making project using lots of fun and simple crafting supplies. Click over to see how to make these colorful popsicle stick tree ornaments.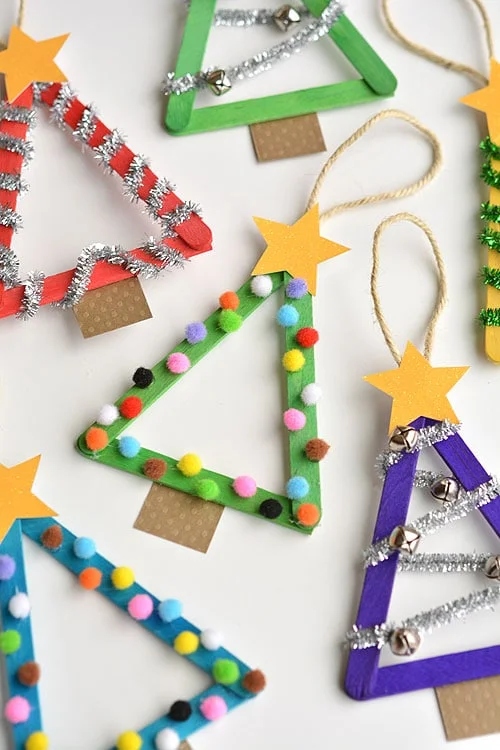 13. Star Wars Popsicle Stick Ornament
Star Wars fans will get a kick our of these DIY popsicle stick ornaments from Vicky Barone.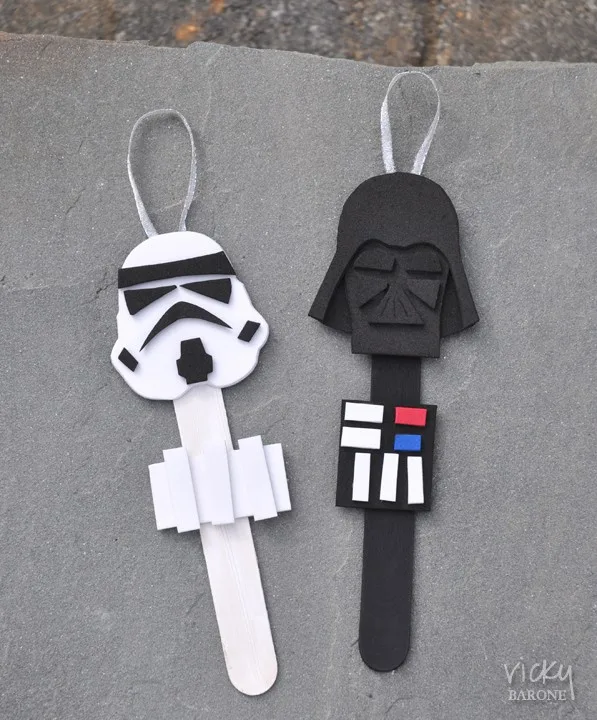 14. Popsicle Stick Snowflake Ornaments
Create colorful glittery snowflake popsicle stick ornaments with this tutorial from The Best Ideas for Kids.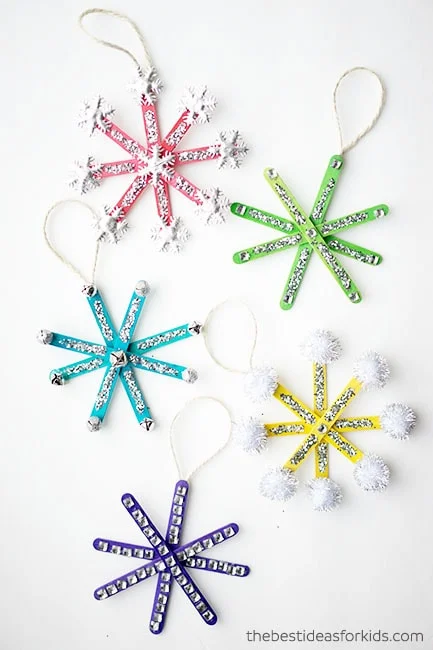 15. Popsicle Stick Angel Ornament
The Keeper of the Cheerios shares the details for making this sweet angel ornament from popsicle sticks and a paper doily.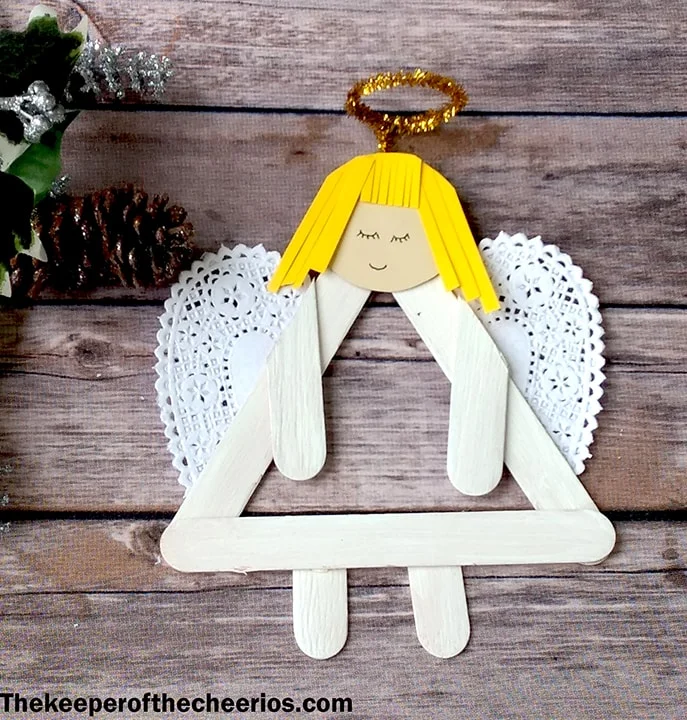 16. Craft Stick Ornament Frame
You can create this ornament for holding special holiday messages, or use as a photo frame. Craft Create Cook shares the info.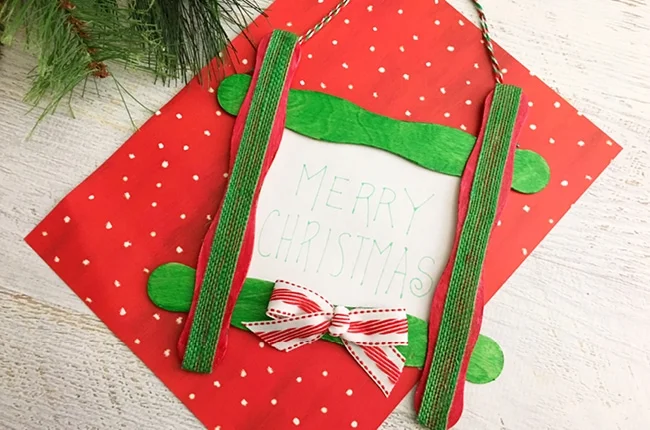 17. Popsicle Stick Manger Ornament
Housing a Forest shares this super simple popsicle stick manger ornament.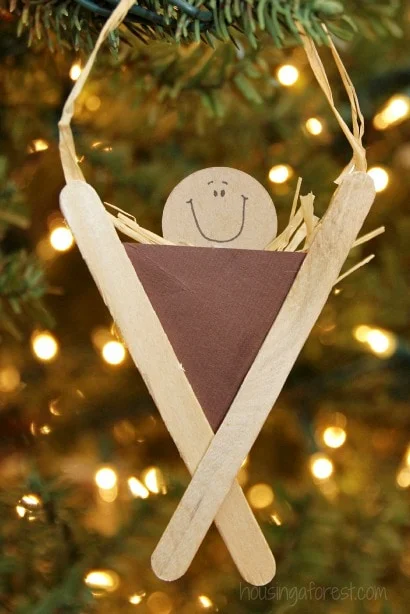 18. Popsicle Stick Sparkly Tree Ornament
Add some sparkle to your tree with these sparkly popsicle stick tree ornaments from One Little Project.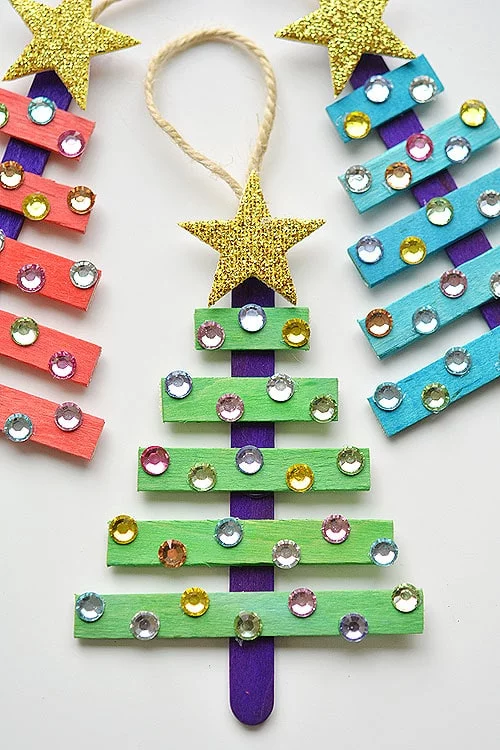 19. Popsicle Stick Mini Pallet Deer Ornament
These mini pallet deer ornaments from Love Create Celebrate have a wonderful rustic charm about them.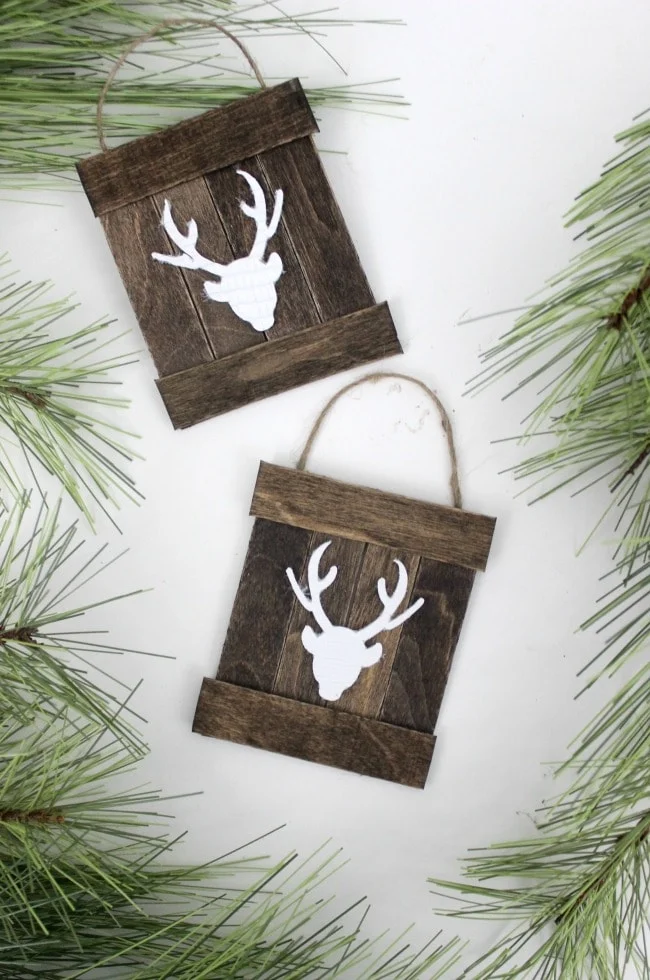 20. Scandinavian Popsicle Stick Snowflake Ornaments
(This post contains affiliate links which means I may earn a small commission if you click a link and make a purchase. As an Amazon Associate I earn from qualifying purchases.)
Flourish and Knot will show you how to create these fancy Scandinavian inspired snowflake ornaments from notched craft sticks.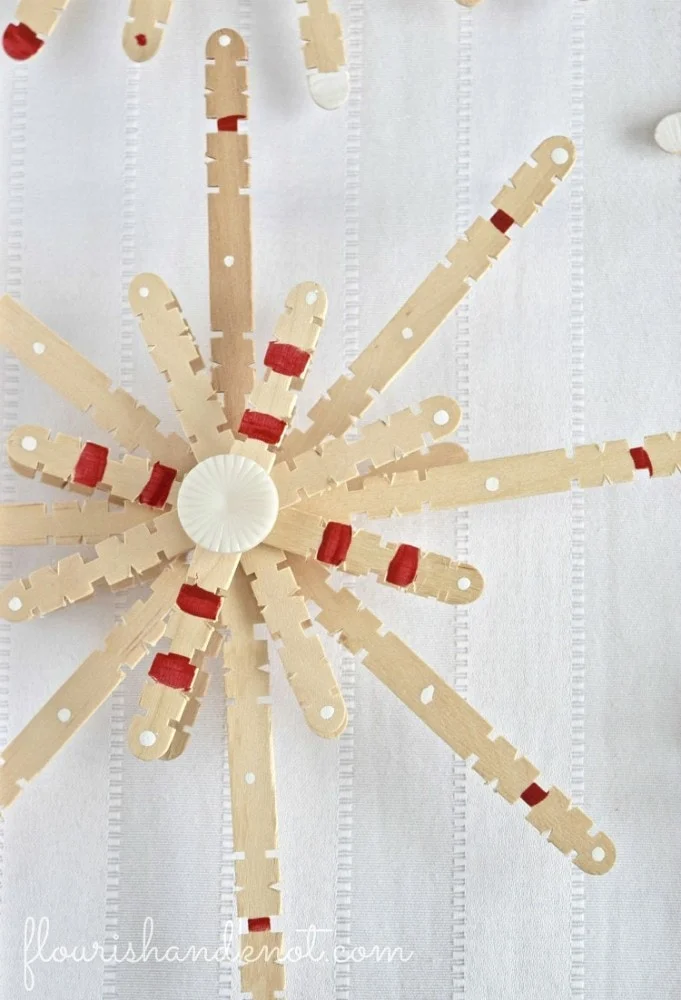 21. Wooden Christmas Tree Popsicle Stick Craft
I really love this popsicle stick craft from Love That Party. You could easily use this as an ornament by adding a ribbon tie to the top.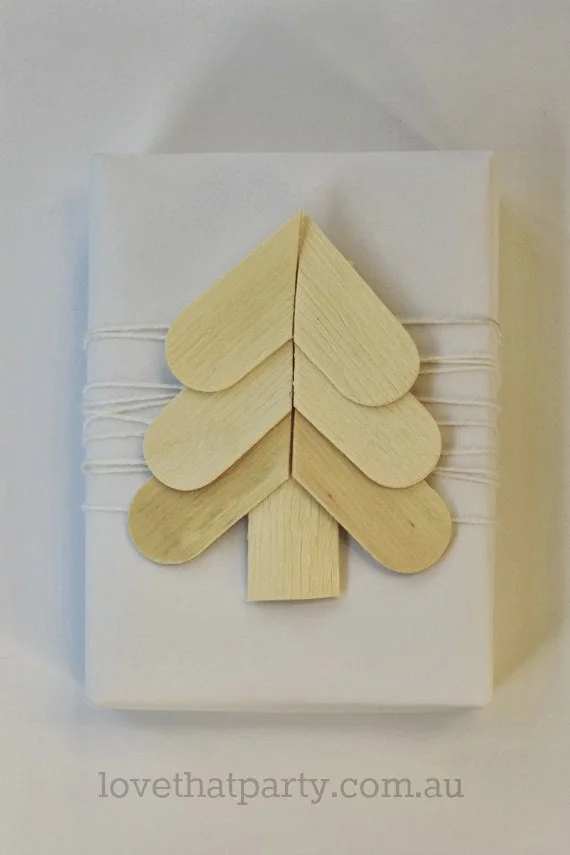 22. Popsicle Stick Reindeer Ornament
Crafts for Kids shares this popsicle stick reindeer ornament that doubles as a photo frame!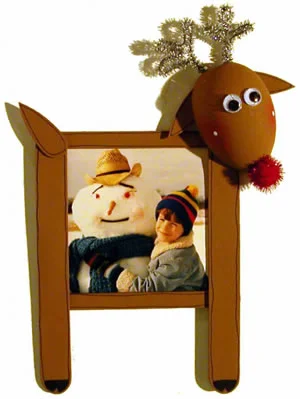 23. Popsicle Stick Santa Ornaments
See One Little Project for the tutorial to make these Santa Clause popsicle stick ornaments.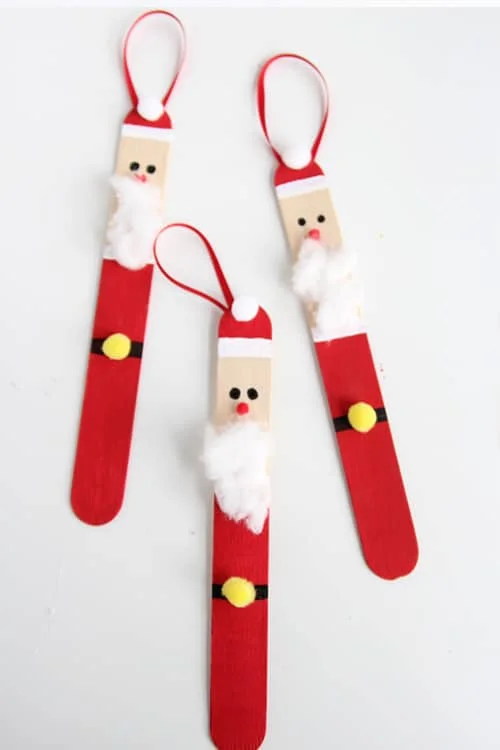 24. Popsicle Stick Fairy Ornament
You probably have everything you need to make this popsicle stick fairy ornament from 4 Joy of Sharing.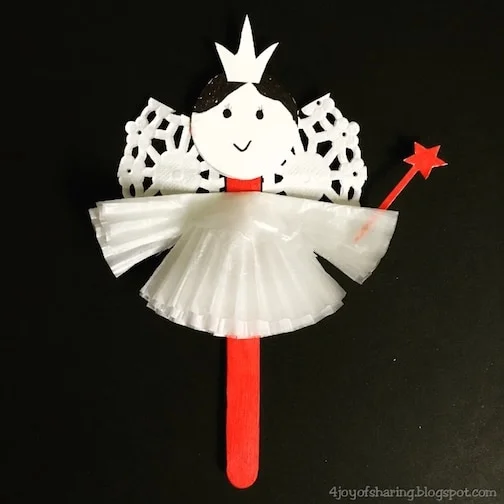 25. Simple Popsicle Stick Sled Ornament
Make a simple ornament sled with this tutorial from Craft Cottage.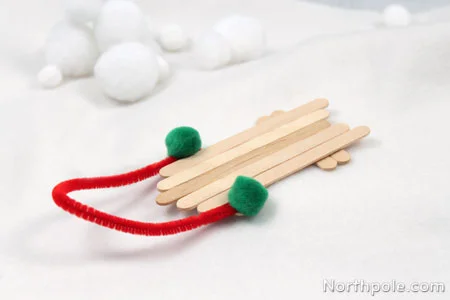 Popsicle Sticks for Making Ornaments
I'm sure some people may reuse their actual popsicle sticks and use them to make amazing things. We, however, have a big supply of craft sticks that we've purchased, and they have lasted us a long time. Here are some great craft sticks that you can buy to use for making your own popsicle stick ornaments.
Popsicle Stick Set
This is a great multi-purpose set of popsicle sticks that comes with colorful craft sticks and natural wood sticks.
Jumbo Craft Sticks
Mini Craft Sticks
Many of the ornaments shown above use these mini craft sticks. They're just the right size for making anything "mini" sized.
Wood Skill Sticks
More DIY Christmas Ornaments
We've got more handmade Christmas ornaments! Be sure to check these out before you go:
Perler Bead Christmas Ornament Patterns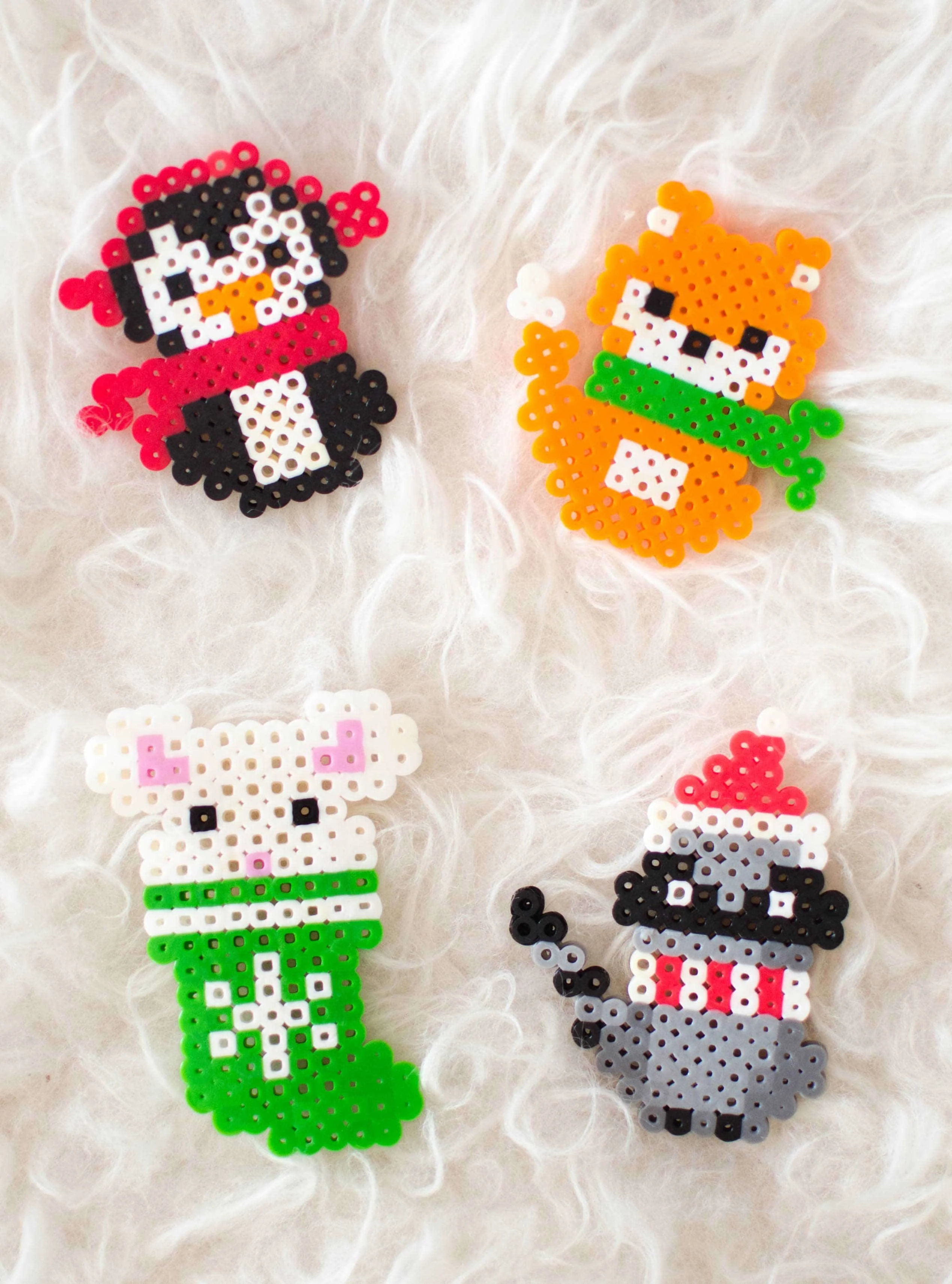 Easy DIY Mason Jar Lid Ornament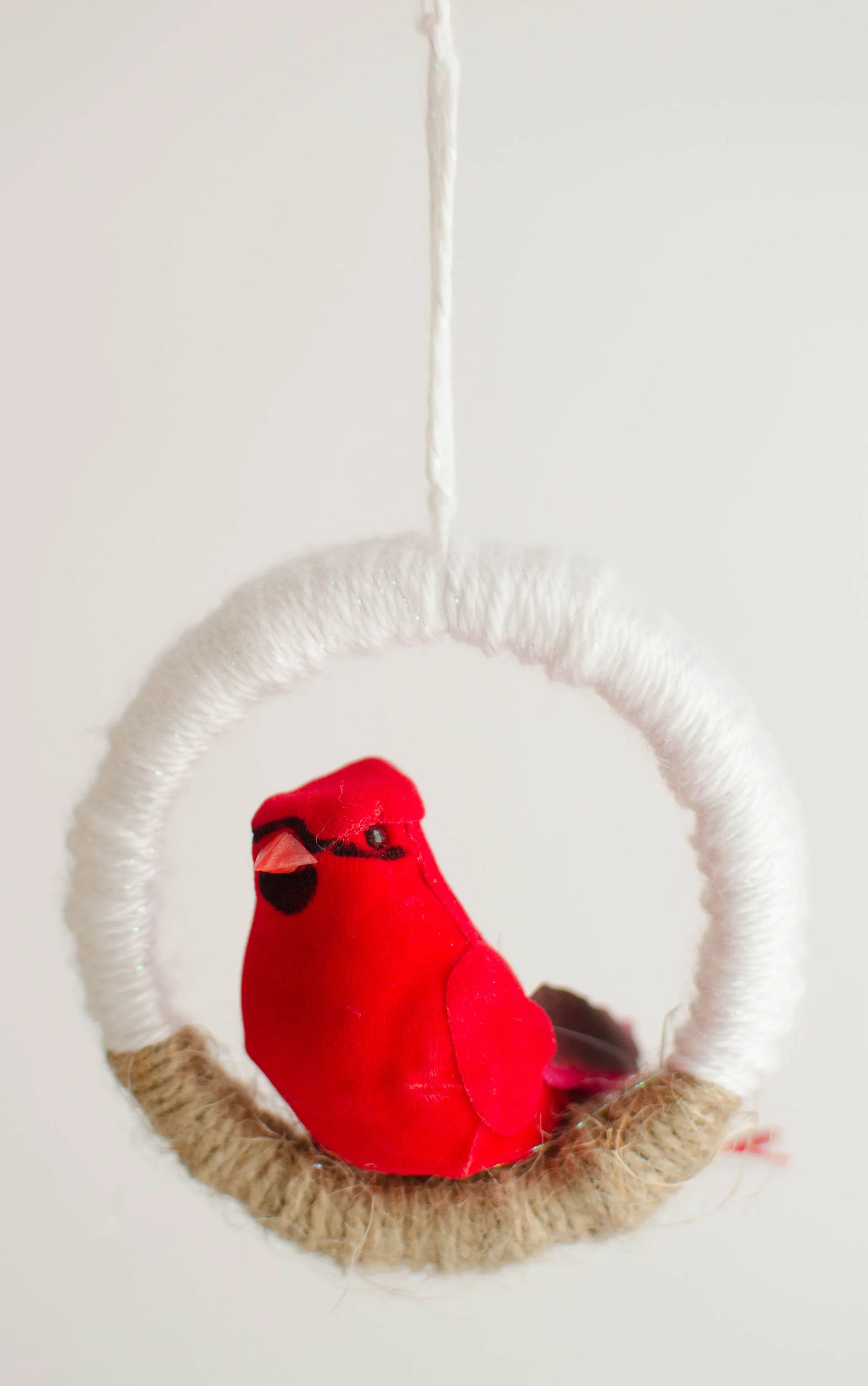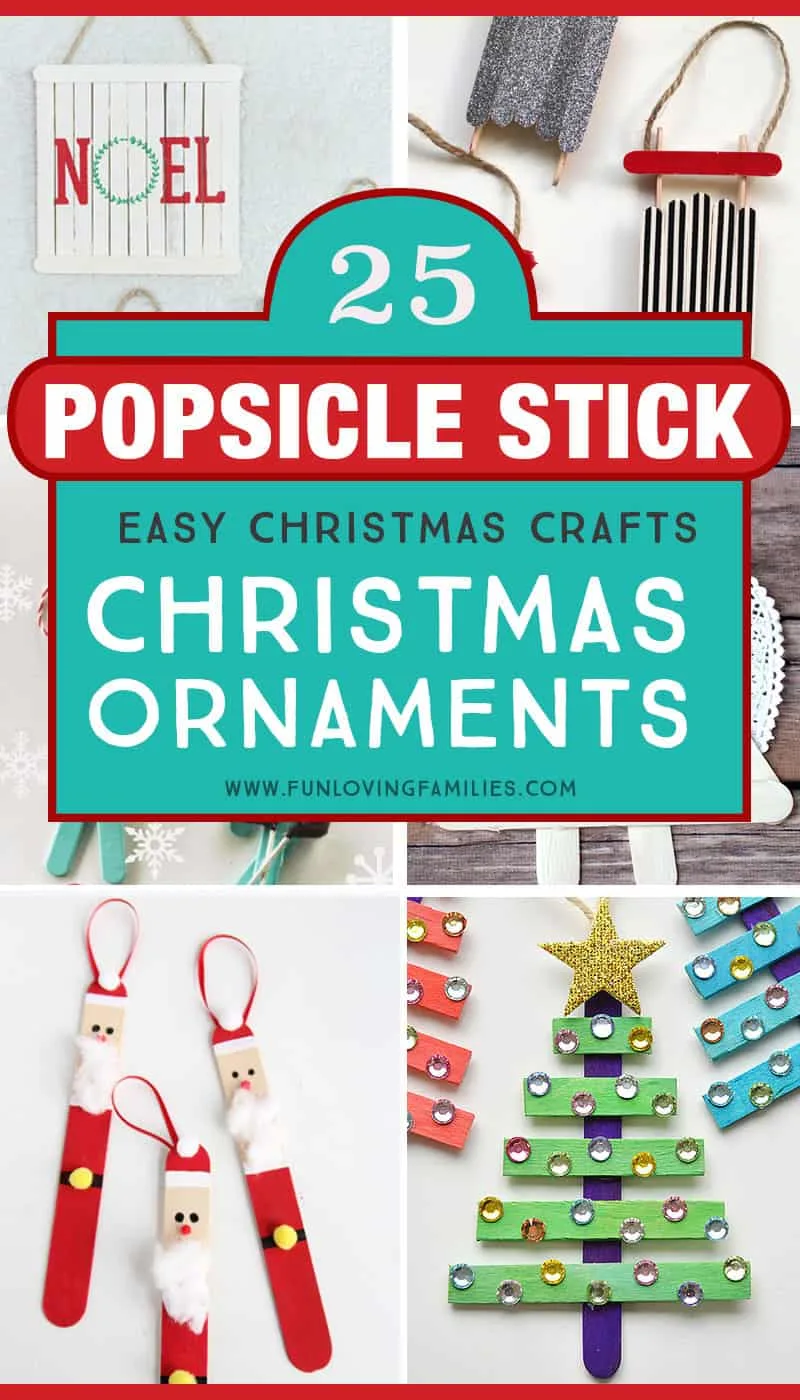 Similar Posts: