Make Christmas Eve special for the whole family with these fun and festive Christmas Eve traditions and activity ideas.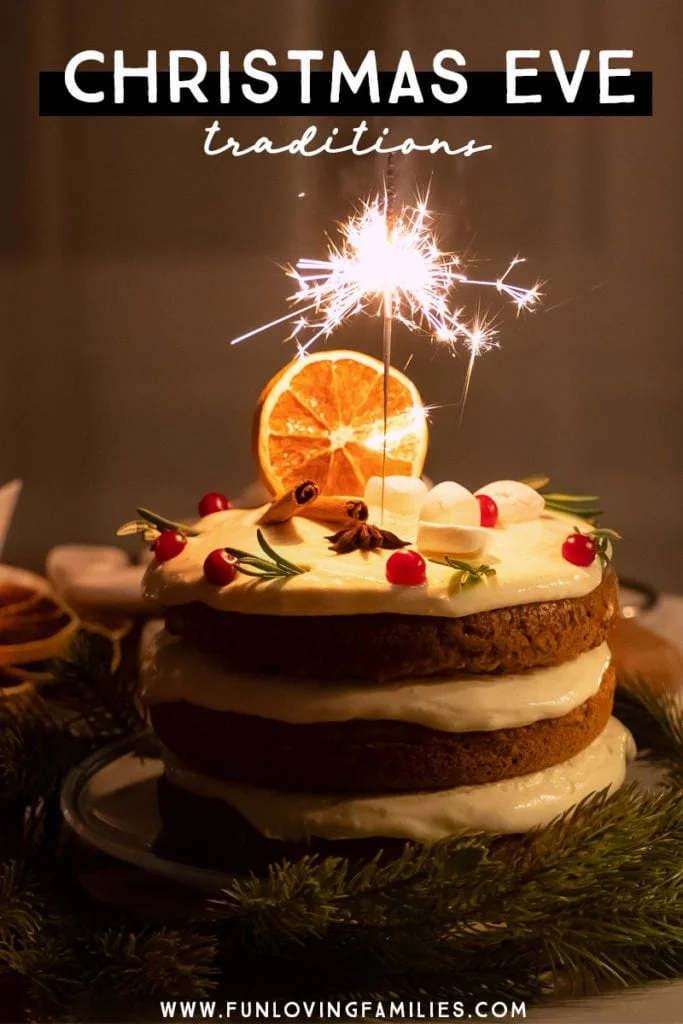 We all know that Christmas is such a wonderful time of year, and there are already so many fun Christmas traditions we love to do as a family.
But the excitement really peaks on Christmas Eve and there are a few activities that we save for that day especially.
What are some fun things to do for Christmas Eve traditions?
Find the best fun activity to create a lasting Christmas Eve tradition with your family. We've come up with 17 Christmas Eve ideas below:
Open a Gift
By the time Christmas Eve rolls around, we've been sitting on secret gifts for weeks! It's no wonder we're all so anxious for our loved ones to open just ONE gift! Opening a gift on Christmas eve is a very popular tradition for families in the U.S. (while a number of other countries open ALL of their gifts on Christmas eve!).
We love giving pajamas or a book for opening on Christmas Eve, since it's a small and simple way to end the night (rather than a big toy that kids will want to play with the rest of the night.)
Go Look at Christmas Lights
Christmas Eve is the perfect time to go drive around (or walk) and look at the Christmas light displays in your community. We absolutely love this tradition!
Here's what we do:
We make some hot cocoa or warm apple cider for everyone, grab some fresh-baked cookies, hop in the car, and listen to Christmas music while we drive around and oooh and aaaah over the amazing displays we find.
After doing this for a couple of years there were certain themes we began keeping an eye out for so I created a simple Christmas lights scavenger hunt printable to take with us.
Watch a Special Christmas Movie
Almost every family I know has that ONE particular Christmas movie that their family just loves. For us, it's Home Alone. For my brother's family, it's Elf. And of course others can range from Die Hard to Miracle on 34th Street!
Whatever that movie is for you, get cozy, make some popcorn, and settle in for your Christmas Eve movie night!
(This post contains affiliate links which means I may earn a small commission if you click a link and make a purchase. As an Amazon Associate I earn from qualifying purchases.)
Read the Christmas Story in the Bible
Reading the story of Christ's birth is a wonderful way to end the night before Christmas. A lot of times Christmas day is filled with presents, visiting family, and making a big dinner. So,it's a good idea to take some time before the action-packed day to really soak in what the holiday is all about.
If you have smaller kids, you can read from a Children's Bible (my kids loved this storybook Bible) to make it more kid-friendly.
Have a Special Christmas Eve Dinner
Food is the basis of so many family traditions, so why not Christmas Eve? A friend of mine always had fondue with her family on Christmas Eve, which I absolutely love! I know some other families have a tradition of ordering Chinese take-out for Christmas Eve.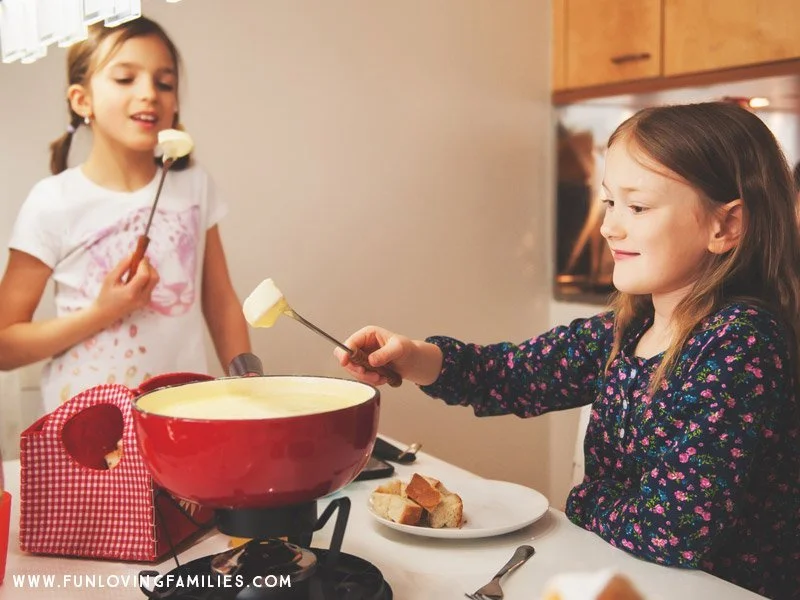 We made homemade pizza for Christmas Eve for a few years which the kids loved! We made the dough and put out toppings for everyone. And the everyone got to create their own personal pizza made just how they wanted.
Play a Family Game
Getting together for some fun game time is the perfect way to set the tone of family togetherness. If you have a favorite family game, then Christmas Eve is a wonderful time to get together and play.
Or, you can play Christmas-y games like this Santa Claus Game (for ages 3 and up) or even a Christmas-themed Monopoly game!
Give a Christmas Eve Box
What is a Christmas Eve box?
This was new to me, too. And at first I completely shunned it (because we're already giving gifts, why add another gift?). But, it's basically just a designated box that you can reuse every year (this is sort of what makes it special) filled with some little things that you would probably give to the kids on Christmas Eve anyway.
You can make your own easily with a crate, or go all in for a personalized wooden Christmas Eve Box that will last for years.
Some ideas of what to put in the box would be: Christmas pajamas, a Christmas book, maybe a little treat/candy/popcorn, a hot cocoa mix with a special mug.
Basically just a few little things for the kiddos to enjoy during your Christmas Eve family night!
A Story and Cider
What could be more lovely? Cozy up together by the fire with some warm cider and a favorite Christmas story.
Some Christmas classics we recommend (Amazon links):
Christmas Eve Church Service
If you have older kids (or little ones who can handle a later bedtime), you can make it a tradition to attend your church's Christmas Eve service. Most churches host a special service on Christmas eve, with candlelight and Christmas hymns, and it's truly beautiful.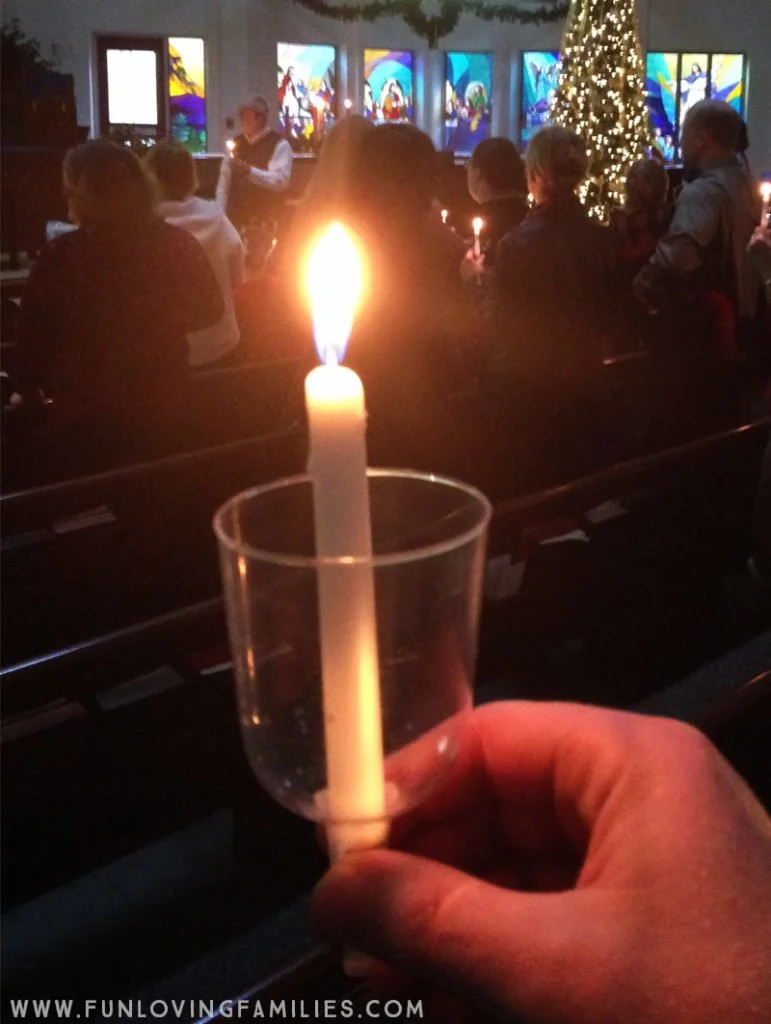 Bake Cookies for Santa
We love making classic sugar cookies with icing for Santa. It's easy and there's nothing the kids love better than piling on heaps of sprinkles to decorate for Santa Claus.
All-day Pajama day with Games, Treats, and Crafts
Some families go all in on Christmas Eve every year for a fun-filled day of playing games, building puzzles, baking cookies and cakes, and making Christmas crafts of all sorts. All while wearing their matching Christmas pajamas, of course!
Ornament Exchange
I love this lovely and meaningful Christmas Eve tradition that I picked up from another family. They exchange new ornaments each year to represent their favorite memory of that year with each other.
Bake a Cake
On Christmas Eve, bake a birthday cake for Jesus.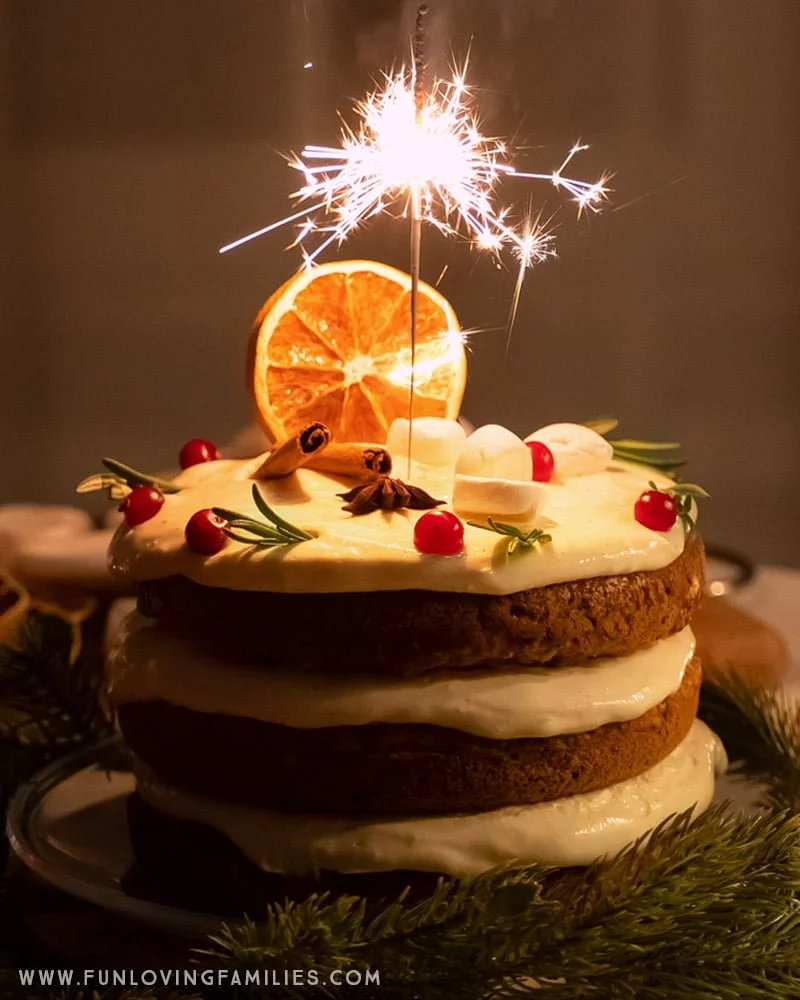 This is one of my favorite Christmas Eve traditions that I inherited from my family.
We would make just a simple cake that was frosted, and then on Christmas day we'd light candles and sing Happy Birthday to Jesus. I think it was an absolutely genius way to reinforce to the kids that we're celebrating a birthday and that's what really makes the day special.
You an follow this Birthday Cake for Jesus recipe that is loaded with symbolism.
Track Santa with Norad
Don't stay up too late on Christmas Eve! You can track Santa with the Official NORAD Santa tracker to make sure the kids are headed off to bed before the big guy arrives!
Visit a Living Nativity
Christmas Eve is the perfect time to find a living Nativity scene near you. When you go, you'll see a live depiction of the birth of Jesus, complete with full-sized manger and real farm animals. (Live Nativities might be canceled this year, or may be drive through only).
Have a Christmas Song Karaoke Night
Break out the Karaoke machine (and maybe the earplugs, hehe) and invite your family to join in on a seriously fun Christmas song singalong. I guarantee this will be one of the Christmas Eve traditions that will be around for generations and will create memories to last a lifetime.
Host an Ugly Sweater Contest/Fashion Show
Who has the ugliest sweater? This is a fun game you can do every year, and is a great option for families with older kids. If your group is too small for a contest to make sense, or if you'd rather avoid competitiveness on Christmas Eve, just make it a fashion show!
On December 1st, make sure everyone knows about the contest so there's plenty of time to plan. You decide if you want everyone to DIY their sweaters, stick with a price range (thrift store only?) or any other parameters you want. Then, on Christmas Eve, everyone shows off their sweaters to see who truly has the ugliest Christmas sweater of all!
Here are some fun DIY Ugly Christmas Sweater ideas you can check out for inspiration.
A Christmas Eve Tradition for Your Family
There are so many great ideas for fun and meaningful activities to do on Christmas Eve. I'm sure this list only scratched the surface!
But here's the thing.
When it comes to creating a new tradition, sometimes the best ideas are the ones that happen spontaneously.
For example, we never planned to have looking at Christmas lights become one of our traditions. When the kids were small, we just thought it would be a fun way to end the night.
Then, the following Christmas, the kids remembered and said, "Are we going to do that thing that we did last year where we drove around in our pajamas with apple cider and cookies and looked at Christmas lights?". So we said sure.
And from that point on, it was the thing we do on Christmas Eve, and it's such a special and fun time for all of us.
So, the most important thing is to just be open to trying new activities with your family. You never know what's going to stick and become your new Christmas Eve tradition!
Similar Posts: