If you get excited about making new traditions with your family, you'll love reading about the fun Easter traditions we're sharing today. Whether your Easter celebration is rooted in your faith, or just a fun day for the Easter Bunny, I know you'll find something new to introduce to your family.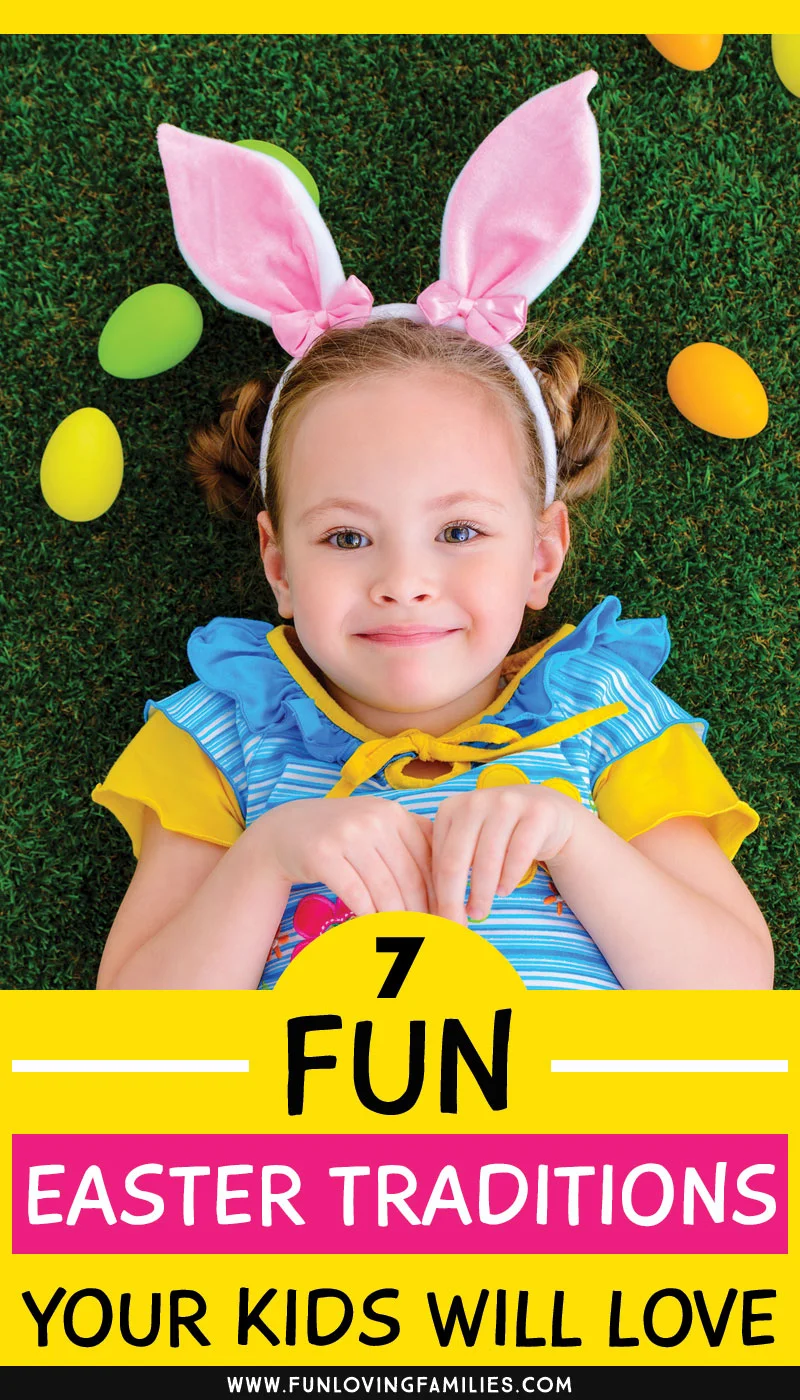 Celebrations are always so much for fun when the kids are excited. Easter, in particular, is a very big holiday for us, and we like to make it fun and meaningful at the same time.
I'm always on the hunt for new traditions. They don't always stick, but it's fun to try new things. And, when they do stick, your kids will remember them for the rest of their lives. In fact, you probably still have some traditions from your childhood that you couldn't wait to share with your own family.
Start one of these fun Easter traditions, and plant some new seeds for kids to continue with their kids one day.
Related Posts You'll Like: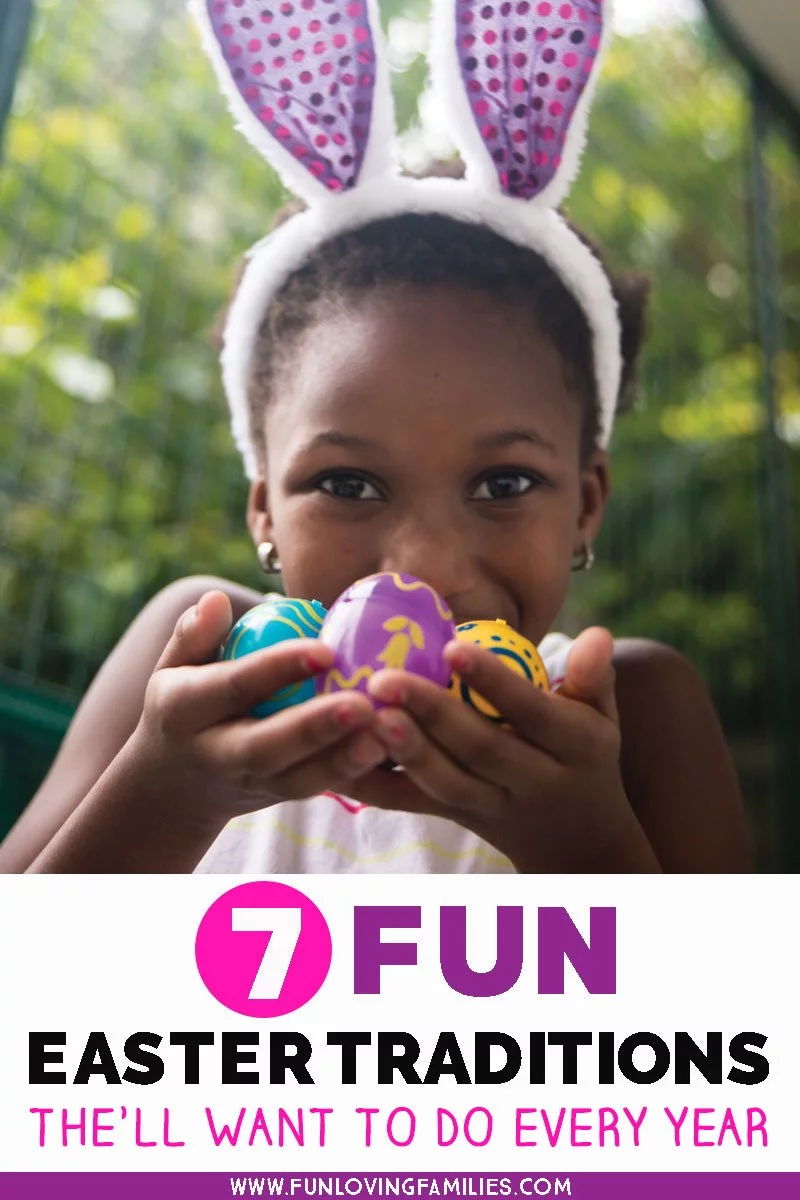 (This post contains affiliate links which means I may earn a small commission if you click a link and make a purchase. As an Amazon Associate I earn from qualifying purchases.)
Fun Easter Traditions to Start This Year
1. Have A Special Easter Egg Hunt
You probably already have some version of an Easter egg hunt that you do every year, but why not make it even more memorable. Use plastic eggs that you can hide a special treasure in, depending on what works for your family. Use these ideas as a start:
Have slips of paper with parts of the Easter story written on them. The kids have to find all of them to complete the story then they get to have a special Easter treat.
Write special fortunes and hide them inside each egg.
Put a little bit of money in each egg, and hide a larger denomination in just one egg. Just make sure you remember where all of the eggs are so you don't end up losing money.
2. Make Resurrection Rolls
We have been doing this with our girls since they were toddlers and it's something they look forward to every year. It's a really simple and delicious way to tell the story of Jesus's resurrection in a way that's actually meaningful to the kids. Here's how you make them:
We make them Saturday night (before Easter), but you could also do it Sunday morning
Make sure you have your Bible with you to read from directly.
Use a can of crescent rolls and have them already flattened out on a baking pan
Have a small bowl of melted butter, a small bowl of cinnamon sugar, and some marshmallows (normal, not the little ones) at the table
Explain that the Marshmallow represents Jesus's body, the butter and cinnamon represent the oil and spices he was anointed in before burial, and the crescent roll represents the tomb.
Allow your kids, helping the smaller ones, to do the dipping of the marshmallows and the spices.
Then, wrap your crescent roll so that the tomb is sealed.
Bake as usual, allow to cool.
Read your Bible during this time unless you were reading as you went along.
When you open the roll, the kids will see that the "body" is gone from the "tomb."
They taste delicious.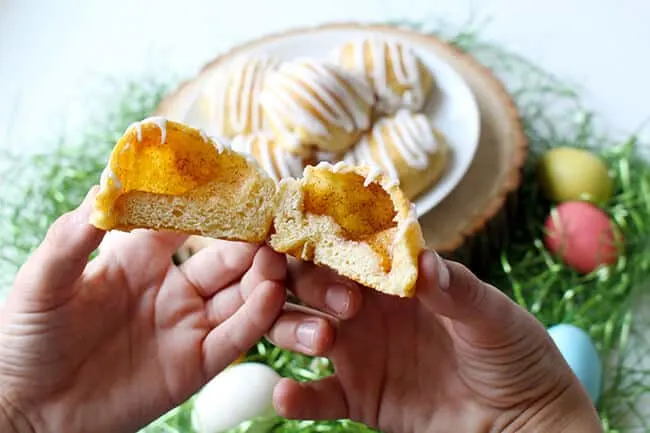 These are from Sandy Toes and Popsicles.
3. Go to a Sunrise Service
If your kids are early risers, you can make a tradition of going to a sunrise service near you. The music, the sun coming up all around you, the message. You will be uplifted, and your kids will too. The may not recognize what it is, but they'll know it's something special.
4. Watch the Same Easter Movie Every Year
I had a friend many years ago who told me that every year, on Good Friday, she and her family watch Jesus Christ Super Star. At the time, I thought it was hilarious. But, now that my kids are older I could definitely see us making this an Easter tradition. There are a few other Easter movies to check out:
5. Paint Wooden Keepsake Eggs
We started this tradition when the kids were young, so our first eggs look like the pretty standard toddler and preschool art. Lots of color and very abstract. 🙂 But I always knew it would be fun to see how their egg designs changed every year as they got older.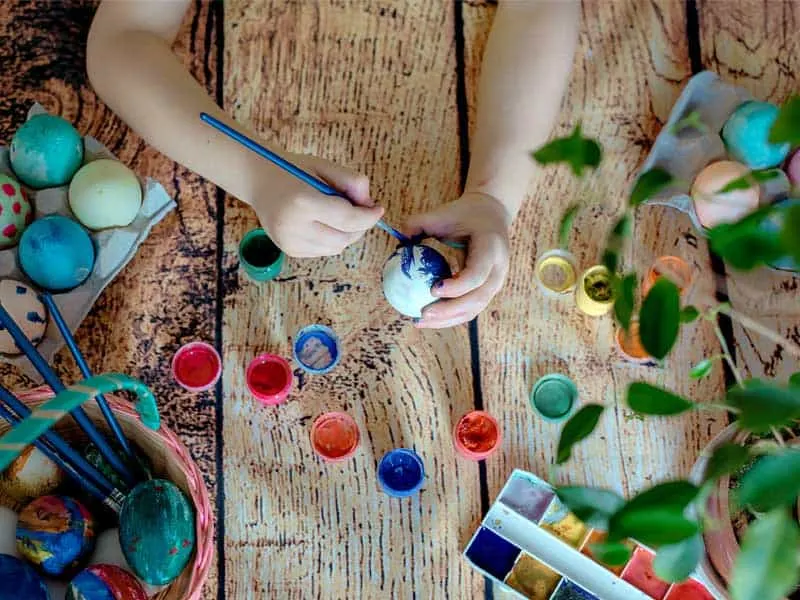 The beauty of using wooden eggs, of course, is that they will last forever. I recommend sealing them to keep their paint looking just as it did when they were first painted. I also love the idea of making an egg wreath using all of their painted eggs when they are older.
You'll need:
6. Decorate an Easter Tree
I had never seen an Easter tree until a neighbor showed me hers a few years ago. It was so beautiful, with branches collected from outside and placed in a vase. I think she painted the branches white and then she hung plastic eggs and other decorations from the branches. Within the eggs, she had hidden little toys and money inside the eggs on the tree for her grandkids to open on Easter.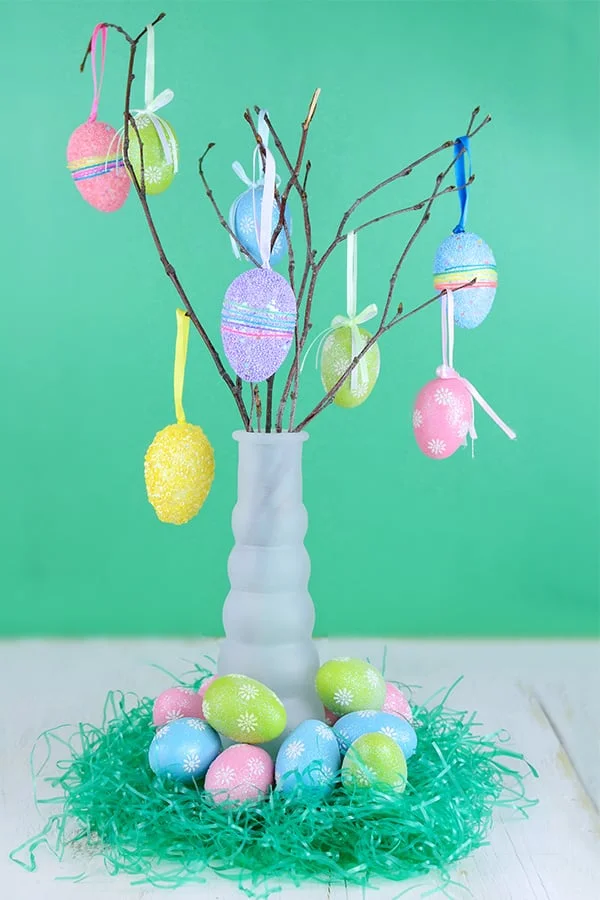 7. Make a Special Treat for the Easter Bunny
My kids actually started this tradition for our family. Of course, it totally makes sense that if we leave cookies and milk out for Santa that we should leave a special treat out for the bunny. So, what does an Easter bunny like to eat? Ours likes carrot cookies, with a side of baby carrots, and a glass of carrot juice. See Cooking Classy for a carrot cookie recipe that would be perfect for this.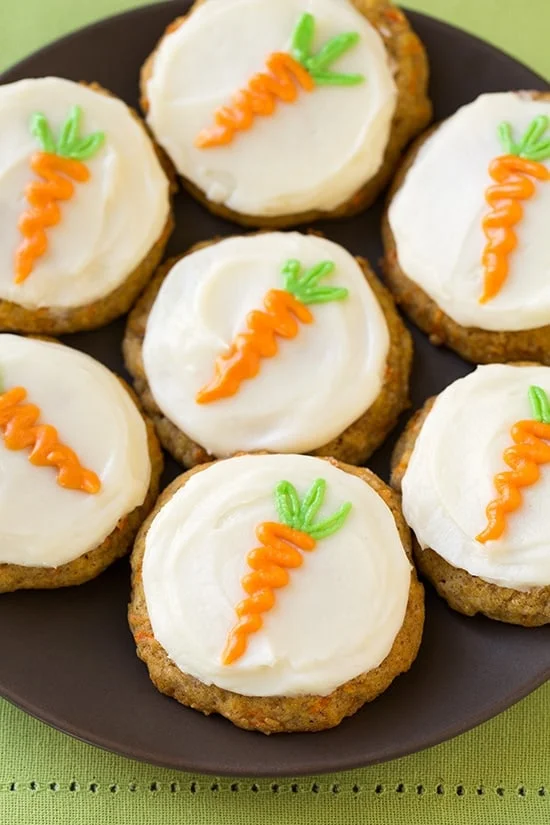 More Fun Easter Traditions?
These are some of our favorite fun Easter traditions, but I'd love hear about others that are new to me. What special things do you do with your family for Easter? What are the things your kids look forward to the most?
I'd love it if you'd share with me in the comments any ideas your have!
Related Posts to Read Next:
Pin this image to share and save for later: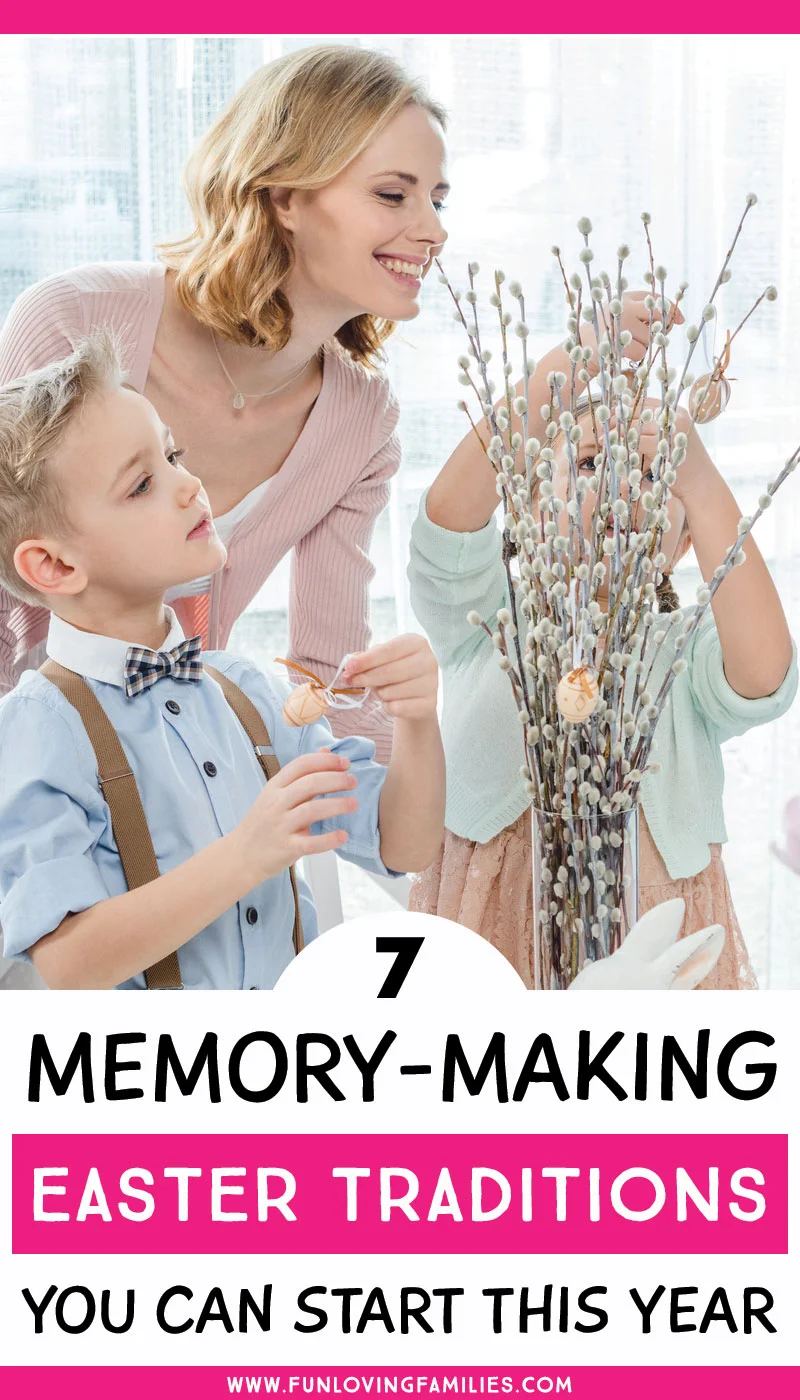 Similar Posts: