Make these adorable Easter bunny cookies that look like they're carrying Easter eggs. All you need is your favorite sugar cookie recipe, Jordan almonds, and a cookie cutter to make your own bunny hug cookies.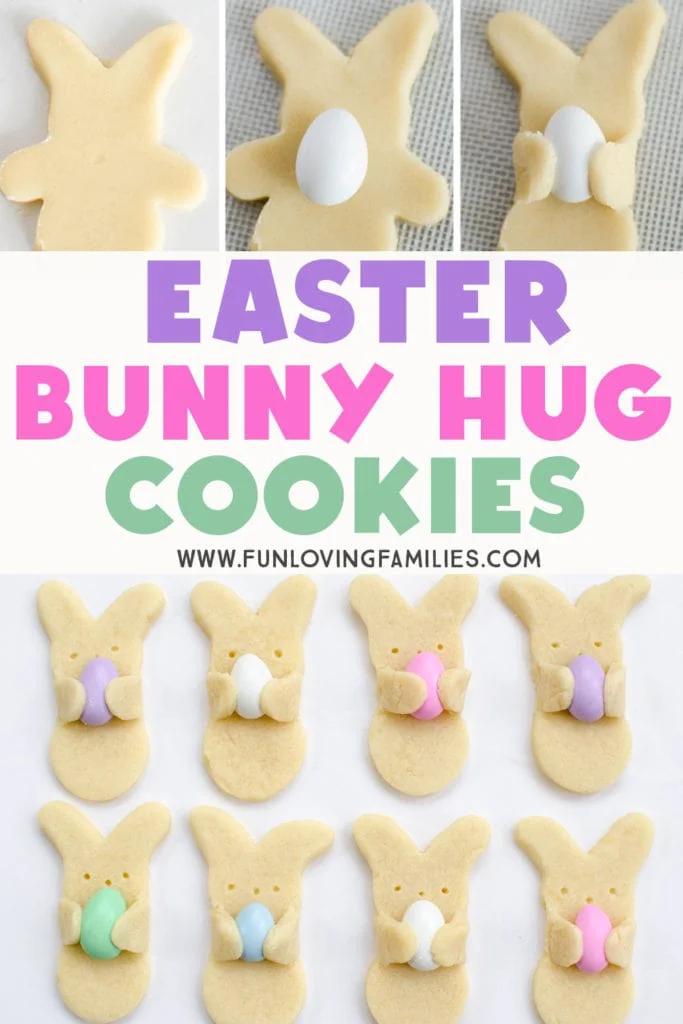 Hello friends! Today I'm back with a cute treat for Easter. I've had these little bunnies in my mind for a few months now and I'm so glad I finally had a chance to make them and share them with you.
The main feature of these Easter bunny cookies is the little Easter "egg" that they carry. The egg is actually a Jordan almond, which I've always loved. They are a weakness of mine actually. In fact, when I first bought them for these cookies, I didn't even make it out to my car when leaving the store before getting the package open and having a couple. Then, I went through two packs before I finally got around to making the cookies that I bought them for to begin with!
(This post contains affiliate links which means I may earn a small commission if you click a link and make a purchase. As an Amazon Associate I earn from qualifying purchases.)
Read These Next for More Easter Ideas:

But now, here we are. And we have adorable, Easter-egg-carrying bunny cookies.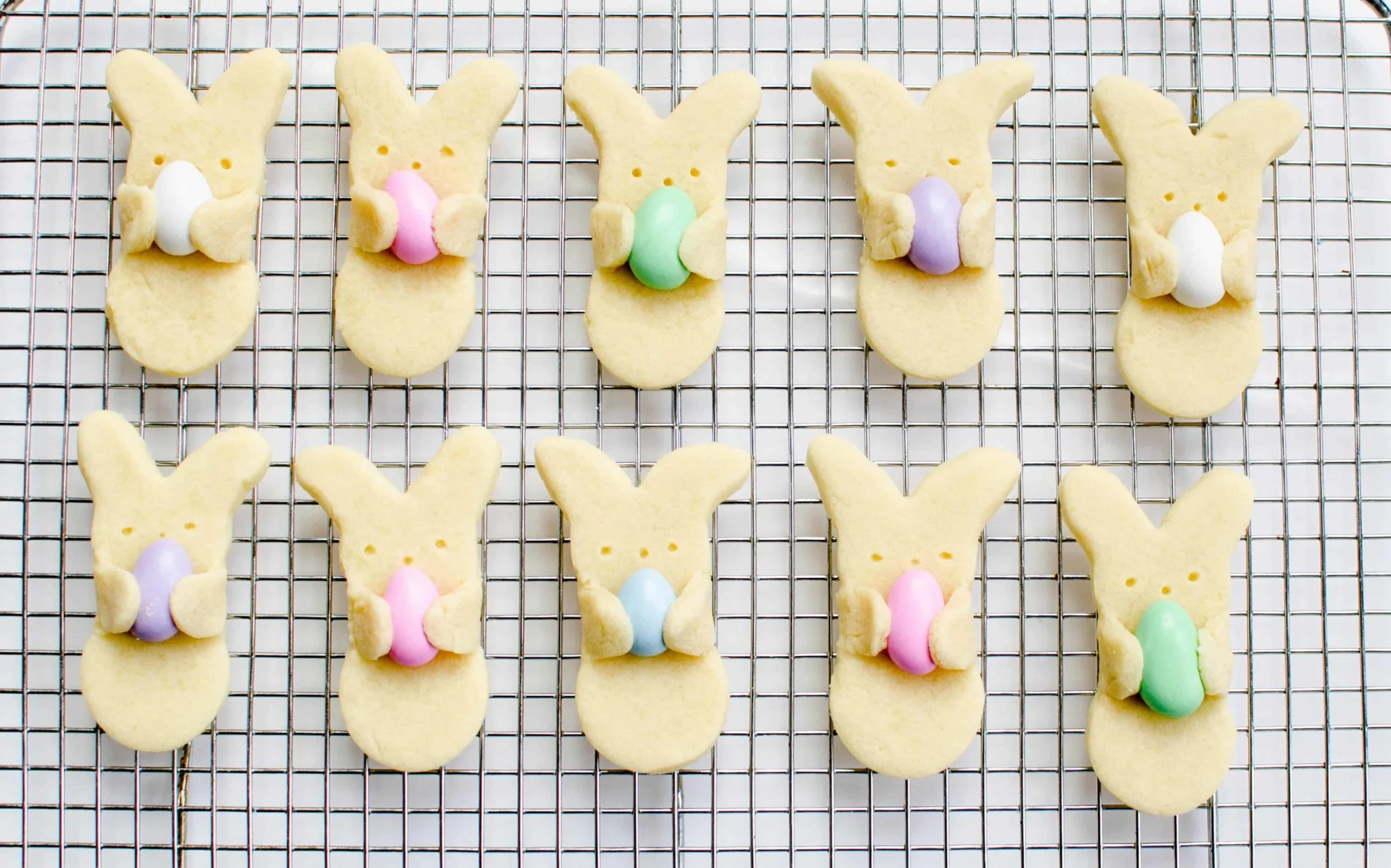 How to Make the Easter Bunny Cookies
(Updated to add: The key to making these little bunny cookies come out right is using a sugar cookie recipe that will hold its shape. I have linked to the recipe I used in the post below.)
So, I'll admit I wasn't even sure if these cookies were going to work at first. Would the Jordan almonds melt in the oven? Would the little bunny hands stay holding the "eggs"?
It turns out, everything worked perfectly with hardly any problems at all. A few of the almonds cracked while baking, but it was a very small number. And occasionally, a little bunny arm would pop up, but I found that there were a few tricks to help keep everything in place.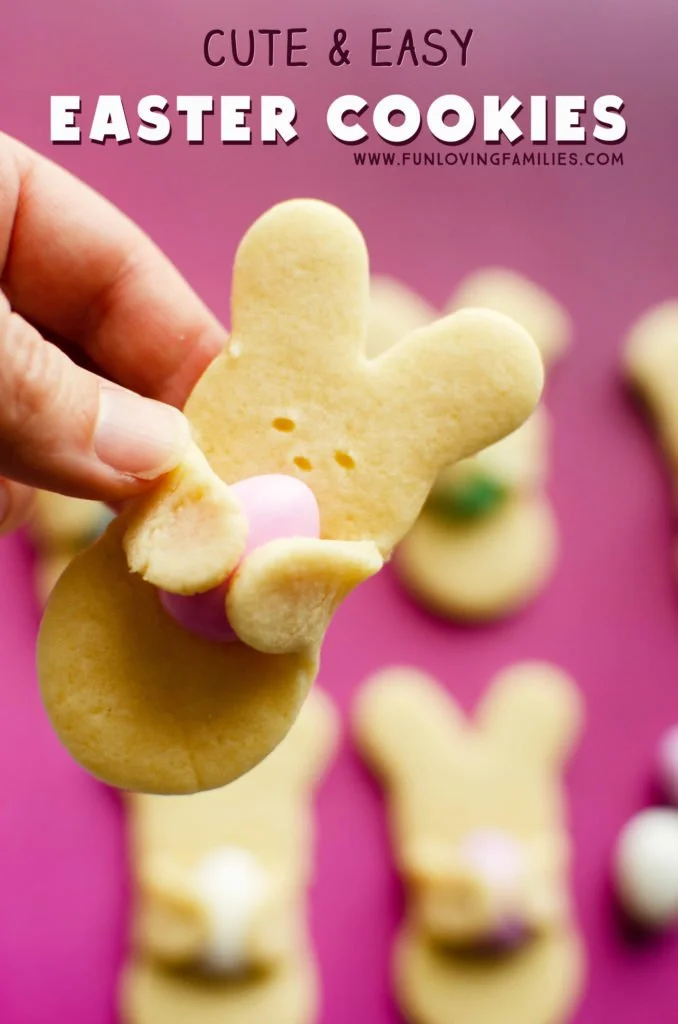 Here's what you'll need to make your own Easter bunny cookies:
3-inch Gingerbread man cookie cutter (like this one) **
Toothpicks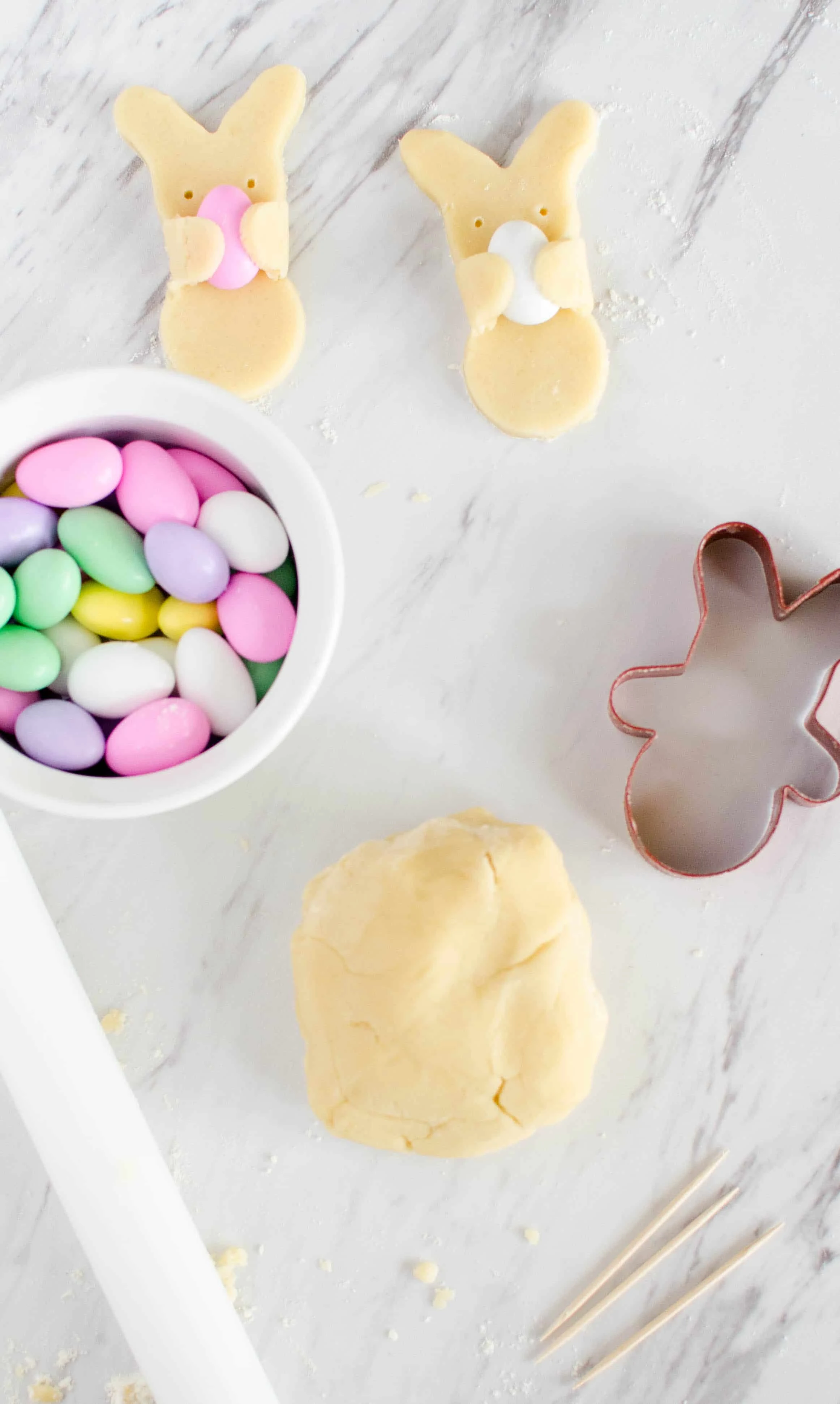 *This is the sugar cookie recipe I used because it is specifically for cut-out cookies. Overall, I loved the flavor and the cookies definitely held their shape. But, the dough became more crumbly the more I worked with it. And, after baking, some of the cookies were more fragile than I would have liked and fell apart pretty easily.
** I couldn't find a bunny cookie cutter that was shaped right for this project, so I made do with what I had – a gingerbread man cookie cutter. The shape was a pretty good match for a bunny, plus it already had the little arms for holding the eggs…yas!
Getting Started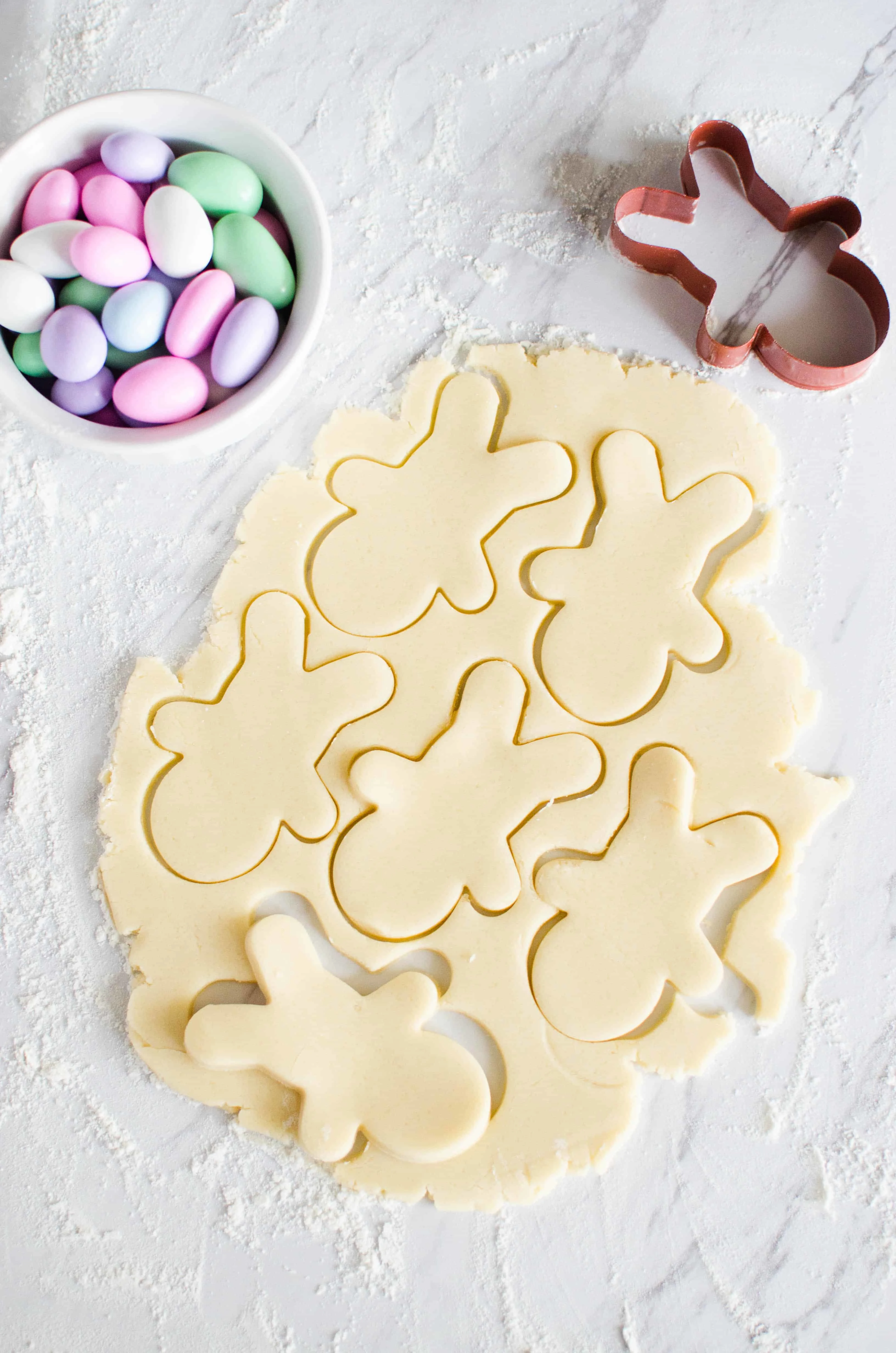 Roll your dough to about 1/8 to 1/4 inch thick. If it's too thin it'll fall apart too easily. Make sure you have plenty of flour on your surface to prevent sticking. Use your cookie cutter to cut your bunny shapes out. Don't worry, they might not look like bunnies yet, but they will!
Once you have your shapes, pinch the legs so they aren't as round and look more like bunny ears.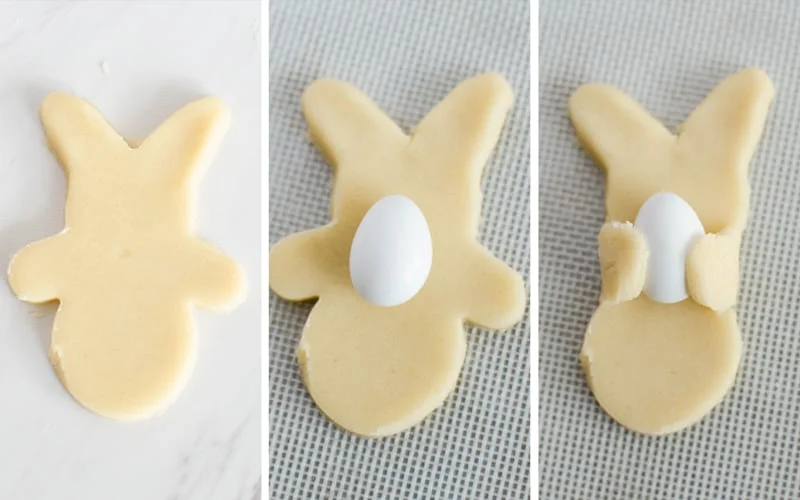 Go ahead and move the cookies to your cookie sheet before you start adding the Jordan almonds. Once your bunnies are in place on the cookie sheet, you can add the candy and gently fold the arms over. If you press the arms into the Jordan almonds a little so they stick they'll be less likely to pop off. You can also dab a tiny bit of water on the tips of the hands to make them stickier if they give you any problems.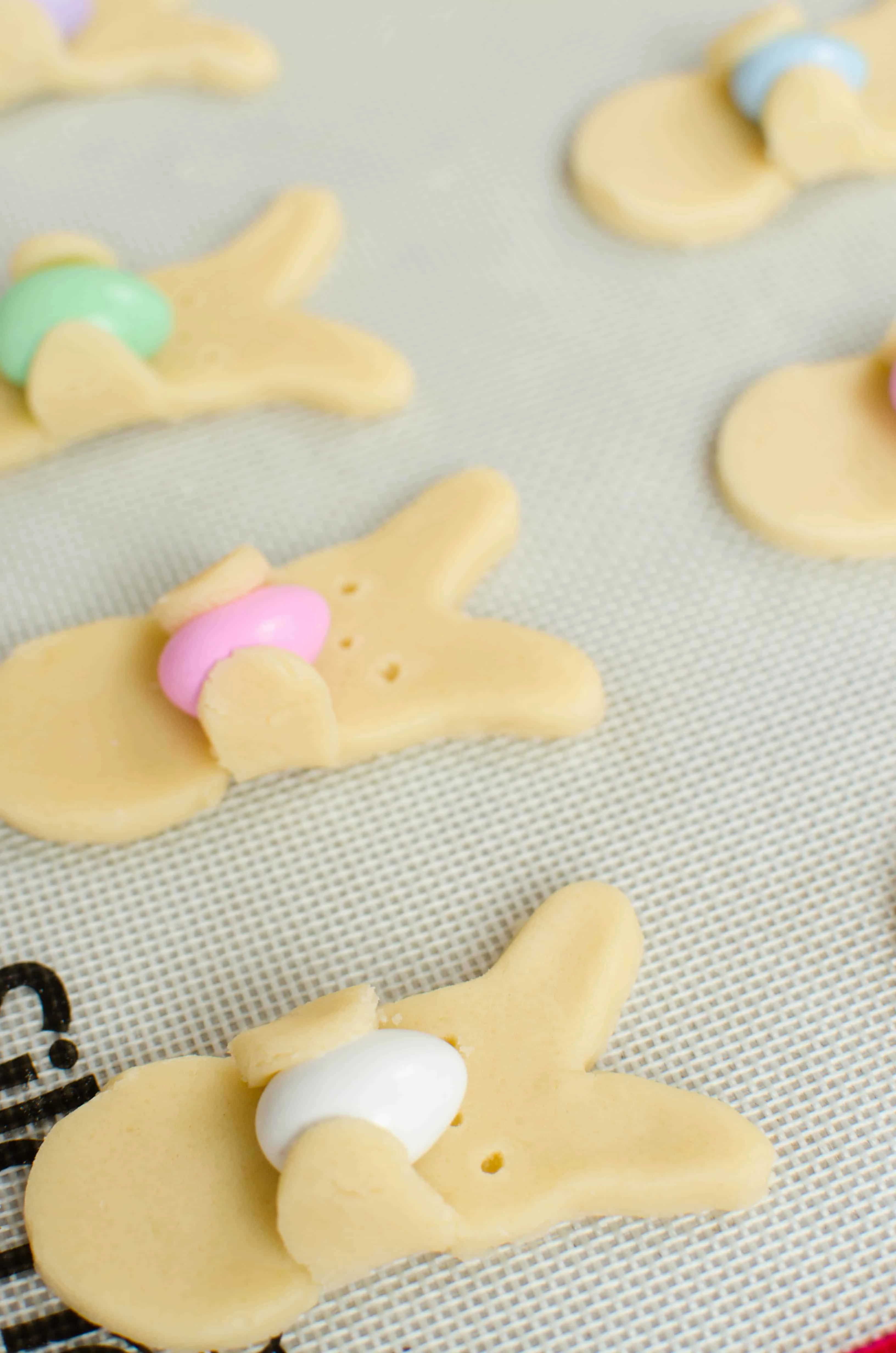 Use a toothpick to make a face on your bunnies, making sure to make the holes pretty deep.
Bake according to your cookie recipe. I baked these little guys for 6 minutes and it was perfect.
After making about 4 batches, I probably had 4 or 5 of the almonds crack during baking. I'm not sure why some cracked and some didn't, but since it was only a few I didn't worry about it too much.
If you take your cookies out of the oven and see that some of the bunny arms have come off of the eggs, go ahead and push them back while they're still warm. If you hold them onto the candy for a few seconds they should stick back with no problems.
Now, let your bunnies cool on the cookie sheet for a few minutes before transferring them to a plate or cooling rack. If you try to move them too soon you'll risk breaking them during transfer.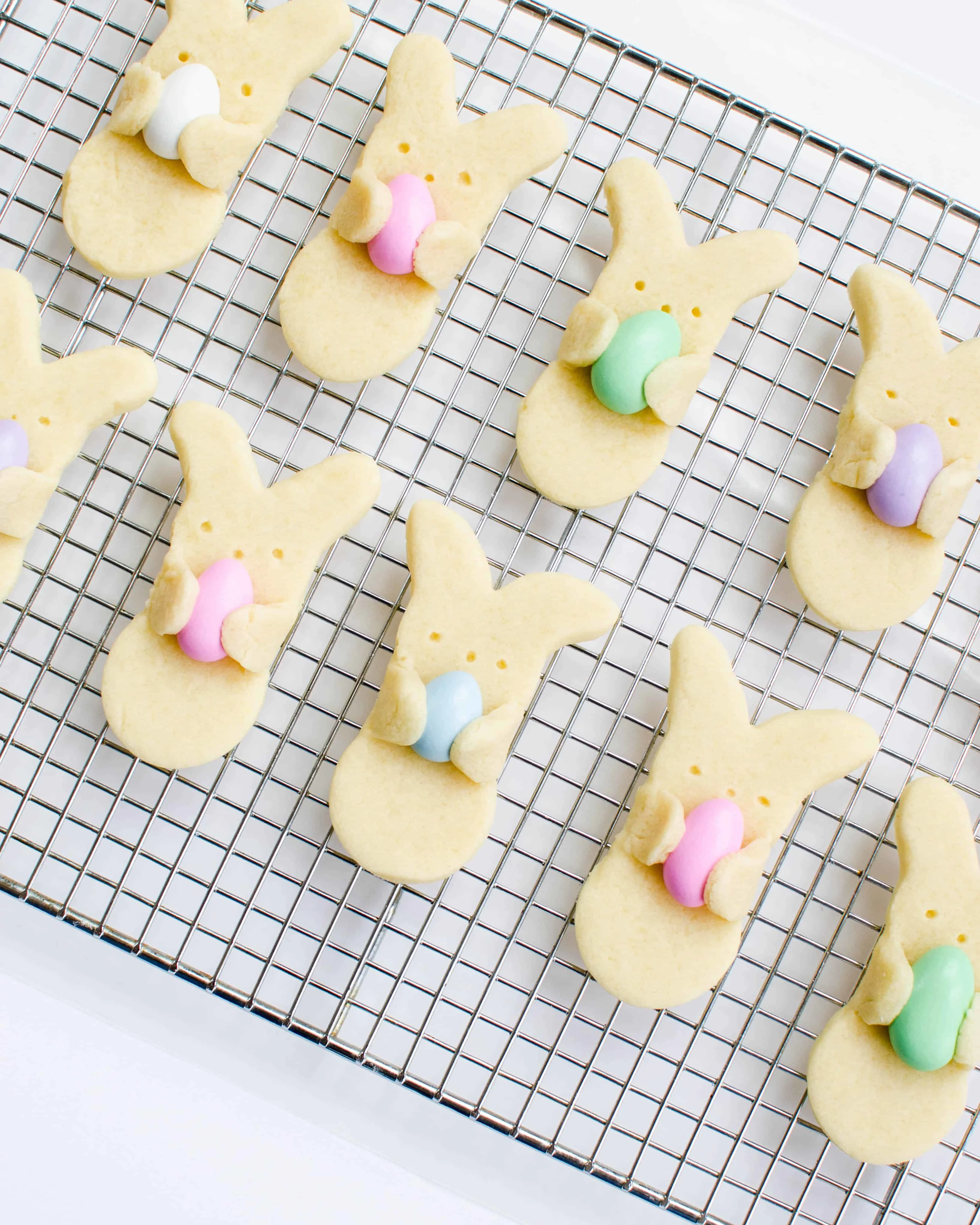 Eat them immediately, or store in an air-tight container and eat within a few days.
I'm still on the lookout for the perfect sugar cookie recipe to use with these Easter bunny cookies. If you make these with a different recipe and have good results, let me know which recipe you use in the comments so I can try it!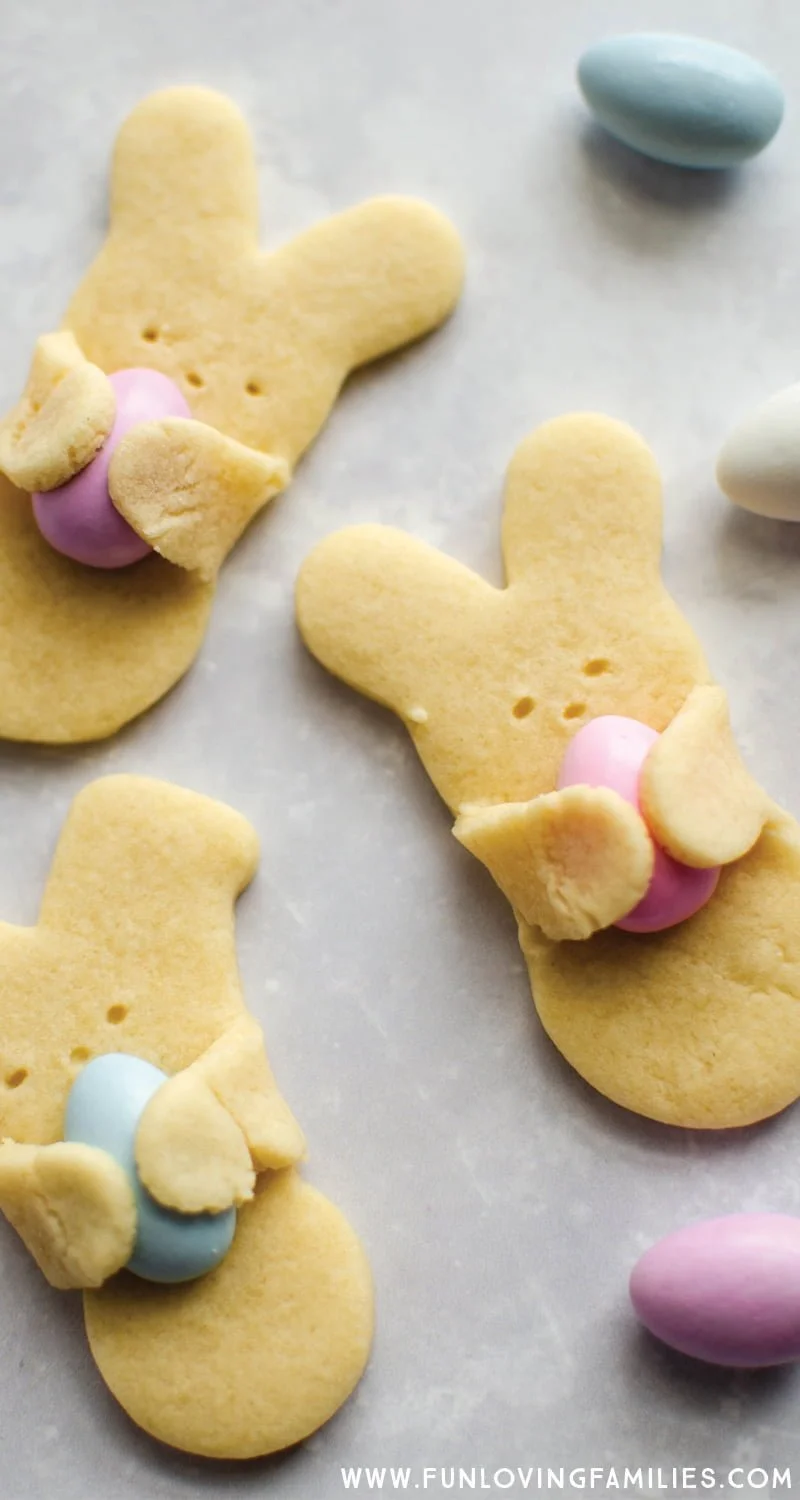 Don't forget to Pin this image to save this idea and share it with others!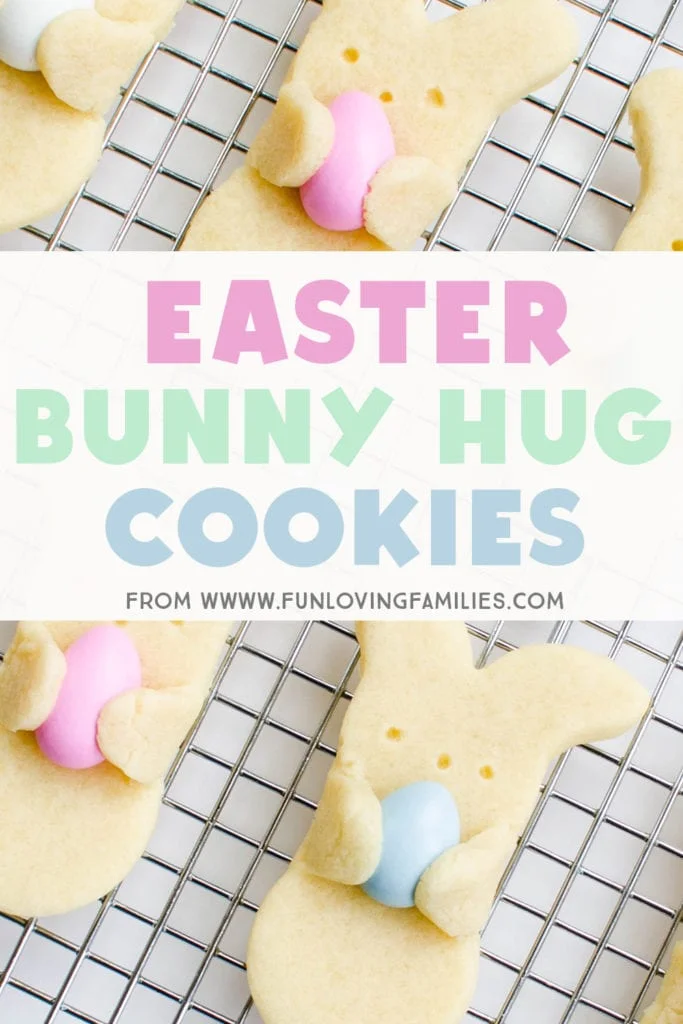 Similar Posts: