"The earth laughs in flowers."

Ralph Waldo Emerson
For such fragile things, it's amazing how flowers invoke such happiness and appreciation of beauty. Whether we see them arranged prettily in a florist's shop or growing wild and free in a quiet wood, they never fail to bring a little piece of joy in one's day.
For your next craft session, create these beautiful Perler bead flowers. They last forever and will always remind you of the real thing.
Flower Perler Bead Patterns
Let's start with some flower patterns – from easy to hard ones. Perler bead patterns are chock full of possibilities. You can prop them up on your table as is or level them up to create keychains, refrigerator magnets, or whatever you need around the house, in your office, or at school.
Basic Flower Pattern
Here is the easiest flower pattern for young children. Let your little one choose their favorite colors for their flowers.
Red Tulip
Our favorite crafter Krysanthe has put together 10 Perler bead patterns for spring. One of her designs is a pretty red tulip. If you want to make it sturdier, you can make the stem 2 or 3 beads wide so it can hold up better. Check out her website for more of her designs.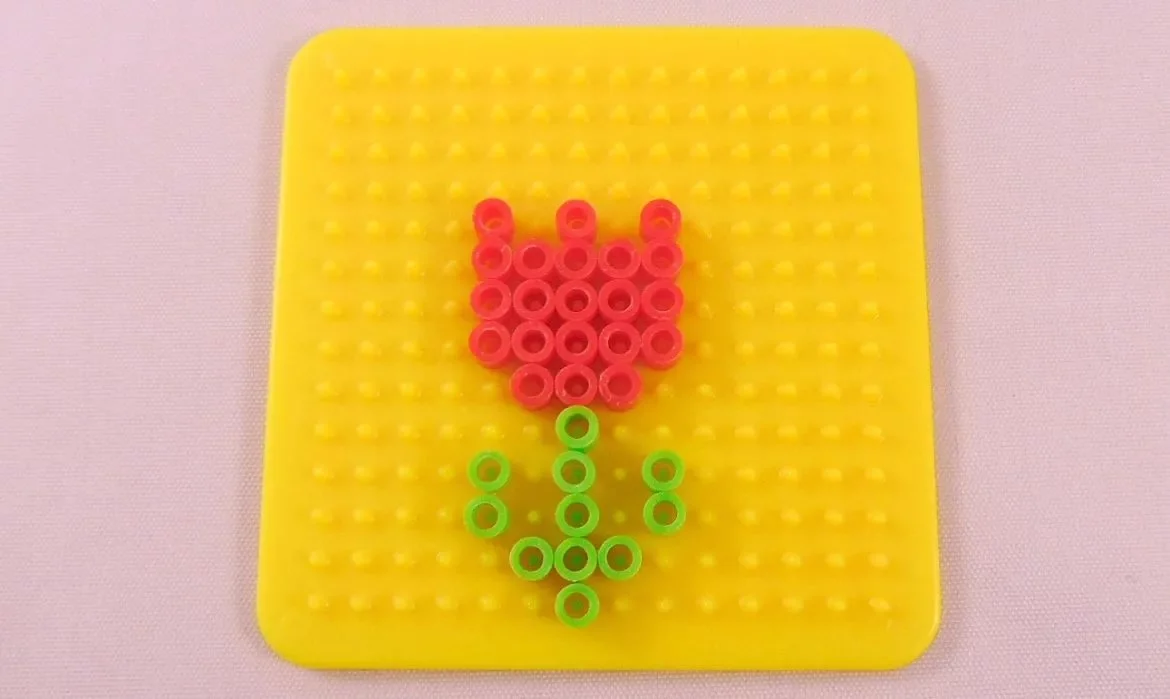 Small Flower Pot
If you are a plant mom, you will like this little flower pot. Change up the color of the flowers and pot according to your preference.
Lotus Flower
A lotus flower holds much significance in Asian cultures. Did you know? It symbolizes beauty and purity because of how it holds itself above mud and water.
Here is the pattern for this same exact design.
Lavender Flowers
To be perfectly honest, I wasn't sure what flowers these are but since I love lavender, I've decided they're lavender flowers. They do look like meadow sage, purple hyssop, or purple salvias. Whichever they are, I'm a sucker for this shade of blooms.
Sakura Flowers
Next, we have sakura flowers. Hanami is a Japanese tradition custom wherein people gather and watch cherry blossom trees. They have a quick blooming season so it's probably not surprising that cherry blossoms symbolize the transience of life. Immortalize the sakura with this pretty bead design.
Rainbow Rose
Isn't this multi-colored rose stunning? The rainbow rose has a rather sad story. It is created artificially and wilts even faster than its regular counterpart because of the dyes injected into it. Instead of buying a rainbow rose, let's just create some out of Perler beads and give those out to friends.
Takashi Murakami's Smiling Flower
Two of my daughters are huge BTS fans and one of the members – JHope – can usually be seen with this happy flower. I learned later on that it's called the Takashi Murakami flower after its creator. You've likely seen this flower before because it's gotten so popular that it often shows up in everyday fashion, art, and retail items.
Mario Fire Flower
A few weeks back, I put together a Mario Perler bead article. Here is a Fire flower from the same collection.
Perler Bead Flower Gardens
Let's take a look at some flower gardens made of Perler beads.
The Easiest and Prettiest Flower Garden
Here's your daily dose of adorable. Crafter Jessica of letsdosomethingcrafty shares photos of her daughter Cherry making her very own flower garden. The materials are easy to get and the whole project should be fun for little kids.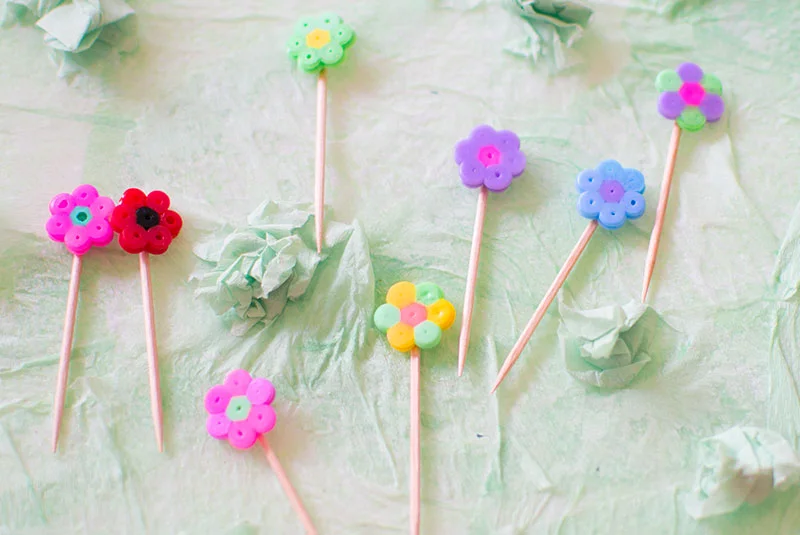 Happy Smiley Face Flowers
The official Perler bead site shared a lot of amazing flower patterns. If you want to make a garden of smiling flowers, just click on the link to get to the pdf page for the comprehensive instructions and pattern.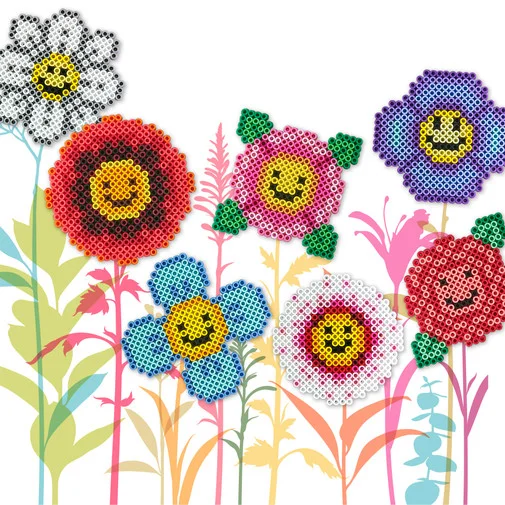 Bobbing Spring-y Flowers
I didn't think much of these designs when I first saw them on the Perler website until I realized they're springy flowers. I love bobble heads and find them very entertaining so I just had to include this on my list.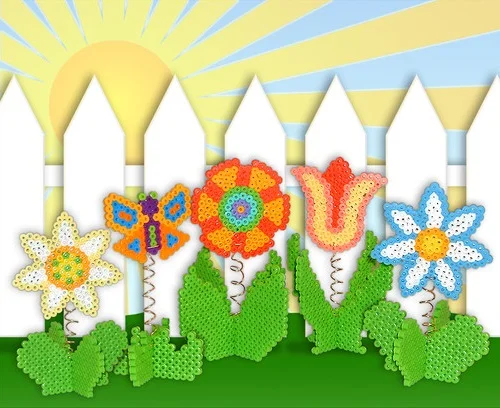 3D Flower Garden
This is a great way to make a 3D flower garden. Just make a base and then add on all your favorite flowers. The ladybugs are a nice touch, too.
Useful Flower Perler Bead Creations
If your crafting skills are up to par, start making Perler bead projects that you can wear and show off. Flower patterns are perfect for earrings and bracelets. You can also make pretty coasters or wreaths. My favorite from the below has to be the 3D flower with the pipe cleaner stem. It's just makes me feel very whimsical and nostalgic.
Easy Flower Earrings
These are so easy to make, however, you'll need some earring posts and backs as well as some good adhesive. You can buy these in a craft store or online.
Duckie Dangling Earrings
Two of my daughter's favorite things – yellow flowers and duckies. Shhh… I'm making these to put in her stocking this Christmas.
Flower Wreath Earrings
If you want something that stands out more, check out this wreath design. The orange and blue green combo really makes the flowers pop out.
Purple and White Flower Choker
There's a lot of young ladies out there who are sentimental about the color purple. If purple is your favorite color, you'll want to make this pretty flower choker. If you don't fancy a choker, you can make it into a bracelet or a belt accessory instead.
Friendship Bracelet
Nothing quite says besties like friendship bracelets, and these flower ones by Lydia Purple look particularly fun and colorful. If you've never threaded a bracelet before, you might find it challenging but once you get the hang of it, it's a skill you can use for crafting. Crafter Lydia made a very comprehensive and easy-to-follow tutorial on how to weave beads into bracelets. Check it out here.
Flower Belt
Get a lot of compliments with this DIY flower belt. For sure, there aren't any belts sold in stores anywhere close to this one. And because it's in rainbow colors, you won't have difficulty matching it with your OOTD. Full disclaimer though. You might end up sitting on the flower beads so I'd recommend draping it creatively using your belt hoops so it doesn't get in the way.
Minecraft Flowers
Here's another crossover – Minecraft flowers. Aren't they so pretty? If your child loves to play the game, be sure to check out my Minecraft Perler bead article.
Spring Wreath
What a perfect way to welcome Spring. This Spring wreath by Crafter Sahana of vikalpah will look perfect on either your bedroom door or even the main door of your home.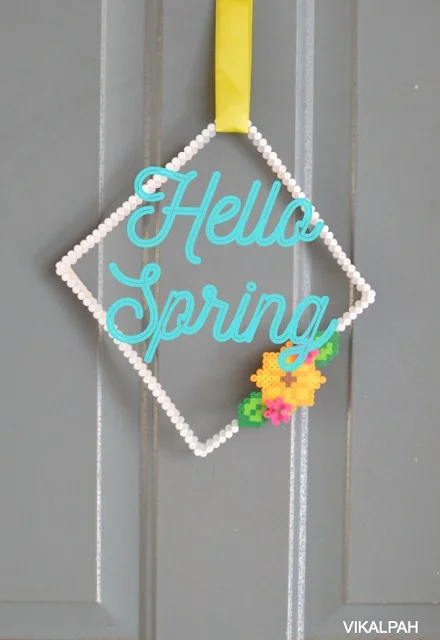 Vintage Floral Print Coasters
Celebrate Spring and Summer with these floral print coasters by Crafter Rebecca. The vintage vibe is icing on the cake.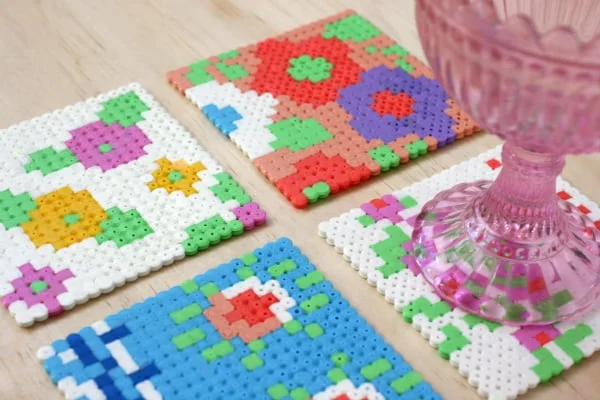 Flower Frames
Now here is a Perler bead project that is sure to be a conversation starter with guests in your home – flower frames made with Perler beads. Do take note that the crafter Kim of crafingcheerfully makes them with Perler bead caps. If you don't have the caps, just use the regular Perler beads. The finished product looks as fine. You're sure to have fun choosing which of your children's photos would look best with these frames.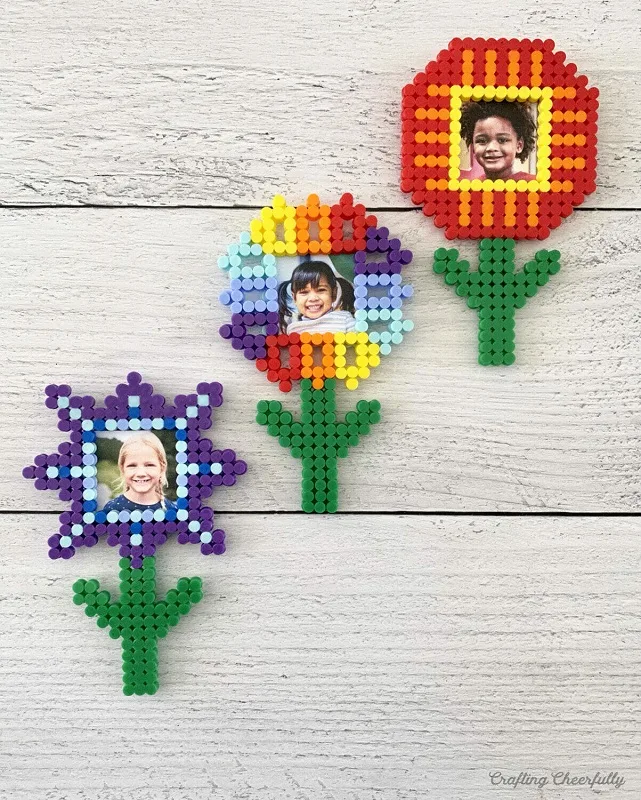 3D Flowers with Pipe Cleaner Stems
This is my personal favorite. It reminds me of all the pipe cleaner student projects I used to do decades ago. I also love how crafter Emer of vibesandscribes designed the flower itself using pale pink beads and a sparkly yellow pompom.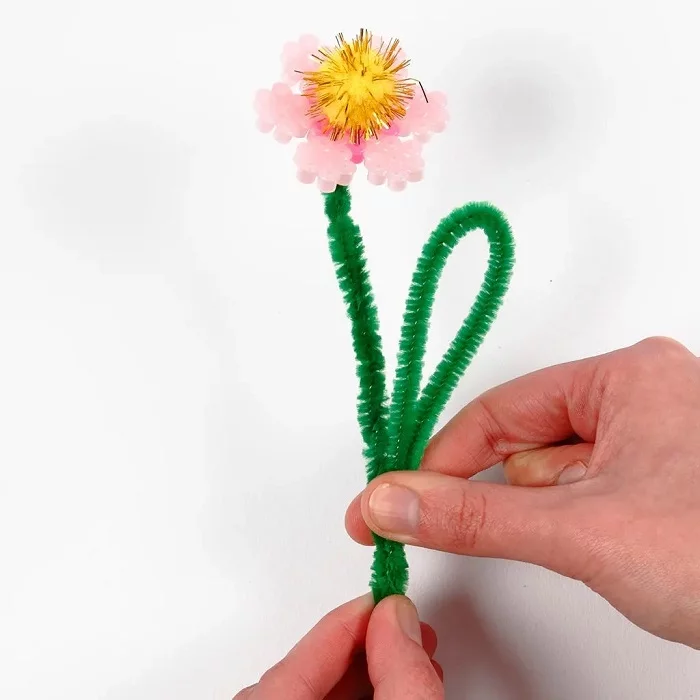 Perler Bead Pencil Holder
And finally, here's something for your child's desk or your own office table – a Perler bead pencil holder with flower patterns. It's very pretty and super useful, too!
If you enjoyed this post, be sure to share it with your family and friends!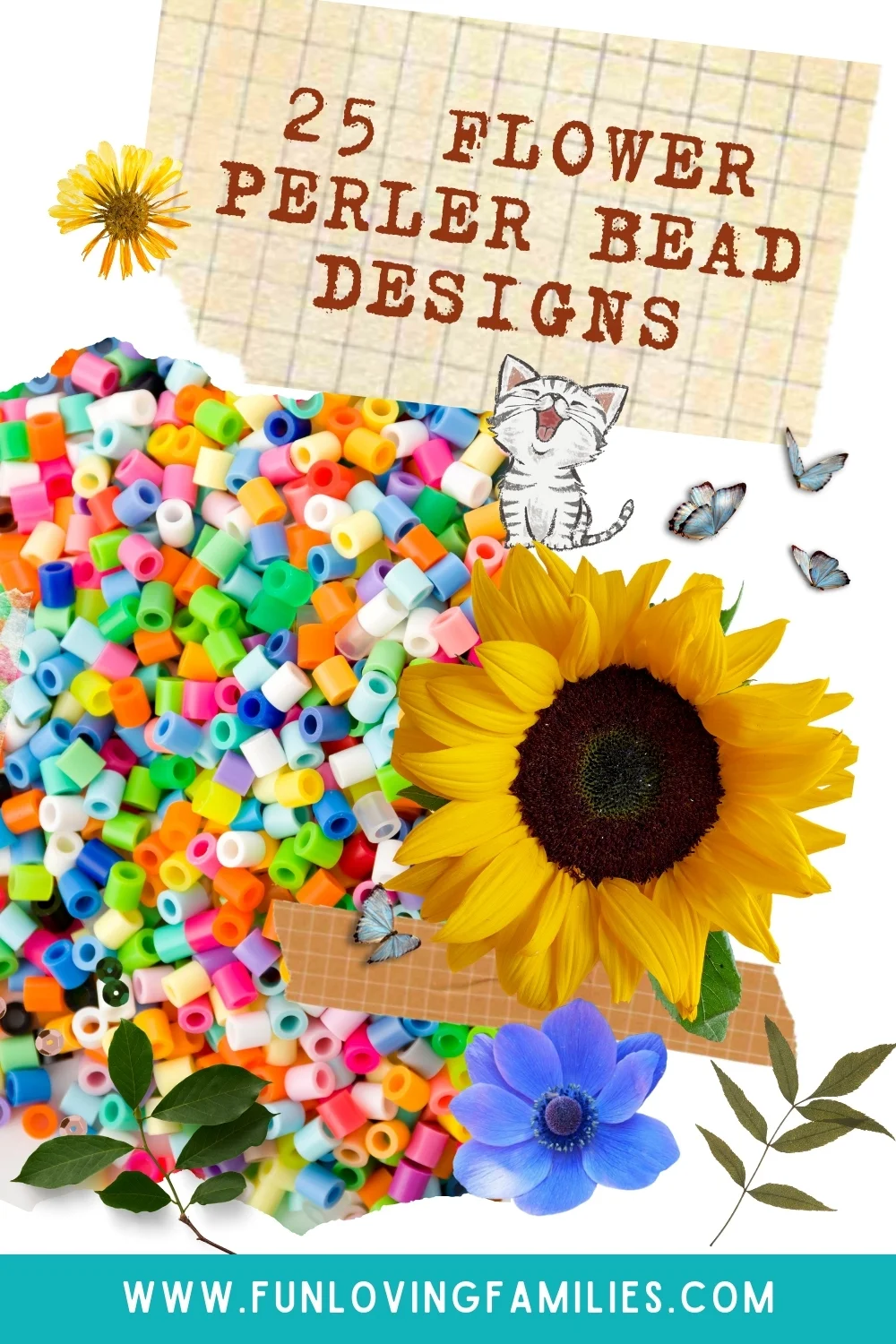 Similar Posts: