(Updated 3/7/2018)
Take a look at the gorgeous DIY Spring Wreath Ideas we've collected and create one to decorate your own home this Spring. From Modern Farmhouse style to whimsical birdhouse wreaths, to wreaths made entirely of paper, you're going to find one you can't wait to make.

DIY Spring Wreath Ideas with Artificial Flowers
(Disclaimer: This post contains affiliate links which allows me to earn fees on items purchased, at no additional cost to you.)
1. Farmhouse Style Spring Wreath
We love the modern farmhouse look and this farmhouse style spring wreath from The Craft Patch is just begging to be made. I love the contrast of the old rustic tire holder paired with the fresh bright flowers.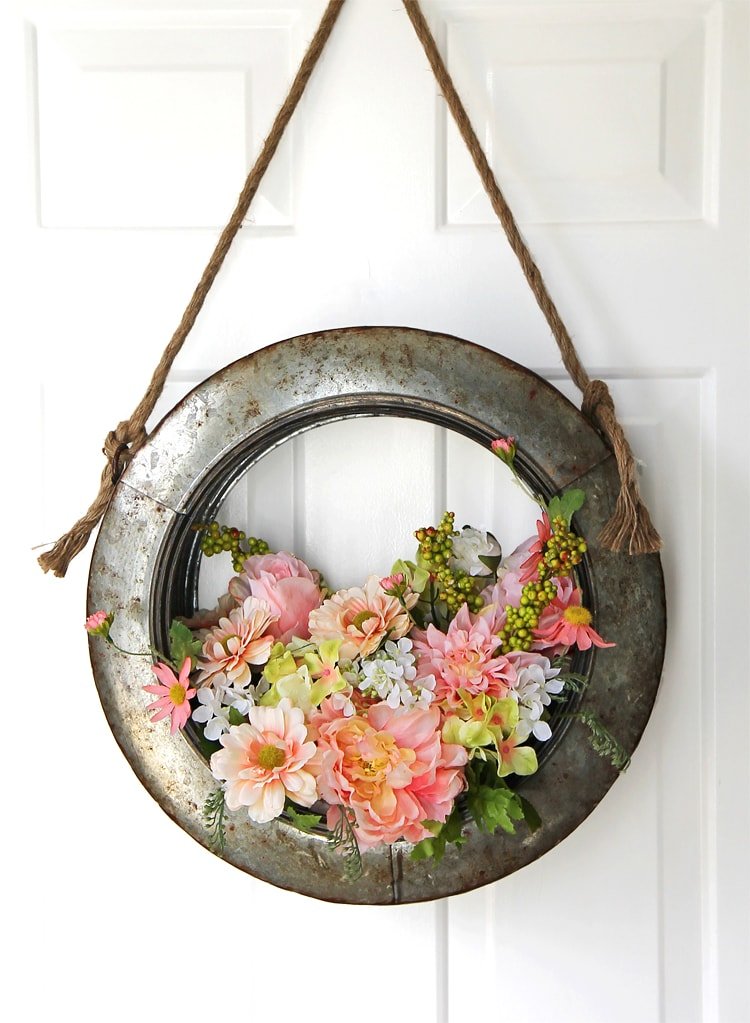 2. Faux Succulent Wreath
Succulents are still in and this succulent wreath looks amazing.  Check out the tutorial from The Navage Patch to see how simple it is to make using artificial succulent plants and deer moss.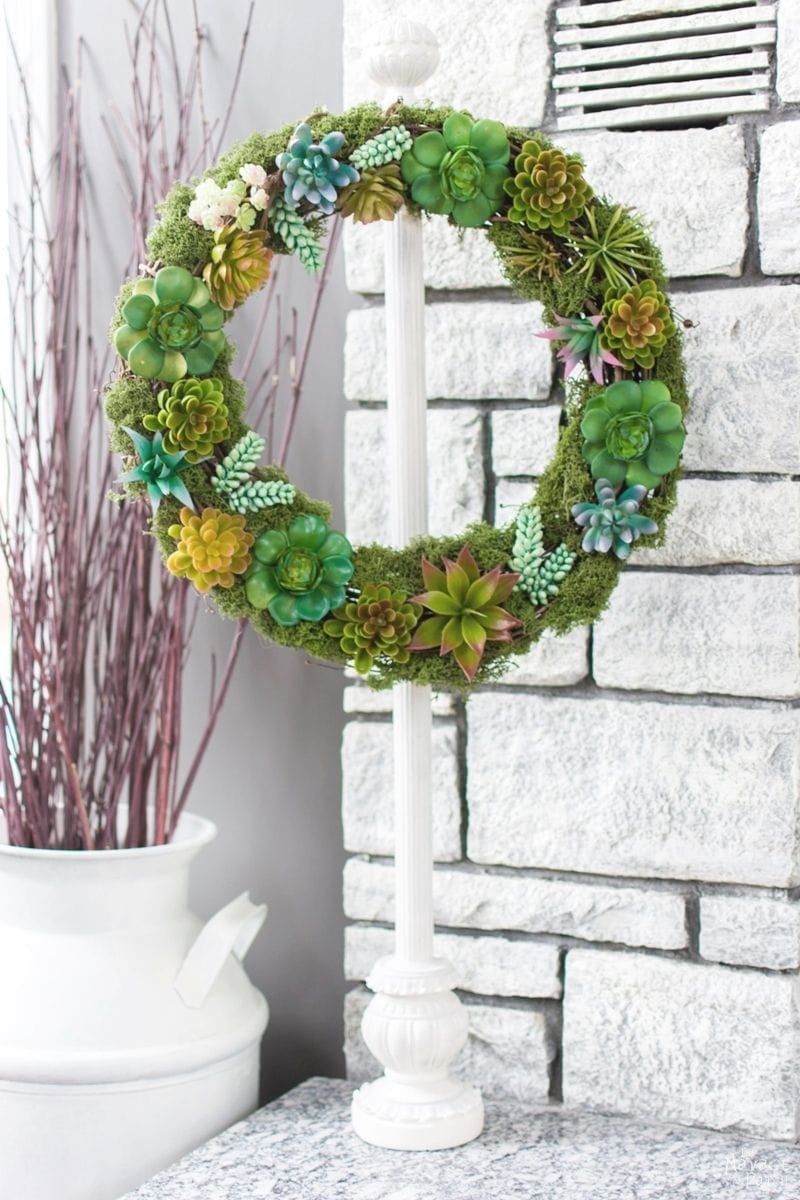 3. DIY Spring Tulip Wreath Tutorial
Make a beautiful bold statement with this striking tulip wreath from Life Love Larson.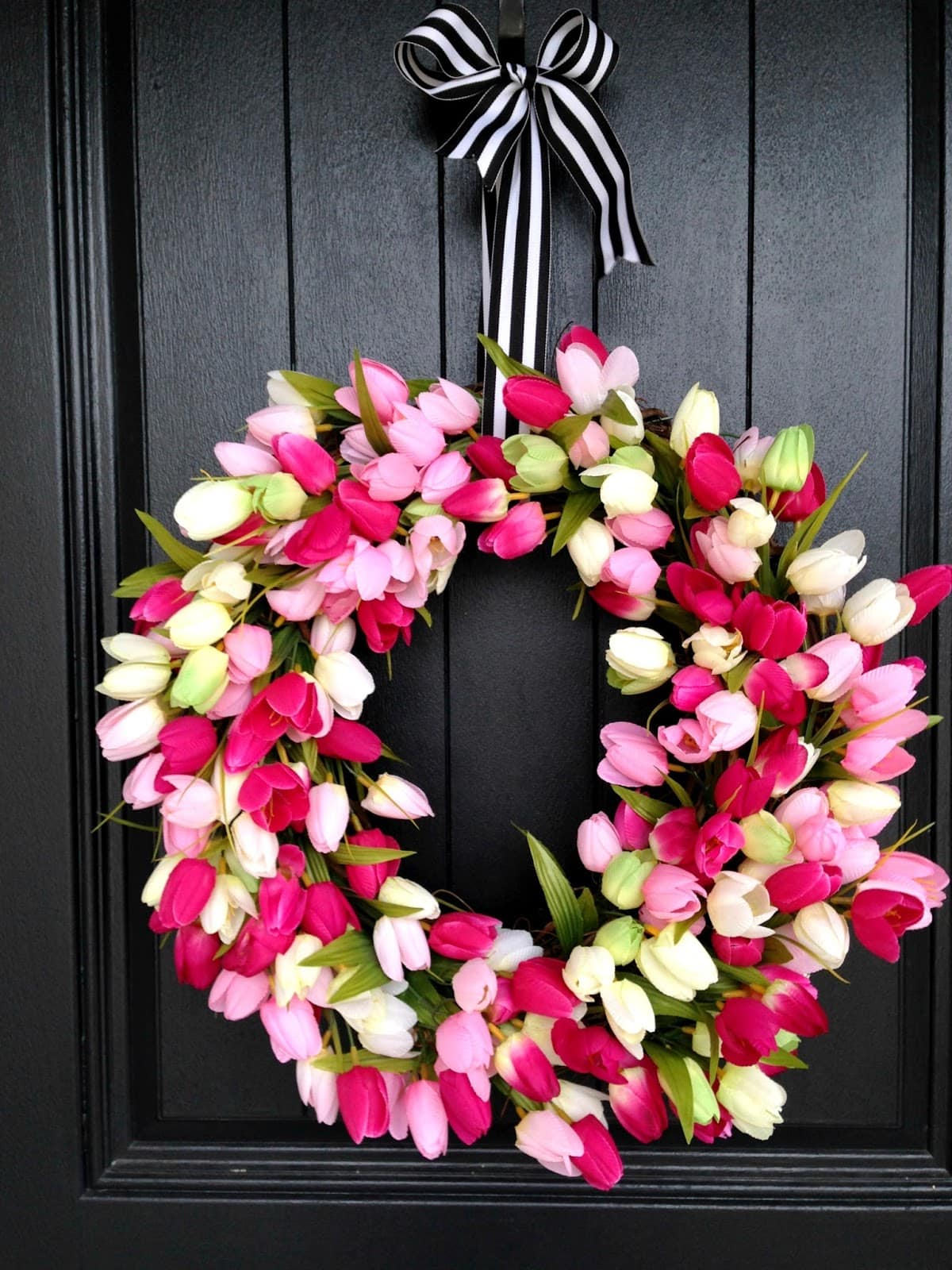 4. DIY Boxwood Spring Wreath Idea
Boxwood wreaths are beautiful year-round, but you can give yours an instant spring makeover by layering a smaller spring wreath atop a larger boxwood wreath, as Instagram user loved_by_lace did here:
DIY Spring Wreath Ideas Using Felt
5. DIY Felt Succulent Wreath
Check out Think Make Share blog for instructions and felt succulent templates for this gorgeous felt succulent and yearn wreath.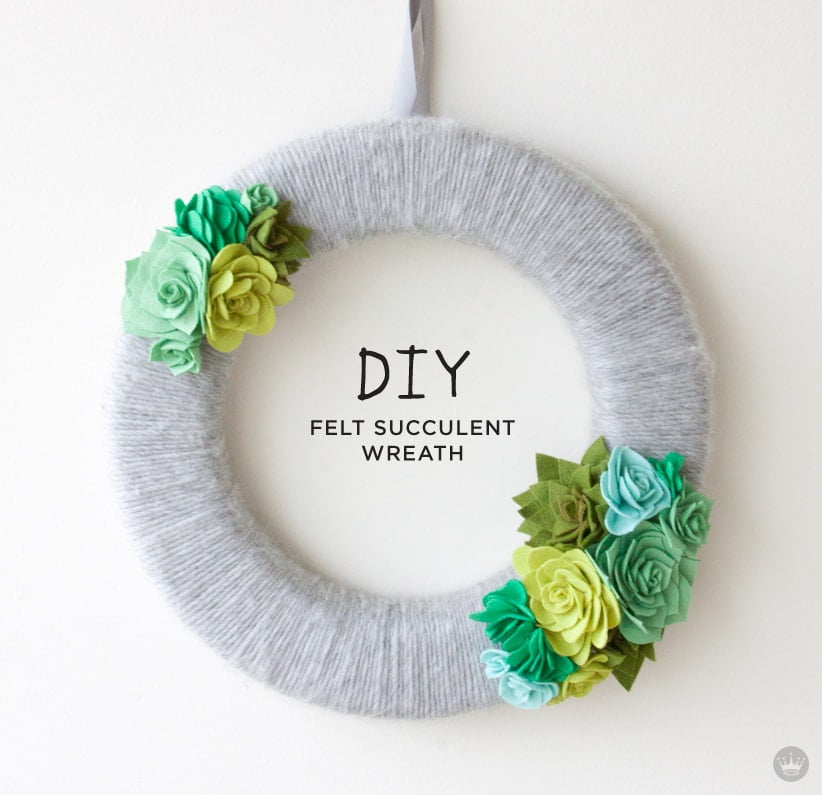 6. DIY Felt Flower Spring Wreath
Felt flowers in soft Spring colors, an embroidery hoop, and a hot glue gun are all you need to craft this lovely felt flower spring wreath from Craftiness is Not Optional.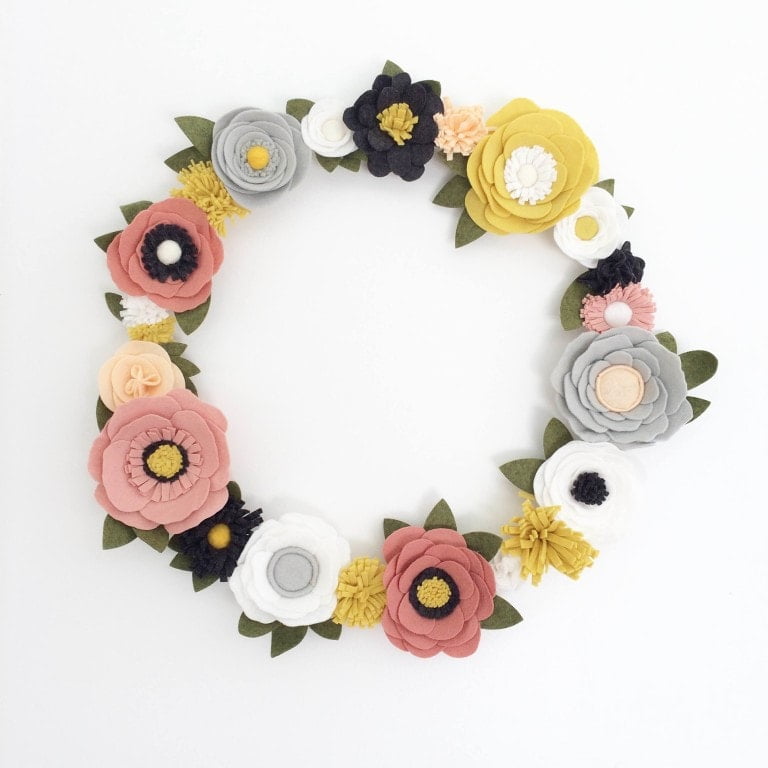 7. DIY Modern Spring Wreath with Felt Flowers
Felt flowers have a modern look when attached to a metal wreath frame. Check out the Oriental Trading blog for the details of this project (via Alice and Lois).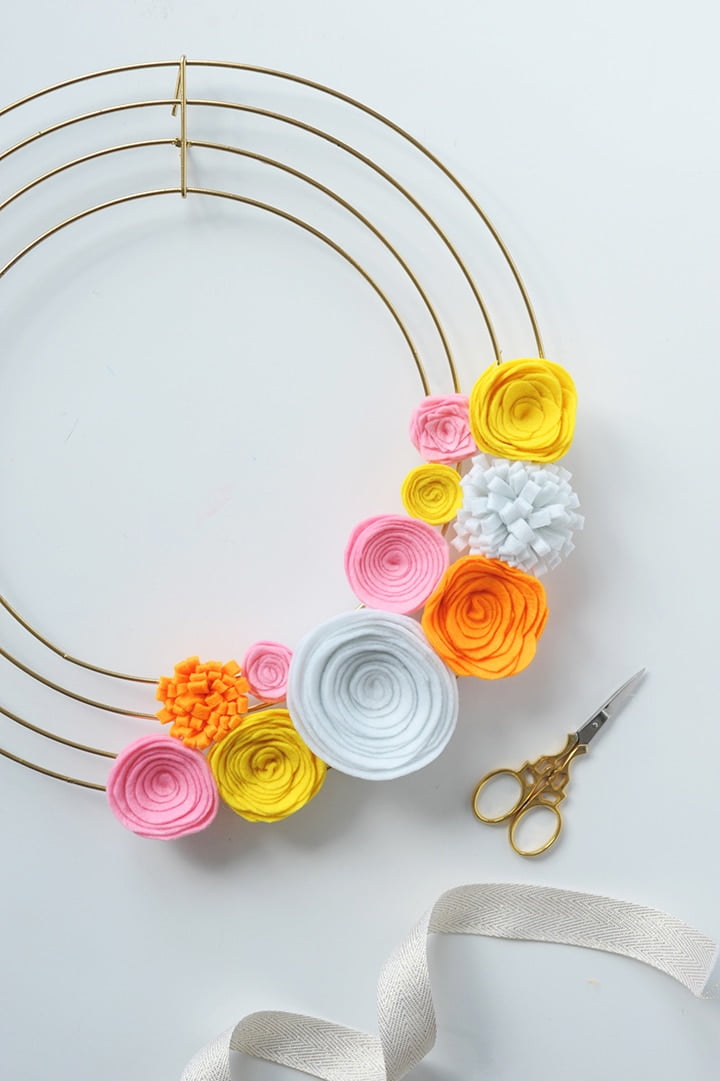 8. DIY Spring Felt Flower and Yarn Wreath with Bunny Pattern
This adorable Spring wreath idea from Hallmark will add a bright touch to your front door in time for Easter. See how to make this project here.

9. DIY Spring Felt Flower and Yarn Wreath with Bunny Silhouette
Here's another felt flower wreath that I love. The colors are so soft and sweet -perfect for spring, plus the bunny silhouette is a simple cutout and makes the project much more doable. You can see instructions for this project here.

DIY Spring Wreaths with Paper Elements
10.  DIY Spring Paper Leaf Wreath
My paper crafting friends will love this DIY Spring Wreath idea from We are Scout.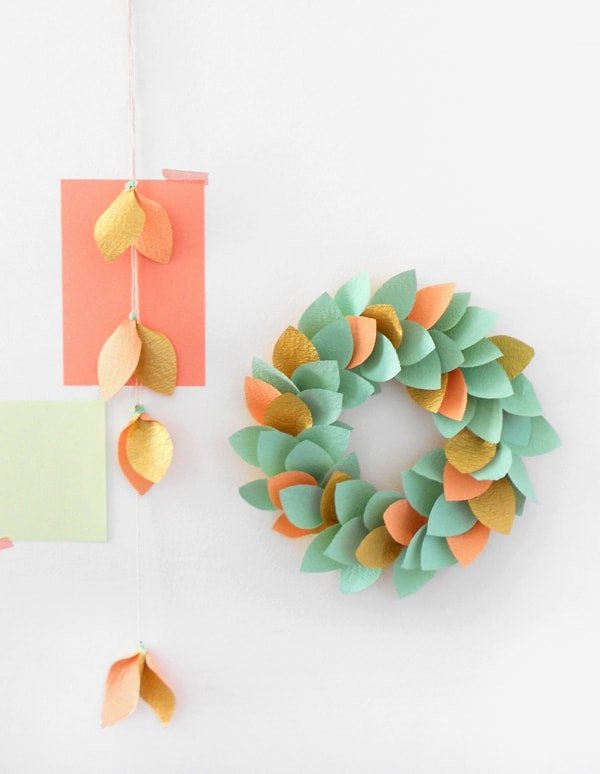 11. DIY Crepe Paper Spring Wreath
Crepe paper is affordable, easy to use, and comes in so many wonderful colors. Use pinks and yellows to make this bright crepe paper Spring wreath from Homedit.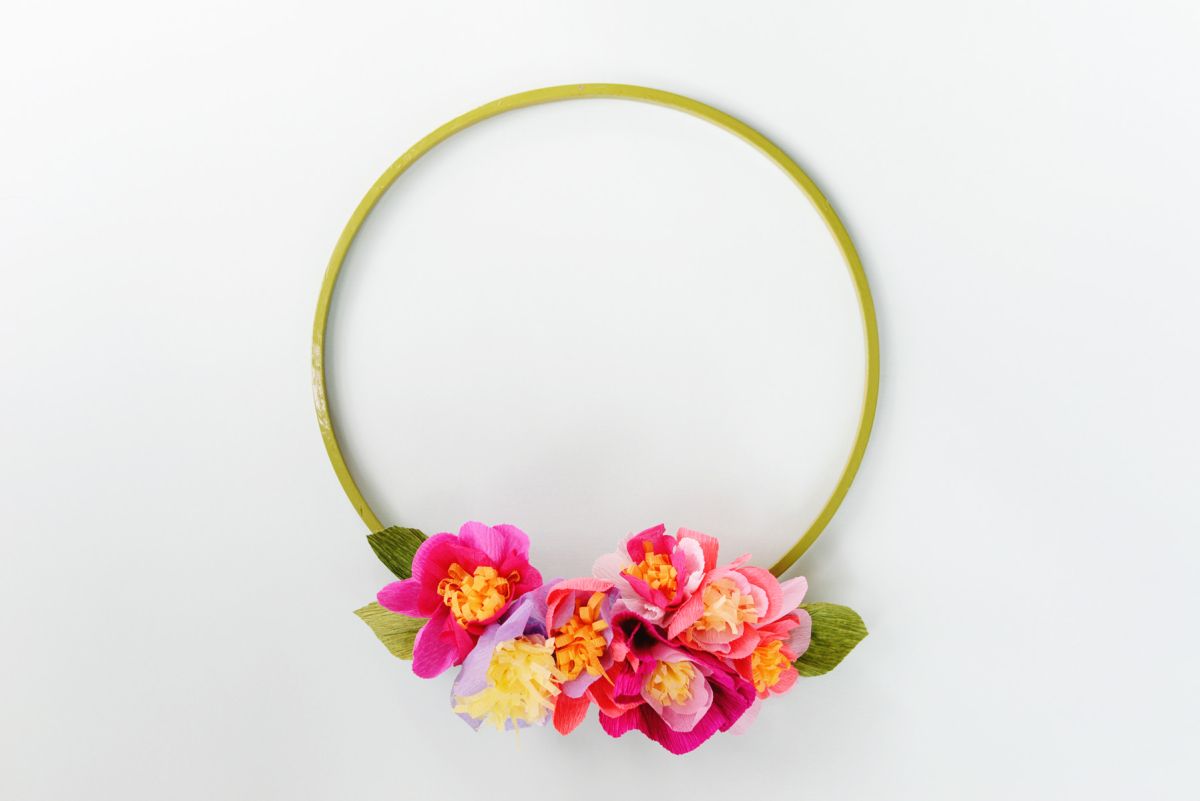 12. Paper Tube and Floral DIY Spring Wreath
Bigger in Real Life shows that there really are endless uses for paper tube rolls. Check out this inspiring wreath she made using cardboard tube rolls and fabric.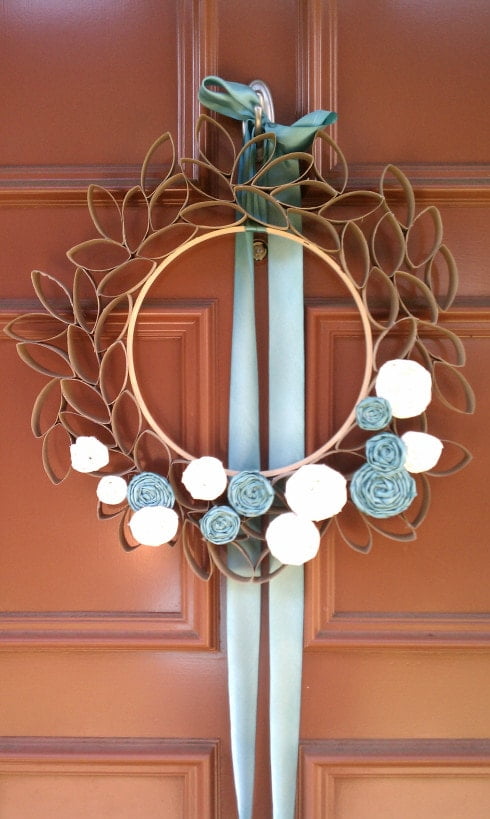 DIY Spring Wreaths with Pom Poms
Pom poms are one of my favorite things craft. They are quick to make, fun to look at, and can be added to almost anything as an embellishment. All of the DIY Spring wreath ideas in this section use pom poms in some way to add color and texture to the project.
13.  DIY Spring Pom Pom and Felt Bunny Wreath
See Lil' Luna for the details on this adorable Spring felt bunny and pom pom wreath.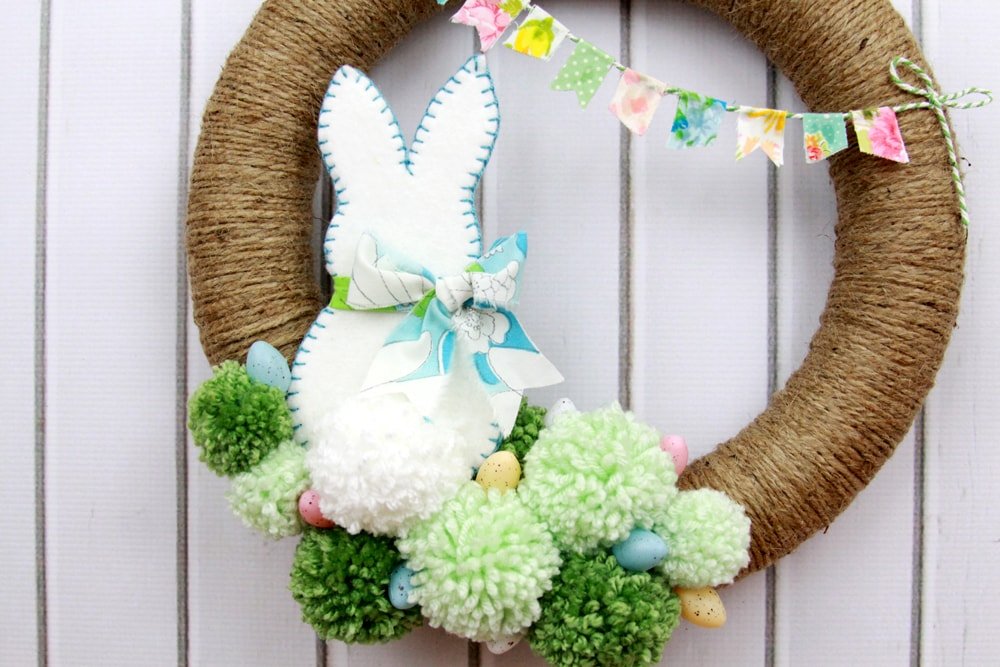 14. Spring Bird and Pom Pom Wreath
I am in love with this simple project from Be Crafty Workshop.  Be sure to click over for more inspiration and to check out when upcoming craft workshops are.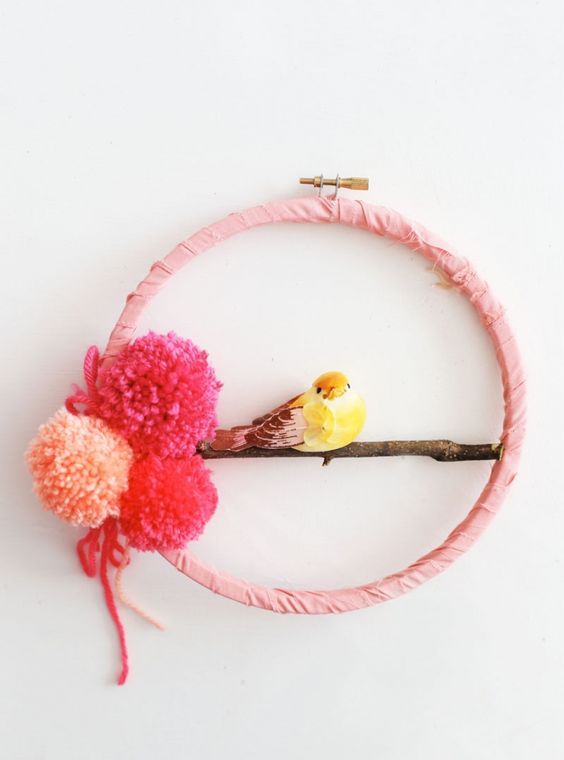 15.  Garden Gnome Spring Pom Pom Wreath
Little gnomes are coming out to play in this adorable pom pom wreath from Vicki O'Dell.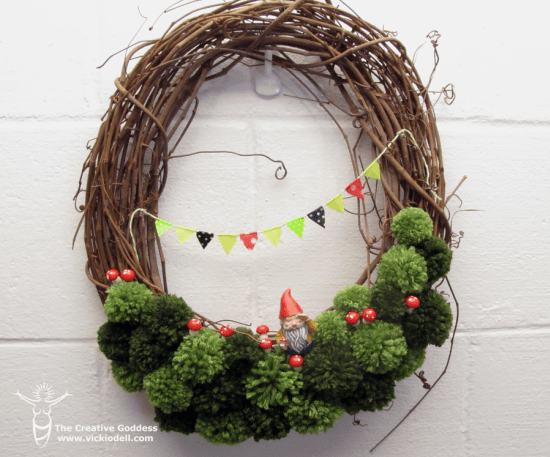 16. Simple Spring Wreath Idea
Keep it sweet and simple with colorful, store-bought pom poms and a grapevine wreath.  You can find the details for making this Spring wreath at Real Happy Space.

More DIY Spring Wreath Ideas
17. Moss and Birdhouse Wreath
So many things to love about this wreath. The natural moss, the bright yellow birdhouse, and how about the fact that it can be made for less than $10? You betcha! Create a happy Spring door with this lovely wreath from Craftiments.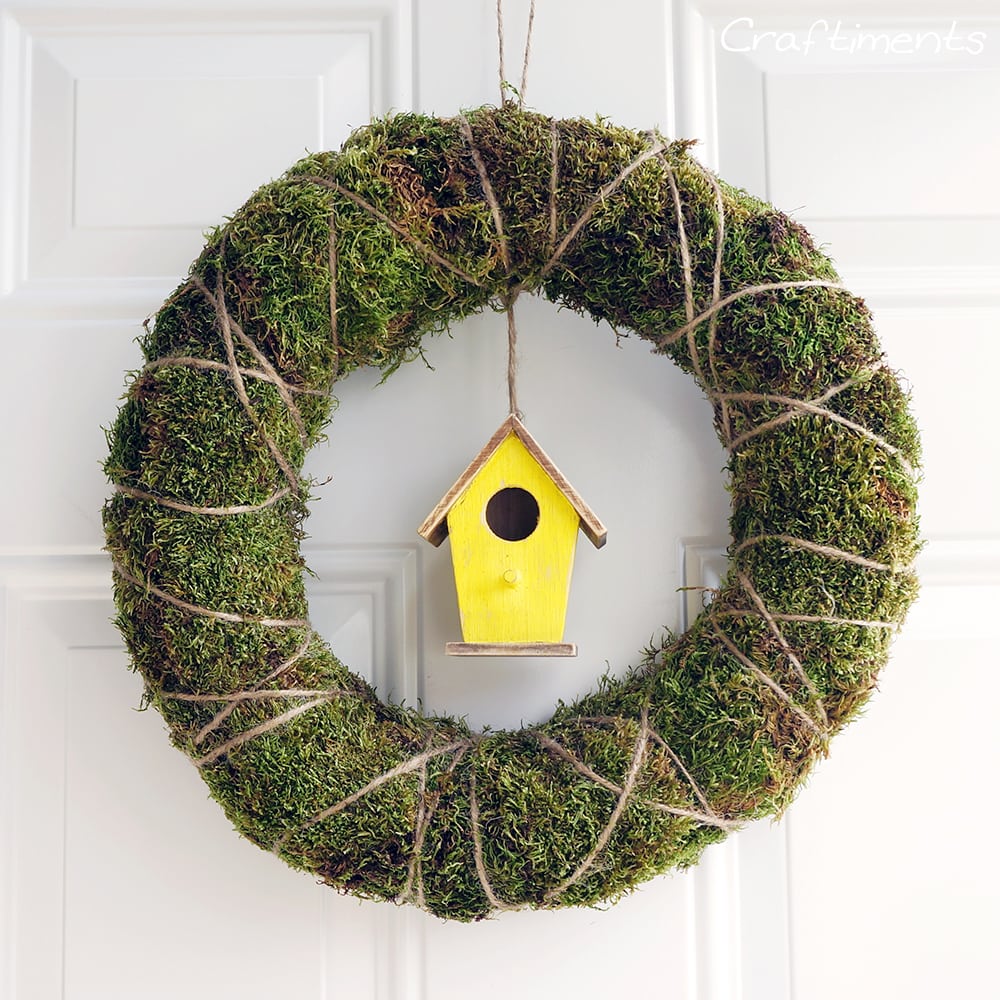 18. Colorful Dollar Store Spring Wreath
Some bright florals and green craft wire are all you need to create this stunning and colorful Spring wreath. (from Making Life Blissful)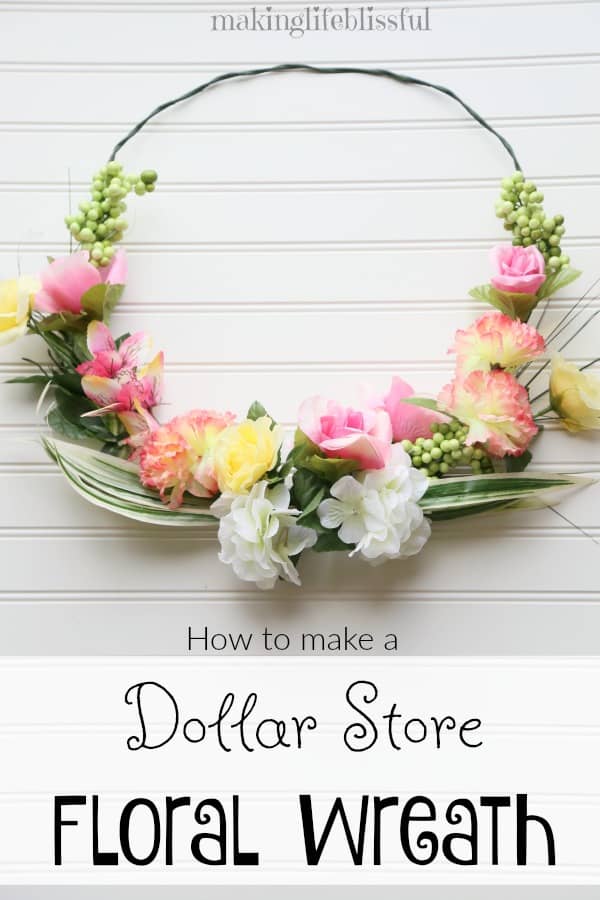 19. Spring Floral Hula Hoop Wreath
Learn how to turn a hula hoop into vibrant Spring Wreath with sprays of greenery and huge giant blooms. (From Thrifty and Chic).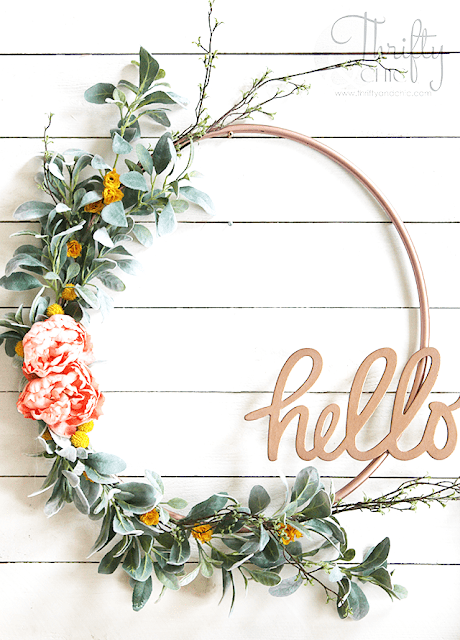 20. Modern Farmhouse Spring Tulip Wreath
This is a beautiful example of an a Spring tulip hoop wreath. Click through for the tutorial on wrapping the wreath using macrame. (from Clumsy Crafter)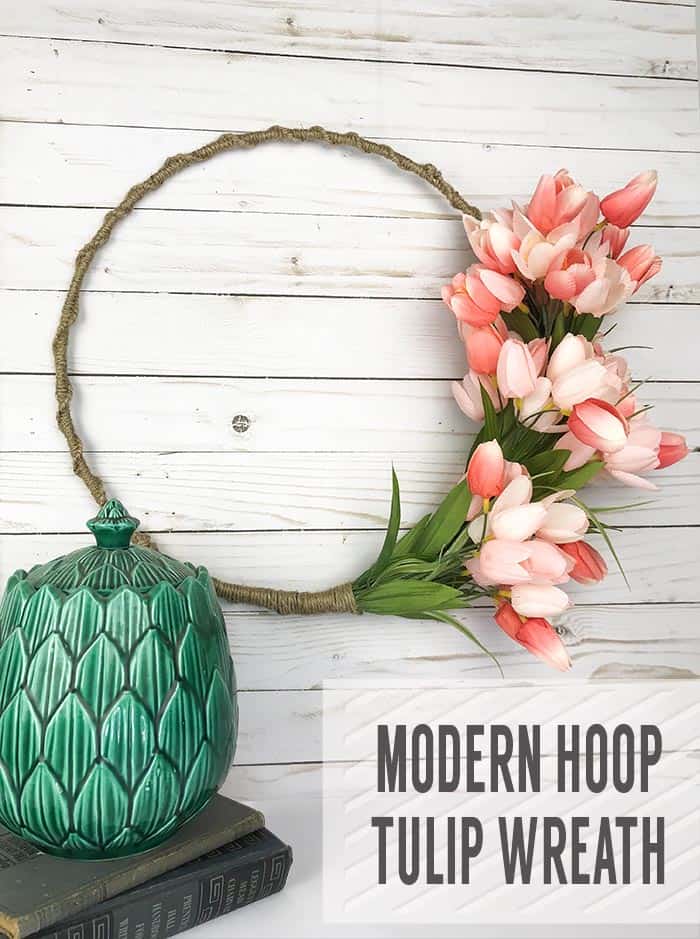 21. Amazing Bicycle Wheel Wreath
If you're looking for a wreath that doubles as a statement piece, this is it.  (From Crafty Little Gnome)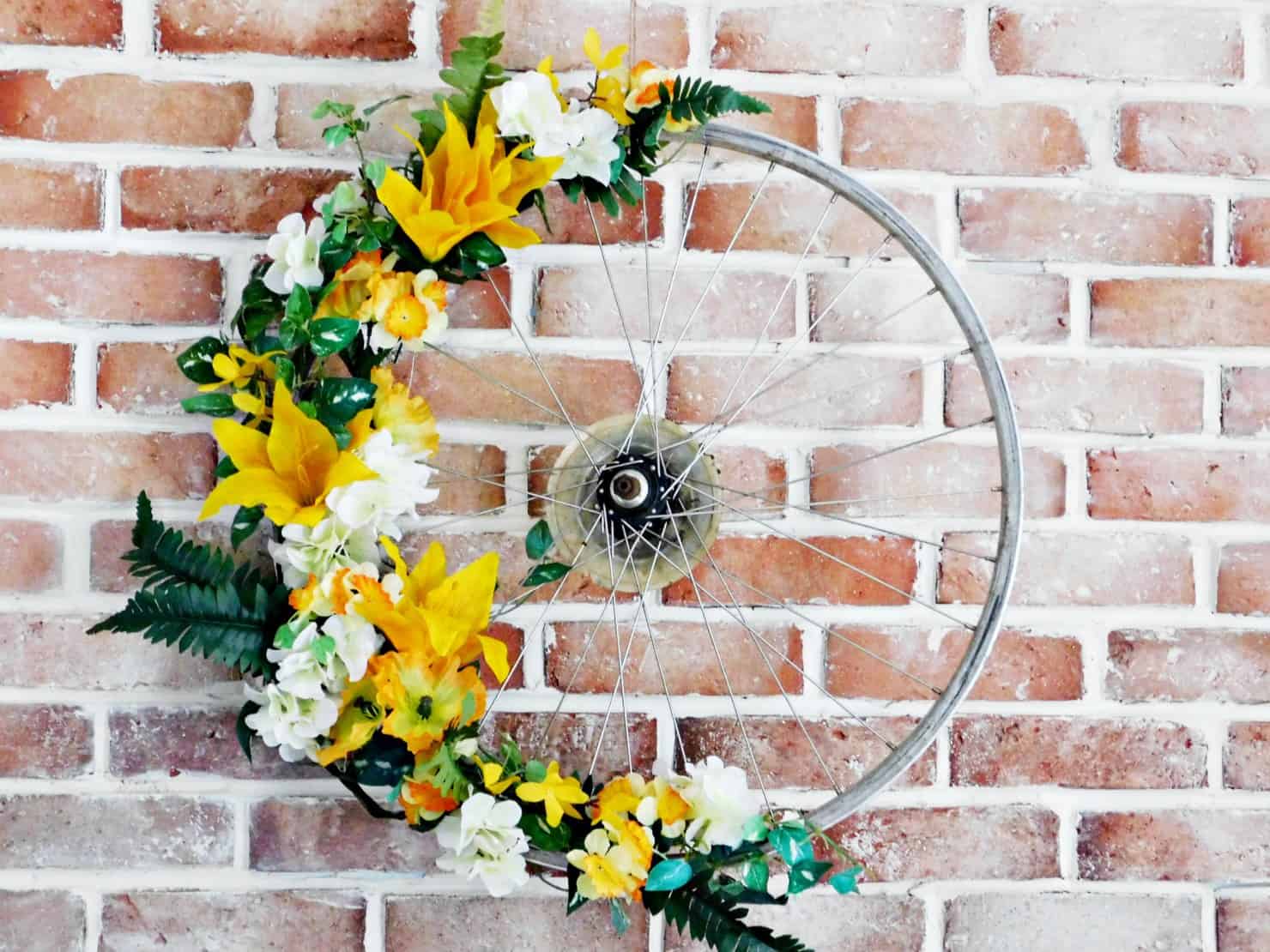 22. Colorful Easter Egg Wreath
This bright and happy wreath will make your door sing and will bring a smile to everyone who visits. (from The House that Lars Built)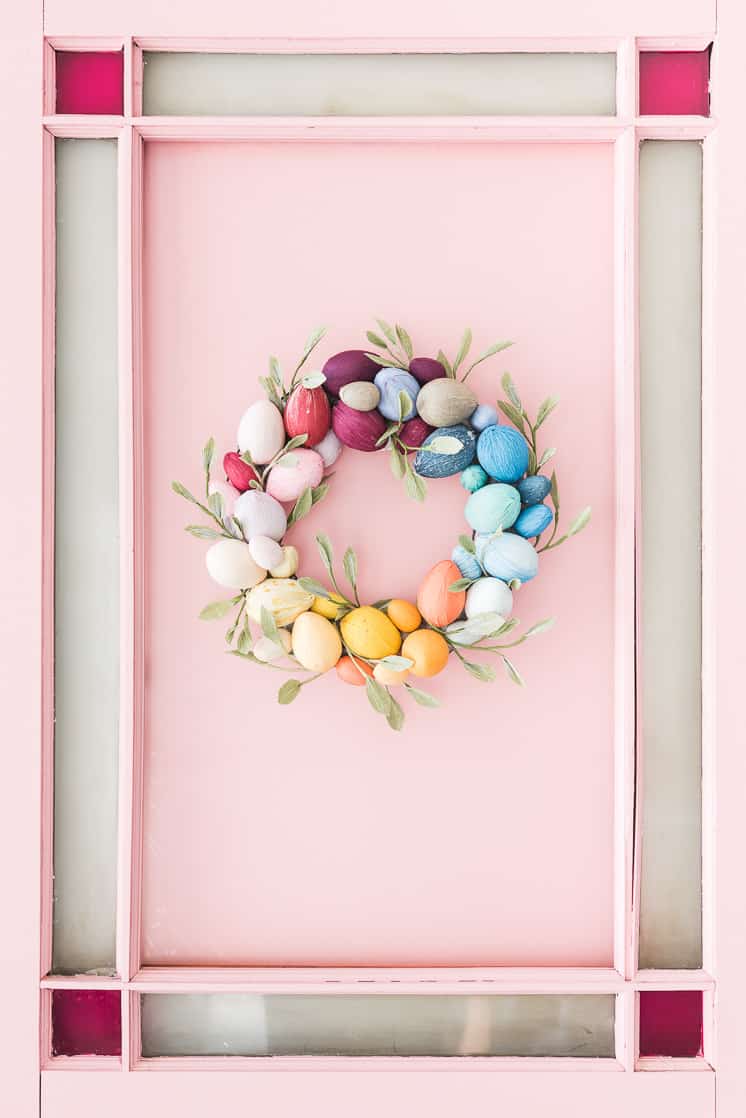 Don't forget to PIN this image to share it and save it for later!