These Fall Handprint Crafts are a joy to make and you will cherish the memories with your kids for years to come. See all of the handprint, footprint, and fingerprint craft ideas for Fall, Halloween, and Thanksgiving.
14 Fall and Thanksgiving Handprint Crafts
Fall-Themed Handprint Crafts
The handprint crafts here are a fun way to celebrate the colors and sights of Fall while creating lasting memories with your children. It's amazing how much of a treasure these personal creations become, as each year the kids look forward to seeing a little piece of their youth.
1. Fall Handprint Wreath
The Fall handprint wreath from This Girls Life can work for families with one child or several children, and is a fun and colorful adornment for your door.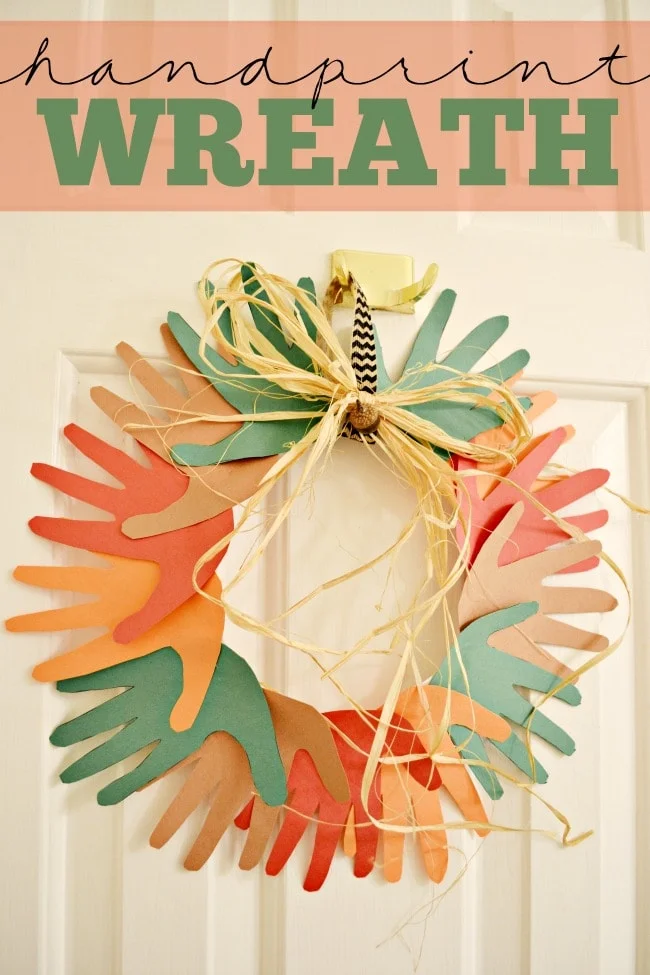 2. Fall Tree Fingerprint Tote
You can easily turn any plain canvas tote bag into a functional keepsake. I love to Create shows how to create this lovely Fall tree fingerprint bag with colorful fingerprint "leaves".
3. Fall Handprint Tree
Create a seasonal display for an entry table or a centerpiece for your dining table with this adorable and super-simple Fall handprint tree from The Best Ideas for Kids.
4. Pumpkin Handprint Photo Frame
Teach-me-Mommy shares how to make a special Fall handprint craft: a pumpkin photo frame using your child's handprint on clay.
5. Fall Handprint Leaves Kitchen Towels
I love how well these Fall handprint kitchen towels turned out from midget mama.
6. Fall Handprint Acorns Keepsake Towel
Here's another great tea towel idea using a child's handprint. Make sweet little acorns using paint and handprints to bring some Fall themes into your kitchen. See Creative Green Living for the details.
Thanksgiving Handprint Crafts
Thanksgiving turkey hands are pretty standard for most preschoolers. But why not make something a little longer lasting for the holidays with Thanksgiving handprint crafts like the ones here?
7. Thanksgiving Handprint Turkey Plate
Inspirational Momma shares how she created this Thanksgiving handprint turkey plate using a hand or foot from each of her children. This could also be made with Mom and Dad's handprints to create a keepsake created by the whole family.
8. Turkey Handprint Craft Door Hanger
Check out these sweet little turkey handprint craft door hangers from Things to Share and Remember.
9. Turkey Handprint "Helping Hand" Oven Mitt
Some kids really love helping out in the kitchen, especially around the holidays with so many cakes and pies to be baked. You can make this turkey handprint "helping hand" oven mitt Cardstore Blog and really make your little one feel special.
10. Grandma's Turkeys Painted Handprint Platter
What grandma wouldn't love a platter with her little "turkeys" on it? Go to your local pottery painting studio with the kids to make a one of a kind Thanksgiving handprint turkey platter like this. (source unknown)
11. Turkey Handprint Craft Table Decor
I Love to Create shares this Fall handprint craft idea for getting the kids involved in creating colorful thanksgiving table decorations with a personal touch.
12. Thankful Branch Fingerprint Craft
This Thankful Branch Fingerprint Craft from The Idea Room makes a lovely wall hanging and a is a terrific way for everybody to talk about the things they are thankful for that year.
13. Turkey Fall Handprint Craft Table Runner Tradition
Does your family make marks on a door trim each year to see how much the kids have grown? If so, you'll love this turkey handprint table runner tradition shared at Hometalk. Each year, a new turkey hand print is added on!
14. Turkey Handprint Craft Placemats
Meaningful Mama will show you how to make your own turkey handprint placemats in time for Thanksgiving this year.
15. Thankful Turkey Journal
Help the kids reflect on their blessing with this "thankful turkey" handmade journal from Arts and Crackers.
16. Fall Turkey Thumbprint Mug
This Fall handprint craft will require another trip to the pottery painting studio, but the time with the kids and the results of the finished product will be so worth the time and effort. See the process for making this fingerprint turkey mug from Vanessa for As You Wish Pottery.
10 Halloween Handprint Crafts
You won't believe how many fun and spooky Halloween images can be made from handprints and footprints! Make these Fall handprint crafts for Halloween decorations you'll want to keep forever.
1. Clay Halloween Handprint Craft
See how Non-toy Gifts created these Halloween-themed clay dishes using air-dry clay and paint.
2. Halloween Handprint Ghost Trick-or-Treat Bach
Happy Go Lucky Blog shares this sweet Halloween handprint craft that is perfect for using as a trick-or-treat bag.
3. Halloween Footprint Trick or Treat Sign
This footprint trick-or-treat sign will make all of your guests smile and will make a wonderful keepsake for years. Visit Where the Smiles have Been to see how to make your own.
4. Halloween Handprint Ghost Garland
Kate's Creative Space made this fabulous Halloween handprint garland. It's pretty simple to make and would add a lovely personalized touch to your Halloween decorations.
5. Halloween Handprint Spider Platter
Create something really lasting like this painted pottery handprint spider plate from Painted Zebra. You'll love using it for parties for years to come, and you'll always share the memory of creating it with your child.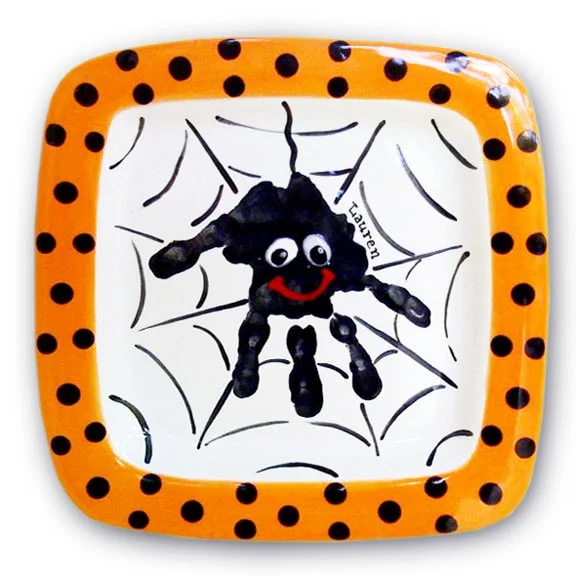 6. Halloween Handprint Craft Bat Hanger
Make this fun and simple Halloween handprint bat craft by Crafty Morning.
7. Halloween Handprint Sign
Create an adorable Halloween handprint sign with paint on canvas. Blitsy shares the how-to.
8. Halloween Baby Footprint BOO Sign
Lavender and Laundry shares a beautifully made baby footprint craft made especially for Halloween. Ack! Those little toes are just too precious.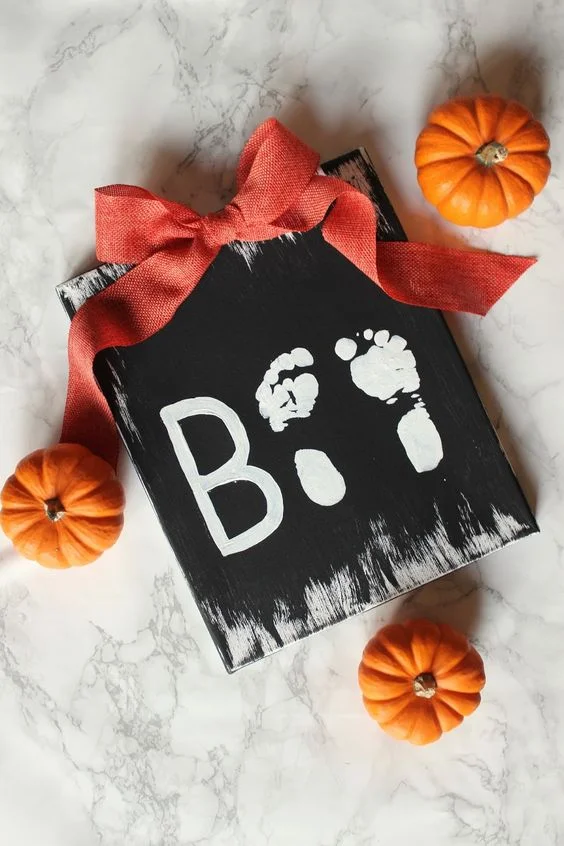 9. Halloween Handprint and Footprint Wall Hanging
You can go all out with the Halloween handprints and footprints like ChemKnits did with this awesome wall hanging set.
Cut out handprints and make a whole bunting banner of cute and friendly ghosts ready for trick-or-treating. (ghost bunting from Fun Loving Families)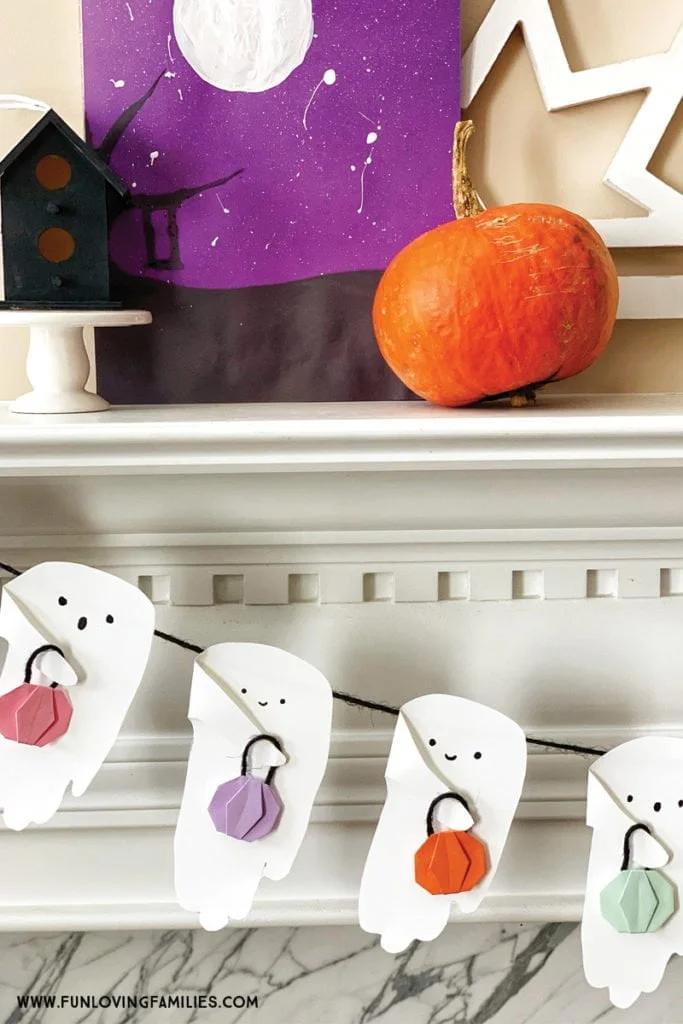 Fall Handprint Crafts: A Few Items to Put Those Handprints On
(This post contains affiliate links which means I may earn a small commission if you click a link and make a purchase. As an Amazon Associate I earn from qualifying purchases.)
Hanprint crafts are really great fun for kids and are often just as simple as slapping some paint on your kid's hand and printing away. But for keepsakes, you want to make sure those special prints will last.
Here are some supplies for making sure your Fall handprint crafts will last for years. If you're in a hurry, most of these items can be delivered with free two-day shipping with your Amazon Prime membership.
Plain Tote Bags for Crafts
These sturdy plain white canvas tote bags are just what you need to make your Fall handprint crafts. You can easily dye them any color you need. Plus, they are the perfect size to be functional for years to come.
Blank Art Canvas for Handprint Art
This art canvas set is a great value. To be sure, there will be some mess-ups when to pair little fingers with paint. Grab this pack so you won't feel too bad if you have to start over.
Fall Handprint Kit
Sometimes you just want to buy what you need in a handy kit. This Scarecrow Handprint Craft kit is totally adorable. In fact, I bet you'll keep it with all of your Fall decorations to hang up every year. Even your little one will look forward to seeing his or her handiwork every Fall.
Did you like these ideas? If so, I'd be so grateful if you Pin the image below or share on Facebook!
Similar Posts: