Autumn is a very special season for so many reasons. During these months, we get Halloween and Harvest festivals. The leaves of trees turn to red, yellow and brown. The air starts to get nippy and the excitement for Thanksgiving and Christmas permeates the air.
To celebrate all things Fall and Autumn, I created this specially curated Perler bead list.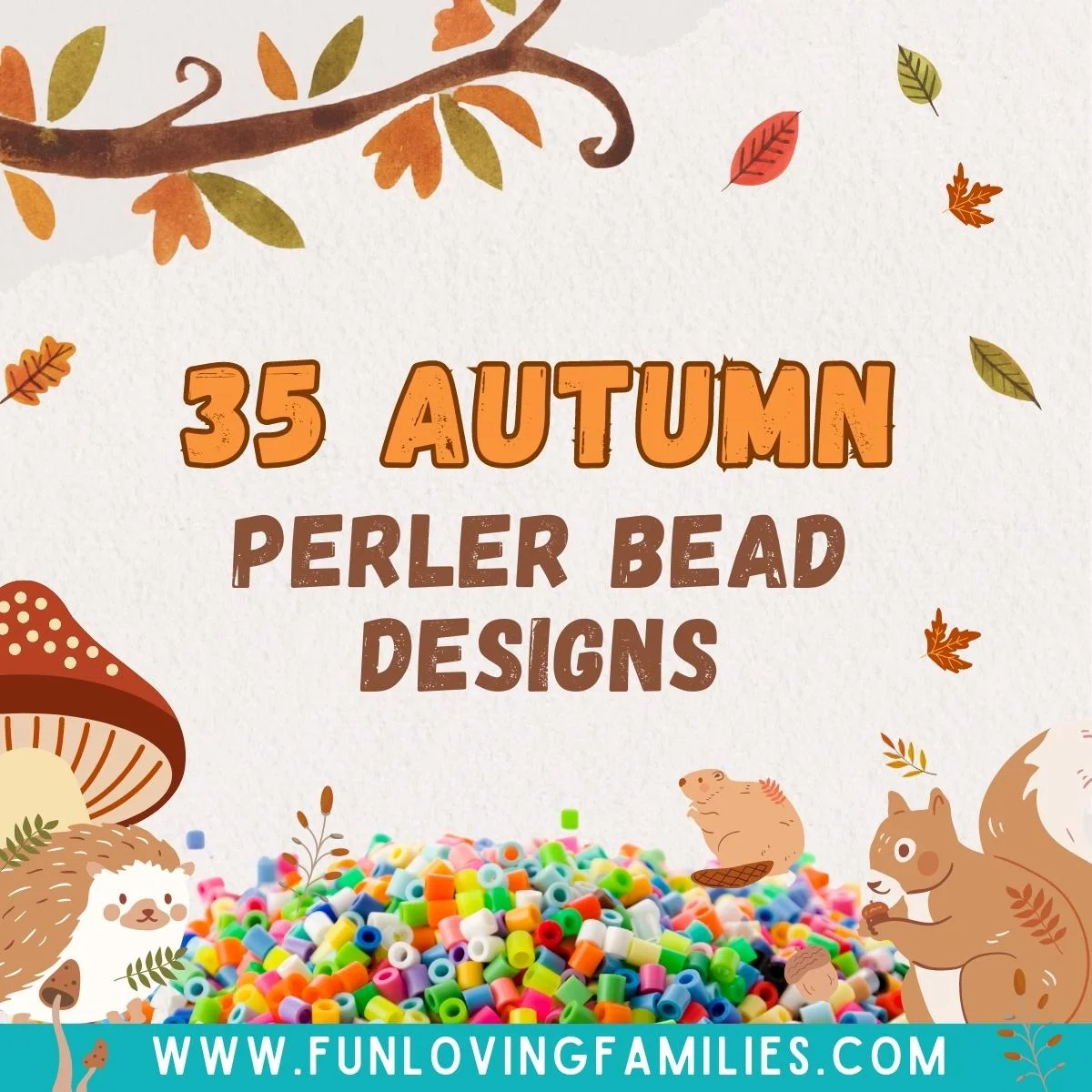 In the first part, I added all the things that make Autumn special. And in the second part, take a look at an exciting array of crafts you can make especially for this season.
Fall Perler Bead Designs
Autumn Leaves
Aren't these autumn leaves so beautiful? They're not all perfectly the same too. You can make a bunch of these autumn leaves with Perler beads and scatter them all around your living room to give it a nice touch of the outdoors.
Easy Fall Leaf
Here is an easy Fall leaf design for your toddlers. Remember that you can tweak the design and change the colors.
This is the same leaf design but with different colors used. Use whatever you have on hand.
Multi-Colored Fall Leaf
This is a rather big leaf piece. You'll need quite a lot of beads for this Fall leaf pattern and you'll need beads in brown, green, red, orange, and yellow.
Sunflower
Krysanthe created a very pretty set of Thanksgiving Perler bead patterns. One of these is this bright and happy sunflower. Did you know? Sunflowers bloom late so they are considered autumn flowers.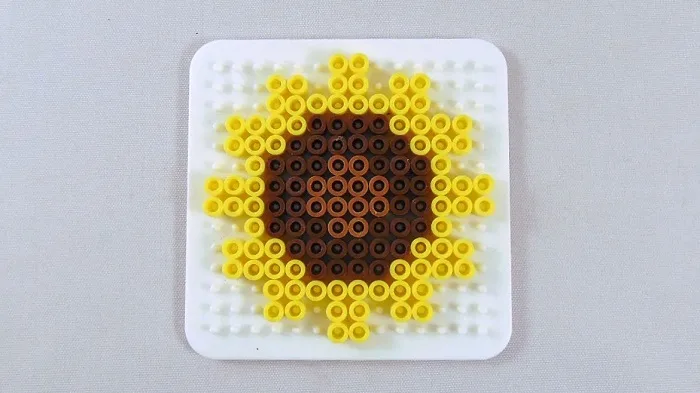 Easy Candy Corn
This candy corn design is very easy to do, and you'll just need a few beads. This star-shaped board is very handy in making these pointy sweet treats but a regular Perler bead board works just as well.
Easy Acorn
This is a super easy acorn pattern for your toddler's awkward hands. You can do this in minutes and you'll only need a few beads. Just be careful to iron the stem well so it doesn't snap easily.
Acorn
Check out this beautifully shaded acorn. It's a bigger piece than the above but it looks practically three dimensional because of the shading. To do this piece, you will need 3 shades of brown Perler beads.
Acorn with Leaves
If you need your acorn with several leaves and a twiggy stem, then check out this pretty pattern.
Easy Tree
A quick glance will tell you that this tree was created with the Fall season in mind. Its leaves are just about turning into fiery autumn colors.
Cute Baby Fox
This is one of the cutest baby foxes ever. Your children will surely love this design.
Here is the pattern for your reference.
Hedgehog
Hedgehogs have become a popular mascot for autumn-themed products and events. They're often featured on greeting cards, clothing, and other items associated with the Fall season, and they are a beloved symbol of the season's natural beauty and charm. Here is a hedgehog design that your child will surely find irresistibly cute.
Squirrel
With trees dropping their acorn supply during Fall, you can bet these little critters are not far behind. Here is a squirrel pattern. His bright-eyed face and bushy tail are so adorable.
Squirrel and Leaf Patterns
This is a pattern you can use if you need a guide in making a squirrel, acorns, and Fall leaves.
Thanksgiving Turkey
Take a look at this Thanksgiving turkey. Don't its feathers look like Autumn leaves? Overall, the beads used are all the colors of the season.
Colorful Turkey
Here is another turkey. This time though, the beads used are brighter. Use whatever beads you have on hand.
Pilgrim Turkey
And finally, we have this rather funny Pilgrim turkey. It is wearing a Pilgrim hat and buckled shoes. Which turkey do you like best of the three?
Autumn Flower
This is a stunningly beautiful flower design. The orange and red highlight colors make it perfect for use in your Fall décor.
Pumpkin
It isn't Halloween without pumpkins. This is a pumpkin with some crawling leaves and vines. It feels like it's just been plucked from a pumpkin patch.
Here is the pattern for your reference.
Jack O Lantern
Infuse some fun in your Halloween decor with these characters. It's a grinning Jack o Lantern and a cheeky-faced autumn leaf.
Fall Set Patterns
Mom Erica of 5 Little Monsters made these pretty Fall Perler bead designs. I spy an apple, corn, leaves, a sunflower, an acorn, and a pumpkin. They're all small pieces that young children should be able to make on their own.
Autumn Things
Here are some lovely autumn patterns by Crafter Melissa. The designs are so whimsical especially the turkey and the owl.
Mushrooms
If you need to make some mushrooms, here are several mushroom patterns you can choose from.
This is a close up of the fly agaric. Its red cap with white spots is very eye-catching and easily recognizable.
Multi-Colored Pumpkin
Keep Calm and Mommy On shared this crazy colorful pumpkin. She says her kids got creative hence this multicolored creation. It's definitely unique and special, don't you think?
Fall Perler Bead Crafts
Now let's check out the crafts and projects you can do for Autumn.
Tangerine Earrings
Do it Your Freaking Self created these eye-catching tangerine earrings. Aren't they so cheery and bright? You can wear these yourself or gift them to a loved one.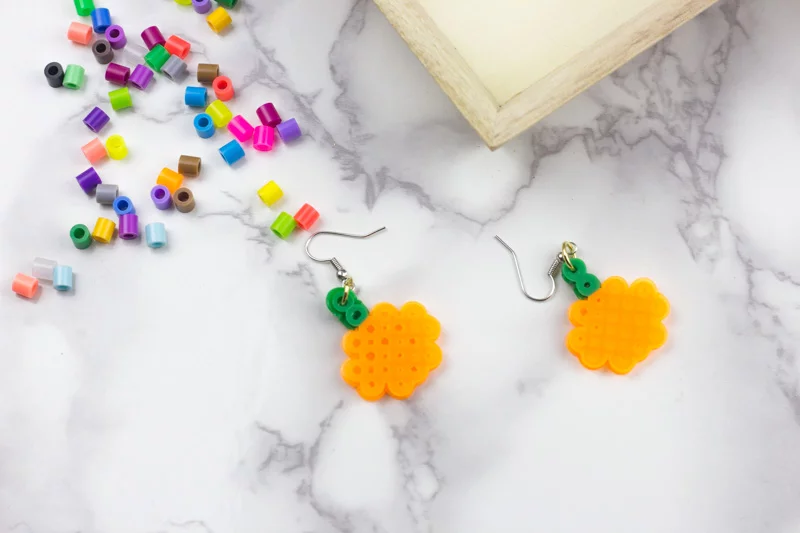 Googly-Eyed Magnets/Pins
Googly eyes make everything look cute including Perler bead works. You can buy these from the craft store where they come in different sizes.
Fall Leaf Coasters
Jennifer's Little World created these Autumn leaf coasters for her family's autumnal drinks. These were originally created with Hama beads but the designs will work as well with Perler beads.
Mom Jennifer shares a handy tip to make sure these coasters stay flat. She says to place these pieces under something heavy (like a hefty book) after ironing. Otherwise, they have a tendency to warp.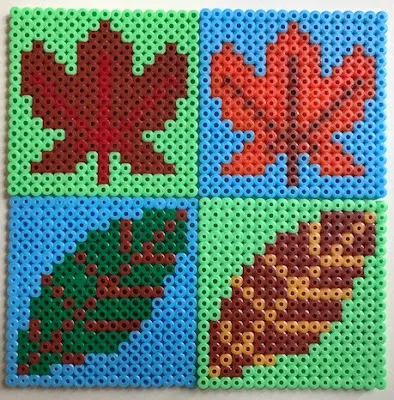 Autumn Animal Coasters
Aren't these animal coasters an overdose of cuteness? You'll need some very specific color beads, but if you can make these animal coasters, they would make for some very lovely gifts to friends and family.
Acorn and Leaf Card Holder
If you are hosting a party, consider making these Perler bead card holders. You have a stand for the leaf and acorn, and the name card slides in between the two. Isn't it an ingenious idea? You will surely receive compliments if you decide to make these.
Thanksgiving Table Decor
Here's another idea for your dinner table — napkin rings, mug ties, and a place card. While your family table won't need a place card, the napkin rings and mug ties can be used on the daily.
Scarecrow Patch
Make a centerpiece project with this scarecrow and pumpkin patch. The green Perler bead base holds the pumpkin and turkey in place. The scarecrow has its own stand while fallen leaves are scattered on the ground.
Fall Wreath
Make a DIY fall wreath for your home. This design is the simplest out there. Make some Perler bead figures with an autumn theme and then glue them onto your wreath. Let your young ones choose what figures will go onto the wreath.
Fall Turkey and Pilgrim Hat Wreath
Here is another wreath with a similar vibe. Instead of flowers and fruit, this wreath has a Pilgrim hat, a cute squirrel, a colorful turkey, a sunflower and the word FALL.
Autumn Birds and Squirrel Wreath
If your Perler bead game is strong, make this beautiful and whimsical piece. This wreath is 100% made of Perler beads. Colorful birds, one squirrel, a mushroom, and several Fall leaves are scattered around this evergreen circle.
Autumn Mobile
Decorate your home with this autumn mobile. The big leaf is the centerpiece from which a mushroom and a hedgehog hang. You can tweak this design by choosing what figures to hang.
Fall Leaves and Acorns Bunting
Make hanging decorations with your favorite Fall figures. Choose from any of the designs featured in the first part of this post. This crafter made her bunting out of Perler bead acorns and leaves.
If you enjoyed this post, please share it with your friends and family! You can bookmark it also for future reference. May you have the most fun Autumn season ever.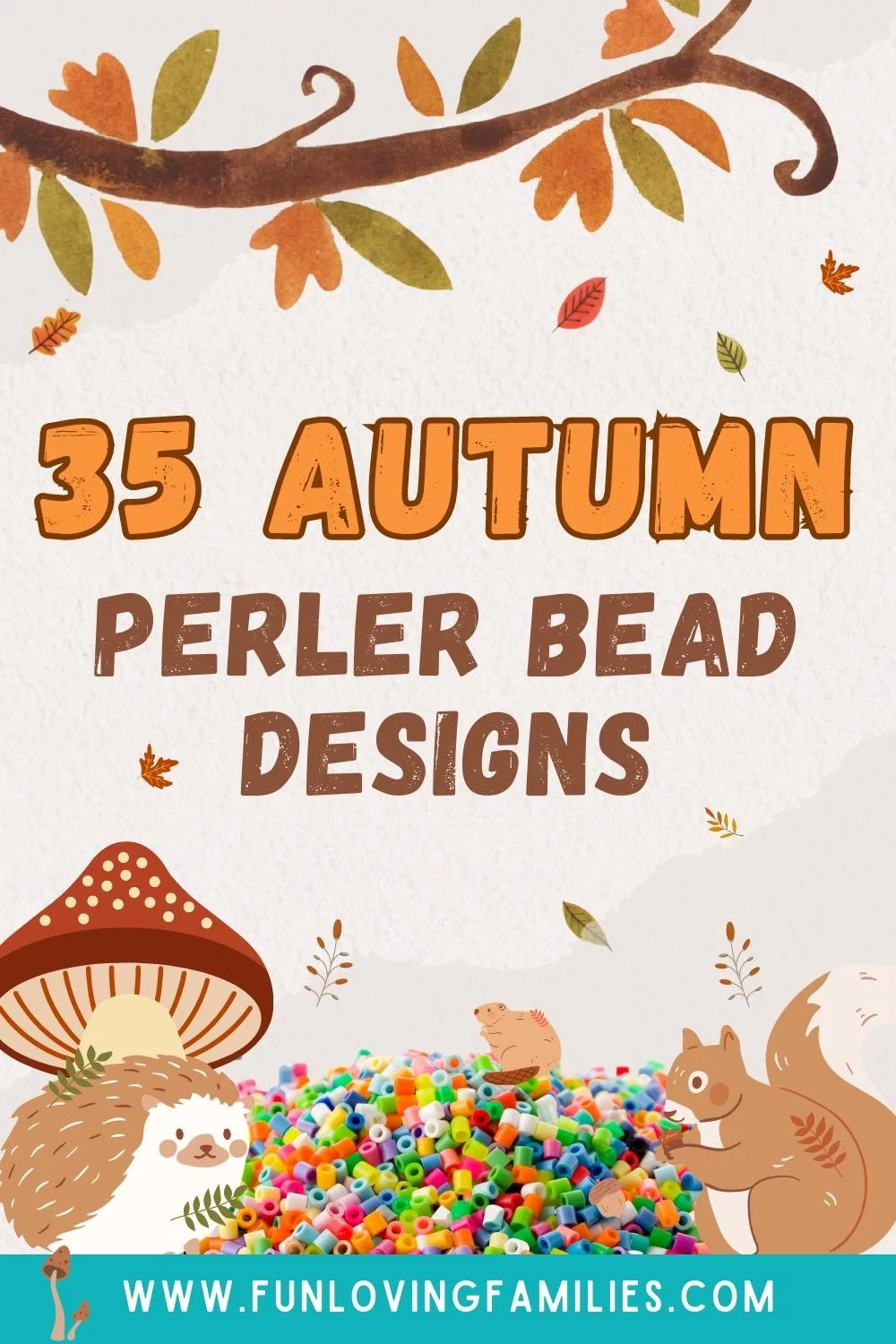 Similar Posts: