Ready to craft some fun DIY shoes? Decorating shoes with your own designs is so fun and a great way to add your own personalized style. Learn how to embellish shoes for custom looks that are totally unique!
My two girls are all about adding their own style to their personal belongings and clothes and it's so fun to see them getting some DIY style going.
I knew they'd love another shoe project after last summer's Sharpie shoes were such a hit, so I rounded up some more fun shoe decorating ideas. All you need are some shoes that need a little embellishing, and you can create all kinds of DIY shoe designs!
Ready to revamp those plain sneakers and tennis shoes (and flip flops!)
See the project ideas we found and start planning your next shoe designs. Save these ideas for summer crafts for tweens and teens, host a shoe decorating party, or to keep in mind when you need something fun to do on a rainy day.
Decorate Canvas Shoes
Canvas sneakers and tennis shoes are the perfect shoes for embellishing. You can paint them, dye them, dip them, embroider them, and so much more! Most of the time you'll want to start with plain white shoes, but even if you don't have white shoes, there are plenty of shoe design ideas for any color shoe.
(This post contains affiliate links which means I may earn a small commission if you click a link and make a purchase. As an Amazon Associate I earn from qualifying purchases.)
What You'll Need
Here are some of the supplies you'll need for these shoe decorating tutorials:
Painted Shoe Designs
There are so many ways to add some bright colors to plain white shoes. Check out these DIY shoe ideas and get ready for your amazing shoe makeover.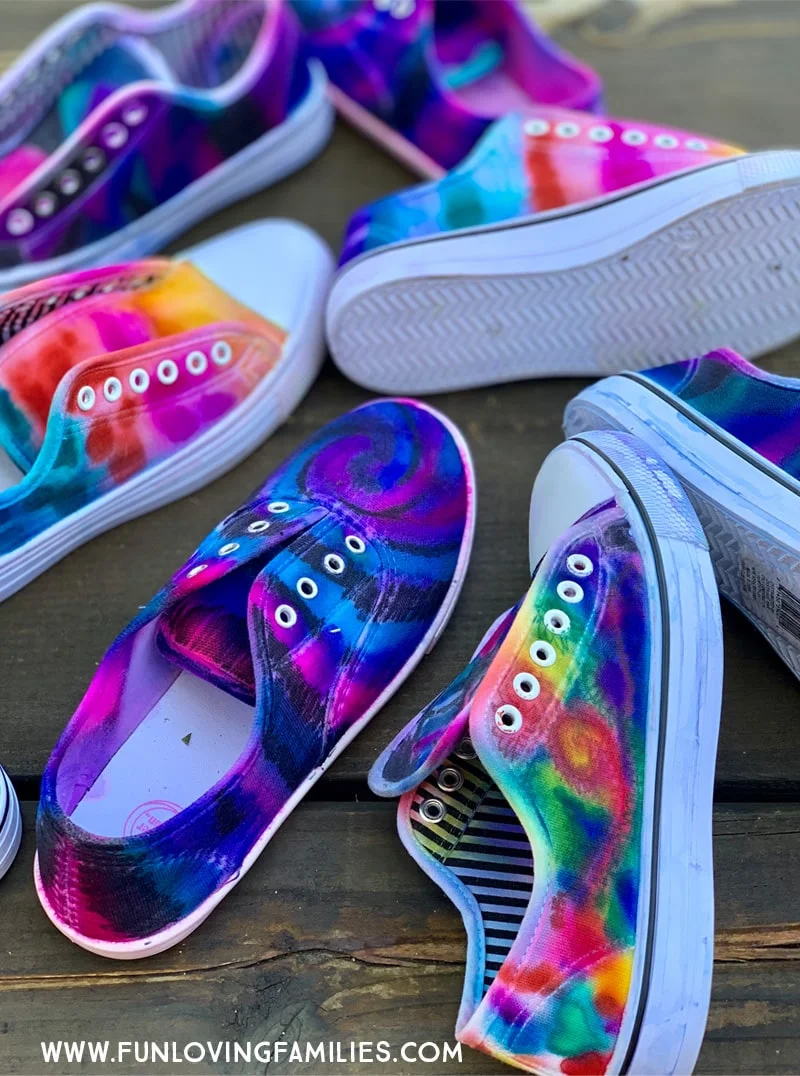 These are the shoes we created last summer and we were thrilled with how they turned out. The process was fun and the design possibilities are endless!
Go to DIY sharpie shoes tutorial
---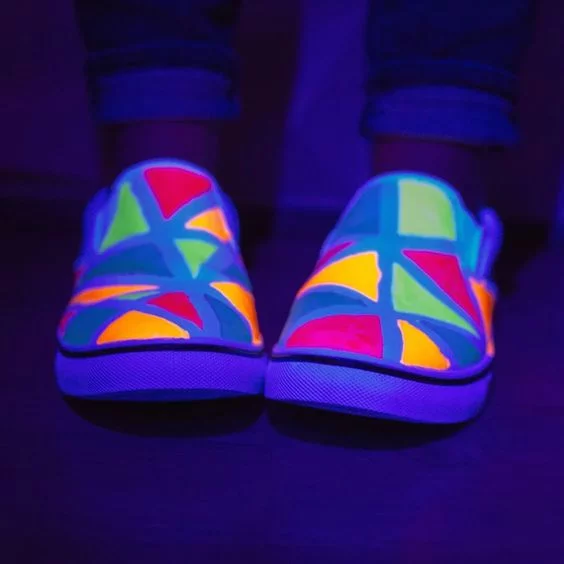 Turn off the lights and turn on the neon glow-in-the-dark colors of these glowing tennis shoes. I love the funky geometric design and the perfect use of these paints.
Go to Glow in the Dark shoes tutorial
---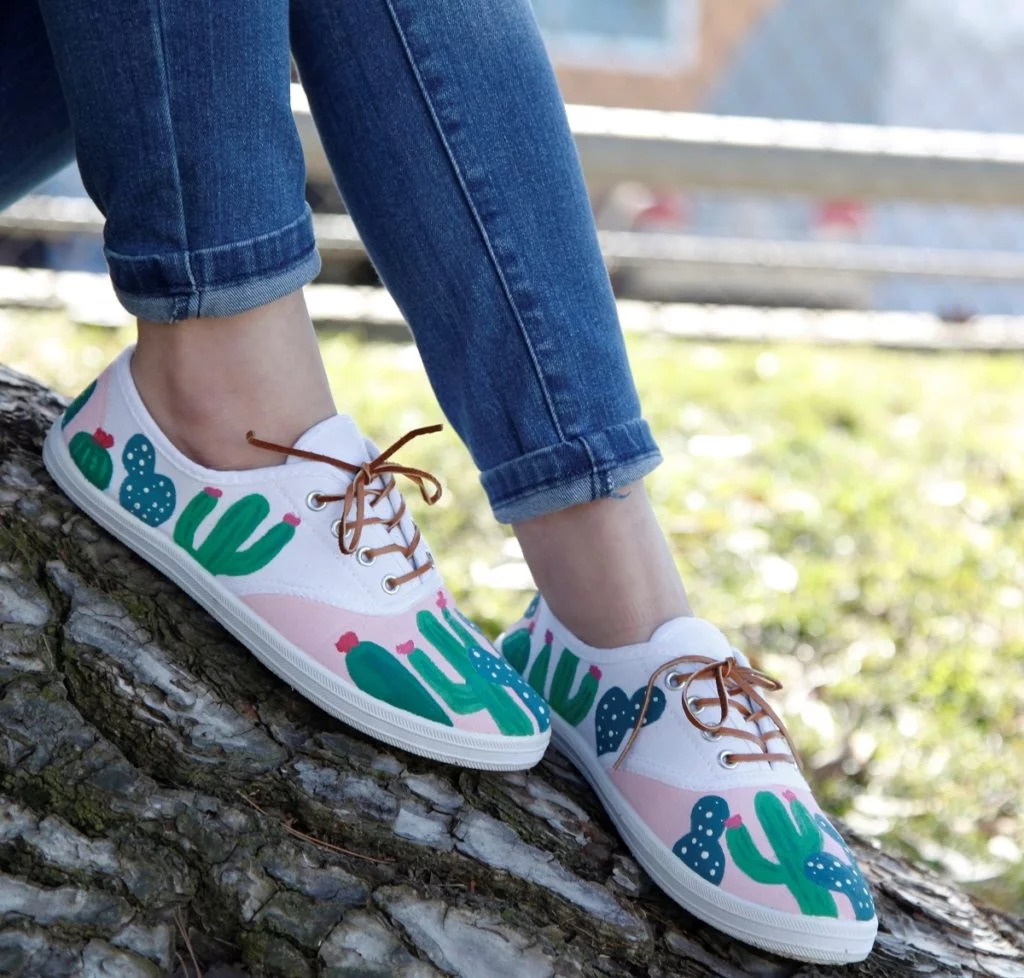 Any cactus lovers here (raises hand, yes!). Even if you "can't draw" I'm convinced you can create your own pair of hand-painted shoes if you follow the tutorial. Go give it a shot!
Go to Cactus Shoes tutorial here
---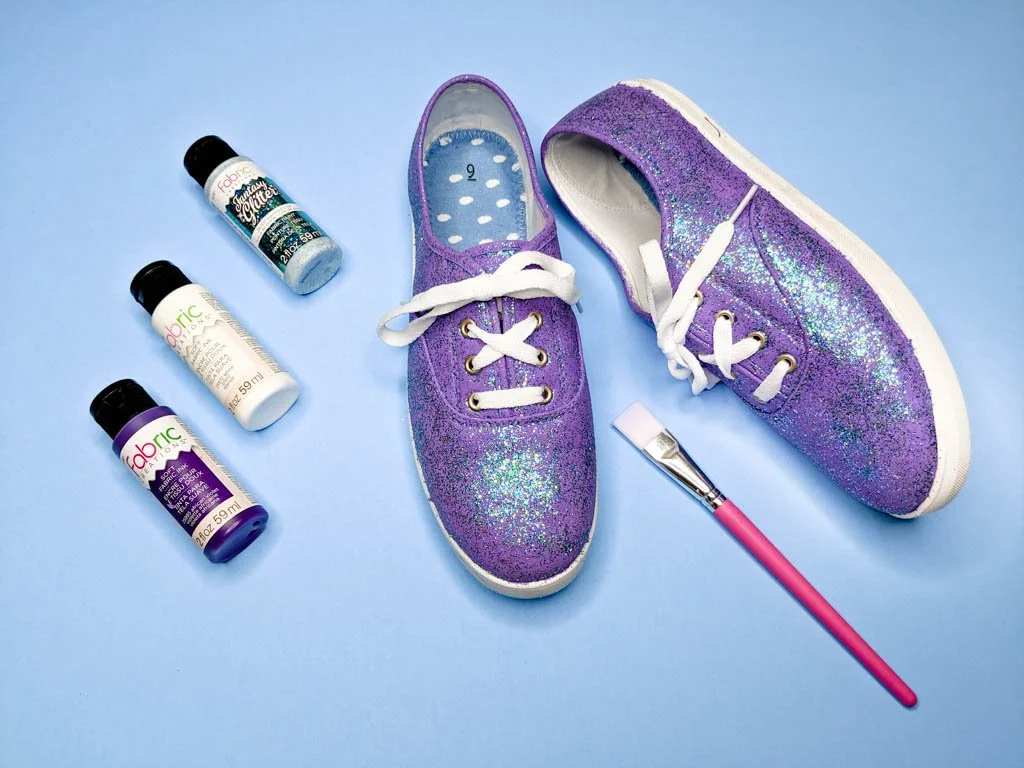 Go on, get your glitter on with these super sparkly painted glitter shoes.
Go to glitter shoes tutorial
---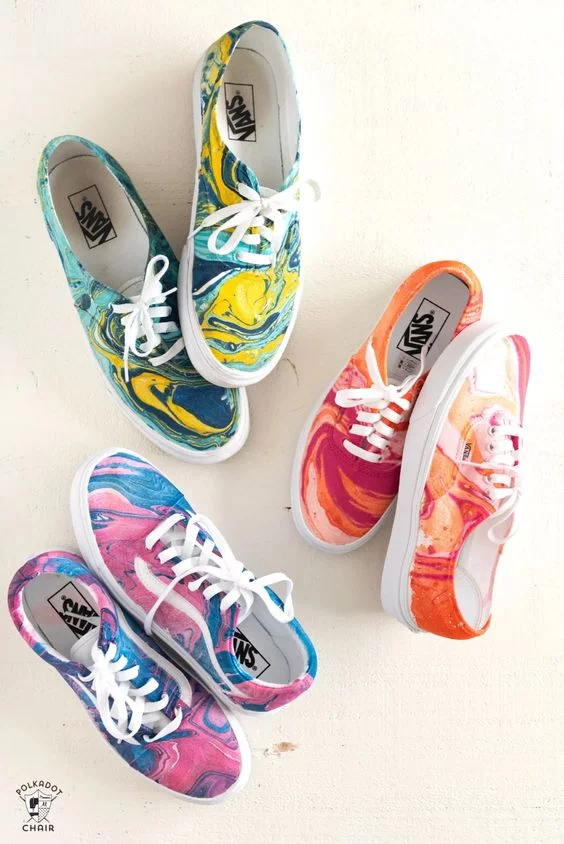 Have you tried hydro dipping? My daughter made a hydrodipped painting that came out so beautiful, I couldn't believe how easy it is to achieve those gorgeous colorful swirls. These hydro dipped Vans are next on our list of DIY shoe designs to try.
Go to Hydro Dipped Shoes tutorial
---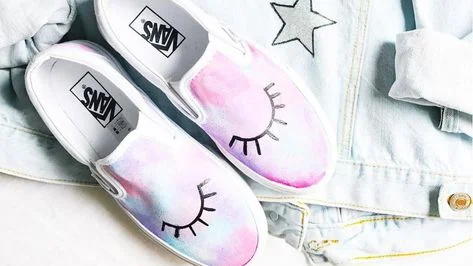 Those black painted unicorn lashes really pop against the soft pastels of these Vans.
Go to unicorn shoes tutorial
---
Vinyl Transfer DIY Shoe Designs
7. Cat Shoes with Vinyl Pattern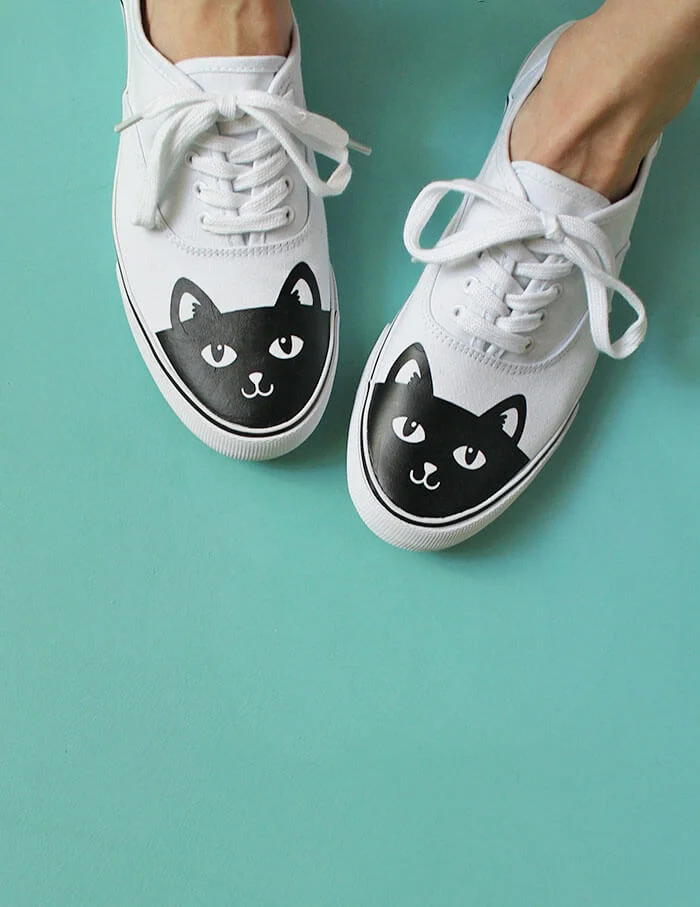 You can get the free SVG file for this black cat sneaker design. Even if you don't have a cutting machine you can try cutting the vinyl out by hand (carefully!) with an x-acto knife.
Go to vinyl cat decal tutorial
---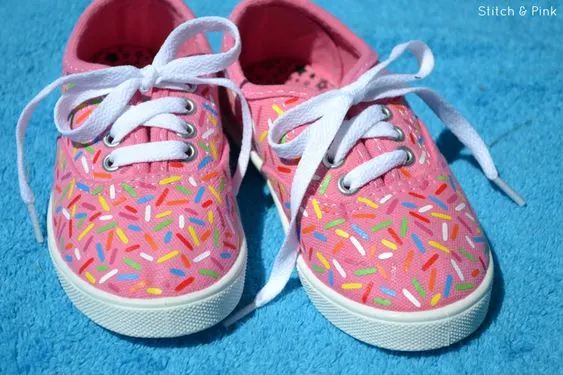 These sprinkle shoes are just the cutest and add will instant joy to your outfit. Grab the cutting file in the tutorial.
Go to sprinkle shoes tutorial
---
Fabric And Decoupage DIY Shoes
Break out the Mod Podge and fabric glue because that's all you need to completely transform your shoes. Check out the fun ways these clever crafters used glue and fabric for their DIY shoe designs.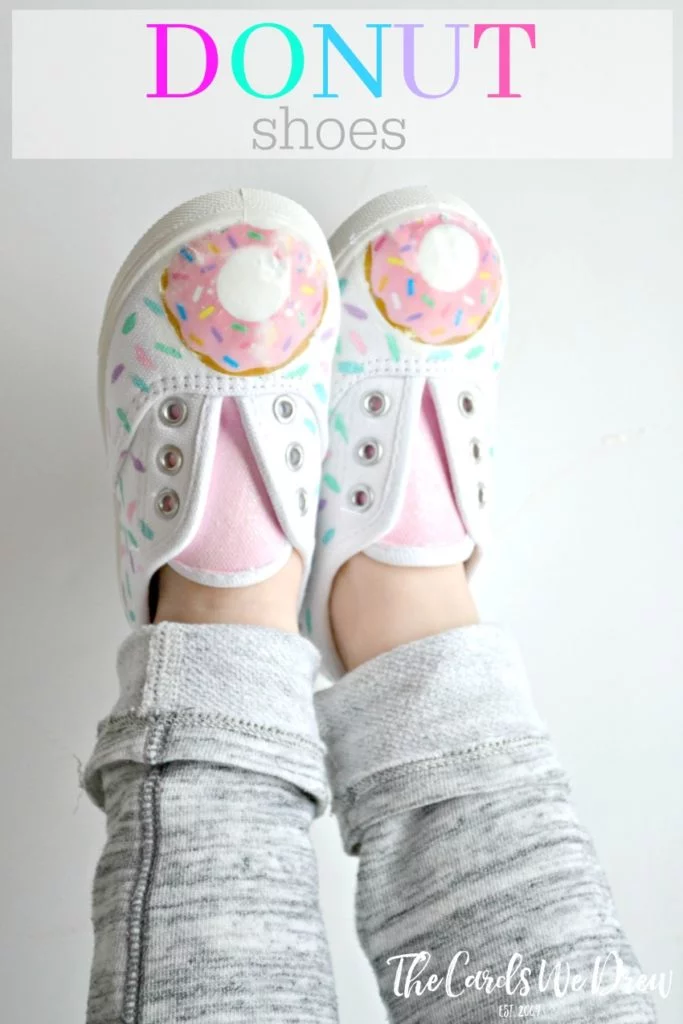 These DIY donut shoes came out so well and I love the happy-cheerful vibe they give. You can recreate this shoe design with some craft paint and Mod Podge.
Go to donut shoes tutorial
---
10. Mermaid Shoes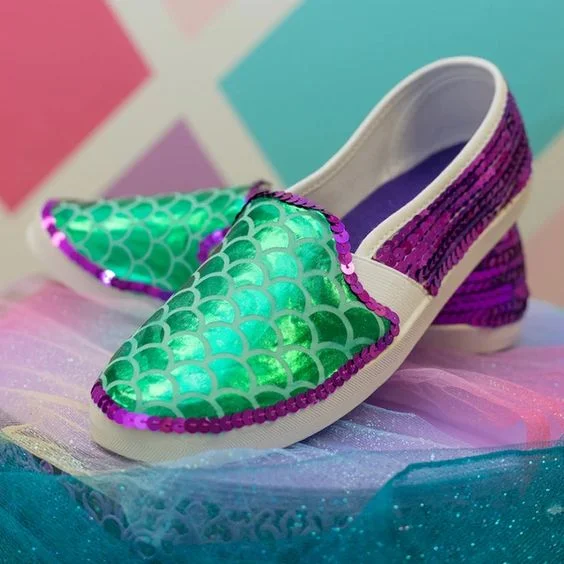 These mermaid shoes are very bold and so shimmery, just like a mermaid under the sea. Even if mermaids aren't your thing, check out the tutorial to see how these are made and swap out the mermaid fabric with your favorite patterned fabric.
Go to mermaid shoes tutorial
---
11. Marvel Shoes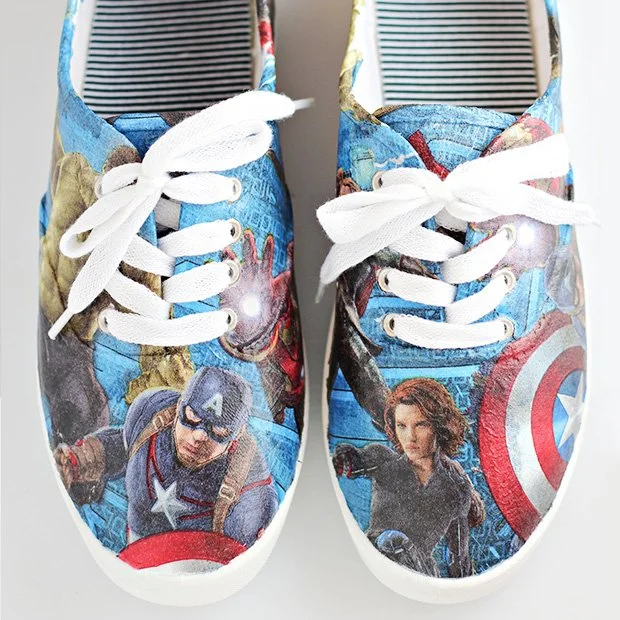 You won't belive what they used to make these amazing DIY shoes featuring the Avengers. I'm not going to spoil it, but I will say that it is super-thrifty and totally genius. We're huge Marvel fans at our house and I love how these turned out!
Go to Marvel shoes tutorial
---
12. Fabric Embellished Converse Shoes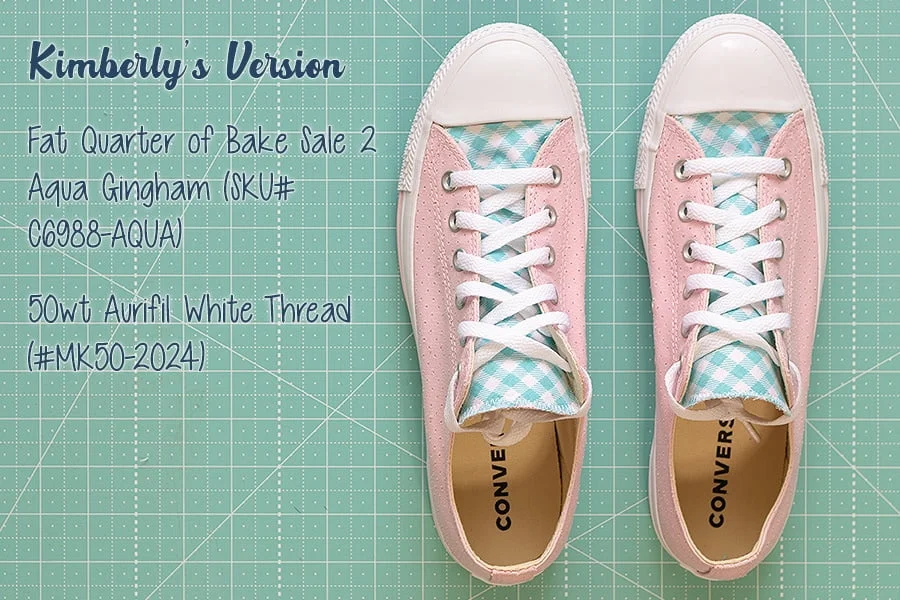 Learn how to give those Chuck Taylors a personalized touch with fabric glue and a little stitching.
Go to fabric Converse redo tutorial
---
Simple DIY Shoe Embroidery Ideas
These embroidered shoe ideas are perfect for beginners. Even if you've never stitched by hand, you can recreate these simple shoe designs.
13. Embroidered Cat Face Shoes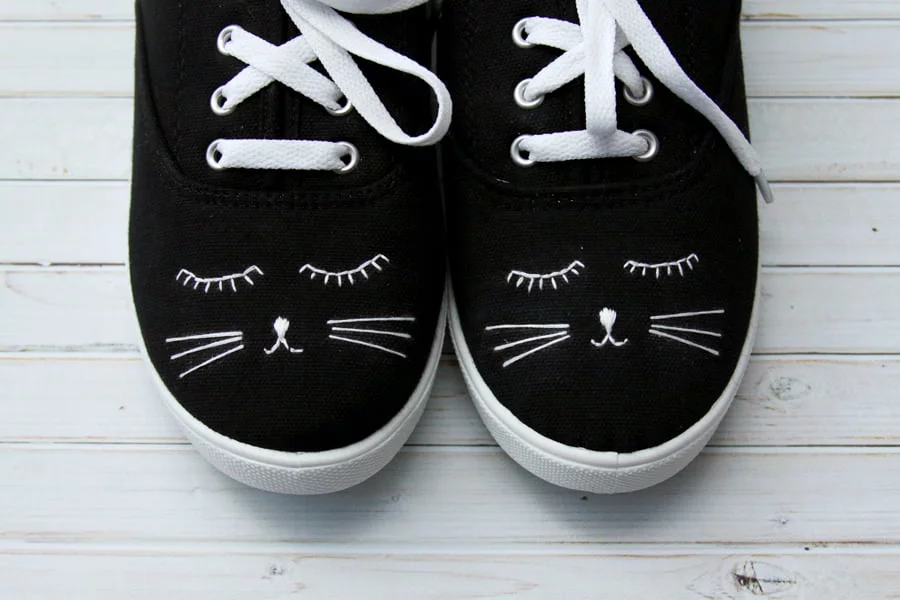 Have black shoes? Decorate them easily with this adorable embroidered cat face design.
Go to embroidered cat shoe tutorial
---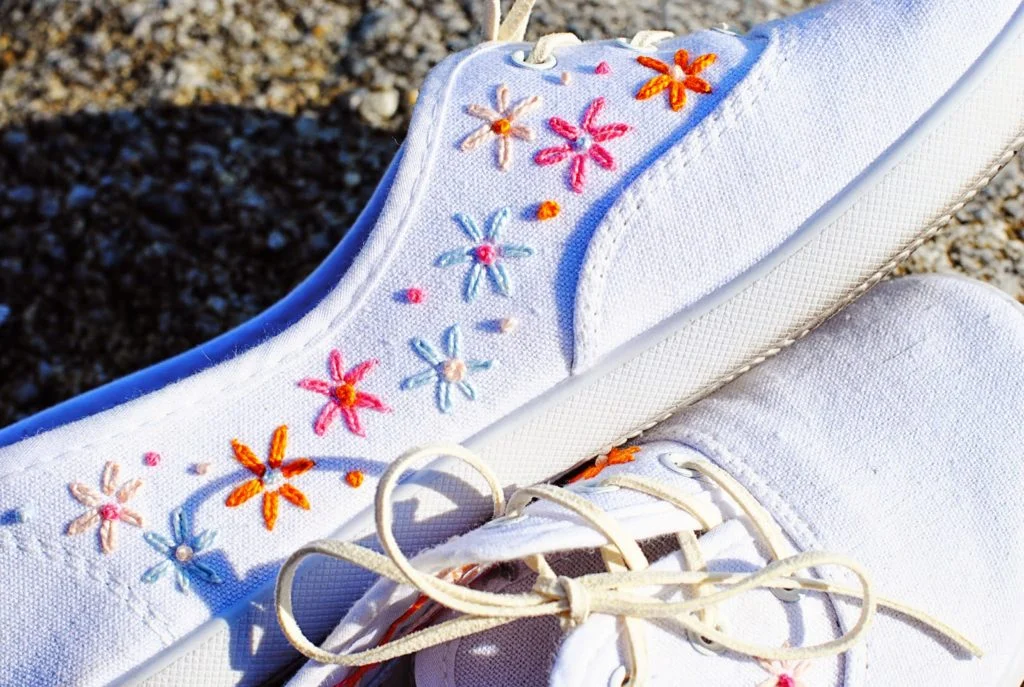 I love the simplicity of these shoes, decorated with sweet and delicate flower embroidery. Choose your favorite colors and make these yourself for a lovely summer shoe craft!
Go to flower embroidered shoes tutorial
---
15. Embroidered Sneaker Designs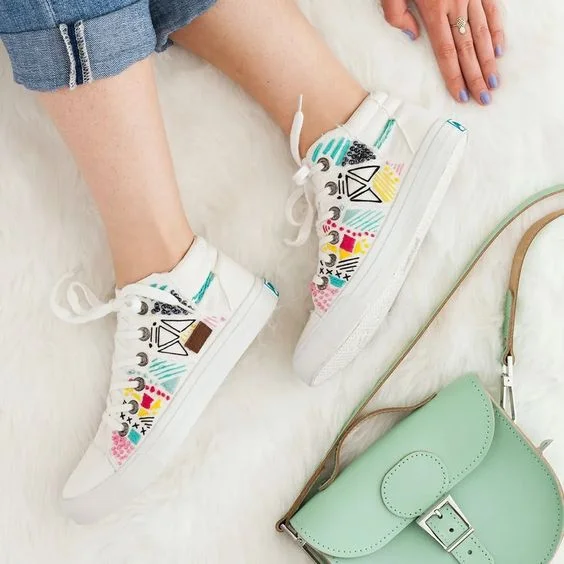 If you're ready to push your embroider skills a little further, go all in on these funky embroidered sneakers from Brit+co. The tutorial walks you through the steps of creating your own hand embroidered shoes.
Go to embroidered shoes tutorial
---
Embellish Flip Flops and More
Flip flops are a great way to dip your toes into shoe decorating since they're so cheap and easy to find. Plus, they come in lots of fun colors already, so they usually just need a little something to make them shine.
---
15. Pom Pom Tassel Flip Flop Embellishment
Go to embellished flip flop tutorial
---
16. DIY Flip Flop Fabric Straps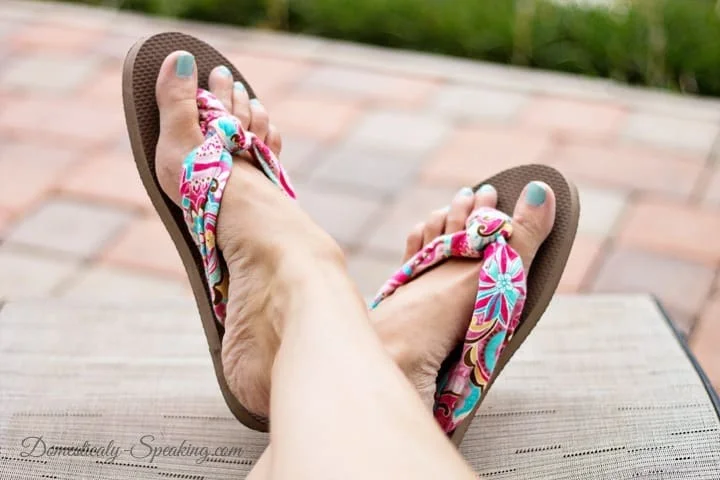 This fabric strap flip flop makeover looks so much more comfortable than the rubbery straps they came with. Dig through your fabric stash for some bold prints and get to work on you new summer shoes!
Go to fabric straps flip flop tutorial
---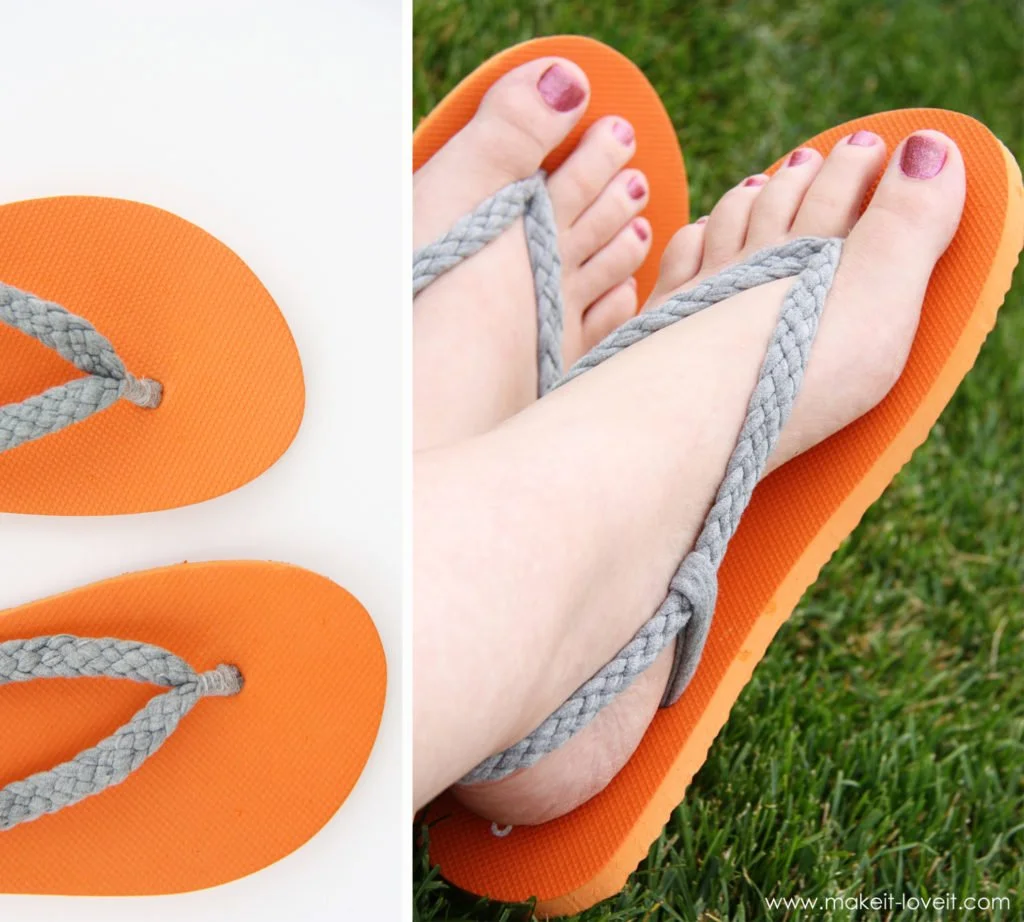 I saw these and instantly thought about my daughter who has the hardest time keep flip flops on her feet. I know she'd love that this DIY flip flop strap goes around the ankle to keep the shoes more secure when walking.
Go to braided flip flop straps tutorial
---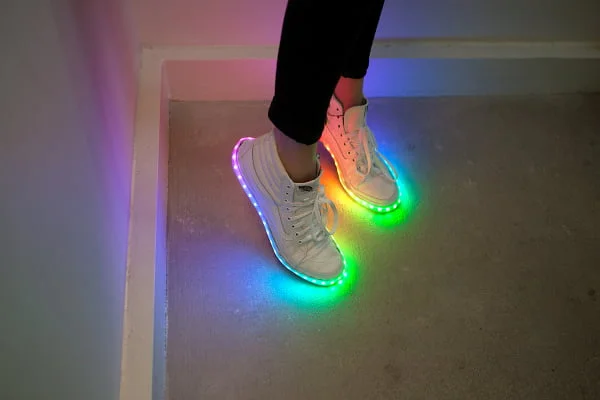 These light up LED shoes are totally amazing. I almost didn't include them here, because to be honest I don't know if I would attempt them or not. The tutorial includes things like Arduino boards and coding, and frankly that's just way out of my comfort zone. However…I really love these shoes! I couldn't leave out because they are just super-cool. And, frankly, the tutorial looks very detailed and I think it could end up being a fun challenge to make create a fun and techy shoe craft.
Go to light-up shoes tutorial
Similar Posts: