Use our Summer Bucket List to come up with fun ways to spend the summer with your family. We've come up with 100 ways to have fun and make lasting memories with your kids during their summer break.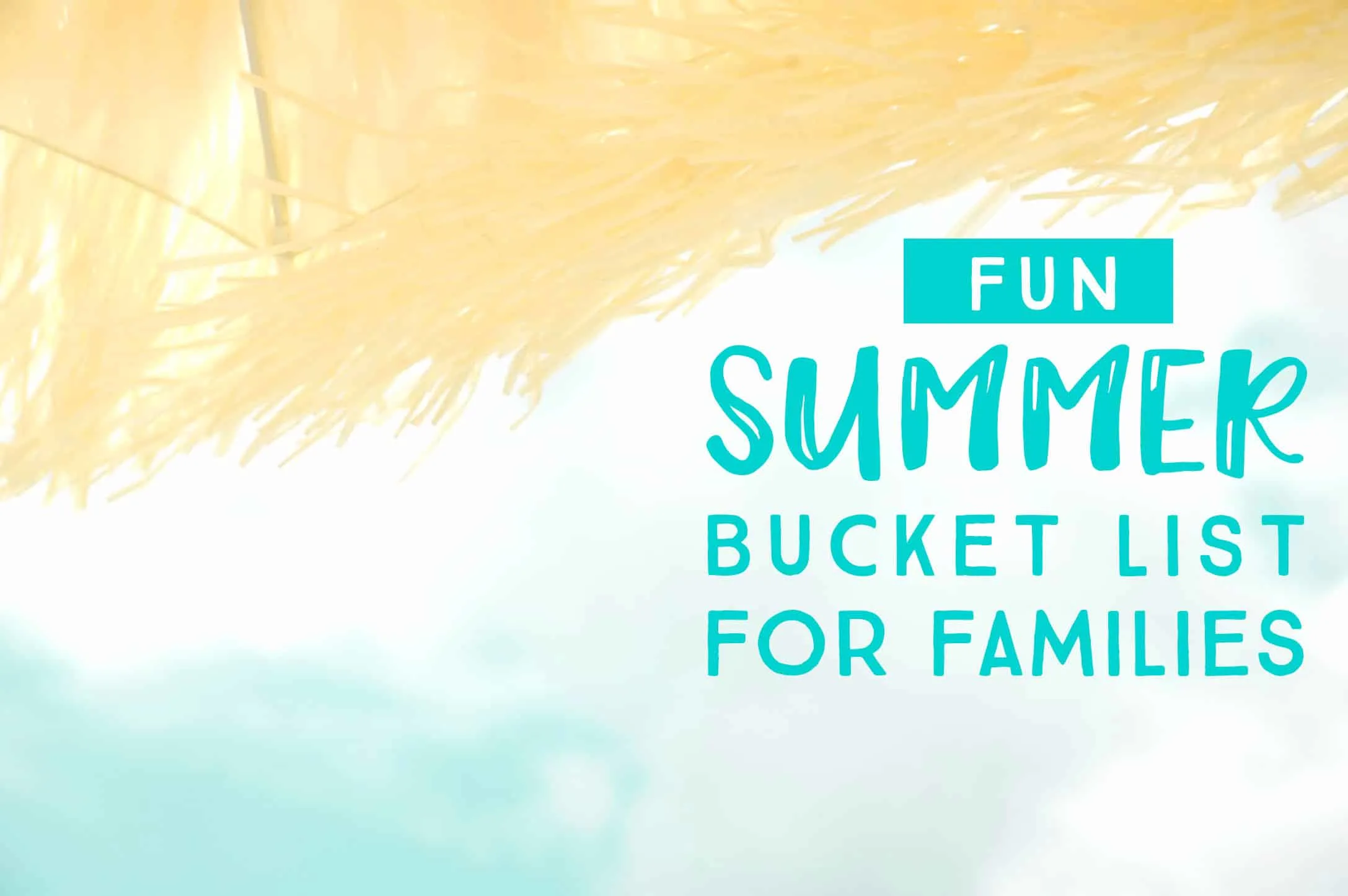 We are at the point in the school year when even the teachers are counting down the days before Summer break. Are you looking forward to the extra time you'll get with your kids? Or are you dreading having to try to keep the kids entertained each day just to keep the peace in the house?
Whatever situation you're in, we've got you covered with our amazing Summer Bucket List.
We make a list like this every year. Not because I like to schedule every hour of my kids' down-time. Mostly, it's just a great way to get the kids involved in making plans for fun family time.
The whole notion that "you only get 18 summers" with your kids is so compelling, and we feel the time slipping away every summer that passes. Our kids are now 10 and 12. The number of summers we have with them is down in the single digits!
So, no pressure, but this is the time for fun, connection, and memory making.
What's included on our bucket list for this summer?
One of the things I love about our list, and that gets me really excited about it, is the variety of activities we've come up with.
My kids LOVE adventure, trying new things, and going to new places.
Our summer will be filled with simple, fun-at-home ideas and outings to gardens and museums. Plus, we included a mix of crafts, physical activities, personal development activities, and plenty of adventure.
Take a look below at all 100 ideas we came up with this Summer.
Here are 100 fun Summer Bucket List Ideas:
(This post contains affiliate links which means I may earn a small commission if you click a link and make a purchase. As an Amazon Associate I earn from qualifying purchases.)
Have a water balloon fight
Make giant bubbles
Learn 5 new card games
Go tubing down a river
Put together a 5,000 piece puzzle
Take a trip to the beach
Make ice cream in a bag
Go kayaking or canoeing
Climb a tree
Fly a kite
Go to the zoo
Play a game of Frisbee
Write a letter to a school friend or relative
Visit an aquarium
Play hide-and-seek
Learn 10 words in a new language
Have a cupcake decorating party
Draw a self-portrait
Go for a ride on a bus
Pick 5 personal possessions to donate
Make a treasure map
Go to a skating rink
Go to a ball game
Make cardboard carnival games
Do sidewalk chalk art
Camp out in the back yard
Put on a play for family and friends
Build a pillow fort
Play flashlight tag
Build a model airplane
Visit a garden
Make a root beer float
Find cloud shapes in the sky
Go on a scavenger hunt
Bake a 3 layer cake
Play mini golf
Go fishing
Make paper airplanes
Conduct a science experiment
Visit an art museum
Make a banana split
Play horseshoes
Roast S'mores
Make a lemonade stand
Build a tree fort
Make a treasure map
Visit a science museum
Learn how to finger knit
Make a PVC pipe water park
Play solitaire
Make shell art
Take something apart
Ride on a train
Go stargazing/watch a meteor shower
Plant a sunflower
Help a neighbor
Go on a picnic
Write a story
Play laser tag
Make a daisy chain
Visit a grandparent
Build a birdhouse
Start a collection
Visit the pool
Have a dance party
Play tennis
Visit a butterfly garden
Go for a hike
Have a carwash at home
Set up a wildlife camera and keep a journal of what you see
Have a bake sale
Build a house of cards
Make a kite
Go zip-lining
Create your own comic book
Play dress-up
Go out for ice cream
Build a domino run
Go on a bike ride
Make a ribbon wand
Create a puppet show
Make squirt gun/water balloon art on canvas
Plant a pole bean teepee
Skip rocks
Tie dye t-shirts
Create a backyard obstacle course
You can use this printable with all of our Summer bucket list ideas on it. Feel free to use ours as your own bucket list, or just use it for inspiration to get your juices flowing while you and your family come up with more ideas.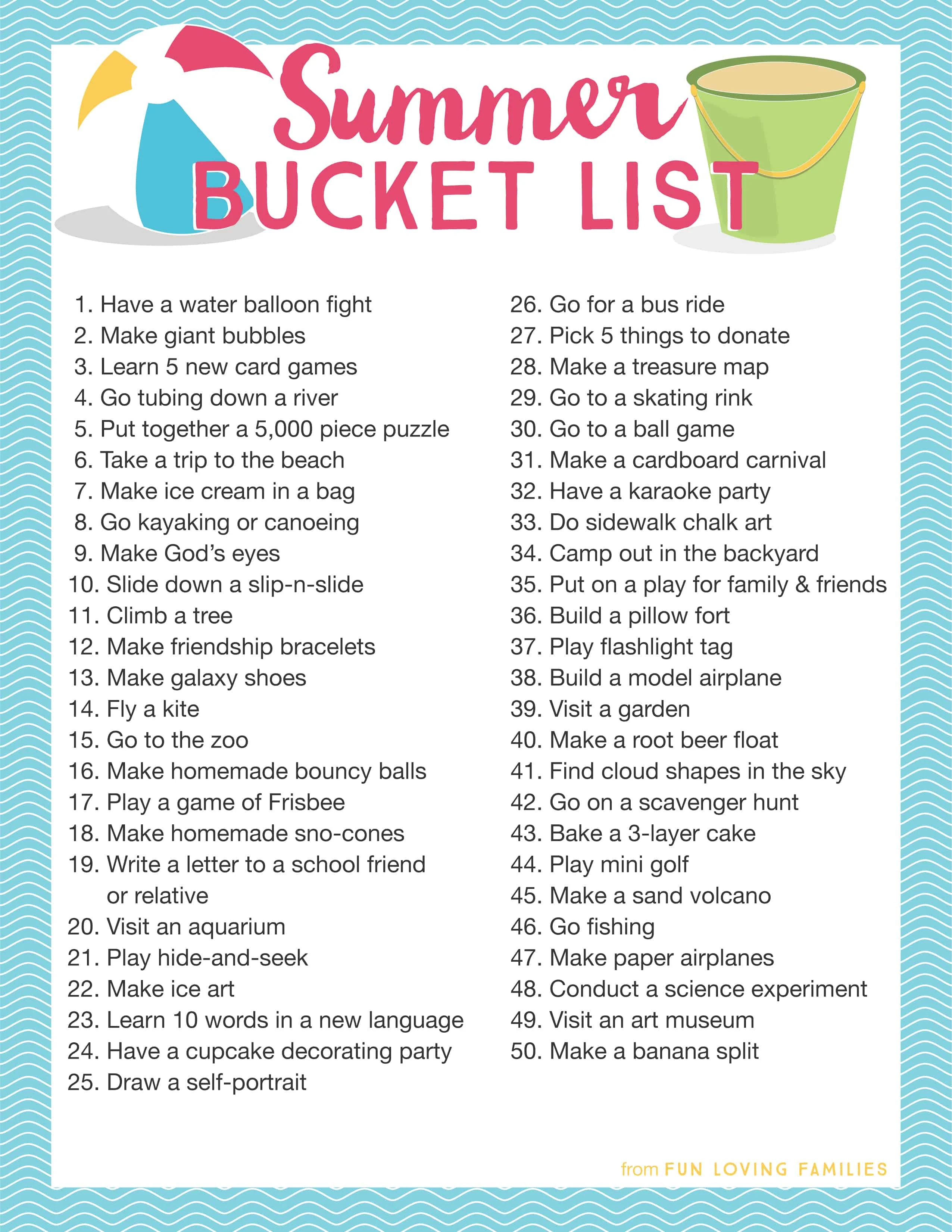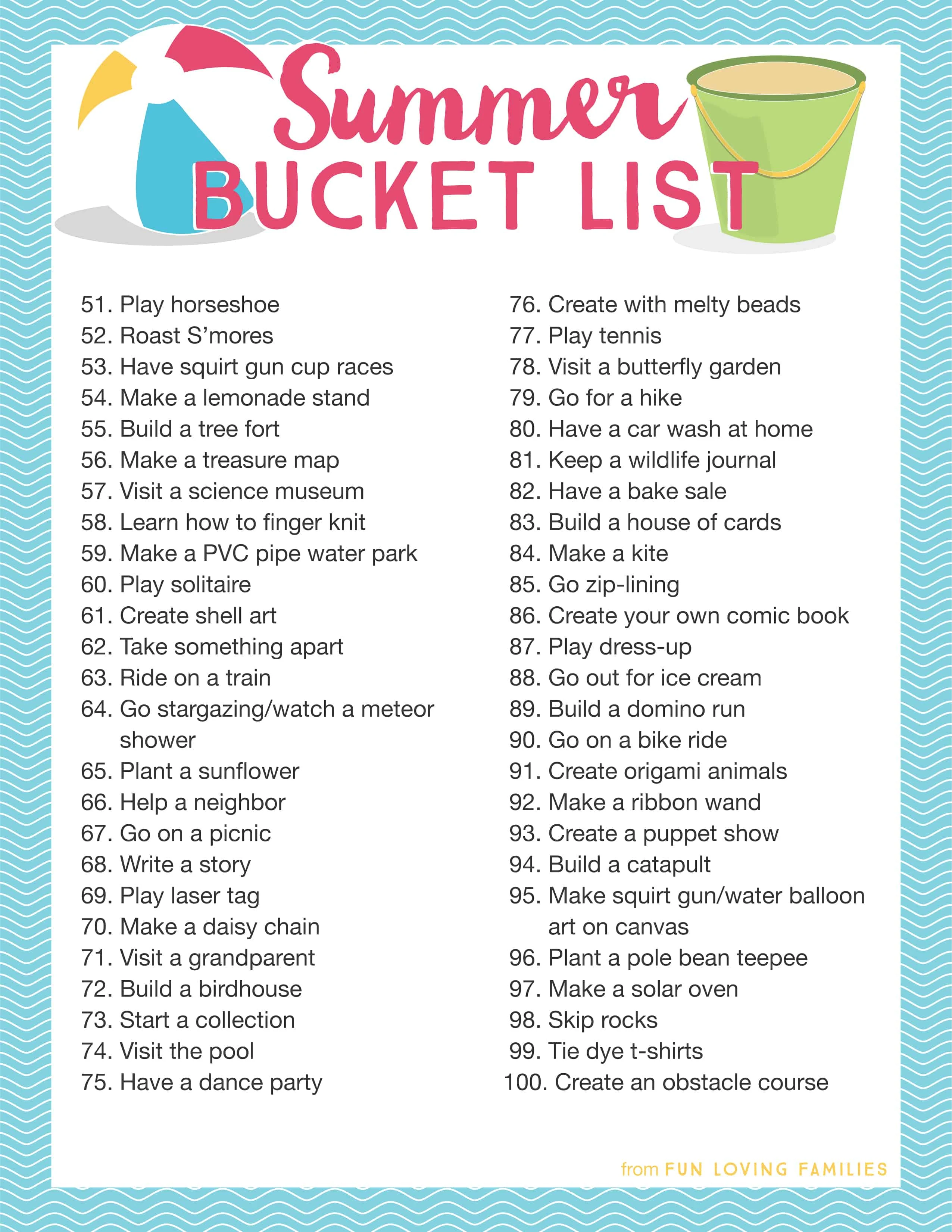 Make Your Own Summer Bucket List
I always include the kids when we make our lists of things we want to do each Summer. Most of the time we're on the same page, but sometimes they come with ideas I never would have thought of. For example, this year "play tennis" and "have a dance party" made the list….Not my ideas, but totally fun and doable.
So, I definitely want to encourage you to grab the kids and come up with as many fun things to do that you can think of. Then, have them pick their top 3-5 ideas from the list. These will be the ones you'll definitely want to hit.
When we make our bucket list, we know we aren't going to do everything on the list. In fact, "tubing down a river" has been on our list for a few years now! But, when we're sitting around bored and someone says, "What should we do today?", we have an amazing list we can look at and find something to do.
That being said, it's worth scheduling in a few things that are really important, or that take more planning, to make sure you're hitting some of the more important things on your list.
Here are some Summer Bucket List planning printables to help you keep all of your ideas in order.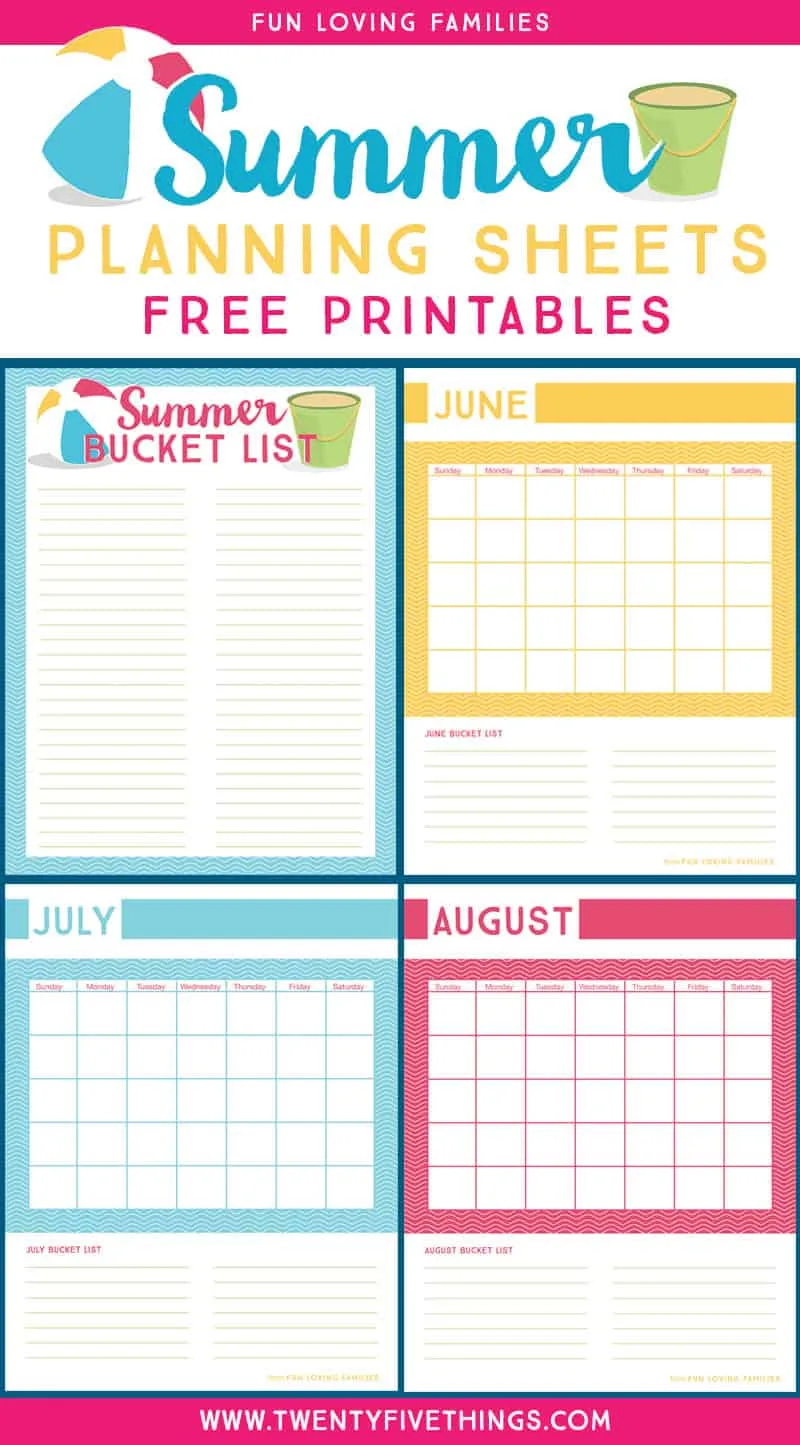 Use this blank list to create your own Summer Bucket List with your family: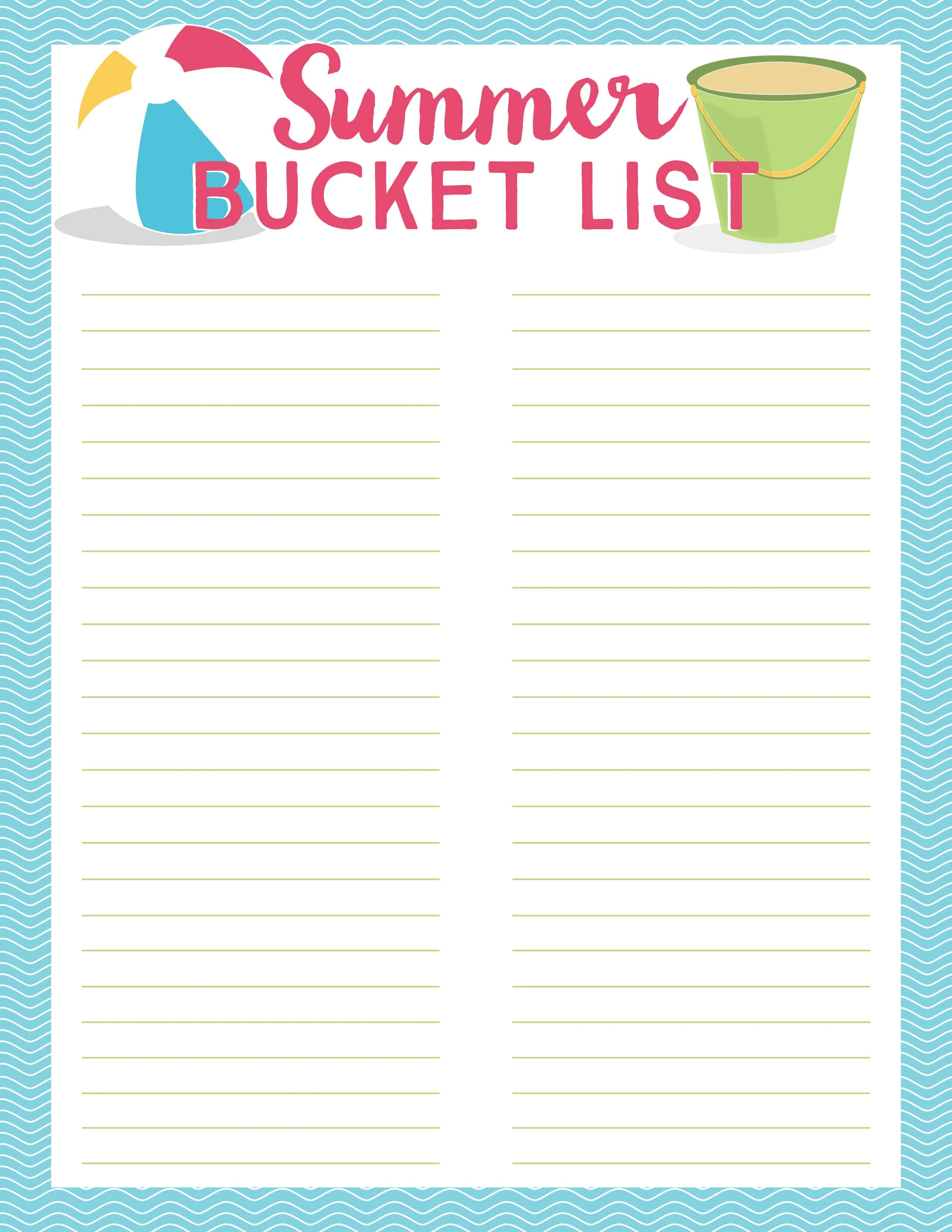 Then, print these monthly calendars to keep track of which bucket list items you want to do each month: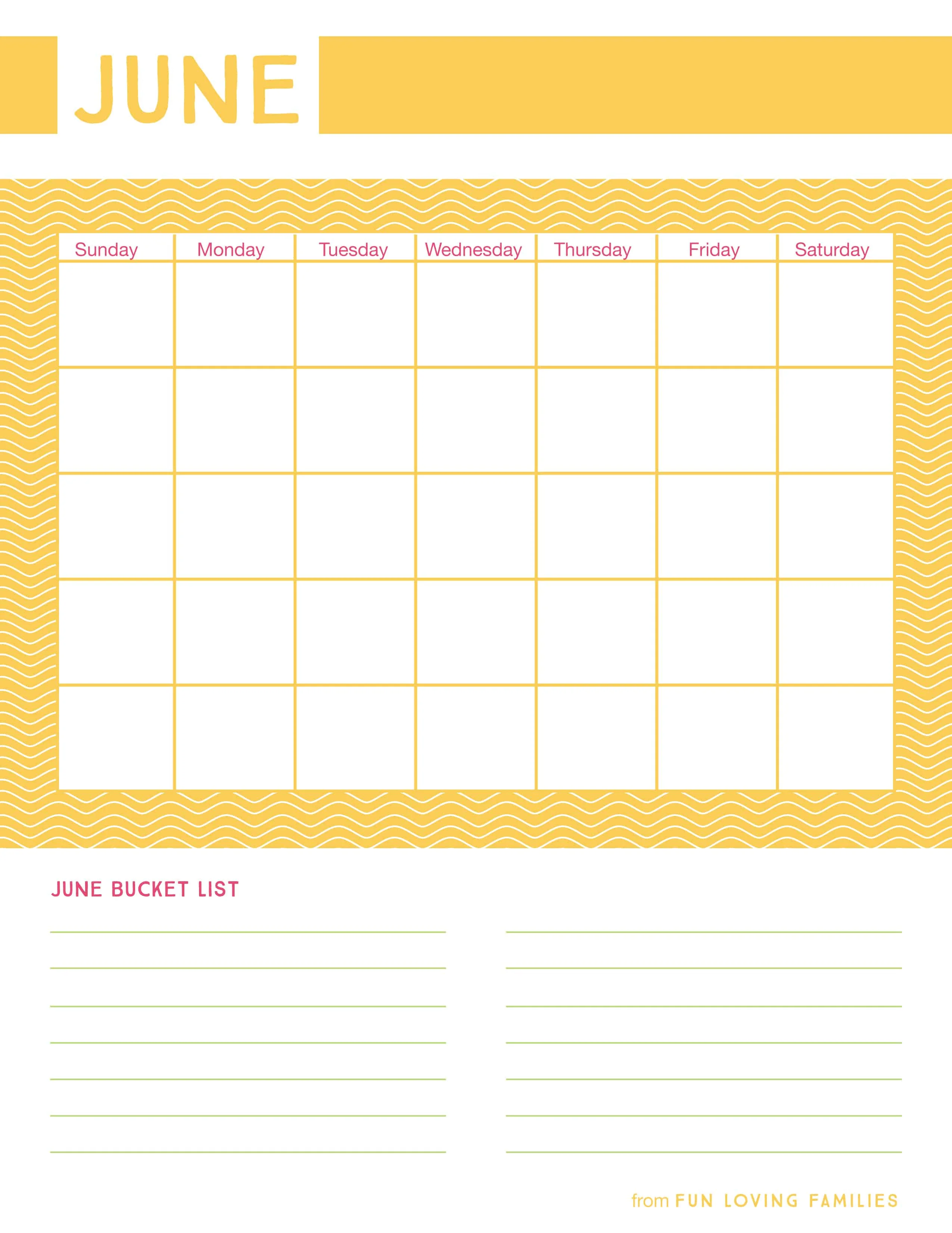 Here's the download link for the entire set of Summer Bucket List printable:
Have a Summer Full of Memories
I hope you were able to get some ides for spending time with the kids this Summer. Making memories together can really be easy, and we all agree it's important. But, sometimes we have to be intentional about it if we don't want to end up vegging out in front of the TV all Summer.
By making a few plans and goals, and letting the kids get excited about all that Summer has to offer, you'll be getting off to a great start.
Your Summer will be filled with fun and laughter, and the kind of connection that will fills kids up on the inside. For us, this translates into happier kids, better moods all around, less bickering between siblings, and less stress over all! It's a win-win for everyone.
If you missed the download links, you can click here to get the entire collection printables for your Summer planning.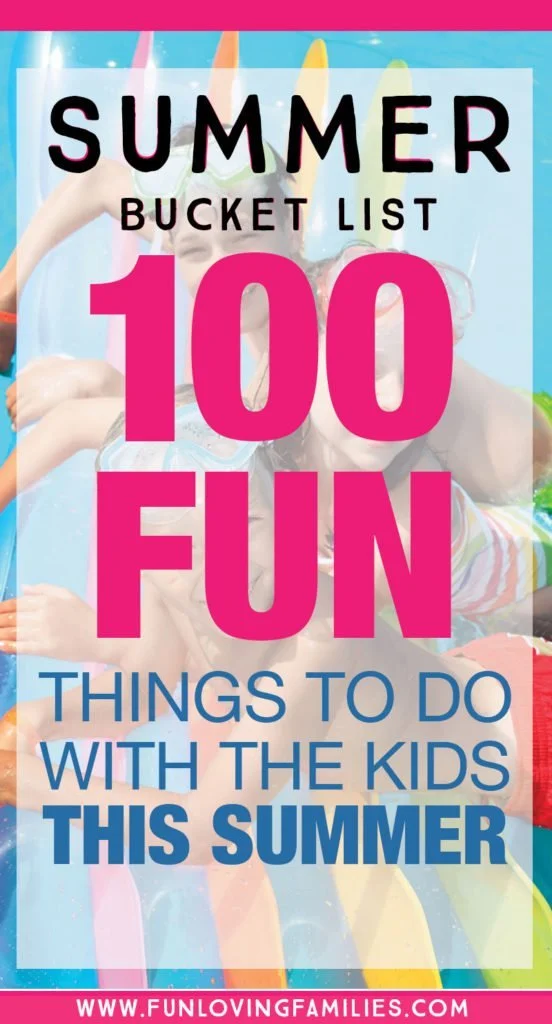 Similar Posts: