(Up-to-date.) Use this year in review printable template to help your kids reflect on 2022. These are keepsakes to treasure for years and kids love looking back on them when they're older.
(Edited Dec 2022: Wow, this year has been a doozy. It's probably not a year that you're going to be feeling nostalgic over any time soon, and I totally get it if you'd like to just skip the year-in-review this year and just look forward to 2023. But, I went ahead an updated this little keepsake activity anyways, and I'd like to encourage you to sit with the family and try to find some positive memories to hold on to. There are still moments to treasure, and I hope this simple sheet will you find them.)
Friends, it's almost December. Can you believe another year is already almost over?
The days fly by so fast and sometimes it's easy to forget everything that has gone on over the year. We like to go through pictures on our phones and computers to help us remember. In fact, looking back on the year is a great idea for spending time together on New Year's Eve when you're waiting for the clock to tick down.
Related: Free Printable Happy New Year Coloring Pages
Year in Review Printable for Kids
This year, print out this Year in Review Printable and have everyone fill out their info. Then, share what everyone wrote and enjoy remembering together.
Kids can color in around the page and draw in their own self-portraits in the photo box. Or, choose a favorite photo from the year and glue it on!
Be sure to keep the finished pages someplace safe so you can look back on them years from now!
Pin this to share and save for later: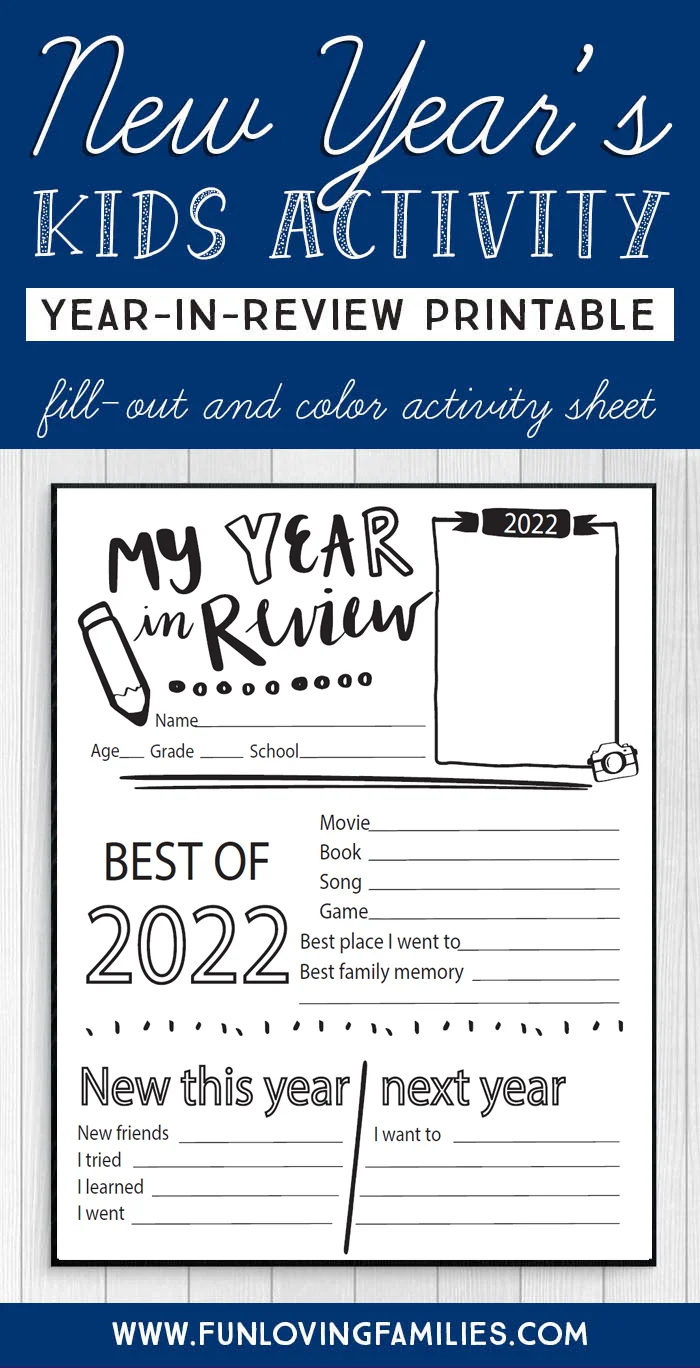 More Fun Ways to Help Kids Reflect
We all know how fast these kids of ours are growing up, which is why taking a few minutes to preserve some memories is so important.
If you like the year in review printable as a keepsake, then you might also want to purchase a kids journal. There are plenty of great journals available with prompts and questions to help kids with self reflection. I also love that some of these journals have space for kids to illustrate their answers rather than trying to come up with words.
Similar Posts: