These back to school teacher gift ideas are some of my favorite gift ideas for teachers. They're thoughtful, practical, and are sure to be appreciated by your child's new teacher.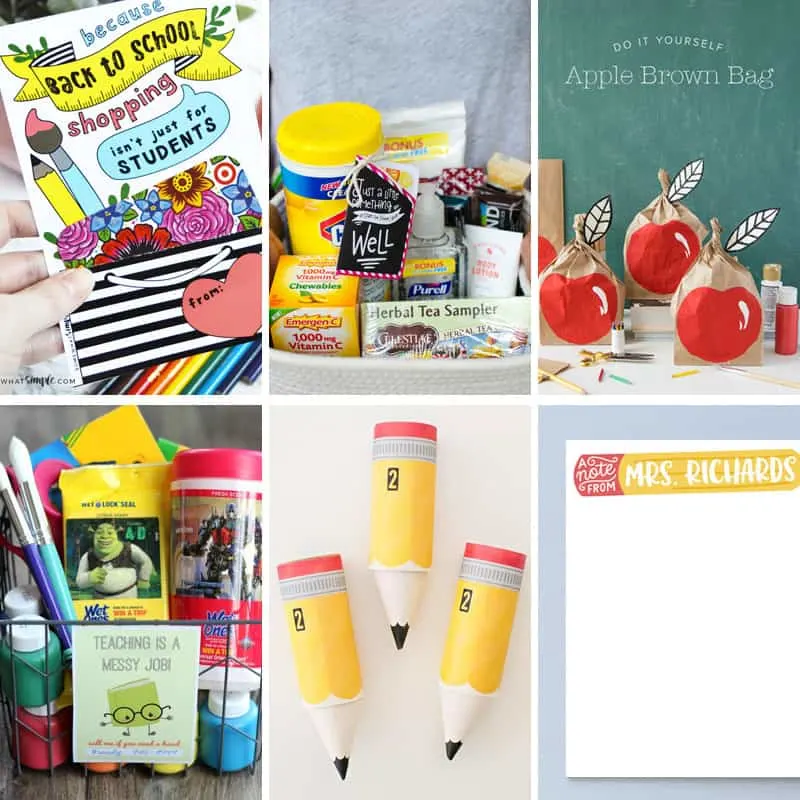 By the time the kids are back in school, the teachers have already spent hours getting everything ready for their classroom. Not to mention spending their own money on classroom supplies. I think a back to school gift for teachers is a very thoughtful way to start off the year. Today I'm sharing 10 back to school teacher gift ideas that are perfect for the new school year.
Best Back to School Teacher Gift Ideas
Now, we know there are a ton of really cute DIY teacher gift ideas on Pinterest. And, I love them…I really do. The problem with a lot of them, though, is that most teachers wouldn't actually know what to do with a lot of those really cute homemade gifts.
I'm sure you know which ones I mean…the vases made from pencils, the monograms made from crayons, the cute bell jars with apple-themed lids or etching. They're great to look at and fun to make. But, as it turns out, most teachers just don't want more "stuff" that they need to find a place for.
So, to that end…
The back to school teacher gift ideas I'm sharing today all have two things in common: They're really cute and fun to give, and they're totally useful for the teachers who are receiving them.
Plus, since it's the beginning of the year, you don't really know these teachers yet, so it would be hard to pull something together at this point that would be more personalized to their tastes.
Want to get to know your new teachers better so that you can give awesome gifts throughout the year (that you KNOW they'll love)? Check out our Teacher Favorite Things printable questionnaire to get all the info you need from the new teach.
(This post contains affiliate links which means I may earn a small commission if you click a link and make a purchase. As an Amazon Associate I earn from qualifying purchases.)
Here are some of my favorite ideas for Back to School Teacher Gift Ideas:
1. Teacher Survival Kit
Of course, we have to kick things off with our own Teacher Survival Kit. Our teachers were thrilled to receive these gift baskets we put together for them. We added items that we knew would help get them through the first day and some supplies that would continue to come in handy. View the post to read more details and get the free printable gift card:
See the Teacher Survival Kit back to school teacher gift.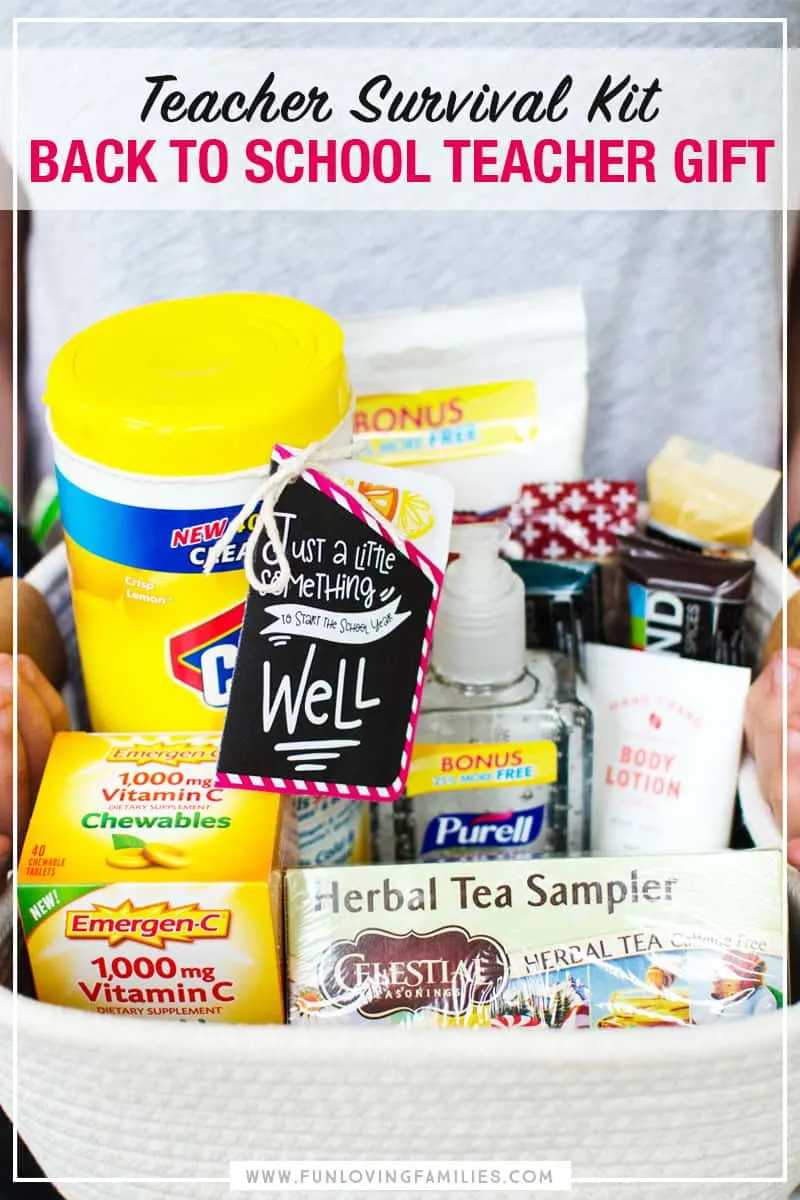 2. Teaching is a Messy Job Back to School Gift
This back to school teacher gift basket from Gluesticks is adorable, but what I *really* love about it is the little "Call me if you need a hand" gift tag. It's so easy to just give a teacher gift and then be done, but offering to give your time to your kids' teacher is really huge. I know teachers appreciate it when parents are willing to step up and help when needed, so this simple gesture of adding your phone number to your teacher gift is really meaningful.
See more details: Teaching is a Messy Job: Back to School Gift
|
3. Start the Year off "WRITE" First Day of School Teacher Gift
All you need are some trendy notepads and pencils, plus the free printable from Whipperberry, and you've got a great, simple, gift for your new teacher. Or, kick it up a notch by adding a gift card to a store where the teachers can buy any supplies they might still need.
See more details and get the printable here: 12 Free Start of School Printables
|
4. Sharpie Teachers Gift Printable
There's no need to be very spendy with your back to school teacher. This simple gift from The Suburban Mom is perfectly simple, with just the cute printable and a few Sharpie markers. You can add a hand-written message on the back to personalize it a bit more.
See the post and get the printable here: Sharpie Teacher's Gift Printable
|
5. Cookie Teacher Gift with Printable
I really love this cookie gift idea from A Pumpkin and a Princess. If your kid is at the point in school where he or she has more than one teacher, then back to school teacher gifts can start to add up to bid dollars. How about you bake a dozen or so cookies, then divide them up and spruce up the presentation with an adorable gift box? It's fun, thoughtful, and won't break the bank!
Check out the details and get the Cookie Teacher Gift Printable
7. Pencil Tube Paper Gift Holder
How fun is this DIY pencil gift box from Hello Wonderful? If you're trying to choose between doing a crafty gift versus something more practical for you kids teachers this year, you don't have to choose! Grab a handful of school supplies, then make your own gift box to put them it. I promise, any teacher would love to get a gift box (that you made!) filled with supplies.
Grab the template and see the tutorial for the Paper Pencil Tube Craft
8. DIY Decorated Gift Bags
These decorated brown bags from The House That Lars Built are actually supposed to be lunch sacks. But, instead of using small brown bags, just swap them out for bigger, grocery-sized, brown bags. Once your bags are painted, fill them with teacher supplies, yummy treats, a survival kit, or anything else you think your teachers will love! These gift bags are perfect for the crafty mom looking for teacher gift ideas.
See how to make the DIY Apple Brown Bags
|
9. Personalized Stationary for Teachers
I came across these personalized notepads from Minted and thought they'd be perfect for a back-to-school teacher gift. I know a lot of teachers use email for communications these days, but I still think some personalized stationary is a lovely gift that would be used.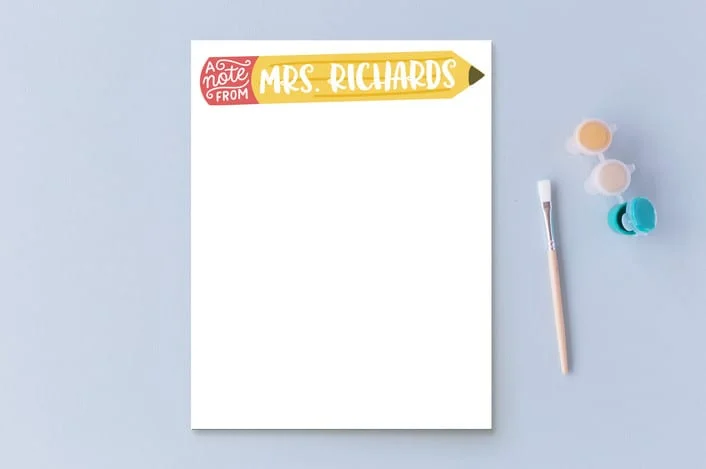 10. Printable Back to School Gift Card Holder
Finally, we have the gift that you just can't go wrong with from Somewhat Simple. Pick up a gift card from Target, Amazon, or Staples and tuck it into a fabulous gift card holder, and you're set!
Go here to get the Back to School Gift Card Printable
|
Getting Ready for Back to School? You'll love our Back-to-School Printable Bundle:

Back to School Bundle
Find more Back to School Ideas:
We would love it if you would share our Back to School Teacher Gift Ideas: Pin the image below to share this post with friends or to save it for later!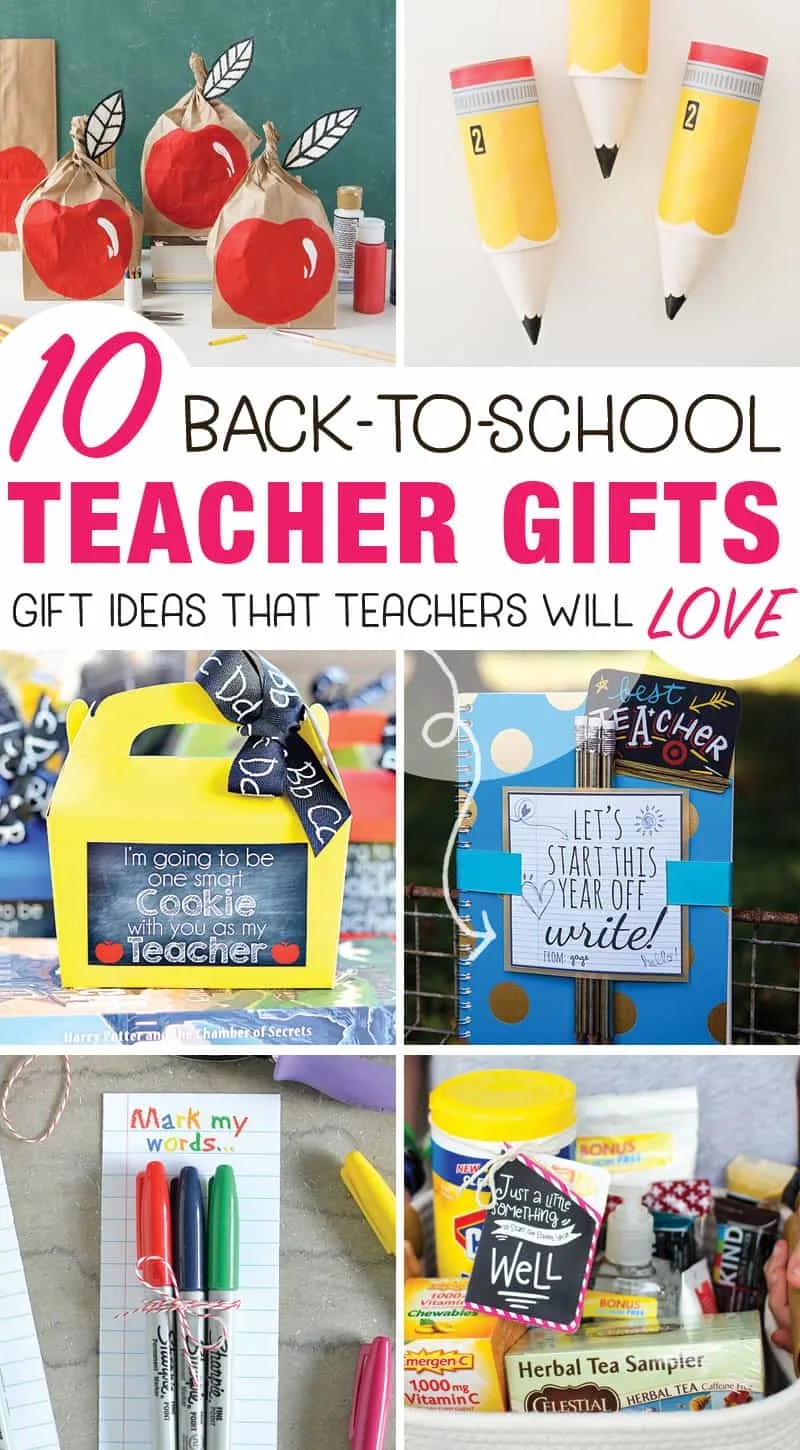 Similar Posts: