These back to school teacher gift ideas are some of my favorite gift ideas for teachers. They're thoughtful, practical, and are sure to be appreciated by your child's new teacher.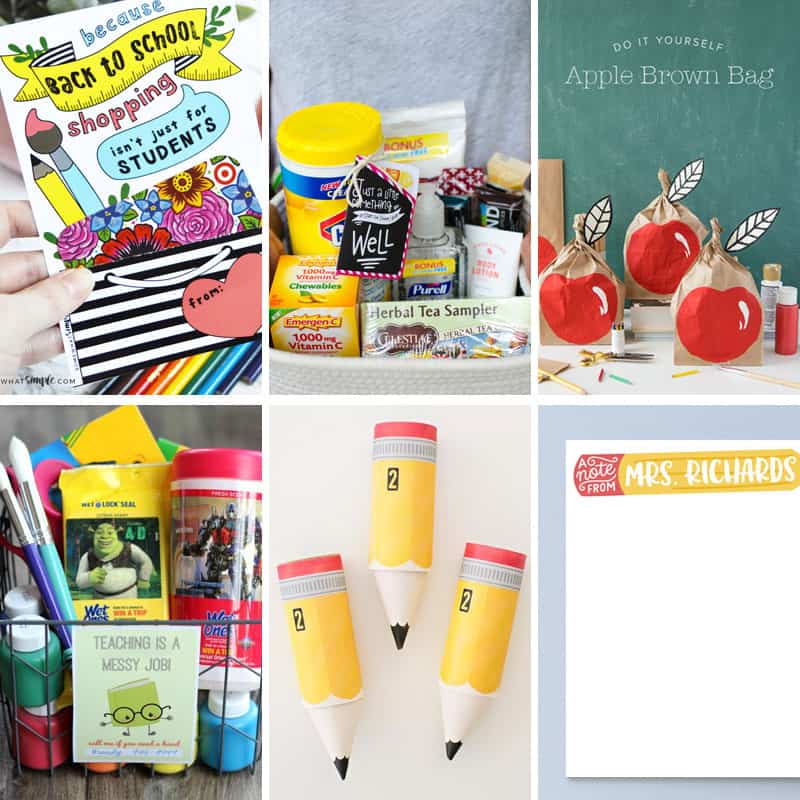 By the time the kids are back in school, the teachers have already spent hours getting everything ready for their classroom. Not to mention spending their own money on classroom supplies. I think a back to school gift for teachers is a very thoughtful way to start off the year. Today I'm sharing 10 back to school teacher gift ideas that are perfect for the new school year.
Best Back to School Teacher Gift Ideas
Now, we know there are a ton of really cute DIY teacher gift ideas on Pinterest. And, I love them…I really do. The problem with a lot of them, though, is that most teachers wouldn't actually know what to do with a lot of those really cute homemade gifts.
I'm sure you know which ones I mean…the vases made from pencils, the monograms made from crayons, the cute bell jars with apple-themed lids or etching. They're great to look at and fun to make. But, as it turns out, most teachers just don't want more "stuff" that they need to find a place for.
So, to that end…
The back to school teacher gift ideas I'm sharing today all have two things in common: They're really cute and fun to give, and they're totally useful for the teachers who are receiving them.
Plus, since it's the beginning of the year, you don't really know these teachers yet, so it would be hard to pull something together at this point that would be more personalized to their tastes.
Want to get to know your new teachers better so that you can give awesome gifts throughout the year (that you KNOW they'll love)?  Check out our Teacher Favorite Things printable questionnaire to get all the info you need from the new teach.
(This post contains affiliate links which means I may earn a small fee if you click through and make a purchase. This helps support this blog at no cost to you. Thanks!)
Here are some of my favorite ideas for Back to School Teacher Gift Ideas:
We would love it if you would share our Back to School Teacher Gift Ideas: Pin the image below to share this post with friends or to save it for later!