Are you looking for Perler bead projects to do for the Winter season? Check out this list of Perler bead designs to see all of the things that make the winter season special and magical.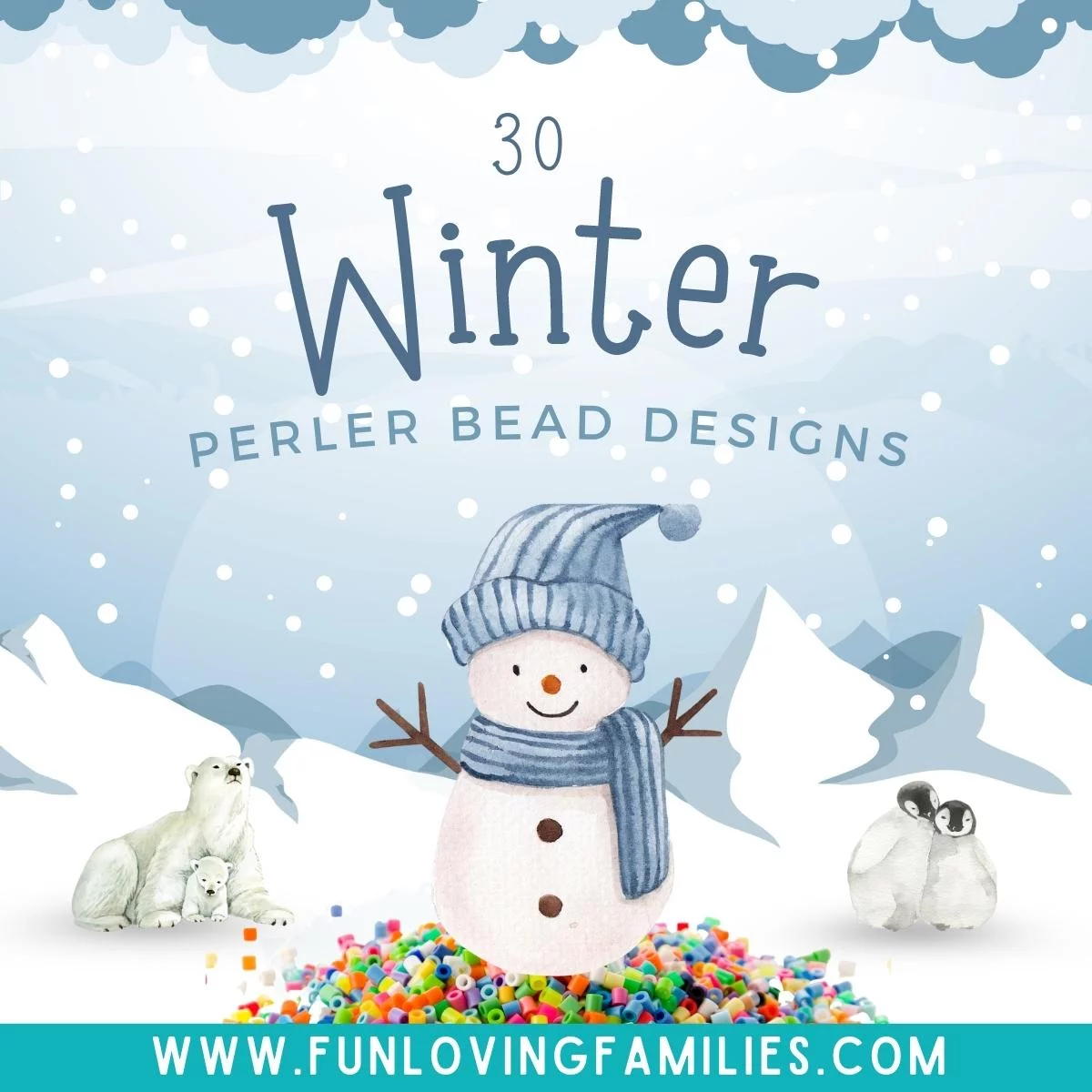 The coming of Winter is one of the most dramatic of all seasons. The temperatures drop, the days shorten, birds fly South, trees drop their leaves, and landscapes of reds and oranges transform into snowy blankets of ice and frost. It may seem cold and harsh at first glance, but it's also the season of warm holiday festivities and magical winter things.
Make these winter months even more special for your family with these Perler bead works.
Winter Perler Bead Designs
Snowflakes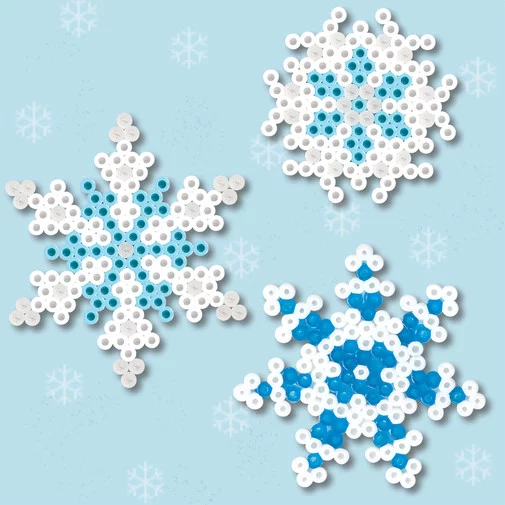 The official Perler bead website has the best PDF tutorials, and one of their winter projects is this set of beautiful snowflakes. Check out their easy-to-follow tutorial to make these frosty beauties.
Snow-Covered Tree
Nothing says winter quite like trees with their snow-laden boughs. You can practically smell the eucalyptus-like scent of this pine tree.
Cap and Mittens
These mittens and cap are looking exceptionally bright and warm. This design is easy to make, too!
Hot Cocoa
If you are looking for the easiest projects for your little one, this mug of hot cocoa might fit the bill. Krysanthe made 10 easy winter projects. Go take a look at the rest of them if you like this cute guy.
If you want a bigger piece, check out this pattern. It's the same red mug sans the smiley face, but it's got whipped cream, a couple of chocolate sticks, and a candy cane.
Easy Snowman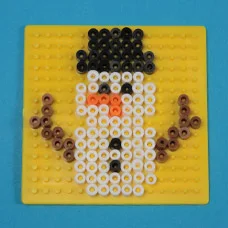 Craft Project Ideas also made simple designs for the little ones who want to create with Perler beads. Isn't this little snowman so endearing?
Frozen's Olaf
If your child is a big fan of the Frozen movies, they'll surely love this character. It's Olaf and he seems to be saying, "Hi, I'm Olaf, and I like warm hugs".
Snowman Snowflake
For those who want something bigger and more elaborate, take a look at this beautiful snowman set against a giant snowflake backdrop. White and shades of blue always go well together.
The Snow Couple
Aren't these two the most darling pair? It's a bit funny how two snow people are cuddling up and sharing a polka-dotted pink scarf to keep warm.
Snowy Owl
I love everything the crafter has done with this owl. The snow-white plumage, the black speckles, the piercing eyes, and the desolate-like backdrop — they all combine to give you the feeling of actually being stared down by this wild creature. The candy cane scarf is also a nice touch.
Polar Bears
Speaking of winter, we can't forget two animals that live in perpetual ice — polar bears and penguins. The polar bears are looking especially cute and cuddly. They also stand out because of their blue outlines.
If you are looking to make crafts, you can repurpose these little designs into refrigerator magnets. All you'd need would be small magnets with adhesive backing from your local craft shop.
Penguins
If you're looking for an easy penguin to make, take a look at this goofy penguin on skis.
This Perler bead art is more realistic but oh-so-beautiful. It's a pair of mother and baby penguins.
Did you know? A baby penguin is called a chick. Most chicks are born with gray, brown, or white downy feathers that keep them warm.
This is a more cartoonish rendition of a penguin. You can use this pattern for a Perler bead project (and cross stitch, even). It would be awesome if you have these exact shades of beads.
Buying a Christmas Tree
For many families, buying a Christmas tree is a yearly tradition. Family members drive out, enjoy complimentary drinks like hot chocolate, have fun choosing their tree, and then drive out again with said tree strapped to the back of their vehicles. It's one of the many common winter scenes that people remember with warmth and nostalgia.
Look at this tiny red car with a tree strapped on its roof.
Here is a red pickup truck with a Christmas tree at the back.
It's not an exact replica, but you can use this pattern as reference for the second vehicle.
This blue bug is just too adorable. This was obviously crafted with much love, care, and humor.
Winter Break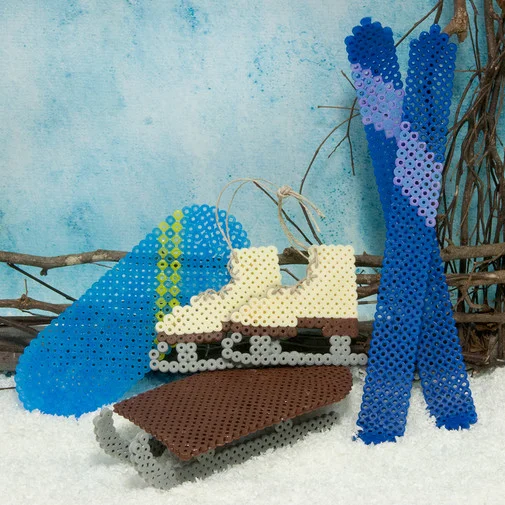 Winter breaks also mean fun in the snow. You can get the pdf tutorial for this pair of skates, bobsled, and skis from the official Perler bead site. Their pdfs are always well-made and easy to follow even for beginners.
Polar Bear Winter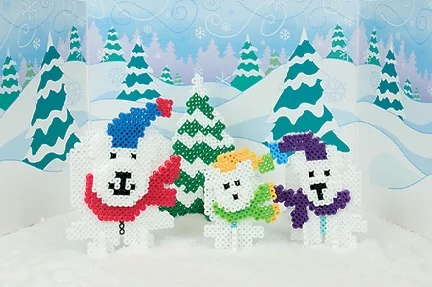 We're back with the polar bears, but this time, it's a fun family winter scene. Look at their cute winter hats and scarves. You can find the pdf tutorial here. You can print it out so you and your child can follow the patterns easily.
Winter Sports Silhouettes
The Activity Village must have gotten excited over the Winter Olympics, because they made these action-packed patterns for the different sports. This one is for the snowboarding event. You can use these patterns to make mobiles, coasters, and other fun crafts.
If you want to see their full collection, head on over to their website.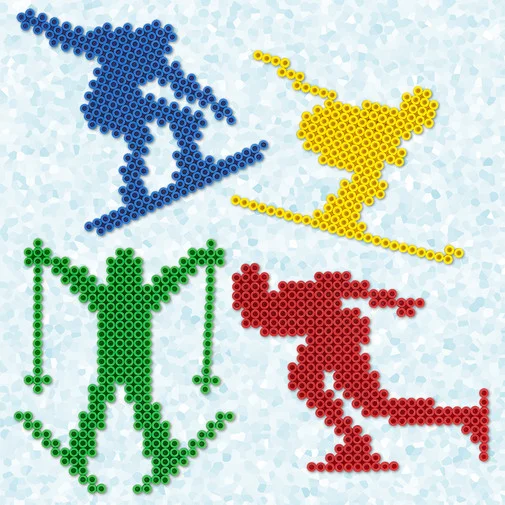 The Perler bead website also made similar designs, except that they're in different colors and not square patterns.
Snow Words
The best designs are sometimes the simplest. This baby blue SNOW is already making me feel cool and breezy.
Winter Landscapes
Every season has its special charm, and winter is no different. Perler bead crafters recreated these winter landscapes, and each one gives off a different vibe. Which one is your favorite?
Christmas Ball
This winter night view of a cozy house doubles as a Christmas ball. You can make your design into a circle, string a ribbon through it, and hang it up on your Christmas tree.
Heart-Shaped Winter View
Looking at this view will make you feel soothed and calmed. It's the combination of the soft-hued blue beads and the night-time winter landscape. It feels very peaceful and quiet.
You will need a special heart-shaped board to make this.
Winter Scenes
This is the same winter scene as above, but you can see that brighter-colored beads were used making this view more vibrant. The second design below shows off a figure having fun in the snow.
Silent Night
Here's another design of a quiet and silent night. The yellow beads signal warmth in an otherwise chilly landscape.
Oval Winterscape
Here is an unusually-shaped project. It's a countryside winterscape in the shape of an oval. You can see the snowflakes falling softly from the sky.
Countryside Winter
And finally, our last winter landscape is this star-shaped design. It's of a desolate house in the countryside with a bare-branched tree in the foreground. In the background, we have a view of a forest, mountains, and the setting sun. There are birds in the sky, too. Isn't this an amazing Perler bead work?
Winter Perler Bead Crafts
If you've been following my Perler bead series, you'll know that I usually feature crafts you can do at the end of my curated lists. Check out these fun projects.
Polar Bear Trinkets
These polar bears and penguins are so cute that crafters are turning them into different things. Apart from refrigerator magnets, you can make them into mobile phone accessories or bag tags.
Snowflake Earrings
Imagine wearing these snowflake earrings for winter. You are sure to get compliments!
This is another design you can do. In fact, you can use any snowflake design to make into earrings. Just make sure to use a small pattern so that they aren't too heavy when you wear them.
Snowflake Keychain
This keychain is so pretty. There are many snowflake designs you can use as alternatives, but make sure to avoid the spindly ones. Keychains get jostled around. A solid design like this one that's ironed well should keep its form longer.
Snow Angel Hanging Ornaments
These whimsical snow angels are made with special Perler caps. They look exactly like beads, but they are closed on one end. Regardless, you can make these with whatever Perler beads you have on hand.
Christmas Tree Ornament
Decorate your tree with Perler bead snowflakes. All you need is a piece of ribbon or string to get these done.
I wanted to show you this fantastic 3D snowflake. Sadly, I don't have the exact pattern.
To make this, you will need to build two interlocking pieces. In principle, it's something like the above.
And remember our tree-laden truck? Here it is on top of a tree. You can essentially take any design you want and turn it into a hanging ornament.
Snowflake Coasters
Crafter Jennifer of HGTV made these beautiful pastel snowflake coasters. Color schemes are personally my weakness, so I really admire crafters who can pick out and combine the perfect colors. The baby blue and white beads go very well with the minimalist snowflake design, while the bright pink brings a cute pop of color.
Snow Globe
If you like snow globes, you can make these Perler bead snow globes. They're not like the real thing since they're 100% made of beads rather than the usual glass dome. Still, they're very pretty and you won't have to worry about breaking them.
Here is a 2D version with Santa Claus, a pine tree, and falling snow. If you only have white beads, you can skip the snow or else make the background a different color altogether.
Snowy Village
Create your very own snow village using beads. You don't have to make everything 3D either. Just use stands to prop up your houses and animals. See the white beads propping up the blue house.
Standee
The source website is in Danish, but this Santa Clause in the Bathtub is too funny. It's an amazing Perler bead work, too!
If you enjoyed this winter collection, bookmark it and share it with your friends and fellow crafters. Have a magical winter!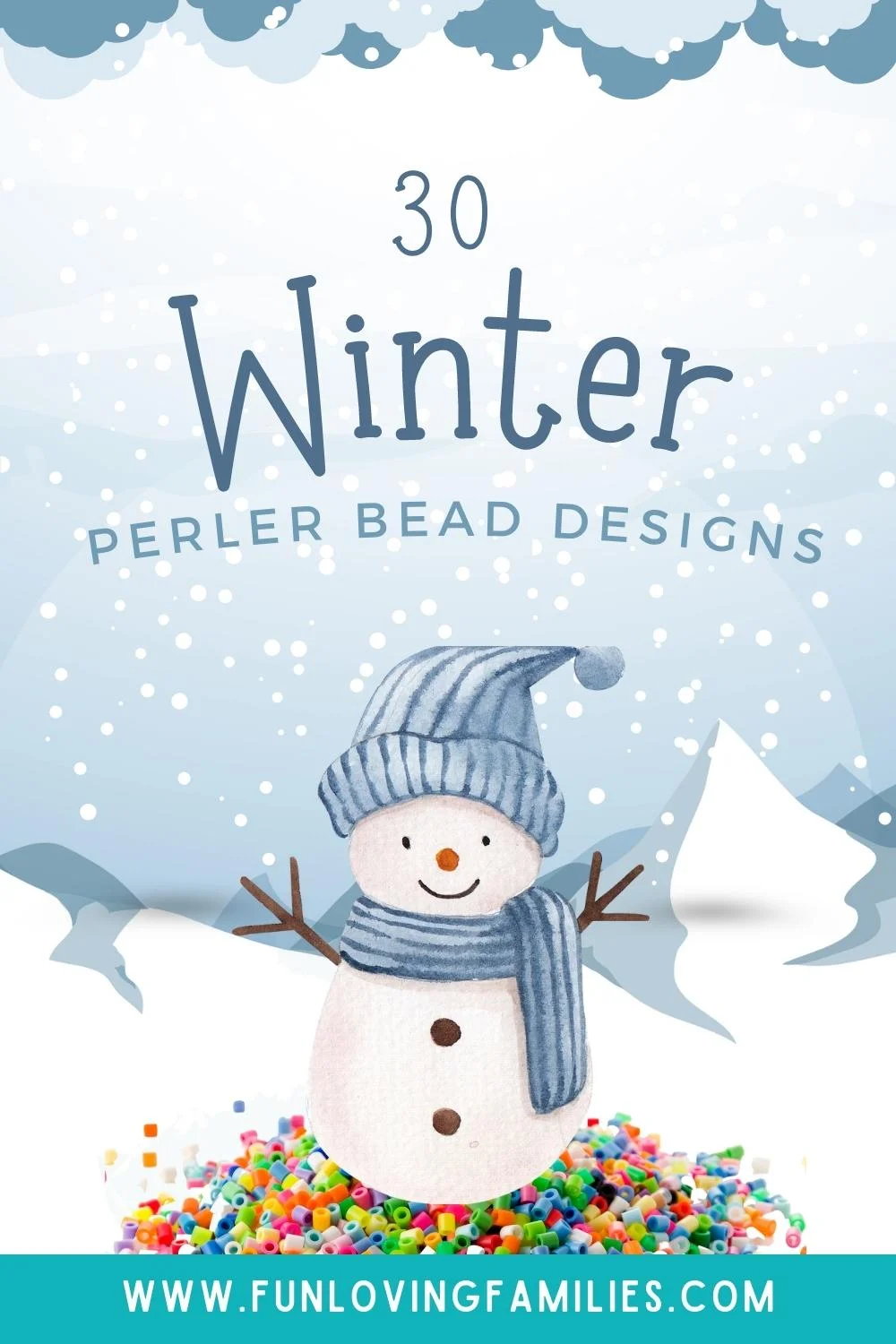 Similar Posts: