If you think shark designs are cool, then be sure to check my curated list of the best shark Perler bead patterns and designs. There's a surprising variety of shark designs available that I didn't quite expect. Check it out!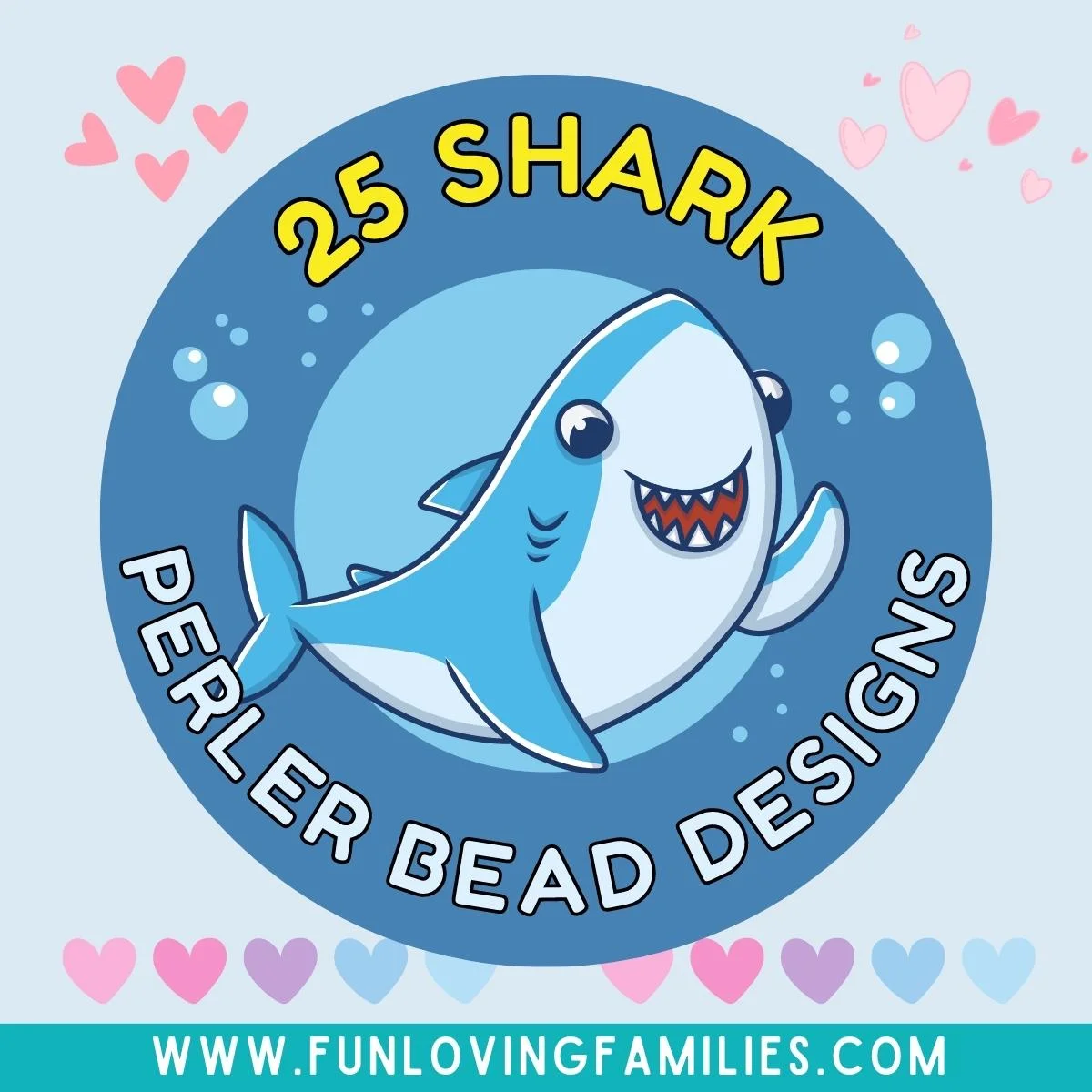 Sharks are a lot like dragons and aliens. People love them. They're plastered all over as designs for kiddie merchandise. And while nobody in their right mind would want to be within biting range of the real things, it's cool to have them as designs all over your shirt or bags, or as plushies in your bed.
Don't miss the dabbing shark. It's hilarious!
Shark Designs
I'm featuring a whole host of shark designs — from adorable patterns to scarily realistic renditions.
Baby Shark
First up on our list is the global phenomenon Baby Shark. This song holds the Guinness World Record for the most-viewed YouTube video of all time. It's super catchy and highly addictive. Take a look at these adorable sharks.
Jaws Head
For adults, say sharks and they immediately think of Jaws. Released in 1975, it reached cult classic standing because of its immediate mainstream success and subsequent loyal following. Just hum the two-note music that heralds the appearance of the shark and everyone and their grandma will yell Jaws.
Here is a bigger design of the Jaws head.
Shark Head Using Star Peg Board
If you have the star peg board, you can use it to make this shark head pattern. Notice how the beads are not in a straight line like usual.
Finding Nemo Shark
Do you remember the shark from Finding Nemo? A great white shark, he is a lovable character who tries to break the stereotype surrounding sharks. (It's hilarious, really.) Bruce is head of a support group "Fish are Friends, Not Food" where he encourages his fellow sharks to embrace a vegetarian lifestyle.
Here is a big, big pattern of Bruce. The crafter had to use 9 square pegboards to get Perler bead Bruce done.
Friendly Shark
Look at this adorbs baby shark playing with its seahorse friend. It's enough to give you the fuzzies.
Small Shark Pattern
Here is an easy pattern for a blue shark. It's got a friendly face too and some nice shading.
Baby Blue Shark Pattern
If you want a more pastel design, this pattern fits the bill. You can use pastel pink beads together with baby blue beads to make this shark.
Purple Shark
If you like the color purple, then you'll love this purple shark. And in case you're curious, there are no naturally occurring violet-colored sharks. Some sharks may appear to have a bluish or even a violet cast, but this is more due to the reflection of light off their bodies rather than their actual skin colors. Even the Blue Whale is actually gray in color.
Goofy Shark
You can't help but smile at this funny-looking shark. Its goofy grin is so contagious you'll also find yourself smiling.
The pattern is here for your reference.
Left Shark
At first glance, I thought that this was a simple dabbing shark. But nope, it's the infamous Left Shark.
Left Shark was one of the backup dancers of Katy Perry during her performance at the halftime show of Super Bowl XLIX. The Left Shark (or the shark that was dancing on the left side of the singer) shot to social media and meme fame because of his uncoordinated and erratic dance moves.
It's another glimpse into human behavior of how a seemingly insignificant moment can capture the collective imagination and become a lasting cultural reference. (In short, it's so random what becomes viral.)
Here is the pattern for your reference.
More Left Shark
Here's another design of the viral sensation Left Shark. He's probably wondering, "How did I get so famous?"
The Fisherman and the Shark
I found this cute pattern of a fisherman and a shark. The colors are so vibrant and the set-up so humorous and whimsical. Imagine fishing in a pond and luring a shark!
Hammerhead Shark
It's a hammerhead shark! You can immediately tell from its hammer-shaped or T-shaped head.
There are many fascinating things about hammerhead sharks. For one, the unique shape of their heads gives them enhanced sensory abilities. Also, female hammerhead sharks can reproduce asexually. They don't need a male counterpart, and their babies are genetic clones of the mothers.
Here is the pattern for your reference.
Graceful Shark
Look at this creature in mid-swim. It shows off the graceful arch of its body as it undulates through the water. The shading is also excellently done. You'll need at least 5 different shades of blue Perler beads for this though.
Ferocious Shark
The official Perler bead site features this very realistic shark design. You can get a very comprehensive tutorial on this pdf page. As the instructions show, you'll need 5 square boards for this piece.
Here is a pattern for your reference. Be sure to also check out the Perler bead pdf tutorial. It breaks down the pattern per square peg board.
Shark Crafts
Now let's look at all the fun stuff you can do with Perler bead sharks.
Shark Earrings
Be the talk of your class, your office, or your party with these shark earrings. You'll surely get a lot of compliments and curious questions.
Left Shark Necklace
If you thought the Left Shark was hilarious, wear it as a campy accessory. The white and colored beads are a fun touch.
Shark Keychains
Mom Kimberly of A Night Owl Blog made these shark keychains in varying shades of blue.
Jaws Keychain
If you liked the design for the earrings earlier, you can reuse that pattern for keychains, too.
Shark Cake Toppers
Crafter Chelsea of Do It Your Freaking Self used the shark pattern we've seen before as cupcake toppers. They're sure to be a hit at any party. Just make sure they're ironed well so that no bead gets lost and accidentally eaten.
Baby Shark Cake Toppers
If you have younger children and want a cuter shark design, these Baby Shark cake toppers should be perfect.
Here is a closer look at the Baby Shark design. You can see that it's only one design but done in different colors.
Small Shark Art Pieces
Somebody must love sharks a lot. Just look at all the shark artworks they did.
Jaws Poster
This is a reproduction of the original Jaws poster done in Perler beads. And while this Perler bead one might even be seen as funny, the original movie poster is actually quite terrifying.
3D Retro Jaws Poster
Here is another version of the Jaws movie poster. In this design, the water has gradations, the shark looks more pixelated, and the movie's title is done in red beads.
Here is the pattern for your reference.
Shark Mobile
If you have several shark Perler bead works already, you can make them into a cool shark mobile.
Shark Mask
This mask stumped me for a while. I'm going to assume that this is a mask you can wear on the lower half of your face so that you look like you have shark teeth. Maybe for Halloween? If anybody knows, give me a holler.
If you enjoyed this cool shark collection, bookmark it and share it with your friends and fellow crafters. Happy crafting!
Similar Posts: