Print out a road trip scavenger hunt list the next time you get ready to hit the open road with the kids. There are three printable scavenger hunt and a road trip I-spy to print out, so whether you have a little one or big kids, there's a game here that's just for them!
We took our first road trip with our fourteen year old daughter when she was just a tiny baby only a few weeks old. We were living far from family and it was the only way to bring her to meet everyone while being able to bring the dogs.
And it was a loooong trip: from Missouri to Florida. With a 4 week old baby. Two dogs. Over two long days of travel. It turns out it was just the beginning of our experiences traveling with the kids.
Since then we've driven thousands of miles with the kids and dogs, all over the country (literally from coast to coast) and we've got amazing memories to show for it.
One of the things that makes long car trips easier, and more fun, is having a few road trip games up your sleeve.
Now that the kids are getting older, I'll admit the road trips are easier. But I still love playing some games every now and then with them, just for fun.
Road Trip Scavenger Hunts
Scavenger hunts are one of my all time favorite games to play in the car with the kids because it gets everyone to pay attention to what's going on outside.
It's so fun to play together as a family, but you can also print out copies for everyone and make the games a competition. Basically whoever spots the item on the list first gets the credit for that one, but at least one other person has to also see it to confirm the item was actually there!
If you have a road trip planned for the summer or over a break you can use one of these free road trip scavenger hunt printables for your kids. I made sure to make a few since different kids have different needs.
Go ahead and take a look at the different road trip scavenger hunt ideas for different ages, then at the bottom of the post you'll find the download link to print them out at home.
For Toddlers through Kindergarten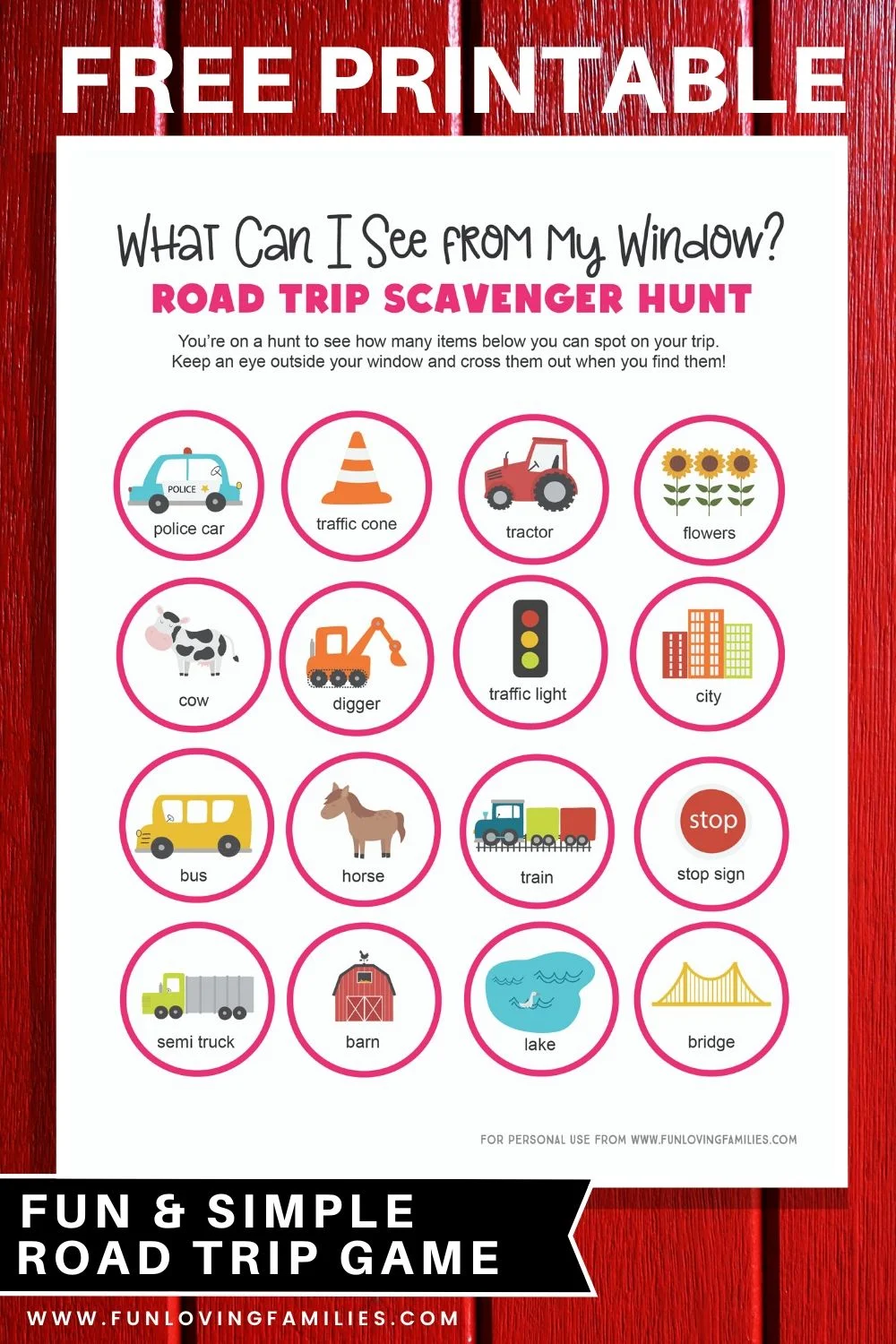 This visual road trip scavenger hunt is perfect for younger kids who aren't reading yet. The colorful pictures make it easy for little ones to play, and it's a fun and simple language learning activity you can add to your arsenal of road trip boredom busters.
Just think of all the new words your little one will learn on this adventure to someplace new!
I recommend laminating this sheet to protect it, so that you can feel free to let your toddler or preschooler hold on to it and look closely at the pictures.
For Big Kids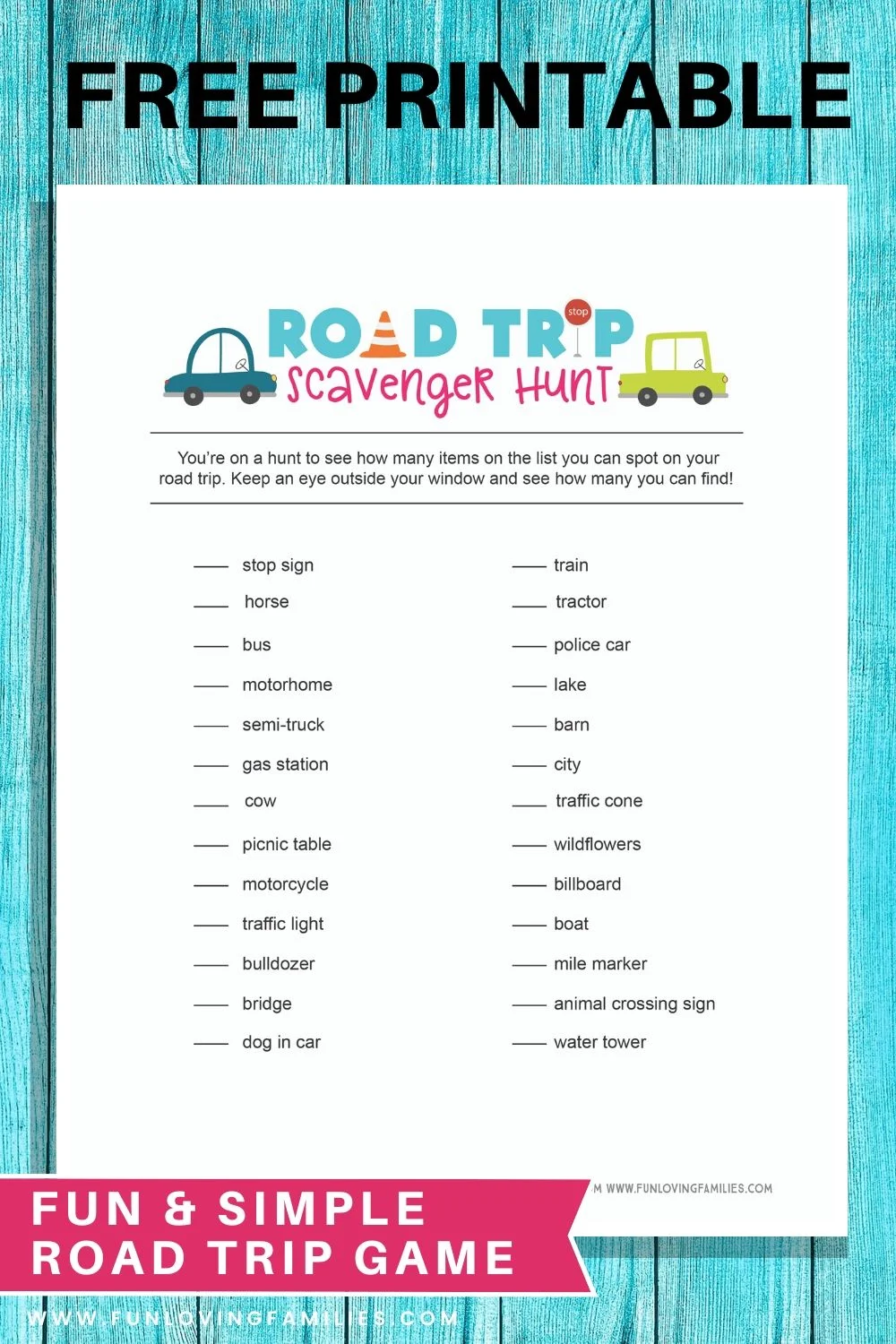 Once kids are reading on their own they're ready for a bigger list with fewer pictures. This road trip scavenger hunt for big kids is probably a good choice for kids ages 6-10.
With a total of 26 objects to find, it fits right in the middle between the simpler picture version for younger kids and the long list below for tweens and teens. However, I would recommend having both on hand for this age in case your kids are ready for a bigger challenge when they finish this list.
For Tweens and Teens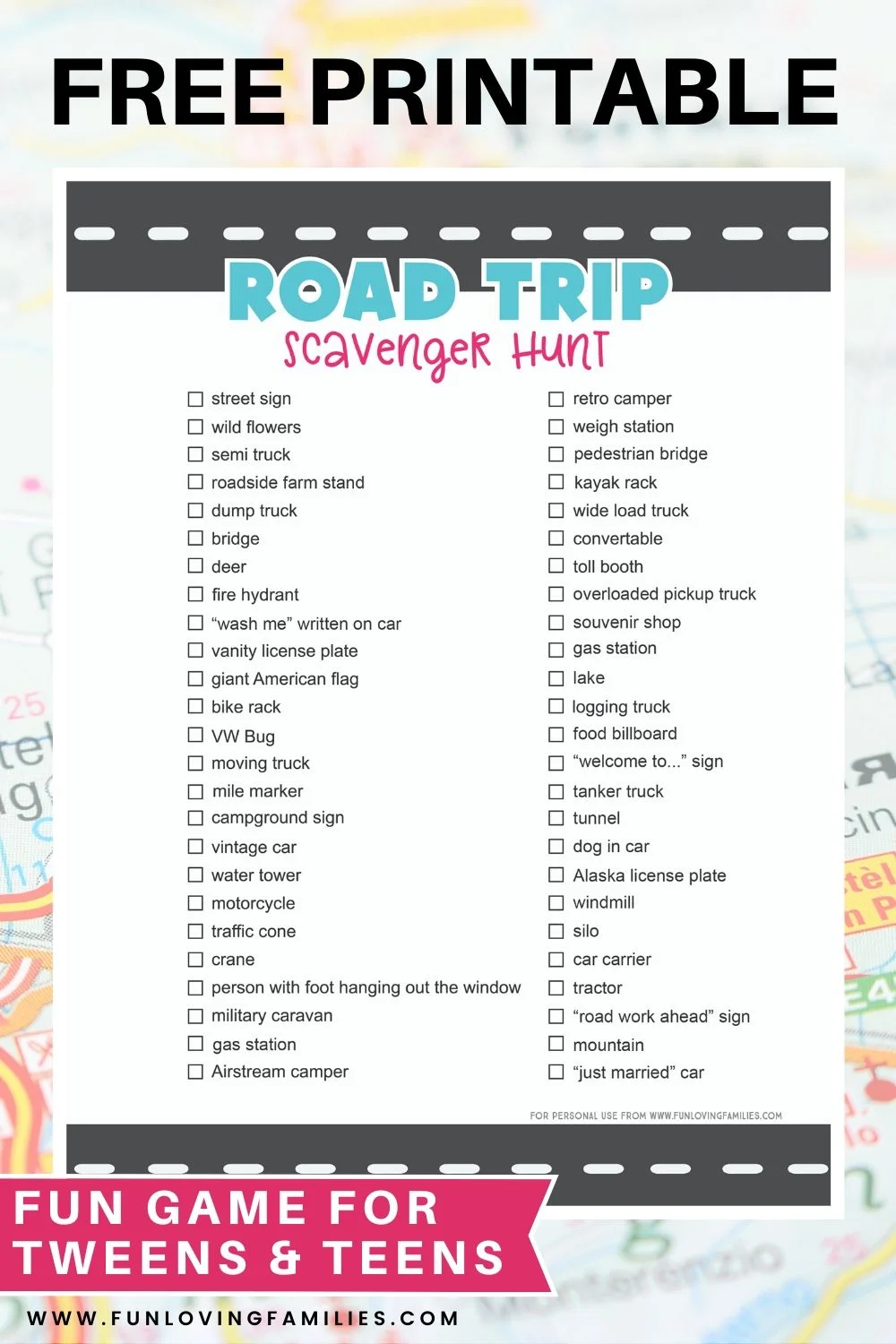 Tweens and teens will be up for a bigger challenge, so this scavenger hunt list has 50 items for them to find. There are a few easy ones and some that they'll really have to keep their eyes open for.
If your kids are reluctant to put down their phones for a few minutes to participate, don't give up. I have a solution.
You can incorporate their phones into this game by turning it into a road trip photo scavenger hunt. Instead of calling out the items, participants must get a photo! Then, at the end everyone can look at their photo feed and see how many items everyone found.
Road Trip I Spy (A-Z Scavenger Hunt)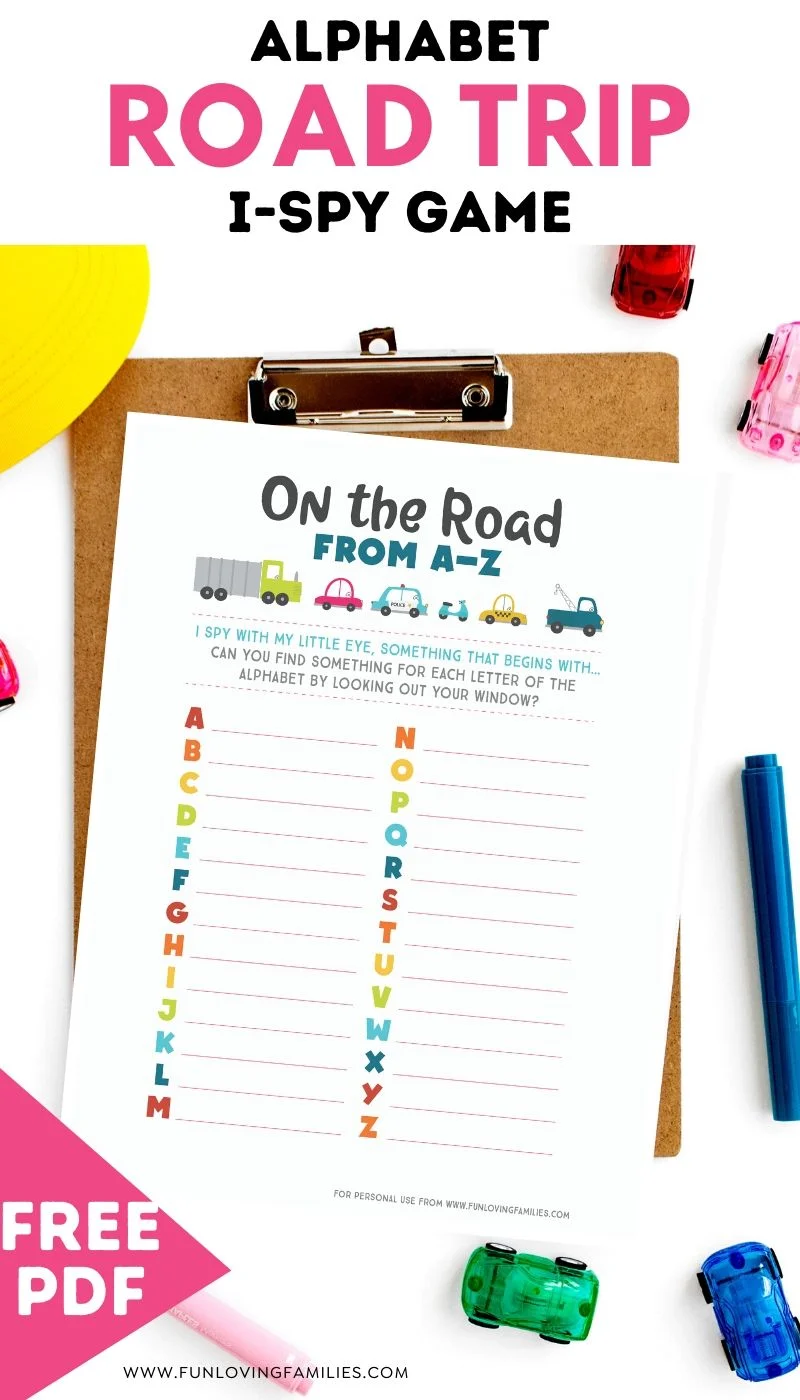 The last printable scavenger hunt for your road trip is really fun and simple, and honestly you can do it without a printout.
Having this printable I Spy scavenger hunt on your long car ride will give you the option of having a friendly competition among family members since everyone can record the things they find on their own lists.
To play, you say "I spy with my little eye something that begins with A". Then everyone looks outside the car to see who can spot something that starts with the letter A. We play pretty loosely, so if you see a bird, you could say "animal". Then write it down and go on to B, and so on.
Play however works best for your family, but I recommend taking a couple minutes before you start playing to lay out the ground rules about what on and off limits. Like, inside vs outside the car. Words on signs or vehicles. And so on.
---
Road Trip Scavenger Hunt Printables
---
I hope you have so much fun on your road trip and find these scavenger hunt printables and ideas helpful for making the time pass.
Read Next:
Like this post? Save this Pin and share with your friends!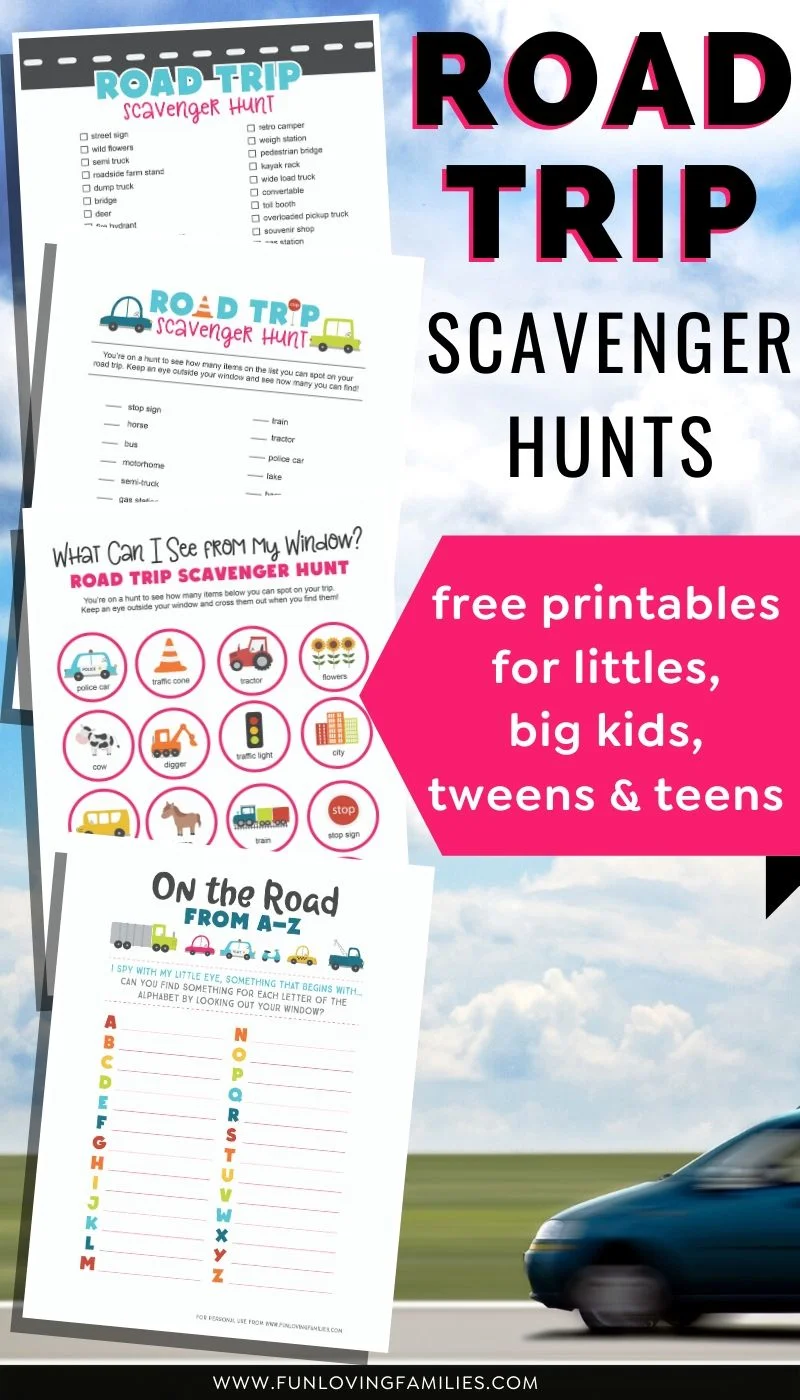 Similar Posts: