Similar to unicorns and dragons, mermaids are part of the fantastical stories we heard as children. We imagine a beautiful half-human and half-fish being swimming in the depths of the ocean and it is simply magical. If your child loves mermaids and can't get enough of the Little Mermaid story, then this list is for you.
I built this list in 3 parts. The first part showcases different mermaid designs. The second part is a tribute to Disney's Little Mermaid. And finally, the third portion features some interesting crossovers with other well-known characters and shows.
Let's check them out.
Mermaid Character Designs
Here are some mermaid patterns and designs ranging from easy to medium difficulty.
Easy Mermaids
This set is perfect if you've got little ones with awkward little hands and a limited set of colored beads. For just a handful of Perler beads, you can make a mermaid or two and a couple of ocean friends. If you run out of one color, just substitute with another that you still have.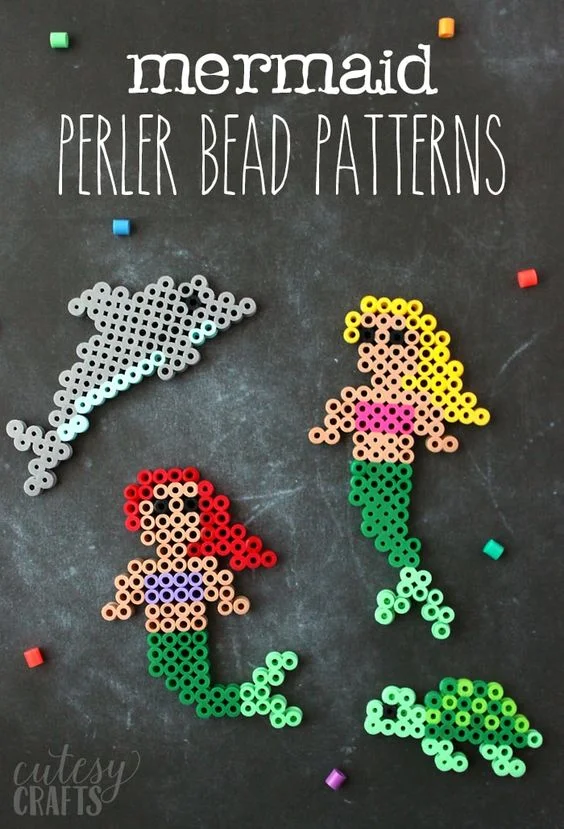 Mermaid with a Flower in Her Hair
Another easy design you can do in a jiffy, this mermaid has a pretty flower on her hair. It looks like a plumeria or a frangipani.
Mermaids and Mermen
In case your little ones complain that there are no "boy" mermaids, here is a merman together with a mermaid. If you are making more than one, you can change out the color of their tails and hair.
Baby Mermaid
Isn't this rosy-cheeked baby mermaid cute? She has the biggest eyes, sea-blue locks, and a pretty green tail.
Here is a pattern for your reference. In the below, the mermaid has yellow hair. As a crafter, you can tweak any detail from available patterns.
Mermaid with Blue Tail
This mermaid gives off an entirely different vibe. Maybe this particular mermaid is a bit shy and stand-offish? Her blue and gray colors are very cool to the eyes.
Mermaid with Pink Tail
I stumbled across this mermaid in the pink outfit and tail, and I think she is simply gorgeous. Doesn't she remind you of Halle Bailey? Halle Bailey makes history by being the first Black actress to portray the character of Ariel in a major film adaptation.
A Mermaid and Her Harp
Mermaids are sometimes portrayed playing a musical instrument like a lyre or a lute in mythology and culture. This golden-haired mermaid is plucking on the strings of a harp. The white Perler beads make the harp strings look pretty real.
Pastel Mermaid Kissing a Fish
If you need an overdose of cuteness, here is a little mermaid kissing a tiny ocean creature. It's a gorgeous little design from the details of the mermaid to the watery backdrop.
Happily, a pattern is available for it. Just take note that the squares do NOT indicate the Perler bead boards. They are just a guide for crafters in general.
A Pair of Mermaids
The official Perler bead site has a ton of amazing works and one of them is this pair of mermaids cavorting in the middle of the ocean. You can practically feel and hear them glide and swim past. If you click through to the link, you will be taken to the pdf page where you are given a very comprehensive tutorial on how to make these two beautiful ladies.
Mermaid and Seahorses
This is another mermaid design from the Perler bead site. This time, the design focuses less on action and more on the mermaid's features, accessories, and tail. I especially love the beading on her tail. She also comes with two companion seahorses. Click through to the link to get to the pdf tutorial.
Mermaid Tail
If you have a taste for abstract art, this pattern is for you. This would look great as framed mermaid art on a wall.
Beautiful Mermaid
This right here has got to be my favorite mermaid design ever. It's art — the way that the lines are drawn and everything from the tips of her hair to her tail is flowing. It's breathtaking. She looks like a deity of the sea suspended in the deep ebbing waters.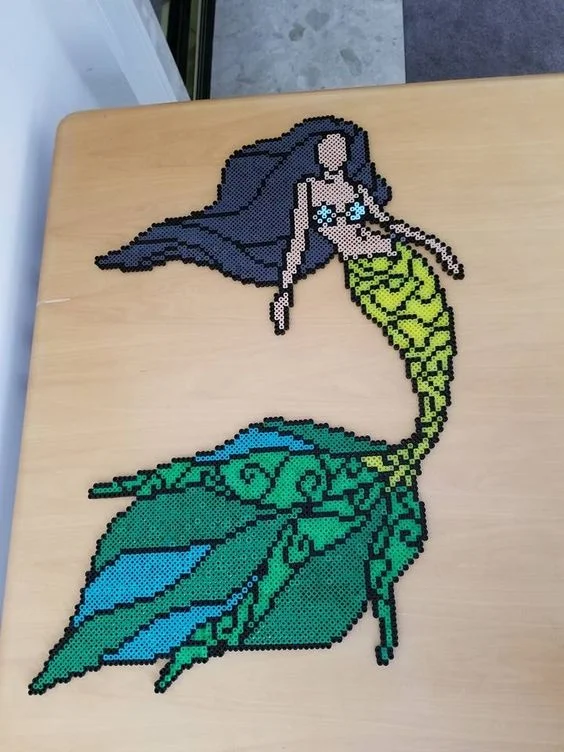 Octopus Mermaid
Now this is a mermaid created with Hama beads. I have never worked with Hama beads before so some of the beads are unfamiliar to me. Doesn't her hair look like the tentacles of an octopus?
Cat Mermaid
Mer-cats and cat mermaids are a new thing in contemporary art and pop culture. A combination of a cat and mermaid, these mer-cats make an appearance in digital media, children's books, and graphic novels.
Cat Mermaid II
Here is another mer-cat. If the other had the beautiful colors of the sea, this little cat mermaid has the colors of a sparkling rainbow.
Mermaid Resin Magnets
I thought it would be fun to show you these beautiful mini magnets. They're made of resin and other media like glitter and stickers. Resin art is a whole entire thing but if you're interested in learning, there are many tutorials on YouTube.
Little Mermaid Characters
The most famous mermaid character is Ariel from Disney's The Little Mermaid movie. Practically every child has watched this film and fallen in love with it. Here are some Perler bead works of Ariel the Little Mermaid.
Easy Ariel
This is an incredibly easy Ariel to make. So long as your little one can maneuver the Perler beads onto the board with either her fingers or the tweezers, you should be able to do this project together. The yellow star is a happy bonus.
Easy Ariel II
Here is another easy pattern for Ariel so that you have a couple more options.
Ariel the Little Mermaid
Ariel's features and proportions are very well replicated in this work (although her eyes are made bigger).
You can use this pattern for reference. It's intended for embroidery but you should be able to use this as a guide for beading, too.
Ariel Pattern
This is a stylized rendition of Ariel, the Little Mermaid. It's more cartoony and quite close to a caricature, especially with the oversized head. It's very pretty!
Ariel Portrait
Doesn't this Perler beadwork resemble Ariel to a T? This is the closest replica that I've seen so far.
Ariel, Ursula, and King Triton
Here are a couple more important characters from the movie. It's King Triton, Ariel's father and ruler of the underwater kingdom of Atlantica. We also have Ursula, the sinister sea witch. I can almost hear her singing "Poor Unfortunate Souls".
Ariel and Friends Frame
Make mermaid crafts with Perler beads. Just get an unused frame, make your characters in Perler beads, and then glue them onto the frame with some strong adhesive. This first frame shows Ariel with her loyal friends Flounder and Sebastian.
This frame, in the meantime, is made entirely of Perler beads. You can do this project if you are confident with your ironing skills.
Glow-in-the-Dark Little Mermaid Art
Perler beads aren't just for cute little mementos. You can also make full artworks with them. Take a look at this fabulous Little Mermaid artwork. The moon is made up of glow-in-the-dark Perler beads for a magical effect.
Mermaid Crossovers
Now let's go to crossovers. As you well know, crossovers are the merging of two fictional universes or characters. It makes for some interesting results!
Pusheen Mermaid of the Sea
Pusheen is a popular comic strip, but most people recognize this cute gray cat as an emoticon. Pusheen has been depicted in many different costumes and below, she is wearing a fish tail and a starfish on her head.
Hello Kitty Mermaid
Hello Kitty has a special place in my heart and below, she is half cat and half blue fish. This pattern shouldn't be too difficult to follow either.
Minion Mermaid
Now this one is rather funny. It's a Minion in full Little Mermaid regalia. It's got Ariel's red hair, bikini top, and green fish tail.
If you liked any of the patterns, do bookmark this page and share it with your fellow crafters and friends.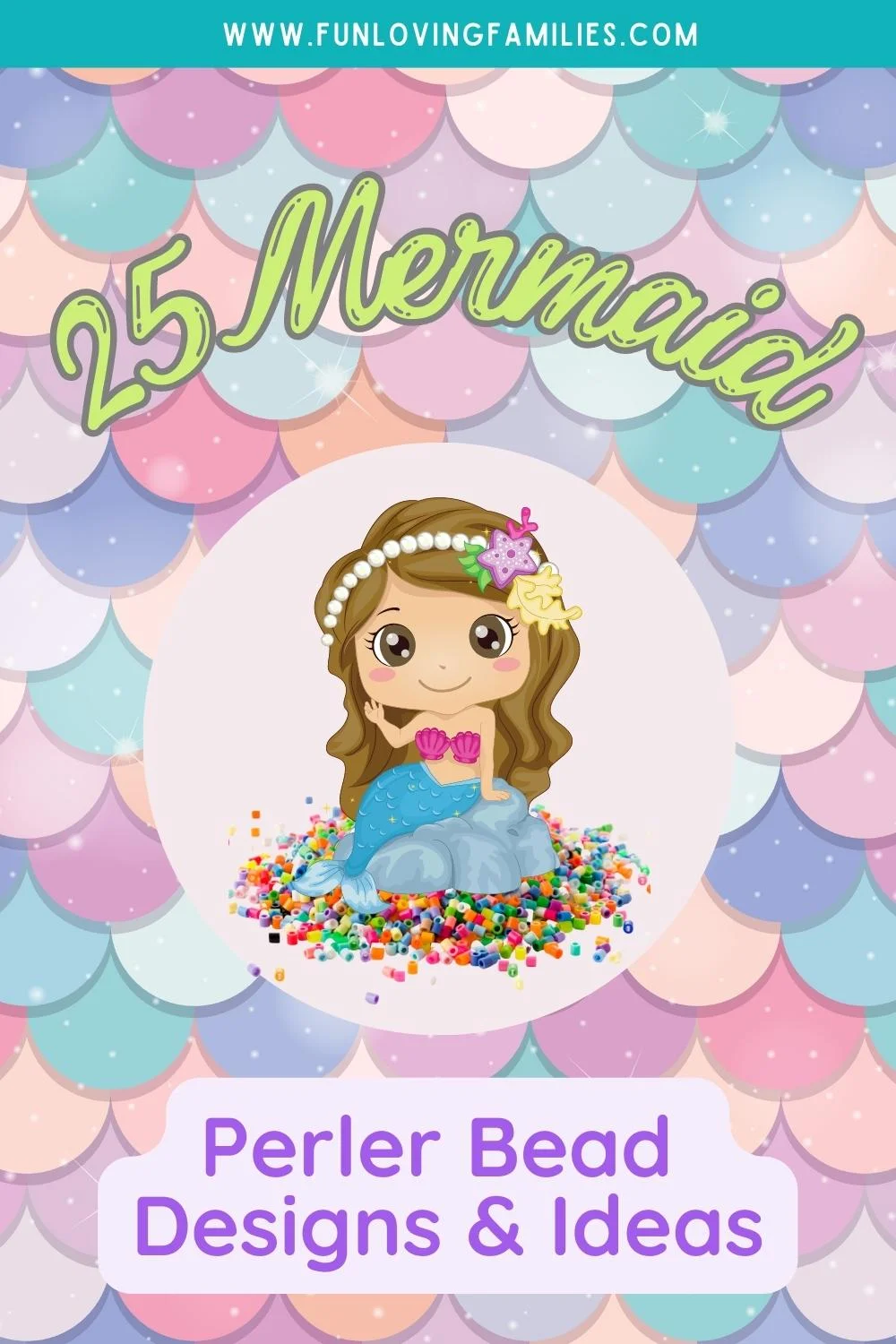 Similar Posts: