It's been 20 years since the well-loved movie Lilo & Stitch was released in theaters. Amazingly, it is still as beloved today as it was when it was first shown on the big screen. If this is one of your favorite movies and want to make the characters with Perler beads, you've come to the right place. I've got all the best Lilo & Stitch Perler bead designs down below.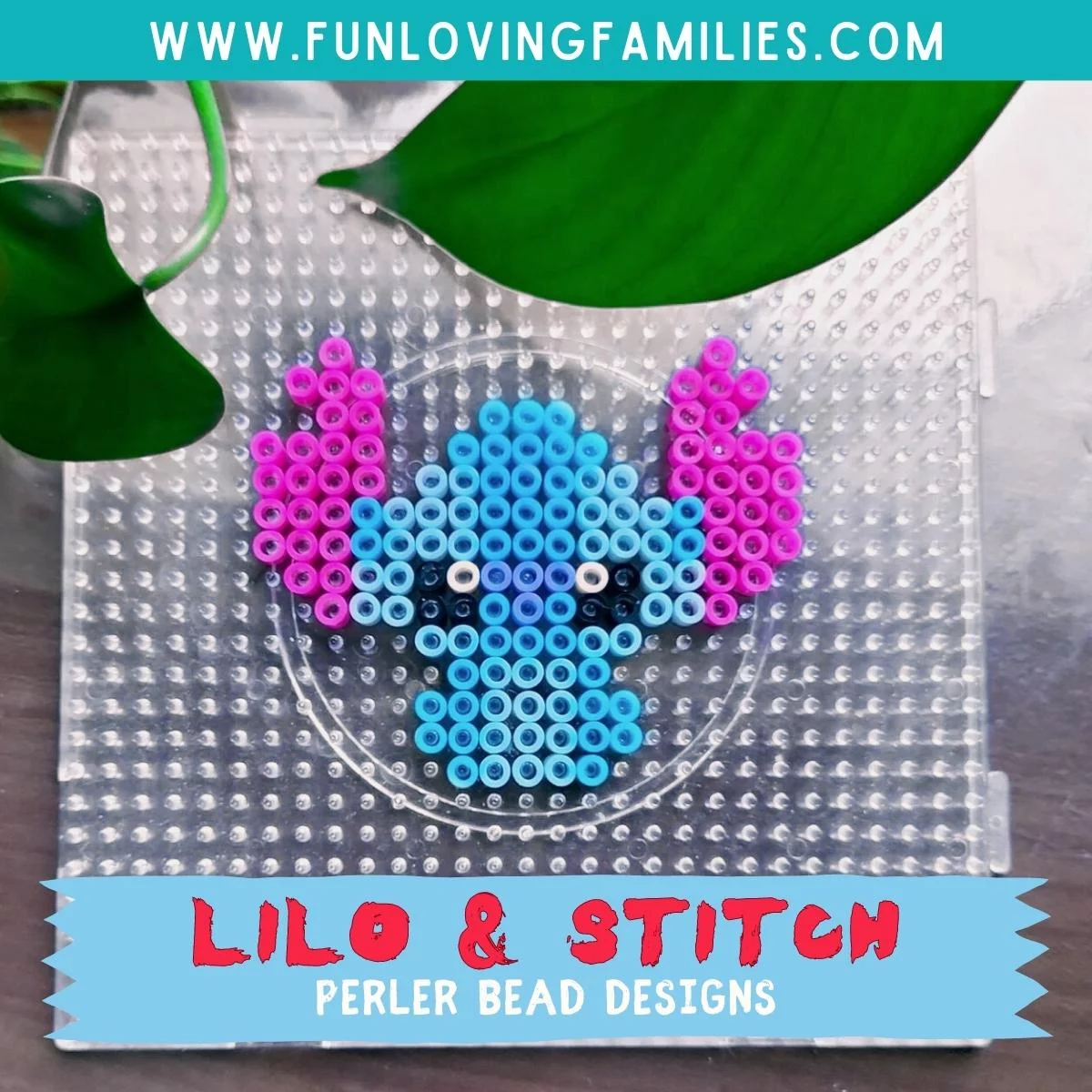 Stitch Perler Bead Designs
Stitch was such a savage when he was first introduced. It was so hilarious when Lilo sweetly prayed for a good friend and the scene cut to a seemingly demon-spawn Stitch coming out of a fiery inferno. A lot of crafters enjoyed making different Stitch Perler bead designs. Check them out.
Chibi Stitch
We start with some easy Perler designs of the alien star of the show — Experiment 626 more commonly known as Stitch. The chibi design itself is very cute. Just look at those perked-up ears.
Easy Stitch
Here is another easy design for kids to follow. The overall vibe is on the somber side on account of the darker beads used and the lowered ears.
Here is the pattern for your reference.
Stitch Side View
This is an excellent design of Stitch looking towards the side. Doesn't he have a soft look on his face? He is actually looking at another character. You'll see the full photo if you keep scrolling down.
Here is the pattern for your reference.
Stitch with Mouth Wide Open
If you want your Stitch slightly scary and intimidating, you can do this Stitch that has his mouth wide open. I've seen some designs where a big heart is placed on top of his open mouth, and it also looks cute done that way.
Here's the pattern if you need it.
Heart Stitch
This is such an adorable design. It's got a very cute-looking Stitch looking front and center, hands on top of a table or ledge, and pale pink hearts encircling his head. This would look lovely on the wall in your bedroom.
I was so happy that the pattern is available because it's a rather big piece.
Stitch with Glasses and Ice Cream
I found some amazing patterns, and while I wasn't able to find the finished Perler bead works, it's still worth something to share the guides. Here is one of Stitch in funky red glasses and a delicious sundae. It's totally giving holiday vibes.
Stitch with Rose
Here is something even more fun! It's Stitch in a flashy yellow top holding a magnificent red rose. Do you think it's the same rose he gave to the granny in the hotel?
Stitch with Ukulele
With Lilo's encouragement, Stitch became an amazing ukulele player. Here is an amazing Perler bead work of Stitch playing the instrument. You'll need 5 square pegboards for this.
I was disappointed not to be able to find a clear pattern for this piece. However, I did find this pixel art guide, and I hope this helps somewhat.
Ohana Stitch
I wanted to share this beautiful Ohana piece. For Nani and Lilo, Ohana has a very special meaning. It means family, and family means nobody gets left behind. It's a powerful message in the movie, especially when you take into account that Lilo, Nani, and even Stitch are more or less orphans.
Lilo Perler Bead Designs
Now let's take a look at Lilo Perler bead designs. Lilo is the most lovable little girl because of her unique eccentricities. She loves horror movies, Elvis, and taking photographs of "unattractive" things. She also makes peculiar life choices like choosing Stitch as a pet and feeding her pet fish with peanut butter sandwiches.
Chibi Lilo
This cute chibi Lilo is wearing a flower garland around her neck, a headdress, and a grass skirt.
Lilo in Red Dress
In the movie, Lilo's red dress is part of her iconic look. It's loose-fitting and knee-length with white patterns.
Isn't this Perler bead work jaw-dropping? It looks exactly like Lilo from the movie.
Did you know? Lilo's red dress is actually a statement. It sets her apart from her peers and highlights her strong individuality and nonconformist attitude.
Lilo in Traditional Hula Costume
The children's hula classes were an adorable part of the movie, and sometimes, the funniest, too. Here is Lilo in the traditional hula costume.
Here is the pattern for the design above.
Lilo with Fish
Here is Lilo with her famous fish Pudge. Early on in the movie, Lilo reveals that she feeds her pet fish peanut butter sandwiches every Thursday. Lilo insists that Pudge can control the weather, and if Pudge doesn't get his sandwiches, it will upset him and result in bad weather.
Lilo with Ukulele
Lilo oftentimes appears like a strange little girl, but many of her likes and character traits can be traced back to how much she misses her parents. For example, Lilo loves her ukulele because it belonged to her late mother who was known for playing the instrument.
Other Character Designs
Angel Face
If you watched the sequel, then you'd know who this pink sweetheart is. It's Angel! Stitch's lady love.
Scrump Head
This movie tugged at so many heartstrings because of how Lilo was so lonely. She needed a best pal so badly that pre-Stitch, her stand-in best friend and confidant was a rather scary homemade doll. Scrump had a round head, mismatched button eyes, and a stitched mouth. Scrump was a source of comfort for Lilo especially when she was feeling sad and misunderstood.
Scrump Whole Body
Here is the full-body design for Scrump. She's cute in an unconventional way.
Scrump Pattern
Here is a really good Scrump pattern you can use as a reference. It's a perfect copy of the original from her pink ribbon, bushy hair, button eyes, stitched mouth, and patchy body.
Captain Gantu
Here is an impressive pattern of the scary Captain Gantu. Did you know? Captain Gantu was inspired by Dwayne "The Rock" Johnson. They both have a huge muscular build and a strong imposing presence.
Group Designs
Lilo and Stitch
It's our favorite duo – Lilo and Stitch! It's nice how the crafter got the size difference right.
Angel and Stitch
For the next pair, we have the alien partners Angel and Stitch.
Angel and Stitch Looking at Each Other
Just look at how sweet they are in this photo. Be sure to complete the pair!
Stitch, Angel and Leroy
If you watched the TV series, then you would be familiar with Leroy, Stitch's evil counterpart. Unlike Stitch, Leroy is unable to think and act with compassion. Lilo, Stitch, and their gang work together several times in order to thwart Leroy.
Lilo, Stitch, Scrump and Angel
It's all your favorite Lilo and Stitch characters in one frame.
If you enjoyed this Lilo & Stitch Perler bead collection, bookmark it and share it with your friends and fellow crafters. And check out all my other Perler bead posts for more amazing beading adventures!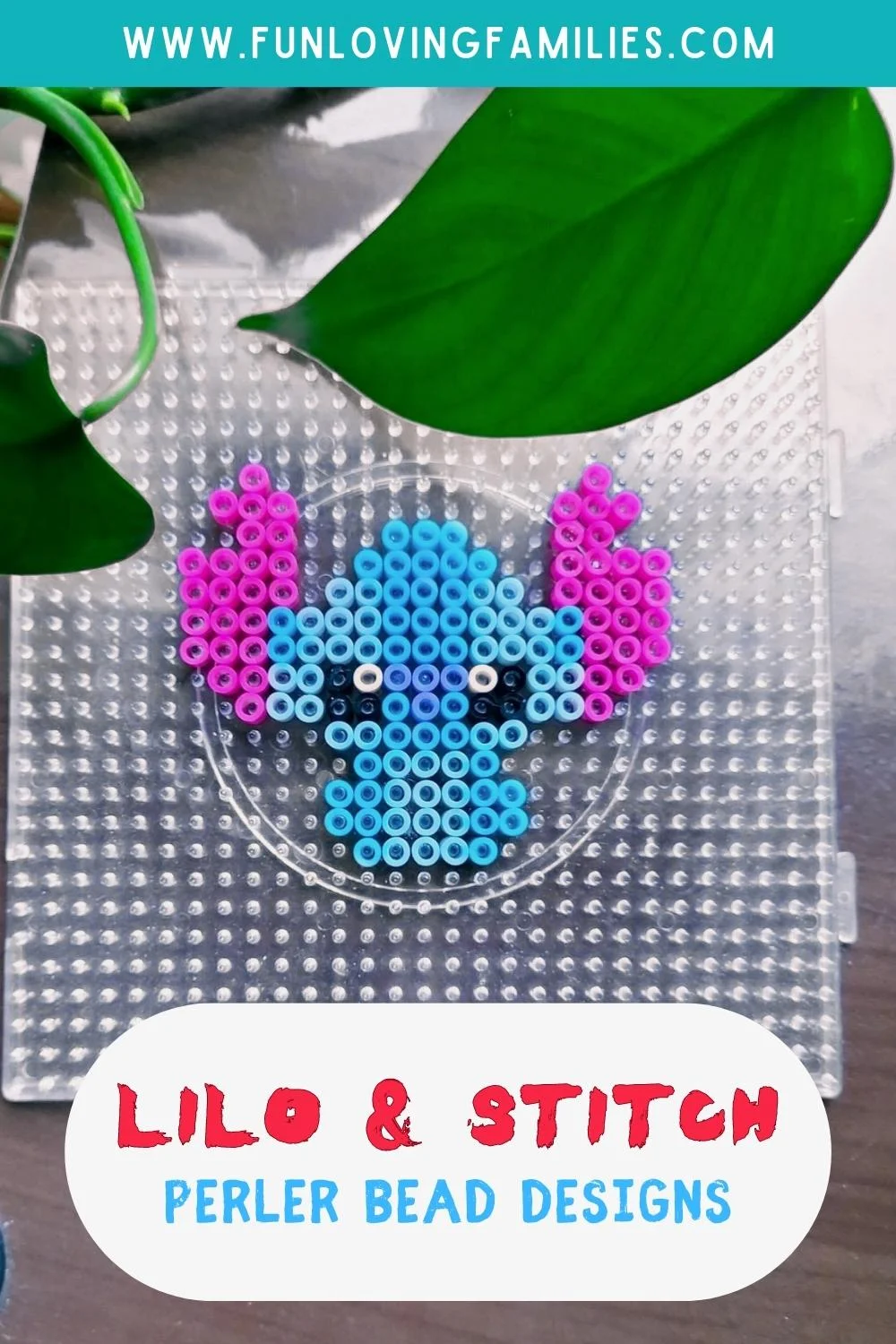 Similar Posts: