Check out these 25 Instant Pot dump recipes for the ultimate list of easy weeknight dinners you can make in your Instant Pot.
If you tried our Apple Spice Instant Pot dump cake that I shared a while and are looking for more dump recipes to make with your electric pressure cooker, then you're definitely in the right place.
You will love these dump and go dinner recipes.
They are the easiest recipes to make, and are perfect for weeknight dinners when I'm running low on time and energy.
Related: 5-Minute Prep Instant Pot Meals – 16 Instant Pot dinner recipes so easy to prepare you can have your Instant Pot started in less than 5 minutes.
So, first – bookmark this page. Then, when you need a simple, family-friendly pressure cooker meal that practically makes itself, come back and try these dump recipes. These are truly the easiest, no-fuss, Instant Pot dump dinners you can find.
I love them because being able to add the ingredients to my Instant Pot and walk away while it makes our dinner frees me up to take care of other things, like helping the kids with homework, or unloading the dishwasher, without the stress of trying to do everything at once.
These dump and start dinners are also the perfect recipes to start with if you're still getting comfortable with using your Instant Pot.
Instant Pot Dump Dinners for Easy Weeknight Cooking
Scroll through to the bottom to see all 25 recipes. And be sure to check out our other Instant Pot recipes before you go!
True Dump-and-Go Recipes
The recipes in this section are true dump recipes. As in, you put the ingredients in the Instant Pot, close the lid, push the start button, and wait for your dinner to finish.
Saute First – Then Dump and Push Start
The recipes in this section require using the saute function on your Instant pot before dumping everything in and pushing start. So, yes, you may have to brown the meat first, or saute the onions and veggies.
Don't let this scare you off from these recipes. I used the saute function for the first time on my Instant Pot last night after avoiding it for months. And, while it is another step, it's still super easy!
Trust me. I'm a lazy cooker, and if it was too much "work" then I would NOT have included these recipes on this list.
Since you're sauteing right in the Instant Pot, you're still keeping dishes to a minimum and in most cases it only adds an additional five minutes or so.
When you finish sauteing, you can just dump and go and wait for your dinner.
Scroll through to see all of the Instant Pot dump recipes in this list.
Tips for Keeping Dinner Simple
I hope these recipes give you some new go-to weeknight dinner ideas.
Here are a few simple tips to keep dinnertime easy.
You can use frozen meat in your Instant Pot. So, no worries if you forgot to thaw something out ahead of time! Check the individual recipes for time adjustments for frozen meat versus thawed.
Grabbing pre-chopped veggies from the produce section is a great time-saver for busy nights. And, you can freeze them in freezer storage bags to pull out and use whenever you need them.
Keep leftovers in individual servings in the freezer to use in a pinch.
Like this post? Share it with a friend! Pin the image below to share on Pinterest: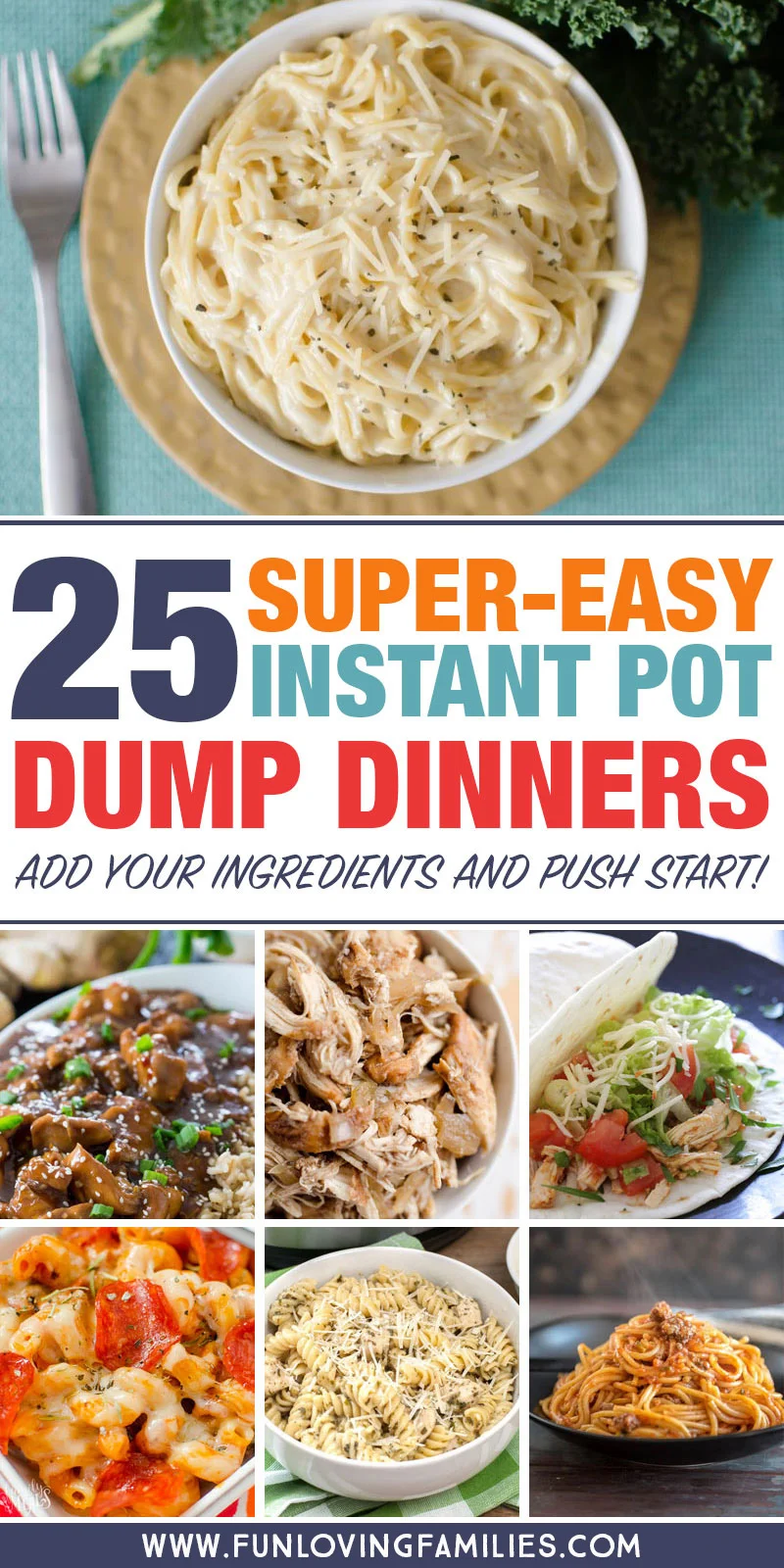 Similar Posts: