This delicious apple spice dump cake is one of the easiest Instant Pot desserts you can possibly make. With just three ingredients, this Instant Pot dump cake will be ready in under an hour from start to finish.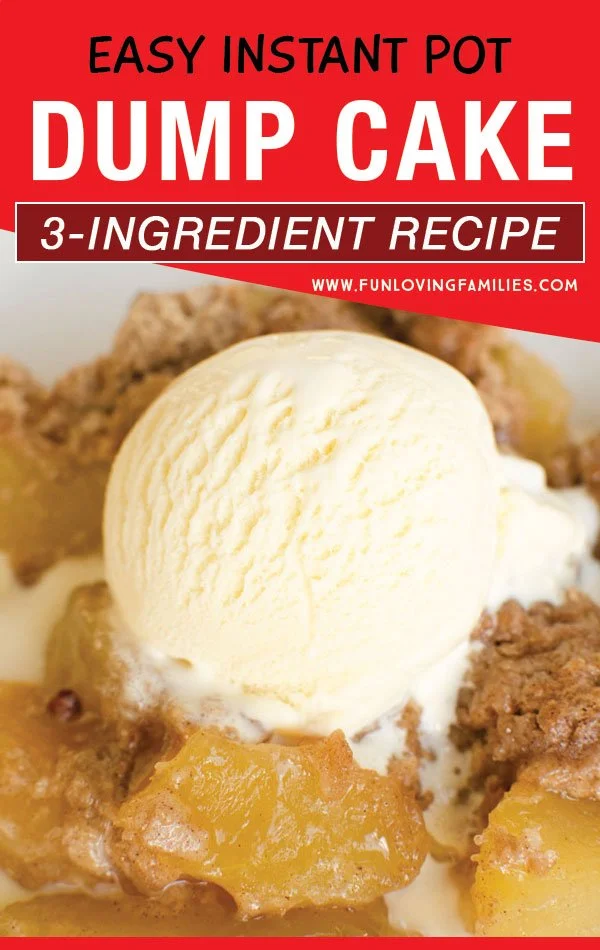 Happy fall, friends!
It's still hotter than Hades here in North Carolina, so we aren't quite ready to put away the flip flops and bring out the sweaters.
But, that doesn't mean I'm not ready for fall food. I've spent the past couple weeks trying to find a good breakfast pumpkin bar, but so far I haven't found what I'm looking for.
In the meantime I ended up making about a half a dozen of these dump cakes, trying different combinations and such, and I'm totally in love with this apple spice cake.
[box color="yellow"]If you love Instant Pot dump recipes, be sure to check out these 25 Instant Pot dump dinner recipes.[/box]
(This post contains affiliate links which means I may earn a small commission if you click a link and make a purchase. As an Amazon Associate I earn from qualifying purchases.)
Apple Spice Instant Pot Dump Cake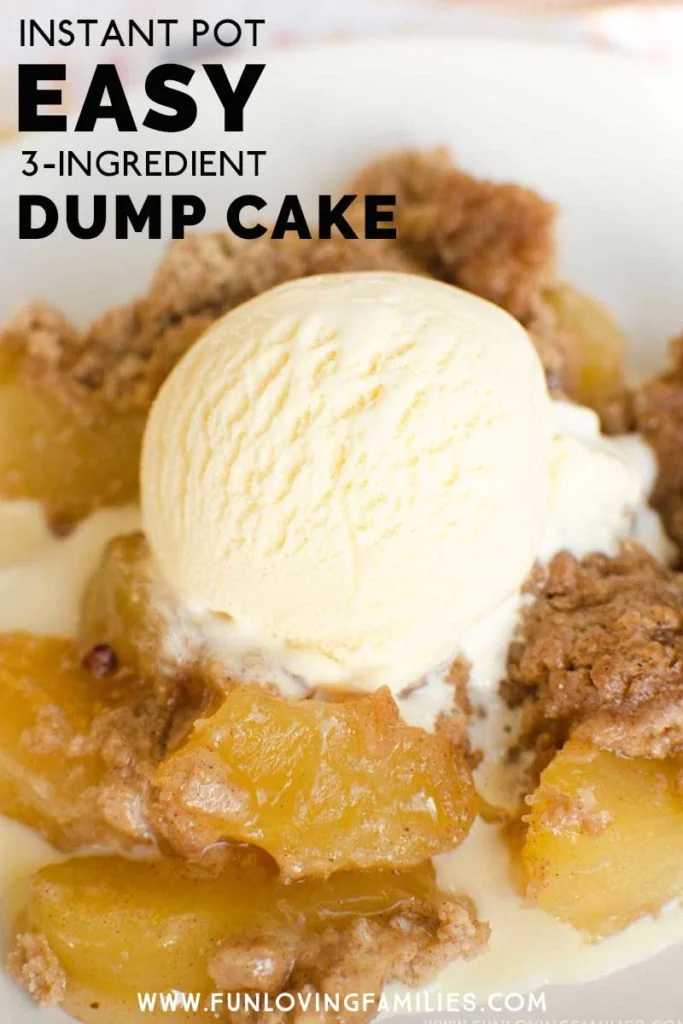 I found so many Instant Pot dump cake recipes when I was searching for Instant Pot desserts, and the basic steps of the dump cakes are pretty similar – add your can of fruit pie filling, top it with a cake mix, then cover with butter.
It really doesn't get any easier.
Here's what I used:
21oz can apple fruit filling (see notes below for more about the apples)
Spice cake mix (only 1/2 of mix is used)
4tbs butter
1 cup water
1.5 qt round baking dish (corningware)
aluminum foil
This recipe uses the pot-in-pot method.
Add 1 cup of water to the bottom of your Instant Pot pan.
Place your trivet (that came with your Instant Pot) into the bottom of the pan with handles up.
Spray non-stick spray or grease the baking dish
Add can of apples to baking dish
Sprinkle 1/2 package of cake mix evenly on top of apples
Cut butter into thin slices and cover entire top of cake mix (cover as much as possible)
7. Recommended – loosely place a square of aluminum foil on top of the baking dish (this is to help keep water from dripping onto the cake as it cooks).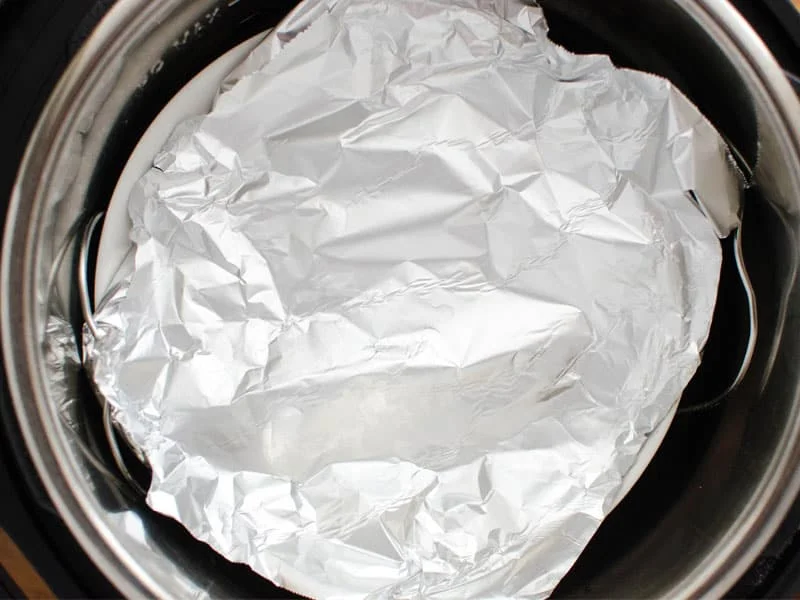 8. Make sure your IP pressure valve is set to "seal", and pressure cook for 25 minutes.
9. Allow to naturally release for about 5 minutes, then do a quick release.
Scoop out your apple spice dump cake and enjoy!
The cake is best when it's warm, but you can reheat it in the microwave if you don't eat it all right away.
Also, it's good on its own, but this Instant Pot dessert goes to a whole new level when you add a scoop of vanilla ice cream to the top.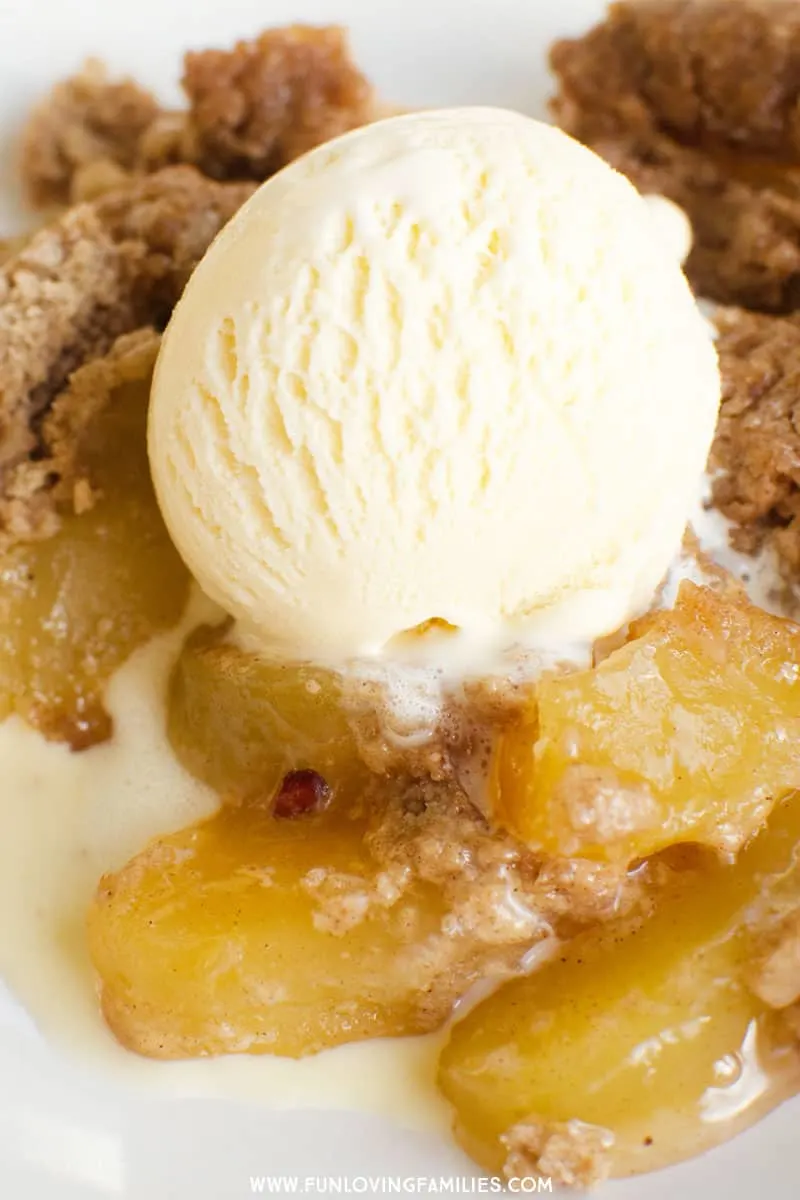 Instant Pot Dump Cake Notes and Variations
The cake mix has a lot of sugar already, so choose a can of apples with as little added sugar as possible
You can use fresh apples instead of canned apples

peel, core, and slice 6-8 apples
top with 2-3 tbsp of butter and 1 tbsp cinnamon sugar
microwave for about 2 minutes, or until apples are soft

For less spice, use a butter cake mix instead of a spice cake mix
We used salted butter because it's what we had on hand. I didn't notice, but I ate mine with ice cream. However, my husband ate his without ice cream and mentioned it was a little on the salty side. If you're sensitive to salt, you might want to go with an unsalted butter.
Any other questions or ideas? Let me know in the comments!
Click here to follow my Instant Pot Pinterest board for tons of great recipes, and share the image below!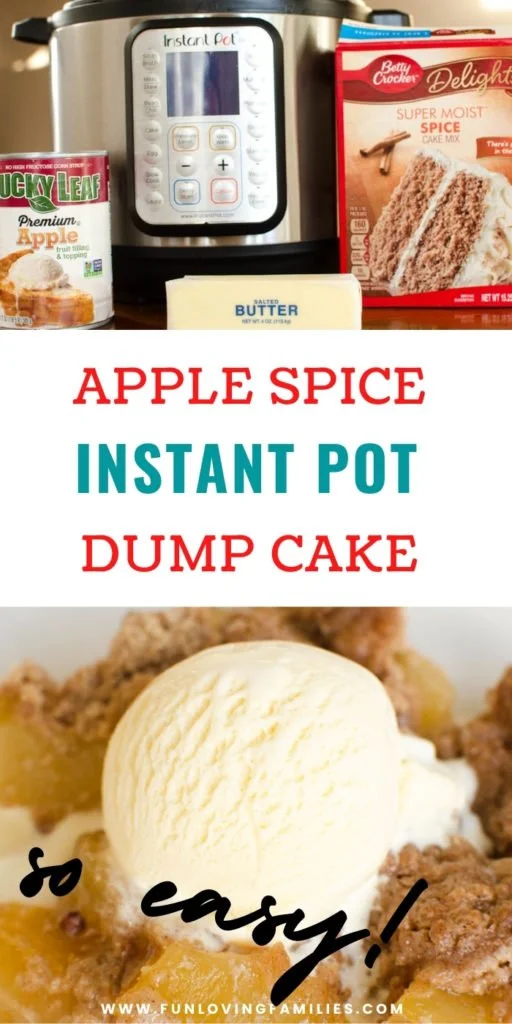 Similar Posts: