Flowers, rainbows, small animals — these cute and pretty things make us happy. For today's Perler bead project focus, let's do hearts. Because human beings associate hearts with love, fondness, and affection, it's become a visceral reaction to find hearts very appealing.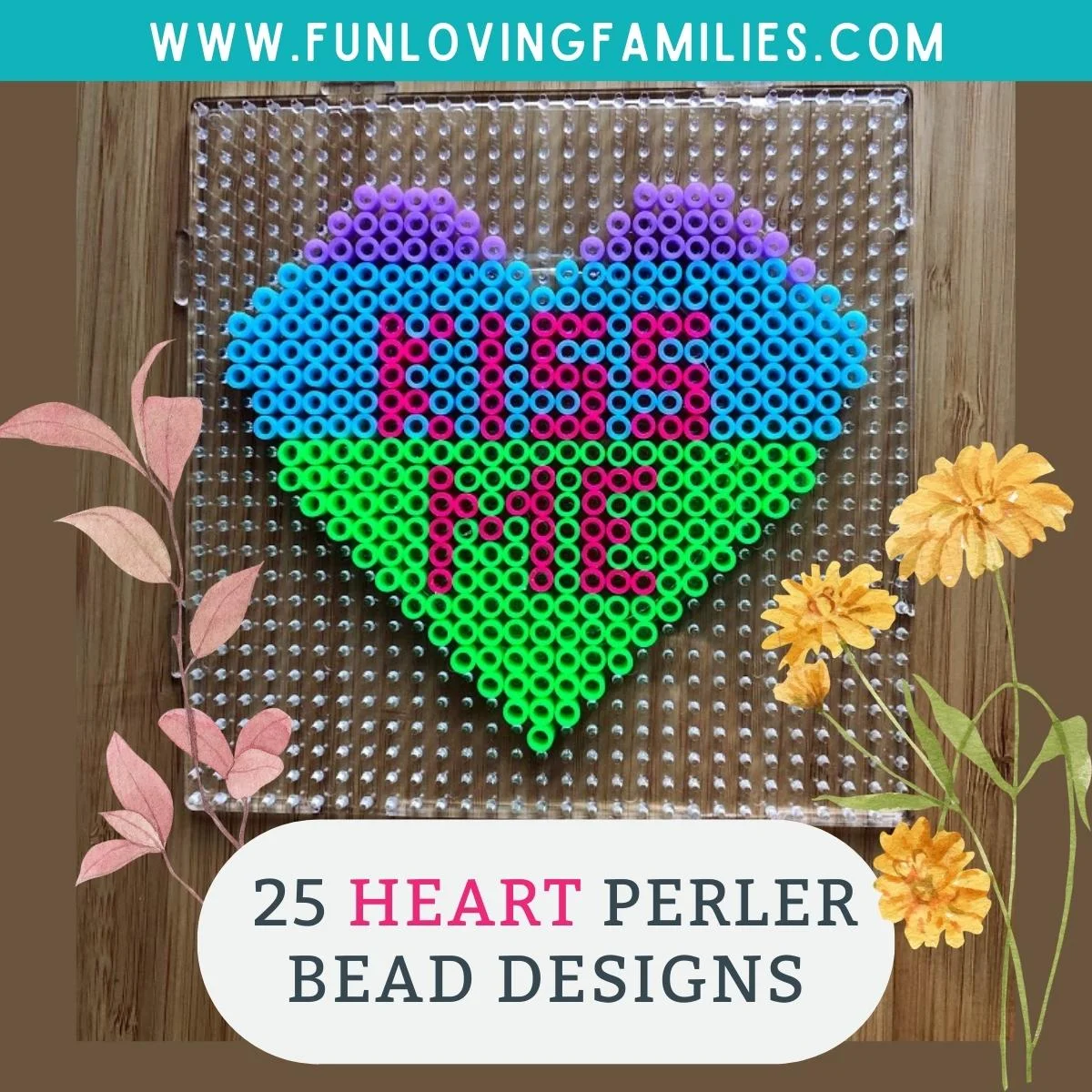 Whether you're making Perler bead designs for a special occasion like Valentine's Day or you just want to make something nice, we've handpicked these special patterns for you from simple 2D patterns to elaborate accessories and 3D creations.
2D Heart Patterns
I've collected a variety of 2D heart designs for you. Make them as is or upgrade them into keychains, refrigerator magnets, or as hanging ornaments in your room. There is no limit to the things you can create with Perler beads.
Small Multi Colored Hearts
Here's a very simple and basic heart pattern by origamitutorials. Young children should be able to do this design. You can change up the colors any way you want.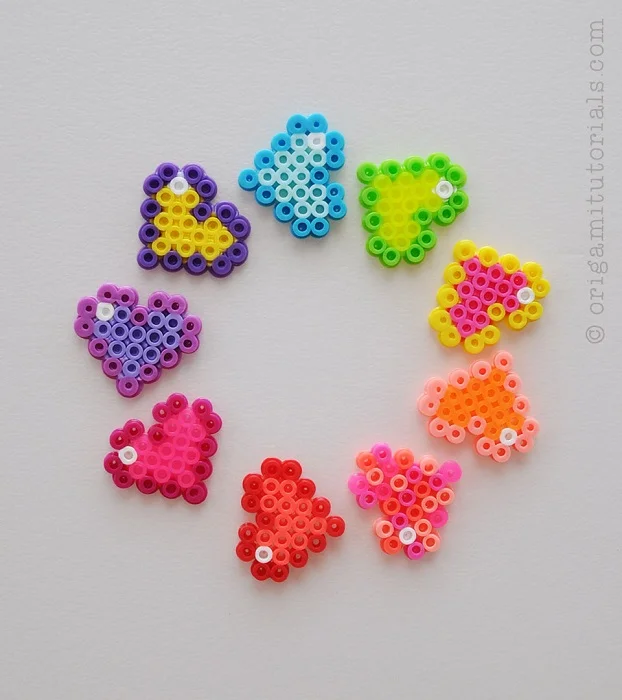 Pastel Strawberry Hearts
If you like cutesy stuff, these pastel hearts with a strawberry center are perfect. They're small and easy to do, too.
Rainbow Hearts
This small heart by intheplayroom features rainbow colors in a vertical striped pattern. Notice how the beads have been melted very well by the crafter. The basic rule is to heat 10-20 seconds per side but there are variables like how strong your iron is or how thick your parchment paper is. In the end, it's all about personal taste whether you want your beads intact or more melted.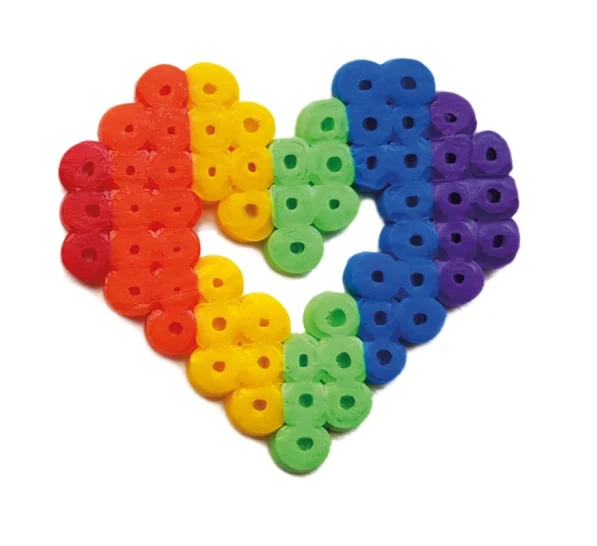 Kingdom Hearts Kandi Pattern
If you play Kingdom Hearts, you'll recognize this heart. For non-players, it's still an attractive design. If you are making this heart, you can fill the inside with white beads to make it more solid and more durable.
Flower Hearts
Aren't these hearts pretty? They're hearts made up of pink and peach flowers with stems. The pattern is very delicate and dainty.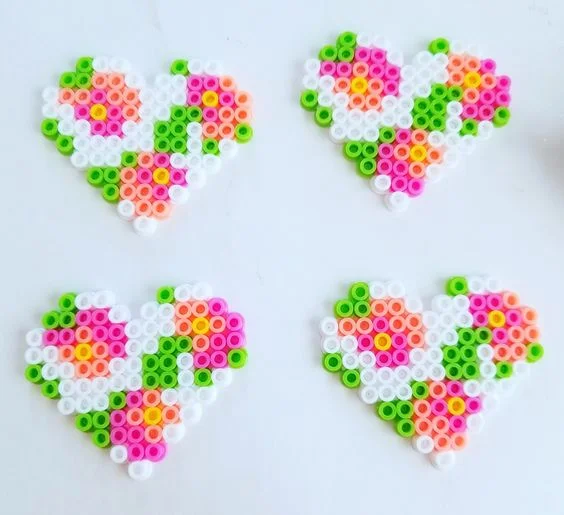 Kiss Me Heart
Now here's a heart with a strong message – KISS ME. If you need to send this message to somebody, this heart is a good way to do it. If you don't fancy the color green, you can use other bead colors. You can also change the words to your nickname or another phrase that will fit like "Miss U".
Hearts and Cats
Isn't this pair of cats extra adorable? I just love how their tails are forming a heart. Make this for yourself or for a cat-loving friend.
Ribcage Heart
If you want an edgy design, here is a ribcage heart. The black and translucent white beads give off a cool effect.
You can also change up the colors just like this green ribcage heart.
Actual Heart Pattern
We can't have a list of heart designs without adding in a pattern of an actual heart.
Valentine Perler Bead Designs
Some of you may have stumbled on here because you're looking for heart designs for Valentine's day. While these crafters made their hearts for this special occasion, these designs can be used for anything.
Small Valentine Heart
Here are small red and black Valentine hearts by our favorite crafter Krysanthe. She always make fun and easy designs.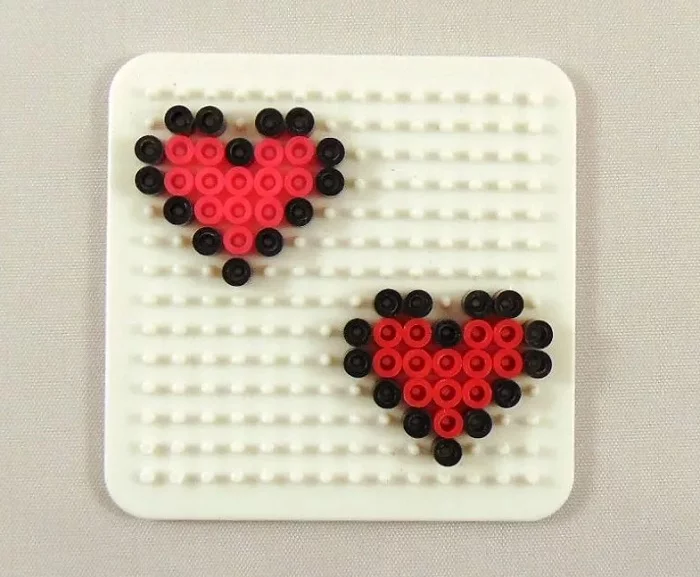 Valentine's Heart
This design by CraftIdeas has a pattern of hearts within hearts. The pink and red pattern makes it perfect for Valentine's Day.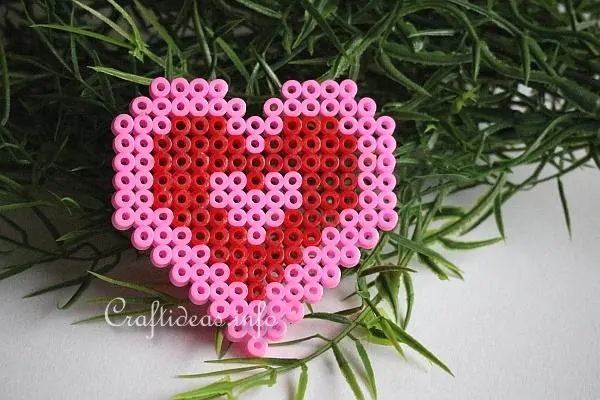 I Heart U
Another favorite crafter of ours, 5littlemonsters created these beautiful pieces for Valentine's Day. I love the use of pastel-colored beads. As you can see below, you can make an attractive coaster or an I love you statement. And yes, the 2 letters and the heart are fused together. Head on to Erica's site if you want to see more of her creations.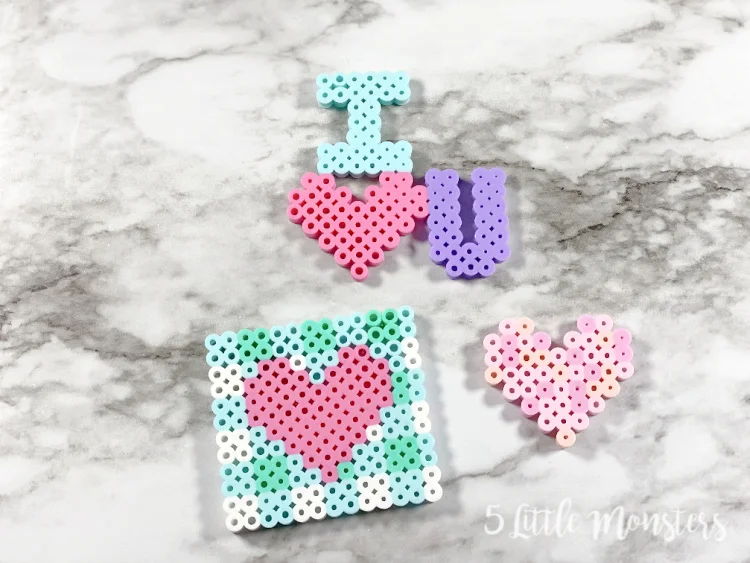 Perler Bead Valentine Cards
Do you need to give out a lot of Valentine cards? Check out these unique Valentine cards. All you'd need to do is to print out the cards and then glue on little Perler bead hearts. If you're feeling creative, you can create your own design, have a different color theme, and go for a different vibe.
Vintage Key To My Heart Gift
If your teenager is in the Pride and Prejudice phase, then they'll love this pair of vintage heart and key by craftymarie. The brass-colored beads, ebony ribbon, and pearl accent give it a vintage feel. If you want to make the design more youthful, you can change the beads to pastels or bright colors.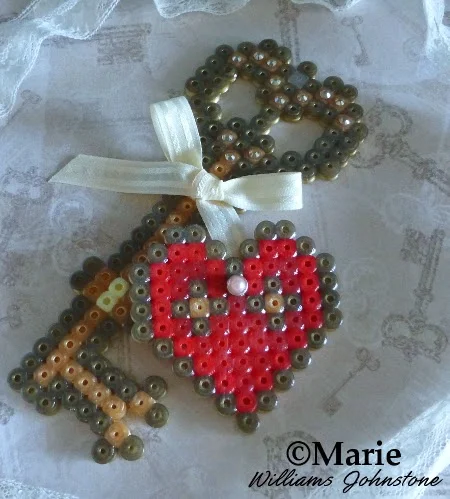 Perler Bead Heart Projects
Let's check out some challenging Perler bead designs you can do with your kids.
Easy Heart Picture Frame
Picture frames are typically hard to make, but this pattern is so easy that even your little ones can do it. You'll just have to help out with the assembly and the gluing.
Here is another pattern for the picture frame. You can change the colors according to your preference or your child's favorite colors.
Heart Earrings
Check out these cute and colorful earrings. They're lightweight and easy to wear.
Bead Necklace
Here are two options for bead necklaces. The first pattern needs ironing like most of the designs on here, however, the second one doesn't. You only need to string the Perler beads onto some strong thread. This is a great project for kids because they don't have to handle an iron.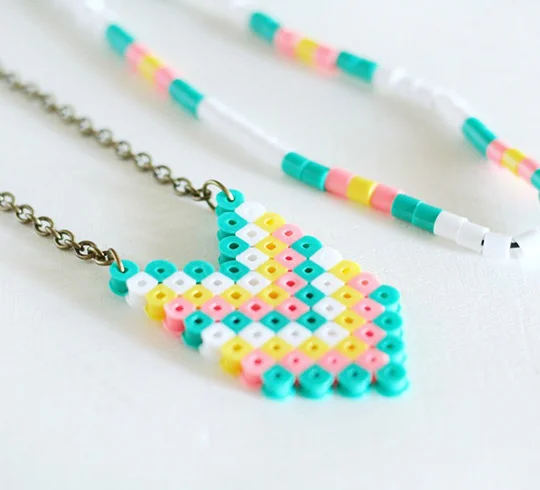 BFF Glow-in-the-Dark Keychains
These are originally made with glow-in-the-dark beads. If you don't have them, any type of Perler beads would do. This is a great gift idea for besties.
Heart Bead Belt Chain
Next up is a heart belt chain. You'll need to get some special supplies from the craft store but once done, you can hang this belt chain on the loops of your jeans.
Hanging Flower Heart Ornament
This Perler bead flower wreath in the shape of a heart makes for a beautiful hanging ornament. Because the outline is rather thin, it might not be the sturdiest though so keep it away from curious little siblings or pets.
Heart Paper Clips
Make your family's paper clips look extra special with these Perler bead hearts. Aren't they cute?
Queen of Hearts Magnet
Do you like card games? Perhaps you've read or watched Alice in Wonderland? If you have, then you probably know the Queen of Hearts. This magnet by doityourfreakingself is inspired by the infamous monarch. See her face at the bottom of the heart and her flamboyant red hair on top.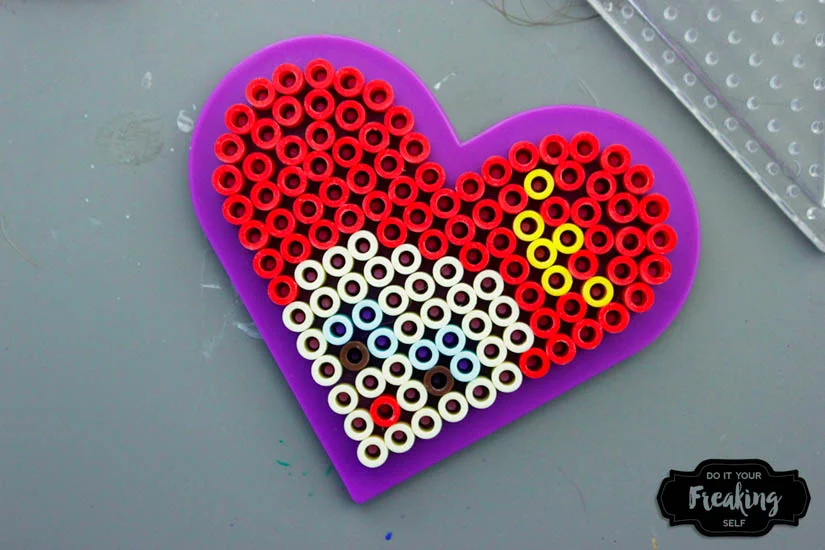 G-Clef Heart
Music lovers, here's a fun wall hanging. This g-clef is upside down to make a heart. Put it up against your wall and you have a surefire conversation-starter.
3D Heart Box
If you're up for the challenge, Panda Hall posted a tutorial on how to make this 3D heart box. Head on over to their site for the step-by-step instructions. The photos are a big help!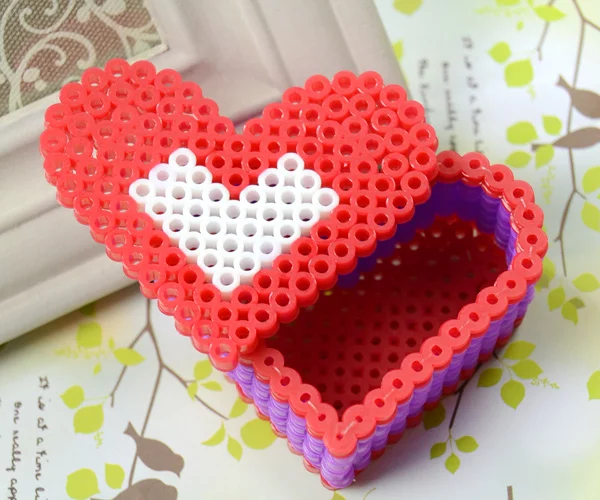 If you enjoyed this post, please do share it with your friends and family!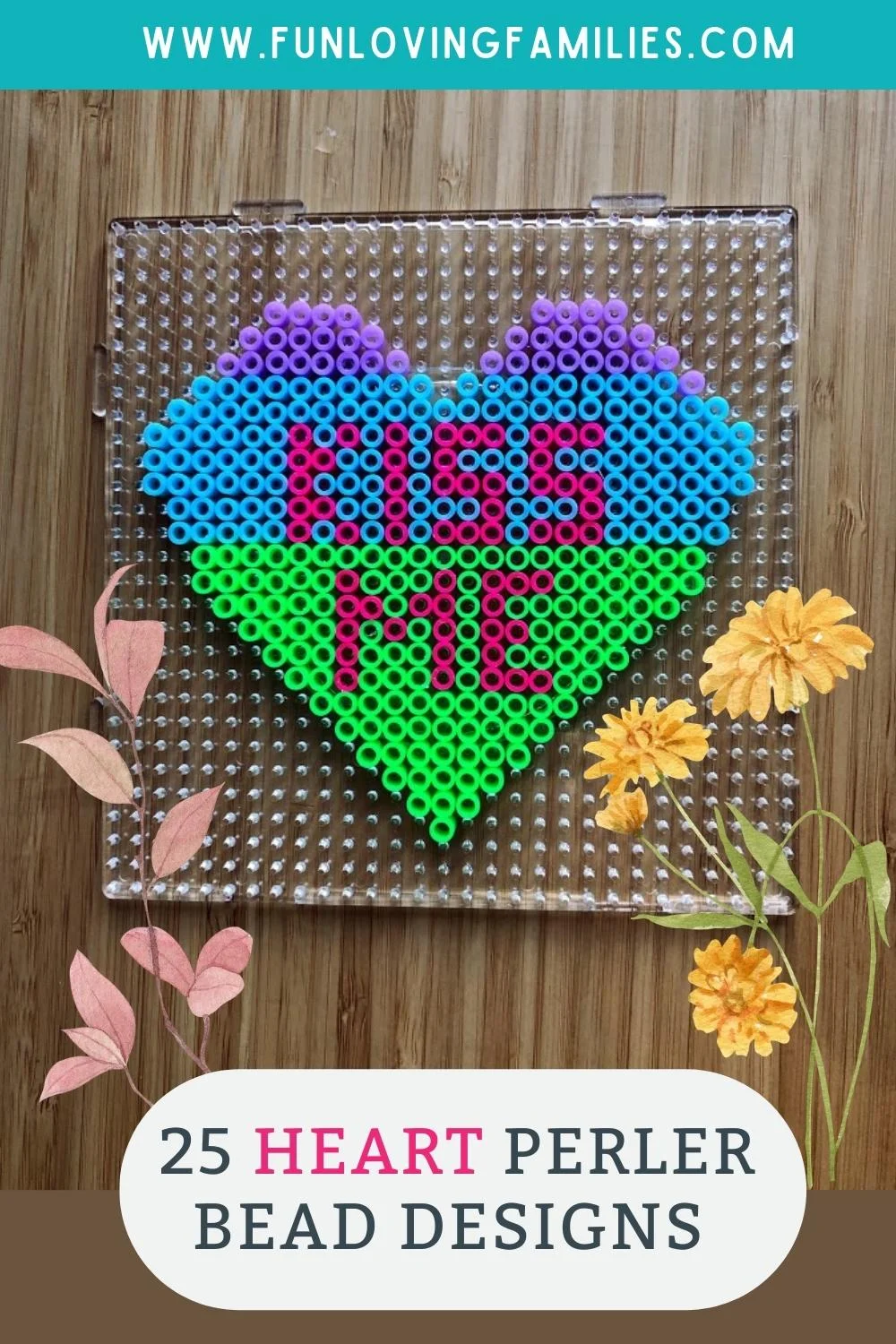 Similar Posts: