Long gone are the days of snail mail and the telegram. Nowadays, we can send messages in a second anywhere in the world. Brevity has also become the norm. Instead of saying, "talk to you later", we say TTYL. Instead of writing an essay about how we feel, we just send off a funny meme.
Emoticons are the same. They're a fun, quick, and colorful way of expressing your immediate reaction to a conversation. They're so visually appealing that crafters have made Perler bead projects out of them.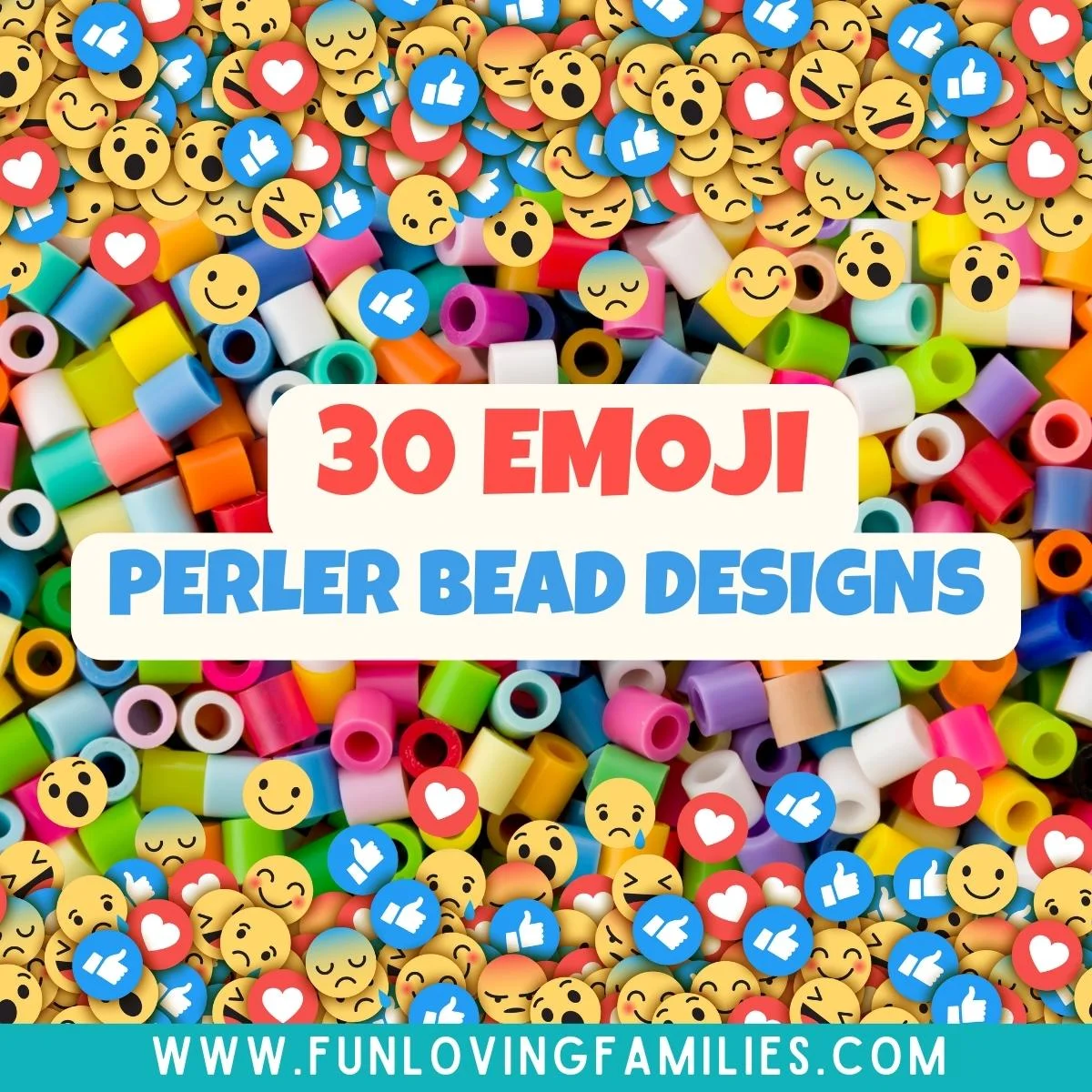 Did you know? The 10 most popular emojis are: ✨ 🙏 😍 🥺 🥰 🔥 🤣 ❤️ 😢 😂
This list I curated has most of these emojis, but ultimately, I chose emoticons that people would actually want to make with Perler beads. These are usually emoticons that make them happy, make a statement, or are just otherwise funny. Check out the fun crossovers and craft projects, too.
Emoji Designs
Smiling Face
Do you feel happy at the sight of smiley faces? You're not the only one. Research shows that when people are exposed to smiley faces, it can elicit feelings of happiness, joy, and positivity. It's why there are a ton of crafts made with this emoticon. Make your own smiley face now and spread good vibes.
Smiling Face II
Here's another smiling face. This one is smaller in size and has a different look to its eyes and mouth. Choose the smiley face that looks better to you.
Smiling Face with Sunglasses
This emoji is very recognizable because of the cool sunglasses. If you want to express confidence, a cool attitude, or swag, this is the perfect emote for you.
Smiling Face with Heart Eyes
This emoji is a crowd favorite. If you love something with all your being or totally adore something, then it's the heart eyes for you.
Face Blowing Kiss
Here's another cool emoji — blowing a kiss. While it generally means sending somebody a virtual kiss or a gesture of affection and friendship, it's also another emoticon that gives off cool happy vibes.
Angel Emoji
If you have a friend or family member who you think qualifies as being an angel on Earth, you can make this Perler bead emote for them. See the little halo on top?
Awesome Face
Doesn't this emoji look so extra? It's extra smiley, extra happy, and extra naughty.
Winking Face with Tongue
If you want to express a mischievous or playful teasing personality, then check out this winking face with tongue. It's a good reminder not to take life too seriously.
Here is the pattern for reference.
Smirking Face
Somewhat related to the winking face is this smirking emote. It's mischievous and smug all at the same time.
Wasn't Me Emoticon
If you're looking for a mischievous face that isn't annoying, then check out this "wasn't me" emoji. It should come in handy when you're in a tight spot.
Screaming Face
If you're feeling dismayed, the screaming emote can probably represent your anguished feelings well.
Crying Face
While still a cute emoji, I hope you never have to use this one. May all your days always be bright!
Heart Emoji
We can't have a list of emotes without the heart emoji. It's the universal sign of love, friendship, and adoration.
Heart-Shaped Emoji
Eclectic Mom Sense created her own hybrid of the happy face and the heart emote. Check out her heart-shaped Perler bead emoji.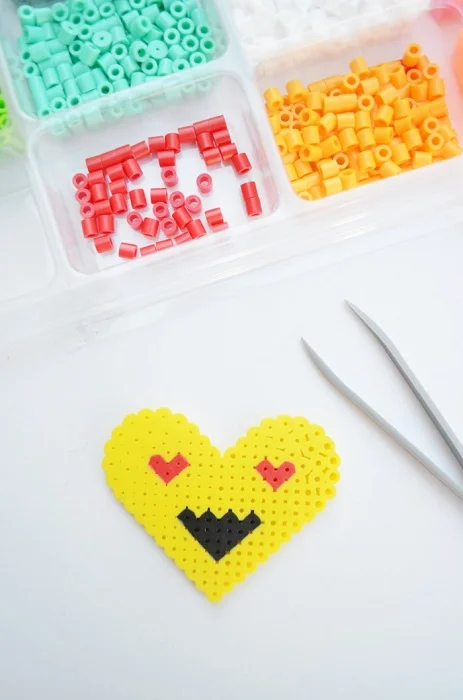 Alien Emoji
You may not have known it, but there's actually an alien emoji. For UFO and space lovers out there, this one is for you. This would look cooler if you use glow-in-the-dark Perler beads.
Flower Emoji
This isn't an official emote but we love our flower smileys so I just had to add this one in.
Like Button
If you watch YouTube a lot or just plain hang out in popular social media platforms, then the thumbs up will likely get your attention. Isn't it well done?
Sadly, I don't have the pattern for it. I do have these four smiley patterns. If you want to do the thumbs up, simply zoom in on the photo.
Set of Four
All Free Kids Crafts created this set of smileys. You'll need a special board to make these though.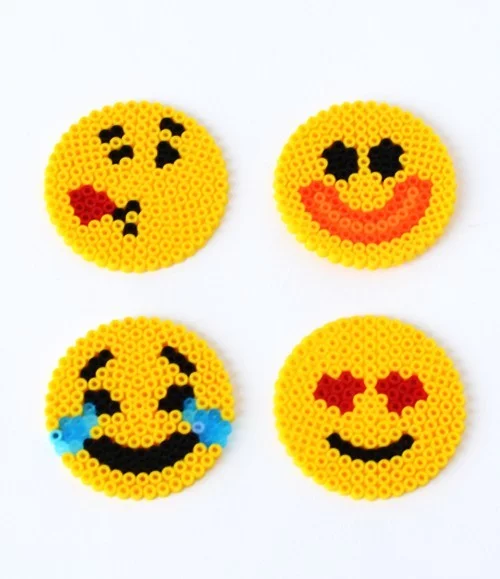 Colored Emojis
Again, these emojis are a crafter's creative take on regular emojis. I love the pops of color and the fun expressions though!
Emoji Collection
The official Perler bead website has a very good collection of emoji works. I've linked to the pdf page that has all the instructions and patterns you'd need.
Emoji Crafts
Next up, let's look at all the fun projects you can do with emoticon designs. Do remember that you can use your own designs for all the crafts below. For the bag tag, for example, you can swap that out for any of the emojis or patterns we listed above. There is no limit to whatever you imagine and create!
Emoji Bag Tags
Mom Sarah of Frugal Fun 4 Boys made adorable bag tags for her children. Ask your kids what emoji they want, or better yet, make them together as a fun project.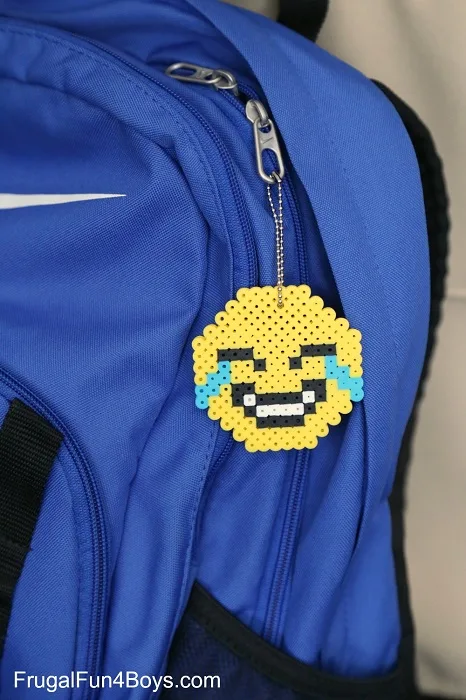 Emoji Keychain
Here is a couple of matching keychains for you and your BFF. You can give them away as gifts or stocking stuffers for Christmas.
Pile of Poo Earrings
If you ever decide to make and wear these poo earrings, one thing is for sure. They'll be a funny topic of conversation.
Happy Day Earrings
Put a smile on somebody's face with these super smiley dangling earrings. It's not too obvious but I'm loving the use of darker yellow Perler beads along the edges of the smileys. It gives the faces some depth.
Emoji Cup Covers
Bugs in your summer drinks are a big turn off. Make these cute emoji cup covers to protect your drinks. Make sure that there is an empty slot for your straws.
Alternatively, you can also make coasters out of these emoji patterns. Just fill the entire circle with Perler beads.
Emoji Magnets
Emoji magnets look great on your family refrigerator. Their smiling faces are a great pick-me-upper. Choose any design from this list and glue a small magnet at the back. You can buy everything you need from your local crafts store or in shops online.
Cable Organizer
If you are confident with your ironing skills, then you can make your very own cable organizer.
If you click through to the pin and to the crafter's website, you will get to their YouTube tutorial. If you don't understand Spanish, you can watch this tutorial instead. Change out the cookie pattern to the emoji of your choice.
Emojis on Sticks
These emojis on sticks can be used in a variety of ways. Make them small enough and you can use them as toppings on cakes. Make them bigger and you can stick them onto your planters. They will liven up your garden for sure.
Emoji Perler Bead Pots
Speaking of gardening, our favorite Perler bead crafter Krysanthe made these funny emoji pots for plant moms out there. She created eyes, lips and sunglasses using Perler beads and glued them onto bright yellow plant pots. As you can see, they work best with pots that are the color of emoji faces.
Happy Face Clock
I saw this Perler bead clock and thought, what a great idea. It was later that I realized that the clock hands are part of the fixed design. You can level up this project by using an actual clock mechanism.
Check out this Perler bead clock. You can buy the parts online or from your local craft store.
If you enjoyed this post, don't forget to bookmark it so that you never lose it. Share it with family and friends, also!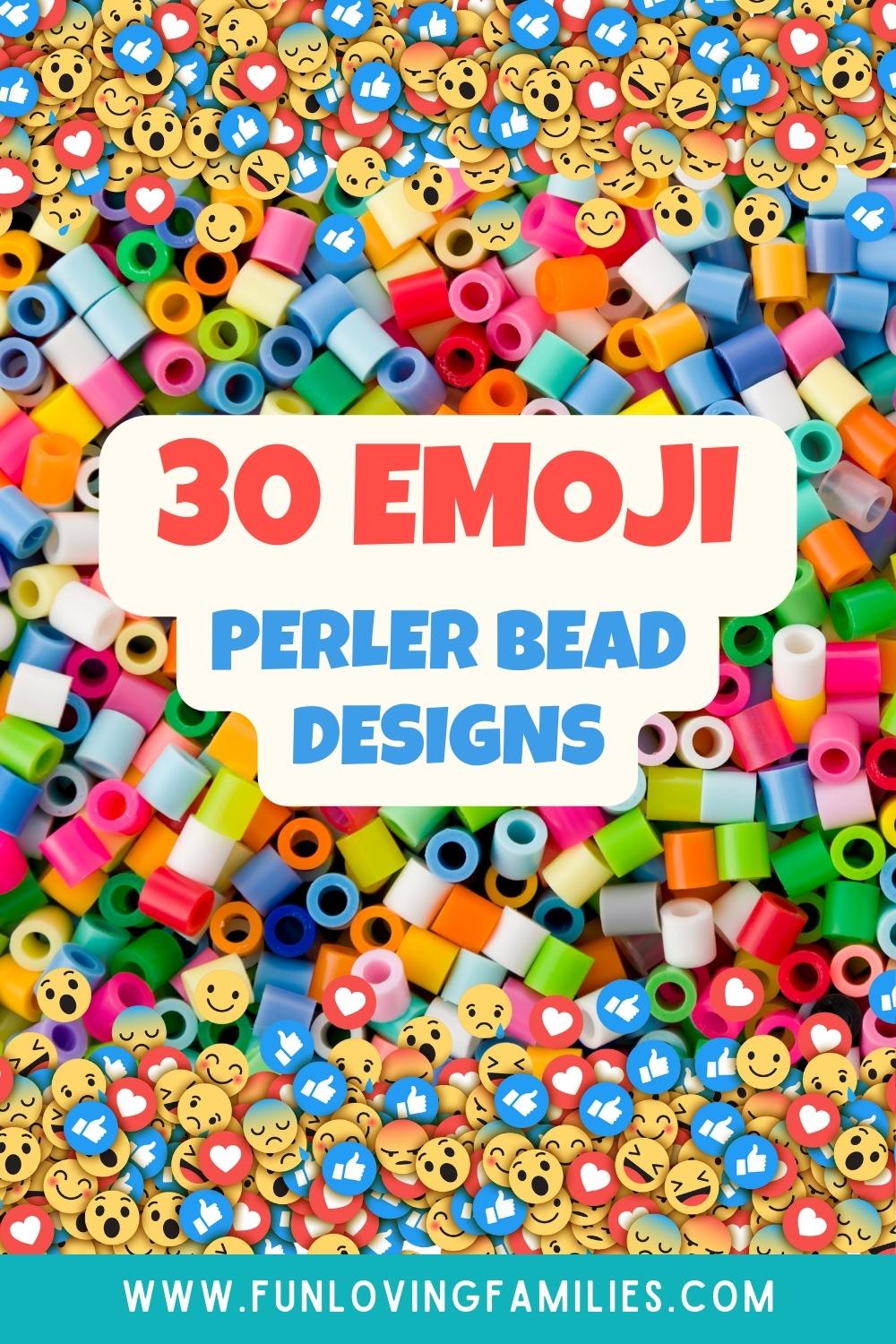 Similar Posts: