If you're looking for Perler bead projects to do for Easter, you've come to the right place. I've curated the best Perler bead designs and patterns that you can do for this special occasion.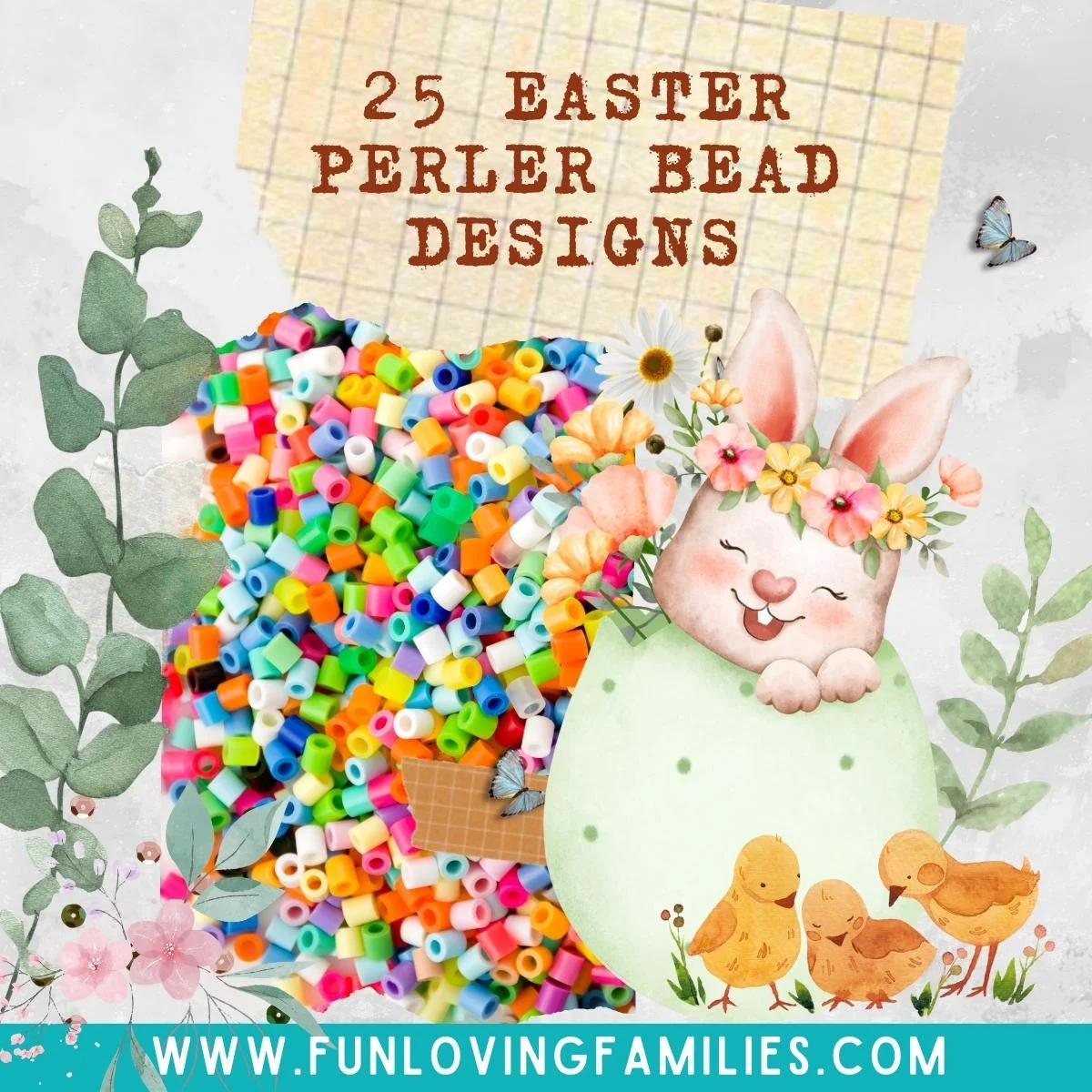 A lot of the patterns below feature Easter eggs and bunnies which symbolize spring and rebirth. Easter, after all, is a celebration of Jesus' new life and resurrection.
Did you know? Even before Christianity, many people associated eggs with life. In Ukraine, for example, people practiced psanky or writing on eggs. They used to decorate eggs with symbols like the sun or a triangle. These were given to friends, buried in fields, or kept at home in order to give protection and drive away evil. These old practices persisted so that until now, we have Easter egg hunts and Easter egg decorating. The bead designs I've found are particularly pretty and creative.
Let's check out our exciting Perler bead project ideas for Easter.
Easter Perler Bead Designs
Yellow Chick
Let's start with an easy chick by Crafter Meghan of Keep Calm and Mommy On. I normally don't like my beads so melty but somehow, they're just perfect for this bright yellow chicky.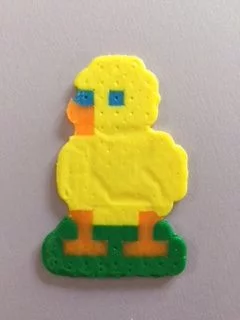 Easter Bunny
If you need to make an Easter bunny, here is an adorable design you can follow. I've seen this same design used many times but with different colors. Feel free to change up the rabbit's colors if you have a different color preference.
Here is the pattern for the Easter bunny.
Easter Egg Basket
Crafter Erica of 5 Little Monsters made these cute Easter pieces. I spy a chick, a white bunny, big Easter eggs, and an Easter basket.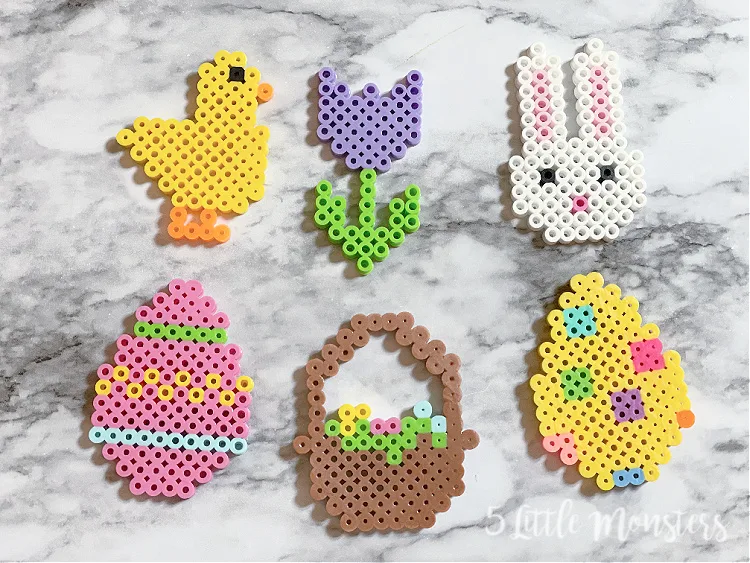 Cute Easter Egg Patterns
If you want more ideas for Easter egg designs, check out this awesome collection of patterns in pastel colors. I think this is originally a guide for diamond painting but the patterns can be similarly used for bead work or even cross stitch.
More Easter Egg Patterns
Here are more Easter egg patterns but this time in bold bright colors. Remember that when it comes to designs, you can follow the original pattern to a T or make your own tweaks to the colors or details.
Easter Eggs
I found this trio of Easter egg designs and they are simply amazing. They remind me of decorative wall plates because of how detailed the designs are.
I don't have the patterns for these but happily, I found some zoomed in photos where you can see each individual bead clearly. Here is the chick coming out of an egg.
Here is a brown rabbit playing with an Easter egg. I thought the brown fur was an interesting color choice.
Finally, we have a walking duckling with a violet egg in hand. All of these have a distinct background motif of fields, grass, and sky that tie them all together.
Risen Christ
Let's not forget what Easter is really all about. Here is a joyful portrait of the Risen Christ. It's not a very big work and can be done in one sitting.
Easter Crosses
Here are some simple crosses with flower garlands. These are very, very easy to make.
Easter Perler Bead Crafts
All of the above designs can be incorporated into crafts that you can use at home, in school, or at the office. You can make your designs into keychains, refrigerator magnets, coasters, and so on. Giving out gifts with your personal touch will surely make your giftees happy.
Easter Treat Boxes
I fell in love with these Easter treat boxes at first sight. The white rabbits, carrots, and yellow chicks are just so cheerful and give off such a happy vibe. These treat boxes are also customizable because of the variety of options you can put inside. You can fill the box up with candy, cookies, little toys, inspiring quotes, or even handwritten letters for your recipients.
Easter Cards
I used to make cards such as these for my children during special occasions. I used different media and sometimes, I used Perler beads exactly like in the photo. They're fast and easy to do yet feel very personal especially if you take a few minutes to write down a handwritten message.
You can also infuse humor and puns into your Easter cards.
Easter Chick Paper Clip
This is such a cute thing to have with your school or office supplies. You can even use it anytime of the year. All you need is a small Perler bead design, a clip, and strong glue.
Baby Chick Coasters
Emma Owl took the yellow chick motif and made these bright coasters for Easter. Just like the chick paper clips, you should be able to use these all year round, too. They'll definitely brighten up your kitchen or office.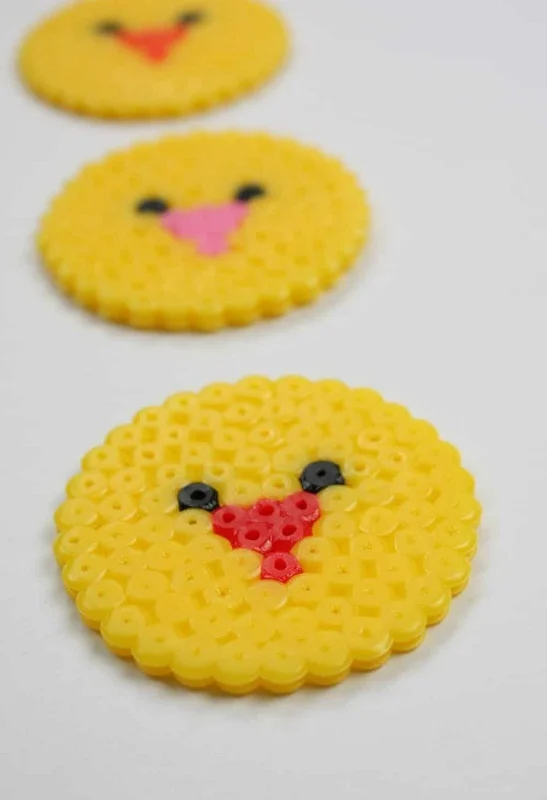 Easter Egg & Bunny Tree
These Easter Trees are so picturesque especially so with the use of pastel colors. Both the bunnies and eggs are made with white and light-colored beads. Our beginner set of Perler beads came in the usual bright colors, but I was able to buy some bags in pastel colors.
Easter Bunny & Carrot Tree
Here's another Easter tree but this time, it's made with some cute bunnies and yummy looking carrots. Ask your little ones which tree they prefer, or maybe you can have a tree with all of these designs — the Easter eggs, bunnies, and carrots.
Here are the patterns for the above.
Easter Hangings
Here are more Easter décor. Instead of tree-like branches, these Perler bead works are hanging from a single wooden stick or rod. They look great suspended against a window. Don't you just love the bold colors of these bead works?
Bunny Standees
Standees are the perfect way to display your Easter Perler bead works. Check out these bunnies standing upright on their flower stands.
Here is a closer look at how you can make these standing bunnies.
Easter Wreath
Wreaths are another décor idea to celebrate Easter. You'll have to start early, but it's easy to assemble. All you need to do is make a few Easter-themed bead works at a time. Once you think you have enough, use a glue gun to secure them against a wreath frame. You can buy wreath frames online or in your local craft store.
Here's another example of a wreath peppered with Perler bead chicks, eggs, and even crosses. The ribbons give it a celebratory touch.
Easter Bunny Planter Sticks
If you're a plant mom, these Easter bunny planter sticks are a great idea. You can do them in different colors and distribute them around the house. You can even choose other designs and then mount them on sticks with some strong glue.
Here's another view of our bunny planter sticks with the wreath from earlier in the background. They're truly a welcoming sight for the family when they come home.
Easter Beads Box
If you fancy a more difficult project, how about making this cute Easter beads box? There's a ton of different things you can put inside like treats, pens, or hair clips.
Easter Tic Tac Toe
Now here's a fun activity for the kids — an Easter-themed Tic Tac Toe game. It's Easter eggs versus Easter bunnies.
Mario Easter Basket
I showed this Mario Easter basket to my daughters and I ended up promising that we'll have one for our door next Easter. Thank goodness I didn't show any of the 3D works because my beading skills only go so far!
I wasn't able to find a kandi pattern guide but this photo by Capes & Crafts should be enough.
3D Easter Perler Bead Projects
For those who want to challenge themselves, here are some amazing 3D works you can do for Easter.
Standing Easter Egg
This slot method is very doable even for beginners. Just do two eggs, leave space in the middle, and then slot the two pieces. Check out the next work for a visual of what I just described.
Standing Easter Egg with Chick
Here we have the same 3D egg style. However, the crafter added a cute chick and bunny on top of each egg.
3D Easter Egg
Now we go full-on 3D. These are more difficult to make because they are rounded figures. The official Perler bead site does an awesome job of creating a PDF tutorial though. Be sure to check it out!
3D Easter Bunny
I can be a bit slow with written instructions so I sometimes go for YouTube tutorials. Here is a very details and easy-to-follow guide on how to make these cute 3D Easter bunnies.
If any pattern caught your eye, be sure to bookmark it for future reference. Share it also with your fellow crafters!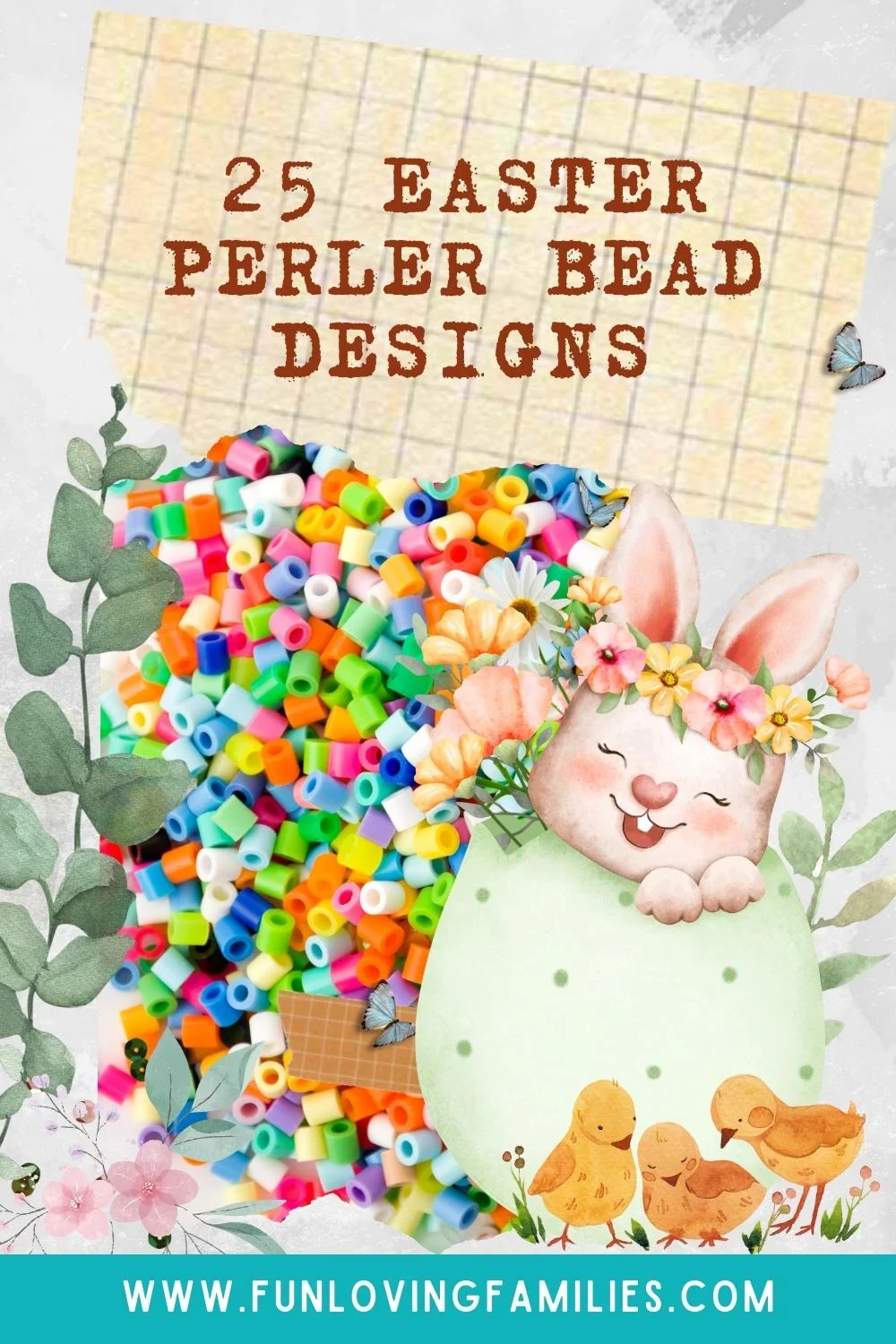 Similar Posts: