There's no better time to start creating meaningful and fun Christmas traditions that will create memories for the whole family to cherish. Below we're sharing our favorite traditions for celebrating Christmas, along with a few new traditions to start this year.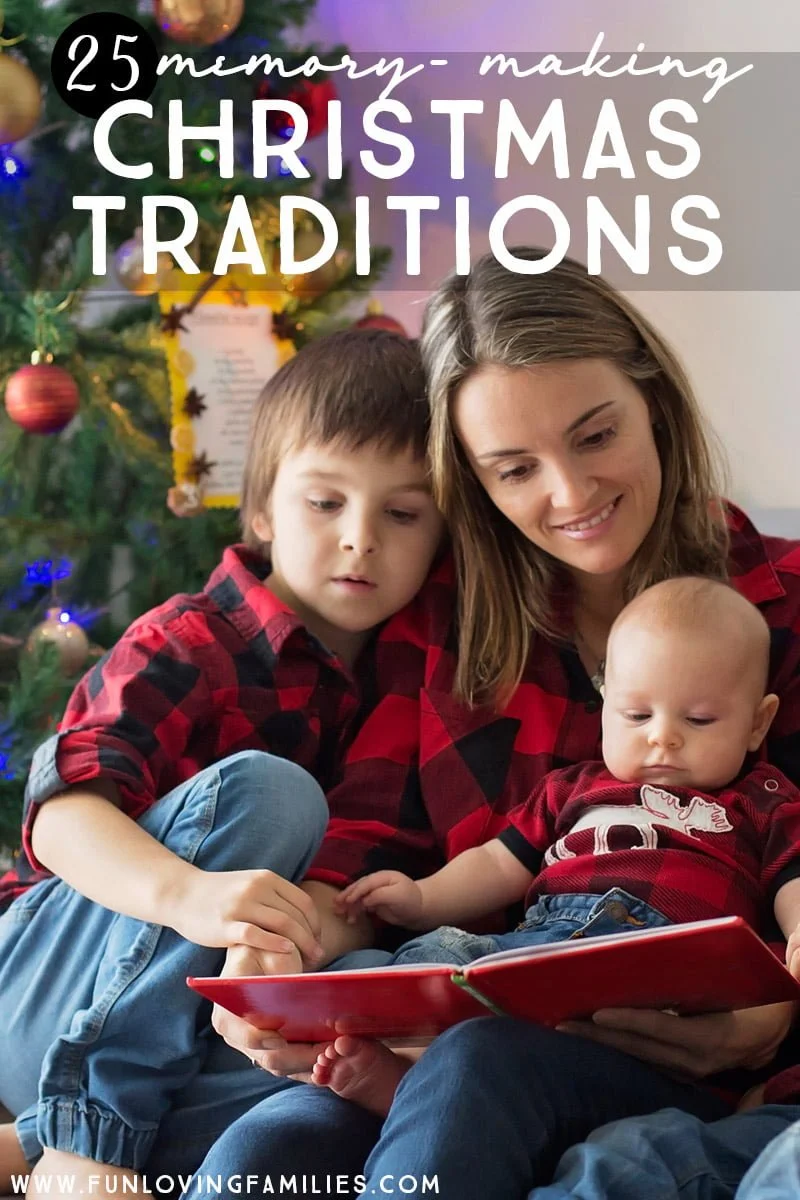 The Magic of Adding Traditions to Your Christmas Celebrations
I know what you're thinking: "Christmas is already a magical time of year, so why the need to add more 'things to do'?"
First off, please don't think of this list as a to-do list that just adds more stress to the holiday season.
These Christmas tradition ideas are so much more than that.
When you incorporate traditions into your holiday celebrations, you're instilling family values, you're creating a sense of belonging and family cohesiveness, and you're making happy family memories that your kids will literally carry with them for the rest of their lives.
The idea here isn't to try to do all the things, but to find something that clicks with your family and fits with your values.
Remember: quality over quantity! That way you aren't stressing, and your family is doing something together that creates a sense of identity as a family unit.
If your kids are small, you can create Christmas traditions that you think you'll be able to carry out year after year.
If you're looking for some new ways to celebrate with older kids, make sure you get them involved! They'll be a lot more likely to climb on board if they're involved in planning an activity.
Also, remember to have fun and not stress if things don't turn out perfectly.
It's not about perfection…it's about connection.
Related: We also have 17 Christmas Eve traditions if you're looking for things to do the day before Christmas.
9 Classic Christmas Traditions
Some of these activities may be so ingrained in your holiday celebrations that you don't even think about them as being a part of your family traditions. But, if it's something your family does every year, and especially if it's something everyone looks forward to as part of the Christmas season, then they definitely count.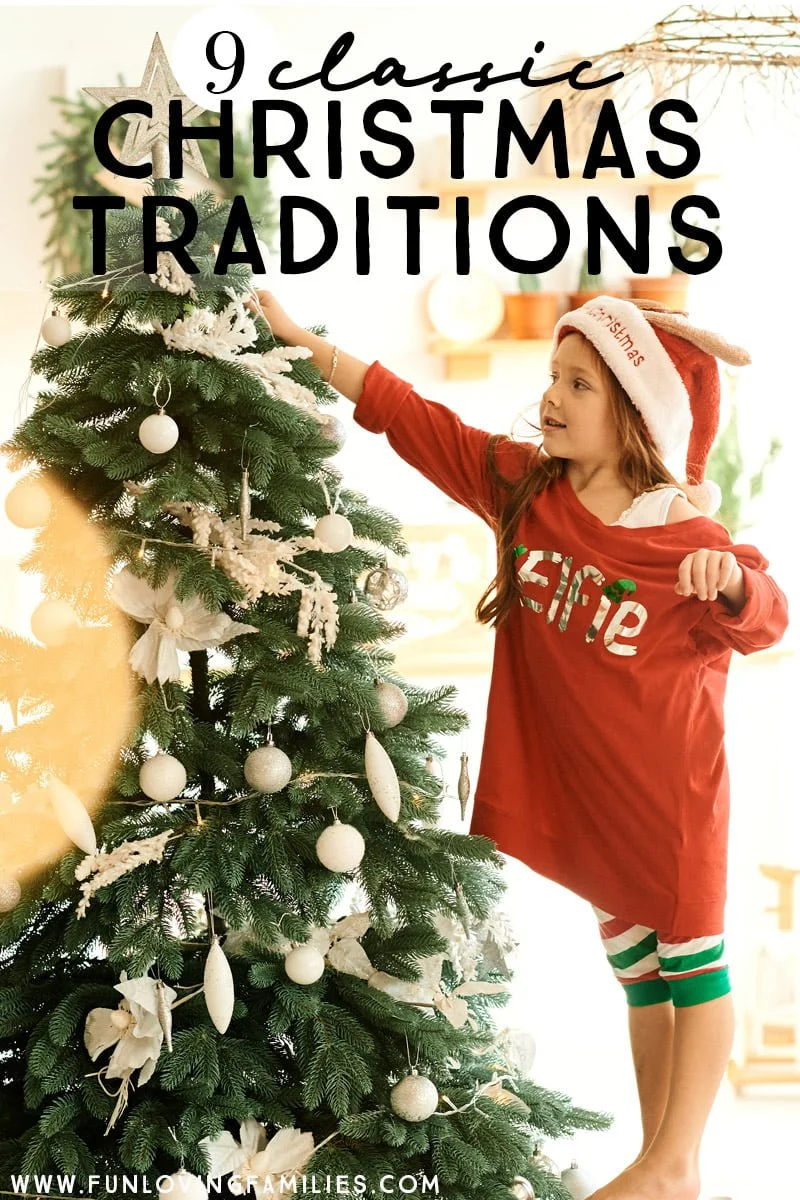 (This post contains affiliate links which means I may earn a small commission if you click a link and make a purchase. As an Amazon Associate I earn from qualifying purchases.)
Christmas Tree Decorating Tradition
Everyone has their own way of decorating the Christmas tree. My mom created a Christmas tradition for our family that I've now carried on with mine.
Every year, when it's time to decorate the tree, we make some cookies, turn on Christmas music, and heat up some apple cider. We use the same special mugs, and we drink the apple cider through cinnamon sticks. 🙂
It's really fun, and the little special touches are what makes it something unique and special for our family.
Make Christmas Treats for Friends
We started a tradition when my kids were little around making Christmas peppermint bark for neighbors and teachers. It was perfect because it was easy enough for the kids to help with, and it was all about giving. We still use the same little Christmas tree mold that we've had for years!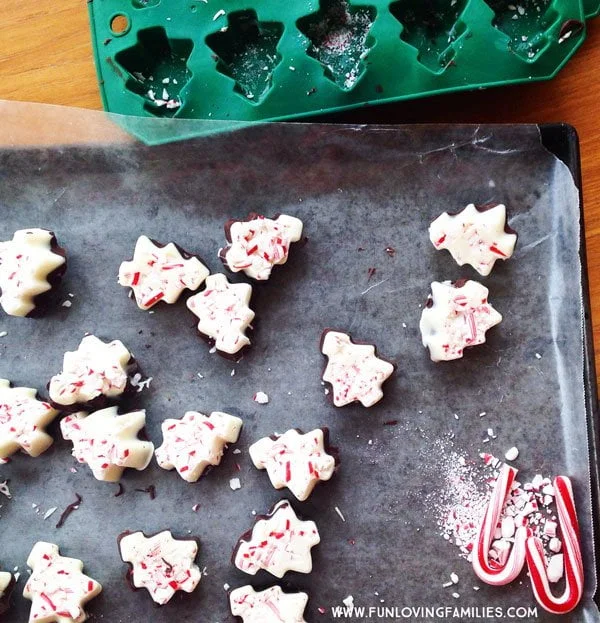 It was just one of those things that started out as a simple activity, but we all enjoyed it so much we just make sure we do it every year. And the kids still get excited when they see the Christmas tree mold.
I know a lot of families love making decorated sugar cookies every year. The kids love cutting out the Christmas shapes. And of course, what could be more fun than adding icing and sprinkles!
Christmas cookies and candies make wonderful gifts for family and friends, and are a fun tradition that a lot of families love.
Angel Tree Gifts
The Christmas season is, or should be, all about about giving.
Some families will volunteer at a soup kitchen every year. Some families will help out at a local food pantry. And I know a lot of families make sure to participate in the Angel Tree program every year. My kids have always enjoyed helping to pick out gifts for a child in the program who might otherwise go without.
Make Homemade Christmas Cards
If you have a family of makers, why not incorporate that into your Christmas traditions? Instead of picking out a set of cards from the store, have a card making day with the family and create your own Christmas cards from the family.
Here's a great collection of kid-made Christmas cards to help you get some ideas.
Go Christmas Caroling
Are you a family who loves to sing? Got some little performers who would jump at the chance to go door to door singing Christmas carols?
This is definitely not us, but I'm so glad people still do this because I absolutely love it when they come by our house!
Christmas caroling is a wonderful way to share your family's talents and bring joy to your community. An alternative to door-to-door caroling is to sing for residents of a nursing home or assisted living facility.
Watch Christmas Movies
There are a few different ways to add Christmas movies to your family's yearly traditions.
Some people will have an all-day Christmas movie marathon, either the day after Thanksgiving (to kick off the Christmas season) or on Christmas Eve – complete with matching Christmas jammies!
Another fun tradition is to do a movie a night on the 12 days leading up to Christmas.
Visit a Live Nativity Scene
Lots of churches will host a live Nativity to help capture the feeling of what the birth of Jesus was like. Sometimes we get lost in the festivities and need a moment to slow down and remember what it is we're celebrating. If you've never visited a live Nativity, try to go to one this year! It might be a new tradition that you'll want to do every year.
Take Family Christmas Pictures
We started doing this every year when the kids were little and they actually look forward to it now! It's a lot of fun for us to come up with a different theme or find someplace interesting that we want to go for our pictures.
In the beginning we would go big and get professional portraits done. But there's always so much going on this time of year that we now just keep things simple and take our own photos with our DSLR on a timer! (we use this camera)
Watch the Nutcracker Ballet
The Nutcracker Ballet is a holiday tradition for ballet companies and families all over the US. Chances are, your local performing arts center will have a few dates set aside in December for a production of the ballet. And if not, there are a few different versions that you can watch on Amazon.
---
8 Christmas Traditions that are Just Plain Fun
Obviously, the more fun something is the more likely everyone will want to do it every year, and the more memories you'll make from doing them. Here are some fun Christmas traditions that might be new to you!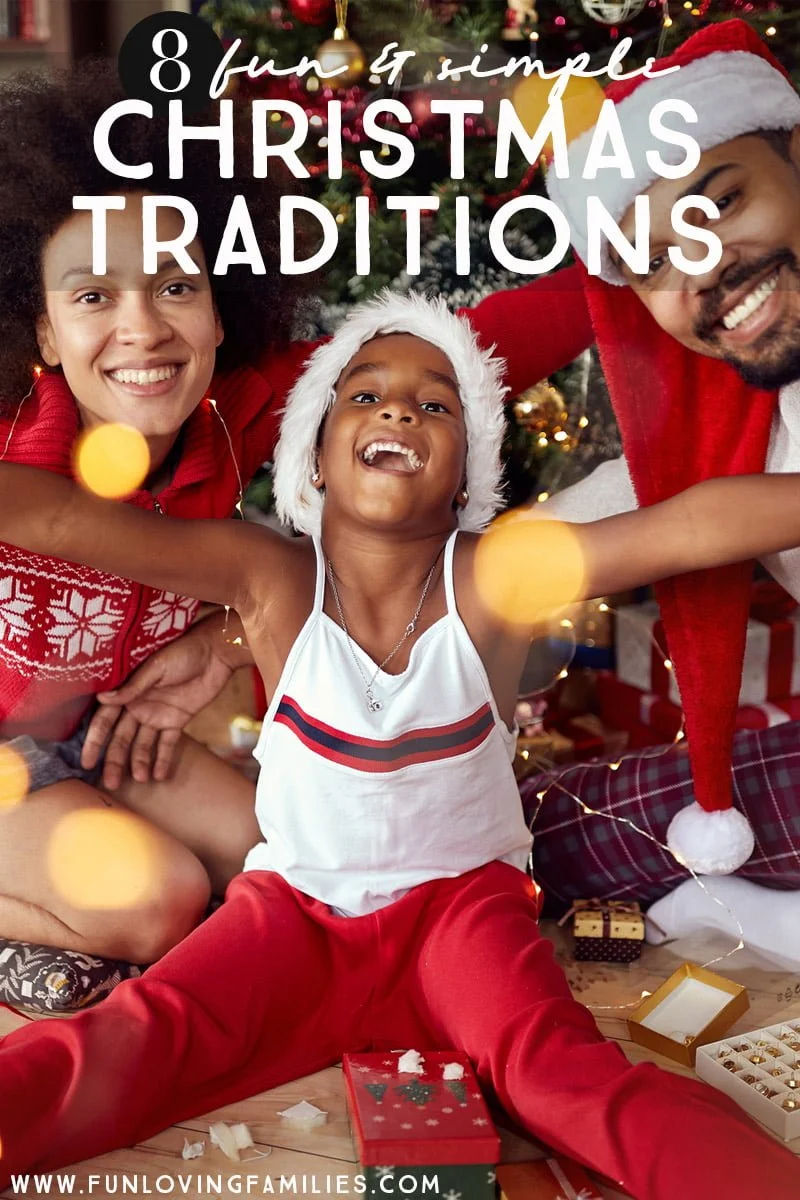 Christmas Countdown Calendars
I grew up with those Advent calendars with chocolate in them and I had such warm memories of them that I make sure to have them for my kids every year (I really love these from Vermont Christmas Company). It's a simple little thing, and they only cost a few dollars, but it's actually a fun part of our Christmas that everyone loves.
There are lots of different ways to do countdown calendars for Christmas. Some people like to give a small toy for the 24 days leading up to Christmas morning (like with this Lego Advent Calendar). I know lots of families who do something like a 24 Acts of Kindness (one for every day 'til Christmas) to keep with the spirit of giving.
You can get more ideas with this collection of DIY Printable Advent Calendars.
Have a Gingerbread House Decorating Party
We always decorate a gingerbread house for Christmas! The kids love it. I love it. And it's something we look forward to every year. I usually try to plan it so that we make ours shortly after Thanksgiving. That way we get to enjoy looking at it for a few weeks and then finally break it up and eat it on Christmas morning.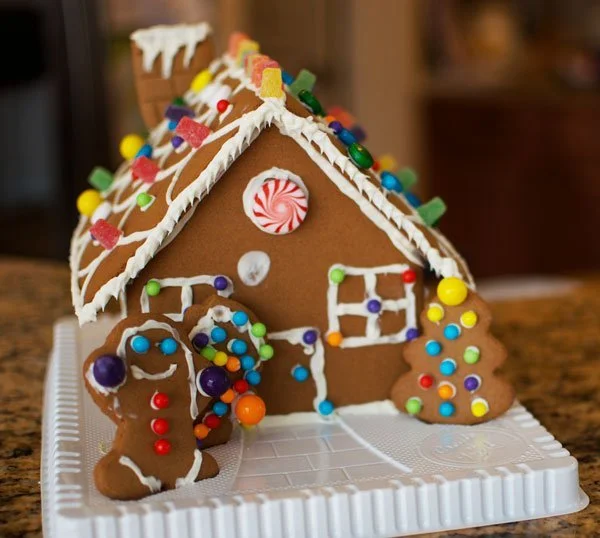 Whether you keep things intimate with just you and the kids, or host a fun gingerbread decorating party for family and friends, this is sure to become a yearly favorite.
You can find gingerbread house kits for around $10-$20, or you can make your own. Check out these gingerbread house ideas for recipes and inspiration.
Go to a Christmas Parade
We live in a really cute small town that has a holiday parade every year and it's so much fun to go to. They usually have the parade shortly after lighting the town Christmas tree, so between both events it's a great way to get the family into the Christmas spirit.
Check out your local area to see if there are parades or events that your family would love!
Go on a Christmas Vacation
Instead of getting bogged down in buying a bunch of presents (because who needs more stuff?), why not plan a yearly getaway for Christmas?
This is actually such a precious gift because there's nothing better than sharing Christmas being close to the family and sharing an experience together.
Some families have a special place they like to go back to every year. Some folks like to change it up by planning a new destination.
Make Homemade Christmas Ornaments
We love making new ornaments every year, and it's actually super-adorable now that the kids are older to see them hanging up the ornaments they made when they were little.
We keep all of their handmade ornaments separated in their own boxes so that every year they can put up their own creations.
You could borrow one of these ideas for plastic ball ornaments that involves filling them with special memories for the year (basically like a time-capsule ornament).
We have a lot of fun making popsicle stick ornaments, and still love these Christmas car and truck ornaments we made a couple of years ago (definitely add a picture from the year if you make it)!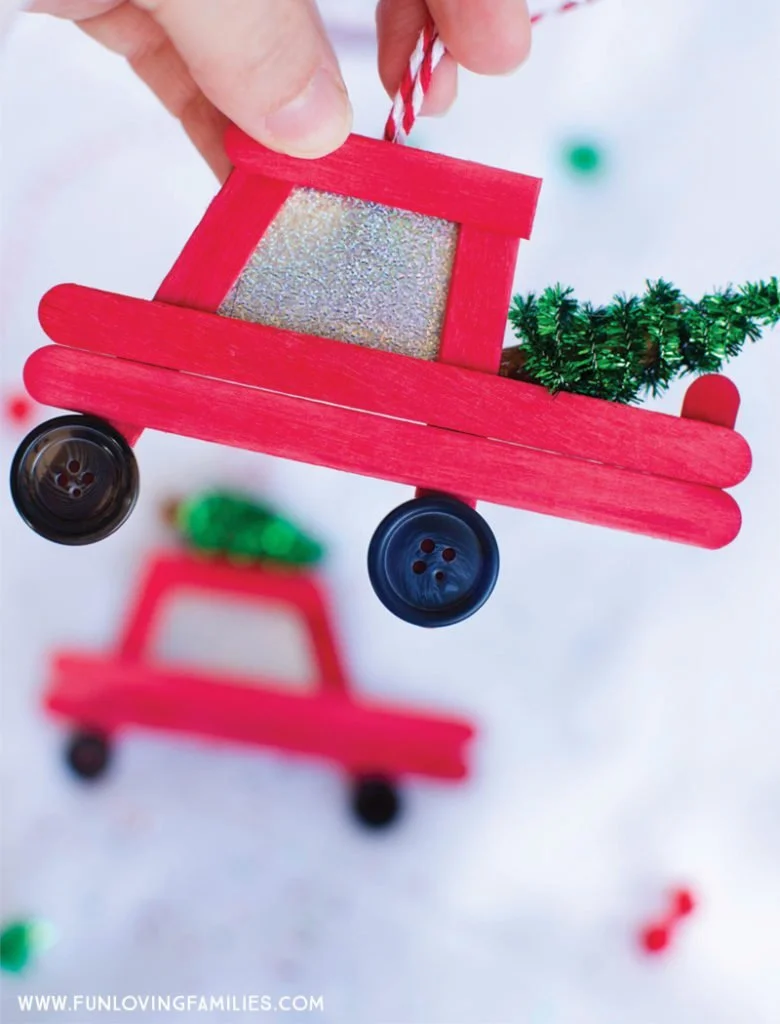 Christmas Elf
The Elf on the Shelf looks like such a fun Christmas tradition for kids. We tried having an elf at our house one year, but we just couldn't make it work for our family. Basically our Elf kept forgetting to move around and show up. (haha, oops!)
If you haven't seen this, the elf comes to help Santa keep an eye on you (yes, a little cringeworthy), and tends to get into mischief. The kids love to see what sorts of trouble the elf is getting into or where the elf has moved from the day before. And…you can't touch the elf, or else the magic is gone!
Anyways, there's a ton of fun and silly memories that the kids will absolutely love if you're up for it. If so, here are some fun Elf on the Shelf ideas you should check out!
Create an Amazing Christmas Light Display (or Look at One)
You can be that family.
Every year, there's that one house that really goes all in on the Christmas lights. And I have to say, I love that family. They're a must stop on our Christmas light scavenger hunt that we do. They are literally lighting up our lives for Christmas
It's probably a lot of work and planning, but if you can get the family on board to help (or just cheer you on) then your Christmas lights will be a joy and a gift to all the people who get to see it.
Get Matching Christmas Pajamas
Nothing says family like a set a matching jammies! If your kids are game, then get a whole set of holiday PJs (plus a set for the dog). You can take it even further and get your Christmas pictures taken in them!
---
8 Unique Traditions That Might be Perfect to Start with Your Family This Year
Nothing jumping out at you yet? No worries! We have a few more Christmas tradition ideas that might be new to you. So, if you're looking for something a little different for your family, keep reading!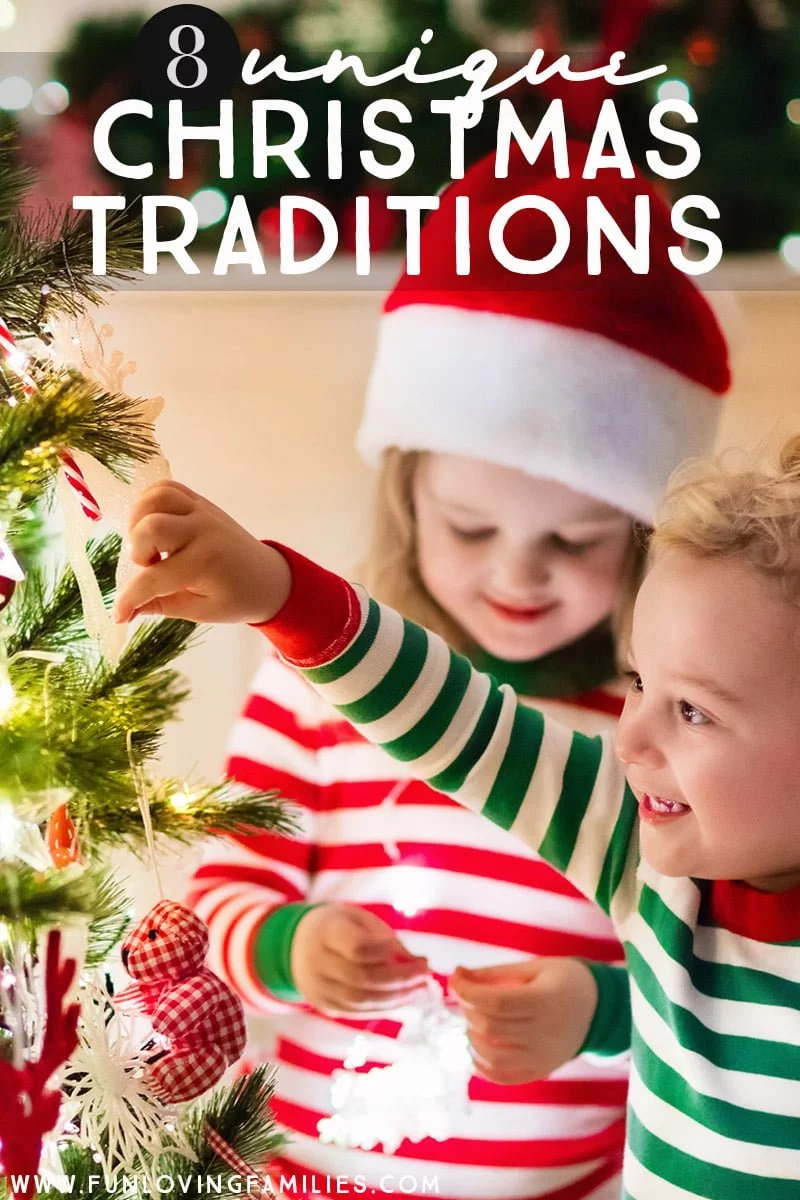 Hide a Pickle Ornament in Your Tree
Apparently, nobody really knows how the Christmas Pickle tradition got started. No matter…you should get your own pickle ornament and start this in your home because it's so simple, but hilariously fun Every. Single. Year.
We have this pickle ornament and it has served us well (and if you read the reviews you'll get a better idea of how much everyone loves this silly tradition)!
Here's the scoop: You hide the pickle ornament on your Christmas tree. It's small and green, so it's pretty hard to spot once it's hidden. Whoever finds the pickle gets a special gift or a year of good luck (you decide how you play).
I hide our pickle as soon as we're done putting all of the other ornaments on our tree and it usually takes a long time for someone to find it. However, some people wait and hide the pickle on Christmas eve, then let everyone look for it on Christmas day.
Decorate a Natural Tree Outdoors
In the spirit of giving, some families choose to create a lovely natural outdoor tree with decorations that double as bird food.
Volunteer
The gift of time is one of the best ways you can give back to your community, and Christmas has a way of reminding us of the importance of giving back. When I was growing up I had a friend whose family volunteered at a soup kitchen every Christmas. It was definitely inspiring, and that friend still has a heart of service to this day.
With a resource like Volunteer Match, you can search for family-friendly volunteer opportunities (use the "Good for Kids" filter).
Create a Christmas Bucket List
We're all about creating bucket lists here, so this one was just an extension of how we roll.
Every year, right after Thanksgiving, huddle up with your family and come up with your annual Christmas bucket list. Make sure everyone has a say in coming up with ideas for what you want to add. Maybe someone wants to request a special meal for Christmas Eve. Or maybe there's a can't-miss local production of the Nutcracker. Maybe there's a new Christmas dessert recipe someone wants to try.
For us, making the 3 hour drive to a Cut-Your-Own-Christmas-Tree farm has been on our list for years, but I know we'll get there one day!
The Christmas bucket list helps the whole family celebrate the season by doing things together.
Make an Advent Wreath
As part of our faith we celebrate the 4 weeks of advent by lighting candles on an advent wreath. When the kids were smaller, we would make our own advent wreaths (similar to this one), with tissue paper in the toilet paper rolls. Then, every week, they would "light" a new candle by pulling up the tissue paper "flame". This tradition has waned as they've gotten older, but it was a fun and hands-on way of teaching them a little about the "Christ" part of "Christmas".
Give Christmas Wishes
This unique Christmas tradition is brought to you by my grandmother! I'm really not sure if this is something she made up or if other families do it, but it was always something I looked forward to when we visited her for Christmas.
Think "fortune cookies" but with a Christmas twist.
Write a special hope/wish/prayer on a small paper and roll it up like a scroll (for us it was bible verses). Then tuck the scrolls into ornaments and hang them on your tree.
On Christmas, everyone picks an ornament, and their special wish is revealed!
24 Days of Christmas Books
This is basically another countdown, but instead of a quick toy or chocolate, the family reads a Christmas book together. There are so many great Christmas books for young kids that you could easily read a book each night. For older kids, you could maybe break up a few books and do a chapter each night.
The Giving Manger
Families looking for new faith-based Christmas traditions for the kids should definitely check this out.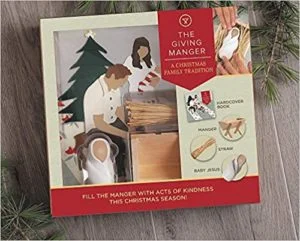 The kit includes everything you need to teach kids about the Christmas story and encourage acts of kindness and giving. (buy on Amazon)
25 Christmas Traditions Recap:
I know that was A LOT to go through, so I'm going to just lay down the list one more time in a quick-shot.
Create a special Christmas tree-decorating tradition
Make homemade treats for friends and family
Participate in an Angel Tree event to help a local family
Make homemade Christmas cards
Go Christmas caroling
Watch Christmas movies
Visit a live Nativity scene
Take family Christmas pictures
Watch The Nutcracker Ballet
Start your Christmas countdown tradition
Decorate gingerbread houses
Go to a Christmas parade
Annual Christmas trip
Make homemade ornaments
Get an elf
Put up Christmas lights
Get matching Christmas pajamas
Hide a Christmas Pickle
Decorate an outdoor tree
Volunteer
Make a Christmas bucket list
Make an Advent wreath
Create Christmas wishes
Read 24 days of Christmas stories
The Giving Manger
Similar Posts: