This massive compendium of the best cat Perler bead designs is my gift for all my fellow cat lovers. Cat lovers, unite!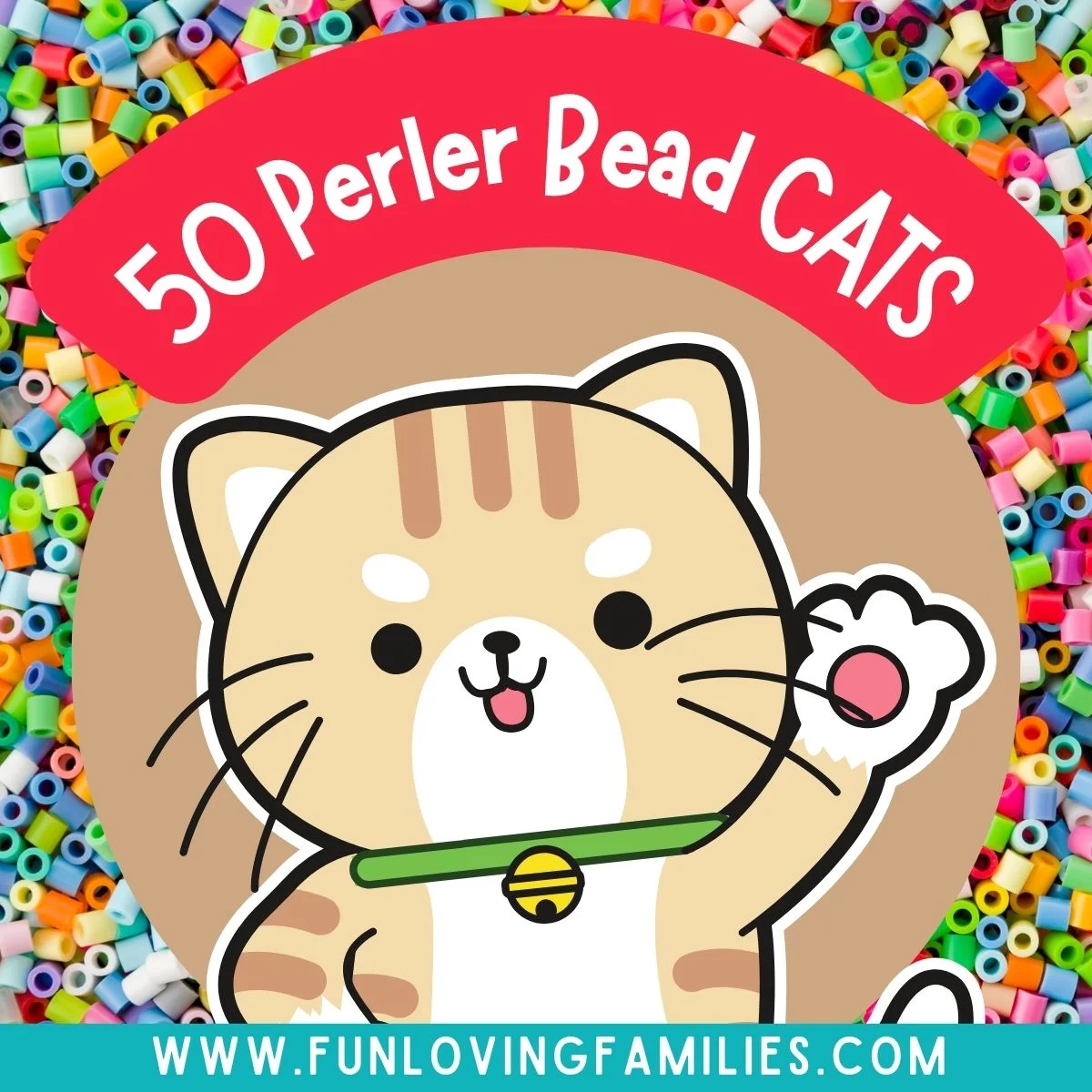 Cats are enigmatic creatures, each with its own set of unique quirks and foibles. They may seem aloof and even cold, but they can be incredibly affectionate too – usually on their own terms. They might ignore you when they are called but might also suddenly decide to curl up on your lap for cuddles. Somehow, these make their affection even more precious.
A funny anecdote goes: "In ancient times, cats were worshipped as gods. They have not forgotten this." Worship the little divas with these paw-fect Perler bead patterns and designs in their likeness.
Cat Patterns and Designs
Let's start by looking at these cat Perler bead works. They're roughly arranged by level of difficulty.
Happy Cat
If you're looking for an easy cat design to make, here is a smiling cat face. If it looks familiar, that's because this is Nyan cat. You'll see Nyan Cat again below in our section for Popular Cats.
Adorable Pets
Do any of these cat heads resemble your own pet cat? If they do, that's awesome. It not, simply customize the bead colors to make the design look more like your cat.
These are also cat faces but with more detail. See their intricate markings and wide-open eyes.
Colorful Artsy Cats
If you fancy something less realistic and leaning more toward Modern Art, check out these fantastic cats. You can copy one design or make a crazy one of your own.
Easy Black Cat
Now let's move on to whole-body designs. This work shows the full form of a cute black kitty. It doesn't have too many details so it's easy enough to follow. They say black cats are scary, but this kitty is just adorable!
Blue Heart Cat
One common design for cat Perler beads is this back-facing cat. The blue beads for the body and the white for the heart are interesting color choices.
Rainbow Cats
Speaking of cats in unusual colors, check out these easy kitten designs in blue, hot pink, yellow, and brown. Engage your child by asking them for their choice of color.
Kawaii Cats
Kawaii means cute or adorable and these designs fit the bill to a T. Which cat amongst the lot is the most kawaii for you? It's so hard to choose!
Cats in Action
Most cat designs are either cat heads or cats holding a pose so I was really happy to see these kitties in action. Kudos to the crafter!
Can you tell what they're doing? The little critters seem to be looking intently at something on the floor. The white cat is even extending a tentative paw. My cat does this when there's an interesting insect or tidbit on the floor.
Heart Kittens
If you like cats and heart designs, you'll have to check out this clever design. You can make one of these kitties with a pink heart in its paw, or you can choose to make all four. When you make all four, they can volt in to make one whole piece like this.
Viewed from the top, the heart pieces look like they form a pretty pink flower.
The Most Adorable Kitten
My vote for the cutest Perler bead kitten on this list is this little guy right here. It's only a small piece but the shading is excellent giving it a lot of details. Its form and face are just too precious for words.
The gray and black beads are a bit hard to make out so here's a pattern for your reference.
Blue-Eyed Siamese Kitty
If you have a pet Siamese cat, you might like this pattern. It's a pretty Siamese cat with vibrant blue eyes and a matching bow. For the whiskers, I've seen some crafters use a thread and needle to create the black lines. You may also use a pipe cleaner or some pieces of felt paper.
Hanging Black Kitty
If you're a plant mom and a cat lover, then you will find this pattern irresistible. The black kitty is perfect as is, but you can also customize this design by changing the colors of the cat to the fur colors of your own pet.
If your cat is ginger or has fur close to the color of the planter, change the color of the planter to a complementary or contrasting color (like blue, for example).
Kitten in the Poppy Garden
Now we're moving on to more complex works. This Kitten in the Poppy Garden is resplendent. It's big, the scene is adorable, the gray kitty is squishable, and it's giving vintage feels. You'll need quite a bit of time to finish this project but when you do, it's going to be absolutely frame-worthy.
It's a big piece so you will need a guide. Use this pattern and adjust it to the colors you want.
Cats Being Funny
Our feline friends may seem standoffish, but they definitely have their funny and endearing moments.
Cat in a Bag
Cats love bags. My auntie has a cat named Spike. On her birthday, I also sent Spike his own gift — a toy fish. When I asked how he liked it, she replied that Spike hadn't stopped playing with the bag the toy came in. (Next time, maybe I'll just give an empty bag as a present huh.)
Cat and Box
Or maybe a box. Cats love their empty paper bags and boxes.
This is a funny cat pouring itself out of a box. Dramatic much.
There is a super popular cat named Maru, and boxes are her passion.
Cat in a Cup
One adorable white kitten in a pink cup coming right up!
Cat with Fish
Look at the size of that fish. I would be happy too. Maybe that's why the orange kitty is kissing it.
Here's another adorable orange cat with a yummy fish on a plate. The little Perler bead heart is a cute touch. If you only fancy making the cat, skip the fish snack.
Some of the beads have melted together so they're hard to make out. Here is the cross stitch pattern in case it helps.
Calico Cat with Red Balloon
Does the lil kitty want to fly away? It's a calico cat with a balloon tied around its middle. The balloon really draws one's attention because of its lively red Perler beads. The cat design itself is also very good when you note the form and color details.
Here is the pattern for your reference. However, unlike the sample above, this kitty is a flat gray.
Holiday Cats
You can make Perler bead cats for special occasions. We've got cats for Valentine's Day, Halloween, Christmas, birthdays, and Easter.
Valentine Cats
Make this sweet feline pair for you and your loved one. Their tails form a heart, and they have a heart mark each, too. You can customize this design by changing the Perler bead colors to your favorite colors.
Halloween Cat
This Halloween cat would look so sweet on your mantle together with other Halloween decor like autumn leaves and candles. You can even DIY a tiny broom.
Easy Christmas Cat Pattern
If you are looking for an easy Christmas cat pattern for your little ones, look no further. This pattern is small and doable, especially with your guidance. Sadly, I don't have a pattern for this so if your child can't make out the pattern very well, you can redo it on graphing paper.
The little guy is actually part of this set. You can do just one or all of them. They're all stinking cute for sure!
Blue Christmas Cat
Here is another easy pattern for your child. It's a blue cat in a Santa's hat. The design is a bit unusual. Not only is it blue, but it also somehow bears a tiny bit of resemblance to The Grinch?
Christmas Hello Kitty
Before I get jumped and reminded that Hello Kitty is NOT a cat, I'd like to inform you that I did NOT get the memo and refuse to read it. Ignorance is bliss.
On to more important things like this perfect Christmas Hello Kitty. The colors are so bright and festive. She's got the most adorable bow, two antlers peeking out, a huge candy cane, and a green hooded coat.
Cat with Santa Hat
Just look at those soulful eyes. Maybe it wants some cuddles or treats?
Pink Birthday Cat
Celebrating a happy occasion like a birthday? This little kitty is ready to party with her balloon, party hat, and present. You can customize this design by changing the colors of the cat, the balloon, and the present.
Easter Eggs Kitty
At first glance, they look like Devil eggs, but nope, they're Kitty eggs. These will look cute displayed alongside your Easter decor. They're small and easy to do too so you can make several in different colors.
Popular Cats
Tubbs
Have you ever played Neko Atsume? Neko Atsume is a fun mobile game where you collect cats by leaving out food. Tubbs is the large white cat who is known for coming to the player's garden and eating everything in sight. He leaves behind a generous amount of fish (the game's currency) as a "thank you," making him both a frustration and a blessing. This crafter really captured Tubb's post-binge happy food coma.
Nyan Cat
If you aren't too well versed in Internet memes but this cat face somehow seems familiar too, that's because you've most likely seen it somewhere online or even in physical merchandise sold in stores. This is Nyan cat and it's easy to recognize because of its signature smile and pixelated form.
To fully understand the popularity of Nyan cat, you need to see it in its entirety. Nyan cat is a pixelated cat with the body of a Pop-Tart, flying through space, and leaving a trail of a rainbow behind it. Its form really is mind-bending and the work above was able to do justice to Nyan cat's crazy design.
Jiji – Kiki's Delivery Service
Jiji from Kiki's Delivery Service is arguably one of the most popular black cats in a movie. Jiji is Kiki's black cat companion. Jiji is recognizable because of her large expressive eyes, slender physique, and pointy purple ears.
This is a pattern that is similar to the above design. There are some little differences in the whiskers and eyes though. Jiji's name is also spelled out followed by a cute little paw print.
Here's a cute Perler beadwork of both Kiki and Jiji. Kiki has her beloved broom and Jiji has his matching red bow.
Marie – The Aristocats
The Aristocats is an old Disney movie from way back in the 1970's. It's an exciting story of how the rich Madame Bonfamille was leaving her fortune to her cats and the evil butler tried to get rid of them. Marie is one of the kittens in the story and as you can see, she is very ladylike and elegant thanks to her aristocratic upbringing. An endearing mix of comedy and charm, she often says, "Ladies don't start fights, but they can finish them!"
Hello Kitty – Sanrio
My daughters can't get enough of Hello Kitty so here she is again in her signature red bow and dress.
If you think Hello Kitty can't get any cuter, here are some more versions of her in animal onesies. Which do you think is the cutest?
If you click through to the Pinterest pin and scroll down to "More Like This", you will see the patterns for each figure. I've shared the pattern for Bunny Onesie Hello Kitty.
Mermaid Cat
A mermaid cat is a popular concept borne out of people's whimsical imaginations. Just look at that beautiful cat face, wide blue eyes, and rainbow tail. The execution is flawless.
Strawberry Kitty
The Strawberry Kitty is part of a fruit kitties line. Click through to the Pinterest link to see the other fruit kitties under "More like this". The strawberry one is a crowd favorite though because of the pretty pink color and strawberry design.
Here is the pattern for your reference.
Grumpy Cat
Did you know that Grumpy Cat was a real live cat? She rose to fame in 2012 and her cartoon likeness has been popular ever since. People seem to relate to her perpetual state of displeasure. I mean, look at that face. Endearing, right?
Nyanko Sensei – Natsume's Book of Friends
As I've mentioned repeatedly throughout the blog, one of the family's favorite anime series is "Natsume's Book of Friends". If you or your children haven't watched it yet, it's an awesome show to watch together. In the story, Natsume grows up a fearful boy because he can see spirits. One day, as he is being chased in the woods, he trips on a sealing rope and accidentally frees Madara. In his original form, Madara is a huge fearful beast, but staying in Natsume's home as his companion, he assumes the shape of a maneki neko or a lucky cat.
If you want to see all my anime recommendations and their Perler bead equivalents, just check out this post.
Pusheen
If you use social media to chat with friends, you would surely have come across this chubby gray cat. Originally from a webcomic series, Pusheen gained Internet fame thanks to her animated GIFs and stickers. Pusheen loves to eat so here she is slurping down some ramen.
Cheshire Cat
This Perler bead Cheshire cat look absolutely crazy and manic. If you are fascinated by Disney's depiction of the Cheshire cat, then you'll love this design. The crafter was able to capture its manic grin, striped fur, and mischievous yellow eyes.
Here is the pattern for your reference.
Ramen Cat
Along with the Mermaid Cat, the Ramen Cat is one of my top favorites when it comes to whimsical feline designs. Can you imagine a cat bathing in a bowl of ramen?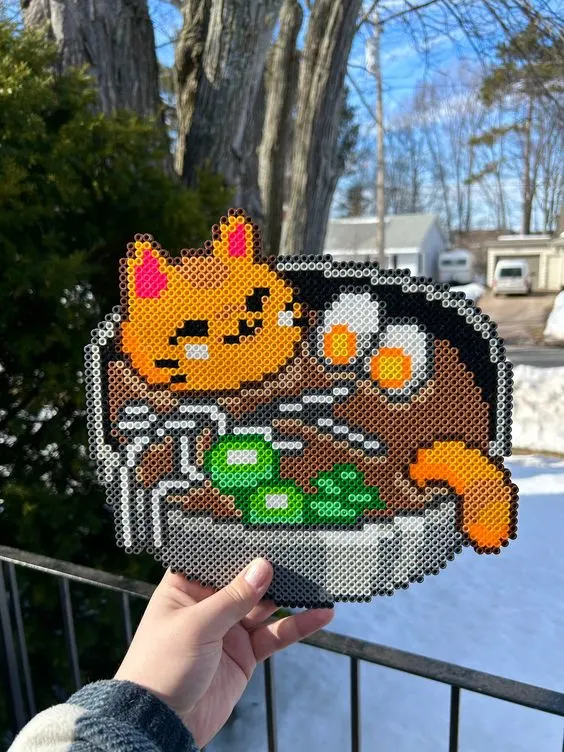 This is what a really clean and professional Perler beadwork looks like. Kudos to this very skilled crafter!
Lucky Cat
We can't have a list of Perler bead cats without including some Lucky Cats. Lucky Cats are a common sight in stores and restaurants because they are believed to bring good luck, prosperity, and fortune. If you want your share of luck, make your own Perler bead Maneki Neko.
Here is a cuter version of the Lucky Cat. See how the Maneki Neko always has one paw up. It's beckoning for good fortune to come!
Tom – The Tom and Jerry Show
The best Perler bead crafters are really on another level. Just look at this amazing 3D work of Tom and Jerry. Their likenesses are captured very well. Sadly, I don't have the pattern for these but we can marvel at the crafter's skill.
Cat Crafts
Now let's look at all the useful crafts we can do with Perler beads and cat designs. Remember that you can customize all of the projects below by tweaking the colors of the beads or choosing a different design altogether.
Key Chain
Imagine this super adorable white kitty keychain in your bag or amongst your things. You're sure to get compliments from your friends.
If you have trouble making out the bead pattern, you can check out this pixel guide.
Here are more keychain ideas — paw prints in different colors. These would make excellent gifts, too!
Bag Tags
This pair of cats with crescent moons on their foreheads are both cute and fantastical. Making them in different colors also gives them different personalities despite having the same exact pattern.
Here are more bag tag ideas. Notice how the loops are different for all of the samples so far. You can buy these from any craft store.
Mini Cat – Fridge Magnet
Make your refrigerator more interesting with these Cat Magnets. Your family members might be more excited to leave notes if they have these kitties to use.
Cat Bookmark
It's a delightful Nyan Cat bookmark. It's crazy, colorful, and really eye-catching!
Again, Hello Kitty might not be a cat but I just had to show this pretty pink bookmark.
Cat Necklace
A lot of Perler bead pendants turn out to be a bit big and clunky. This black cat pendant, however, is stylish and elegant. It's also easy to pair with any outfit.
Jiji Cat Earrings
If you're a Studio Ghibli fan, these Jiji earrings are a must-have. A MUST-HAVE!
Again, you can turn any of the designs featured above so long as you buy the hooks from a craft store. Make sure to iron your beads well to keep them from falling apart.
Cat Love Card
If you want to get your feelings across to somebody, this "I've got felines for you" should be pawfect.
Perler Bead Laptop Clinging Cats
See those protruding little arms? These Perler bead cats can be perched on top of objects like a monitor or a box just like below.
This is the pattern for the different parts of the 3D cats.
To find out how to put the pieces together, you can watch this step-by-step YouTube tutorial.
Cat Coaster
These cat coasters are the cutest. The colors are so vibrant and the cats look so squishy. You can make these coasters for the entire family or you can make just this pair for your best friend or a loved one.
There's even a Grumpy cat coaster. Gift a couple to a friend as a gag gift to spice up their morning coffee ritual.
Cat Wall Decor
These cat frames are for the hardcore cat and Perler bead aficionado. I recommend finding a pretty cat pattern that looks the most similar to your fur baby so that they have their portrait up on your wall.
Light Switch Frame
This is a light switch cover with Marie of the Aristocats as a design around the frame. Measure the circumference of your light switch first to make sure that you get it right. Click through to the Pinterest pin to get more useful tips.
Cat Eyeglass Holder
Always losing your glasses? Make a fun holder for them so you know exactly where to look every time you can't find your glasses. This is a project from the official Perler bead site and they have awesome PDF tutorials. You can find the tutorial for this eyeglass holder HERE.
If you enjoyed this post, please share it with your family, friends, and cat lovers!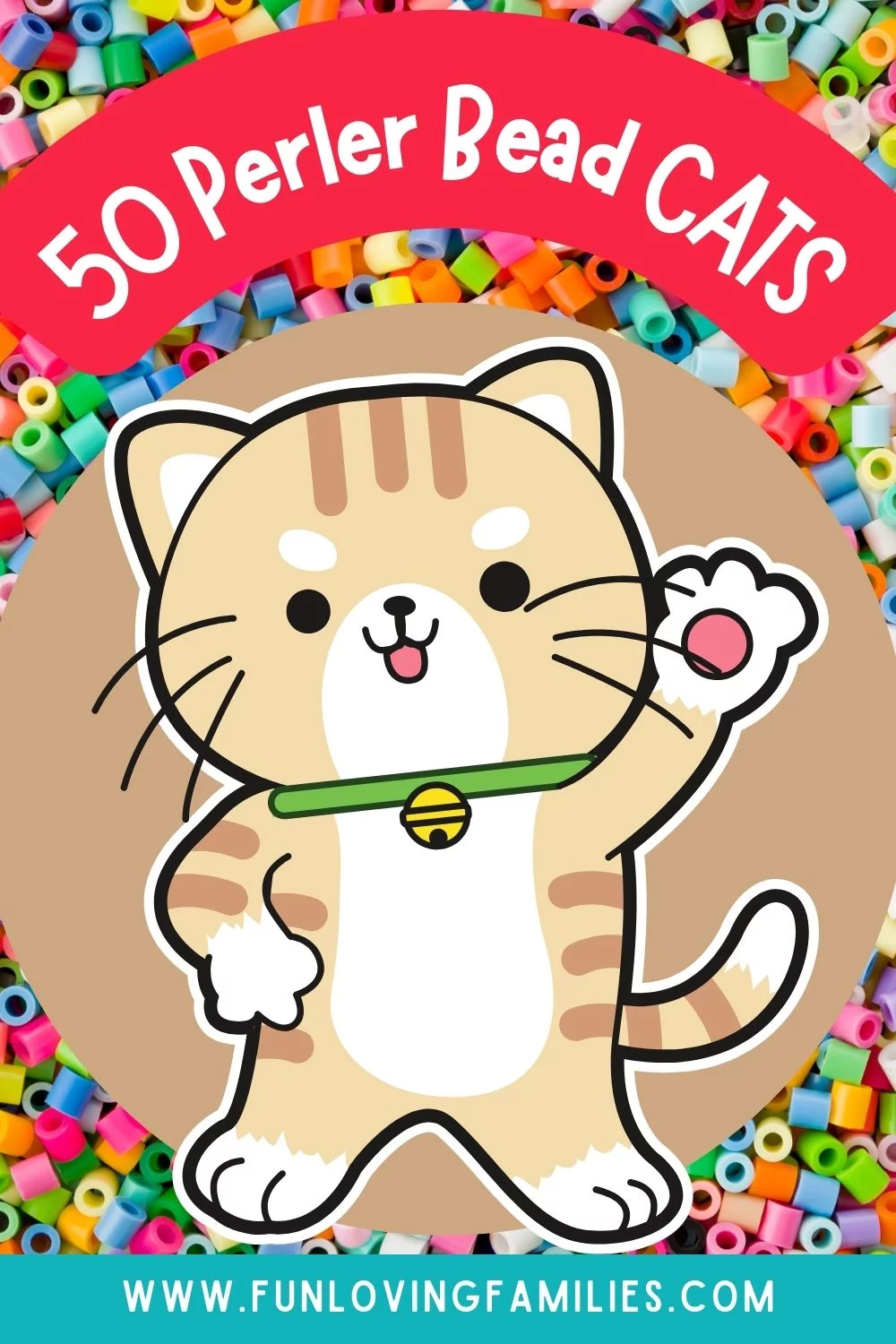 Similar Posts: