We scoured hundreds of car organization ideas for families with kids and these are the 17 top, all-time best car organization ideas for parents to keep your car clutter under control.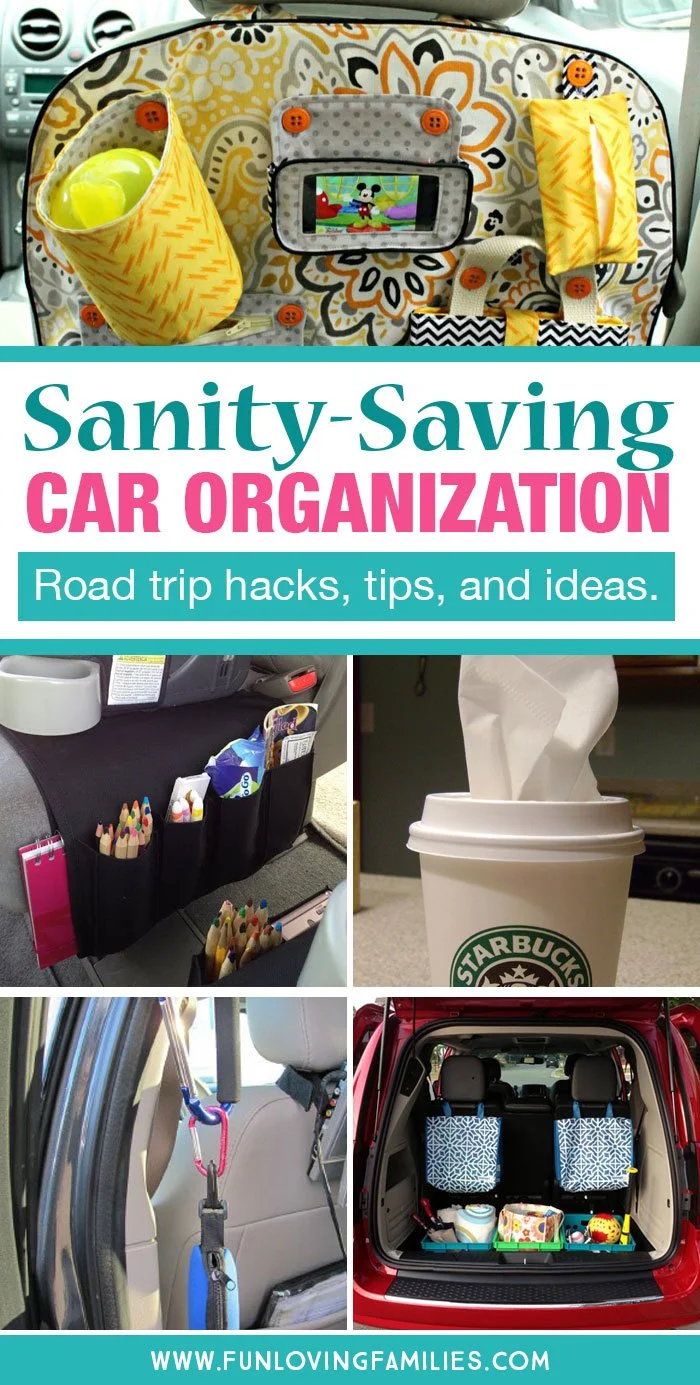 We spend so much time in our car, and believe me…it shows. Crumbs, wrappers, water bottles, orange peels (yes, gross!), school paper, and anything else that gets used or eaten during a car ride ends up crushed into floor mats, stuffed into door pockets, and kicked under seats.
I'm sure you've been there.
It's clear to us that our current system is not working. In order to get a hold of of the situation, I've scanned the internets to see what has worked for others. These are really, truly the best car organization ideas for parents. The kind of ideas that make you face-palm your head and ask, "Why didn't I think of that?"
(This post contains affiliate links which means I may earn a small commission if you click a link and make a purchase. As an Amazon Associate I earn from qualifying purchases.)
Best Car Organization Ideas for Parents
While I was looking for the best car organization ideas for parents, there were a few areas I knew I needed to address:
How to keep the essentials handy (like tissues and wet wipes)
How to keep things off of the floor
How to control all of the "stuff" parents keep in their cars for preparedness
Check out the links below for smart, practical ways to address these issues in your own vehicle:
Keeping the Essentials Handy
1. Travel Mug Tissue Container
I always find that tissue boxes are too bulky to keep in any convenient place in the car. So, this idea for rolling tissues up into a travel mug is try genius. Now I can keep tissues in one of the cup holders nearby so that they're always handy, and not getting smashed on the floor. Idea from Infarrantly Creative.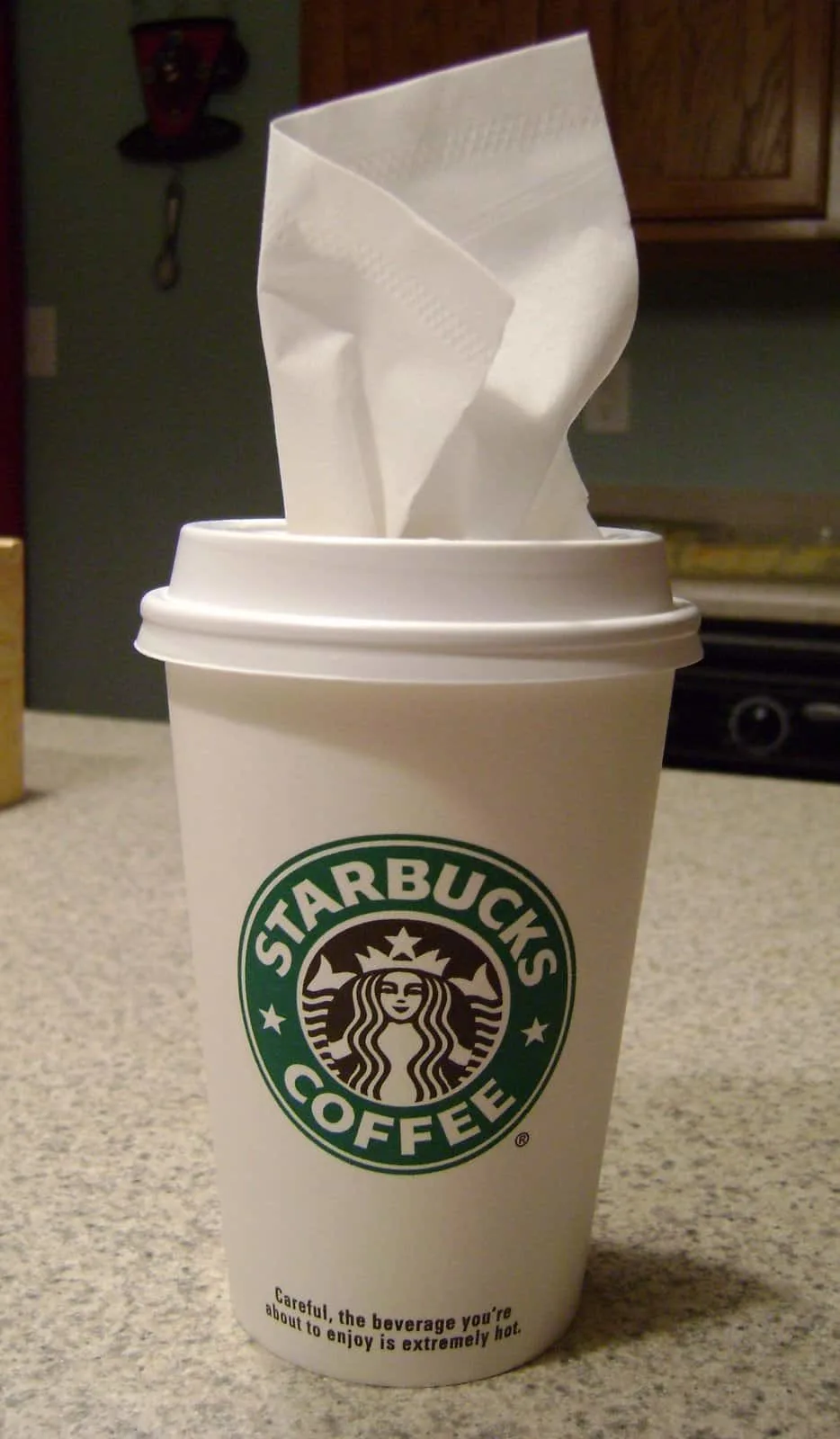 2. DIY Plastic Bag Dispenser
Use this tutorial from Tatertots and Jello for rolling up your plastic bags to fit them into a small tube. You can use anything from a Pringles container to a Wet Ones container. Find the size that will work best in your vehicle and you can keep these handy to use as garbage bags, sick bags, wet bags, etc.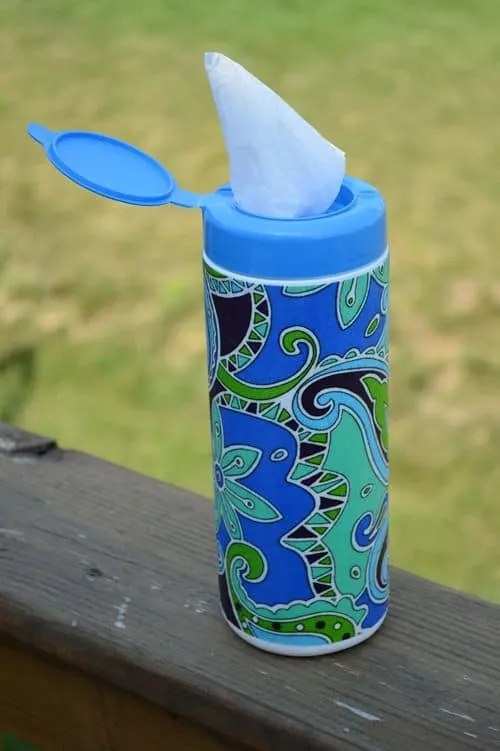 3. Visor Mounted Tissue Holder
Here's another great way to keep tissues at hand without having to keep a tissue box on a floor or dashboard. This visor-mounted tissues holder can keep a handful of tissues readily available and easy to grab and use, or hand off to backseat riders when needed.
4. Use a Popsicle Mold to Organize Your Center Console
Turn a dollar store popsicle mold into an organizer for your center console. My organizer would look slightly different from the one pictured. I would keep little things that get asked for by kids in the backseat to make them easy to access. I'm thinking, tissues, a small wet wipes travel case, chapstick. Parents of toddlers may want to keep a spare pacifier in theirs for times when they get dropped and you need a new one quickly. Idea from HGTV.
Keeping Everything Off the Floor
In our car, anything that ends up on the floor just ends up getting stepped on, kicked, or knocked over. So, you won't find any organization ideas that involve storage on the floor.
For these best car organization ideas, everything is up and off the floor.
5. Repurpose a Door Mounted Pocket Organizer
Just look at all the storage one of these shoe organizers offers. We use these on our doors at home to hold everything from cleaning supplies to winter hats and gloves, so it's no surprise that they are just as useful in the car. Just mount it to the headrest of the seat in front, and your little one has everything they need at their fingertips. Idea at Eclectic Mom Sense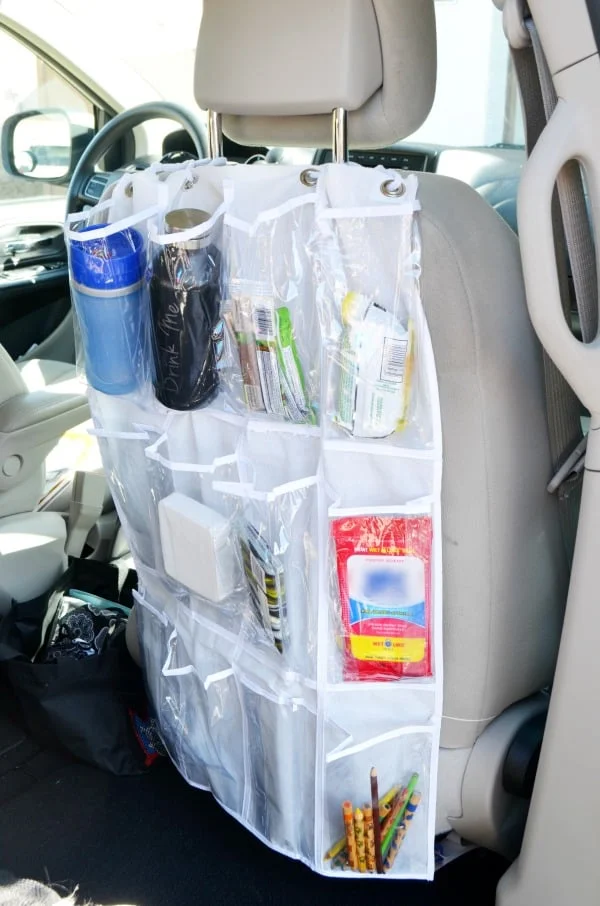 6. Use Command Hooks to Hang a Plastic Trash Bag
Trash is a major issue in our car. Even when I put plastic bags in the back for the kids to use as a trash holder, it often ends up getting knocked around and dumped out, or lost underneath jackets and backpacks. By sticking some command hooks on each side of the car, I can keep the bags up and out of the way, and always within reach for the kids to use. Idea from Living Well Mom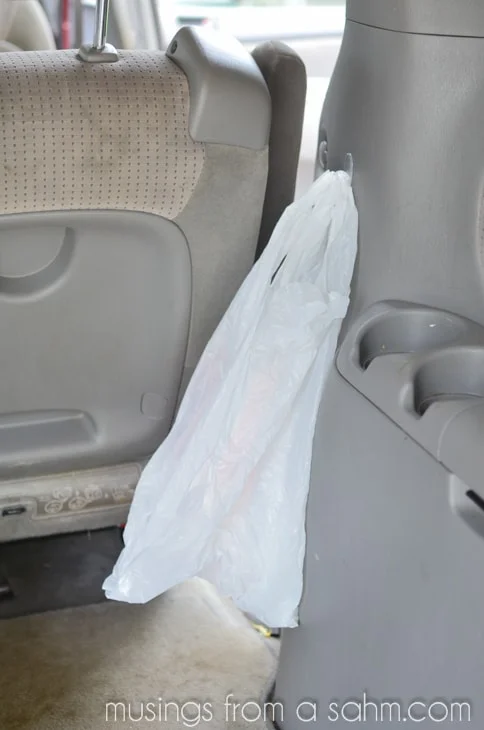 7. Ipad Holder Headrest Mount
Make a headrest mount for your Ipad so kids can watch their favorite movies on longer car trips. From Infarrantly Creative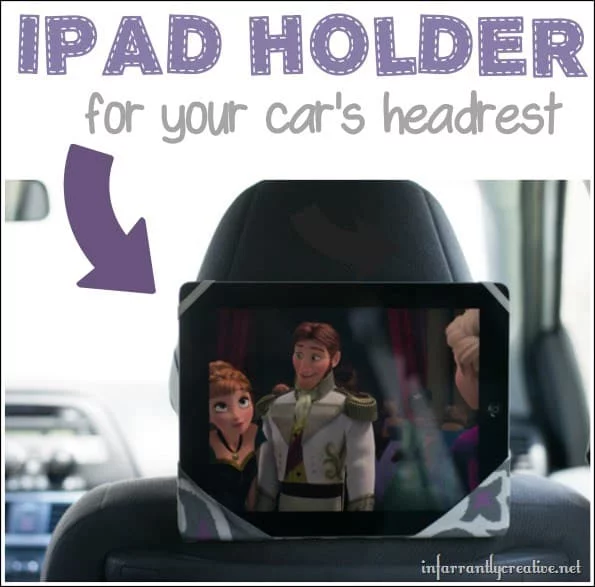 8. Use a Remote Control Holder as a Side Seat Sundry Holder
Make excellent use of an Ikea Flort by using as an organizer for kids travel essentials. In this image you can see how it can easily handle art supplies, wipes, snacks, a notebook, and whatever else your little likes to use while riding around in the car. Idea from Ikea Hackers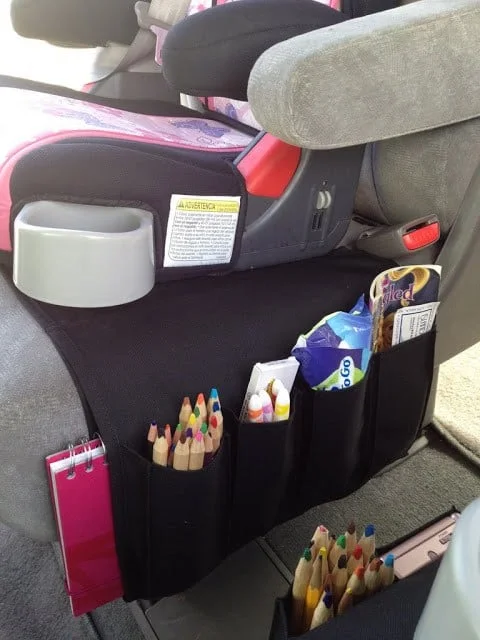 9. Make this Seat Back Entertainment Organizer
If you've got some sewing skills, you can create this amazing seat back entertainment organizer for backseat riders. This organizer will hold a water bottle, travel tissue packs, an art folio, iPhone holder, and a pouch for various odds and ends. Customize your organizer based on what your personal needs are. From A Jennuine Life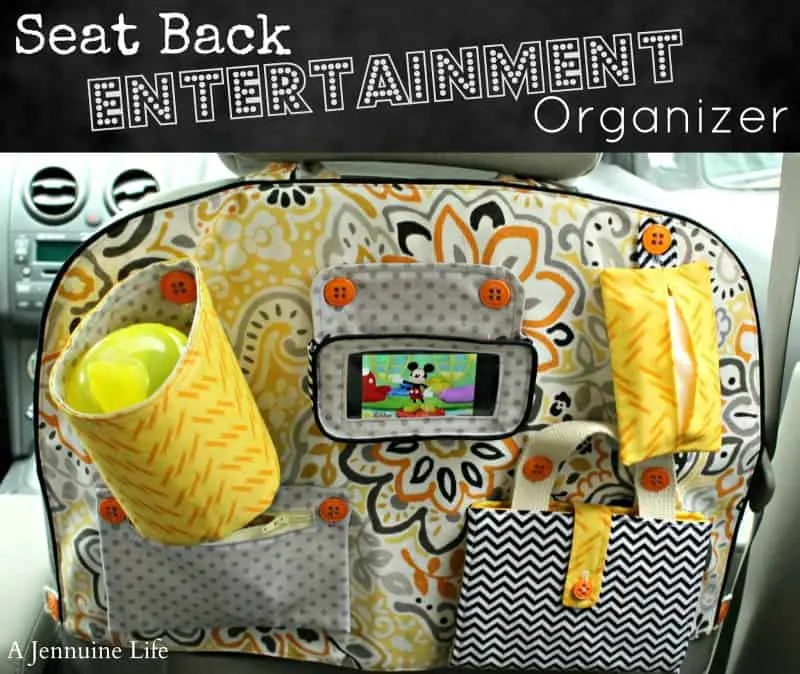 10. Use a Carabiner to Hook Small Carrying Cases with Your Travel Essentials

If you're running out of space in other areas of your car, grab some carabiners and use them to hook pouches and totes onto your side handles. From Org Junkie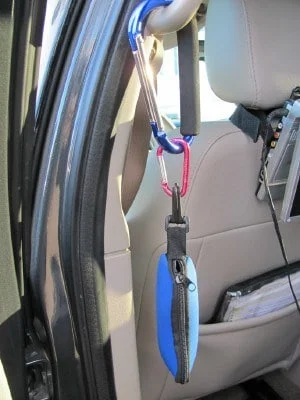 11. Make a Traveling Toy Holder to Keep Small Pieces Off the Floor
Here's a great way for kids to keep their hands busy with small toys, while keeping them safe and secure. This portable lego kit can also be used for small dolls and other small toys. See Mama Papa Bubba for details.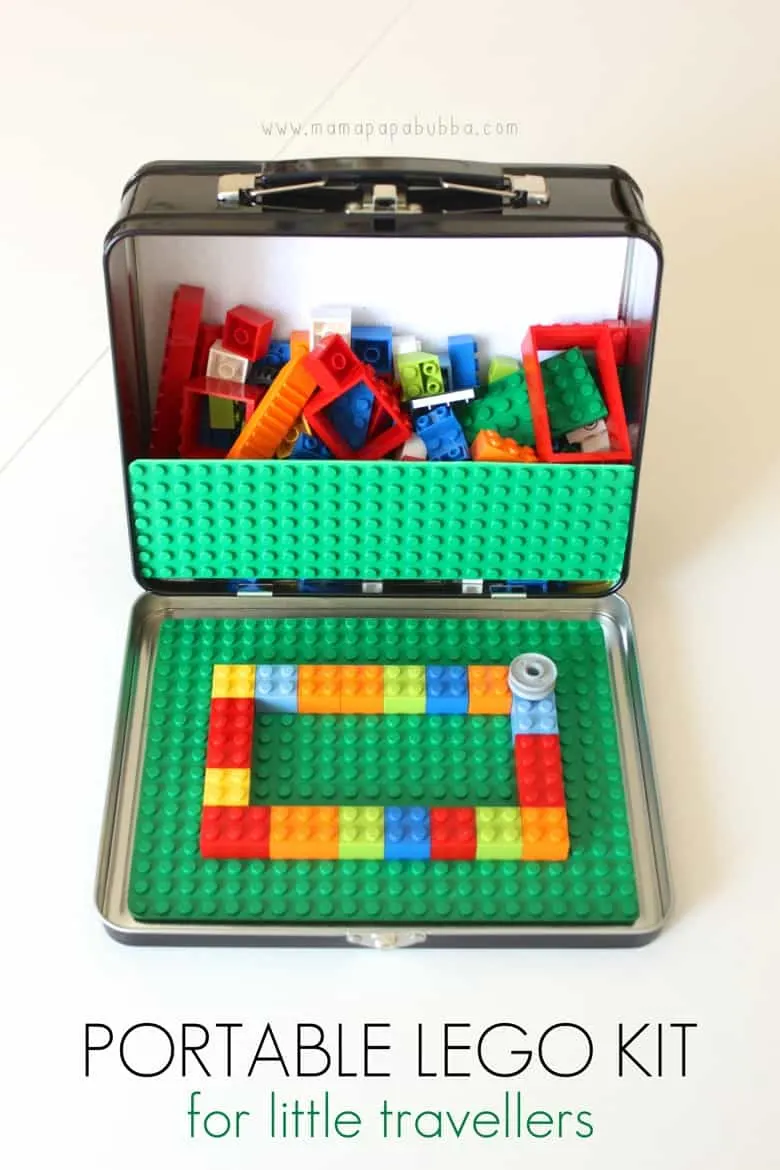 12. Use this Headrest mounted Tissue/Trash/Drink holder
Parents of older kids don't always need as much to keep their kids entertained or occupied while they're in the car. In that case, something as simple as this headrest mounted trash bin with drink and tissue holder may be all that you need to keep the car clean and keep debris off the floor.
13. Make a Hanging Book Holder
If you have an open seat in the middle of the backseat, you can use it to hold this DIY hanging book holder to keep books easily accessible. I like this much better than keeping books in a basket on the floor. They'll be safer and easier to reach in this vertical holder. Sewing tutorial from Kidsomania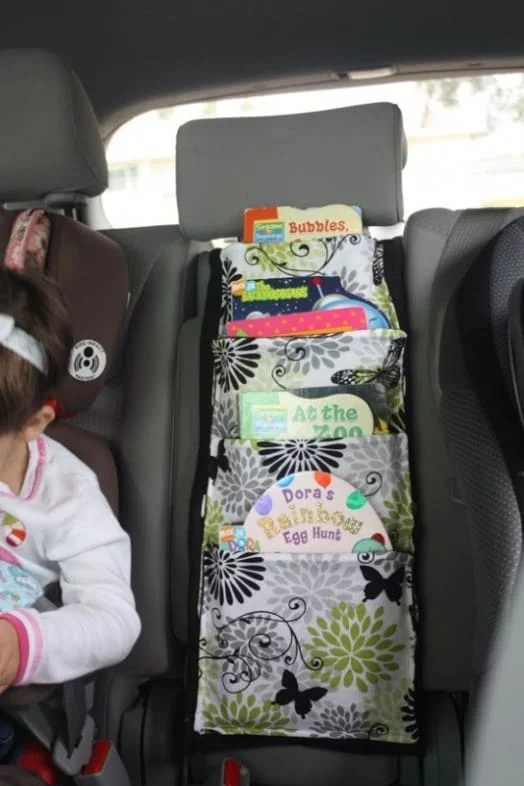 14. Pick up a Dollar Store shower caddy for easier on-the-go meals
These baskets are still readily available at the Dollar Tree and are perfect for holding fast food meals. We spend an embarrassing amount of time eating on the go and if I had seen this idea years ago we would have avoided so many spills. Even with cup holders in the backseat, it's still difficult for kids to manage eating while holding a meal on their lap. This genius ideas is from Lookie What I Did.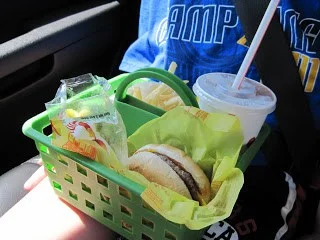 Storage for "All the Things"
It's amazing how much packing we have to do just for a short morning out. These families found some genius ways to keep all of those traveling must-haves neatly organized and stowed away for whenever they might be needed. These are the Best car organization ideas for keeping your supplies neat, tidy, and readily accessible in the back cargo area.
15. Hang and Hook Everything
Stay well prepared and well organized by using the space in your cargo area to it's fullest. Here are mesh shower caddies that are used as organizers for all the things you might need at spur of the moment afternoon playdate: bug spray, sunscreen, snacks, extra diapers, swimsuits, hand sanitizer, etc. Change your supplies seasonally and as your kids grow and their needs change. I love that even with all of these supplies stored in the back, there is still plenty of space for groceries or sports equipment. Ideas from The Castro Family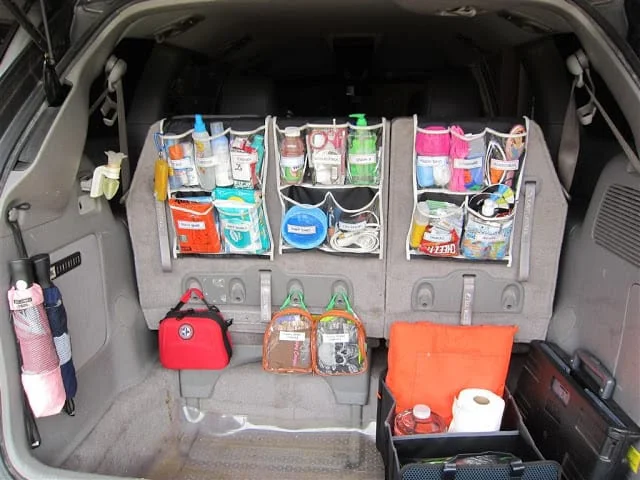 16. Build a Multi-Level Cargo Area
Follow the instructions from Instructables to make your cargo area more useful by adding another level. Fold the shelf down when it's not needed. But pull it back up when you need to keep things separated, like groceries and sports equipment! Instructions are here.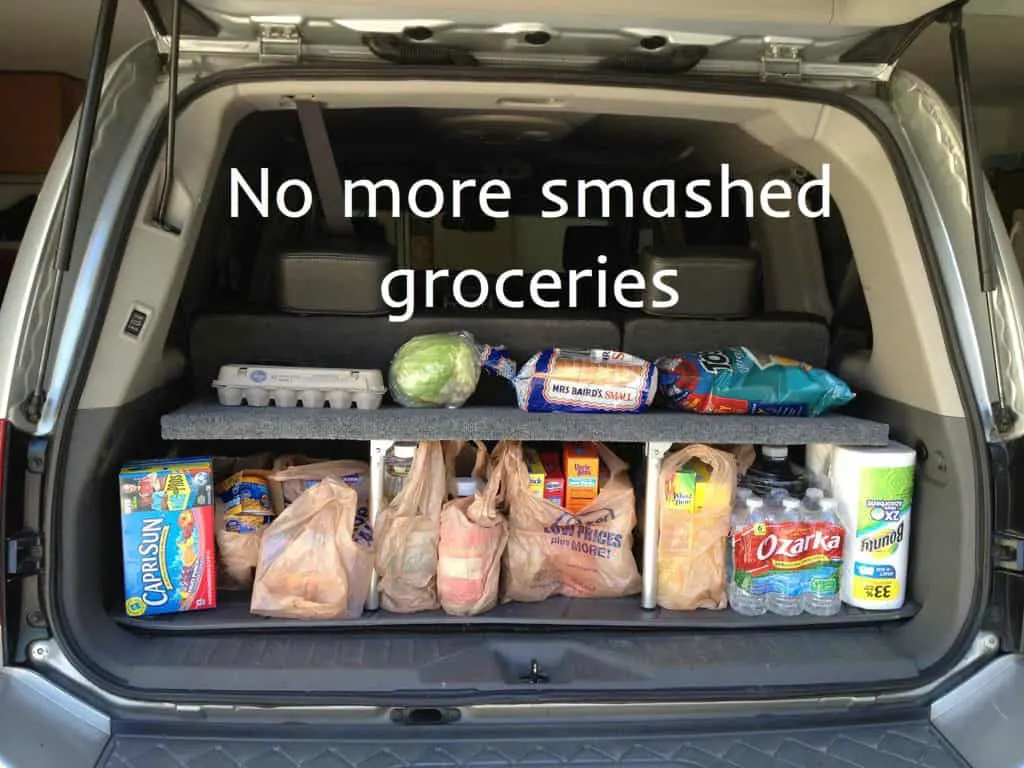 17. Make Expert Use of Bags and Bins
Even something as simple as adding some bags and bins to the back be a great way to staying organized while being able to carry around the various items the kids need. See Yummy Mummy for this idea.
If you liked these ideas, be sure to Pin the image below to easily find your way back again!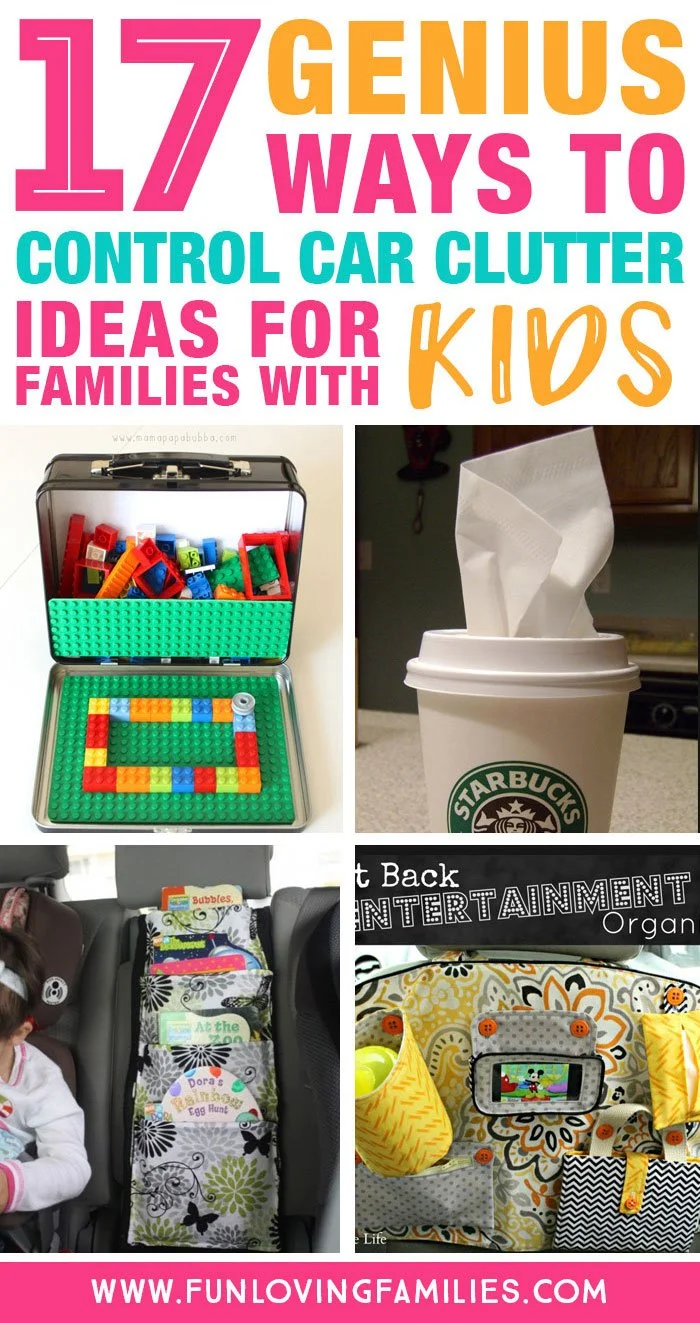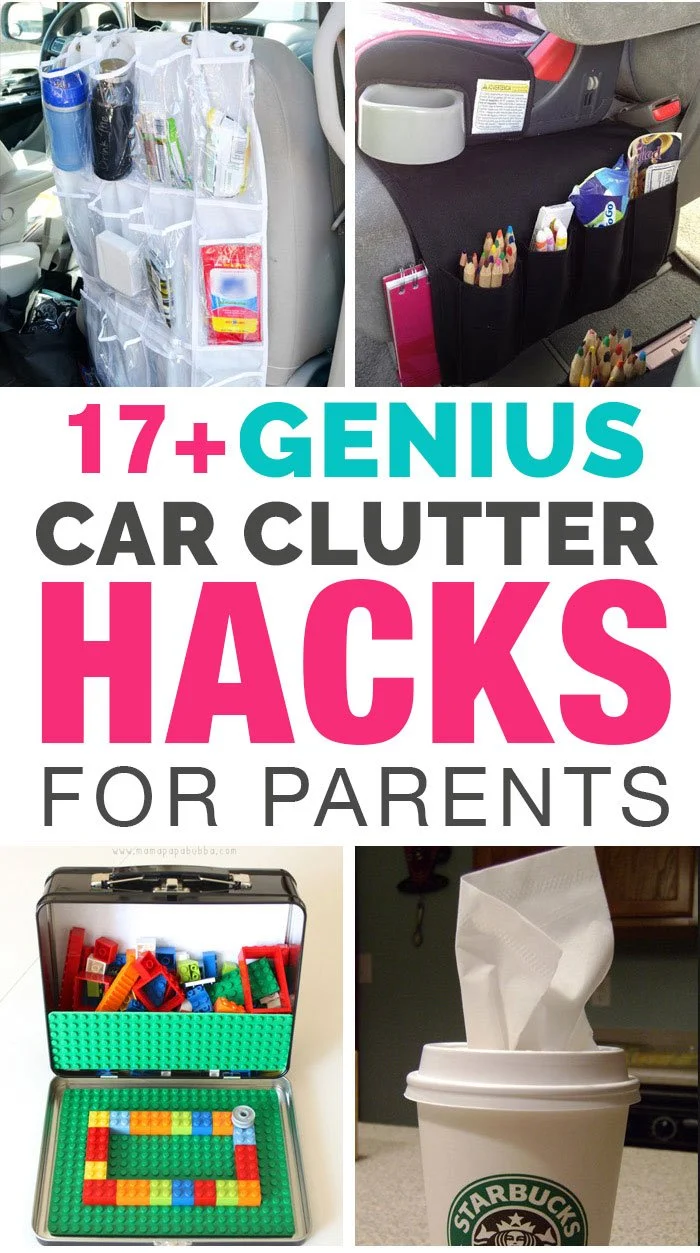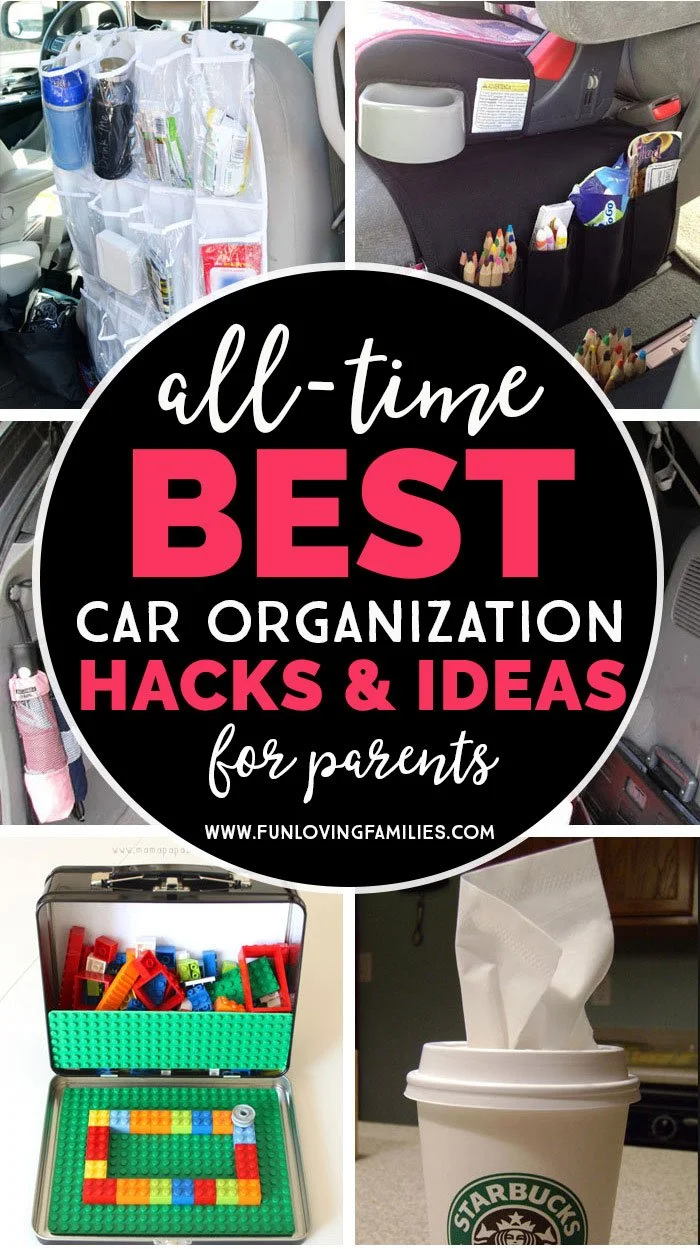 Similar Posts: