This simple DIY teacher survival kit is the ultimate back-to-school teacher gift idea. Be sure to view the entire post for lots of teacher survival kit ideas, plus a free printable to help pull it all together!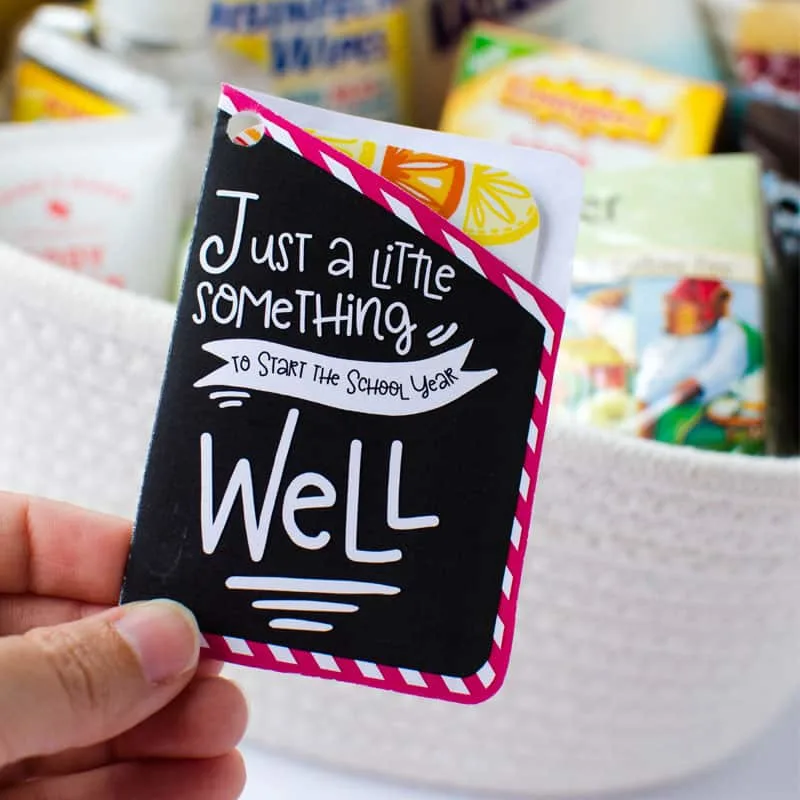 We started gifting these to our teachers at the beginning of the school year last year. I had actually spent a year as a teacher assistant at my kids' school and received a similar gift from a parent on the first day of school…and I loved it!
I honestly used almost everything in the teacher survival kit that I received. One of the reasons the gift went over so well was because it was not only very thoughtful, but also full of practical and useful items.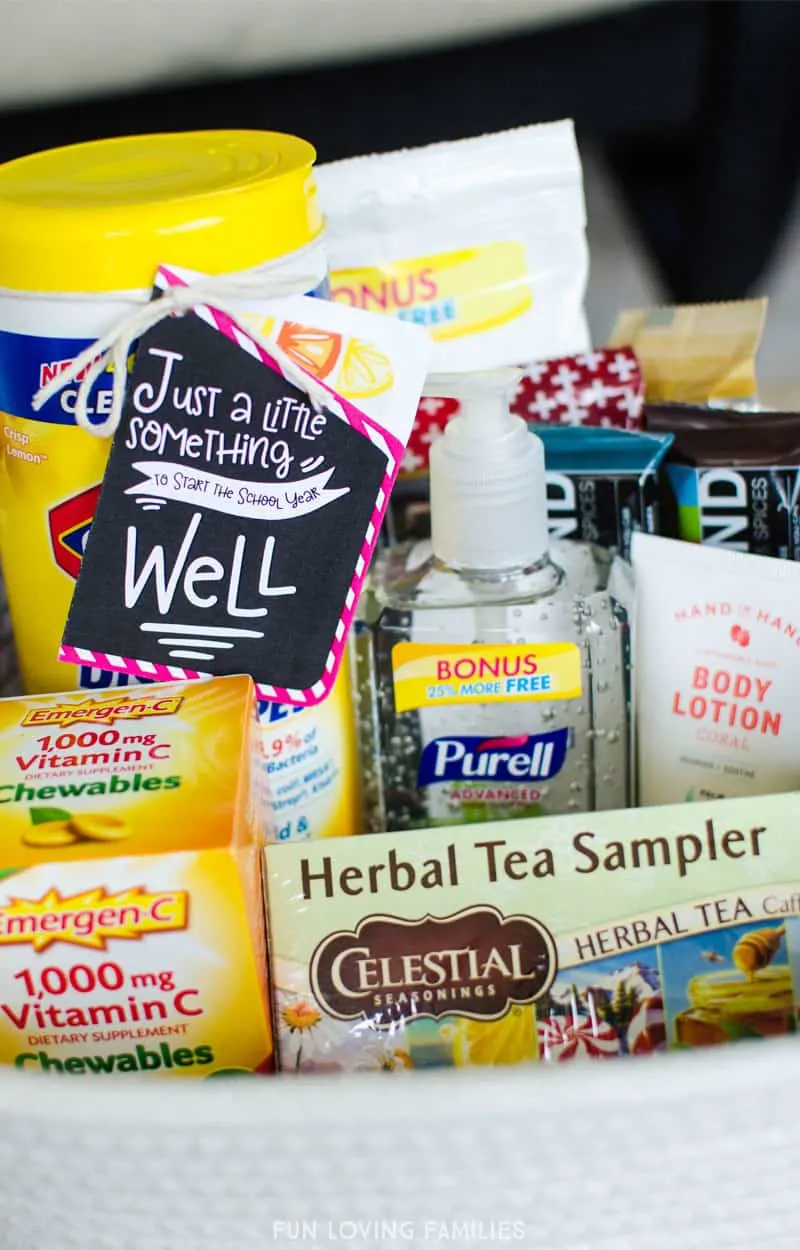 You'll also love our other back-to-school ideas:
Make a Back-to-School Teacher Survival Kit
If you know your child's teacher already, then you might already have some insights into their likes and dislikes. Definitely start there. But, even if you don't know a lick about your child's new teacher, there are plenty of ideas that will work for almost any teacher.
Here are some of the teacher survival kit ideas that we started with: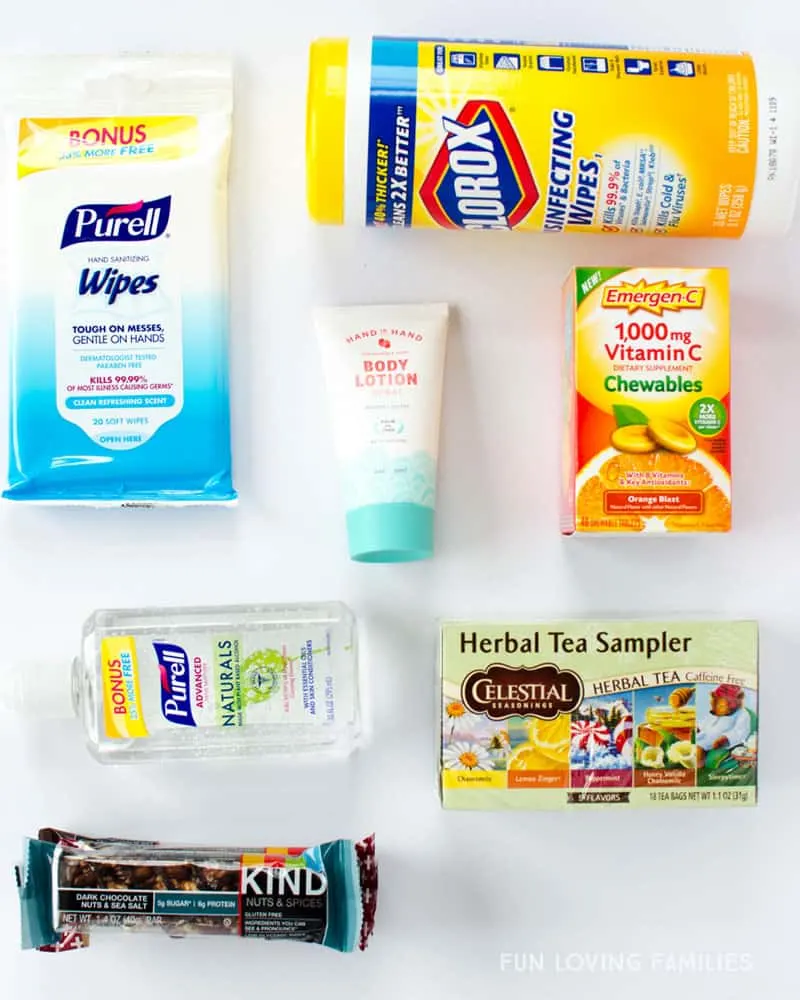 Vitamin C – With so many germs coming in and out of the classroom, this one is a no-brainer. The teachers I know keep a pack of Vitamin C stashed in a cabinet and pass it around whenever the first signs of a sickness come on.
Herbal Tea
Kind Bars – A sweet, protein packed snack, generally eaten toward the end of the school day when you just need something to get you through.
Lysol Wipes – Our teachers never seem to have enough of these. Everything gets wiped down constantly.
Hand Lotion – A must-have after washing and sanitizing your hands all day long.
Hand Sanitizer – More with the germs, but seriously, it's a must have item in a classroom.
Gift Card to Target – We included a small amount on a gift card to help our teacher with any last-minute items she might need for the classroom (or for herself!).
Really, many of the items we included are things that teachers tend to ask for throughout the year anyway. Plus, we want our teachers to feel good! We had to throw some things in to help our teacher just get through the day and then relax a little at night.
More ideas to add to your teacher survival kits:
Tissue packs
Advil
Bath bombs
Chapstick
Water bottle
Standard teacher supplies such as Sharpie markers, dry-erase markers, and Post-it Notes
Printable Gift Card for a Back-to-School Teacher Gift
If you'd like to use the gift card holder I used for our first-day-of-school teacher gift, I've included the PDF download below. The download file has the card in four different color options, and it has a "From" section on the back.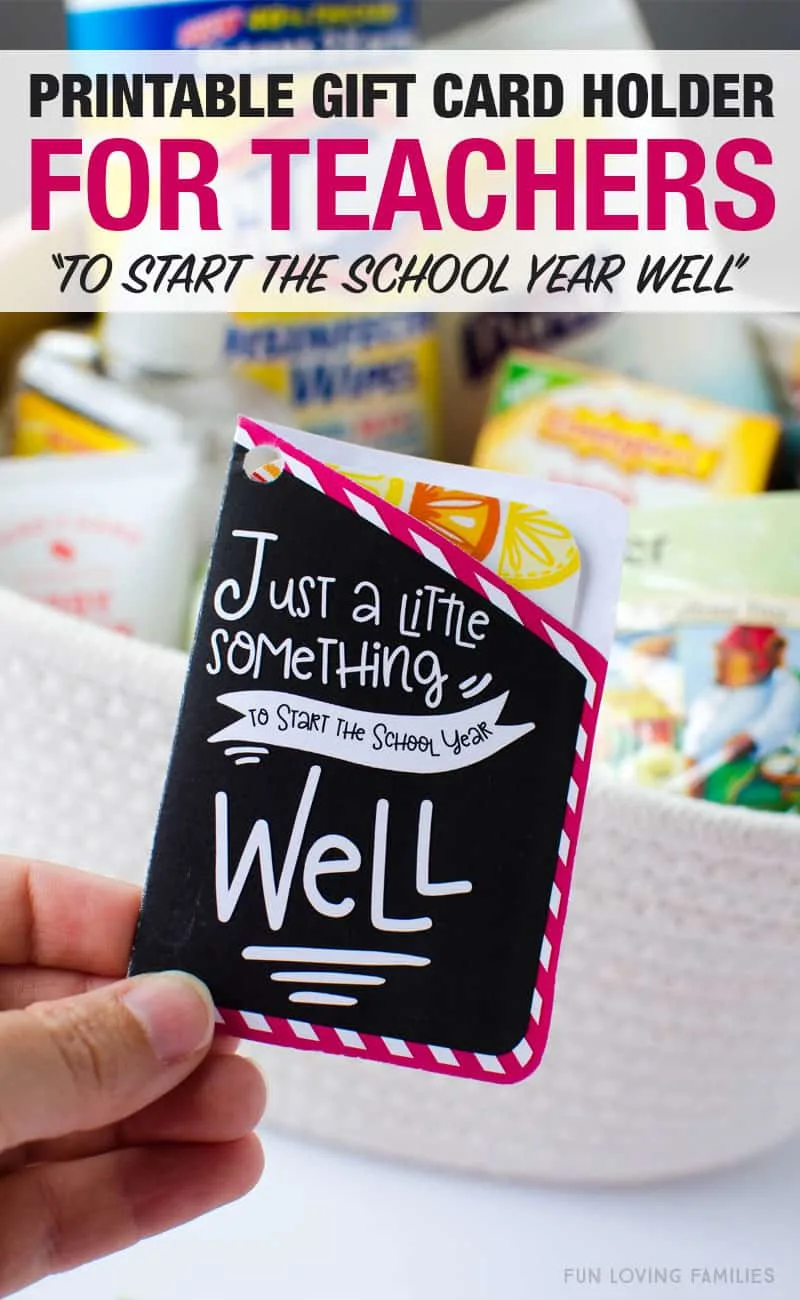 Check out our other Back-to-School ideas: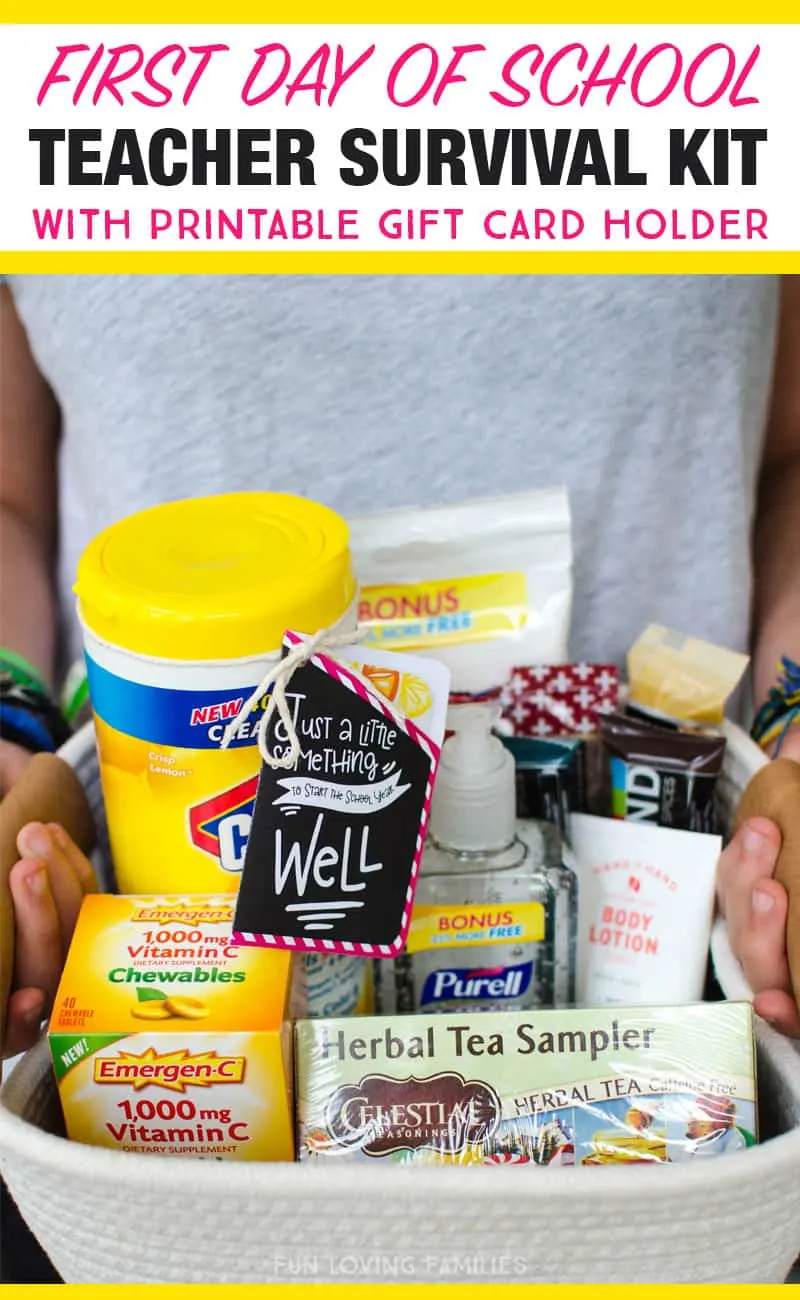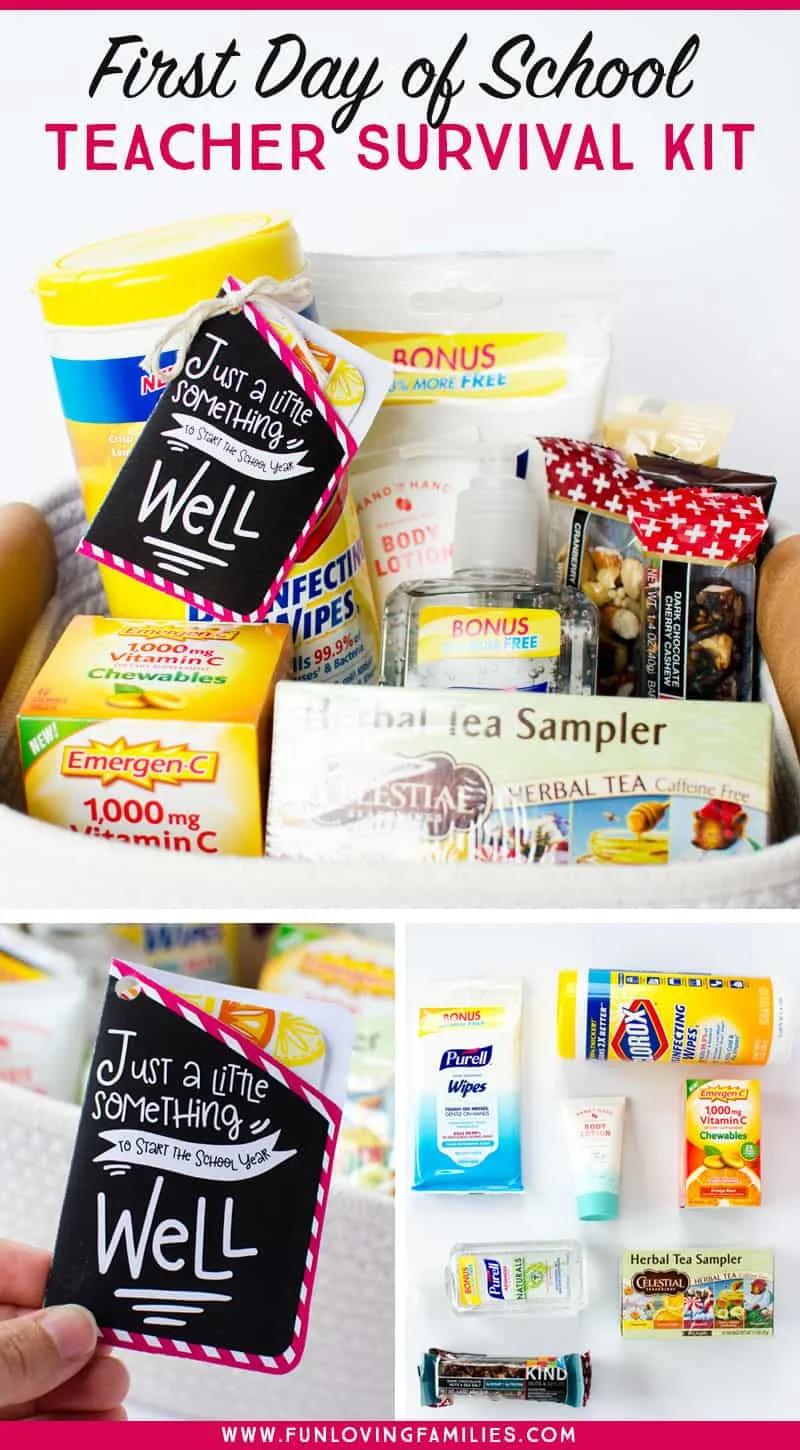 Similar Posts: