Back when the pandemic hit and our family was feeling the isolation that lockdowns brought, our teenagers came up with the idea of playing online games with relatives to keep in touch. One of the unforgettable games that we played was Among Us.
Make no mistake. The whole premise of the whole game is pretty violent albeit cartoonish. Still, it was an undeniable hit. We had so much fun guessing the impostor's identity and just plain surviving. If you enjoyed Among Us just as much as we did, you'll enjoy making these Perler bead designs.
I've sorted this post easy enough. The first part consists of character, pet, and accessories patterns from the game. The second part features Perler bead projects that you can use around the house or give out as gifts.
Disclaimer: Due to the nature of the game, there are graphic descriptions below.
Among Us Perler Bead Character Designs
Purple Crewmate
The Potter family created this cool-looking Among Us Crewmate. If you visit their page, you'll see that they also created Yellow and White Crewmates.
Their projects are made using Hama beads, but you can very easily adapt their pattern to use with Perler beads. In fact, you can use this pattern as a base design for the Crewmates. Just change the beads to your preferred color or add in other details like hats or pets.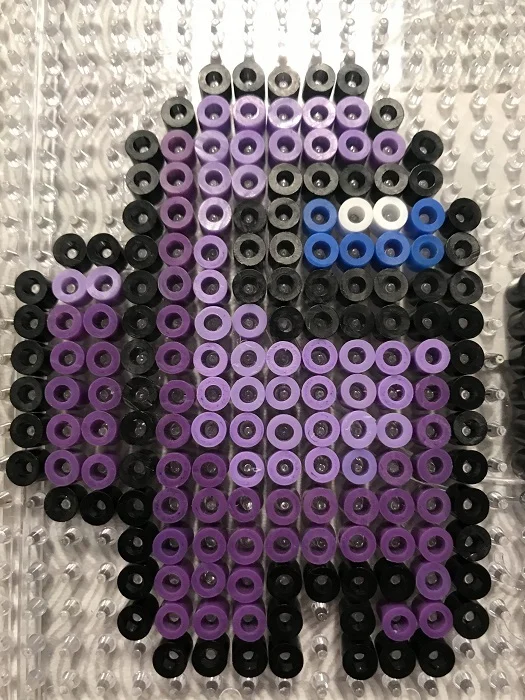 Among Us Crewmate with Mini Crewmate
Here is a pattern for a Pink Crewmate and its Mini Crewmate. The Mini Crewmate is a miniature version of the Crewmate. It is essentially a pet and will follow you around so long as the Impostor doesn't get you. It's cute how it can get scared or sad depending on the situation.
Among Us Impostor
Isn't the Impostor scary? Its tongue is as deadly as the tongue of fake friends and toxic relatives.
Among Us Crew Turned into Ghost
Dante from Long Black Fingers created these beautiful Among Us designs. The dollar bill cleverly shows you just how tall these characters are. Here you can see a healthy Crewmate, a ghost Crewmate, and a dead Crewmate. Is it bad if I say that when I was new to the game, I mistook the latter for a piece of ham?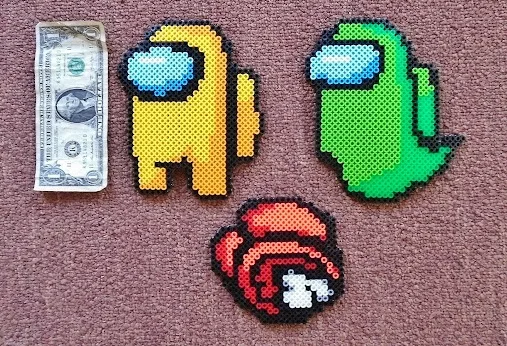 More Among Us Dead Bodies
Even though the game is gruesome in principle, the game manages to be cute thanks to how cartoonish everything is. Just check out these transitions.
Among Us Headslug
If there is anything that the game has aplenty, it is hats and pets. If this headslug pet looks familiar, that's because it is a reference to the Brain Slug parasite from Futurama.
Among Us Doggy
Just one glance will tell you that this dog is a pet from the game. The single eye and hanging tongue are dead giveaways. If you liked the Doggy ingame, give this a quick go.
Among Us Hats
Hats are what make the generic-looking Crewmates fun. They can be cute, scary, funny, or seasonal. Make your favorite hat with Perler beads.
Pink Among Us with Young Sprout
This Crewmate is just too cute! It's a lovely shade of pink and it's wearing the Young Sprout hat. See the two green leaves sticking out of its head? This pattern is highly recommended if you like cute things.
Among Us with Holiday Flower Pin
Here is another irresistibly cute pattern. It's a fuchsia Crewmate with a Holiday Flower pin on its head because you know, there can never be too much pink.
Among Us with Pumpkin Hat
If you're trying to come up with new décor around the house for Halloween, look no further. Check out this Crewmate sporting a totally cool Pumpkin hat on his head.
Among Us with Christmas Tree Hat
Christmas coming up? Of course I've got the perfect hat for you. Celebrate Christmas with a Crewmate decked in a funny Christmas hat. The below pattern has a very happy vibe and is easy to follow.
Among Us Holiday Gear
Yep, there's a hat for every holiday. If your family loves the Among Us game, you can make Perler bead projects for every occasion.
Among Us Head Gear
Crafter Marcia created these simple hat designs. As far as I know, these hats are fan-made because I've never seen them in the game. The best thing about crafting is that there are no limits to what we can imagine and create. If there is any accessory or modification you want to make to your designs, just go for it!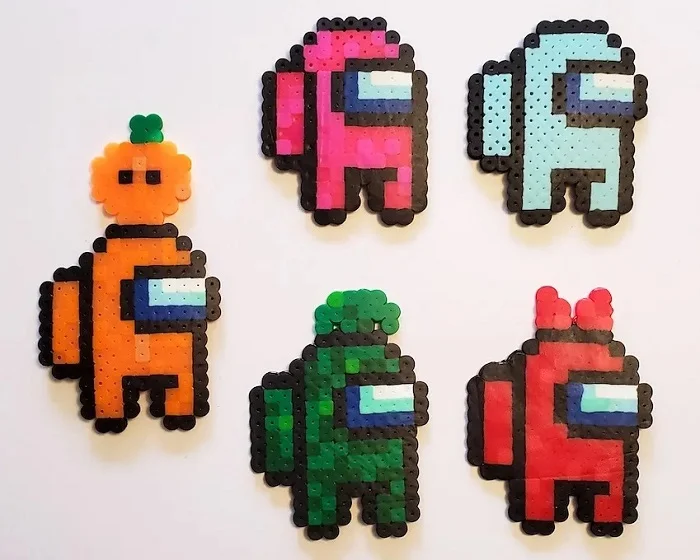 Rainbow Among Us
This colorful Among Us Crewmate is a prime example of making your own Among Us designs. Based on the progression of the colors, it seems to be loosely inspired by a rainbow.
Among Us Nintendo Switch
Somebody must love playing the game on their Nintendo Switch so much that they recreated the whole thing. I'd say one little tweak that you can make is to make the visors a solid color so that they don't blend in with the background. Otherwise, it's a super creative design.
Among Us Perler Bead Projects
Here are some projects you can make for your home or give out as presents.
Among Us Refrigerator Magnets
These will look right at home beside the souvenir magnets, kids' drawings, and weekly grocery lists currently residing on your refrigerator. Pick your favorite Perler bead designs and turn them into refrigerator magnets.
Among Us Christmas Ornaments
What a fun Christmas tree you can make if you build Perler bead figures out of your children's favorite game and movie characters. All you need to do is to make the figures and then run some sturdy string or ribbon through them for hanging. These Crewmates with their Santa hats are looking particularly fine.
Among Us Coasters
The designs on these coasters are very easy to follow and make. Once done, you get some useful coasters, too. You can use them at home or gift them to somebody you've played with.
Among Us Keychains
As you can expect, if you can make these characters into refrigerator magnets and tree ornaments, you can certainly turn them into keychains. I would recommend choosing smaller patterns though so that they're easy to slip into a purse or a bag pocket. Remember not to stuff them into your tight jean pockets or else they might fall apart.
Among Us Dead Body Keychain
Here's a small yet unforgettable design for an Among Us keychain — the carcass of a purple Crewmember. If people don't get it, just say it's alien ham.
Here is a pattern reference.
Among Us Bag Clips
There's more! Here are bag clips you can make. If you're making keychains for young children, it's better to get this type of clip because they're easier to open than the metal key rings.
Among Us Standees
Mom Jennie of The Gingerbread House made these Crewmates with her children. I love how they first built the black outlines before filling in the rest of the design. She had to do the ironing for all of them (they also made Impostors!) but the kids took it a step further by making stands.
I will always love the idea of stands because they help showcase one's work so well. Don't these little buggers look so cute with the light shining from behind their translucent beading? Remember that you can always display your favorite Perler bead works in your room in this same exact way.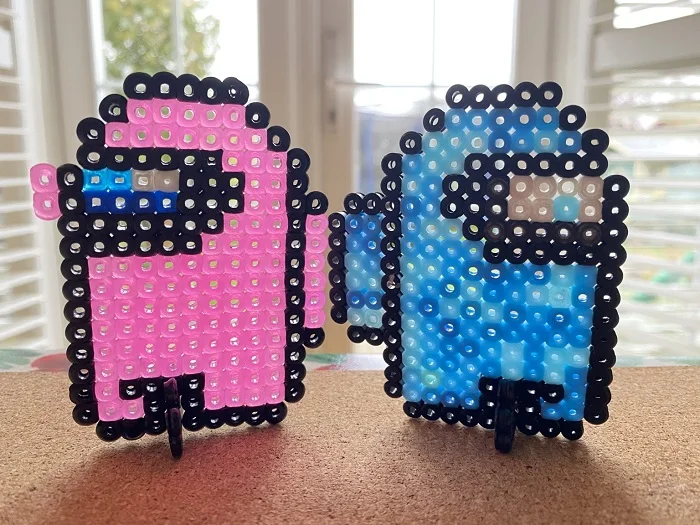 If any pattern caught your eye, be sure to bookmark it for future reference. Share it also with your fellow crafters!
Similar Posts: