Camping with kids can be loads of fun if you plan ahead and come prepared. I've made a list of exactly what to bring on your next family campout so that your camping adventure is a positive experience for everyone. Also, grab our printable Camping with Kids Checklist so you don't forget anything.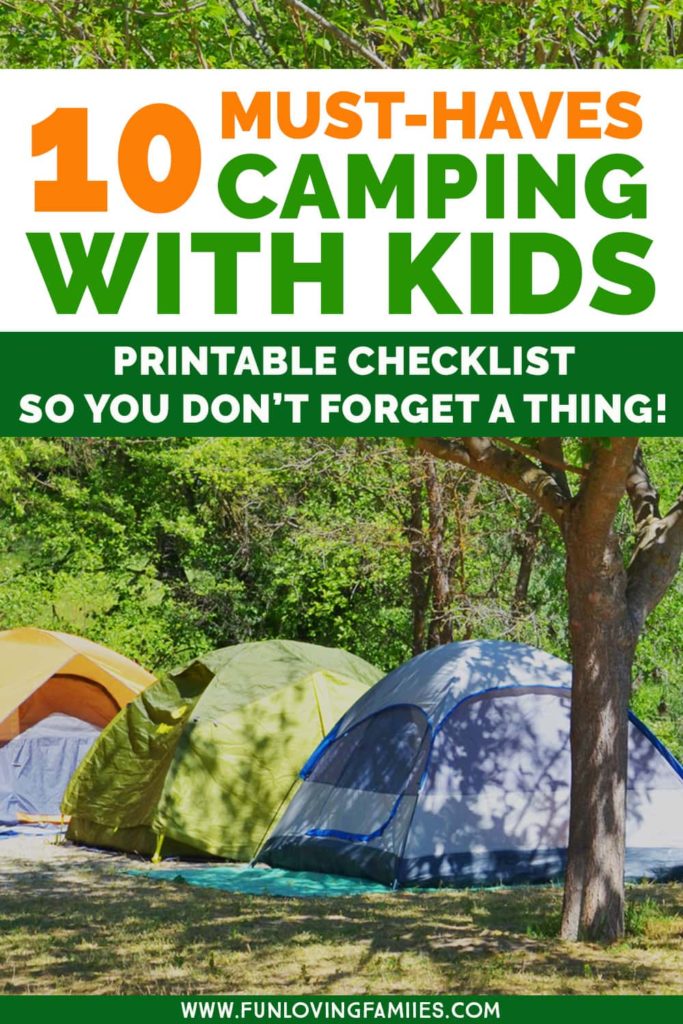 Let me first just start by saying that we just recently started camping with our kids and absolutely love it. When we first started, my husband had never really tent-camped before, and I hadn't done it since I was a kid.
We were really unsure about ourselves, which made us even more nervous about bringing the kids. The last thing we wanted was for the kids to be miserable and never want to do it again.
Based on our experience, it doesn't take much for kids to enjoy a weekend, or even just a night, camping out. But, it also doesn't take much for a fun time to turn into a disaster if you're not fully prepared.
What to Bring Camping With Kids
Take a look at the list we created before you head out so that you know exactly what to bring camping with kids. Everyone will have more fun which means less stress for Mom and Dad.
(Disclaimer: This post contains affiliate links, which means I may earn a small fee if you click through and make a purchase.)
Camping with kids can definitely be lots of fun and stress-free if you come prepared. Having some fun things to do and plenty of food to eat keeps everyone happy while you're away from the comforts of home. Make sure you think about what your family enjoys when deciding what to bring camping with kids, and find ways to incorporate those things into your camping trip.
Your kids will have a blast, and they'll be begging to go back again soon.
If you and your family are already camping pros, please add anything I might have missed in the comments!
Pin the image below to share and save for later!