Sometimes it can be relaxing to just watch some TV. If parents are tapped out or everyone is bored and stuck inside, Netflix can be a godsend—entertainment at your fingertips.
There's nothing wrong with using Netflix as a form of family relaxation in measured doses. Netflix nights can also make for some good family bonding time as part of a regular rotation of activities.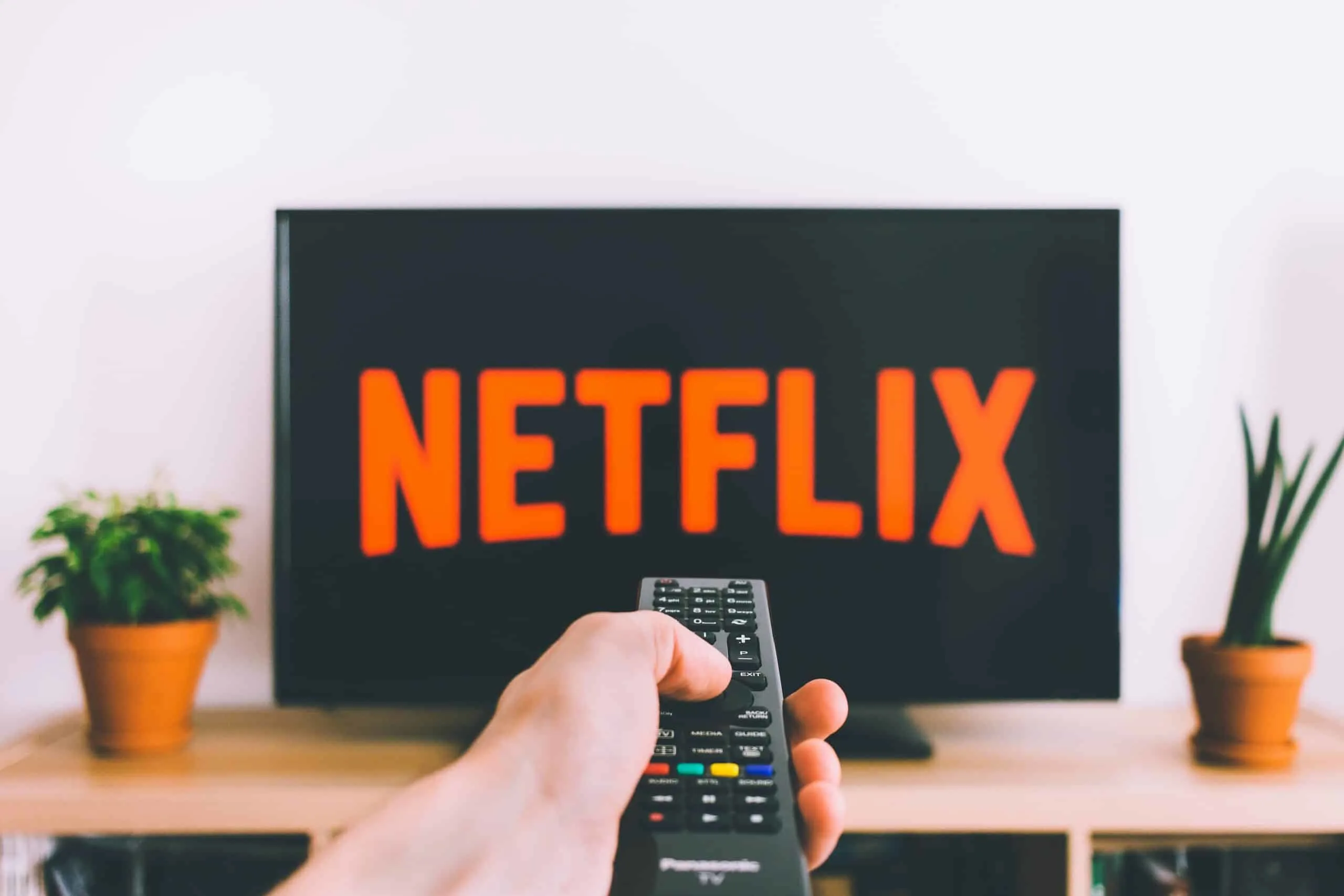 Also check out 35 Family Bonding Activities To Be More Connected
Family-friendly TV shows can be inspiring, educational, or offer great conversation starters.
We tend to feel really guilty about family TV time, but I've got some nice memories of this type of family time from my childhood. I think it's all about balance, and sometimes (cough: pandemic) may have more TV than others.
Yet it can be difficult to find family-friendly shows on Netflix that parents and kids alike can actually sit through and enjoy together. I know this feeling all too well: I've got kids of all ages and interests.
Avoid another night of arguing or endless scrolling by consulting the winning family-friendly shows on Netflix from this list.
From intriguing storylines with witty dialogue to feel-good reality shows and masterful documentaries, you'll find options the kids can enjoy while the adults don't have to suffer. (Save the Outlander for after the kids are in bed.)
While these shows fall into the general category of family-friendly, if you need more detailed reviews on any of these family shows to judge whether they're appropriate for your kid, feel free to look them up on Common Sense Media.
Netflix changes their lineup regularly, but I'll try my best to keep this list of family-friendly shows on Netflix up to date.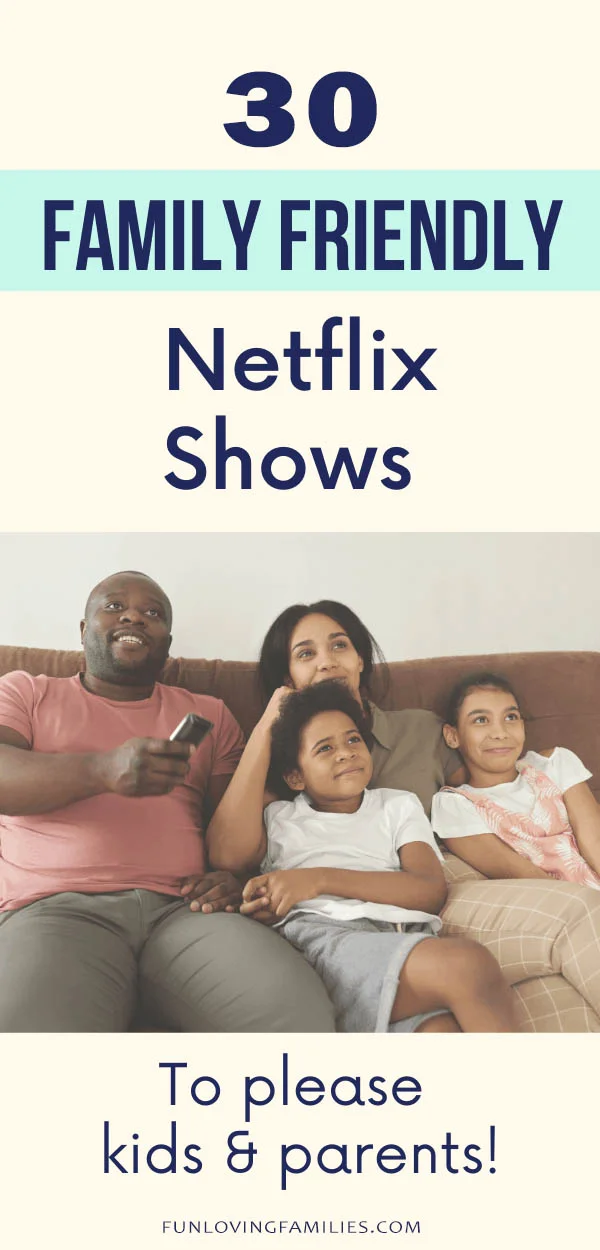 Family-Friendly Shows on Netflix
1. The Great British Baking Show
I have to start with my personal favorite family show on Netflix.
A stark contrast to many other reality competition shows, The Great British Baking Show is a bright, feel-good adventure from beginning to end. The contestants cook outside in a tent nestled on the English countryside and even have pastel-colored appliances.
The sweet and supportive vibe is punctuated with plenty of intense moments from dropped pastries and rubbery cakes to keep the heart pumping. You'll find each family member rooting for their favorite contestant.
There are plenty of seasons of this delightful Netflix series to keep you entertained. Ready, set, bake!
2. A Series of Unfortunate Events
Based on the popular Lemony Snicket novels, the Netflix original series features Neil Patrick Harris in a starring villain role. It's an offbeat family adventure where three orphans continuously find ways to outsmart their evil opponents.
The strong acting and impressive production value bring the dark comedy to life in a way that will captivate both kids and adults. It's an Emmy-nominated show the entire family can enjoy.
The only downside is having to wait for the next season to come out.
3. Star Trek: Enterprise
An underrated series in the Star Trek franchise, Star Trek: Enterprise features Scott Bakula as the captain, whom parents may recognize from his Quantum Leap fame. Enterprise is a family-friendly prequel to the Captain Kirk years that doesn't require prior franchise knowledge.
The show has drama, aliens, and even a cute beagle. If the family enjoys Enterprise, be sure to check out (or revisit) the now-classic Star Trek: The Next Generation with Patrick Stewart and costars, also available on Netflix.
A healthy dose of outer space adventure is good for any kid!
4. Our Planet
Nature documentaries are a favorite in our house and can be mesmerizing for younger viewers. The Our Planet series brings breathtaking views of our world to your living room. The kids will learn amazing facts and discover places and creatures that give them a new appreciation for our planet.
It's narrated by David Attenborough, whose iconic voice you may recognize from your own childhood. You may even want to watch this striking documentary more than once.
Sadly, the popular Planet Earth documentary series is no longer available on Netflix, but Our Planet is a great substitute.
5. Tiny House Nation
Jump onboard the tiny house craze and be amazed at the creativity and ingenuity of tiny house builders. The construction experts help individuals and families around America to make their smallest dreams come true.
Each episode usually has a heartwarming story behind the decision to go tiny. You'll be inspired by the people who have committed to live with less and go after their dreams.
6. Anne With an E
This critically acclaimed family feature draws its inspiration from the classic tale Anne of Green Gables. It follows a plucky, outspoken 13-year-old orphan and covers themes such as resilience and anti-bullying.
This one is a win for parents and kids alike. Three seasons are available for streaming.
7. Nailed It!
Enjoy a show that celebrates failure. You'll all get a kick out of regular people attempting to make creative baked goods and failing miserably.
The contestants maintain a positive attitude despite their efforts falling apart at every turn. It's a quick show sure to get the family laughing.
8. Ultimate Beastmaster
For those who remember American Gladiator, Ultimate Beastmaster is in a similar vein and takes the challenge course competition to the next level for a new generation.
Amateur athletes from around the world compete in a grueling physical course to earn points and represent their country. The show celebrates strength and perseverance and will have the whole family rooting for their favorite contestant—or all of them.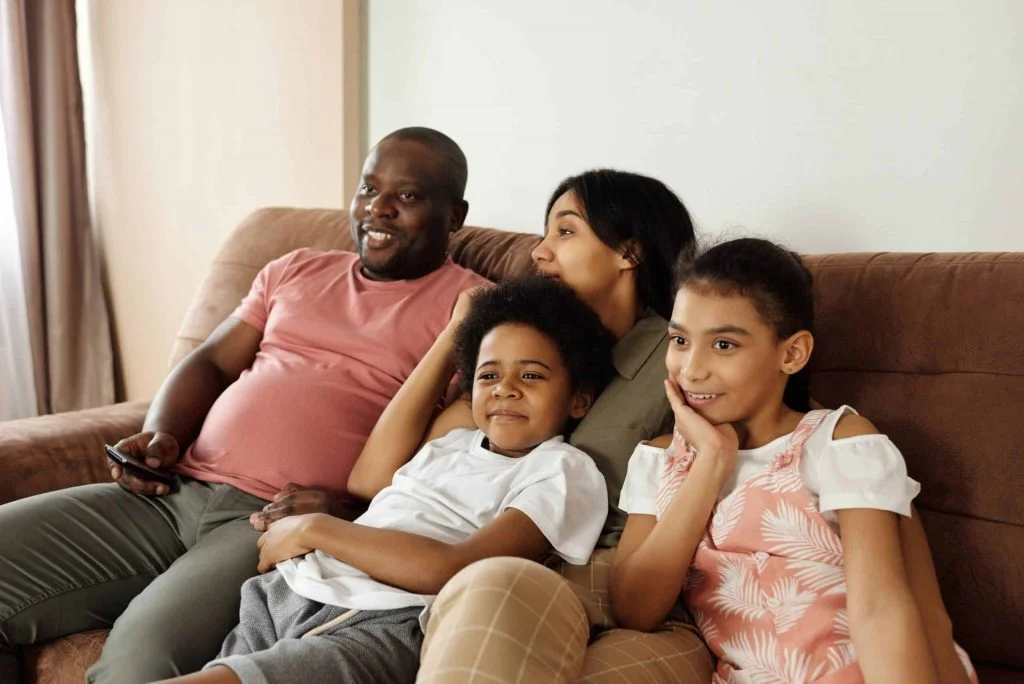 9. The Dark Crystal: Age of Resistance
This newer series is an artfully made prequel to the Dark Crystal movie and bears the Jim Henson name because it uses puppets crafted in the Henson style under supervision of his family.
Be transported to another world in the fantasy story, but do note that it has some darker moments that may not be suitable for the youngest viewers. Be sure to watch the making-of episode to see how the amazing puppets come to life.
This can be a great option for older kids who appreciate a darker storyline but aren't quite ready for shows like Stranger Things.
10. Lost in Space
A reboot of the 1960s classic TV series, the show follows the Robinson family struggling to survive after crash landing on an alien planet. It was Emmy nominated for its stunning visual effects.
The series will have a final season (its third) airing in 2021.
11. Fuller House
In this wholesome spinoff sitcom, DJ of Full House is now a widow raising her own family in her childhood home alongside sister Stephanie and friend Kimmy.
Plenty of the original cast appears in this heartful sitcom that celebrates family and overcoming life's challenges together. Netflix has a bingeworthy five seasons available.
12. You vs Wild
From adventurer and survivalist Bear Grylls of Man vs Wild fame comes You vs Wild, a Choose Your Own Adventure–style television show that lets viewers make selections on what Bear will do next.
Will your choice put him in harms way as he attempts to survive the rugged wilderness or will he be one step closer to making his escape?
13. Jurassic Park: Camp Cretaceous
The only animated show in this list, Camp Cretaceous chronicles a group of kids who get to experience a new Jurassic Park. Jurassic Park was my favorite movie as a kid so this series feels nostalgic.
My sons and I have enjoyed watching it together. The kids are the main characters and the heroes, and there are plenty of different dinosaurs to keep you on the edge of your seat. A second season of this animated series was released in early 2021.
14. Merlin
This BBC series has a loyal fan base. Its stories are loosely based on the legends of King Arthur, Merlin the wizard, and the kingdom of Camelot. It follows Merlin as a boy in a time where magic is outlawed.
The series is rated TV-PG and has plenty of adventure, fantasy, and comedy. If your child enjoyed the Harry Potter films, Merlin is worth a try. There are five seasons so you can really sink your teeth in, and it only gets better as the series progresses.
The characters show a lot of heart, and of course there's sword fighting, dragons, and magic.
15. Car Masters: Rust to Riches
Watch the garage masters turn old rust buckets into masterful one-of-a-kind creations. You don't have to be a car enthusiast to admire the skill and creativity of these craftsmen. Each episode will have you wondering what they can come up with next.
16. The Big Family Cooking Showdown
In this feel-good British show, two competitive families challenge each other every week to see who can create the best meals for the judges. Winners of each competition move on to the semi-finals. In the final episode, the winner of the showdown is announced.
Season one is hosted by Zoe Ball, a radio and television presenter and chef Nadiya Hussain. The competition is judged by chef Rosemary Shrager and chef Giorgio Locatelli. Soups, curries, and cheesecake are all on the menu in this fun family challenge.
In season two, the showdown is hosted and judged by Angellica Bell, winner of the 2017 Celebrity MasterChef challenge, and chef Tommy Banks. Families participate in a variety of competitions that test their skills including a brunch challenge, comfort-food challenge, and a treat-night feast.
Viewers may come away from this show with some great ideas for new meals to make with their families. Spending time in the kitchen can be another ideal way to spend quality time together.
17. Heartland
This heartwarming family drama is currently in its 15th season. Amber Marshall stars as the main character, Amy Fleming. As a teenager, Amy is injured in a car crash that kills her mother, and she must learn to live without her.
Heartland is the name of the family's horse ranch that Amy lives on with her grandfather, Jack. This family-friendly show follows Amy and her family through the good and bad times on the ranch.
Featuring breathtaking scenery, Heartland takes you on an emotional journey with this multi-generational family. Viewers will see the characters grow and learn from their mistakes as they deal with challenges that come their way. Horse lovers will especially enjoy this show!
18. Sam And Cat
Starring Ariana Grande as Cat and Jennette McCurdy as Sam, this sitcom follows two teenage girls who start a babysitting business. The show starts off with an adventure when Cat has to be rescued by Sam.
Watch as Sam and Cat's friendship blossoms and they have tons of fun all while earning some extra cash. This show also features Cameron Ocasio who plays Dice, one of the girls' neighbors and MMA manager.
Viewers will enjoy Maree Cheatham's portrayal of Nona, Cat's grandmother who has moved into a retirement home. Nona is a fun-loving, cheerful woman who loves to tell tales of her past.
19. The Bureau Of Magical Things
This delightful show delves into the realm of the fae world where fairies and other magical creatures exist. An Australian comedy, the show stars Kimie Tsukakoshi as Kyra, who experiences a transformation after encountering a special book.
Follow Kyra as she attends magic school and witness the humorous mishaps that result. Elves and fairies abound in this light-hearted, fun show. The characters will keep you laughing as you wonder what Kyra and her friends will get up to next.
A great aspect of this show is that it doesn't have the frightening material that a lot of fantasy shows do. This makes it suitable for the younger members of your family.
20. Marlon
This American sitcom stars Marlon Wayans as a divorced father of two children. He is separated from his wife Ashley, who is played by Essence Atkins. Marlon and Ashley's amicable divorce allows them to work together to parent their two kids.
The children Marley and Zack are played by Notlim Taylor and Amir O'Neil. Marley takes after her mother's calm and responsible nature, while Zack is foolish like his father. Both children engage in humorous antics that will keep viewers laughing.
People will enjoy watching this family navigate the challenges of co-parenting which is a more common situation for families today. Wayans fans who enjoyed watching him in The Wayan Bros. in the 1990s will appreciate seeing his unique brand of humor again.
21. Animal
This nature documentary is a must-see for animal lovers. A short series with only four episodes, you can binge watch this in one night! People of all ages will enjoy seeing the adventures that these creatures get up to.
Each episode is narrated by a different celebrity. Bryan Cranston, famous for his role as Walter White in Breaking Bad as well as Rebel Wilson of Pitch Perfect fame are two of the narrators. Rashida Jones from The Office and Pedro Pascal of Game of Thrones also narrate part of the show.
In the premiere episode, viewers learn about different species of big cats, including lions, tigers, and leopards. The second episode showcases the life of canines including dogs and wolves.
Episode three looks at the life of marsupials like kangaroos and koalas. The final episode features the amazing octopus. What makes Animals so great is the stunning visuals that take you up close and personal to these majestic creatures.
22. The Letter For The King
This fantasy series features a knight played by Amir Wilson who must take a secret letter to the King of Unauwen. The show is based on Tonke Dragt's book De brief voor de Koning, which was originally published in Dutch in 1962.
The Letter For The King is a coming of age story as it follows Tiuri on his travels. Over six episodes, viewers watch the knight's journey through the mountains and the difficulties he encounters along the way.
The charismatic cast members and the beautiful scenery make this a memorable show. New Zealand and the Czech Republic feature brilliantly in this show with their villages and castles.
23. Free Rein
This British drama stars Jaylen Barron, who plays 15-year-old Zoe Phillips. From Los Angeles, Zoe goes to spend the summer on an island off the coast of England where her mother once lived.
Once on the island, Zoe meets a wild horse named Raven and befriends some of the local girls. Over three seasons, viewers follow Zoe as she learns more about the place she now lives and the people who reside there.
Peter Hawthorne, better known as Pin, is played by Freddy Carter. He plays the role of a stable boy who is actually a duke set to inherit a fortune. Zoe's friends are Jade Gill, played by Manpreet Bambra, and Becky Sidebottom, played by Kerry Ingram.
A heartwarming show, Free Rein features a strong female role model and portrays values like honesty, friendship, and family. Beautiful scenes of horses and riding complement this show.
24. Dive Club
This Australian drama focuses on a group of teenage divers who must do all they can to find their friend after she disappears. After a storm hits the small coastal town of Cape Mercy, Lauren goes missing and her friends start to think it wasn't an accident.
A highlight of this show is the gorgeous scenes of Queensland, Australia. Good acting, particularly by Mercy Cornwall who plays Izzie, adds to the appeal of Dive Club. Viewers will want to keep watching to see how this mystery ends up being resolved.
Though technically a teen drama, this show is suitable for younger viewers. It does not contain the explicit sex or violence that many teen shows do. The actresses in this show are good female role models for young women and girls.
25. The Healing Powers Of Dude
This inspiring American comedy show stars Noah Ferris who is played by Jace Chapman. Noah is 11 years old and has a social anxiety disorder. The show focuses on his transition from being homeschooled to attending public school with the help of his emotional support dog, Dude.
The Healing Powers Of Dude does a great job at tackling an important issue like mental health in a relatable manner. Viewers will gain some understanding of social anxiety disorders and develop empathy for Noah as he deals with life as a middle-schooler.
The title character, Dude, brings a comedic element to the show. Hearing the dog's voice throughout the episodes brings the character to life and helps the viewer understand the bond between Noah and Duke.
26. Scaredy Cats
A fantasy show with a humorous touch, Scaredy Cats is the story of three curious girls who explore the world of magic and witchcraft in their town of Winding Way. When Willa Ward is 12 years old she opens a box from her mother who died before she was born.
Inside the box is an amulet in the shape of a cat head. Along with friends Scout and Lucy, Willa Ward soon learns that her mother was a witch and that two evil witches are after this amulet.
In addition to the interesting story, this show features special effects that are well done and highlights important themes like friendship and courage. The talking animals add to the show's appeal!
27. Hardy Boys
Based on the Hardy Boys book series, this show gives a new take on an old classic. People who have read the Hardy Boys books will see some noticeable differences with the television show. Full of mystery and drama, viewers will appreciate the good acting and intriguing stories.
The Hardy Boys stars Rohan Campbell as Frank Hardy and Alexander Elliot as Joe Hardy. The brothers, who are 16 and 12, investigate mysterious happenings in the town of Bridgeport.
Viewers will like watching the relationship between Joe and Frank as they work together to solve mysteries. While this show is suspenseful, young viewers won't find it too scary.
28. The Big Show Show
Paul Wight, also known as the pro-wrestler Big Show, stars as himself in this American sitcom. Big Show lives in Florida with his wife Cassy, a real estate agent, who is played by Allison Munn. Their two young daughters, Mandy and J.J. are played by Lily Brooks O'Briant and Juliet Donenfeld.
Lola, played by Reylynn Caster, is Big Show's teenage daughter from his first marriage. At the beginning of the series, she moves to Florida to live with Big Show and his family. The show focuses on how the family adjusts to this as well as Big Show's transition to retirement.
A sweet, funny show, viewers will enjoy the family dynamics of the characters.
29. Sugar Rush: Extra Sweet
This American baking show is currently in its third season. In this popular reality show, people show off their baking skills in an attempt to win the grand prize. A fast-paced and fun show to watch, viewers may even get some ideas for their own baking creations!
Guest judges include actress and comedian Fortune Feimster, magician Justin Willman, and pastry chef Ron Ben-Israel. Competitors are challenged to make cupcakes, confections, and a cake creation for the final round.
It's an intense competition as participants fight for the final prize of $10,000. Viewers will enjoy watching what the bakers come up with in this fun, creative show!
30. Floor Is Lava
Created by Irad Eyal and Megan McGrath, this game show is based on the children's game called Floor is Lava. The premise of the show is that contestants have to maneuver through an obstacle course without falling into the lava below.
Of course, the show does not actually use lava, but a simulated formulation that the producers keep a secret. Teams of three compete in this fun show to win the grand prize of $10,000. Rutledge Wood of The American Barbecue Showdown hosts this family-friendly competition.
Competitors must traverse through obstacles in sets designed to look like a kitchen, basement, or even a planetarium. Viewers will enjoy watching this exciting show and cheering for the participants to make it to the end of the course.
Enjoy a Favorite Family-Friendly Show on Netflix
Have a quality streaming service like Netflix puts so many options at your fingertips. From little kids to older teens, there's something everyone can enjoy.
Are you inspired to try watching a new series with your family? When it's TV time in your house, ditch the same old cartoons your kids have watched over and over and try sitting down together to something you can all enjoy.
With all of the options for TV shows on Netflix, this list gives you a head start in discovering some new family favorites.
I know this list isn't all inclusive, so if your family has any favorite shows not included here, please share in the comments!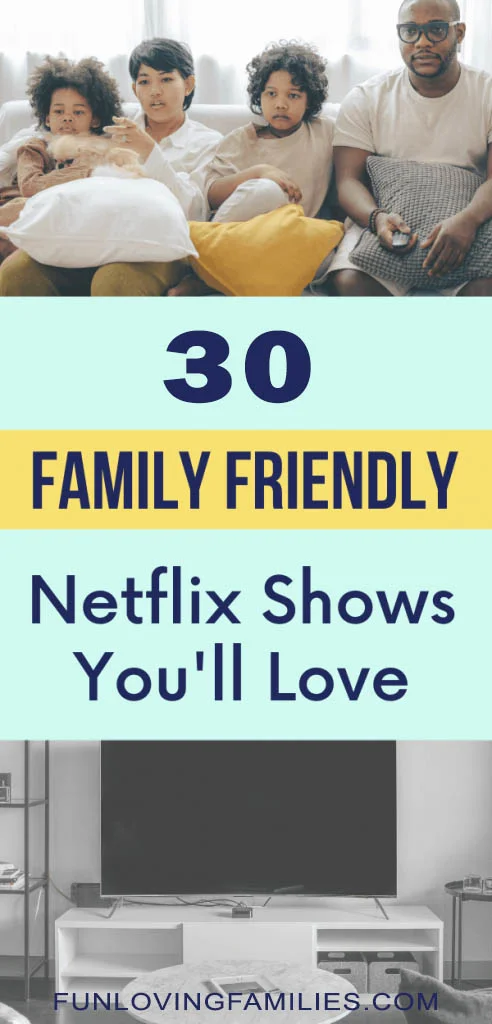 Similar Posts: