Sometimes it can be relaxing to just watch some TV. If parents are tapped out or everyone is bored and stuck inside, Netflix can be a godsend—entertainment at your fingertips.
There's nothing wrong with using Netflix as a form of family relaxation in measured doses. Netflix nights can also make for some good family bonding time as part of a regular rotation of activities.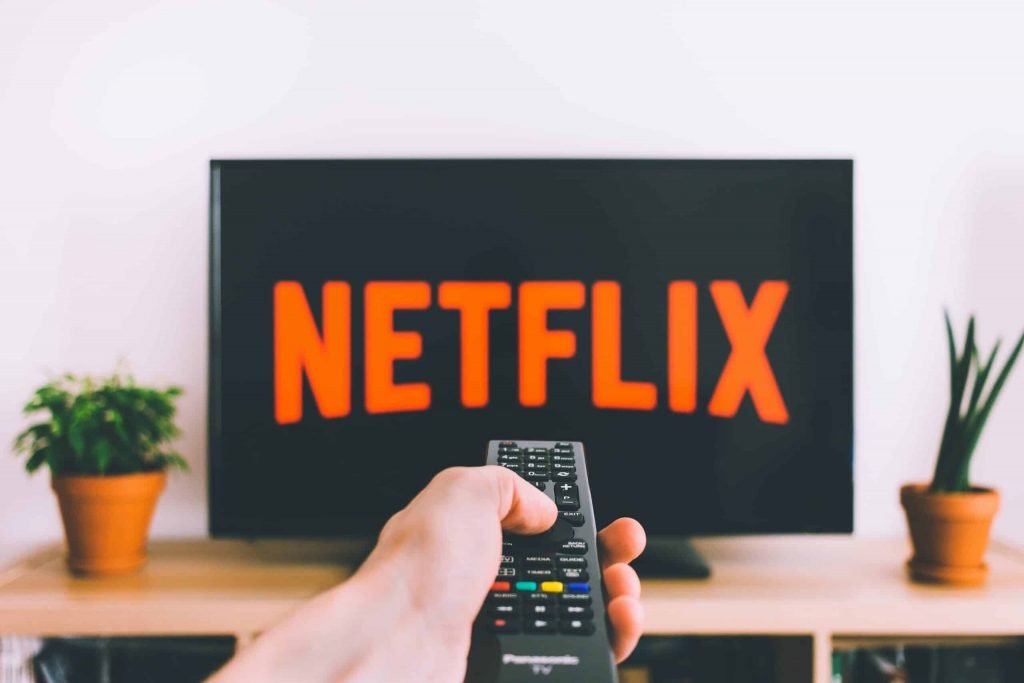 Also check out 35 Family Bonding Activities To Be More Connected
Family friendly TV shows can be inspiring, educational, or offer great conversation starters.
We tend to feel really guilty about family TV time, but I've got some nice memories of this type of family time from my childhood. I think it's all about balance, and sometimes (cough: pandemic) may have more TV than others.
Yet it can be difficult to find family friendly shows on Netflix that parents and kids alike can actually sit through and enjoy together. I know this feeling all too well: I've got kids of all ages and interests.
Avoid another night of arguing or endless scrolling by consulting the winning family friendly shows on Netflix from this list.
From intriguing storylines with witty dialogue to feel-good reality shows and masterful documentaries, you'll find options the kids can enjoy while the adults don't have to suffer. (Save the Outlander for after the kids are in bed.)
While these shows fall into the general category of family friendly, if you need more detailed reviews on any of these family shows to judge whether they're appropriate for your kid, feel free to look them up on Common Sense Media.
Netflix changes their lineup regularly, but I'll try my best to keep this list of family friendly shows on Netflix up to date.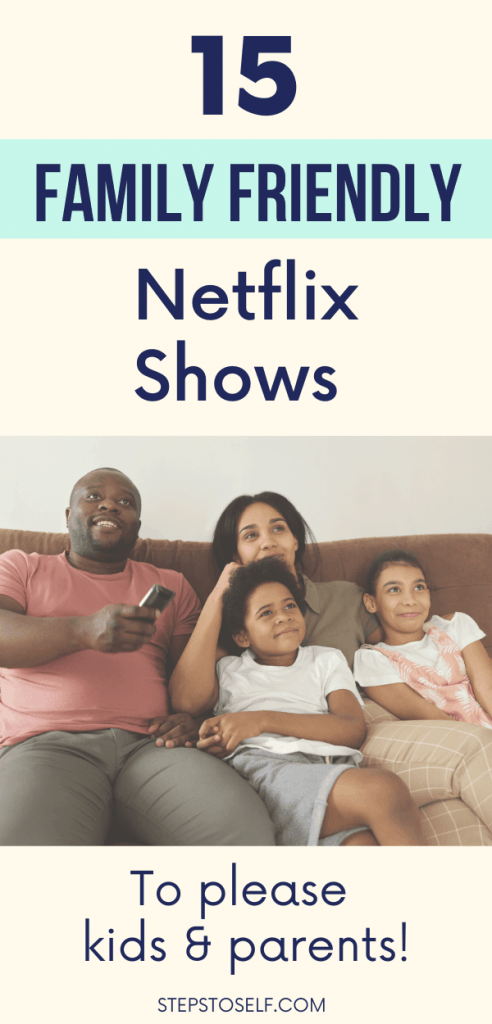 Family Friendly Shows on Netflix
1. The Great British Baking Show
I have to start with my personal favorite of the family shows on Netflix.
A stark contrast to many other reality competition shows, The Great British Baking Show is a bright, feel-good adventure from beginning to end. The contestants cook outside in a tent nestled on the English countryside and even have pastel-colored appliances.
The sweet and supportive vibe is punctuated with plenty of intense moments from dropped pastries and rubbery cakes to keep the heart pumping. You'll find each family member rooting for their favorite contestant.
There are plenty of seasons of this delightful Netflix series to keep you entertained. Ready, set, bake!
2. A Series of Unfortunate Events
Based on the popular Lemony Snicket novels, the Netflix original series features Neil Patrick Harris in a starring villain role. It's an offbeat family adventure where three orphans continuously find ways to outsmart their evil opponents.
The strong acting and impressive production value bring the dark comedy to life in a way that will captivate both kids and adults. It's an Emmy-nominated show the entire family can enjoy.
The only downside is having to wait for the next season to come out.
3. Star Trek: Enterprise
An underrated series in the Star Trek franchise, Star Trek: Enterprise features Scott Bakula as the captain, whom parents may recognize from his Quantum Leap fame. Enterprise is a family-friendly prequel to the Captain Kirk years that doesn't require prior franchise knowledge.
The show has drama, aliens, and even a cute beagle. If the family enjoys Enterprise, be sure to check out (or revisit) the now classic Star Trek: The Next Generation with Patrick Stewart and costars, also available on Netflix.
A healthy dose of outer space adventure is good for any kid!
4. Our Planet
Nature documentaries are a favorite in our house and can be mesmerizing for younger viewers. The Our Planet series brings breathtaking views of our world to your living room. The kids will learn amazing facts and discover places and creatures that give them a new appreciation for our planet.
It's narrated by David Attenborough, whose iconic voice you may recognize from your own childhood. You may even want to watch this striking documentary more than once.
Sadly, the popular Planet Earth documentary series is no longer available on Netflix, but Our Planet is a great substitute.
5. Tiny House Nation
Jump onboard the tiny house craze and be amazed at the creativity and ingenuity of tiny house builders. The construction experts help individuals and families around America to make their smallest dreams come true.
Each episode usually has a heartwarming story behind the decision to go tiny. You'll be inspired by the people who have committed to live with less and go after their dreams.
6. Anne With an E
This critically acclaimed family feature draws its inspiration from the classic tale Anne of Green Gables. It follows a plucky outspoken 13-year-old orphan and covers themes such as resilience and anti-bullying.
This one is a win for parents and kids alike. Three seasons are available for streaming.
7. Nailed It!
Enjoy a show that celebrates failure. You'll all get a kick out of regular people attempting to make creative baked goods and failing miserably.
The contestants maintain a positive attitude despite their efforts falling apart at every turn. It's a quick show sure to get the family laughing.
8. Ultimate Beastmaster
For those who remember American Gladiator, Ultimate Beastmaster is in a similar vein and takes the challenge course competition to the next level for a new generation.
Amateur athletes from around the world compete in a grueling physical course to earn points and represent their country. The show celebrates strength and perseverance and will have the whole family rooting for their favorite contestant—or all of them.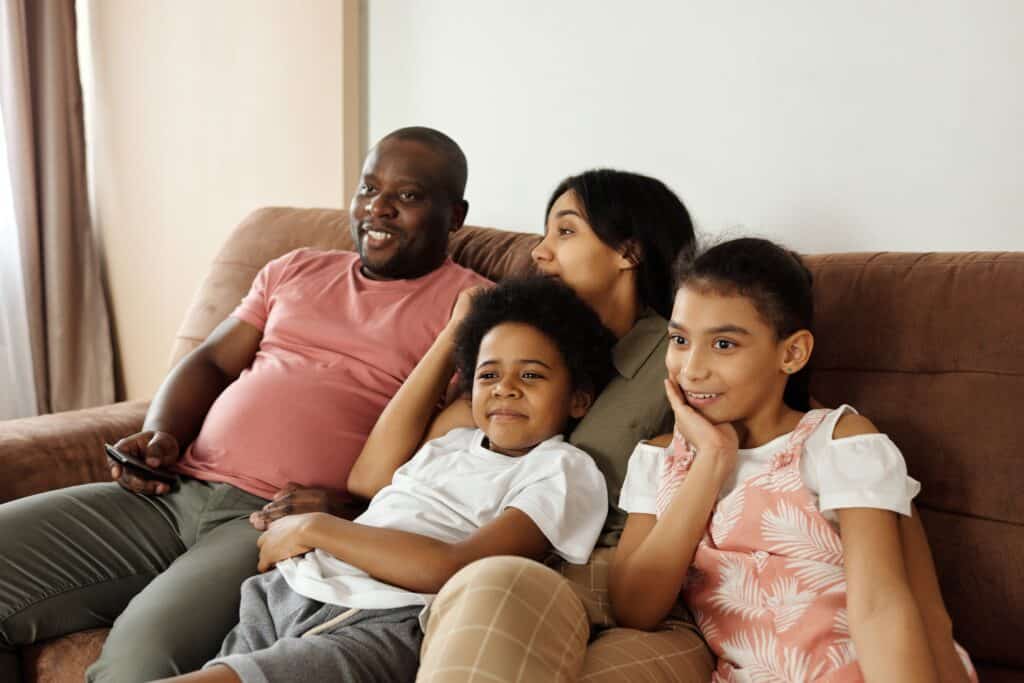 9. The Dark Crystal: Age of Resistance
This newer series is an artfully made prequel to the Dark Crystal movie and bears the Jim Henson name because it uses puppets crafted in the Henson style under supervision of his family.
Be transported to another world in the fantasy story, but do note that it has some darker moments that may not be suitable for the youngest viewers. Be sure to watch the making-of episode to see how the amazing puppets come to life.
This can be a great option for older kids who appreciate a darker storyline but aren't quite ready for shows like Stranger Things.
10. Lost in Space
A reboot of the 1960s classic TV series, the show follows the Robinson family struggling to survive after crash landing on an alien planet. It was Emmy nominated for its stunning visual effects.
The series will have a final season (its third) airing in 2021.
11. Fuller House
In this wholesome spinoff sitcom, DJ of Full House is now a widow raising her own family in her childhood home alongside sister Stephanie and friend Kimmy.
Plenty of the original cast appears in this heartful sitcom that celebrates family and overcoming life's challenges together. Netflix has a bingeworthy five seasons available.
12. You vs Wild
From adventurer and survivalist Bear Grylls of Man vs Wild fame comes You vs Wild, a Choose Your Own Adventure–style television show that lets viewers make selections on what Bear will do next.
Will your choice put him in harms way as he attempts to survive the rugged wilderness or will he be one step closer to making his escape?
13. Jurassic Park: Camp Cretaceous
The only animated show in this list, Camp Cretaceous chronicles a group of kids who get to experience a new Jurassic Park. Jurassic Park was my favorite movie as a kid so this series feels nostalgic.
My sons and I have enjoyed watching it together. The kids are the main characters and the heroes, and there are plenty of different dinosaurs to keep you on the edge of your seat. A second season of this animated series was released in early 2021.
14. Merlin
This BBC series has a loyal fan base. Its stories are loosely based on the legends of King Arthur, Merlin the wizard, and the kingdom of Camelot. It follows Merlin as a boy in a time where magic is outlawed.
The series is rated TV-PG and has plenty of adventure, fantasy, and comedy. If your child enjoyed the Harry Potter films, Merlin is worth a try. There are five seasons so you can really sink your teeth in, and it only gets better as the series progresses.
The characters show a lot of heart, and of course there's sword fighting, dragons, and magic.
15. Car Masters: Rust to Riches
Watch the garage masters turn old rust buckets into masterful one-of-a-kind creations. You don't have to be a car enthusiast to admire the skill and creativity of these craftsmen. Each episode will have you wondering what they can come up with next.
Enjoy a Favorite Family Friendly Show on Netflix
Have a quality streaming service like Netflix puts so many options at your fingertips. From little kids to older teens, there's something everyone can enjoy.
Are you inspired to try watching a new series with your family? When it's TV time in your house, ditch the same old cartoons your kids have watched over and over and try sitting down together to something you can all enjoy.
With all of the options for TV shows on Netflix, this list gives you a head start in discovering some new family favorites.
I know this list isn't all inclusive, so if your family has any favorite shows not included here, please share in the comments!