The thought of Summer always brings warm and happy feelings. The days lengthen, the temperature rises, and the world bursts forth in a kaleidoscope of colors. Summer is sunny days, beach trips, barbecues, ice cream, camping, and long days just simply enjoying the outdoors.
I have all these and more right below. Grab your crafting supplies and make these fun and exciting summer projects.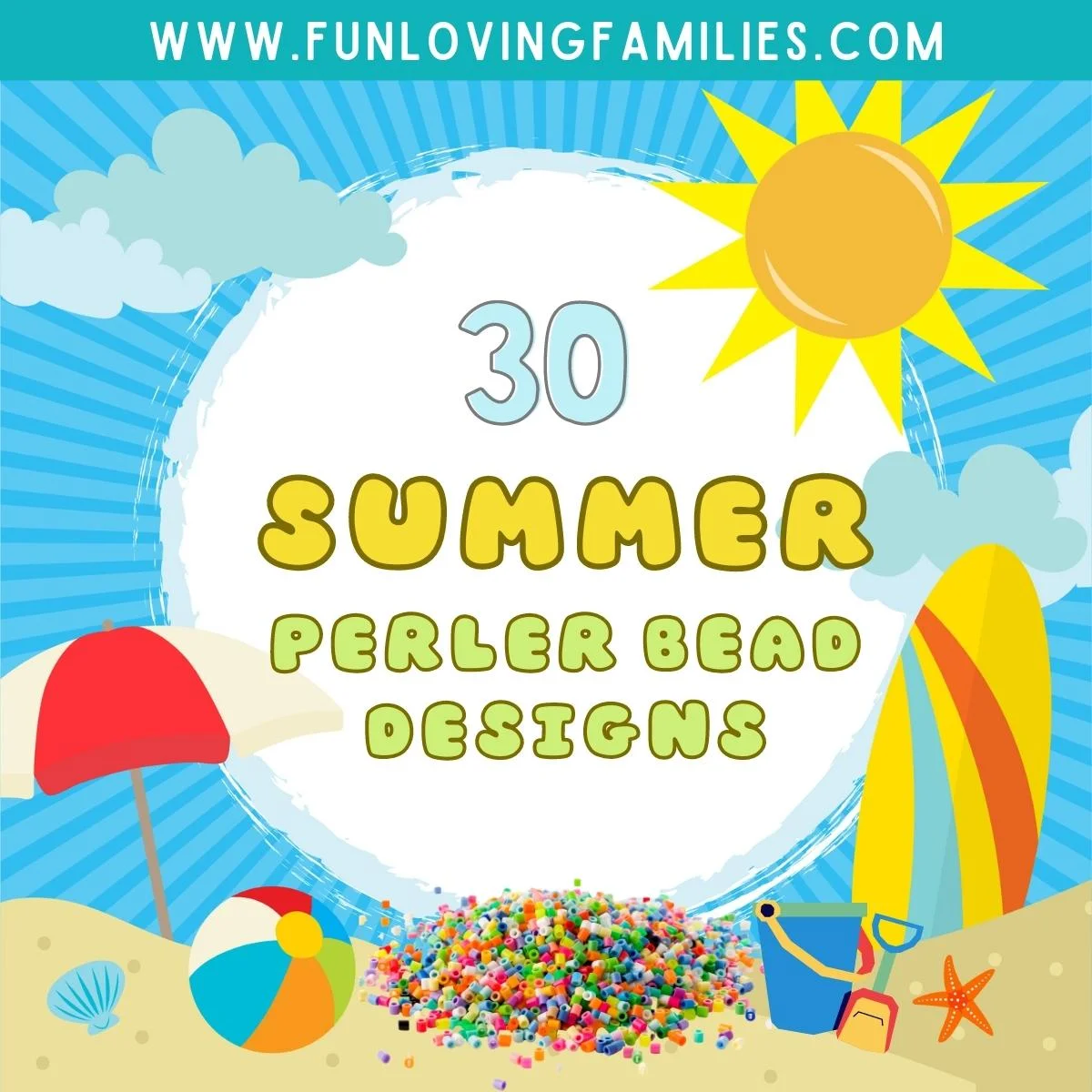 For this post, I've divided these Perler bead works into must-have designs in the first part and amazing 3D creations in the second part. Enjoy!
Blue Sailboat
If your child loves toy boats, this blue sailboat by Krysanthe would be so fun to make. It's very easy, too.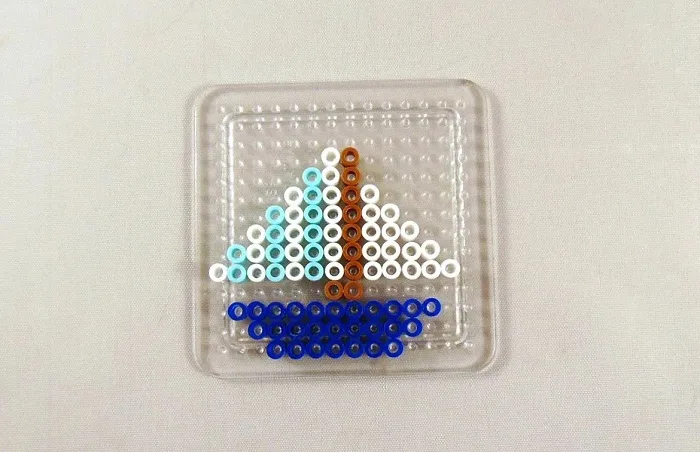 Sand Castle
Building sand castles is one of the highlights of a beach vacation. Make this adorable sand castle with waving flags and a moat all around.
Bluegills
The official Perler bead website has these beautiful bluegills. Aren't the color patterns so delicate and beautiful?
Tropical Fish
Keep Calm and Mommy on made these colorful tropical fish. Make your own crazy designs using this base pattern.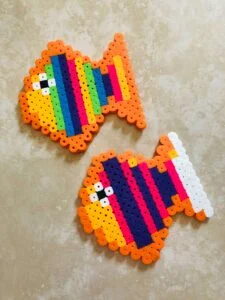 Surfboards
Look at all the different surfboard designs in this photo. Nurture your child's creativity by encouraging them to make their own designs.
Ice Cream Cone
One of the most delicious things about summer is ice cream! It's the perfect way to cool down during the summer heat.
Guess what I found? Here's a ton of super cute ice cream designs. Don't you wish they were real? At the end of a crafting session with your child, maybe you can pull out some real ice cream from the fridge as a surprise snack.
Heart Beach Scene
It's lovely how this crafter was able to fit a beach scene into a heart-shaped pattern. You've got the beach, a palm tree, waves, the sky and a bright yellow sun.
It's also interesting to note how these were ironed. One was ironed thoroughly and the other not. Which look do you prefer?
Camping
Summer is the best time for camping! Make your camping things with Perler beads using this guide from Mom Erica of 5 Little Monsters. I spy a campfire, a tent, a canoe, smores, the moon, and a tree.
Kites
These beautiful kites will make you feel like you're flying in the sky. Get the pdf patterns from the official Perler bead site.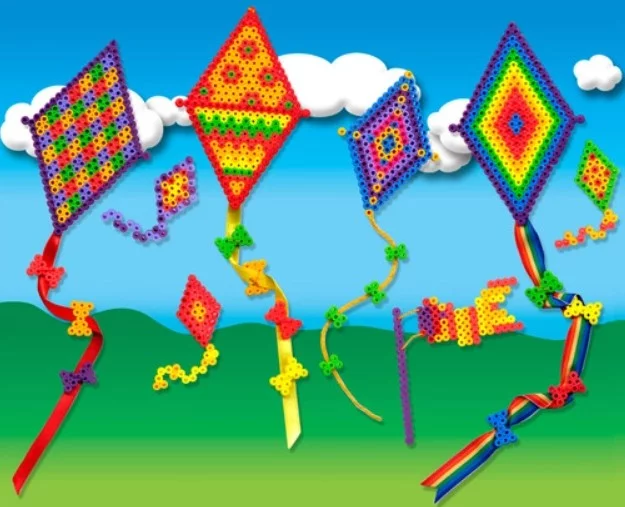 Blooming Cacti
These cute cacti are also from the Perler bead site. If you forget to water plants but want some greenery in your room, these 3D Perler bead plants would be perfect for you.
Flamingo + Pineapple
Nothing quite screams summer like a pink flamingo, a yellow pineapple, and a slice of watermelon. Crafter Misty from The Maternal Hobbyist created these cute Perler projects especially for the season.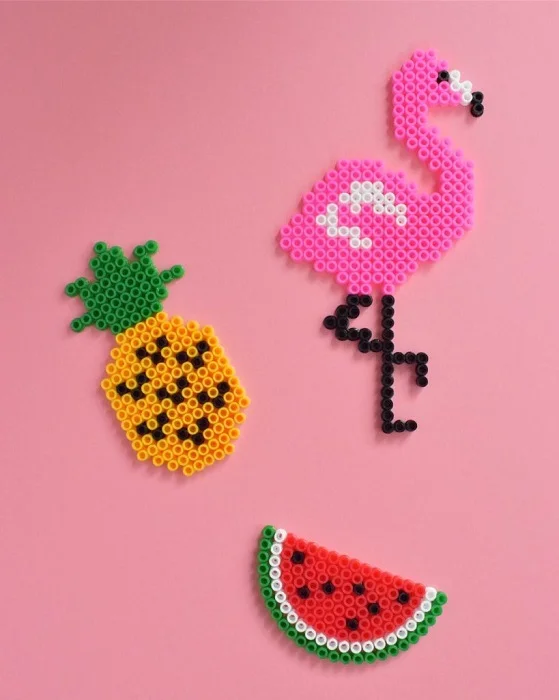 Summer Set Special
Here's another summer set from the 5 Little Monsters website. There's a new pair of cool purple glasses but the usual suspects are here — a pink flamingo, a flowering cactus, a bright yellow pineapple, and two kinds of icecream. Mommy Erica's cute patterns can be found here.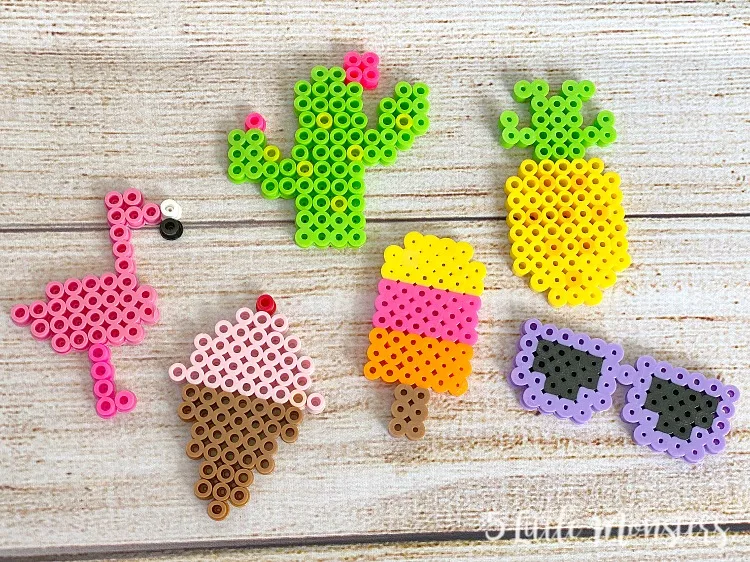 3D Projects and Fun Crafts
Pearl bead crafters must love Summer, because take a look at all these inspired crafts and projects.
Backyard Swimming Pool
One of the best memories I have of summer was how we would set up the inflatable pool and the children would splash about in the backyard. It looked a lot like this Perler bead pool party but with more shouting and more chaos. If you want to recreate this piece, head on over to this Perler bead page for the easy-to-follow tutorial.
Summer Cookout
A pool party isn't complete without a delicious feast for ravenous tummies. Here's a summer cookout with hamburgers, lemonade, hotdogs, and steak. And it's all in Perler beads! Get the patterns here.
Summer Hangout
A perfect summer day is lazing about on the beach. Make each day a lazy beach day with this Summer hangout piece. The tutorial and pattern is here.
Beach House
Isn't this a pretty beach house? The pastel colors, the heart hangings, and the anchor on the roof are all so picturesque. The bright blue lounging chair and yellow surfboard makes it another perfect summer hangout.
Yellow Sandals
Now here's something cute and quite unusual. It's a pair of bright yellow sandals in Perler beads. The way the straps are made is so ingenious.
Sailboat
Here's another sailboat for the boat lovers. This is slightly bigger though and has a stand. You can find the pattern here.
Camper Van
If you are making camping Perler bead things, you should also make this camper van. You can change the colors or add embellishments. The pdf tutorial is here.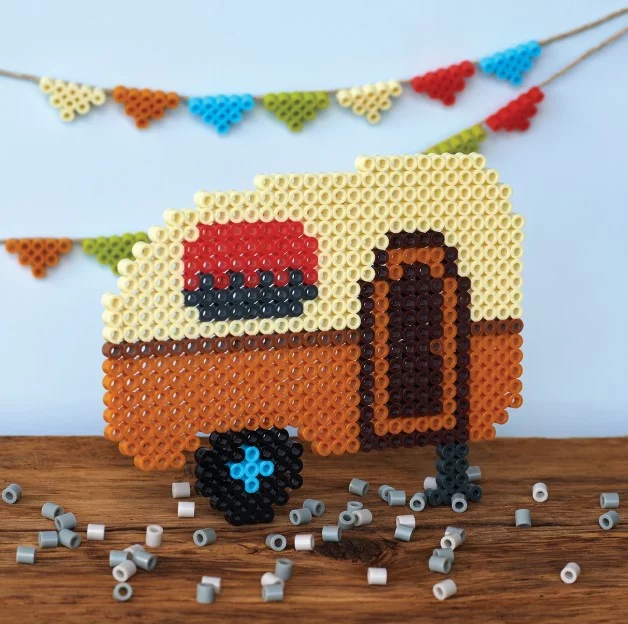 Summer Earrings
Turn your Perler bead designs into wearable accessories. These cute earrings will surely get you a lot of compliments. Check out the patterns here in the Perler bead site.
Perler Bead Bracelet
This bracelet looks so colorful and fun. And notice the beads behind. You might be surprised but they're also Perler beads. They've been baked so their form has changed somewhat. Check out Mom Jodi's Meaningful Mama website to find out how she made this DIY bracelet with her adorable little ones. The pictures are so precious (and helpful).
Perler Bead Necklace
If you need a fun project to occupy the little ones with this summer, how about this Perler bead necklace project? In addition to your usual Perler bead equipment, you will need a needle and thread which you surely have around the house. If your children are too small to handle a needle, you can do it for them and they can pick out the beads that you'll thread into a necklace. They'll have fun choosing which colors come next.
Stringed Necklace with Shells
I am sincerely in love with this stringed necklace. However, you'll need a couple more things from the craft shop. Snag some shells, plastic stones, assorted beads and whatever you find in the store that you think would go with your aesthetic. Just make sure that your shells and embellishments can be threaded through a needle.
Backyard Play Dog and Dog House
For all you dog lovers out there, this backyard playhouse is for you. Just look at the darling dog with its cute kerchief, colorful dog house, and big splendid tree. If you look closely, there are even birds on the branches of the tree. It looks complicated but it's actually pretty do-able when it's broken down. Check out the full tutorial here.
And just to give you an idea on how to customize this, you can change out the dog to the breed you have. All you need to do is to find a pattern or design that's as big as the dog in the photo.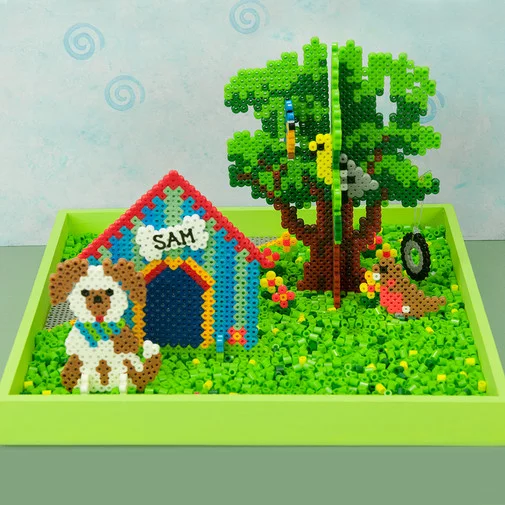 3D Ferris Wheel
Sadly, I don't have a pattern for this Ferris wheel, but it's such an amazing work that I wanted to show it to you. It even spins!
Cup Covers
Keep pesky summer bugs out of your cold drinks with these fruit Perler bead covers. Choose from a variety of designs like apple, lime, or orange slices.
Watermelon Coasters
Get into the spirit of summer with these eye-catching watermelon coasters. If you have guests over, these coasters will surely become a conversation piece.
Perler Bead Bowl
This DIY bowl reminded me of all the summer camp projects my daughters used to bring home. It was instant déjà vu. Mom Heidi shares her step-by-step tutorial on her site Happiness Homemade.
Note: You'll need an oven to bake the beads.
Wind Spinners
Wind spinners aren't just a great summer project for kids, they'll also add life to your garden or patio. These beautiful moving art are well known for their relaxing and almost hypnotic effect.
Fishing Game
Make this fun DIY fishing game with a rod, a sturdy string, and magnets. This will definitely make for a fun summer memory — fishing with Perler bead fishes.
If you enjoyed this summer collection, bookmark it and share it with your friends and fellow crafters. Have a wonderful summer!
Similar Posts: