Making time for regular connection with your partner is so important. For parents in particular, kid time can sometimes completely overtake couple time. Don't forget to balance things out by making time for you and your partner.
Use the ideas in this post to create a bucket list for couples that you can complete together. Spending quality time with your significant other is one of the ways to foster intimacy, which is critical to maintaining your romantic relationship.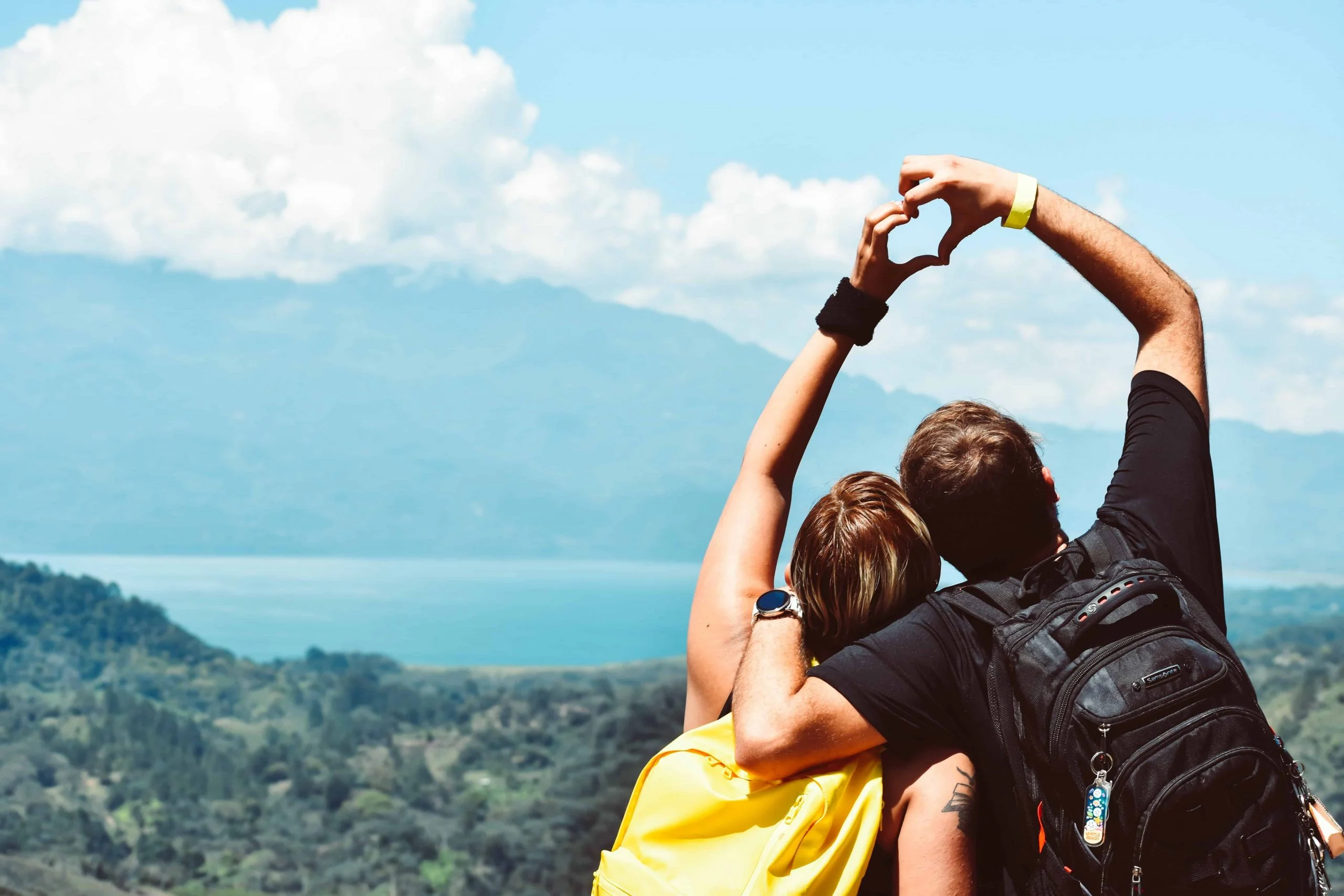 Quality time is one of the five love languages (ways you give and receive love).
For the married couple or those in long-term relationships, it's all too easy to fall into a rut when you don't plan exciting activities together anymore. Everything becomes work, chores, and falling asleep watching Netflix together.
Over time, months can start to feel the same and the spark between you diminishes.
Make it a regular habit to select a bucket list idea and have fun making new memories. Experiencing new things together can strengthen your connection and maybe even rekindle some passion.
Creating and Completing a Bucket List for Couples
Making a bucket list for couples can help ensure you don't neglect your relationship amidst your own personal hobbies or trekking the kids to their various activities.
While it's good to have things you do as an individual to refuel yourself, your relationship also deserves regular attention in order to continue to thrive. Make regularly trying out bucket list ideas part of your couple goals.
Have some special moments after the kids are in bed or get a sitter on occasion. You might even take a day off work while the kids are at school or day care to spend time with your partner.
This couples bucket list can give you great date night ideas. Forget a boring dinner out for the hundredth tome. Spice things up with a fun activity.
Working through your bucket list for couples together can take you beyond the monotony of everyday routines and remind you of what it felt like when you were dating. Remember when you made an effort to have new adventures together?
With the many options below, you can each pick some favorites to populate your list together. Or embrace the element of surprise and put slips into a jar, then pull one or two out to complete each week.
Be sure to also check out 100 Fun Questions to Ask Your Significant Other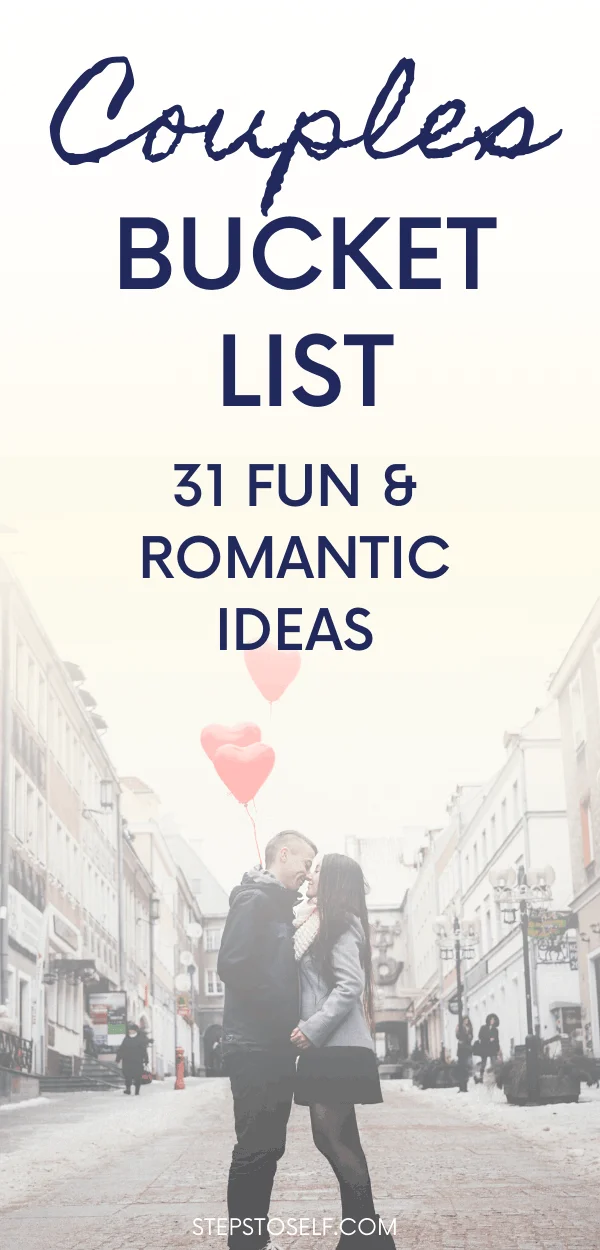 Activity Ideas for Your Bucket List for Couples
There are a range of options here, including many that can be done at home and for free or a small budget. Many options involve the outdoors, so these ideas make a great summer bucket list, though you can still complete them any time of year.
1. Watch a movie outside
There's something a little magical about watching a movie under the stars. Our city has several options for outdoor movies. Check out what's available in your area, or you can always bring a tablet into the backyard and get cozy! It's a fun idea for date night.
2. Have a picnic
My husband and I did this on our wedding night, complete with a bottle of champagne. It can be quite relaxing and romantic. Find a nice outdoor spot and enjoy.
3. Make s'mores
Goopy marshmallow and melted chocolate—how fun. You can't tell me the kid in you won't crack a smile. Gather your s'more supplies and get roasting. A fire crackling at night will create warmth between you.
4. Visit a garden
Do you have a local arboretum or botanical gardens? Wander through together and enjoy nature's beauty. Try holding hands along the way.
5. Play corn hole
Have fun with a little friendly competition to unwind. Winner gets a back rub?
6. Stargaze
So simple and powerful. Lay a blanket out and gaze up at the stars. See what you can spot first without the help of a smartphone app. Ask each other questions about the universe and snuggle the night away.
7. Go for a scenic drive
Put the windows down and find some country roads to explore. You never know what you might find off the beaten path. If you want to level up this experience, you can turn it into a road trip for a romantic getaway.
8. Relax in a hammock
Nothing says relaxation like a hammock for two. Snuggle up close and let your tension melt away.
9. Go to a concert
Get tickets to a show you know your partner will love. During the summer, there may even be free outdoor concerts in your area.
10. Watch the sunset
We stay so busy that it's easy to fail to appreciate the beauty that happens every day. Make a moment to connect and experience this wonder together. The night can be such a romantic time if you make the effort to savor it.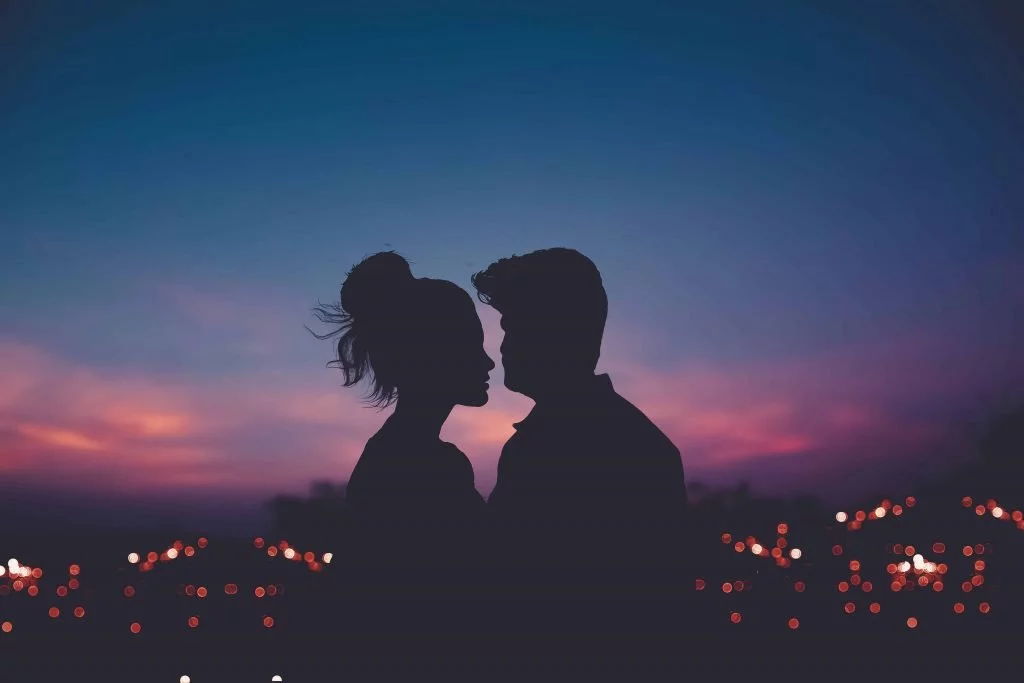 11. Go to an amusement park
Find your sense of adventure and go on rides that make you clutch each other and scream. Hold hands on a Ferris wheel under the cover of night. The amusement park offers plenty of opportunities for special moments as a couple.
12. Relax in a pool or hot tub
Yes, the pool can be relaxing (without the kids). Float along together or camp out in neighboring lounge chairs, chilling the hours away. For the extra adventurous, you might even try skinny dipping at night. If you can't get to a pool or hot tub, you can substitute a romantic bubble bath for two.
13. Go to a food truck rodeo
Taste your way around as a couple. Try something new and share bites.
14. Have champagne and fresh fruit for breakfast
Just because. It will feel like room service no matter where you are. This experience can be fun and special even at home. It's a must-try for anniversaries or when on a romantic trip.
15. Go boating
There are many options—ferry, kayak, canoe, paddle boat, or even a gondola ride. Pick one you've never done as a couple and make a new memory. Don't forget the sunscreen and water!
16. Play miniature golf
What fun! Feel like a kid again when you get super excited about a hole in one. I find playing at night to be a little more special.
17. Go on a day trip
Make your own adventure while spending the day together, just the two of you. Pick out something you've been wanting to do within driving distance, then make it happen. Bonus points if you prep a special playlist.
18. Have dinner outside by candlelight
You can DIY it or make a reservation. It's the perfect way to make date night much more special.
19. Go beer or wine tasting
That's tasting (not getting sloshed). Choose a location with nice ambience if you can. Take your time and grab a favorite bottle to bring home and enjoy.
20. Throw a frisbee
Don't take it too seriously. It's OK to laugh at how terrible you are. Just have fun.
21. Go for a hike
Get lost in nature together—it's great for stress relief. Bring out the spirit of adventure in your relationship by blazing new trails as a couple.
22. Watch the sunrise
I love a beautiful sunrise. A camera never does them justice. Experiencing one in person should be on anyone's couples bucket list. You'll cherish these special moments together.
23. Go to a baseball game
What's more American than a baseball game? You'll have plenty of time for conversation, plus there's good snacks. If baseball isn't your thing, you can pick another sporting event.
24. Fly a kite
When's the last time you tried this? It's harder than you remember! Think you can achieve it with some teamwork?
25. Go fruit picking
Mmmm… fresh picked fruit. Whatever's nearby and in season can be your treat for the day.
26. Get a couples massage
Yes please! Where do I sign up? You'll be so relaxed afterwards that you can melt into each other's arms.
27. Write each other love letters
The written word can be so powerful. Have you ever exchanged love letters as a couple? Pour your heart out onto the page. You can seal yours and wait to give it on a special date.
28. Watch fireworks
There are often other occasions beyond July 4th to enjoy a fireworks show. But don't make your own—leave it to the professionals. A trip to the ER is memorable but not romantic.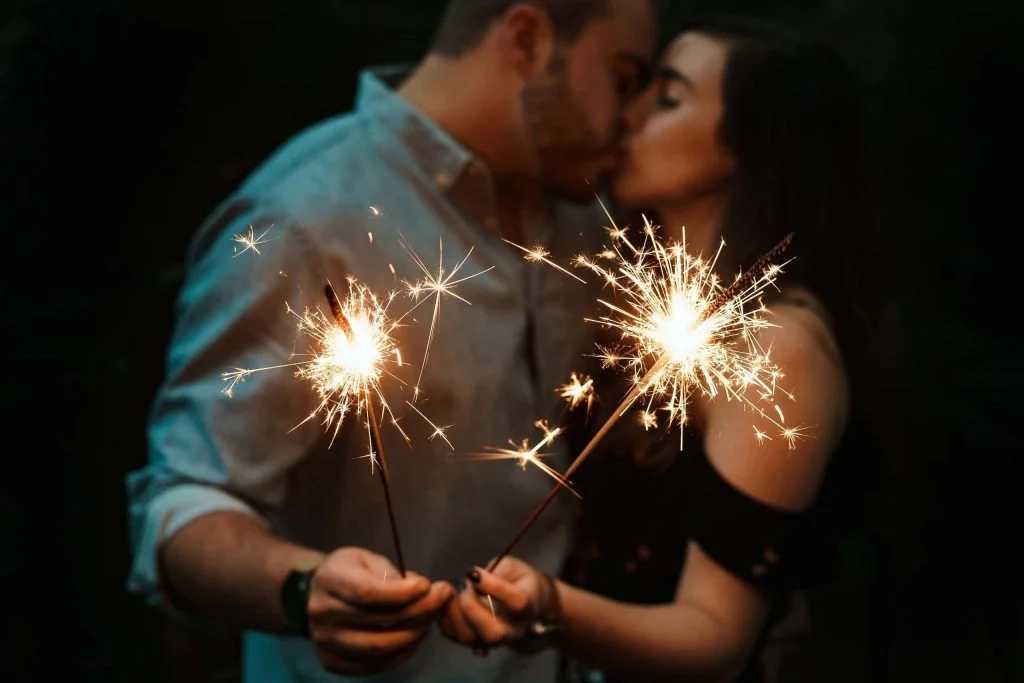 29. Recreate your first date
This one will bring back some memories. Celebrate your time as a couple by going all the way back to the beginning. It doesn't have to be exact, and you can give it some upgrades if you want.
30. Stroll around a farmer's market
Definitely a summer favorite. Enjoy fresh fruit and veggies, honey, cheese, flowers, and more. You might even find some things to plan your picnic.
31. Share an ice cream
The ultimate bond—being willing to share a bite of your ice cream. Test the bounds of your love.
Download this list below in a beautiful printable .pdf file.
Get Started Today
What piqued your interest? Are you ready to get started? I hope you have a great time and make some wonderful memories together! I'd love to hear about your favorite bucket list idea.
Hopefully your bucket list for couples will inspire intentional connection with your partner throughout the year.
Completing your couples bucket list might inspire you to make other bucket lists together. My husband and I share a travel bucket list of our top destinations to visit. It gives us something to look forward to as a couple.
Don't forget to pin for later!
Similar Posts: