You will love these ideas for creating amazing DIY climbing spaces for kids indoor play areas. Some of these ideas are truly genius and totally doable. Get started on making your own climbing walls, cargo nets, and playroom jungle gyms.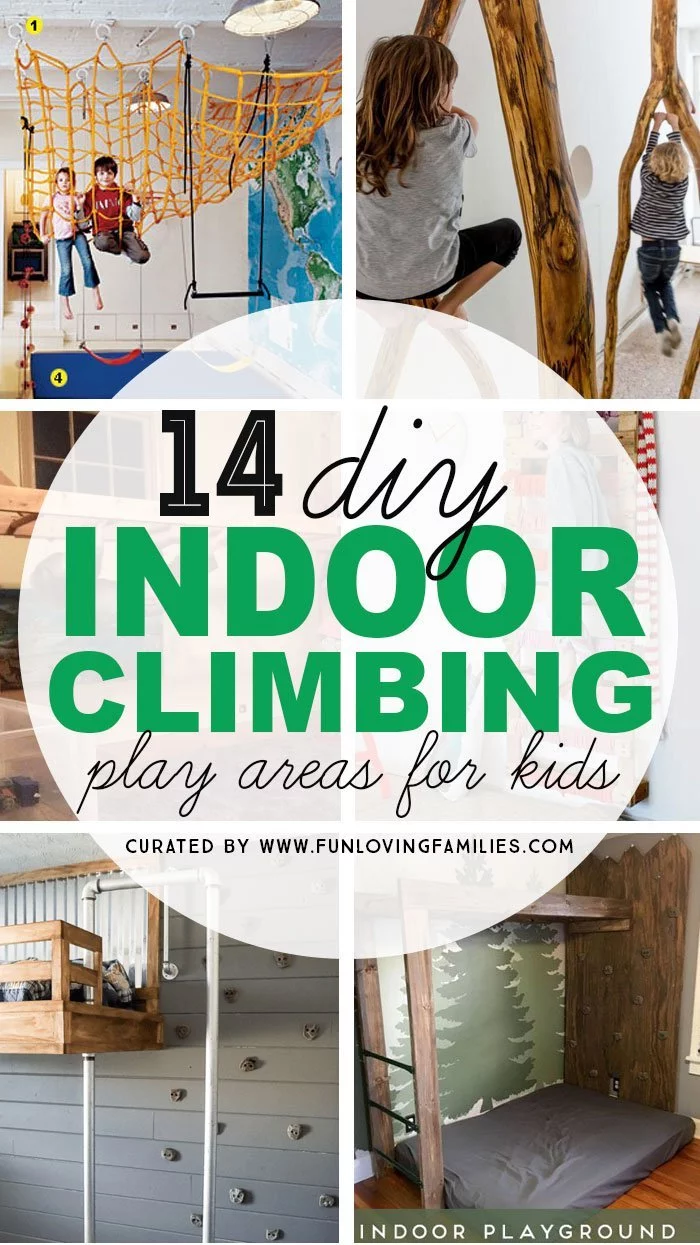 Why create a climbing space for kids in your home?
Kids have an innate need to move their bodies in big ways. These gross motor activities are needed to help strengthen muscles, provide an outlet for energy, and help kids gain confidence in their abilities.
Climbing is a total body workout. So, when kids use these climbing structures, they're able to exercise everything from their fingers (need good grip strength to hold on!) down to their toes. And it's not just physical strength that climbing helps develop. Climbing requires flexibility, coordination, balance, and mental challenges like strategy and planning.
It's no wonder why kids get a boost of confidence when reaching new heights.
These are all things we want to develop in our kids. Plus, having fun is so good for kids. We definitely want that, right?
An indoor climbing space in your home is a great way to provide all of the benefits of climbing in a safe environment. Not to mention how great it would be to have a space like this to have for a fun rainy day kids activity. It's been so cold here lately that my kids have no interest in playing outside. Instead, they're in here climbing the walls with their pent up energy. So, why not let them, literally, climb the walls!
(This post contains affiliate links which means I may earn a small commission if you click a link and make a purchase. As an Amazon Associate I earn from qualifying purchases.)
DIY Climbing Spaces for the Home
Making an indoor climbing space at home can be as easy as attaching climbing holds to a wall by their bed. Or, you can have an entire indoor climbing playset. Think about your kids' ages and activity levels and go from their. Bigger kids will need a bigger space, but you may also be able to use space on ceilings and such.
Take a look at the ideas below and get your juices flowing on the best way to add an indoor climbing space to your home:
(quick note: These are genius ideas, but always follow safety instructions and guidelines when installing your own climbing structures at home.)
1. DIY Climbing wall over bed
Use the space above your kids bed to add colorful climbing holds. This has even greater impact if you've got nice, tall ceilings in the bedrooms, or a low bed. The mattress below the climbing wall provides a soft landing for jumps and falls. From TRIPLEX.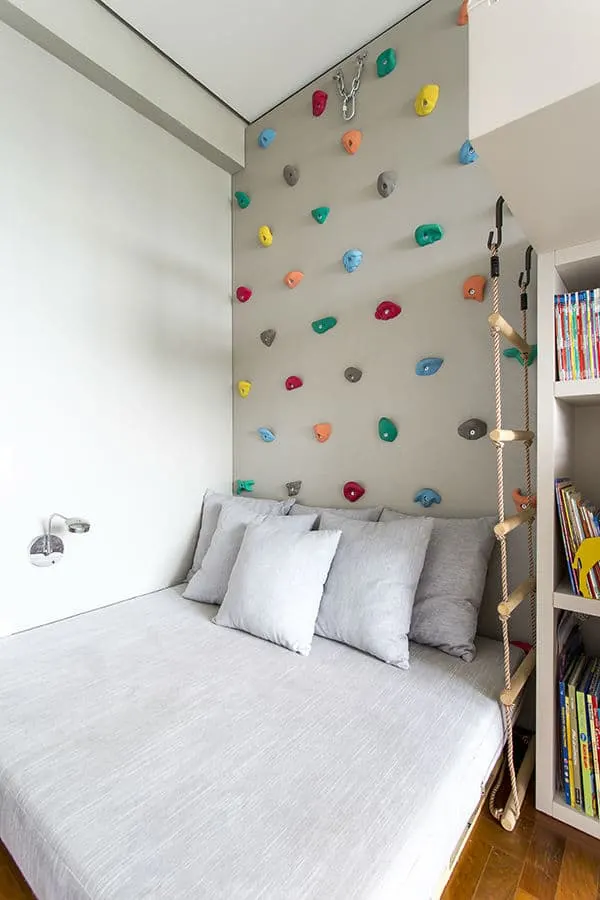 2. Floor to ceiling Climbing Space
This family used gas pipe fittings to create a challenging climbing course with ladder, monkey bars, and climbing rope. From Fine Home Building.
3. Loft Bed with Climbing Wall and Fireman pole
Simply Designing shares a detailed look at how they pulled together this amazing kids bedroom. The main features are this climbing wall going up to the loft bed. Then, getting back down is even more fun with a metal fireman's pole.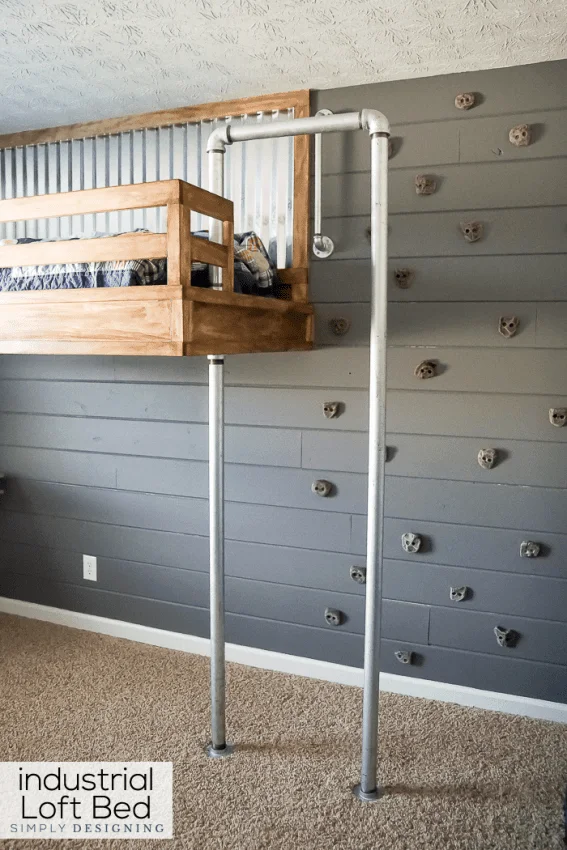 4. Woodsy Bedroom Climbing Space
Here's another creative climbing space in a kids bedroom. More Like Home shares how they created this woodland-inspired climbing space with a climbing wall and monkey bars.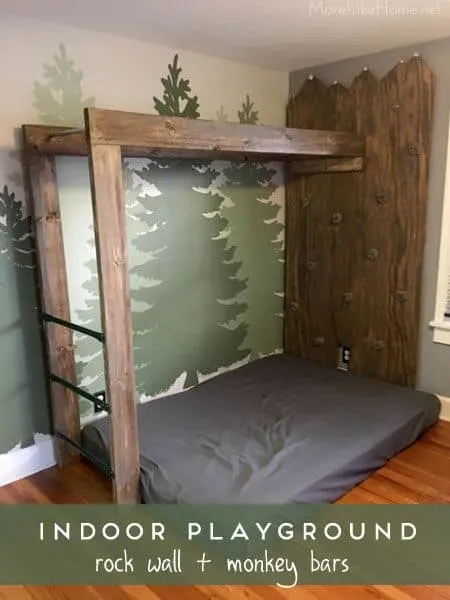 5. DIY Climbing Wall and Monkey Bar Ceiling
Bigger kids will love this bedroom that is totally decked out for a climber. The climbing holds go from wall to ceiling, but the ceiling-mounted monkey bars really steal the show here (and provide a convenient place to hang an indoor hammock!). I can't tell what is used here for the monkey bars. They look a bit like these playground safety handles, but you'd need to make sure that you're using something made to support a swinging body. From Imgur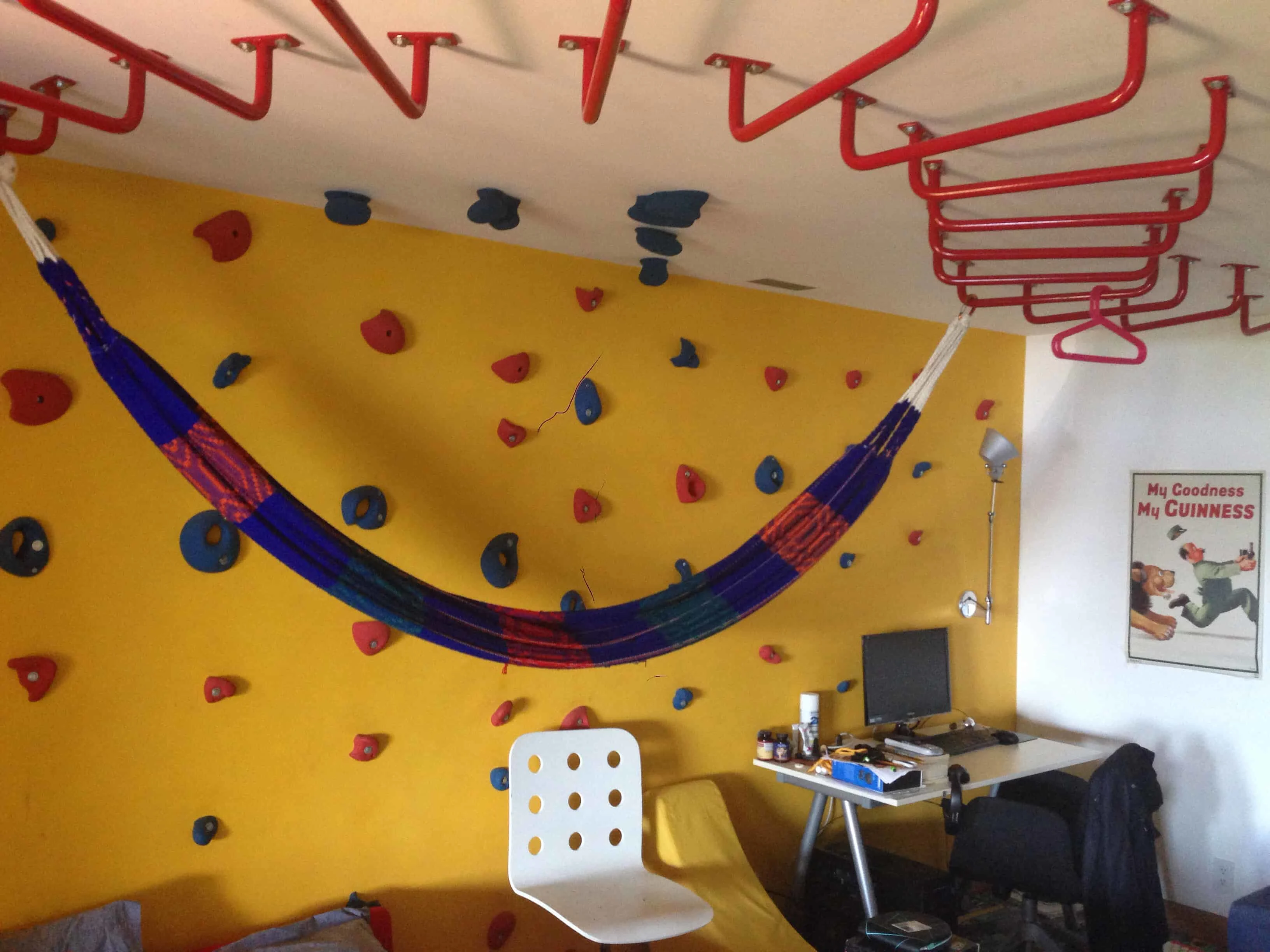 6. Add a Ceiling-Mounted Climbing Net
If climbing walls aren't your thing, check out this climbing feature made from heavy duty cargo rope. Image from NY Mag.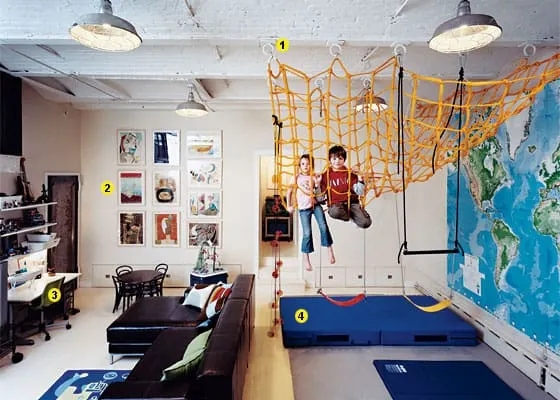 7. Natural Indoor Climbing Trees
I'll admit, this one might not be considered a DIY project, but I had to include it. Tree climbing is a quintessential childhood activity, yet I bet there are many kids who live in more urban areas who rarely get the chance to do it. If you have the means, it would be worth figuring out how to tackle a project like this so you can use trees for your DIY climbing spaces for kids indoor play. Unfortunately, there wasn't much detail about the trees in the post on Trend Hunter where the images are from.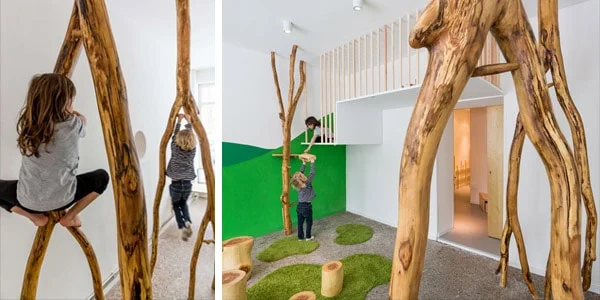 8. "Buskas" Indoor Climbing Tree
If the project above is a bit out of grasp, you might try this idea instead. There aren't detailed instructions on creating this indoor climbing tree, but all you would need is a skill saw to cut the shapes, some wood, and strong hardware to bolt the pieces to the wall.(source link, and original)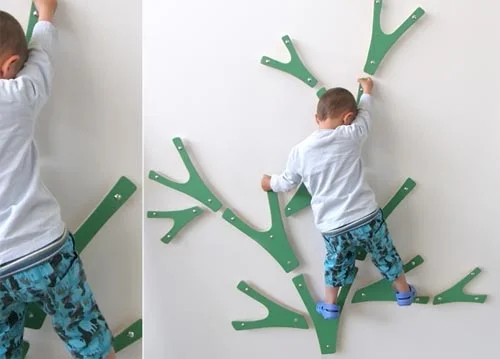 Here's a closer view from the side so you can see how the wood attaches to the wall: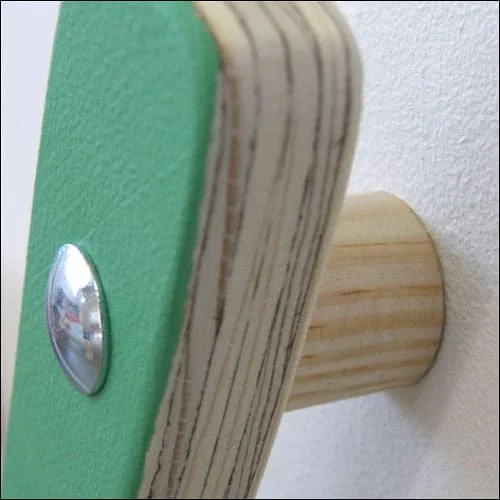 9. Wall Mounted Pallet Ladder
My pallet-loving friends will love this DIY climbing wall project. Use pallets, or create your own wooden frame, to make this vertical climbing structure. For more fun, place a mattress below so kids can have fun climbing up and jumping off! Find this project here (via Handmade Charlotte).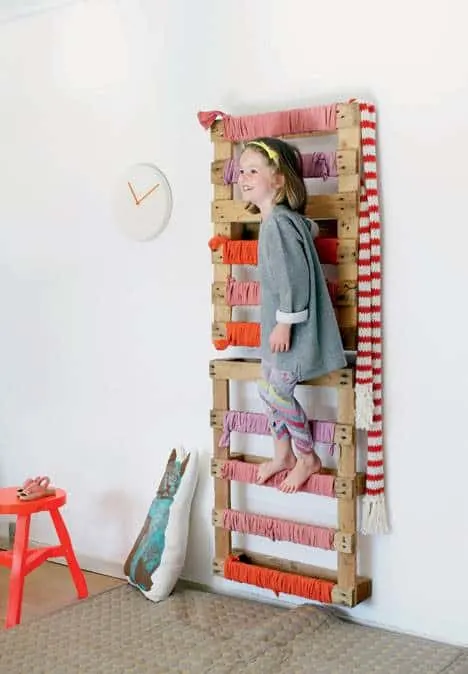 10. Wood block rock climbing wall
Design for Mankind gives step-by-step instructions for making this simple wood blog climbing wall.
11. Wooden DIY Climbing Structure
This Instagram user Nutritious Movement shared how her family keeps the kids active indoors during the cooler months. I love the setup of these DIY climbing spaces for kids because it allows for kids to climb and swing from below, or get on top to play and climb across. It looks like, despite the many pleas from commenters, there aren't any plans to build this. However, I think a savvy DIYer or carpenter could work out the details.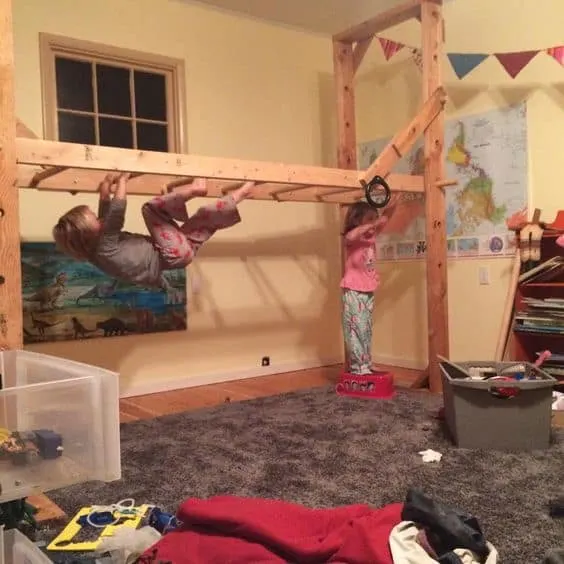 12. Hallway monkey bars
Make excellent use of a long hallway and install a set of monkey bars! Building for Play shares how to do this yourself, and you can also see how they hung a swing and climbing rope for more DIY climbing spaces for kids indoor play.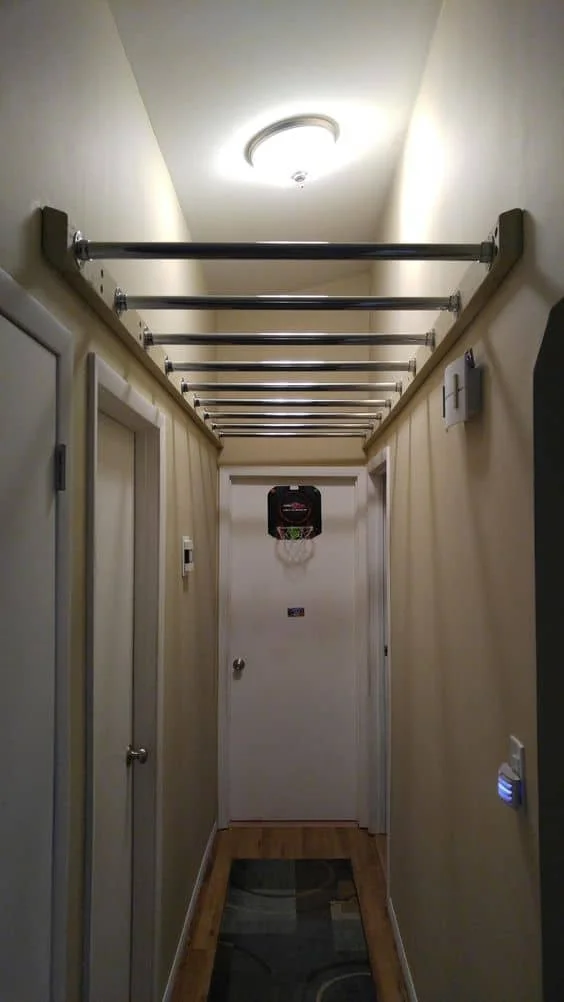 13. Homemade Portable Climbing Wall
A portable climbing wall can be a great way to move the fun indoors or out depending on the time of year. You can adjust the height of your wall to suit the size of your climber. I think climbing to the top and then making it over to the other side would be extremely satisfying for young kids.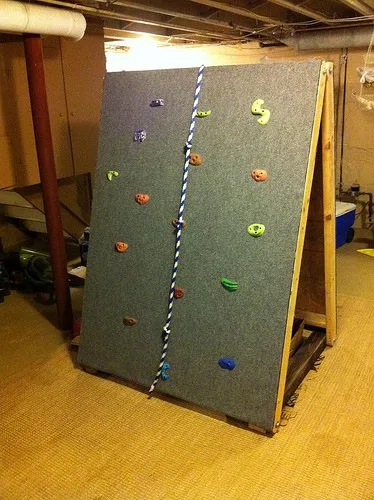 14. DIY Toddler Climbing Frame
Even toddlers can benefit greatly from being able to climb. After all, they now have a whole new perspective of the world around them and love being able to pull themselves up even higher!
This Instructables post provides a very thorough description of how to make this beautiful DIY climbing structure for toddlers, known as a Pikler triangle.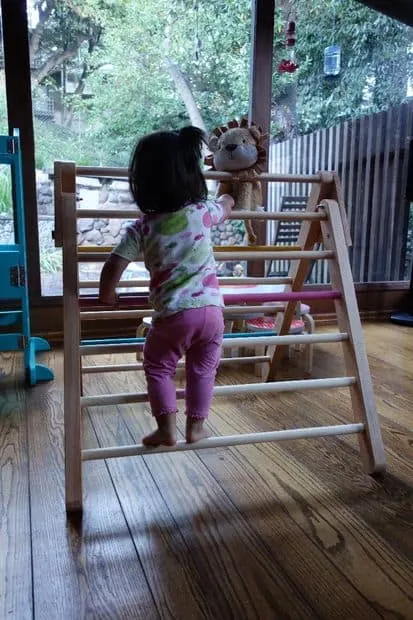 DIY Climbing Spaces for Kids Indoor Play Essentials:
Here are some of items to get your started on making your own DIY climbing spaces for kids indoor play.
Kids Large Climbing Holds

CURRENT PRICE AND REVIEWS ON AMAZON
Rope Ladder
Climbing Cargo Net
More Kids Play Areas
If you like making really fun play spaces for your kids, make sure you also check out these posts:
Pin here to save these ideas for later!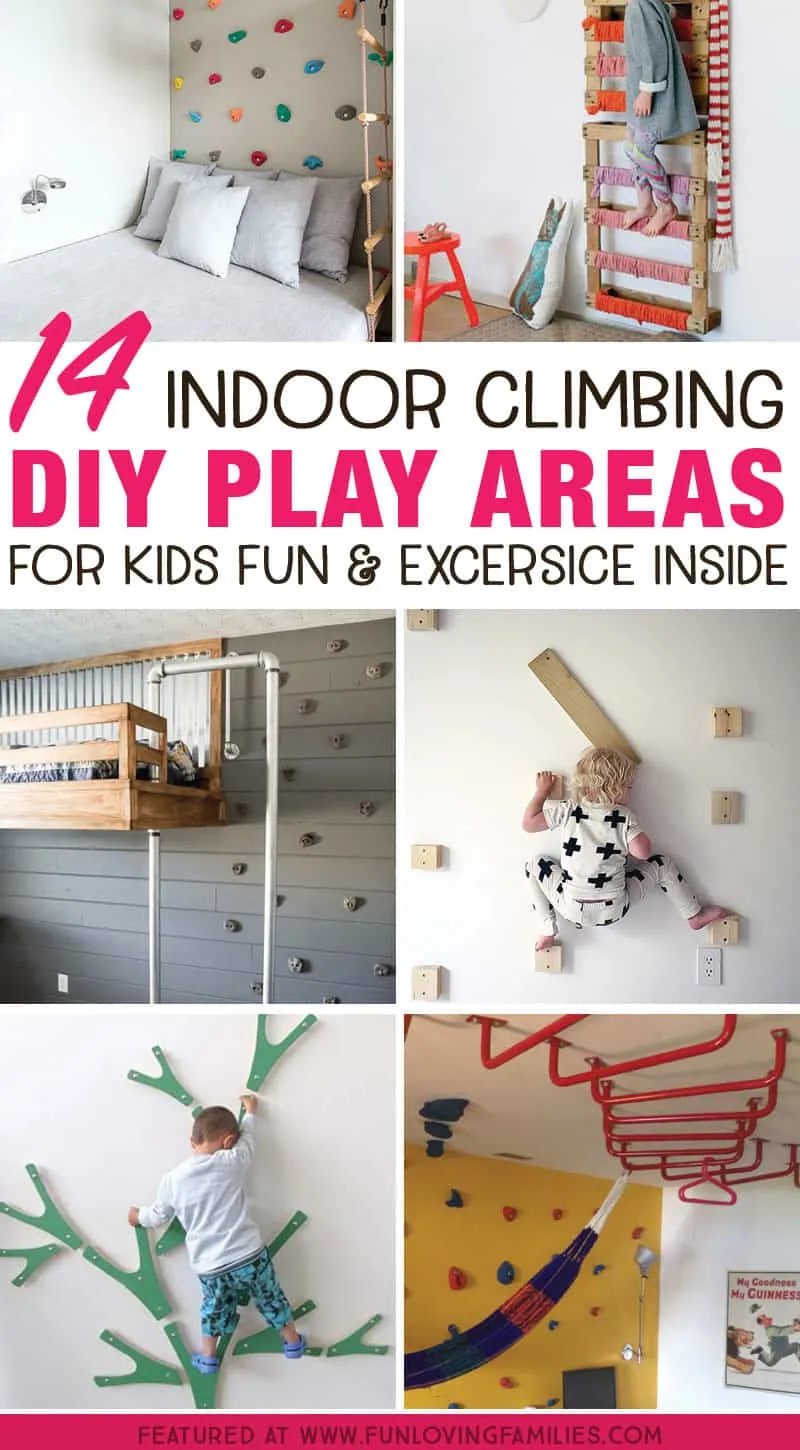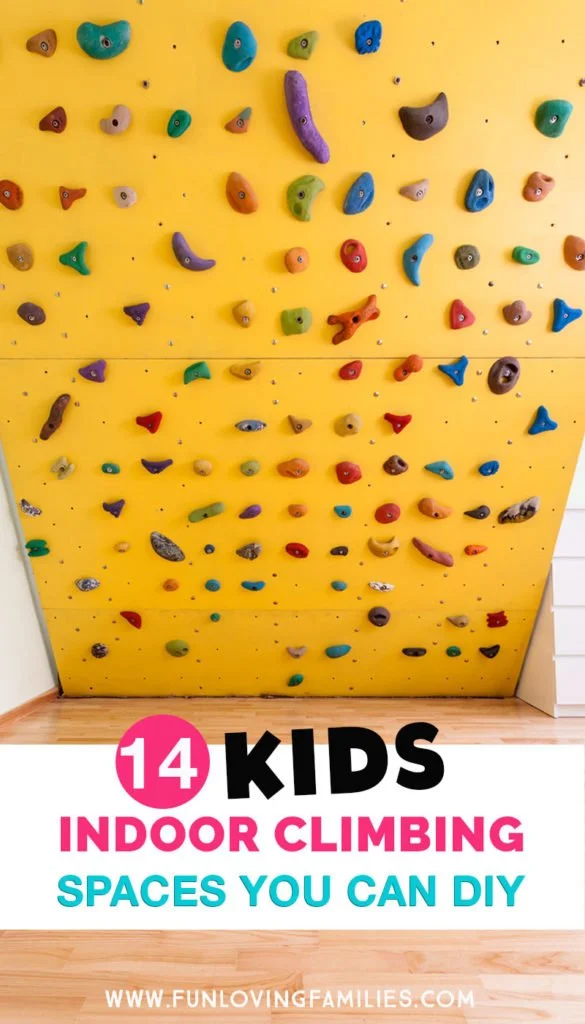 Similar Posts: