Give the screens some heavy competition with these kid-approved DIY backyard play areas, guaranteed to provide hours of outdoor fun.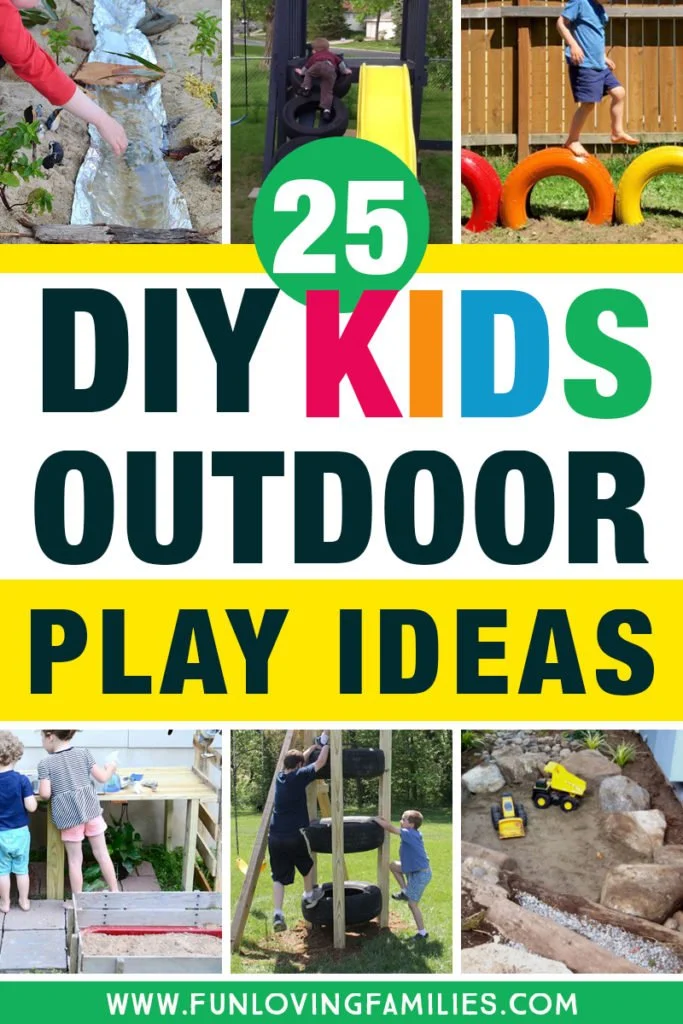 I know it's still winter, but I'm looking forward to some warmer weather and outdoor play time. Sometimes my kids will complain that there's nothing to do, even when they've got a whole yard in front of them.
Does this sound familiar?
Well, if you're looking for some project ideas for the backyard, take a look at the DIY backyard play areas I've gathered up.
Some are really easy and can put together with few materials and a little time, while others will require a bit of planning. Either way, I know you'll find something here that your kids will love.
This post is full of real kids backyard play areas that you can actually make yourself.
I intentionally looked for ideas that will engage kids imaginations. As you know, once they get wrapped up in their own worlds, you can't tear them away from their play. You can look forward to hours of fun in these backyard environments.
Once you get the kids excited about playing outside, you can join them and have a great time with some fun yard games for the whole family.
(This post contains affiliate links which means I may earn a small commission if you click a link and make a purchase. As an Amazon Associate I earn from qualifying purchases.)
DIY Backyard Climbing Structures
I rarely meet a kid who doesn't love to climb. In fact, my youngest daughter has always had a need to climb everything in site, so we've had to constantly try to find appropriate outlets for that special energy. Here are several DIY climbing structures you can make at home. Just follow the links to see the instructions.
1. DIY Tire Climbing Tower
This tall tower lets kids climb straight up from the outside or inside. Project from Blessings Overflow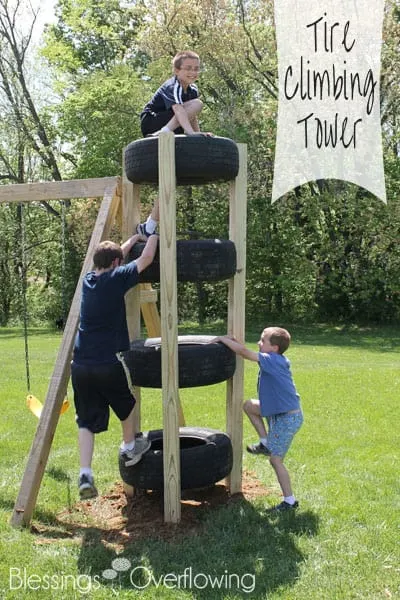 2. Rope and Rock Climbing Tower
Mincing Thoughts has all of the details for making this awesome climbing structure with rope climbing on one side and rock climbing on the other.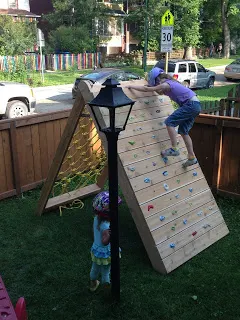 3. Tire Climbing Ladder
This tire ladder offers a fun way for kids to climb up their pre-made playset. From Exploring Domesticity.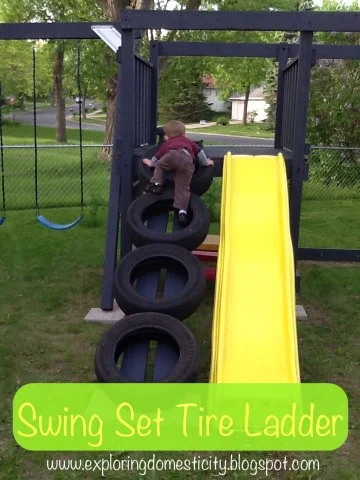 4. DIY Mound Slide
This mound slide is a great use of space. If you've already got a sloping yard, take advantage of it by building up a mound and adding a slide. Slides are just as much for kids to climb up as they are to go down. See The Empowered Educator for this project and many other amazing DIY backyard play area ideas.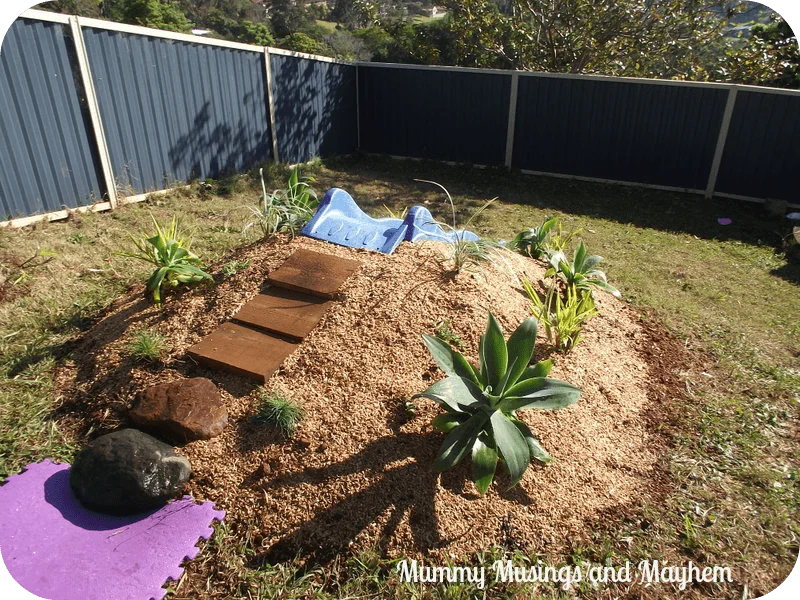 DIY Backyard Swings
5. DIY Wooden Swing
Most wooden swings are straight boards which can get mighty uncomfortable. I love that this DIY wooden swing looks like it would actually be comfortable to sit on. See Momtastic for how to make your own.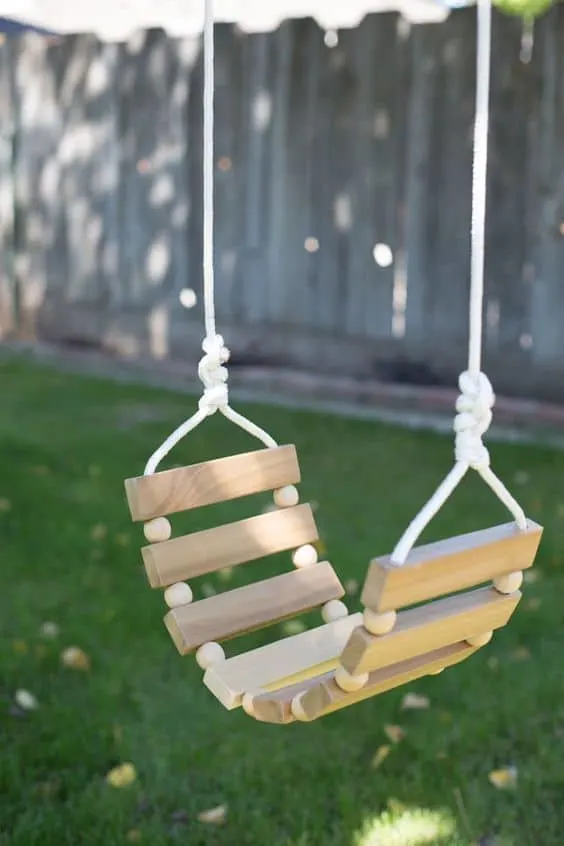 6. How to Make a Homemade Tire Swing
Tire swings offer a lot of variation in how they can be used: kids can sit in them or on them, and even stand on them. Ella Claire Inspired shares how she added a tire swing to her backyard.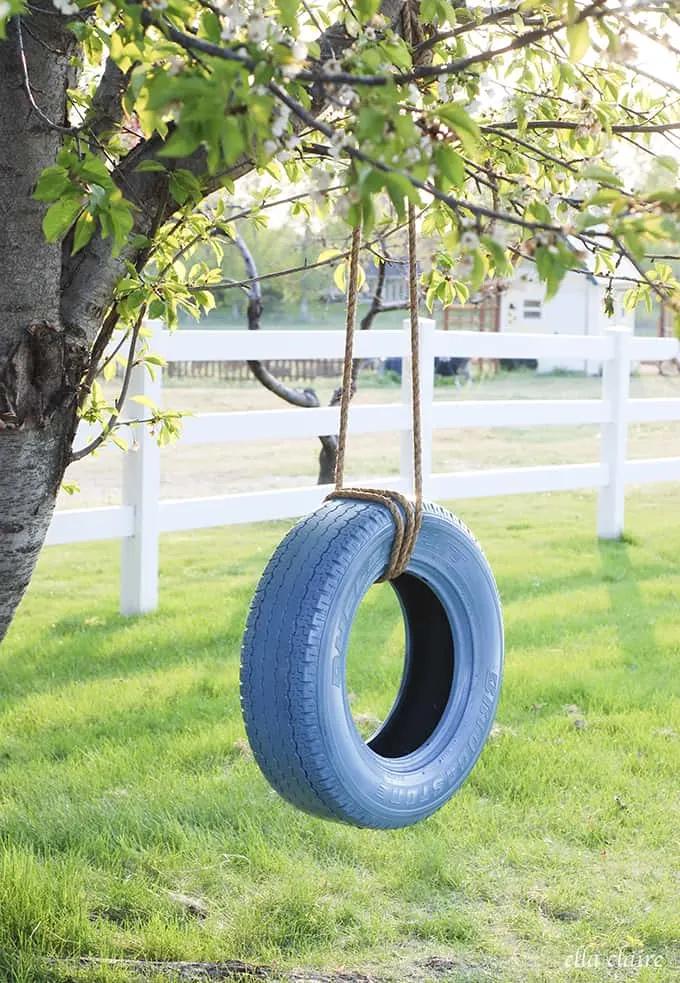 7. How to Build a Backyard Platform Swing
These are great for when the kids have friends over. See how The Naughty Mommy made this DIY Platform Swing.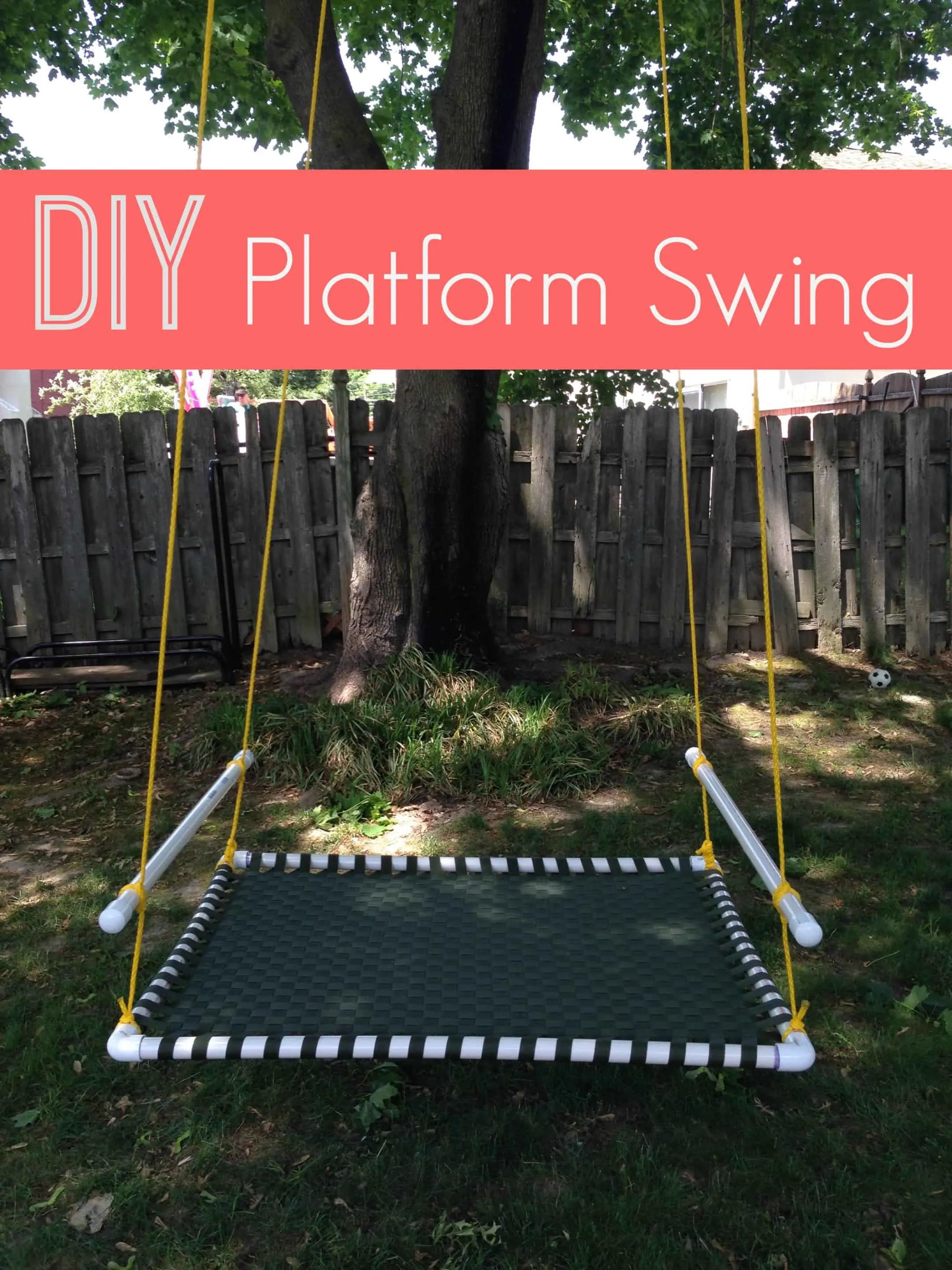 Natural DIY Backyard Play Areas
Inspire your kids to play with nature with these wonderful natural play areas. Dirty hands means the kids are having fun!
8. Tree Trunk Fairy Garden
See the beautiful details of this fairy garden at The Magic Onions
9. How to Make a Natural Sand Play Area
Your sandbox doesn't have to be confined to a "box". The Artful Parent shares step-by-step how to create a natural sand play area for your backyard.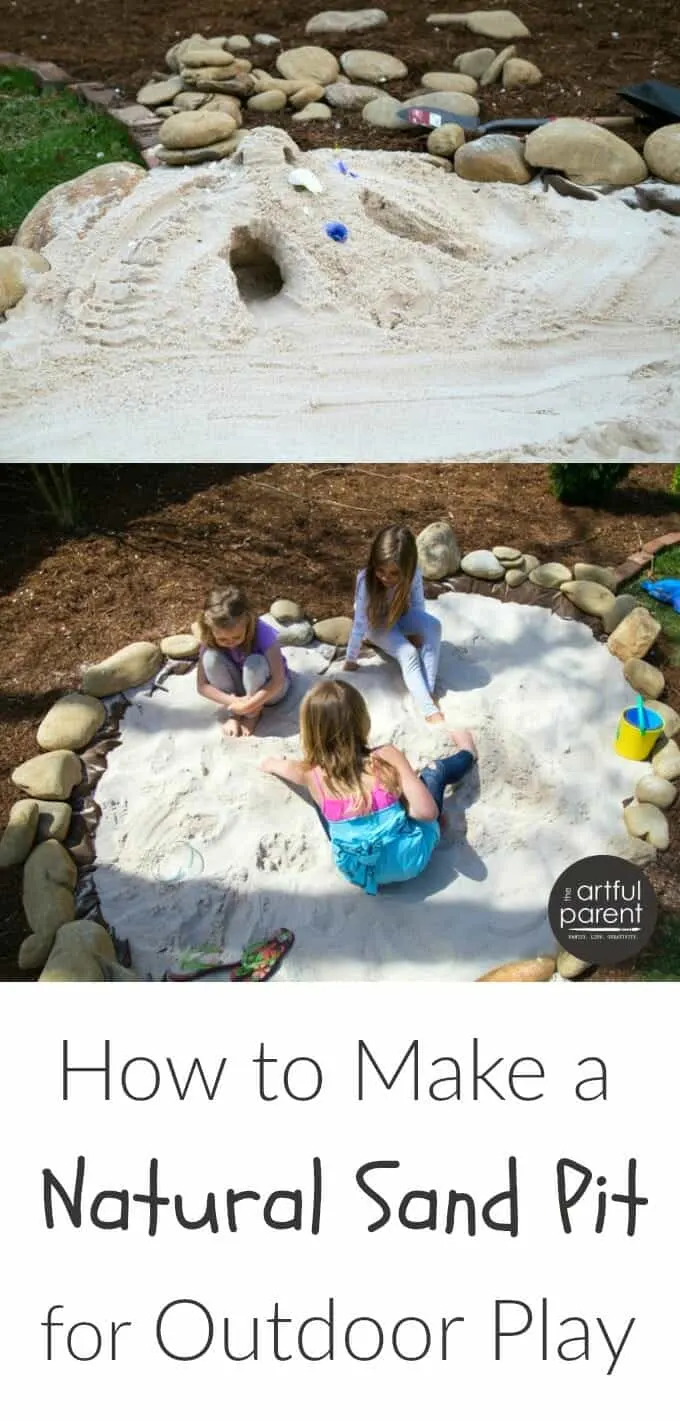 10. Small Space Sand Pit with Driftwood and Gravel
You can create a construction truck sand pit in even the smallest spaces, as seen in this image. Use large stones to form the perimeter and smaller stones for loading and hauling. Image Source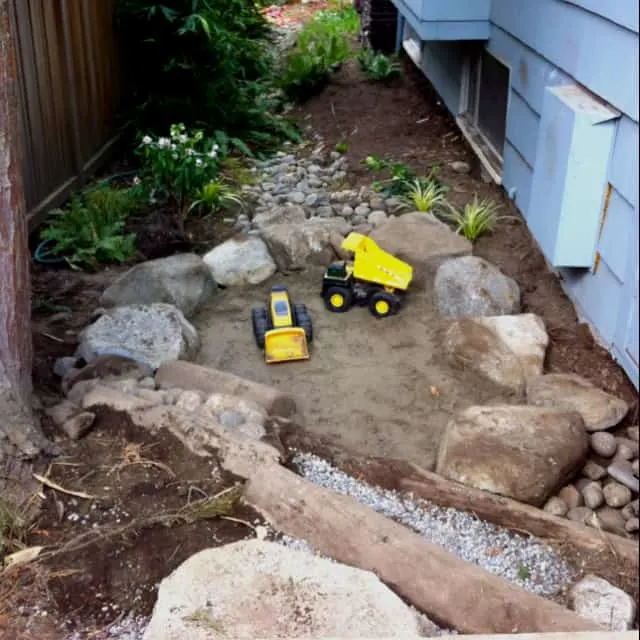 DIY Backyard Creative Play Spaces
The best kid spaces will inspire hours of creative play. Here are some unique creative spaces for your own backyard:
11. DIY Backyard Sound Wall
A sound wall provides a rich auditory experience for children, allows for a lot of experimentation with sound making. Plus, they're really easy to make. See Fun at Home with Kids to learn more.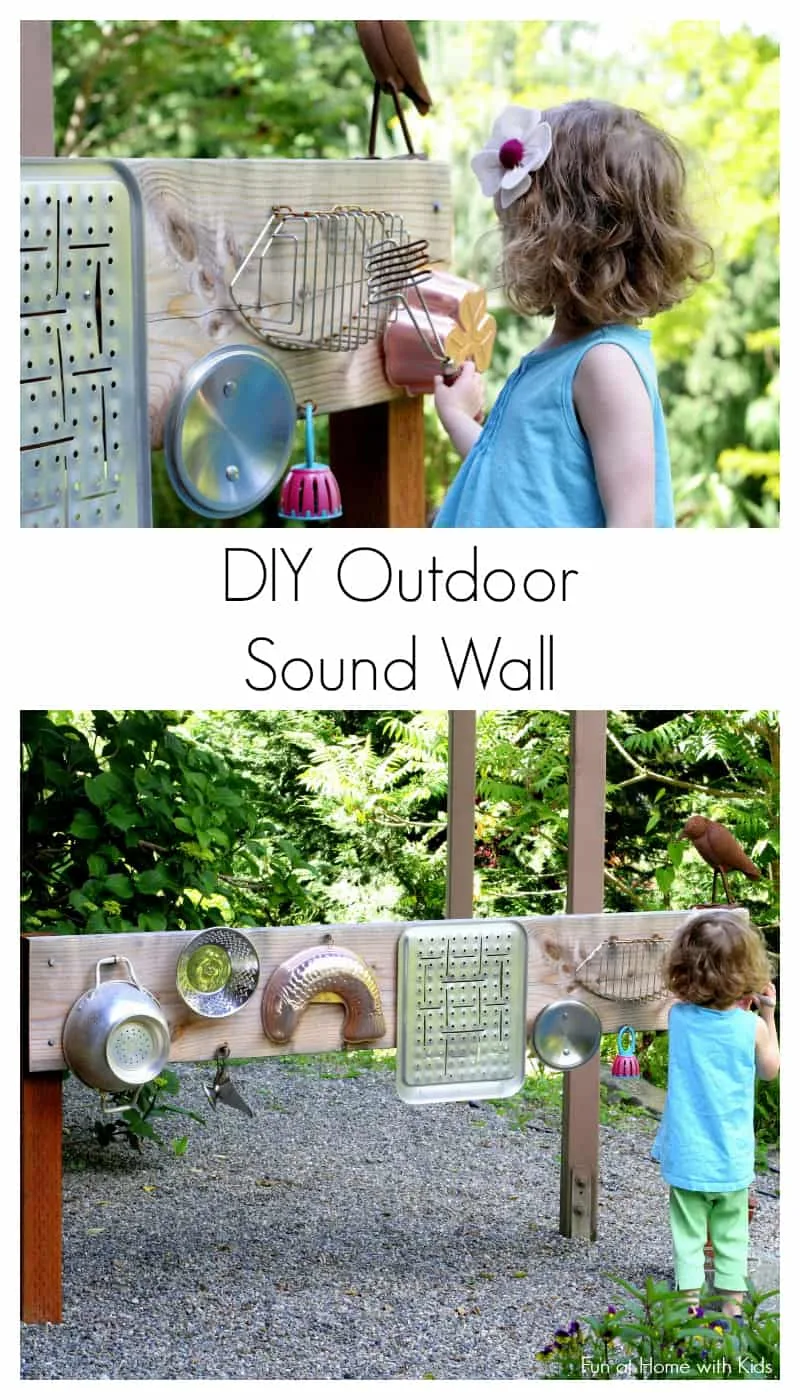 12. Mud Kitchen
The three main things you need for your backyard mud kitchen are dirt, water, and vessels. Dirt and water, obviously for making the mud. And vessels such as cups, pots, pans, ladles, ect. for all of the creations your kids will come up with. This how-to from Hands on as We Grow will get you started.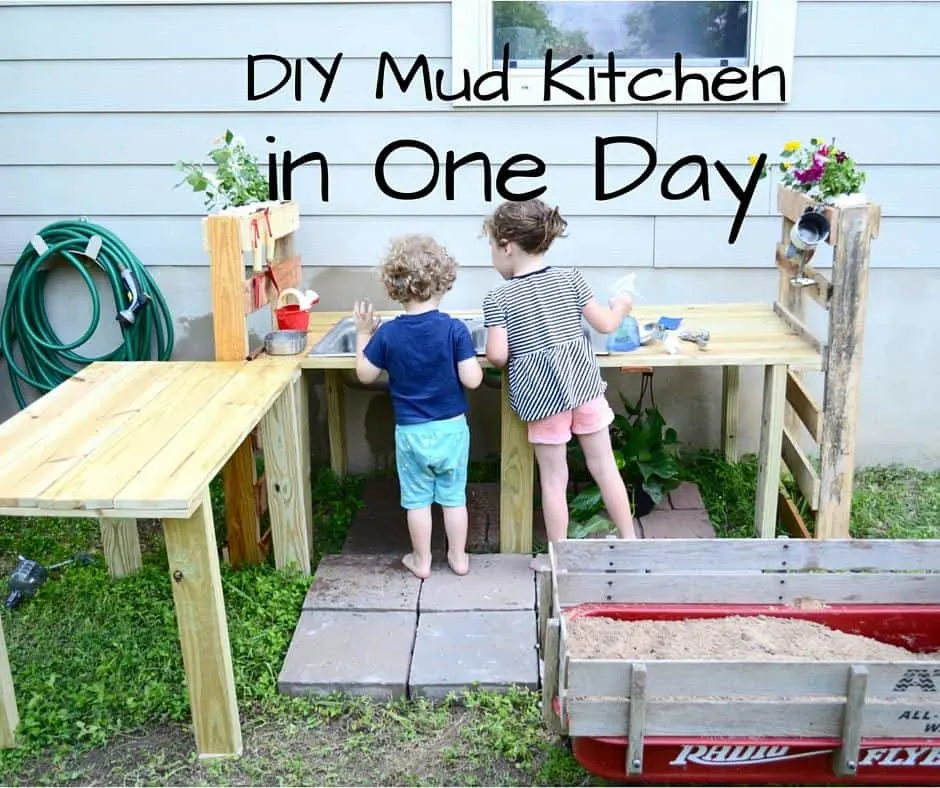 13. Play Castle
This is really a pretty basic play structure, but the little details such as the uneven wood slats, tall posts, and the shields, turn the simple platform structure into a backyard play castle! See Hometalk for more info on making this for your own DIY backyard play areas.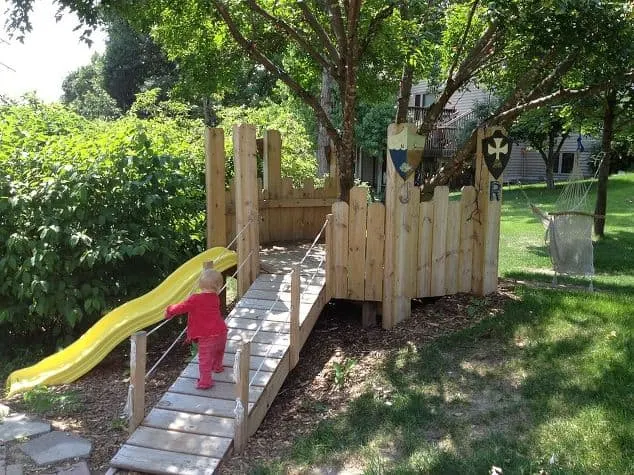 14. Acrylic Paint Stand
I really love this project and here's why: Kids love to paint. I love for my kids to paint. Kids painting at the table always ends up a royal pain and a huge mess. This DIY acrylic backyard painting stand is a great way to let little ones really have at it and know that you can just hose everything down at the end of the day. Meri Cherry shares how she made hers.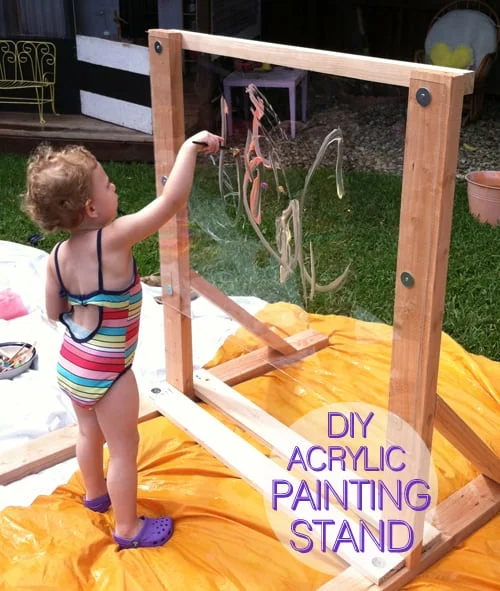 DIY Backyard Water Play
Water can hold the attention of a preschooler like nothing else I've ever seen. Between splashing, pouring, and dumping (and sometimes drinking), they will spend so much time exploring this natural element. The DIY backyard play areas below provide an outlet for kids water exploration. And there are also some water play spaces for bigger kids here, too.
15. Make a River
From Picklebums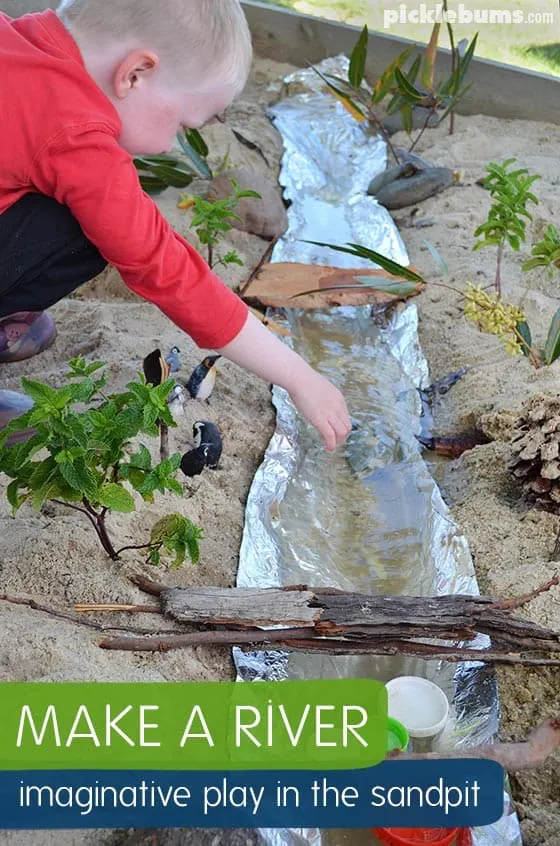 16. Easy DIY Water Trough
Rain gutters are easy to source from home improvement stores and are great fun for boat races with friends.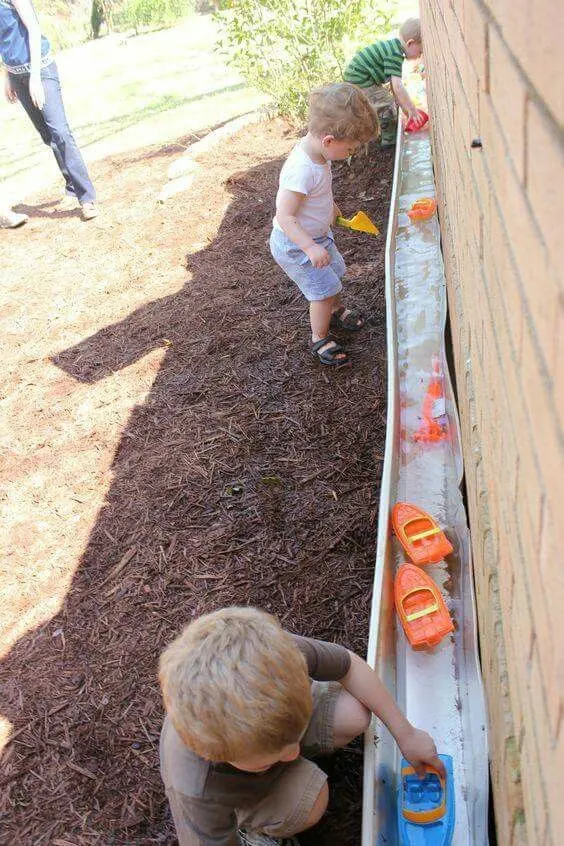 17. In-Ground Stock Tank Pool
A stock tank is often used on farms to provide drinking water to cattle and horses. Or, you can turn one into a backyard swimming pool. Sew and Tell Quilts dug a big hole in the ground and built a beautiful patio around theirs and the results are quite nice. These pools are just the right size for kids to splash around and cool off on a hot summer day.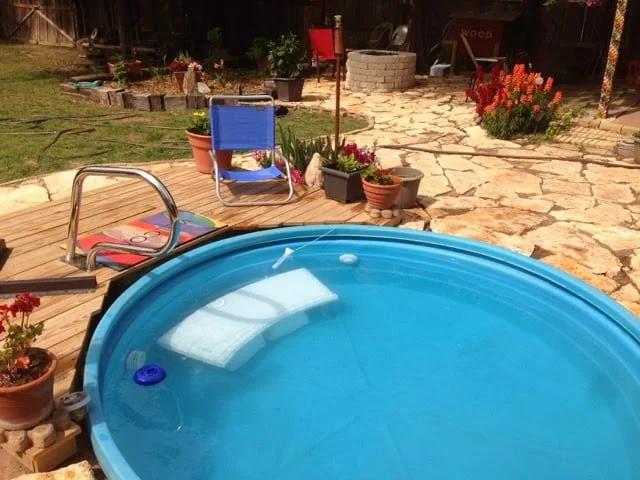 18. DIY Splash Pad
This family found a new use for a concrete slab that was once the home of a concrete patio set. This simple design is affordable for many families at $40 for the whole project. See Little White House Blog to learn how to make your own.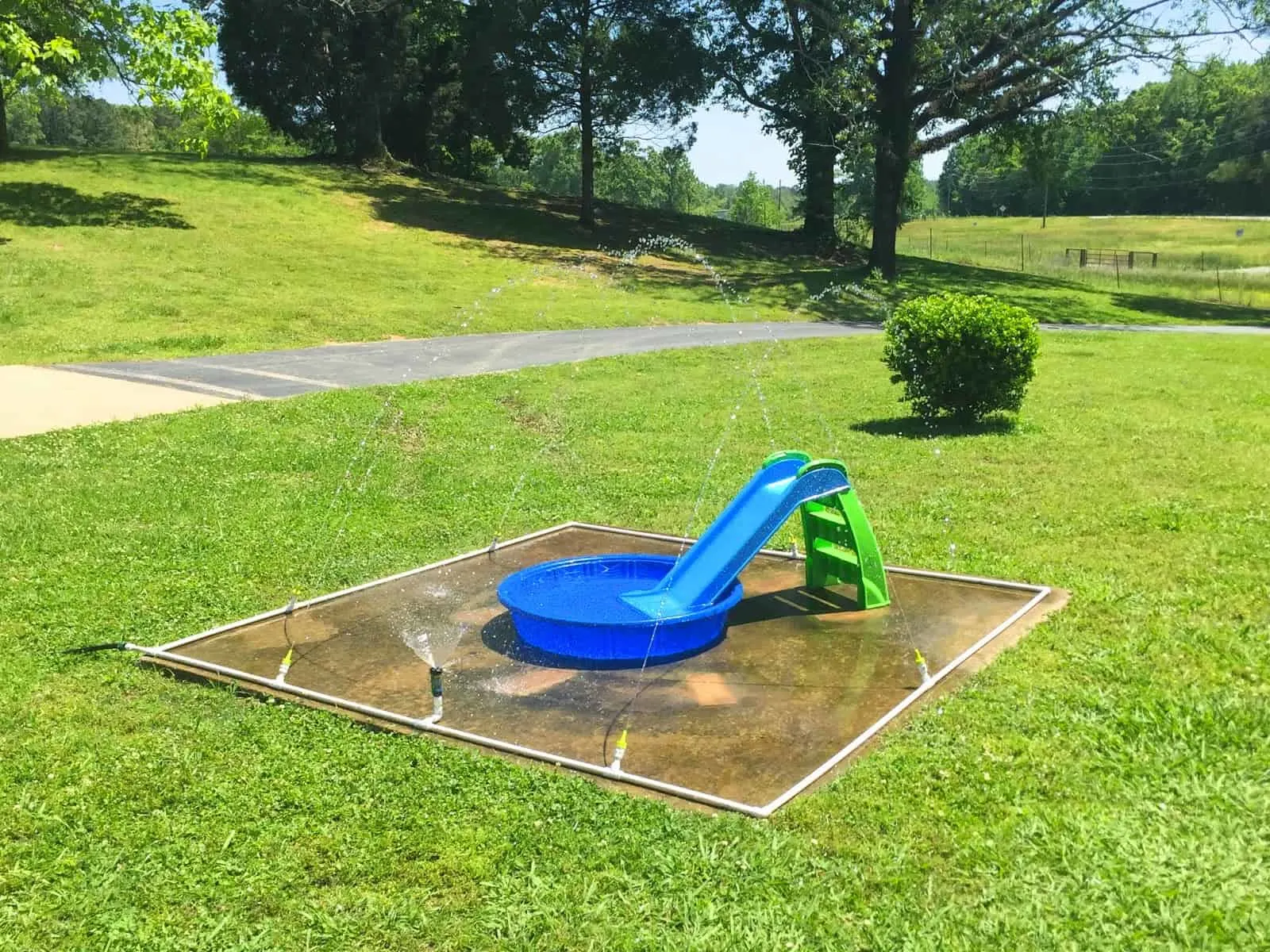 19. 10 Foot Water Pillow
Lay, flop, bounce, and get cooled off on your own backyard giant water pillow from Untrained Housewife.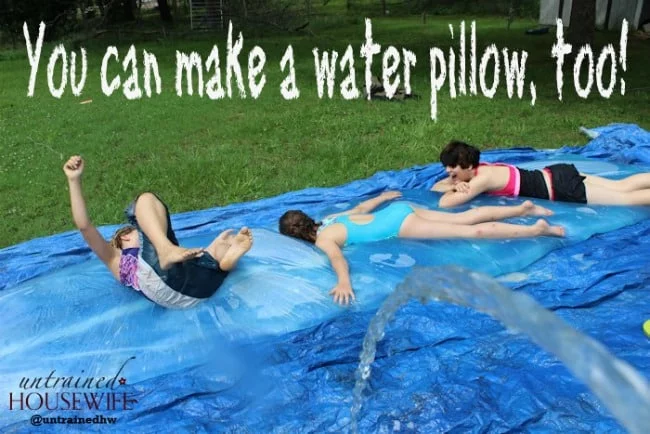 20. Kids water wall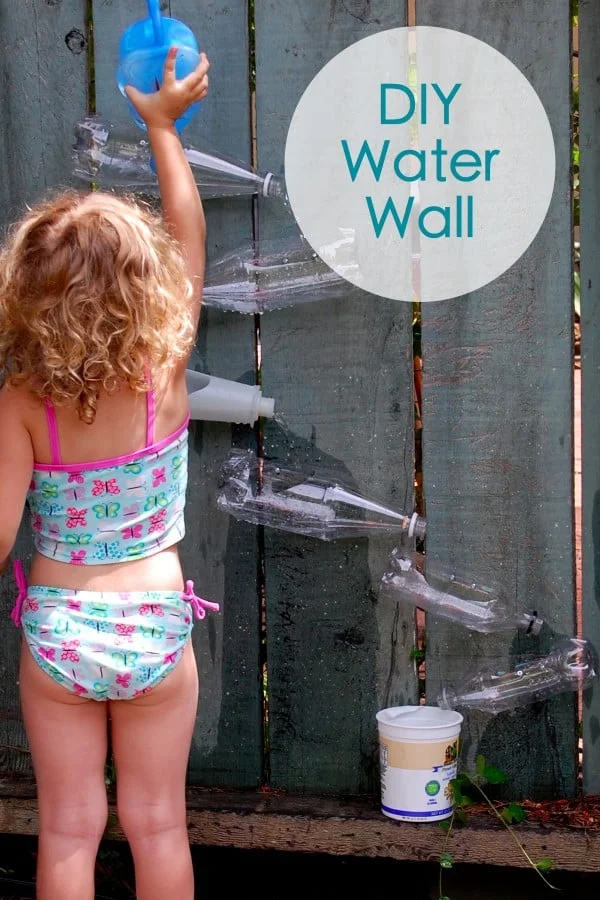 Tinkerlab shows how to repurpose some recyclables to make this brilliant DIY water wall for backyard water play.
21. PVC Pipe Spray Blasters
You can build your own spray park and water blasters by following the tutorial from Mom Endeavors.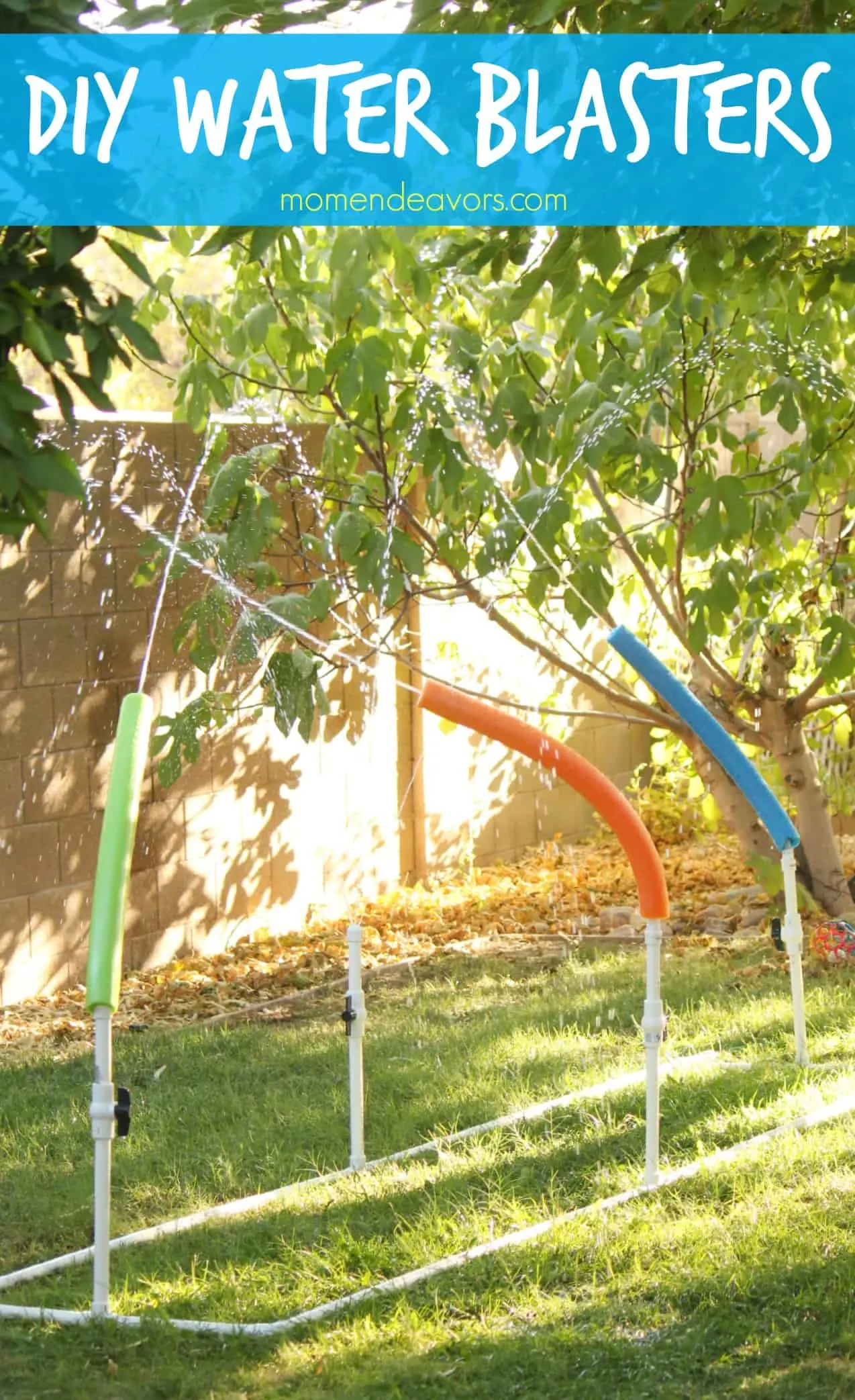 DIY Backyard Balance Structures
There are lots of ways to incorporate a balance structure into your DIY backyard play areas. If you can find a long log and put it in your backyard, I guarantee the kids will be out there walking all over and finding games that incorporate it. Take a look at the ideas below for a few more interesting ways you can provide a balance experience for your children's play.
22. Tire Balance Beam
This is such a fabulous reuse of old tires, and I love the bright, rainbow colors they used. Visit The Idle Loaf to make your own tire balance beam.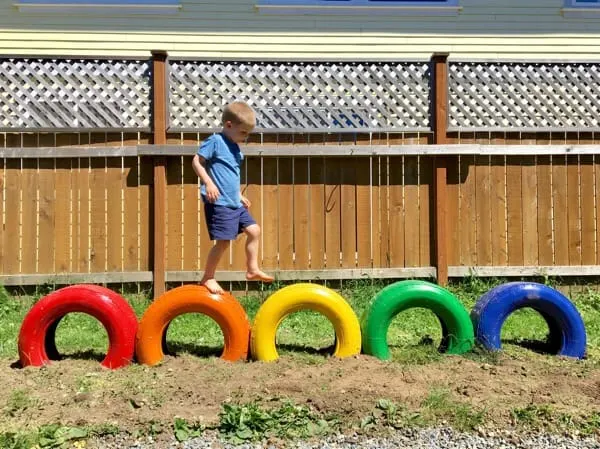 23. DIY backyard tightrope
Bigger Than the Three of Us shows how to use a simple ratchet strap to create a challenging tightrope for kids.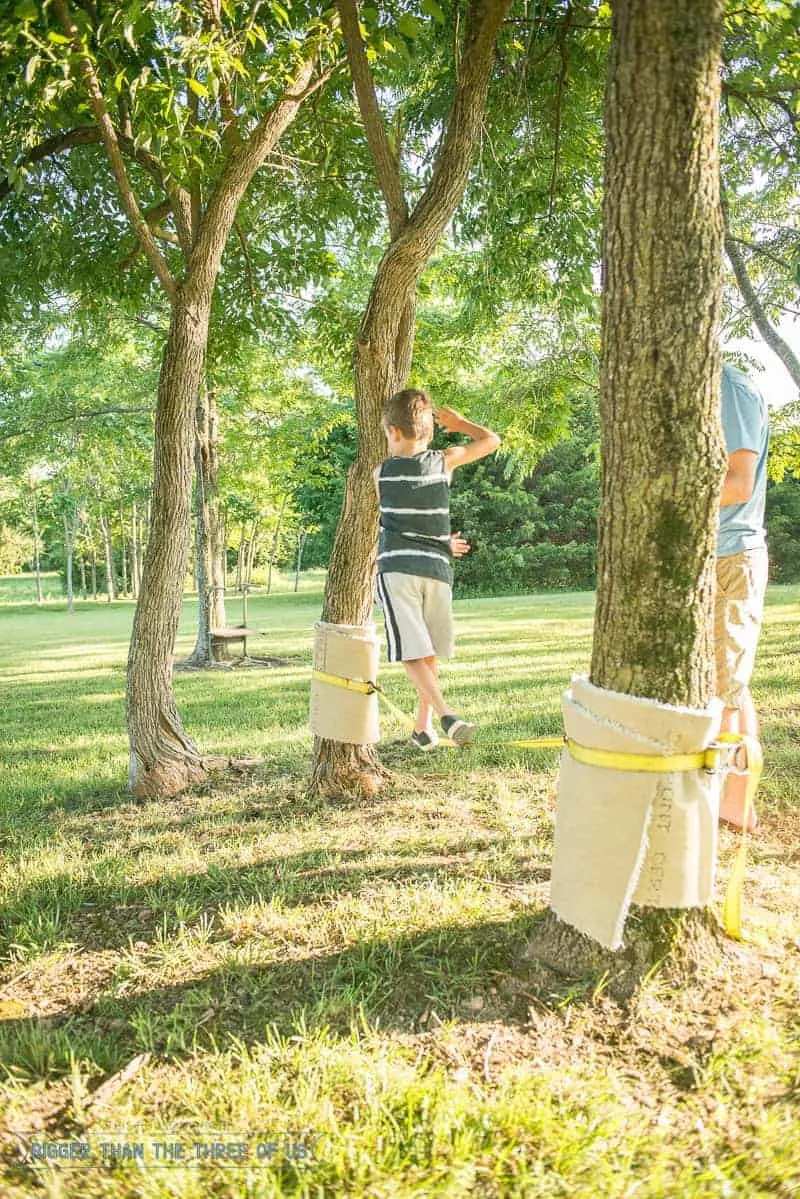 24. Backyard Sensory Path
Play at Home Teacher created this beautiful sensory path that is perfect for toddlers. The different textures provide a rich sensory experience for their feet, plus the varied and uneven surfaces will give them the opportunity to really develop their sense of balance.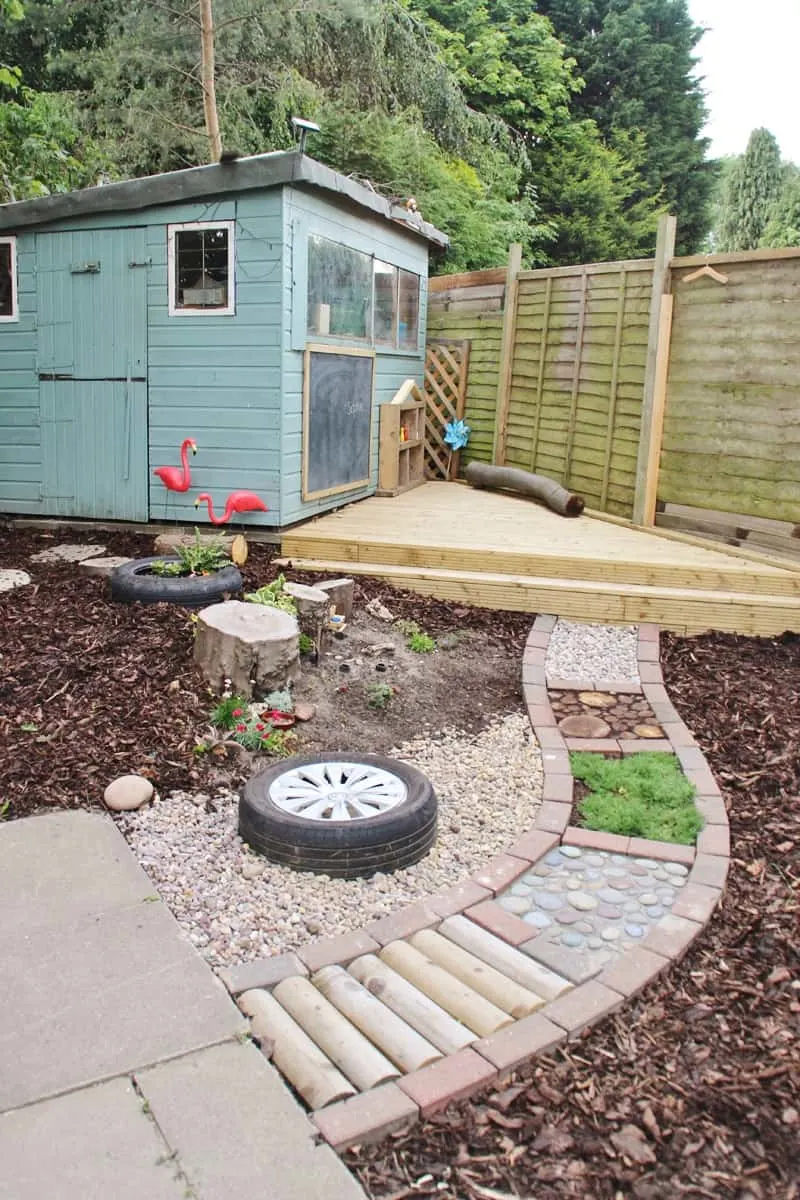 DIY Backyard Race Tracks
25. RC Race track
If you have any RC (remote controlled) car enthusiasts in your home then you should take a look at this fabulous backyard RC race track. A track like this isn't too difficult to make and provides so much fun for kids and their friends to zoom their cars around and race each other. The details are on Instructables.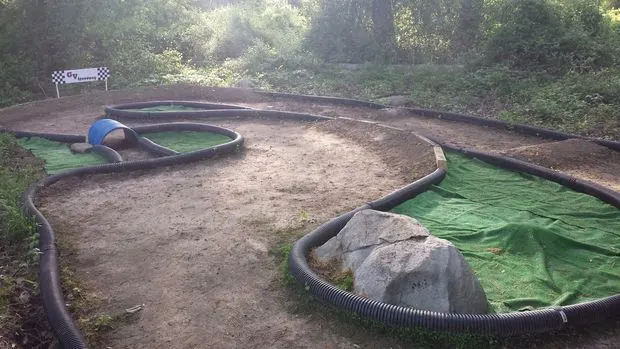 26. Backyard Race Car Tracks
This backyard race track is ideal for handheld toy cars, as in the Matchbox variety and the like. Lean more about it from Whoot.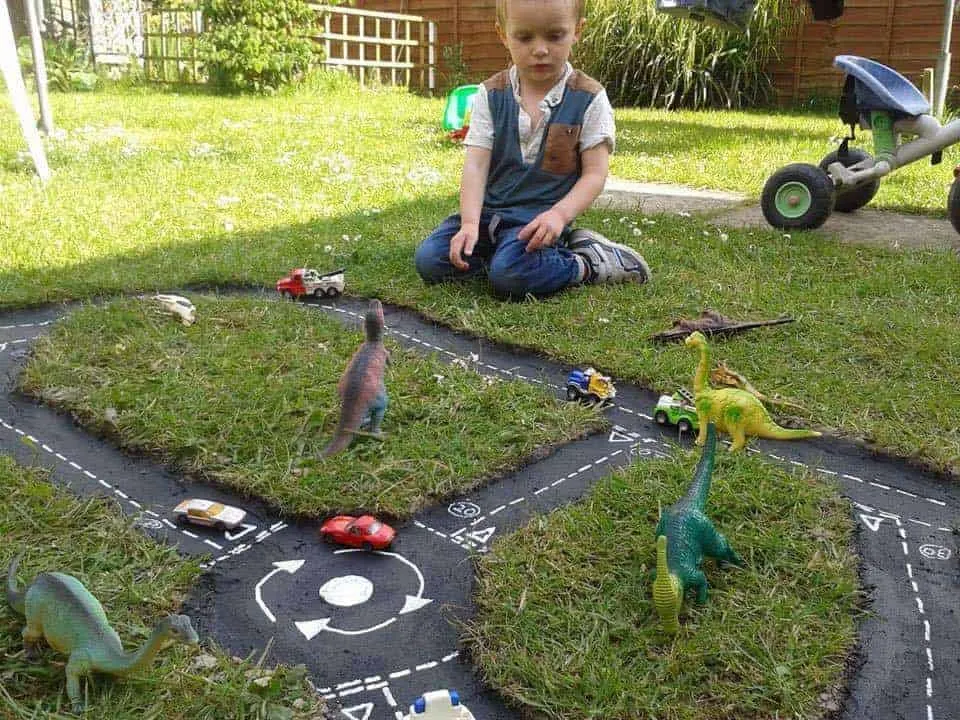 27. Sand and Brick Backyard Track
This is a really fabulous track that is easy to make. I love that it incorporates sand and water play. And, the bricks can easily be moved and reconfigured as you and your child come up with new ideas for the vehicles. This idea is from Lowes.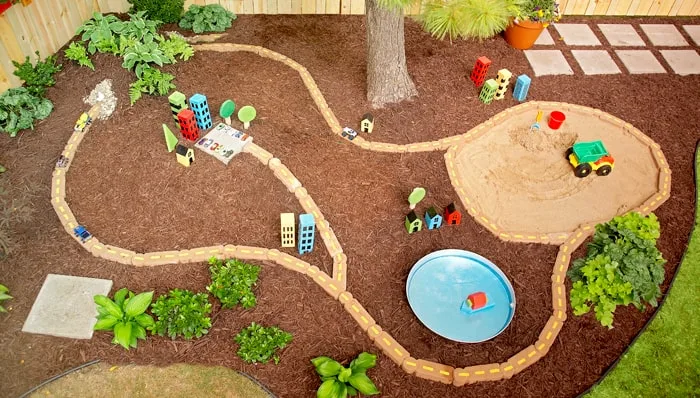 Backyard Play Delivered to You
For those of you who love these ideas, but don't necessarily love the thought of making something yourself, I also pulled together some more backyard play items you can order from Amazon and have delivered straight to your door:
Kids love playing in this outdoor play kitchen that includes a water table and sand table built-in. The canopy feature is wonderful to have for shade.
This inflatable water slide is like having a water park in your own backyard. Plus, it actually gets consistently great reviews, which is hard to find with backyard inflatables.
Kids love spinning and swinging in this 40″ saucer swing. If you have a tree you can hang it from a sturdy branch, or you can hang it from a swing set.
You can turn any little corner of your backyard into a fairy garden with a few tiny fairy accessories.
Making Your Own DIY Backyard Play Areas
No matter what your budget is, you can create outdoor play areas that are fun and engaging for your kids. Logs, stumps, sticks, dirt, rocks, acorns, pinecones…all of these become catalysts for imaginative play when kids have the opportunity to freely play and explore them.
One of the most wonderful things about our kids is their imaginations and ability to create play from whatever they have around them. Sometimes, the hard part is working past the boredom to get their imaginations working. Joining kids in the backyard to play with them is a great way to stay connected. And, inviting your kids' friends over for some backyard playtime will bring a whole new element to their backyard play.
I hope you were able to find some ideas to help you create an outdoor environment that is just right for your own kids!
Read Next:
---
Pin this post to save for later!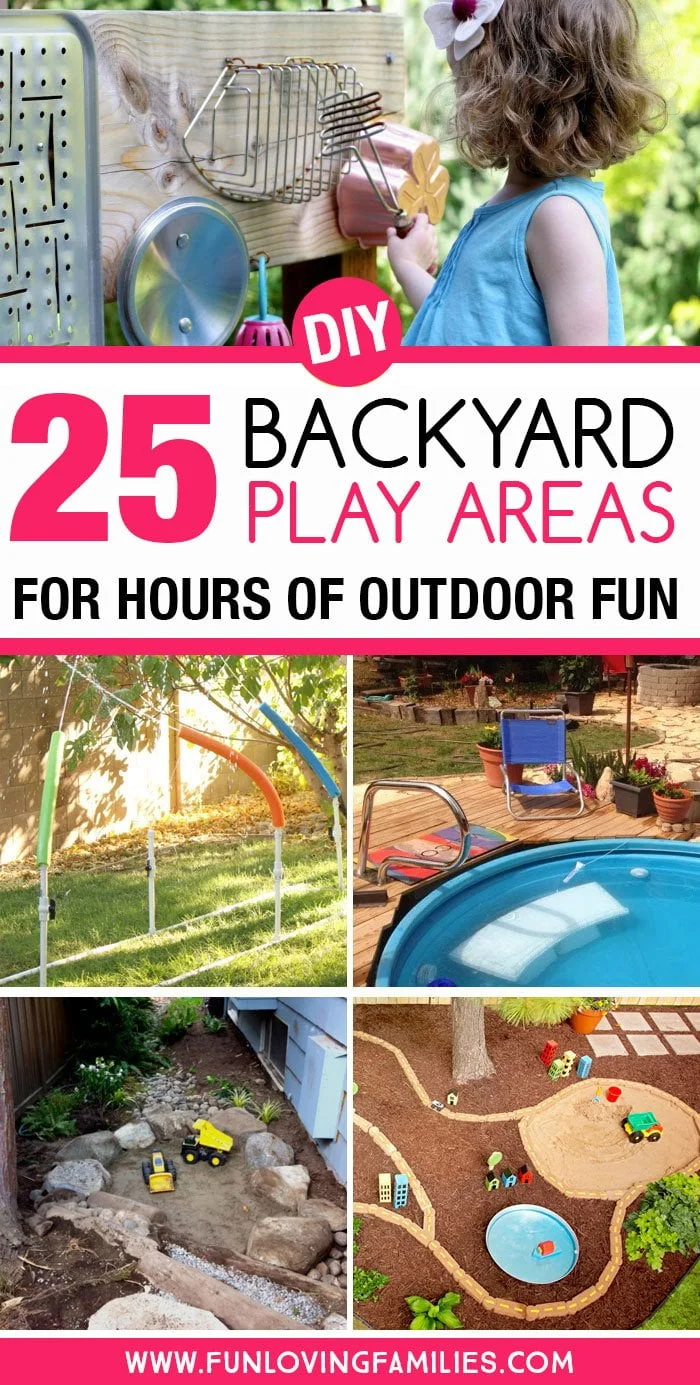 Similar Posts: