These rainbow party ideas will give you a head start on planning your next colorful get together.

We've been finding so many fun and colorful ideas for this rainbow party (not to mention some super-fun DIY backyard party games) and I can't wait to share them. If you're getting ready for your own rainbow-themed party, then don't miss these amazing ideas.
From free printable party invitations to inexpensive DIY party favors, you can put together an amazing rainbow party that will wow your guests without dropping a small fortune.
Rainbow Party Ideas: Make Your Own Invitations
1. DIY Rainbow Party Invitation
This invitation is a fun surprise for invitees who will open it to find a surprise rainbow awaiting them. See how to make this DIY printable rainbow invitation from Mr. Printables for your next Rainbow Party.
2. Free Printable Rainbow Party Invite
Check out Love Stitched for this lovely free party invite with all of the colors of the rainbow. The fill-in the blank style party invitation works for any party and all you need is a printer!
Rainbow Party Ideas: Colorful Rainbow Food
3. Rainbow Popsicles
If you're looking for a cool treat for your rainbow party, check out these gorgeous fresh fruit popsicles that look like little edible rainbows. The First Year Blog shows how to make them.
4. Rainbow Smoothies
Use this healthy smoothie snack from the First Year Blog to sneak in some nutrition before the kids start getting into the cake and ice cream business of the party. Colorful fresh fruits give these smoothies a burst of color that is perfect for a rainbow party.
5. Colorful Rainbow Fruit Pizza
My favorite party food to include in my party plans is usually impressive to look at, easy to make, and easy to eat with your fingers. Check all of those boxes with this amazing rainbow fruit pizza from Well Plated, which is made from a simple can of crescent rolls and some Greek yoghurt (and the beautiful fruit of course).
6. Rainbow Graham Cracker Snacks
Kids will head straight for these colorful rainbow party snacks. Kristen Duke Photography shows how to assemble the snacks using some simple ingredients and colorful rainbow gummies.
7. DIY Rainbow Cookies
Check out the Etsy Blog for the inside scoop on making bright, colorful rainbow cookies with a rolled sugar cookie recipe and food dye.
8. Rainbow Veggie Kabobs
Delicious veggies come in so many bright colors, why not slice some up and skewer them for an eye-catching food display? Throw in a few different dips and I guarantee these won't last. This idea is from The Gunny Sack and is a wonderful, healthy Rainbow Party food idea.
Rainbow Party Ideas: DIY Decorations and Cake Toppers
9. Rainbow Balloon Arch
Create a festive rainbow balloon arch for big impact at your Rainbow Party. Oh Happy Day has the details on creating this appealing rainbow arch.
10. Simple Rainbow Balloon Arch
Sometimes a little bit goes a long way, and I think that's exactly the case with this simple rainbow balloon arch. Follow the tutorial at Birds Party to create a colorful focal point for your dessert table or entryway.

11. DIY Balsa Wood Happy Birthday Banner
Make this simple and colorful Happy Birthday banner in all of the colors of the rainbow using balsa wood and felt. Project from Say Yes.
12. Candy Rainbow Cake Topper
Colorful Twizzlers and mini marshmallows are all it takes to create this candy rainbow cake topper from The Sweet Lulu Blog.
13. DIY Felt Ball Rainbow Cake Topper
You can make this simple modern rainbow cake topper using felt balls, as shown, or with a similar-sized gum ball using the same method. A Subtle Revelry shares a tutorial for making this cake topper.
14. Free Printable Rainbow Party Decor and Printable Cake Topper
Keep it simple with a printable cake topper for your rainbow party. Hostess with the Mostess shares the printable for this easy DIY cake topper, along with a load of other rainbow party printables, such as printable hats and coloring pages.
15. Easy DIY Streamer Rainbow Banner
I love this DIY rainbow streamer banner from Laurel's Little Corner. It's easy to create and looks amazing!
16. Bold Rainbow Balloon Table Decor
Wow your guests with this bold rainbow balloon table runner and rainbow place settings. You can see how this was made at Oh Happy Day.
Rainbow Party Ideas: Activities and Games
17. Cardboard Tube Rainbow Blowers
I know for a fact that these cardboard tube rainbow blowers would be a huge hit at a kids rainbow party. Collect the tubes ahead of time, then let the kids make their own during the party! Details at Kids Craft Room.
18. Easel and Rainbow Palette Art Activity
Kids will love having their own paint and easel with canvas to paint. The palettes are pre-filled with bright rainbow colors. You can find 8X10 canvas sets of 10 for around $16, making this activity still within reach if you're trying to keep a low budget. See this and more rainbow party ideas here.
19. Rainbow Loom Party Activity
If you're throwing a rainbow party for elementary aged kids, you can't go wrong with a rainbow loom activity table. This is great fun that goes perfectly with a rainbow themed party. Details at Mom of 6.

20. Pin the Cloud on the Rainbow Game
Give a classic party game a rainbow twist with this Pin the Cloud on the Rainbow party game from Team Whitaker. All you need is some poster board and paint to make your own!
21. DIY Lawn Twister Party Game
If the weather looks good, pick up some spray paints that won't harm the grass and make your own Lawn Twister game! Use bright rainbow colors to keep with your rainbow party theme, and guests will have so much fun with it. Momma Told Me shows how.
Rainbow Party Ideas: DIY Party Favors
22. Colorful Crayon Printable Favor Tag
Smashed Peas and Carrots shares a free printable tag for creating some really simple and colorful party favors to give your rainbow party guests. Plus, you can find these ROYGBIV stackable crayons in packs of 10 for around $3.
23. Rainbow Seeds Candy Favor with Free Printable
Let kids plant their own rainbows with these adorable Rainbow Seeds party favors. The Crafting Chicks have a free printable to make this a cheap and easy rainbow party idea.
24. Easy DIY Ribbon Rings Rainbow Party Favor
You can make these colorful ribbon rings for kids to use at the party, or send them off as party favor gifts. Ribbon rings are irresistible and beg to be twirled around. Buggy and Buddy show how you can make your own.
25. DIY Colorful Confetti Party Favor Bags
If you're looking for a colorful way to package up little treats and small party favors, try this simple confetti packaging treatment from A Joyful Riot, complete with a downloadable file for making your own rainbow colored confetti.
Make Your Own Rainbow Felt Balls
Follow is tutorial for making your own felt balls for your party decorations. Felt balls like these were used in the cake topper above, plus they make fabulous, colorful garlands!

Pin this image to share and save these ideas for later!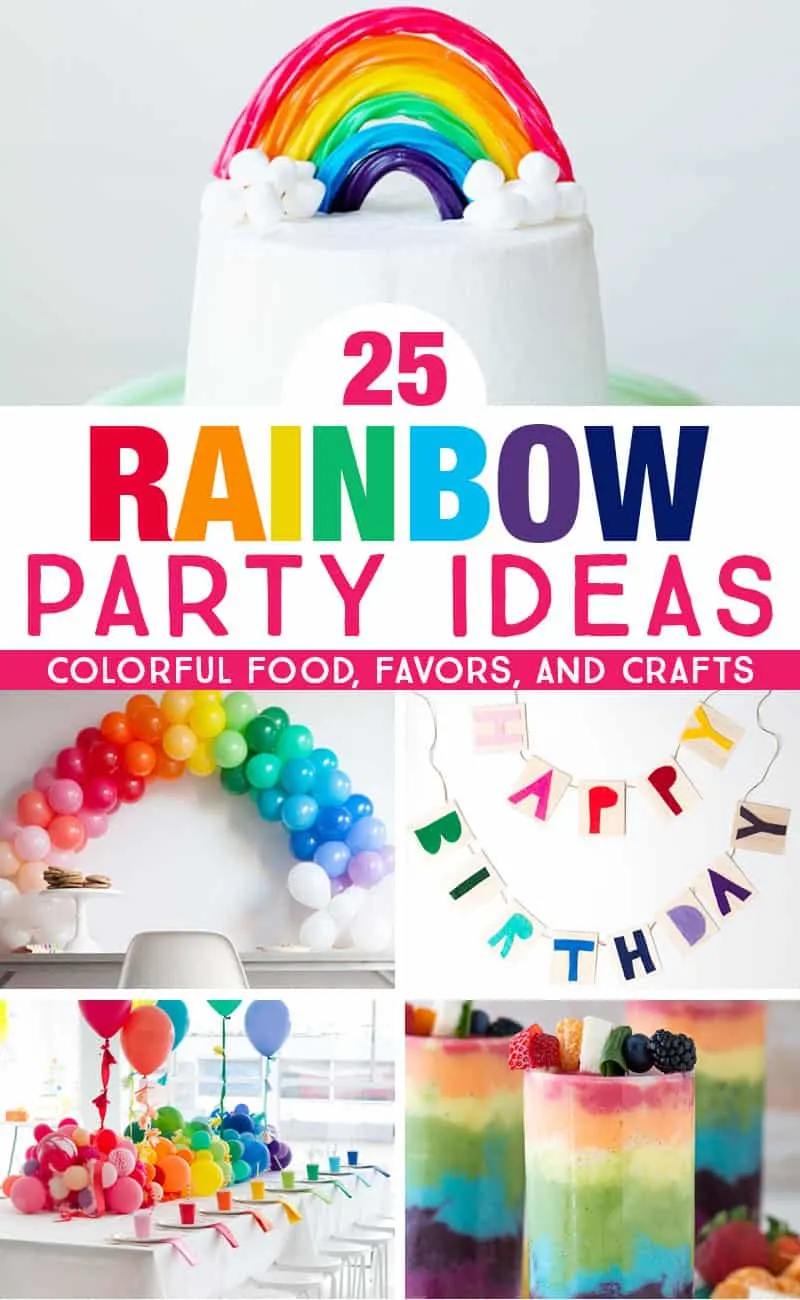 Similar Posts: